My Unboxing video:
My video Review:
Disclaimer: Burson Conductor 3 Reference was loaned to us for a two-week evaluation in exchange for our honest opinion. We thank team Burson Audio for this opportunity!
It all started about 2 years ago when I sent an email to Burson Audio asking when Conductor 3 would make an appearance and I sent them a longer wish-list of what I would like to see implemented in it. All I got back was a wink, a smiley face and a "please hold the door" response – a clear sign that Conductor 3 is undergoing heavy development.
Before telling you more about Conductor 3, you first should know about its roots and where it is coming from. When I've heard about Burson Audio more than 10 years ago they were making discrete op-amps in single or dual configurations, those small little things led to other much bigger things and soon a dedicated DAC, a headphone amp and a combo of the two followed. Burson implemented their discrete op-amps in those units and obviously my curiosity couldn't hold me too much and I purchased a Burson HA-160D DAC and headphone amp combo and later on I published my first ever review on soundnews.ro (our sister website). Two years later Burson improved that one, implemented a top-of-the-line ES9018 DAC chip, added even more power on tap and released their first Conductor 1, few more years and Conductor 2 (CV2 and CV2+) followed with a remote control that everyone requested, having a unique see though display, it had some advancements on the digital and analog side as well.
As you can see, Conductor 3 Reference (I will be calling it C3R from now on) is their fourth generation DAC/Preamp/Headphone amp all-in-one unit and if you are wondering what exactly was changed or improved, I think it's time to have a closer look:
One of the biggest changes is The Cool Case, it has that name not because it looks cool and unique, but for the reason that it is actually 300% more efficient at heat dissipation, the aluminum body that wraps it is actually a huge heat sink, I'm glad that this one has rounded edges so you will not cut yourself with those. You can read more about it here
The second biggest change is that it lacks a big and heavy toroidal transformer inside. Before you raise your eyebrow looking at that external switching power supply you should know that – that one is only a very small part of the actual power supply and power filtering Burson Audio implemented in it. Inside the unit the self-developed 5 MCPS (Max Current Power Supply) will raise the voltage frequency from 50 Hz to 170 kHz pushing noise beyond human hearing. It has a low impedance that assures instant energy delivery for output transistor. No more tens of fat electrolytic capacitors in the signal path, no more killing dynamics and transient response. You can read more about Burson's MCPS right here
Third one is going from a single ES9038Q2M DAC chip to dual DAC chip configuration to extract the best channel crosstalk and SNR/Dynamic range out of it.
C3R is futureproof as it uses socketed op-amps, more exactly two singe-V6 Vivid and two dual-V6 Vivid. When Burson Audio will release their next generation op-amps and you'll want to upgrade to those, just use the included torx screwdriver, open-up the case and change those manually. it's that simple!
C3R has now a fourth feature: Bluetooth receiver! Burson implemented the best Bluetooth capable chip on the market: CSR8675 from Qualcomm – it features Bluetooth 5.0 a wide codec support as SBC, AAC, AptX, AptX-HD plus the included BT antenna will provide a strong and stable BT signal even with few concrete walls between the sender and C3R.
There are many other improvements: like using 5 crystal clock-oscillators instead of just one on Conductor2, higher power delivery for higher impedance headphones, redesigned circuit board with the newest analog and digital circuitry from Burson, a big and bright LCD screen, USB Type-C on the back and the list goes on.
We prepared some questions for Burson Audio regarding C3R months ago when its web-page was not live, even the final specs were not revealed to me and I think we got some really interesting answers, let's check them out.
Soudnews Q1: Is it obvious you have a strong collaboration with ESS Technologies as they are the only DAC supplier at the moment for you. ES9038Q2M is already implemented in the Play, Playmate and Swing and two of those chips are being used in the C3R, is there a reason you didn't go for the desktop class PRO version instead?
Burson: In the Conductor 3 Reference, we use 2 pieces of ESS9038Q2M and achieved a desirable sonic performance. Furthermore, in our particular design, using ESS9038PRO brings no additional improvements.
Q2. This is the first Conductor that uses swappable op-amps, we think this its best feature yet, as it means it can be improved in the future. Can C3R use V6 Classic Single or Duals as well? Will future discrete op-amps from Burson Audio also be compatible with it?
Burson: The C3-Ref encourages op-amp rolling. You can certainly plug in our Classic op-amps or any other audio op-amps to tune the Conductor to your preference. We believe it is a great way for audiophiles to experience different sound without spending big on new equipment.
Q3. I think your Max Current Power Supply (MCPS) is a very interesting aspect that no one else adopted yet, the way it is implemented in C3R is on a much higher level compared to Playmate / Swing / Fun as it should be. If some of your potential customers will complain that it doesn't house a big toroidal transformer inside how will you defend your clever design?
Burson: The big transformers + linear power supply were weaknesses, not strengths of our previous designs. They resulted in very high impedance and very slow delivery of current which meant big power caps were needed to smooth out current delivery. Our MCPS has no impedance and delivers energy directly into the power transistors. On paper the C3 delivers the same output as the C2 but because of the MCPS, the C3 feels like a much more powerful, responsive and accurate amplifier.
Q4. Here's a tricky one: Since C3 is called Reference and not just C3, it means we have a chance to see another version of C3 in the future?
Burson: The C3-Ref is called Reference because we are throwing the kitchen sink at this one. It has all the power anyone ever needs. It has all the latest tech, specs, inputs and outputs so no one feels left out : ) Furthermore, it comes with our V6 Vivid op-amps which is the most accurate audio op-amp we have built. If we ever introduce other variations, we'll first listen carefully to the wishes of fellow audiophiles and your readership. : ) Maybe you could organize a survey for us on this particular topic.
Q5. Headphone aficionados are very much into balanced drive, especially the ones that uses high- end headphones. Since C3R is a high-end design, did you ever considered implementing balanced drive as well via the 4pin-XLR or via 4.4mm Pentaconn connector?
Burson: The C3-Ref is a high-end design that is convenient to use. You can be a gamer with gaming headsets or you can be an old school audiophile with headphones purchased many years ago. The C3-Ref is designed to work with you instead of asking you to work with it. We like to think of it as the people's Conductor.
Q6. I really appreciate that newest C3R is 300% more efficient at dissipating heat, can you explain a bit how it was possible? Conductor Virtuoso 1 and 2 already had thick aluminum cases but were always quite hot after an hour or so.
Burson: The Cool Case has a much bigger surface area when compared to the previous Conductors. Furthermore, due to a completely new structural design, heat transfers more efficiently from the power transistors to the rest of the case.
Q7. Does USB type-C on the back tries to tell something? Will the C3 Reference work with smart devices as well (smartphones, tablets)?
Burson: Yes, the C3-Reference works with just about any source components from iOS to Android devices to many Linux based devices. Furthermore, it has a top-quality BlueTooth receiver that features the Qualcomm CSR8675 receiver chip. Which means you can connect just about anything to it via Bluetooth or USB.
Q8. We never seen a DAC/Amp device that can be flipped with a dedicated button to flip the display as well. Was this decision made to save space on the desk or to better cool it down?
Burson: The C3-Ref is designed to fit into any living space. As such, you can even put the C3-Ref vertically if necessary. We don't believe that buying a piece of Hi-End audio equipment should require you to rearrange your space or tolerate inconvenience.
End words: First review I ever did many years ago was for my own Burson HA-160D (that in few years was reborn as Conductor), as you might expect C3R awakened some nostalgic memories and I am looking forward to having a longer listen to it. Thanks for your time and I wish you good luck!
Burson: Thank you for your very long-term support. The HA-160D was introduced in a time when most audio equipment, even head-fi equipment were big, heavy and pretty harsh on the eye. Those qualities were marketed as necessary trade-offs for Hi-End audio performance. The HA-160D has shown fellow audiophiles that something that sounds great should also look alright and easy to use. We hope the Conductor 3 Reference can once again prove that point.
I didn't know Conductor 3X with balanced inputs and outputs, including a 4pin-XLR headphone out is around the corner but I smelled something is cooking (again) in their labs so my question No.5 is invalid at this point.
Unboxing a Beauty, Unleashing a Beast
Of course, it came double boxed but what really caught my attention was that first bigger box has also foam inside to protect the smaller one. The product box has some heavy-foam inside to maximum protect all the contents. Inside the package you'll find: The C3R unit, a high quality metal remote, an extra fuse, a torx screwdriver to open the case, a USB Type-C cable, a pair of RCA cables – that is always nice to have, an external power supply and the power cable that attaches to it, a certificate of compliance, two JRC 5532 and two JRC 5534 op-amps from New Radio Japan – Burson doesn't recommend using those as they are worse sounding compared with V6 Vivid. However, you will need them to test the op-amp sockets if something goes sideways.
Design & Build Quality
Almost 10 years passed and finally Burson updated their good-looking case with a newer one that is much better at cooling the unit since those aluminum fins around it are doubling the contact surface to properly cool it down. The C3R as all previous Conductors is working in Class-A and moves to AB around the end of the volume wheel and as such it generates a lot of heat. Even at lowest volume setting it gets warm to the touch quite fast.
I think it looks unique, I always liked the raw aluminum look of previous Conductors, I really like the threaded volume wheel, it reminds me a lot about my tactical flashlights (another hobby of mine) and in general the whole unit seems really well made and put together. I'm glad the screws on the bottom can't be misaligned and I'm glad those are hidden and can't be spotted for a much cleaner look. The cleverly designed case is obviously milled on a CNC machine and first impressions it left on me are quite positive.
The case itself is quite big and heavy, at 255 x 270 x 70 mm and weighting app. 5 kg (11 lbs.) arranging it on a desktop table or in the living room can be a challenging. Burson came with a marvelous solution for that and put a button on the front plate that flips the screen 90 degree, flip the unit vertically and suddenly desktop space is not a problem anymore and by doing that the air flow will be even better, I think I will leave it this way.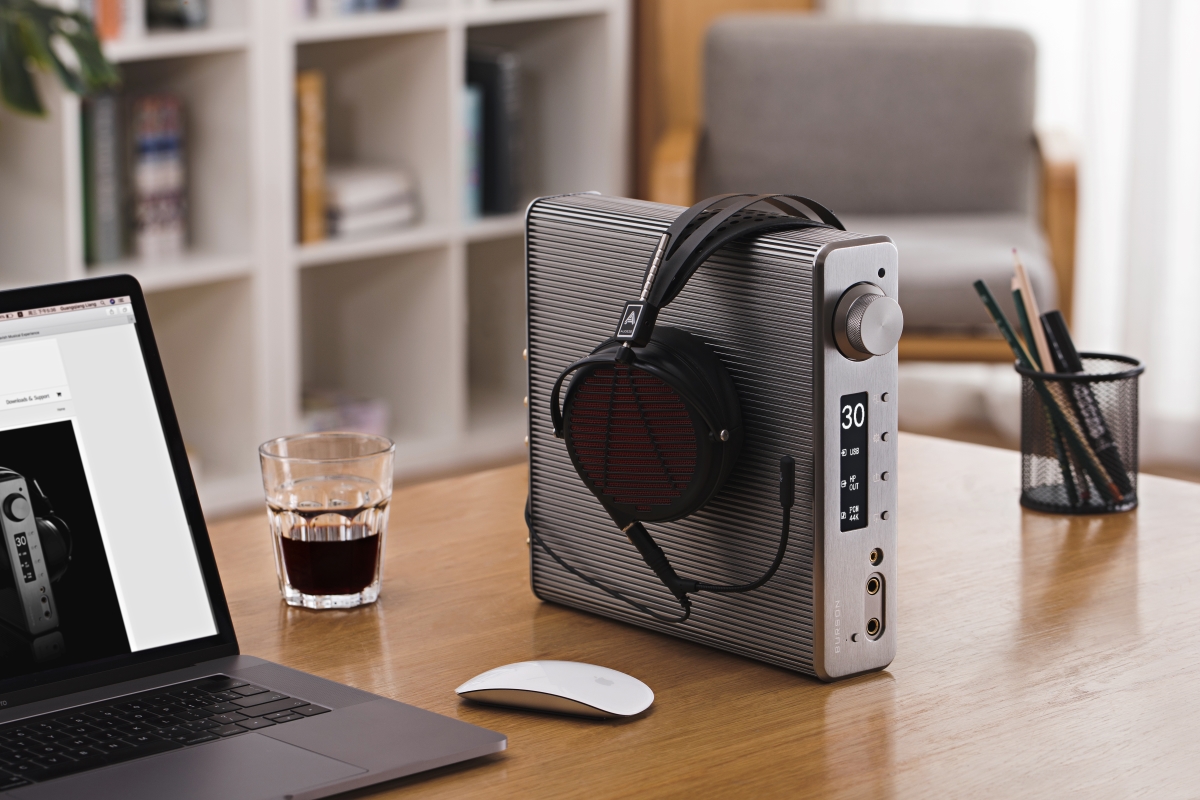 Controls & Connectivity
On the front panel I am welcomed by two ¼" headphone outputs, both are capable of driving simultaneously two pairs of headphones – that is great especially while comparing two headphones or listening together with a friend. There is also a 3.5 mm microphone input, gaming headsets should pair nicely with it. As for buttons, from left to right there is the On/Off button, input selector, output selector, settings and flip the screen button. The volume wheel works in digital domain and has 100 steps, so no more guessing how much power is left on tap.
On the back, it has a trio of digital inputs: a USB type-C, Coaxial and Optical inputs. On the analog side it has two RCA analog inputs – it means it can also work as a dedicated preamp or headphone amp, it also has two analog outputs, a standard 2V line-out and a volume-controlled line-out.
As you can see C3R is super versatile, it can work as a stand-alone DAC, headphone amp, preamp or a combination of two.
![](/uploads/Conductor3 Front.jpg)
Display settings
With the included metallic remote you can change its volume level, mute/unmute it or change the selected input, rest of the settings are controlled only by the buttons on front. First two buttons will help in selecting the desired input and output. Pressing the settings button enters the main menu where a lot of settings can be accessed as:
Headphone level – High or Low, this is your headphone gain setting
FirFilter – you can select a digital filter that are built-in directly in the ESS Sabre DAC chip, there are 7 filters to play with
DPLL (DSD) – OFF, Low, Mid and High (default) – the higher this setting is the higher the jitter rejection will be for DSD files
DPLL (PCM) – Off, Low, Mid (default) or High – the same but for PCM files
Emphasis – Off (default), On – ON position rolls-off the treble by about 5db at 10 kHz and by about 8 db at 20 khz. I strongly recommend leaving it on OFF position.
OLED Level – Low (default) or High – changes the brightness of the OLED screen
Reset Set: No or Yes – resets to factory settings
Thumbs-up teams Burson for implementing a cool menu and some must-have settings. I think it's time to sit down and have a longer listening session.
![](/uploads/Conductor3 Back.jpg)
Sound Performance
I. Using sensitive In-Ear-Monitors (IEMs)
I used two super sensitive IEMs to test the noise levels of C3R. Both Simgot EN700 PRO and FiiO FH7 have an impedance of just 16 Ohms and FH7 has a sensitivity of more than 110 dB/1mW of power – very easy to drive and both work as a magnifying glass testing the noise floor of any headphone amplifier.
At max volume C3R is outputting exactly 7.5 Watts of power into 16 Ohms, out of all those 7500 mW of power, just one single mW is needed to reach the ear-bleeding level of 110dB so obviously extra care is needed while handling them since C3R can easily damage their drivers or worse, my hearing.
Putting it on low gain and staring with lowest volume settings there is a faint, barely audible hum, pausing the music and raising the volume the low intensity hum is not increasing at all. The High gain setting had absolutely the same result, no matter the gain or the volume level the hum remained at the same intensity but mind you I can barely hear it. It needs to be said that C3R was not developed for such super sensitive loads, it was made to drive heavy weight category of headphones, current driven planar-magnetics or just plain high-impedance and low sensitivity headphones.
With all that said, when I'm starting playing the music the hum can't be detected anymore with IEMs and is not bothering me. The good thing is that Burson dropped the power a lot in the low gain mode, so I actually had about 30 steps of volume until it starts to be really loud, that is enough number of steps for me to find the best balance between loudness and relaxation.
Powering it by a Plixir Elite BAC400 passive power conditioner and then by a KECES BP600 power conditioner didn't solve the low intensity hum, so I presume that the output stage is just too powerful for such an easy load like FiiO FH7.
Before you raise your pitchforks, I have a simple an elegant solution that will solve the hiss problem by the name of iFi Audio Ear Buddy or even better, their iEMatch (3.5mm version) is fabulous. Insert it and forget about you ever heard hiss on C3R, it is really that simple. It works with every IEM or ultra-sensitive dynamic headphones.
Now, powering my 20 Ohm Quad Era-1 was completely another story as the hum is nowhere to be found and the same story repeated itself with Sennheiser HD660S or with Hifiman Arya, the hum is completely gone and the noise floor can't be detected even after pausing the music and completely maxing out the volume level.
What I observed on C3R is that no matter the volume level, the noise floor never increases, even on maximum volume. Not a single headphone amp I ever reviewed until now did the same, even the super technical $3000 Benchmark HPA4 increases the noise floor a tiny bit at maximum volume, yet C3R didn't and stayed the same at all volume levels. I tend to believe the Burson's MCPS is doing all this magic and kicks the noise away.
What was obvious to me while listening to IEMs is that on C3R those sounded technical, precise but also incredibly engaging and musical, had an impressive kick no matter the song I played. It was weird tapping my feet while listening to Celine Dion and having a wild smile like I was listening to some energetic rock tunes. It was like pumping energy not into my ears but directly into my brain. C3R awakened some serious impact in those IEMs and the control of the driver was just perfect. When the drum kick stopped, the sound stopped in an instant too, when dynamics rose high, I felt goosebumps on my hands. I am very glad that the energy, that incredible slam and impact Burson Audio is notorious for is still present in C3R and is pumping a lot of positive energy into any music I would listen to. Me gusta!
II. Using full-sized headphones
After listening for a while to a super revealing system like Matrix Element X and Benchmark HPA4 combo, the jump to Burson C3R is like eating some exotic food for the first time, it is exciting and pleasant in the same time. C3R is sounding similar on some things to the aforementioned system, yet it is so different, it has a unique character and it's not shy showing it off. C3R sounds really vivid, very dynamic, explosive even on some tracks, it carries so much air, slam and impact that I'm not recognizing some of my music. Everything was just dialed up to eleven, I am hearing more body, more texture, more meat to the bone, more spatial cues, more dynamics, it pumps some serious power under its belt.
Conductor 3 Reference as a headphone amp only has clearly more power than Benchmark HPA4, more power than KECES S3 – that to this day was the most powerful and impressive all-in-one unit I tested at my place, it is even more powerful than Mytek Brooklyn DAC+, it has the most powerful headphone amp of any all-in-one units I tested of late. If you a really into headphones and consider yourself an enthusiast, at least give this one a listen, you will not regret it.
Powering Quad ERA-1 on high gain I couldn't get past 45 volume position, I still had more than 50% power on tap, headroom was limitless, control was just outstanding.
When properly driven ERA-1 are literally transforming themselves into some brutal bass and midrange monsters. No only that, at optimal power ERA-1 will challenge even the fastest and the hardest kicking headphones in the business, forget dynamics those can't achieve such slam, impact and speed. On faster paced music C3R with Quad Era-1 will sound like taking a beating, an enjoyable, dynamic, visceral and very natural beating. I am personally like this kind of approach and I am against slow, boring and overly smooth presentations.
Moving up to the hardest to drive headphone from my stable, the Hifiman Arya I could raise the volume up to 60 and that was by listening to Roger Waters, if I'd listen to some modern pop, I would lower the volume to 55 due to excessive loudness in newest recordings. I was pleased to hear Arya properly driven at their fullest potential, everything would just happen outside my head and I would pick notes from around me. The same visceral and impressive transient response was heard on Arya and I even observed some additional bass layers that were never present on past headphone amps I tested them with.
More than ever I felt that Burson Audio is somehow combining the technical and revealing nature of the dual ES9038 with the natural, visceral, open wide and airy presentation of their discrete class-A output stage and amplification of V6 Vivid. If you would listen to C3R with your eyes closed you would never guess this is an ESS Sabre based design, it sounds very different to one. I'm glad to report Burson managed to implement a very good balance between technical and musical, between detailed and natural sounding. Is it all of the above plus a lot more.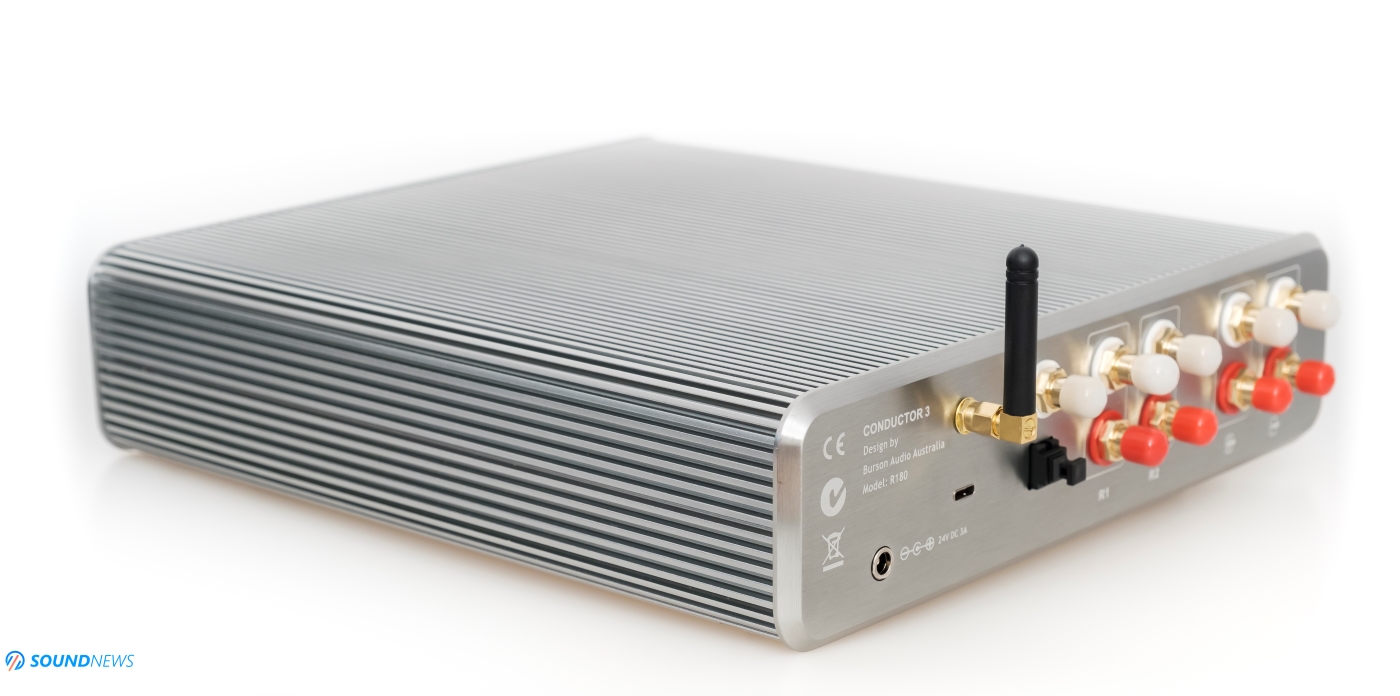 I will continue describing how C3R sounded on headphones and in a speaker-based setup using few tracks.
Rage Against The Machine – Calm Like a Bomb
This song exposes its true nature, its basic instincts, its unique character. It sounds easy going and calm until it explodes like a bomb with huge dynamics, it can be jumpy at times, especially the crowded chorus with that raw bass, electro guitar with tons of cymbal crashes and some additional electronic sounds around. Tom Morello's amazing guitar skills hidden in the background are so clear and so outlined, I'm hearing them loud and clear in front of me to dissect without being hidden anymore.
I head-banged, I smiled, I shouted, I enjoyed every second of it. This is the most anti-boring approach I've tested in an all-in-one unit.
Roger Waters – Is This the Life We Really Want?
Even starting with Déjà Vu, this record shows how holographic and bigger than life a digital source can sound. There are so many things buried inside those songs that you need to listen to them several times to hear the all those micro-details thrown to your left, to your right or even behind you. This is a holographic experience, almost feels like a 3D binaural recording, sounds are born out of thin air and fly far away, they come from different angles and they fade away pleasantly smooth.
Radiohead – OK Computer
Starting with first seconds of Karma Police you hear those small hisses, like vinyl noises that were put there on purpose, beautifully rendered without bothering the listener. The mix between piano and guitars sounds life-like and pleasant. Listening to Lucky from the same album I felt how bass guitar was particularly outlined, sounded deeper that how I remember it to be. The more I listen to different tracks the more I feel C3R chooses to have a deep, layered and open wide presentation, it sounds weird saying it but it is like borrowing the good parts of a good tube amplifier and the good parts of a solid-state amplifier. C3R sounds decompressed and refuses to put you on-stage with the band, it puts you few rows deeper, so you can see a bigger picture and the full energy of the band.
Marcus Miller – M2
I especially enjoy Red Baron track, such an amazing recording, it is just perfect and captures all the strengths of C3R and highlights them. All those tiny details coming from all directions are so cleverly put around me that the more I listen to it, more tiny details I'm discovering, it's like rediscovering this song every single time. It sounds super groovy, very pleasant and I'm glad that C3R can capture the material of each musical instrument, I'm feeling this is a wooden texture, this is a metallic one, those are some digital mixes and so on, so easy to spot and so enjoyable to discover them all.
Vivaldi – Recitative And Aria From Cantata from 2L Reference Recordings is probably the best recorded song I tested today. This is the most open and deep song as well. I know this one pretty well and on lower quality sources the notes just don't fly too far away and don't envelop me and can't grab my soul. With C3R everything is just grand, transparent and emotional. This track has a single con – it's too short, I am listening to it at least 2 times in a row and right now I want to listen one more time. Such an interesting and soul grabbing performance.
Wireless Performance
My smartphone is BT 5.0 and AptX-HD enabled so I could test the best codec C3R can offer. Connecting to it was much simpler than you might think, just select the BT input with the included remote or by pressing the input button, search for it with your phone, connect to "Burson BT" and this is basically it.
I fired Tidal Hi-Fi and streamed few songs from my phone to C3R and it worked perfectly. The wireless range was huge and more or less in line with Topping D50s and DX7 PRO that also had a BT antenna to boost the signal.
The signal was rock steady in my flat even with 2 concrete walls and 10 m distance between us, only in the last room about 15 meters away and with 3 concrete walls between the signal would drop few beats. In an open area I presume it will perform excellent even for more than 20 meters away.
In this regard it performed better than FiiO BTR1, BTR3 or Q5S, I'm sure the external antenna is doing a fine job in boosting the signal.
As for music listening, firing Tidal Hi-Fi and listening to regular CD-quality lossless files (16 bit, 44.1 or 48 kHz) I couldn't make a difference between the wired and wireless performance. It sounds maybe just a tiny bit smoother, easy going and relaxing while in wireless mode, but the difference is really small. Going up to 24 bit and 32 bit files mostly in 192 kHz and 384 kHz and the difference grows in favor of wired.
While wireless, listening to 32 bit lossless files the performance is even smother and maybe I am not hearing the best driver control or the last word in resolution and detail retrieval especially in the treble area, but overall those are small gimmicks and many would probably not hear a big difference. It sounded great even with Hi-Res PCM files so no complains here. I just wish it could be updated with a LDAC codec in the future, CSR8675 supports it and it sounds better to me compared to AptX-HD.
All in all, C3R looks like a very good bed-side or living-room wireless receiver, just take you phone out of your pocket and press play, it's that easy.
Comparisons
KECES S3 ($1400) VS Burson Conductor 3 Reference ($1800)
Spec wise S3 uses a lower grade DAC chip (ES9026), has less power on tap, about 2W into 32 Ohms, by comparison C3R offers 5W in the same load. S3 has a balanced headphone out, one balanced input and output.
On the other hand, C3R can also be a wireless BT receiver, offer much more power, has a beefier preamp, the same number of inputs and outputs and obviously uses famous Burson discrete op-amps. Build quality and spec wise C3R is already ahead.
When I reviewed the S3 I was actually surprised of how powerful its headphone section is, but unplugging it from my balanced power conditioner resulted in a higher noise floor with sensitive IEMs. C3R has it lower and has it constant, S3 is increasing it a lot at higher volume.
C3R has a better diaphragm control, it sounds faster and snappier, slams harder with the right music and every note just flies deeper into the mix. C3R is also clearly more natural, warmer sounding somehow, it has an impressive presence and a right tonal balance. S3 by comparison can sound a bit drier especially in the midrange and brighter in the treble. The low end doesn't go as deep and doesn't slam as hard. Nonetheless, I really enjoyed my time with S3 since it is quite linear sounding, so basically colorless.
C3R is vivid, natural, has a slight warmish tint and it's never shy showing it, yeah C3R is colored sounding, but it's a pleasant one.
In terms of detail retrieval and transparency, C3R breathes air a tad more and everything just flies further away, with it I have a little more time appreciating every note. Detail wise I would say both are almost on the same level, I'm hearing nuance and small micro-details pretty easily on both units. S3 has a small emphasis in the treble area and gives an (artificial) impression that it is more detailed sounding, but that is just a clever trick and I don't like when manufacturers are doing it. C3R has the same treble information if not even more of it, it is not pushing it forward and as such never enters the spotlight, it is always there but is never screaming for attention.
Matrix Audio Element X ($3000) VS Burson Conductor 3 Reference ($1800)
Spec wise, Element X uses a single PRO version of ES9038, C3R uses the two chips of ES9038 but not the PRO version. Power filtering on Element X is done by a Noratel transformer and tens of voltage regulators, C3R is relying on its interesting MCPS. Besides being a DAC, Preamp and headphone amp, Element X has also a real Wi-Fi streamer inside controlled by a smartphone app, it has also an internal music player – just plug an external HDD or flash drive and listen to music directly from it. C3R has a BT receiver in its defense, uses discrete rollable op-amps, offers a lot more headphone power and costs a lot less.
Although Element X has a balanced headphone out, its power rating is shy, it can offer up to 1.7W in 32 Ohms, C3R has 5W in the same load. I can't properly listen to Hifiman Arya on Element X because the volume is maxed out and I still want some more, headroom is week, dynamics as well. As a headphone amp this one will not work with proper headphones, an external headphone amp will be needed and this is exactly what I did by adding a Benchmark HPA4 on top of it. Element X does an OK job with Quad ERA-1 and a good job with Sennheiser HD660S. Using headphones it is not very punchy, nor too wide or holographic, it is quite up-front and lacks dynamics when needed.
Conductor 3 Reference is obviously a king in this department, carrying control, crazy dynamic swings, sounding wide open with its chin up, super detailed and yet musical and engaging. It will drive any dynamic or planar headphones to authority, slam and control, I can't ask for more.
When testing their DAC only modes, I found that Element X extracted a bit more information out of my tunes and presented them straight as a line without adding character, it's more detailed up top and has few sub-bass layers as well. It is currently the most detailed sounding source I tried at home.
C3R as a DAC only device, sounds a bit more imposing in the bass and midrange, it has them pushed forward a bit, it sounds more natural, carries more weight with every note and delivers a greater slam. It is however not as detailed, as transparent and not as linear sounding. Two different approaches to music reproduction. Both are not bright sounding so both units passed my DAC tests with flying colors.
I enquired for a Conductor 2+ (CV2+) from the local distributor, I don't know if they still have one, if they do, I will borrow it for a week and compare it to Conductor 3 Reference. If that happens, I will update my article with a detailed comparison.
Conclusion
Here is a small hint for you, if Burson Audio guys are not very active on the forums or on social media it means something is cooking in their labs, if you get winks or smileys from them, run away as fast as you can or smashing piggy banks will surely follow. This is exactly what happened with C3R, on one hand I'm glad I asked about their future plans, on another hand my piggy bank doesn't want to be smashed again.
I'm happy I was given the honor to present a premier review for Burson Conductor 3 and in the end I think it delivered everything I wanted it to be. All my fears I had when I sent those questions are now dust in the air. I am pleased to recommend the Conductor 3 Reference for headphone enthusiasts that are seeking for a great all-in-one unit and for speaker lovers who wants to spice thing up with some hard-kicking dynamics and fast transients.
Burson Conductor 3 Reference can be purchased directly from Burson Audio at $1800 by following this link or you can contact your local distributor for one or for a listening session.
PROS:
Solid build quality, unique casework that doubles as a giant heat-sink.
A feature-packed 4-in-1 device
Extended frequency response, detailed and transparent sounding
Presents an open wide soundstage and an amazing depth
Very precise pin-point imaging
Probably the best pace, rhythm and timing I've heard in an all-in-one unit with an excellent transient response
An amazing headphone amp and preamp section: hard grip, control and tons of headroom left on tap
Sounds natural and has a great tonal balance
Leans towards an engaging performance, adds color and nuance to your music
CONS:
Not the most linear sounding DAC (can also be a plus for somebody)
Slight hiss with ultra-sensitive IEMs (solved by adding an iEMatch or Ear Buddy from iFi Audio)
ASSOCIATED EQUIPMENT:
DACs: Burson Audio Conductor 3 Reference, Matrix Audio Element X, KECES S3
Headphone amps: Benchmark HPA4, SMSL SP200, Erzetich Bacillus
IEMs: FiiO FH7, Simgot EN700 PRO
Full-sized headphones: Quad ERA-1, Hifiman Arya, Sennheiser HD660S
Loudspeakers: KEF LS50W
Interconnects: QED Reference XLR (x2), Aune AL3 XLR
Power Cables: Isotek EVO3 Premier (x2)
Balanced Isolation Power Conditioners: PLiXiR Elite BAC400, KECES BP-600