Topping DX9 All-in-One Review – Unleashing 15 Years of Sonic Expertise
Topping is crafting complex all-in-one devices that cater to stereo heads and head-fi geeks for a decent stretch. But let's rewind a smidge – about 15 years back they dipped their toes in the audio pool with a pint-sized power amplifier called TP10. It was more popular than selfies back in the day, so much so that Topping kept refining it for several generations until it hit the MK4 jackpot around 2011.
Fast forward six years, and voila! Topping drops their first do-it-all wunderbar. Headphone junkies around the globe started humming the same tune, as finally a fully balanced DAC and headphone amplifier could be had for as little as $399. DX7 proved to be popular and fundamental to Topping's ability to establish a foothold in the headphone audio market. Feature-packed to its teeth and with little to no competition on the horizon, DX7 was the first product that got our full attention. It became an instant hit shouting out of its aluminum lungs that personal audio is the next big thing!
An updated DX7S was released a year later, rocking newer DAC chips and a reworked headphone amplifier section, that pushed a little more power on tap. Around 2019, Topping revealed their flagship DX7 PRO all-in-one wombo-combo that smelled bad attitude from afar. Rocking a flagship D/A converter, but most importantly, tripling the power output, it was finally juicing up a wider variety of headphones via its balanced outputs. DX7 PRO performed so well at its respective price point, that for several years, they never bothered updating it with some of the latest tech as Nested Feedback Composite Amplifier (NFCA) modules.
Last year, they gave us the DX7 PRO+ which was brought to the surface as a facelifted version of the acclaimed DX7 PRO. Having the latest tech, including a top-of-the-line ESS Sabre converter wrapped in a miniature enclosure, it had everything to succeed and many folks are still headbanging to its melody today.
This year, however, marks their 15th anniversary, commemorating 15 years of hard work with a flagship DX9 all-in-one unit that incorporates their very best DAC, preamp, headphone amplifier, and Bluetooth receiver into a single beautiful unit that looks unlike anything they've done so far. This is the Chuck Norris of all-in-ones, but sadly…it's a limited edition run. Instead of hopping on the current AK4499EX DAC chip bandwagon, they go all retro and opt for the ultra-rare AK4499EQ DAC chips that powered their D90 back in the day.
Remember the D90? Good times, but it didn't last for long as AKM's factory decided to host its bonfire, leaving everyone in the audio world scrambling for chips. Some genius managed to snag these unicorn AK4499EQ chips, and guess what? Topping decided to sprinkle them on their very best unit. Talk about a plot twist!
If you're wondering how their best DAC, preamp, and headphone amplifier is sounding, then strap on your audio seatbelts; it's going to be a heck of a ride! It's priced at $1299 and DX9's story has just kicked off.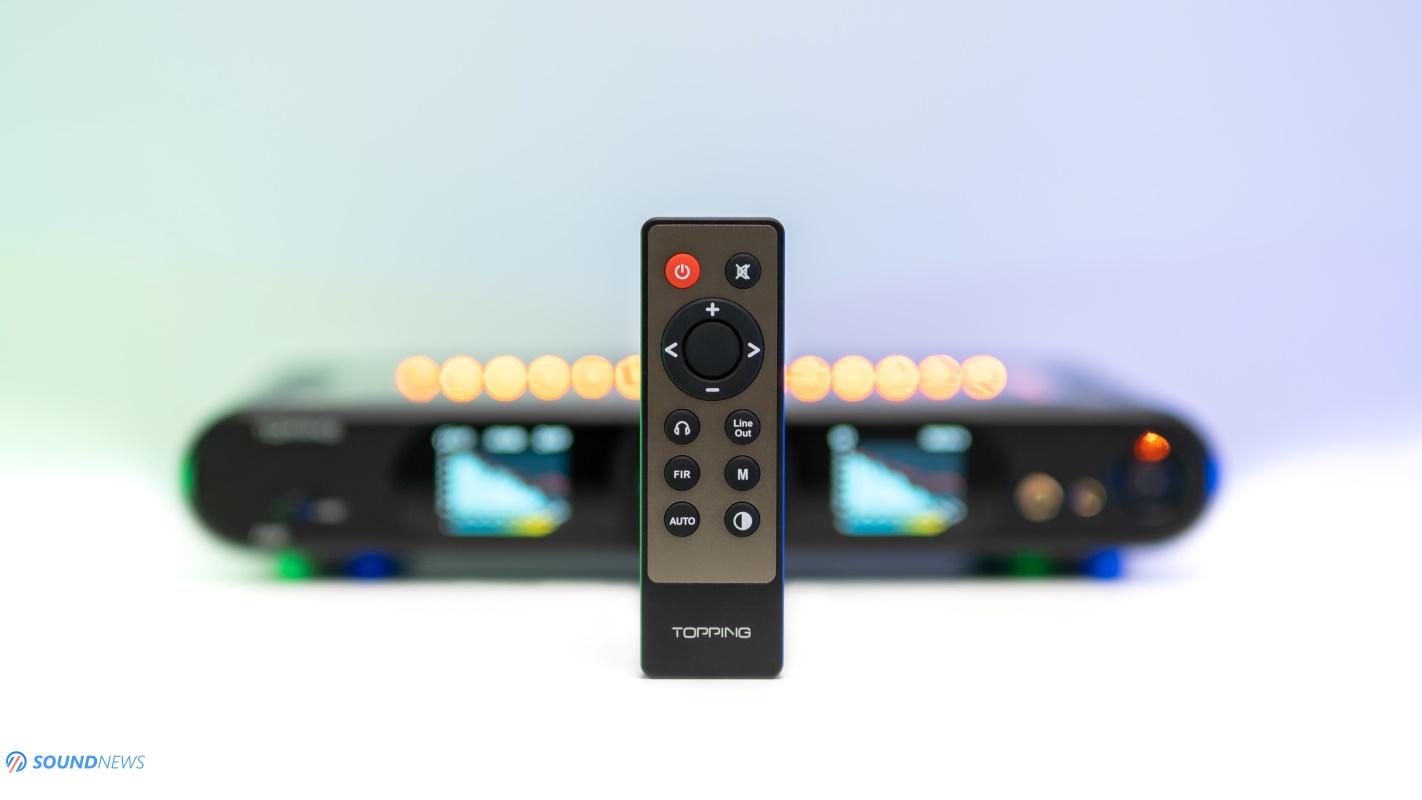 Unbox Therapy
These guys didn't spare a dime on the packaging and unboxing experience. This is literally, the biggest box that ever came from Topping, and I'm glad that lots of care went into protecting the product box from Earth's elements.
A massive matte-black box and an unhealthy amount of foam for extra protection measures is a usual sight, but adorning it with silk already sends a few cryptic messages. Seeing a power cord, an oversized Bluetooth antenna, a headphone adapter, and a USB cable is an ordinary ordeal…but seeing the elusive fully CNC machined RC-22 remote control bundled with DX9 makes me a little happier. Forget the low-fi plastic remotes; the RC-22 is heftier and feels great in the hand. And you guessed it, except for the rubber buttons, everything else was machined from aluminum, including the silver plate.
The star of the show is obviously, the DX9 which is considerably wider and subsequently heavier than any other all-in-one they've made so far, reinforcing my feelings of dealing with a no-compromise unit.
Design & Build Quality
There's one important thing that I always liked about Topping over the years: brand identity! Although tens of units were released per year, they all had similar design cues from their respective product lines. You could tell from afar that a Topping DAC is sitting on a table, and that, my friends, is called free marketing that works for itself. Go tell SMSL Audio about this; they are still re-designing their cases once every 28 days, 14 hours, and 8 minutes. They will never have a brand identity if they keep changing their cases so often. In 15 years, I think I saw four major overhauls in Topping's design language, and the latest one started with the RedDot and GoldPin Design awarded DX5 DAC/Amp combo that we reviewed last year. DX7 PRO+ followed, having the same rounded shape and smoothed-out lines. Exploring new design concepts and taking bold steps in trying different-looking cases, slowly expanding their brand identity.
However, make no mistake; DX9 is not just a bigger DX7 PRO+ with twin colorful displays and Aurora UI; it is so much more than that, literally and figuratively! First and foremost, this is a fully CNC-machined aluminum case without using a single gram of plastic all around.
Having a lifelong passion for mathematics and symmetry, I find immense joy in the precise alignment of everything around me; even my pictures follow strict geometric rules. The volume knob, perfectly centered, is flanked by two vibrant displays, creating a visually pleasing mirrored symmetry. That's tempered glass right there, and you can knock on it and feel its strength. Topping slowly but surely arms their bigger units with Aurora UI, which is honestly a massive quality-of-life improvement versus their former user interfaces. It's by orders of magnitude better in every way, and even your grandma can change the gain to high while you're headbanging to your favorite tunes. It's so much easier to control, and this time around – we got twin displays! One will show the volume and selected digital input, and the other the sample rate and selected analog output. You can also configure their look – go with a standard look or select a cool-looking FFT spectrum or digital-VU meters. Trafomatic's Primavera analog VU-meters are sometimes locking my vision, especially when dynamic swings are going crazy, accelerating, and stopping the needle in an instant. Digital VU meters won't give you the same experience, but it's cool having them around.
Before listening to loaner units that are coming for a review and before leaving them overnight for burn-in purposes, I would always check the internals first, as undeniably, good sonics always originate from great component selection. The cool part is that I no longer need to engage my iFixit kits to have a peek inside, as everything is already displayed for my viewing pleasure with a plexiglass window put on top. The super-duper-cool part? It's lit with tiny LEDs, and you can even adjust the brightness or turn them off completely, which is an AMAZING idea! While I'm not an electrical engineer, I know those components very well, how they work and interact with each other, I know their prices individually, and it's so cool having them on display for the first time. Burson Audio sometimes travels with a Conductor 3X GT with a plexiglass top at various audio shows, but they aren't selling them like that. This part alone makes the DX9 attractive and desirable. When my kid enters a candy store, he starts jumping all around pointing at what he would like to taste. Well, believe it or not, that's exactly how I feel when I see top-notch components in affordable devices. And yeah, for what we're getting in return, DX9 doesn't feel unobtanium.
Equipping it with sturdy aluminum feet and soft rubber pads will absorb micro-vibrations coming from within its electronics. At 34 cm wide, this is currently the widest Topping unit, and at 2.74 kilos (~6 lbs), it's also the heaviest all-in-one unit they ever manufactured. I won't beat around the bush: I appreciate it when HiFi equipment is heavy, robust, and well-made, anticipating their steadfast performance over the years – a sentiment that I'm already experiencing with the DX9.
Last but certainly not least, the fully CNC machined RC-22 remote control bundled with every DX9 is a beauty in disguise. After playing with tens of low-fi plasticky RC-15A remote controls, the RC-22 feels like a breath of fresh air. It's carved from a single block of aluminum, it feels sturdy in the hand, and it's a very well-made remote that you can also buy separately for $25.
Overall, this is by far the nicest-looking unit that Topping has ever produced, combining amazing functionality, a rich feature set, and a great UI, garnishing it with outstanding looks worthy of its flagship status.
Controls & I/O
Although you can see a single On/Off button on its face place, disguised as a menu opener after a short press, the volume knob house a button in the middle, and the knob itself will help you navigate through its Aurora UI. If you don't have the RC-22 remote near you, you can easily toggle any feature on or off, engage its VU or FFT Spectrum, or select a desired input and output.
On its faceplate, we have an On/Off button, a volume wheel, two colorful displays, and on the far right: three headphone jacks coming in balanced (4-pin XLR and 4.4mm) and single-ended flavors (6.35mm).
On its back, we have every possible digital input sans BNC, including the venerable I2S input which I cherish so much. Coaxial and Optical inputs come in pairs and there's a Bluetooth antenna socket as well. Instead of the usual RCA and XLR analog line output that offers a fixed voltage output, we also have a pair of RCA and XLR preamp outputs that will pass through the R2R volume control and offer you a variable voltage output that should be used in case you're using a power amplifier.
Additionally, there's a 12V trigger input and output, just in case you want to power all your Topping devices with a single remote.
Although you can see a single On/Off button on its faceplate, disguised as a menu opener after a short press, the volume knob houses a button in the middle, and the knob itself will help you navigate through its Aurora UI. If you don't have the RC-22 remote near you, you can easily toggle any feature on or off, engage its VU or FFT Spectrum, or select a desired input and output.
On its faceplate, we have an On/Off button, a volume wheel, two colorful displays, and on the far right: three headphone jacks coming in balanced (4-pin XLR and 4.4mm) and single-ended flavors (6.35mm).
On its back, we have every possible digital input sans BNC, including the venerable I2S input which I cherish so much. Coaxial and Optical inputs come in pairs, and there's a Bluetooth antenna socket as well. Instead of the usual RCA and XLR analog line output that offers a fixed voltage output, we also have a pair of RCA and XLR preamp outputs that will pass through the R2R volume control and offer you a variable voltage output that should be used in case you're using a power amplifier.
Additionally, there's a 12V trigger input and output, just in case you want to power all your Topping devices with a single remote.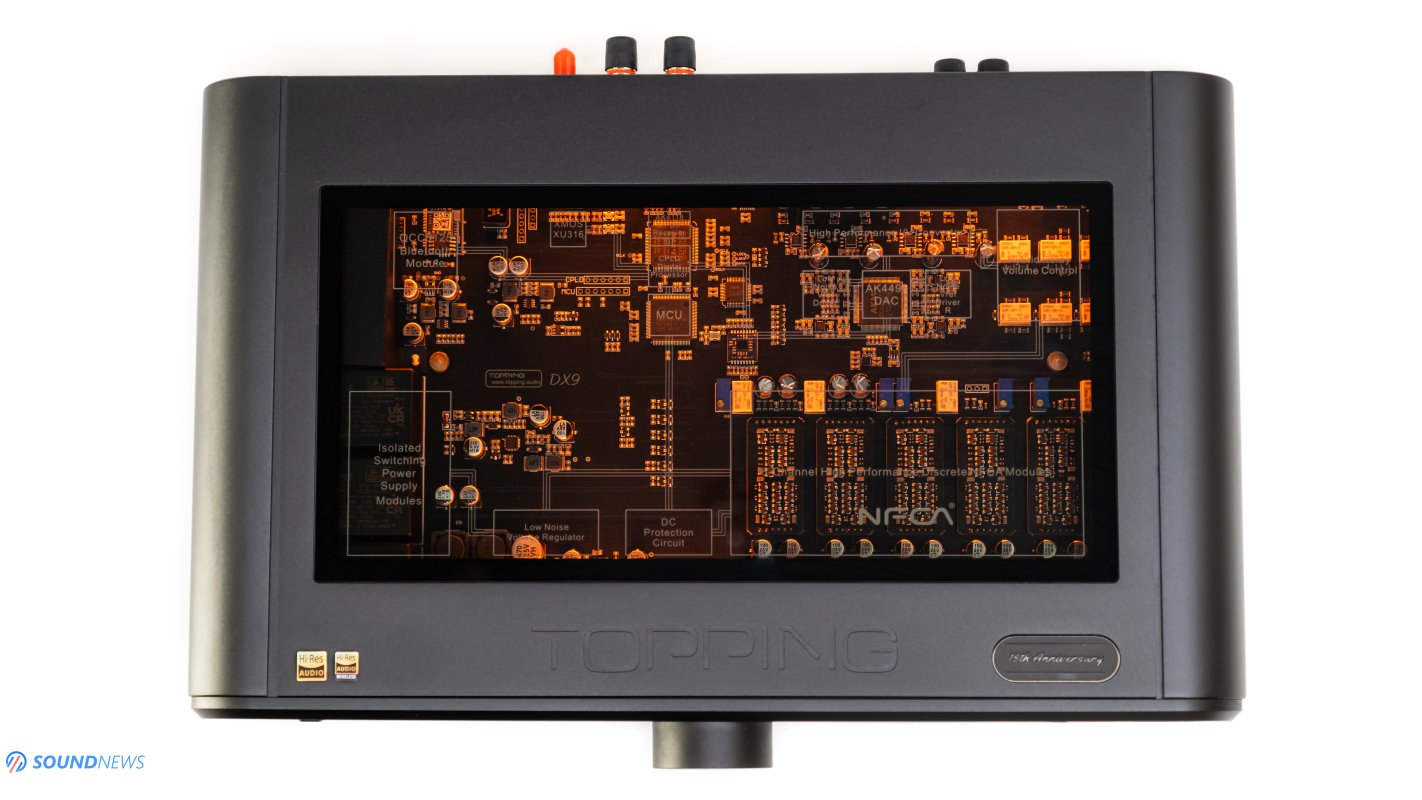 Under The Hood
Having tempered glass on top with bright LEDs (that can be dimmed) works in my favor; everything is already on display, so mentioning every single component feels so much easier. You can even follow the signal path from the power supply, digital input, all the way to the analog output, which is kind of cool if you ask me.
Although we are getting a triple-X switching mode power supply configuration for its digital and analog circuitry, you can also spot a powerful AC filter/isolator put before them that will be pre-conditioning the AC voltage before it gets converted to DC. You can see the power getting cleaned up via ultra-low-noise voltage regulators, and a few DC protection circuits are completely isolating the power supply from the rest of the circuitry.
You can spot all the digital inputs and their respective digital receivers, the XMOS XU316 used for the USB input, AK4118 for all S/PDIF inputs, the Altera MAX II CPLD Processor that controls almost everything together, and the Synwit Tech Microcontroller Unit (MCU). You can see the flagship QCC5125 Bluetooth module of Qualcomm sitting in the upper left corner with a tiny wire attached to the Bluetooth antenna socket. This one supports all those fancy codecs, and don't you worry, it will cover all your APTX-HD, APTX-LL, and LDAC needs even in a big house or apartment if you attach that oversized antenna.
The D/A conversion job is done by an OG & ultra-rare AK4499EQ that is followed by what looks like an I/V conversion stage to its sides. The output stage uses several op-amps and plenty of discrete components like tiny diodes, rectifiers, and resistors, getting a hybrid output stage at the end of the day.
The whole upper right section is where you'll find the R2R volume control, mixing resistors, and OMRON analog relays, for very precise volume adjustment working in the analog domain for the absolute lowest noise and distortion.
The coolest part (at least for me) is looking at those beautifully arranged NFCA discrete amplifier modules. We have 6 modules made out of discrete components only (not a single op-amp in there), which provide up to 10 Watts of pure analog power, per channel in 16 Ohms, 7-Watts in 32 Ohms, and almost a Watt in 300 Ohms, which should be plentiful for most dynamic and planar-magnetic headphones out there, but more about that in a dedicated chapter.
So, here we have it, guys. The flagship unit of Topping didn't leave a single component to chance. Every tiny component was meticulously chosen for low distortion & noise and for the highest dynamic range from a unit of this size and price.
Sound Performance
I. Preliminary Sound Impressions
I was numbering the days when Topping would return to their roots, to the D90 sound that made me air guitar like Steve Vai, air drum like Igor Cavalera, and headbang like I was seeing Iron Maiden for the first time. D90 left a positive impression on me and while its D90SE successor and the DX7 PRO+ all-in-one thingy brought a nicer resolution and sharper leading edges, some of the magic faded away. Connecting with the music becomes a demanding task especially when following them with a Topping-made integrated or headphone amplifier. When Topping realized that great sonics are more important than the world's best measurements, we finally saw fully discrete amplifiers appearing in their portfolio. I was one of the first to rave about the A90D and all the benefits discrete components brought forward instead of operational amplifiers, especially when considering their (nicer) thermal stability and (higher) current output for demanding loads.
Even though Topping units are considered affordable, it's surprising how many find their way into high-end stereo and headphone setups. Seeing a HiFiMan Susvara next to an A90D or A70 PRO is no longer taboo, and spotting an OG D90 powering a rack full of electronics, followed by a pair of high-end speakers, shouldn't raise eyebrows either.
Roots Bloody Roots. Just like a Brazilian band woke up my inner roots, Topping decided to take a nostalgic trip back to theirs. Stuffing it with a flagship AKM chip felt like diving into grandma's dumplings, and the fully discrete NFCA circuitry. Well, that's the salt and pepper that kicked up the flavor.
We've put a bunch of Topping D/A converters through their paces here—not every single one, but the heavy hitters definitely hit our test benches. Topping went from punchy and organic to detailed and dead serious lately. This time, however, they've blended the technical prowess of their modern converters, like the D90SE, with the smooth, musical character of their older devices.
Topping wasn't just after perfect measurements; they were chasing a great tonal balance that would woo music lovers and audiophiles alike. Using the EverSolo DMP-A8 as a streamer, grabbing the Ethernet signal from an LHY-SW10, and then sending all that goodness via I2S to the DX9 felt like squeezing the last drop of performance out of it. While it sounds fantastic via USB, there's just no comparison when the I2S connection struts onto the stage. There's a darker background, an eerie silence between the notes that USB just can't pull off. And the timing? It's like it's been to a time-management seminar, with defined overtones, slightly better dynamics, and a stronger kick in the lowest octaves, all while gently boosting resolution and transparency.
The DX9 is like a Swiss Army knife for audio, but it shines when you feed it the right signal. If you're hunting for the best, cast your eyes (and ears) no further than the I2S connection flowing from a well-made DDC or wired streamer.
Now, when I'm cooking up new articles or video content, there's always a secondary unit baking in the oven, waiting for its turn to shine. While I was knee-deep in the EverSolo's DMP-A8 double-trouble reviews, the DX9 was playing music under a rug connected to a pair of headphones. After leaving it alone for a few days, I finally sat down for a long listening session, hooking up a pair of Meze Elite and later a pair of FiiO FT5 planar headphones. The bass came charging in like a bull from the get-go, giving my eardrums a hearty punch. While the power numbers might not scale the same heights as the A70 PRO, the DX9's dynamics and the kick in the lowest octaves were on a whole other level.
Cue Playing God by Polyphia (Qobuz / Tidal), and my eyes widened. In no time, I found myself jamming around with a pair of drumsticks. I couldn't sit still; their performance demanded participation, and my body answered the call. Limit to Your Love by James Blake (Qobuz / Tidal) followed suit, and while everyone knows the Meze Elite delivers a fabulous low-end, the bass murmurs starting at the 1-minute mark took control, pushing and pulling my eardrums like it was a walk in the park. I'm thrilled to report that the DX9 isn't just a technical-sounding all-in-one combo; but also, a toe-tapping & fun-inducing wonderbox when your favorite tunes hit the airwaves.
II. DX9 In a Stereo Setup
Darn it, Topping! Could you not find a silver unit to harmonize with the rest of my setup? My closest pals once questioned why I swapped my matte-black gear for a royal blend of princess white and silver. I kept it simple in my reply: Try staging a photo shoot in a dim room with four matte-black units piled atop each other. It's a no-go, but if it somehow works… they'd be gray units after maxing out the highlights and shadow details. Silver or white units don't grapple with those issues. Plus, I've developed a taste for lighter music lately, bidding farewell to my dark roots.
I set up an EverSolo DMP-A8 on its left that was streaming lossless music, and an LHY-SW10 on its right, diligently re-clocking the Ethernet signal. Then, I let the DX9 do its mojo for several straight hours. When Herbie Hancock's Watermelon Man (Qobuz / Tidal) kicked in, doubt surfaced out of nowhere. Perfectly nailing the percussion, trumpet, and piano in a natural way, all while taming the cymbal's energy, is usually reserved for smooth and organic sounding sources that can handle clutter and treble-intensive tracks. A few seconds later, doubts vanished, and the sound shifted from technical to smooth and relaxing. Though I could still focus on the drummer and the trumpet player to my left, the piano was irresistibly strong, always calling my name. Looking left and right, sounds came from weird angles and that's what folks often call a big soundstage or amazing holography. Big soundstage on a Topping unit, is this even possible? Getting an R2R volume control that mixed resistors, analog relays, and a dedicated line-amplifier circuit worked wonders not only expanding the sound in all directions but also strengthening the leading edges and getting stronger contour of the notes. The music wasn't just defined and clean-sounding; it poured out naturally—something rarely said about a Topping unit. The flow of the music improved, a domain usually reserved for smooth and relaxing R2R units. To my amazement, it all worked on the DX9.
Out of the blue, Iron Maiden's Fear Of The Dark (Qobuz / Tidal) burst forth, still a relic in my old playlists. An instant rush of invisible energy surged through my upper body—that's my nature, and that's how my body reacts to dopamine. Instead of dialing down the volume due to higher dynamics and, well, having neighbors, I cranked it up even more. The horns reached new heights, and suddenly, I remembered why I held this band in such high regard. The bass guitar immediately took the spotlight! Piercing through the veil and myriad scattered sounds, it emerged clean, powerful, and a bit more present than usual. I can't recall any Topping unit putting as much meat on the bone; the DX9 was indeed injecting some fear with its bold and robust inner voice, adding mass and oomph to the bass while keeping the treble output in check.
The absence of the Chord Electronics DAVE DAC and Ultima 3 Preamplifier was noticeable; the resolution dipped ever so slightly, and the control of the low frequencies didn't feel as tight. But the oomph was definitely not sitting this one out. Dynamics were lively, and overall, I could envision using it as a DAC and preamp combo with a power amp, driving a pair of passive loudspeakers in a minimalist setup.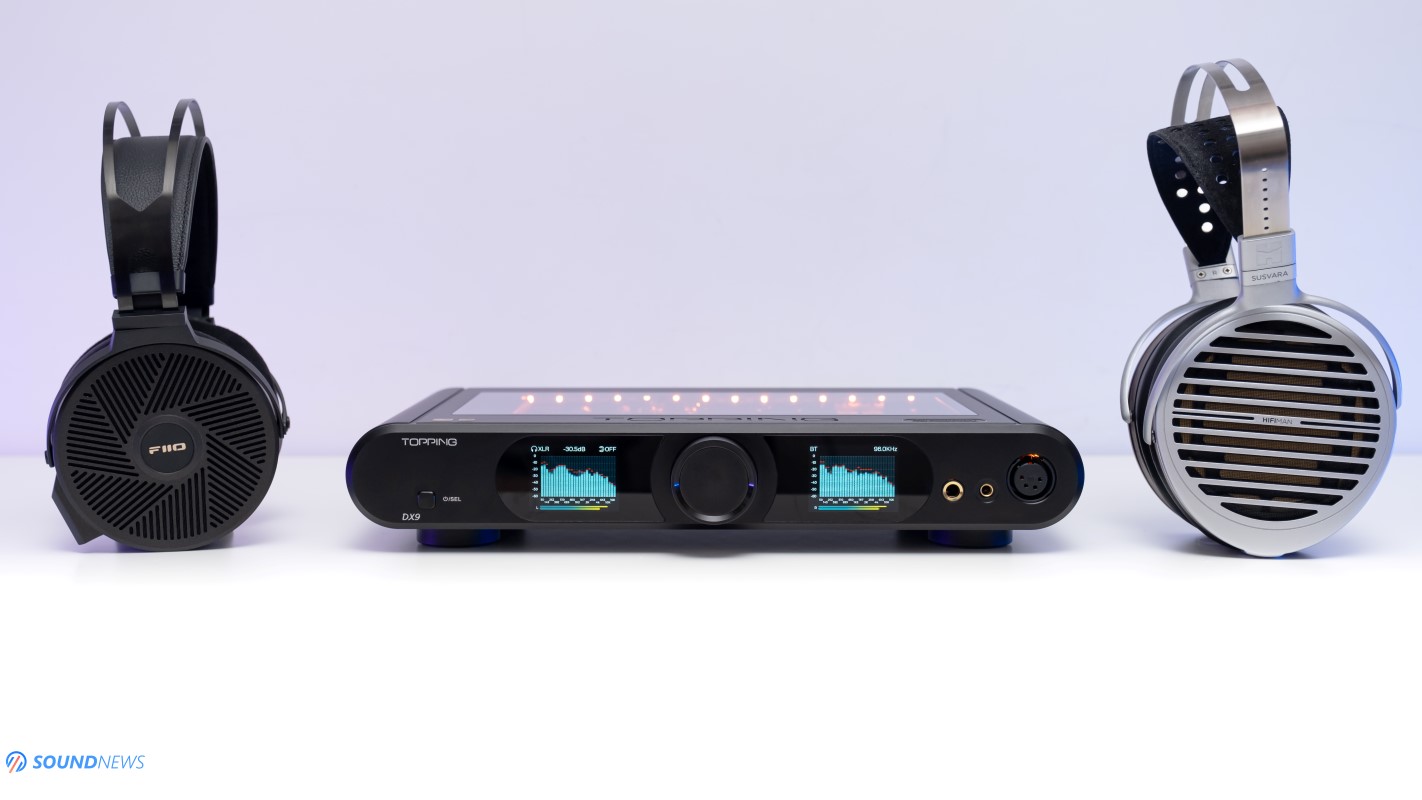 III. DX9 In a Headphone Setup (Power Output)
Topping always liked to experiment. We had the very first nested feedback A90 amplifier back in the day, and then they ventured into the fully discrete NFCA-based A90D, ditching op-amps in favor of transistors. Next up, the A70 PRO took a dip in murky waters with brand-new A-10 amplifier modules, probably mixing op-amps and discrete components. The tick-tock cycle hinted that their next unit would swing back to a fully discrete amplifier stage, and sure enough, the DX9 proudly waved the Olympics flag, where the A90D lost its breath.
The A90D wasn't a slouch. If you needed a powerhouse to drive all your headphones, even the notorious HiFiMan Susvara to a degree, then A90D was aptly doing its job. It awakened my headphones from a dormant state; even low-sensitivity cans and high-impedance ones bent their knees to the might of the A90D. For its size, weight, and price, I was convinced that nothing would surpass it in the coming years. Adding two additional fully discrete amplifier modules, totaling six instead of four on the A90D, the power output increased a little, hitting exactly 10 juicy Watts per channel at 16 Ohms and almost 1 Watt at 300 Ohms, doing justice to dynamic and planar headphones alike.
But how does it fare in the real world? The DX9 offers 100 volume steps in either a gain of 12.5 dB (low-gain) or 24.5 dB (high-gain) via balanced outputs. I opted for high gain in all my tests, as the noise floor is already so low that using low gain seemed unnecessary. The absolute highest volume I could reach with a pair of Meze Elite, Erzetich Charybdis, Phobos V.2021, and Kennerton Rognir planar was -30 dB on the DX9, which, according to a Mini DSP E.A.R.S, would equate to an SPL of 105 dB! It was insanely loud, and yet, there were still 30 dBs of volume remaining on tap, indicating substantial headroom.
To achieve the same ear-drum-shattering volume with a pair of less efficient HiFiMan Arya Stealth, I needed to raise the volume to -23 dB, with the Mini DSP E.A.R.S still showing the same sound pressure level, not ideal for music listening. With a pair of Sennheiser HD800S, I would need to raise the volume to -25 dB for a similar SPL, and once again, plenty of power would still be in reserve. Quite impressive, isn't it?
Now, for the Susvara test! I redid my tests, and at -10 dB, my ears were already flapping in the air like I jumped from an airplane. Let me remind you that this is not my usual listening volume; this is the highest volume I can handle for a few seconds, and yet, 10 dBs were remaining in reserve! Of course, super high-power output and crazy dynamics are two different things, and only on rare occasions could I use them in the same sentence.
You see, there are six amplifier modules instead of four, yet the power marginally improved versus the A90D. Why is that the case? Well, not all Watts are created equal – Rob Watts can confirm that. Jokes aside, six modules deliver a much higher current to your headphones, providing not more power per se, but higher quality power that can better control planar headphones, especially current-hungry, low-sensitivity ones like the HiFiMan Susvara.
The seemingly delicate and almost ethereal sound of the A90D paired with the Susvara is no longer the same with the DX9 and… A70 PRO for that matter. Their newer all-in-one has a better grip over headphone drivers, it's more dynamic, punchy, and alive-sounding and I understand why plenty of folks will be choosing this wombo-combo over separates for their head-fi and stereo needs.
IV. Detail Retrieval & Transparency
Ah, the elusive realm of resolution and transparency, the only aspect that sets apart $100 from $10,000 units. If you're a measurements-only aficionado, then Topping's D90SE might seem slightly more impressive in terms of dynamic range and channel crosstalk, boasting a dynamic range of 134 dB instead of 131 on the DX9, and a similar story unfolds with the channel crosstalk. However, can we genuinely discern 134 dB from 131 dB? Good luck with that; I'm approaching 40 soon, so my hearing abilities aren't at their prime. But, disregarding age and measurements that only tell a fraction of the story, I can attest that through the I2S input, receiving the signal from a wired streamer, the resolution not only improved but is now on par with much pricier converters and the sound experience felt closer to the real thing – to a live performance.
Let me be straight with you – I don't use Delta/Sigma DACs in any of my systems. It's either an FPGA or an R2R DAC because I'm no longer interested in resolution only. Detail retrieval is still crucial, but everything else matters even more. Most importantly, I need to receive the message that the music is trying to convey. If it doesn't make me feel happy or sad, powerful or weak, the message is somehow lost in transit. After testing scores of D/A converters, the ones that weren't impressive at making me move to the rhythm of the music were Delta/Sigma designs. Not all Watts are created equal, and certainly not all Delta/Sigma designs. I still hold fond memories of the original Topping D90, the Gustard A26 PRO, and the Gold Note DS-10 Plus. They proved time and again that great sonics can be achieved with off-the-shelf components like DAC chips and op-amps, and the DX9 stands as a living testament to my convictions. With the DX9, you're not just getting the naked and unspoiled truth; you're also getting a Rainbow In the Dark (may you rest in peace, Ronnie James Dio). You get emotional while listening to your favorite tunes, you feel dynamics rejuvenated, not just trying to meet your expectations but surpass them.
I'm thrilled to report that the DX9 isn't just Extremely technical (with a capital E), highly resolving, and clear; it's also much more fun sounding. I have several friends who always poke fun when I'm testing new gear, and I totally get it. My main setups are playing in the big leagues with theirs. I'm curious to see their faces when I magically swap my main DACs with the DX9 – they're in for a big surprise! So no, the DX9 is not your typical highly resolving and ultimately clinical-sounding unit. There is a flow this time around, some organic matter crawled undetected and latched onto musical notes, adding body and mass to everything that sounded lightweight and ethereal on the D90SE.
V. Transient Response
The music flows through my bloodline for a very long time. My 93-year-old grandfather was hailed as the one-man band in his prime. As a kid, I stumbled upon the attic and was astonished to find a drum kit, a bass guitar, an electric guitar, a bunch of trumpets, an accordion, and a few local instruments like the flute and nai. I asked him about them, and five minutes later, I couldn't believe my eyes. Despite his age, he jumped over them drum kit sounded as if thunder had struck him, and after a 10-minute drum solo… I realized why I love music so much, as it was already flowing through my veins. I won't divulge the entire story behind my love for music, but even at an early age, I could feel the beat, and it always made me move. Even today, I'm not sitting still listening to it. If you ever see me listening, a limb is always moving, a foot is tapping, or my head goes wild. Dynamics were always crucial to me; the transients should always roam wild, and the timing is what determines if the music sounds right or wrong.
The transients are robust in this one, but the timing was right mostly via the I2S connection which added a sense of clean and defined textures without making them overly sharp. The USB connection adds a minor ringing to the whole affair, a strange vibration of the notes that has nothing to do with the speed and decay of the notes. Just an unnatural vibration that makes the music less believable and natural. When listening to vinyl records or cassettes, that vibration suddenly disappears, and everything seems time-aligned, cohesive, and real-sounding. The I2S connection does precisely that, corrects the timing, and adds some of that vinyl-like flow into the mix. The transient response as a whole is impressive, and I don't think some tunes will cripple the DX9. I'm into all sorts of things, including modern electronica like dub-step, drum'n'bass, lots of rave and techno, and I never got the feeling that DX9 is lagging with a mellow or polite sound. However, if you would like to hear the very best it has to offer in terms of timing, then I cannot recommend enough the I2S connection from a well-made DDC or wired streamer.
Equipped with switching mode power supplies that are still the fastest responding power supplies, with a dedicated preamp circuit, and six fully discrete headphone amplifier modules, everything was designed for speed and substantial kick into the eardrums. When it comes to transients as a whole, it gets a 9.5 out of 10 from me.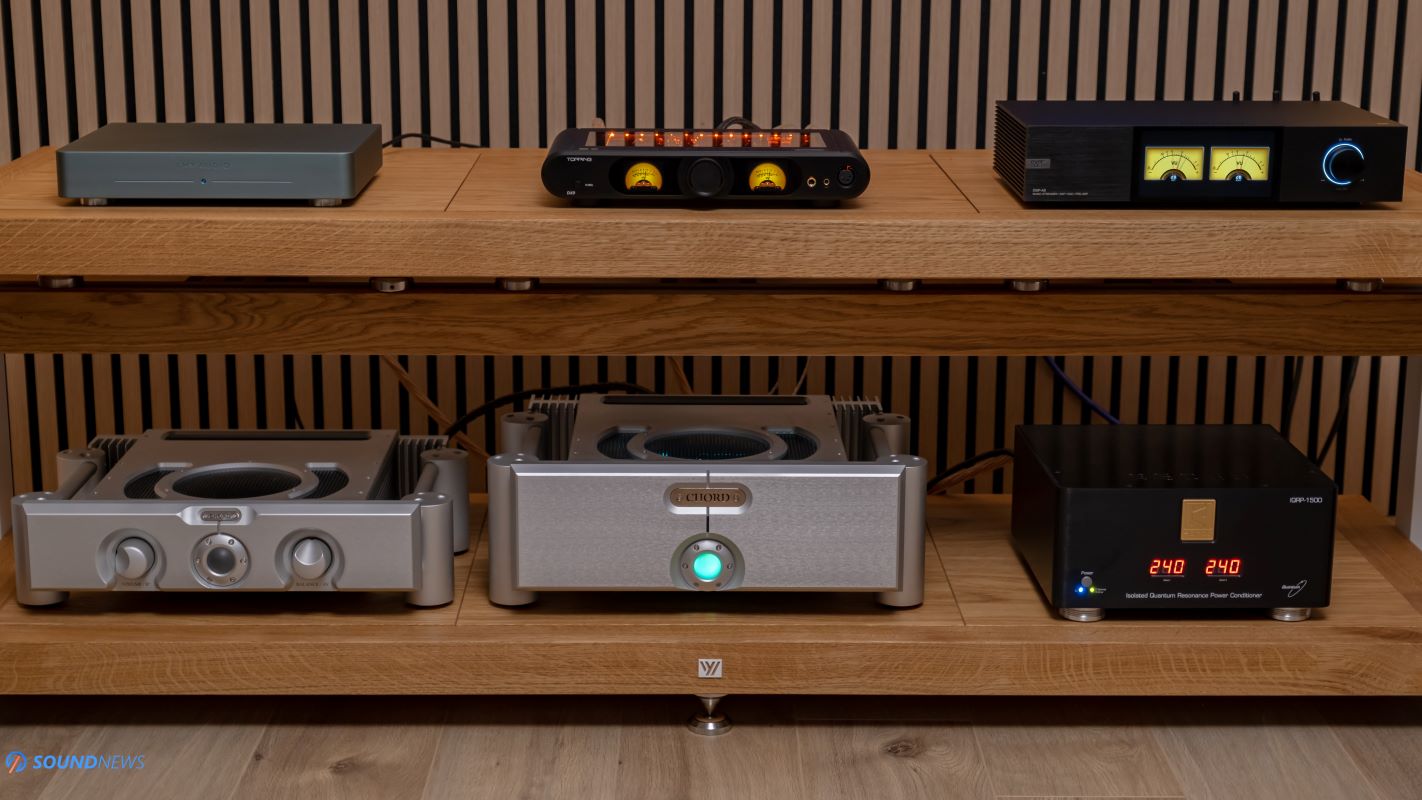 VI. Soundstage & Imaging
The previous DACs and all-in-one units I tested from Topping consistently delivered a clear message that was repeated over and over: we are cool in terms of stereo imaging and moderately cool in terms of sound staging, but not so much when it comes to layering and note separation. These differences are considerably more apparent in a (surprise!) headphone setup, where the same pair of open-back headphones can sound airy and very 3D or closed-in and claustrophobic. The biggest shock I had was when the Rockna Wavedream NET and Wavedream Signature DAC paid a visit. I was gobsmacked, truly, by how much bigger, wider, and deeper everything sounded in a headphone setup. There was a difference in my stereo, but it wasn't as powerful and obvious. Suddenly, with the Rockna stack and Trafomatic Primavera, I was no longer listening to headphones sitting millimeters away from my eardrums, but to a near-field setup playing two meters away from me. It's mind-bending how a source and amplifier swap can make such massive, radical changes in how we perceive air and note separation. From the entire Topping line of DACs, the D90 was the one that had a bigger sound and decent layering. Everything else played on a flat surface, getting little to no depth and layering, the smaller their DACs were, the smaller the sound, getting close and personal most of the time.
With the DX9, Topping was no longer limited by space. The case is bigger, and obviously, more impressive I/V conversion and analog output stages could be around those DAC chips, and that's exactly what they did. Note separation, depth, and layering come mostly from those regions combined with the power supply. Long story short, what was mediocre in terms of staging is no longer as distracting. While it won't outperform my Rockna stack or the DAVE & M Scaler, DX9 is already playing in the big league, trying to impress in both a head-fi and stereo setup. The music is no longer playing inside my skull but somewhere around my head, getting close or far, depending on the tunes and the rest of your electronics.
Fleetwood Mac's live version of Go Insane recorded in 1997 (Qobuz / Tidal) is one of the best examples of how layering works. On the right setup, you can hear the scale of the music, how deep everything sounds, and how much void space there is between the artists. After listening to this track hundreds of times, you start learning the location of every note. You know when the crow goes wild, every pluck of the guitar, every shift in dynamics, and obviously, all the smallest intricacies scattered all around. Usually, I don't need to close my eyes to feel the grandness, the spaciousness, and the notes flying into the abyss. I don't like it when affordable converters kill the sounds too soon, not sustaining them enough so I could hear them slowly fading away. That is (again) the case with affordable converters with weak output stages that can't sustain high current peaks for a longer period. On the DX9, I don't need to close my eyes and engage my zooming skills; everything is already crystal clear, airy, and separated. A well-done job, indeed!
Frequency Response
DX9 doesn't offer deviations from linearity, and this is actually the only test where all DACs are measuring absolutely the same. The frequency response always appears as a straight line, regardless of whether it's a $100 or a $10.000 DAC. Yet, there is a difference in how the frequencies are rendered; some like to add some energy in a particular region, others are removing some energy, and others are rounding the frequency extremes. That's why I still like to write some notes about the frequency response.
VII. Bass
The bass lines were clear and defined, very much in line with the rest of the units tested at the same price point. However, there is a monumental shift in its sustain, decay, and oomph compared to, say, a D90SE. While the bass isn't going lower, it still reaches the same 20 Hz notes; you feel them lingering a microsecond longer, fading away more naturally. It isn't only fast and clean to the core, but also quite layered in a way, as if taking a bass thread and splitting it into multiple strands – you feel them, especially in a good stereo setup, additional murmurs and micro-level information will be appearing in the bass. The final result? A more natural bass rendition that isn't only highly resolving, but also full-bodied and punchy. Of all the Topping-made D/A converters, DX9 is the one that takes the crown for having the most lifelike bass and natural presentation. It's a rare sight calling a Topping DAC natural and organic sounding, but DX9 feels like a different beast altogether, finally adding oomph and saturation where there was too little. I'm not sure if the R2R volume control adds air mass or the fully discrete amp and preamp stages have something to do with this, but finally, words like organic and natural can be used in the same sentence with Topping.
VIII. Midrange
The added oomph and sound density can be felt across the entirety of the frequency response. The vocalists have a deeper meaning to every word coming out of their mouths, and even the drums feel energized and punchier than ever before. Listening to all sorts of acoustic music, the midrange area is the most important one. I can accept added sharpness in the treble; I can accept a weaker bass slam that can be counterbalanced with a nicer amp, but I cannot stand when male voices sound like my wife, losing cojones, weight, and their gutturalness. The midrange is the one that dictates if acoustic music sounds right or wrong, full-bodied or thin. On the DX9, you will experience a slight elevation in energy while gently removing grain and sharp leading edges. There is a smoothing effect at play, and I can only presume that the Velvet Sound Technology of AKM is giving a helping hand. Besides getting a more cursive midrange performance, the tone of the music is also weightier; guitar plucks are almost touching your soul, things usually reserved for expensive converters. Getting the midrange right in a delta/sigma oversampling DAC is a challenging and time-consuming task, but Topping succeeded, and I'm happy to report that their 15th Anniversary unit does proper justice to music lovers, not only to measurement aficionados.
IX. Treble
This is the only region that sounds and feels like I'm listening to a Topping-made DAC. The treble extends way past our hearing abilities; there is a lot at play even past 16 kHz, and maybe I cannot hear anything above that range, but I can feel the sound crisp and extremely defined. The sharpness effect is at play, but it's not overdone. The treble is sharp and contoured, but not as much as to call it clinical or bright. I won't call it relaxed or smoothed out, but it's definitely not bothersome in long listening sessions. If you like to be distracted while listening to music, then DX9 will be doing that every 10 seconds. It demands your fullest attention, always digging deeper and showing additional information, especially from the treble region. While the leading edges are strong and defined, the unnatural treble ringing is not present, at least via the I2S connection, and it never bothered me, even in 4-hour listening marathons. Gustard A26 and Gold Note DS-10 Plus, which also use AKM silicon, felt smoother in this area, gently removing a tiny portion of treble extension, getting a relaxed and easy-going presentation. Topping didn't walk the same path, trying to find a balance between being technical, resolving, and natural, and I do believe they found their muse with the DX9. If you like hearing small intricacies, and all the good and bad stuff in the upper registers, then DX9 will be bringing that up without applying an anti-aliasing filter. You might like or dislike that, depending on your taste.
My Conclusion
Starting from humble beginnings, their biggest goal was perhaps changing our preconceptions that Made in China could be identified with world-class quality, and I believe that DX9 proved their dedication to great sonics and futuristic-looking cases at affordable prices.
So here we have it, a true flagship all-in-one unit from Topping that didn't leave a single feature to chance. Everything was meticulously integrated for a highly technical and enjoyable sound in both a stereo and head-fi setup. We finally got an R2R volume control, a dedicated preamp stage that should be a great partner for their LA90 Discrete. Its headphone amplifier section worked above my expectations, not just decently driving the HiFiMan Susvara but bringing the best out of them. On top of that, just look at the casing work, its double display configuration, and the window on top that exposes the inner workings.
Topping's 15th-anniversary unit feels like a substantial improvement over their old designs, enhancing its resolving abilities and noise suppression while gently smoothing out the top octave for more natural sound reproduction. DX9 doesn't have the highest driving power from their portfolio, A70 PRO still offers a bit more grunt. However, DX9 brings better dynamics, a nicer low-end sustain, decay, and control, a thicker sound all around, and a more enjoyable tuning. If you need clean, distortion-less power that infuses life and punchy dynamics without breaking the bank, and that works equally impressively with sensitive IEMs, then DX9 is an easy recommendation to make. It no longer shuts down as A90D was doing on the 1/4" jack, and it no longer adds pops and crackles when inserting and disconnecting headphones.
As a final conclusion, I can't think of anything that bothered me in this unit. Every con that I mentioned in my DX7 PRO+ and D70 PRO & A70 reviews has been taken care of. I couldn't test its long-term reliability, but in 3 weeks, I didn't have a single issue, even after connecting and disconnecting tens of headphones and IEMs. I tested every feature available, including all the inputs and outputs. Ever since experiencing the Aurora UI on the D70 PRO and A70 PRO, I hoped that Topping would continue using this UI, and I'm glad that DX9 adopted these mandatory quality-of-life improvements.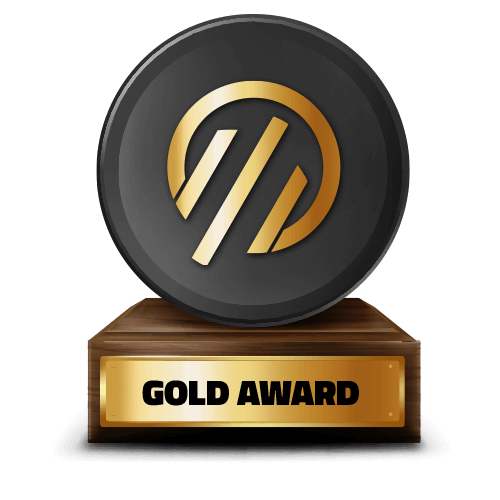 It performed above my expectations, especially when considering that we're dealing with a $1299 unit, awarding it with our highest honors. I consider it a steal at that price, which also includes their RC-22 fully CNC-machined aluminum remote control. This review unit was sent to us by the fine gents of Apos Audio; you can get one from their web store right here in either matte-black or matte-silver. Apos Audio is still offering free shipping in the USA and Canada, free 45-day returns in case you don't like them, an extra year of transferable warranty, plus the lowest price guarantee. In case you're getting a unit, please say Hi and drop me a line in the comments section below.
PROS:
So far, this is the sleekest Topping unit
Dual displays and a plexiglass window on top make it cool and unique
It looks and feels like a proper flagship unit
Top-notch component selection
R2R volume control and an excellent preamp section
Powerful and dynamic/punchy-sounding headphone amplifier section
Noiseless even on high-gain and maximum power
Highly resolving and transparent-sounding DAC section
Finally, we got a proper layering, depth, and soundstage
Impressive transient response, pace, rhythm, and timing
Clear leading edges and contour of the notes
Lacks any digital glare and listening fatigue
A feature-packed 4-in-1 combo
Outstanding value
CONS:
ASSOCIATED EQUIPMENT:
DACs: Topping DX9, Chord Electronics DAVE, Rockna Wavedream Signature XLR, Gold Note DS-10 PLUS
Wireless Streamer & Music Server: Rockna Wavedream NET 4TB, EverSolo DMP-A8
DDCs: Singxer SU-6, Matrix X-SPDIF 3
Headphone Amps: Trafomatic Primavera, Enleum AMP-23R, Ferrum OOR & HYPSOS, Burson Soloist 3X GT, Flux Lab Acoustics Volot
IEMs: HiFiMan Svanar, Westone Mach 50, Hiby ZETA, Meze Rai Penta, FiiO FX15 & FH9, 7Hz Timeless AE, Kinera Skuld & others
Full-sized headphones: HiFiMan Susvara, Arya Organic, Audivina, Ananda Nano, Meze Elite & 109 PRO, Erzetich Charybdis & Phobos V.2021, Sennheiser HD800S, Kennerton Rognir (planar) & Vali, Apos Caspian, Sendy Peacock & Apollo, FiiO FT5, HarmonicDyne Elite & Poseidon, Moondrop Venus & others
Preamps: Chord Electronics Ultima 3 Pre
Power Amps: Chord Electronics Ultima 5 Power, Burson Timekeeper 3X GT (x2)
Loudspeakers: KEF Reference 3, Raidho TD2.2 (incoming)
DAC/Amps: xDuoo XD05 PRO, Shanling H7, FiiO Q7, Topping G5
DAPs: HiBy RS8, FiiO M15S, Shanling M6 Ultra
Interconnects: Crystal Cable Reference2 Diamond (x3), QED Reference (x2), Topping TCX1 (x2)
USB Cables: Supra USB Excalibur (x2), Chord C-USB, Matrix Hi-Fi USB
HDMI Cables: Audioquest Diamond DBS, Supra 8K HDMI
Speaker cables: Kimber PR8, Audioquest Type4
Power Cables: Crystal Cable Reference2 Diamond (x3), Isotek EVO3 Premier (x2), iFi Audio SupaNova (x2)
Balanced Isolation Power Conditioners: PLiXiR Elite BAC1500 (stereo setup), KECES IQRP-1500 and P14 (headphone setup)