Astell&Kern launches a portable player with interchangeable Sound Modules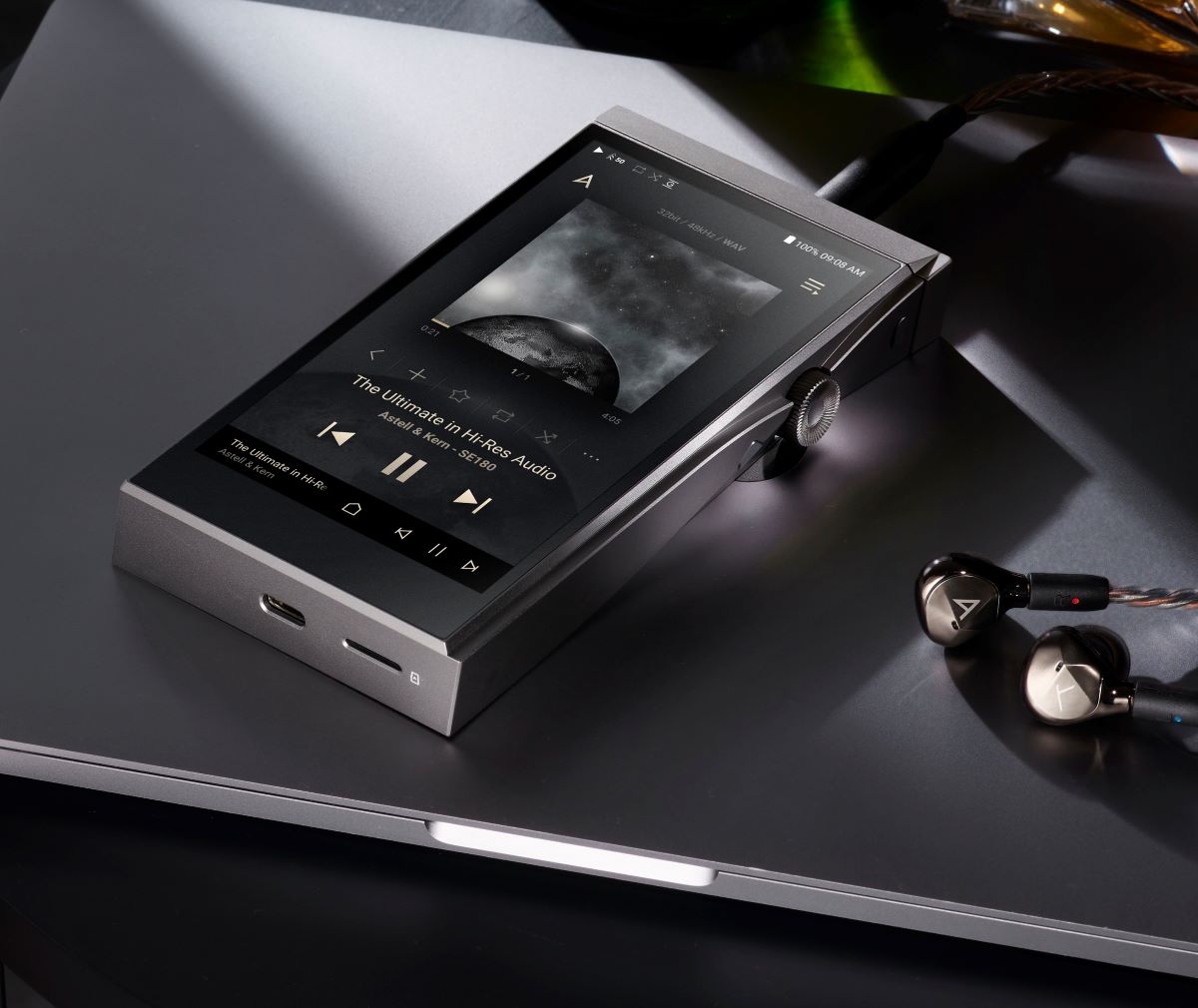 Astell&Kern unveils the third model of the premium A&futura line, the SE180, that continues the tradition of the line by adding features not found on other Astell&Kern devices. With the SE180, users can "Shape Your Sound" to best match the headphones and genre of music you are listening to through the use of Interchangeable sound modules. The SE180 also introduces a new user experience and new features not found on other Astell&Kern players.
Interchangeable All-In-One Modules
The A&futura SE180 includes the SEM1 module. The default configuration module contains a ESS ES9038PRO DAC, an 8-channel DAC mainly used for premium home audio equipment. This DAC provides a wider dynamic range and more detailed sophistication. The module includes 2.5mm, 3.5mm and 4.4mm connections to allow for a greater variety of headphones/IEMs. The SEM1 module supports native playback of up to 32-bit/384kHz PCM and DSD256 hi-res audio.
The SEM2 module, available separately, features two AKM AK4497EQ DACs, in dual-mono configuration. The module includes 2.5mm, 3.5mm and 4.4mm connections to allow for a greater variety of headphones/IEMs. The SEM2 module supports native playback of up to 32-bit/768kHz PCM and DSD512 hi-res audio. The SEM2 module will be available soon for $399.
Additional modules will be released in the second half of 2021 and first half of 2022.
Next Generation Advanced AMP Technology
With the SE180, Astell&Kern applied Next Generation AMP technology to push beyond the sound quality others feel is acceptable for Premium Hi-Fi Sound to produce the best sound possible.
From the selection of OP-AMP parts, to circuit design, board layout and tuning, everything has been completely redesigned to produce the best sound.
While it is difficult to improve the Signal-to-Noise Ratio (SNR) while maintaining a high output, after countless hours of research, Astell&Kern's Next Generation AMP technology solved the issue of increasing output while improving the SNR. The signal-to-noise ratio (SNR) with the default SEM1 module is an incredible 129dB, not seen in other products with this high output.
New Navigation bar for easier navigation
To provide more convenient movement through the player user interface that is consistent with an Android smartphone experience, the SE180 features a new navigation bar, the first in an Astell&Kern player.
Now you can easily navigate with a single touch and deliver music playback information from any screen. The new one swipe feature moves you to the previous screen.
AK File Drop to enjoy wireless transfers
The new AK File Drop function in the SE180 makes files transfers easier and more convenient. Using AK File Drop, you can freely transfer files wirelessly through a PC, smartphone, or FTP program located on the same network.
Music file management is now possible with a cableless, wireless solution.
Wireless Hi-Fi Sound Through BT Sync
The newly introduced BT Sync function connects the SE180 to an external device via Bluetooth, similar to connecting a smartphone with a BT speaker. Music from an external device, such as a smartphone can now be played back in high-quality on the SE180 using the BT Sync function.
Full HD Touchscreen
The SE180 features a 5" full HD (1920×1080 resolution) screen to provide a higher quality display.
Some of the most popular features found in other Astell&Kern players are also included in the SE180, such as LED lighting around the volume wheel which displays different colors of light, including red, green, blue, and purple to reflect music playback information including volume range, bit-rate of track currently playing and the current DAC that is being used for playback of music. With MQA support and a full decoder built in, the SE180 can unfold MQA encoded tracks all the way to the original resolution of the file. MQA playback is supported both via downloaded MQA audio files and through music streaming services with MQA support.
Latest generation Bluetooth 5.0 features faster transmission speed and greater range compared to Bluetooth 4.2, therefore providing a more stable wireless connection. Both LDAC™ and aptX™ HD codecs are supported to provide audiophiles with 24-bit audio playback wirelessly.
The player includes 256GB of internal memory with support for microSD cards up to 1TB, Wi-Fi, DLNA networking, USB digital audio output, USB-C for data transfer and fast-charge support, and the ability to use the SE180 as a USB DAC for your Mac or Windows-based PC.
Astell&Kern's latest user interface and support for Open App service is also included in the SE180, which adds Android APK support, allowing users to install additional music streaming services to their player by simply copying and installing the corresponding APK file for the music service they wish to add. Services supported include Apple Music, Amazon Music, Spotify, Tidal, SoundCloud, Qobuz, SiriusXM, Tune-In, myTuner, Bandcamp and Deezer (supported streaming services varies by country). Offline content for supported apps can be stored in either internal or external player memory so you can listen to your favorite music streaming service tracks on the go.
The SE180 with default SEM1 module will be available for purchase on May 17, 2021 for $1499.