The Best Black Friday & Cyber Monday 2022 Hi-Fi Deals all around the globe!
If you have a huge passion for everything Hi-Fi like we do and with Christmas and holiday season just around the corner, there's no better time in treating yourself with some drool-worthy Black Friday and Cyber Monday deals all around the globe. We have compiled a long shopping list that includes 25 stores covering all your stereo and head-fi needs. Without further ado, let's get it started!
1. HiFiGo are bringing you an exclusive collection of IEMs, DACs, and amplifiers from top brands with discounts of up to 40% Off. Something will surely catch your attention. Go check them out right here!
2. ShenzenAudio comes next and this is the biggest name when it comes to Made in China HiFi. Most of the affordable gear reviewed around here are carried by them and you can get a hefty discount on your sought-after DAC, amplifier, IEM or headphone. They have a massive portfolio covering every corner of HiFi. The biggest names are there and they will be offering their signature Lowest Price Guarantee. Their deals can be found right here.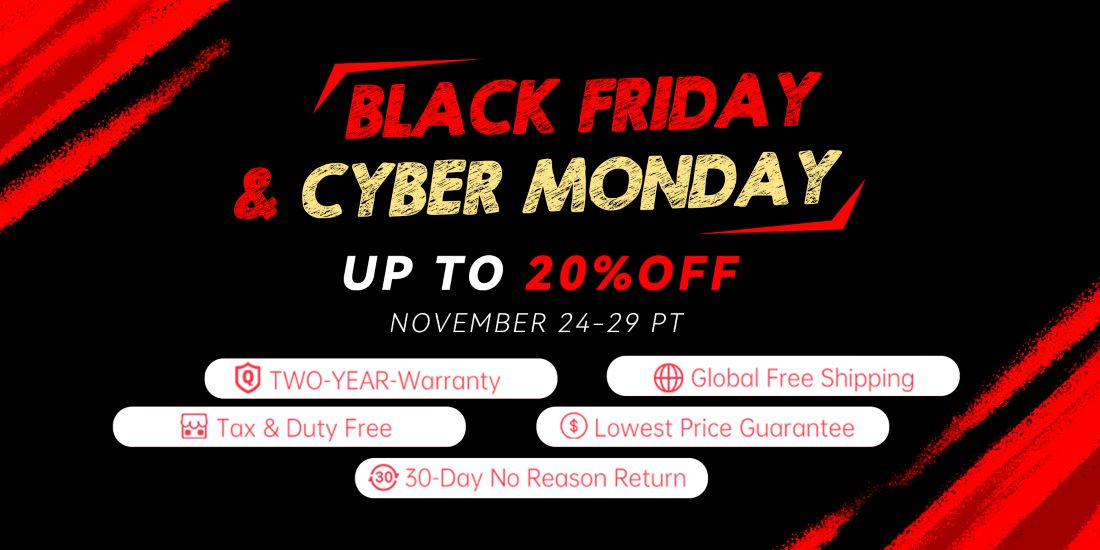 3. Linsoul follows next. They are offering up to 50% OFF their products. They will have plenty of surprises, a Thanksgiving lottery, flash sales, giveaways and a lot more! They are (mostly) covering the portable audio market and if you're shopping for some IEMs, portable dongles, Bluetooth gizmos, DAPs or DAC/Amps, then you can take a look at their deals right here.
4. Aoshida Audio are focused on all things portable & desktop audio and they are the sole worldwide distributors for Musician Audio. If you're hunting for a Musician Aquarius, Pegasus, Draco R-2R DACs or for their Monoceros preamp and Andromeda class-A headphone amp at 10% Off, then now it's your chance. They are also selling our all-time-favorite Gustard R26 Discrete and Gustard X26 PRO DACs at 10% Off, including their mid-level X18 DAC. The newest SMSL D400EX and D400ES are also selling at 15% Off – which seems like a very good deal. A Gustard R26 Discrete at ~$1400? Yes, please!
5. Apos Audio are some of the coolest guys we worked with. They will price match any other price you'll find online. Even the ones you already found in this article? Of course! Besides that, you are getting Free Priority Shipping, Free Returns and an Extended 2-year Warranty on anything you buy form them. Buy anything from them and if you'll find a cheaper price anywhere online in the next 45-days, they will refund back the difference! How cool is that?! That's Super-Duper-Cool! They will be offering you a 15% Off on all Topping, SMSL, Moondrop, xDuoo, Tanchjim, Singxer and Elipson products, in between 20% and 22% Off on selected Focal headphones, in between 20% and 22% Off on selected Meze headphones and so much more. Go treat yourself with a well-deserved Topping DX7 PRO+, Topping D90SE, SMSL DM500 MKIII, SMSL SU-10 or with our co-designed Apos Caspian headphone at a nice discount.
6. Burson Audio will be slashing up to 30% Off on selected gear displaying on their web-store, but we expect popular models running out quickly. If you ever dreamt about an end-game all-in-one unit like Conductor 3X GT, about a top-class headphone amplifier like Soloist 3X GT or Timekeeper 3X GT power amp, then now is your best chance for a hefty discount.
7. Audio46 are covering some of the biggest audio brands all around the globe, targeting mostly headphone enthusiasts from entry-level to end-game material. Wallet whine starts from here.
8. Hifiman will be dropping up to 83% Off on selected headphones, DACs and amps. HE-R9 at just $249, HE-R10D at just $799, Ananda Non-Stealth at $599 and the same price for the open-box Stealth version are some of the best deals you'll find on their web-store. Get an amp first and then some proper planars from here.
9. Headphones.com is probably the biggest headphone-related store on planet Earth, covering all your head-fi needs at a hefty discount. Sun burns a hole in your pocket starting from here.
10. PenonAudio are carrying mostly IEMs, earphones and earbuds, including third-party cables. They will be slashing 10% Off store-wide, go check their deals right here.
11. DUNU-TopSound IEMs are going down price-wise, including their flagship units. Their stocks are limited, so act quickly. Wife stares at you from here.
12. MusicTeck will be covering your portable-audio needs, offering up to 40% Off on select IEMs and DAPs. Go check their deals right here.
13. Astell&Kern will be running Holiday promotions for some of their TOTL portable DAPs and IEMs. You can check their (overpriced) stuff right here.
14. EffectAudio are offering a decent discount on their premium headphone cables, you might even receive a mystery gift if you're lucky. Don't click it here.
15. SVS will be offering cool savings for all their loudspeakers and subwoofers. Start building a friendly relationship with your neighbors from here.
16. WooAudio are discounting some of their world-renown tube amplifiers and a few desktop headphones. Tube amps run hot from here.
17. Meze Audio have massive discounts on several B-Stock headphones. Empyrean at $2000, Liric at $1499 and Rai Penta at $659 are truly drool-worthy. Act quickly as their availability is limited! Clicky here.
18. Erzetich Audio have massive discounts on their Mania V2018 and Thalia headphones. Their devilish Bacillus headphone amp is heavily discounted as well. Only a few units are being offered and you can check their goodies right here.
19. Sennheiser are offering up to 50% Off on select IEMs and headphones. That AMBEO soundbar is winking at us for quite some time and it's included in the sale. Wallet cries from here.
20. Beyerdynamic are slashing up to 60% Off on select IEMs and headphones. I must admit that $139 for DT990 PRO and DT770 PRO is so hot right now. Get some flowers for your lady and then click right here.
21. Hiby Music are slashing the price off their portable DAPs and IEMs. Their all-new R5 Gen 2, RS2 and RS6 are also being included in the list. Wallet goes missing after the click.
22. Thomann is having a massive CyberWeek up until 28.11.22, covering all your Pro Audio needs. Get a Stratocaster from here.
23. Buchardt Audio are slashing up to €700 from their Future-Fi loudspeakers, even the newest models are being discounted. Check their awesome looking speakers right here.
24. Audiophonics is by far, the biggest HiFi retailer from Europe, covering every corner of HiFi, from affordable to high-end. All our cables and DIY tweaks were purchased from them. Check their goodies right here.
25. FiiO are slashing up to 40% Off on things sold over their AliExpress Store. Wallet damage incoming after the click.
The first five links are affiliated links that will support our work in delivering well-documented written & video reviews and pour gasoline on our burning passion for all things audio at no additional cost to you. If you want to be helpful, get anything from the first five stores and we'll get a small share, for which we are very thankful!
Aaand this wraps up our best Black Friday and Cyber Monday deals all around the globe. Don't forget to be kind to each-other, show love and respect, try to be positive and when you're down…power that stereo or put some headphones on and recalibrate your mood. Happy shopping everybody and we'll see you around!