Enleum HPA-23RM Review – Playing in a League of its Own

Exactly ten years ago I was making acquittance with the Bakoon International HPA-21 – a battery-powered reference desktop headphone amplifier that was ahead of its time. Rocking zero negative feedback and having a wide bandwidth design, used in tandem with a freshly released Chord Electronics QBD-76 HDSD DAC, felt like hearing the mighty Audeze LCD-3 and the Sennheiser HD800 for the very first time. I always knew there was something extra that both headphones were capable of, trying to connect me with their inner voice. The current mode HPA-21 finally created that bond, unleashing their maximum potential in the process. Having fresher blood and thinner eardrums back in the day, I didn't know how to react to the extra perceived detail that both headphones were abundantly throwing at me. Nicer headphones didn't exist back then and when HPA-21 hopped on my table, it felt like I was listening to the Audeze LCD-4 before its release. That incredible control over the lowest frequencies, the flow, and powerful dynamics were on another level versus my Woo Audio WA6 SE and first-generation Burson Conductor that I was using at that time. I raved about it and some of my closest friends visited me, agreeing that it was the very first headphone amplifier that offered unheard-of levels of transparency levels and control.
It was ahead of its competition and I'm sure that even nowadays it would be awakening the same feelings. Bakoon International went down as a fiery Phoenix, arising from its ashes as Enleum which glues together Enlightenment, and Eum which stands for sound in Korean, further refining the designs of their founding fathers. Last year I gave you the Enleum AMP-23R review, which up to this very day stands as the best-sounding headphone amplifier that passed through my hands. I refused to like it at first, I was and still use a fully balanced DAC, my entire stereo and head-fi rig were rigged with balanced interconnects. When the little AMP-23R came over, it shattered all my preconceptions about balanced drive. AMP-23R made me sell two power amplifiers and a statement headphone amplifier, as the tiny unit sounded bolder, bigger, tighter, and sweeter. So sweet, that in fact, I didn't only buy the review unit, but a second unit as well to be used with a stereo setup far away from our HQ. I can't be cured at this point, but I don't regret a single penny spent, as I know that it would be impossible to beat the little AMP-23R at creating emotions and magical moments when listening to music. It has the effect of opening your third eye, there are zero chances of multitasking with the AMP-23R on your table, as it always demands your fullest attention. It sounds like nothing I experienced from a solid-state Wonderland. Imagine the highest transparency, the lowest distortion, the strongest grip over headphone/speaker drivers, the craziest dynamics hitting you relentlessly like bloodthirsty berserks, and the flow and holography of the big boy tube amplifiers. This tiny, almost shy-looking AMP-23R was exactly like that.
As a happy AMP-23R headbanger, I thought that nothing else would impress me when it comes to solid-state headphone amps, until I and my crew visited Munich's High-End Show 2023, coming across a palm-sized and battery-powered Enleum HPA-23RM headphone amplifier which was driving two notoriously hard to drive loads, the Dan Clark Audio Stealth and the HiFiMan Susvara. I started laughing with our newest writer Catalin and with one of my oldest friends – Dan of www.headmania.org. We started making jokes about its size, trying to move some of the hardest loads out there. The jokes stopped and an eerie silence enveloped us when the music started playing. We were gobsmacked and you could see fascination on our faces when the Lilliputian HPA-23RM started playing. In my show report, I described my experience with the following words: "I don't know what magical liquids Soo In poured over its circuit board and what ritual dances were performed while designing the unit, but DCA's Stealth and HiFiMan's Susvara were fully driven with authority, bass slam, and midrange purity. I was mighty impressed!". Immediately after returning home, I started exchanging emails with Soo In, as the idea of powering the most demanding loads on the go was very appealing to me, I couldn't differentiate its sound from its bigger and pricier brother. It was obvious that I needed some quiet moments with the HPA-23RM to fully understand it. Both parties shook hands and when the time came, I vowed to publish an in-depth review of it. In late August, the last iteration saw the light of the sun and finally, they were able to reveal more information about its power output, connectivity, and working principle. I got one of the very first production units and I'm happy to be one of the lucky chaps telling you all about it. Don't treat it as a (trans)portable headphone amplifier, but more like an upgraded version of the old Bakoon HPA-21, working as both a desktop and portable reference amplifier, working off batteries even when connected to a power adapter. It goes for $3000 in the USA, £3.300 in the United Kingdom, and €3.700 here in Europe, a substantial price decrease versus its bigger brother and let's check if performs at its asking price.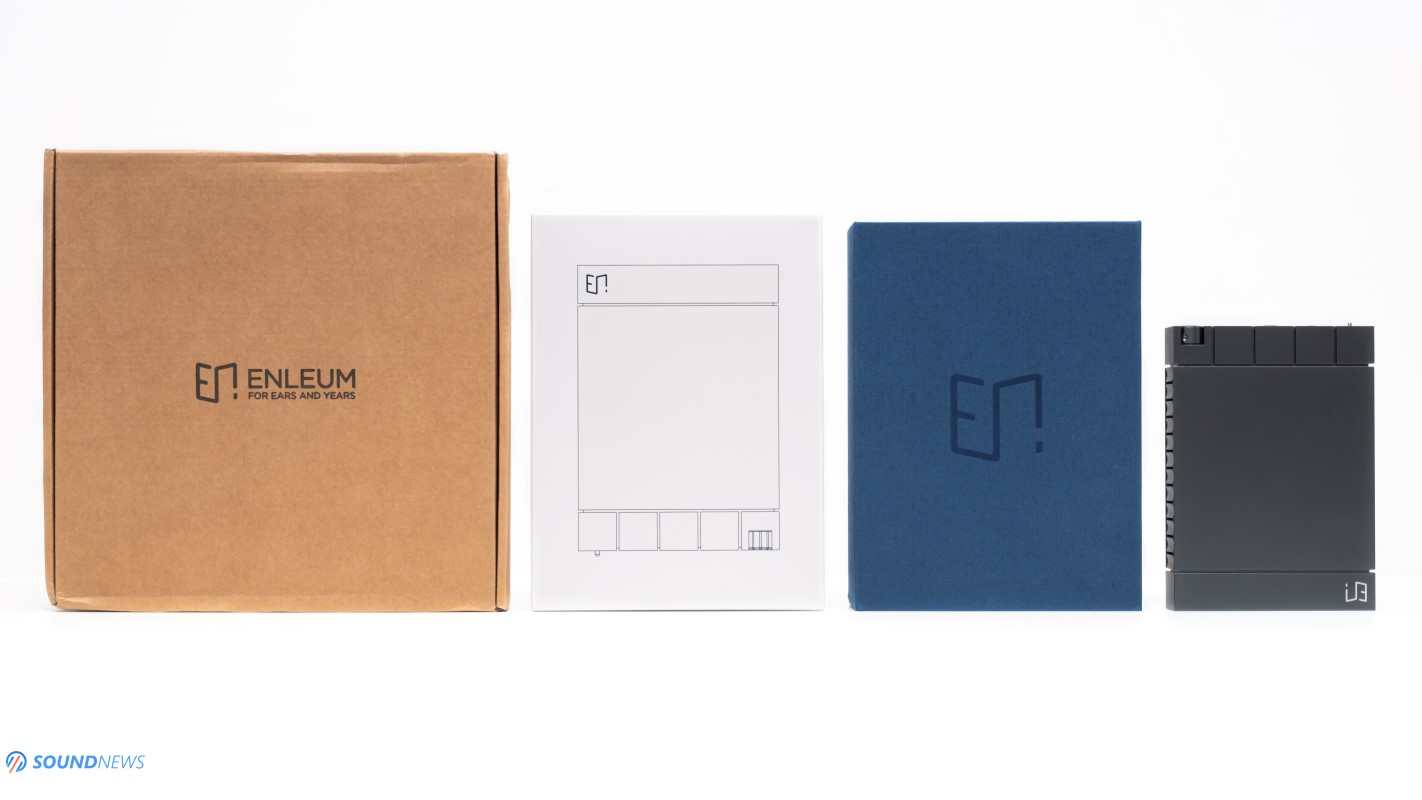 Unboxing Experience
Enleum upped the ante, going with a triple box solution that will keep the amp safe and sound, sailing all around the globe until reaching the final destination. The unboxing experience is outstanding, reminiscent of unwrapping an art piece from a tightly secured package. You will see their logo three times before getting to the unit itself and every time you'll be reminded that everything they do is For Ears and Years only. The final product box is extremely thick, surrounded by serious quantities of foam, surrounding the unit, which reinforces a strong desire to carefully pack a premium product. Besides the unit itself which by the way looks like a gem, you'll get an Owner's Manual and a 15-Watt (5V 3A) power supply terminated with a USB Type-C connector, that will be charging the unit.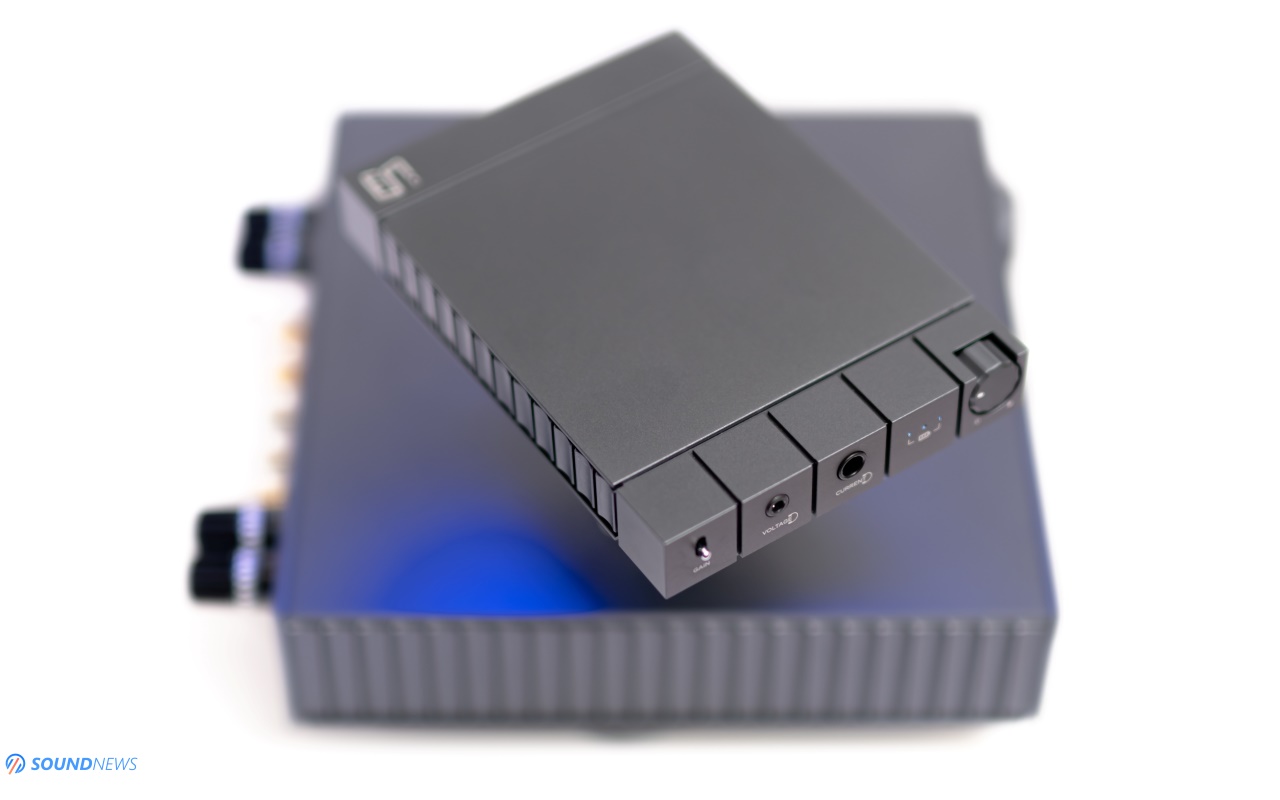 Design & Build Quality
In the past two years, I tried some of the coolest mobile headphone amplifiers, some of which were also rocking a DAC section. From affordable units like Topping NX7 to much bigger and pricier units, like Topping G5, Shanling H7, FiiO Q7, and xDuoo XD05 PRO, it was clear to me that the market demands are shifting towards units that could drive a wall of headphones, without the need of double checking the sensitivity of your beloved music making machines. Q7 and XD05 PRO in particular were able to drive the hardest loads out there, with a sizable amount of headroom remaining on tap for wilder dynamic swings. While I appreciated the serious look of XD05 PRO and Q7, the smooth lines of H7, all of them are paling in comparison to the build quality of the HPA-23RM. It looks like it will outlast a nuclear war, it feels incredibly solid in the hand, built to the highest standards. Nothing wobbles around, there is a higher physical resistance on its volume knob which I like and the attention to the smallest details is staggering, to say the least. We are getting the same high-quality craftsmanship as its bigger brother, inheriting the same esthetic features, like a solid unibody case carved from a single block of aluminum, the same fit & finish, and wave-like patterns on its sides which act like heatsinks, cooling it down in the process. Even its metal-clad volume knob looks like a miniaturization of the one found on AMP-23R. A touch of refinement was added to the whole affair, making it look unique and beautiful at the same time, reminding me of minimalist industrial designs. They are offering it only in matte dark grey, all their devices use this color scheme, that doesn't attract the cat eyes of our beloved, and in time, I started appreciating its stealthy look which is scoring high marks in a WAF contest.
Sometimes you get good tolerance numbers on HiFi cases, sometimes you get great tolerance numbers and sometimes you get NASA-approved tolerance numbers which Enleum proudly showcases on all their devices. I don't think you can get a nicer build quality and if you care for the looks and craftsmanship of your devices, then this is as high as you can get.
Under the unit, you can spot four tiny rubber feet placed in perfectly cut rounded spaces which will briefly elevate it from the ground, adding two millimeters in between it and your portable source. All the screws were moved underneath the unit and with the help of a Torx T8 screwdriver, you can detach the aluminum cover and if needed, replace two worn-out 3.6V, 18650-type high-discharge rate batteries. As an uncurable flashlight collector (another hobby of mine), I have plenty of 18650-type batteries lying around the house, and seeing them inside the HPA-23RM makes me feel warm and cozy, as I know that these are the very best batteries to be used in reference audio applications. Why you might ask? 18650 type high-discharge rate batteries can offer an instant current delivery of up to 30 Amperes and that my friends is exactly what a pair of HiFiMan Susvara, DCA Stealth & Expanse truly needs when low-rumbling bass notes are crashing down on you. Highest-performance flashlights demand juicy amperes to get the power of the Sun in the palm of your hand and I'm glad to see these close-to-zero impedance, high-current batteries making their way into audio applications. An important bit: when trying to swap the internal batteries with a fresh set that have a protection circuit module (PCM for short) after about ~four to five years of service, please note that the screw below the volume knob is shorter by 1mm. When bolting the screws back, please make sure that the shortest screw goes back to the same place (below the volume knob).
Connectivity
AMP-23R has the simplest front panel you can see on a headphone amplifier, rocking a Low/High gain switch, a 3.5mm (1/8") headphone jack labeled as Voltage, a 6.35mm (1/4") jack labeled as Current, a three-level battery indicator and a volume knob that also works as an On/Off switch.
On its back, you'll find a USB-Type C female socket used for charging and a pair of RCA and 3.5mm analog inputs. On the go, a short 3.5mm interconnect cable can help you connect a portable DAP to it and in an office environment, an RCA interconnect cable seems like a better fit.
Technology Inside Enleum's HPA-23RM
As Enleum puts it, HPA-23RM is their new reference dedicated headphone amplifier, designed for both desktop and mobile usage, hence using the R for reference and M for mobile in the product name. HPA-23RM continues the legacy of crafting headphone amplifiers with up-to-date technologies, following the footsteps of the AMP-23R and legacy products, such as HPA-21 and HPA-01M.
Although the HPA-23RM has a tiny footprint and looks minuscule next to an AC-powered headphone amplifier, it contains not one but two amplifiers in the same chassis, employing both voltage and current outputs. The voltage output is directly inherited from the AMP-23R MOSFET output stage with a simplified version of the JET2 Bias circuit. The current output on the other hand is a descendant of the HPA-21's bipolar transistor-based circuit, redesigned and refined from the ground up with newer & advanced technologies. Thanks to breakthroughs in battery power supply design and efficient thermal dissipation, we can now experience Enleum's reference sound in a much smaller, pocket-friendly package.
When taking the lid off, the first thing you'll notice are the ENSENCE modules which can also be found on the bigger AMP-23R sibling. This circuit employs a full-discrete amplifier stage, working in a zero negative feedback configuration, featuring an ultra-fast and ultra-wide frequency response. All of these technologies were shrunk into smaller ENSENCE modules which take an important role in the input stage of the amplifier, allowing a lossless variable gain, so we can enjoy our tunes at a rock-steady performance regardless of the gain and/or volume.
For a perfect channel crosstalk that wouldn't degrade the signal's purity, Enleum went with a solid-state resistor-based volume attenuator. Yep! An R2R volume control uses a resistor ladder after which the same gain adjustment method and software control are applied for a wide range of low-sensitivity and ultra-sensitive loads.
Last but not least, Enleum has a long history of using batteries on their legacy products (HPA-21, HPA-01M) and with the newest HPA-23RM they focused on a more efficient circuit, reducing the total number of cell batteries, employing their most advanced power supply design with the help of a 1.2 MHz switching mode power supply (SMPS for short) and ultra-low noise voltage regulators, which can be usually spotted in reference audio applications.
The result? A 750-gram dual-purpose headphone amplifier that can provide up to 500 mW of power per channel in 30 Ohms via the voltage output and up to 1 Watt (1000mW) of power per channel via the current output. Having a tiny footprint of 164.5 mm long by 116 mm wide and 22mm tall, this small fellow should be more than capable enough of driving the most demanding loads, but as usual, I will be testing those claims soon enough.
Test Equipment
HPA-23RM is a dual-purpose headphone amplifier and that's why it has been used in two distinct headphone setups:
As a mobile headphone amplifier, connected to an equally impressive HiBy RS8 portable DAP via a 3.5mm line-out using a high-quality OCC interconnect cable, driving a bunch of ultra-sensitive IEMs and several portable headphones.
As a desktop headphone amplifier, connected via a pair of Audioquest SKY RCA interconnect cables to a Rockna Wavedream Signature DAC which was receiving the signal via I2S from a Rockna Wavedream NET 4TB music server/wired streamer. Both units were powered by a KECES IQRP-1500 passive balanced power conditioner and since I used Roon to control the music playback, I took extra measures to clean up the signal by removing the noise with the help of two media converters (RJ45 > Optical > RJ45) for the absolute best performance that wouldn't bottleneck HPA-23RM's performance in any way. Only desktop dynamic and planar-magnetic headphones have been used on this setup.
Everything should be as clear as the blue sky, so what we are waiting for? Let's dive in and hit some eardrums!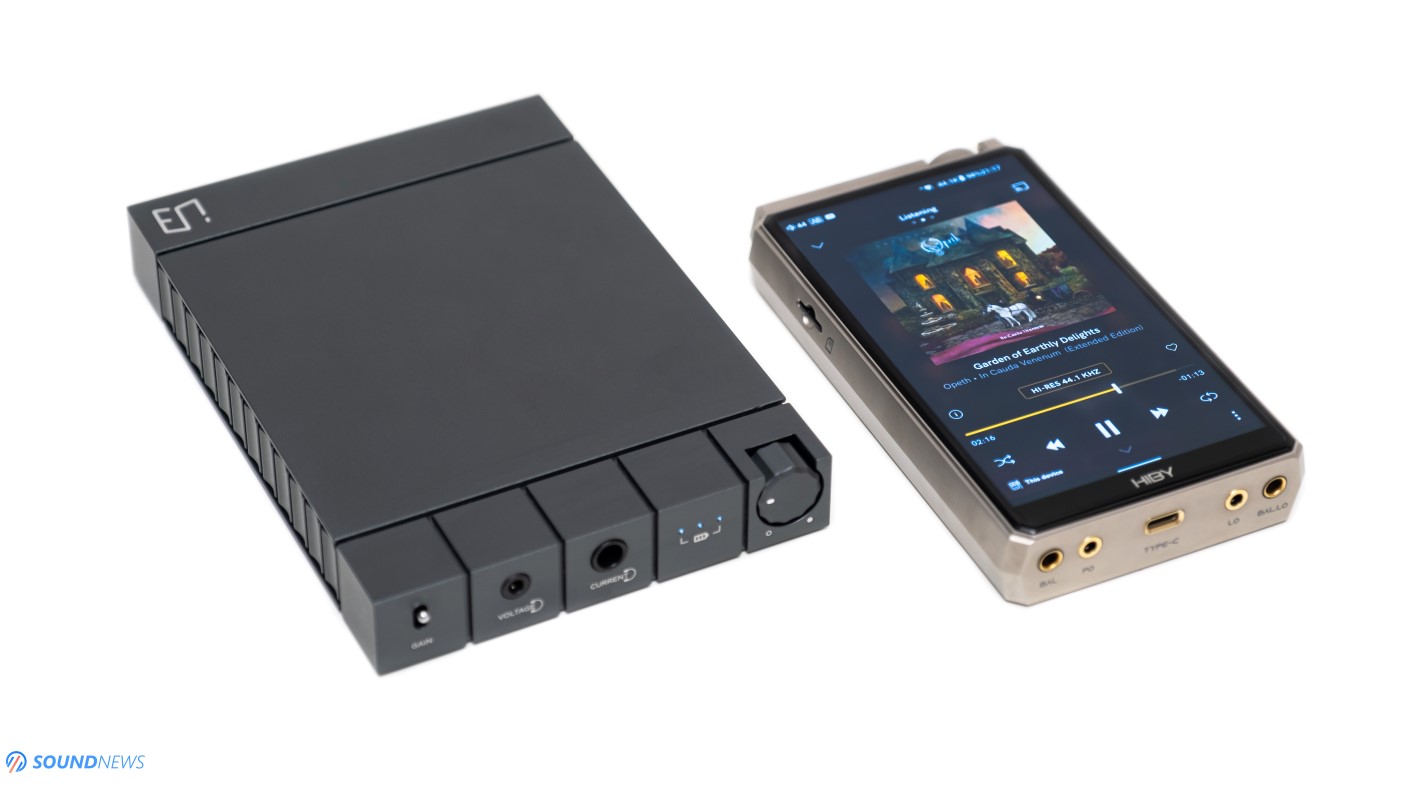 Sound Performance
I. Preliminary Sound Impressions
I purchased the Enleum AMP-23R immediately after dropping a detailed review. A year later I moved it into a stereo setup far away from SoundNews HQ and since I was still longing for its smooth-as-butter sound that was still unmatched by solid-state headphone amplifiers that were coming and going for review purposes, I decided to get another unit to be used in warmer seasons when heat dissipation of the Trafomatic Primavera becomes a problem. The heat dissipation is so strong that I cannot power it for at least six months without having an AC cooling the same room. For this reason, I decided that AMP-23R will be powering my headphones in the first half of the Spring, all of summer, and the second half of autumn, and then, Trafomatic Primavera will swap places, powering my headphones for the rest, six months of the year. This way, I get to use them both, getting the same appreciation.
When the secondary AMP-23R arrived together with the HPA-23RM sitting in the same package, I was awestruck by how much better the smaller unit sounded versus its bigger sibling. How that is even possible?! The difference was so big that I started bouncing emails back and forth, trying to get to the bottom of this story. It turns out, that the small HPA-23RM had more than 60 hours of playtime, whilst AMP-23R was brand new, needing at least 100 hours until the sound would loosen up, get nimble, and unshackled. Immediately after posting my HiFiMan Organic review, Covid-19 struck me again (for the fourth) time, and due to brain fog, I couldn't start gathering information for the upcoming HPA-23RM review. Luckily, I had plenty of time to immerse myself in music, trying a variety of dynamic and planar headphones alike. As I was battling with a fever for three days, the units that were keeping me good company, trying to lift my mood were none other than the HiBY RS8 DAP and Enleum's HPA-23RM. While HiBy's best amplifier stage was mighty impressive on its own and rightfully so, using discrete components biased into either Class-A or AB operation, just a few minutes later, it was clear to me that RS8's amplifier stage could not match the transparency and sound purity of Enleum's newest reference amplifier. Even with the brain fog still clouding my thinking, listening to this battery-operated duet reminded me about the sound I'm very accustomed to when listening for pleasure and relaxation purposes. The tiny stack reminded me of the sound of the mighty Rockna Wavedream stack driven by AMP-23R. I've got the same (thick) tone and natural timbre, the same dynamics were relentlessly pounding my eardrums, I've got the flow of legendary-sounding tube amplifiers, and most importantly, I've got the same dynamic range and transparency of the Big Rig™, which was considerably more expensive.
Thanks to streaming platforms and Hiby's Roon integration, I was able to relisten to the old songs that I had known for a lifetime, but also discover new music that kept me going for several days. When the fever was over, I went back to the office and engaged the Big Rig, where it (again) added plenty of oomph, lots of textures, putting meat on the bone, and getting the last word in detail retrieval and transparency. It struck me…hard, as I couldn't differentiate a fully burned-in AMP-23R from a smaller and more affordable HPA-23RM. If I would not use the hardest loads, then these two would sound identical to me through the voltage output on the HPA-23RM. However, I'm sure some of you as asking a very important question: what's the difference between the voltage and current output? Let's find that out together.
II. Voltage Output VS Current Output
1. Voltage Output
As Enleum carefully explains it, the voltage output is directly inherited from the AMP-23R MOSFET output stage with a simplified version of the JET2 Bias circuit, while the current output is a descendant of the HPA-21's bipolar transistor-based circuit, redesigned and refined from the ground up with advanced technologies. Soo In, Enleum's founding father explained to me that: "Loudspeakers and headphones produce sound by electrical current flowing through a magnetic voice coil. If it's fed by a voltage source, the current driving force is affected by impedance as we can tell from Ohm's law I = V / R (Current = Voltage / Resistance or Impedance). The impedance is comprised of impedances in series with the circuit, such as the resistance and inductance of the wire and voice coil, capacitance, contact resistance, and electromotive force (EMF). However, a current source drives the voice coil by the constant current itself, which eliminates the effects of impedances, and we can expect more precise and direct driving of the voice coil, for faster response and lower distortion. However, a current source amplifier's gain changes by the driver's impedance, as given in the formula V = I X R (Voltage Gain = Current X Resistance or Impedance). Given the constant current, I, if a driver's impedance, R, changes at certain frequencies, the output voltage changes accordingly. Therefore, the driver's impedance curve becomes the frequency response of the driver if driven by a current source amplifier. Most loudspeakers' impedance curves vary too greatly to be used with a current source amplifier, but headphones, especially most planar magnetic headphones having a flat impedance curve are perfectly ideal and can be used to advantage by a current source amplifier. This doesn't mean using dynamic headphones with greater impedance variations is not recommended. For instance, you can hear a natural bass boost from a Sennheiser HD800s having about higher 650 ohms impedance at 100 Hz region, than its nominal 300 ohm impedance, and we've noticed that there are many people who prefer this effect with the HD800s."
Armed with a wall of headphones, I commenced a long listening session and since Soo In mentioned the HD800S, I used that exact headphone. The voltage output worked wonderfully with HD800S, infusing a bit more life in the midrange, pumping iron into the low-end, while gently calming the top-end energy without limiting dynamics. The HD800S didn't sound like they usually do on solid-state electronics, there was more flow on the voltage output and a higher fun factor, like an end-game tube amplifier was playing ping-pong with their drivers. Its voltage output seems a hair warmer and fuller sounding, putting a bit more meat on the bone, and sweetening the final affair by a tiny bit. The flow of the music was different versus a traditional fully discrete Class-A amplifier, the sound was pouring easier on the tiny HPA-23RM even versus ginormous units that were nervously cooking transistors in a corner. When planar headphones hopped on board, I felt a minor decrease in driver control versus the current output and dynamics weren't as electrified, but calmer and soother. The voltage output worked slightly nicer with dynamic headphones and the ones that sounded the best to me were the HD800S, followed by the Kennerton Vali. My co-designed Apos Caspian are already creamy and sweet sounding and on the tiny Enleum, I could almost swear that Trafomatic Primavera was playing tunes for me. I've got a slightly bigger sound on all axes and the tube sweetness started rushing in, especially on jazz and old gangster blues.
2. Current Output
A word of advice first. If you listen via the voltage output with a pair of high impedance headphones, please lower the volume substantially before pressing play or you might damage the drivers of your headphones, or worse, permanently damage your hearing. The sound pressure level of HD800S went up by about ~10dB from the voltage to the current output on the same knob position, so please be careful when swapping from voltage to current output. With that of the way, the very first feeling I got was that the sound wasn't as buttery smooth, but tighter, 110% in control of the headphone drivers while further boosting the sound's transparency. With HD800S in particular, I enjoyed the sound of the voltage output a bit more, as their stock (lean and boring) sound was no longer dwelling in my office. The current output still makes them sweeter and highly engaging, but not as vivid and colorful as the voltage output changed their inner voice. HD800S went from bright and thin sounding to full-bodied on the voltage output and then to super-tight and impactful on the current output.
When I moved to planar headphones, the difference was even bigger! I used Meze Elite, Kennerton Rognir (planar), and HiFiMan Susvara most of the time and besides getting a lot more power along the way, with more headroom remaining on tap, their speed, natural decay, and transient response improved in a biggity big way. I could still enjoy a few planar headphones on the voltage output, but the added grip, tight control, and the added transparency of the current output were (considerably) more appealing to me. Another reason why I prefer the current output with planar headphones a bit more has to do with their default sound which is fuller-bodied, bigger, bolder, and rounder than any of my dynamic headphones. An artificial sweetener (voltage output) might tilt the tonal balance too much and nobody wants that. For me it's always a balancing act, I'm leaning towards a highly technical sound with a hint of warmth & fullness and I feel that the current output better matches the sound of planar headphones. Long story short, the voltage output sounds sweeter, a bit calmer, and more vivid, while the current output is tighter, more powerful & impactful, and marginally clearer sounding as well.
III. Noise Floor & IEM Pairings
Except for the power output, dimensions, and weight, spec-wise we aren't getting additional info such as dynamic range or noise levels, meaning that I'll need to test it the hard way, arming myself with some of the most sensitive IEMs that I have in my possession. Before I do that, I'm reminding you that HPA-23RM is one of the most powerful mobile headphone amplifiers that passed through my hands, so I need to be extra careful with the volume, as it can get loud very fast.
The gain switch went from high to low and since my noise sniffers are still the HiBy ZETA and FiiO FX15 In-Ear-Monitors, I used a 4.4mm to 3.5mm adaptor from DDHiFi, I pricked my ears trying both the voltage and current outputs. Right off the bat, it was clear to me that at my actual listening volume and going a little overboard for a minute, up to around 105 dB SPL measured via a MiniDSP E.A.R.S. system, I couldn't detect anything passing through, traces of noise or hum, it was dead silent to me. The amp sounded crystal clear and while I was plugging and unplugging those high-sensitivity IEMs, I couldn't hear the noise floor raising a single bit. When I moved to the current output, there was a very faint low-intensity hum when I was reaching very high SPL levels, but in reality, I don't think you can last much at a 105 dB SPL, let alone preserve your hearing. The noise levels were a tiny bit higher via the current output, but that noise could be detected only on high and excruciatingly high volumes. On the usual listening volume, again I cannot detect that the amplifier is powered on, meaning that HPA-23RM is an IEM-friendly amplifier as long as you remain on low gain and (ideally) voltage output.
Swapping IEMs with desktop headphones, naturally, I couldn't detect traces of noise, let alone an actual noise floor with sensitive dynamic headphones such as Kennerton Vali and Apos Caspian, although there were traces of it on the current output on much higher volumes. On moderate to loud listening volumes (up to 95 dB), I couldn't detect anything playing in the background, meaning that I could rock out for a few minutes without interfering with the sound's cleanness and/or transparency. It should be clear by now that this isn't a dead-silent amplifier up to 100% of power, but at the same time all Zero Negative Feedback amplifiers performed similarly, including a much pricier AMP-23R and Trafomatic Primavera. On top of that, nobody can listen to music at those volumes, and in truth, the noise always stays under control.
IV. Power Output
When I was still roaming the halls of Munich High-End Show 2023, seeing the tiny HPA-23RM driving a pair of HiFiMan Susvara and DCA Stealth sent a powerful message to battle-hardened headphiles. They were hinting at the amount of power residing within and since we stopped joking when music was doing its mojo, we understood that HPA-23RM means business when driving heavy loads via the current output. On high gain and voltage output, I could battery touch the 12 O'clock position with a 300-Ohm Sennheiser HD800S and when I moved to current output, I could barely touch its 10 O'clock volume position. This thing is too powerful for dynamic headphones on high gain and regardless if it is HD800S, Beyerdynamic T1, or some other inefficient cans, HPA-23RM would easily juice them up, making them jumpy and alive. Impressive dynamics was a hallmark of Enleum and Bakoon International and I have the same feelings about the tiny transportable unit. With more than 60% of headroom remaining on tap, it almost felt limitless power-wise. I'm glad the volume knob offers a stronger physical resistance as I could go deaf with such a unit, especially when taking it out of a pocket. The high gain was unnecessary most of the time even with high-impedance desktop headphones.
When planar headphones hopped on my lap, I immediately moved to the current output which offered an impeccable grip over their drivers. The driver control was standing out too much, so much so, that several high-profile desktop headphone amps won't provide you with the same control and lightning-quick start and stop of the drivers. I wish this would be a joke or a fantasy of my imagination, but it's not. The dynamics, the transients, and the sheer power output are impressive, to say the least, which could be above or on par with flagship headphone amplifiers. I finally switched from low to high gain with heavier loads and as much as I tried, I could arrive at the 13 O'clock position with the HiFiMan Susvara or 11 O'clock with the Audeze LCD-4. While the Susvaras were nicely driven, the AMP-23R sitting nearby provided a nicer low-end control and limitless headroom by comparison. If I would never touch modern tunes, then there would be a long guess game trying to solve which is which.
With Susvara put on bass-intensive music, it becomes clear that there is more oomph down low, a nicer bass sustain, and a smoother natural decay on the bigger AMP-23R. I enjoyed the sound and technical performance of AMP-23R a bit more with the notorious Susvara, but with anything else sitting on my table, I would be hard-pressed to hear a difference between these two.
Note for note and track for track, there was such a small difference performance-wise, that sometimes I would just power the HPA-23RM which offers the same sound characteristics and technical performance. Starting with transparency, detail retrieval, and finishing with scale and dynamics, these two are more alike than different and this is what makes the HPA-23RM ever so slightly more impressive, considering they halved its price in two and seriously downsized its body.
V. Transient Response & Dynamics
For Odin's sake, please never engage Colma by Buckethead (Qobuz / Tidal) or Killing Strangers by Marilyn Manson (Qobuz / Tidal) via planar headphones on its current output. I don't recall getting such eardrum-destroying double drums on any other transportable setup. The xDuoo XD05 PRO and FiiO Q7 were already fearless sounding, but there is no comparison versus the Enleum unit. The micro-second eardrum slap gets physical, painful even at louder SPLs and if you like dynamics as a whole and an immaculate bass slam, then this little puppy will bite with ten atmospheres, ripping dynamics and hard pounding with an incredible force.
When I want to raise my mood levels, I would engage some of these tunes, but not all amplifiers are capable of putting goosebumps all over my body. Some were lean or plain boring, some were adding a bit of life, some were impactful and there was one that didn't abide by the rules. Unfortunately, great dynamics that can fully preserve the energy of the lowest octaves and sustain the most powerful ones are coming at a (great) cost. When you want the best, you need to be prepared to pay a premium and that's what we're getting with the Enleum units.
As a hardcore audiophile who understands the inner workings of the digital and analog domains, I'm impressed when I see oversized and overweight fully-discrete units that consume a lot of power. I don't look with the same eyes at units that I can carry in my pocket, that use switching mode power supplies and less impressive electronics and working principles, and yet, this tiny-sized HPA-23RM is proving me the opposite. This unit will fit in a bigger pocket and its size won't scare off desktop headphone amplifiers, but against all odds, this is a stubborn-sounding little fellow, refusing to slow down on modern tunes or limiting dynamics, it won't be a gentleman with bass-intensive music. When I'm lowering gears, engaging my old blues collection, then sure enough, the tiny Enleum will shapeshift from a scary monster into an obedient creature, trying to show the beautiful side of music listening. When needed, it will get buttery smooth and relaxing, teleporting a Cuban cigar and an old spirit on your table. It's a shapeshifter when it comes to dynamics and I can't stress enough how much I enjoy its (change of) pace depending on the music.
Our newest writer Catalin called me a few days ago and asked how I feel about the HPA-23RM and I replied that I would take it over any other solid-state headphone amplifier (except for AMP-23R) that was still sitting on my table. When you get the right tonality, a natural timbre, the craziest dynamics, the power of infinity stones, and the right set of skills to impress a music lover, what else would you need to immerse yourself into your Nirvana?
VI. Resolution & Transparency
As a general rule of thumb, if you want the lowest noise floor and subsequently, the highest resolution and dynamic range, then you need to bury the noise with the help of negative feedback. If you don't want that, then you'll be adding extra months, maybe even years of extra work, until arriving at an immaculate noise rejection without the use of negative feedback. Although, with or without negative feedback some amplifiers are measuring similarly, our tiny brains can measure a big difference between such designs. Legendary amplifier builders know about this and that's why reference amplifiers would never use negative feedback. Such amplifiers have a soothed after sound purity, that is unattainable with noise shaping techniques. It's not about the resolution or tiny things magically appearing in your tracks, but about the feeling of sounding pure, like hearing live unamplified orchestral music, like someone is singing nearby without the use of a microphone. Zero negative feedback amplifiers are removing the veil that sometimes plagues analog designs, there's nothing in between your ears and headphone or speaker drivers, just a sensation of pure sound, unaltered and uncolored in any way.
The only problem with zero negative feedback is that you need to invest a lot of time until the pesky gremlins disappear from the background. The very best-sounding amplifiers that I experienced never used negative feedback. Trafomatic's Primavera and Enleum's AMP-23RM are such amplifiers and when people try them at my place, they always get this overwhelming sensation of sounding right and pure.
I don't have this overwhelming desire to hype things to the stratosphere, that's not my job. My job is to provide meaningful information – the truth, whether I like it or not. I need to be honest with you and sometimes that damages my relationship with a few audio manufacturers (that already happened several times and it's a story for another time). I don't like using words such as best of, best in class, unbeatable, and so on, but when trying to describe the resolution of the HPA-23RM, I get an overwhelming sensation that there is nothing more I can hear with any of my headphones. I'm lucky enough to try out the majority of current production reference headphone amplifiers and I can safely say that HPA-23RM offers me a similar detail retrieval, but at a higher transparency that creates that sensation of real, unamplified music.
There is no need to use several tracks to describe its resolving capabilities, as currently, HPA-23RM together with AMP-23RM are reigning supreme as king and queen in terms of resolution & transparency.
VII. Soundstage & Depth
In less than a year, a few companies started crafting battery-operated devices that won't limit the performance of heavy-duty planars…at least that was the initial plan. When cans like DCA Stealth & Expanse, Abyss AB1266 & Diana, and HiFiman Susvara & HE-6 appeared on the horizon, it was clear that bigger and beefier amplifiers would be needed to move their drivers efficiently, without leaving the sounds inside your head. The very first companies that tried to unshackle the sound were Cayin and FiiO with their C9 and Q7 units respectively, which blurred the line between portable and desktop use. Soon after, more craftsmen started developing their products that could compete with C9 and Q7 and this is how I arrived at the Shanling H7 and xDuoo XD05 PRO. The latest unit was mighty impressive especially when considering its $800 price point, it was a challenge finding a flaw performance-wise. The imaging was to die for and the soundstage reminded me of desktop amps rather than mobile devices. The only problem with that unit is that it was way too heavy and massive to be carried around and its hot 46 degrees Celsius operating temperature in a well-ventilated area, could start a hazard in your backpack.
All of these units were providing the necessary power for demanding headphones and they also sounded impressively good on all axes, trying to decompress the sound as much as they could. Some did that better than others, but all of them were a far cry from small and affordable USB Type-C dongles that couldn't free the sound, enlarge, and unfold it into a bigger picture.
HPA-23RM is part of this group with a twist. On one weak side, this is only a mobile/desktop headphone amplifier that will offer you a three-to-five-hour battery life. On the flip side, it provided the same spatial cues, the same layering, and spatiality that AMP-23RM was boosting at double the price. This little fellow impresses in this field and for about three nights, I went to bed at 03:00 AM in the morning. Linking it to a HiBy RS8, followed by a flagship pair of planar headphones, I had the best sound on the go which reflected 95% of the sound that I was getting from the Big Rig. If you see a dude walking around with a HiBy RS8 wrapped around an HPA-23RM whilst rocking a pair of closed-back Kenerton Rognir, then that's surely me.
When thinking about progressive metal, the last thoughts that come to mind are immaculate recording and mixing skills, and yet, Opeth proved me wrong with their My Arms, Your Hearse, remastered from the ground up by Abbey Road Studios (Qobuz / Tidal). Credence in particular is such an outstanding power ballad! From the very first notes you'll realize how much care went into building a drumming crescendo, sending shivers through my spine ten seconds into the track. In addition to masterfully executed drums, the fact that the hi-hats came with a pedal, allowed an open-flowing sound which made this track ever so slightly magical sounding. Guitar melodies are still a big factor here, but instead of harmonizing with another melody underneath, the second guitar added a big carpet of sounds to my sides. The habit of putting power ballads in Opeth albums is continued with Credence and although dynamics are going through the roof on this track, what impressed me the most was how well-spread everything sounded. This track was playing on repeat and every single time it impressed me how airy, holographic, and clever each acoustic instrument was placed around my head. Mikael's voice was mastered with a longer trail and reverb, a long echo that feels close and distant at the same time. The sound was breathing, sometimes getting closer (acoustic guitars) and sometimes distancing from the listener (drums, vocals). Enleum's newest reference amplifier wasn't choking the sound in any way. The final performance was expanding far and wide which made me turn my head several times. In the end, we got an outstanding soundstage and imaging for a solid-state amplifier and there's nothing more to add in here.
Frequency Response
VIII. Bass
It always boggled my mind. How a pocket-friendly amplifier can flutter my ears so easily with electronic music? And then it hit me, first and foremost it's the circuit that has been refined for more than ten years and secondly, the high-discharge rate batteries provide the much-needed current to sustain and control bass notes more efficiently. The bass is somewhat of a highlight on Enleum amplifiers, it's not going overboard versus the rest of the frequency response, but it's highly energized, thick, and full-bodied, bringing the thunder with everything that has to do with bass. Sennheiser HD800S are far from bass-head material and yet, you'll hardly recognize them playing back modern tunes. Can they rock and kick some butt? You bet they do with the right amplifier pushing and pulling their drivers. Knowing how good AMP-23R was at rendering low-level bass, I expected a similar impact in the lowest octaves and the younger sibling didn't disappoint a single bit. There's always a perfect blend of impact, bass sustain, and control which few amp manufacturers can attain. There's a 15-kilo headphone amplifier sitting near it that cannot offer the same speed and impact in the lowest octaves, which sounds unbelievable but it's all true. Except for the HiFiMan Susvara which slightly lagged versus the AMP-23R, any other set of headphones unleashed the lowest-rumbling bass notes and if you like the bass and everything associated with it, then it will be delivering you the magic pill.
IX. Midrange
While the bass is truly marvelous, always technical and extremely satisfying, merging low-level information with a strong kick, the region that conquered my heart a long time ago is the midrange which sounds unlike any other solid-state headphone amplifier that passed through my hands. Many amplifiers provided an excellent midrange and I have plenty of examples to give, emerging from the all-discrete Class-A crowd, but there's something extra on the Enleum which so far, only reference tube amplifiers were able to provide. The vibration of the vocal cords, the air instruments, and string-based instruments were sounding just…pure. Not clean, or resolving, warm or sweet, I find them pure as if musicians were sitting near me, playing unamplified music just for me. The organ is one of the hardest instruments to render and sustain. It should scare you in the right conditions and that's exactly why the horror movie industry uses it so often. There is a combination of weight, tone, air passing by, and vibration which few instruments combine. Piano is a similar instrument, it's even more difficult to render as there are more tonalities spread across a wider frequency range. Except for the Primavera which renders both instruments so beautifully, the Enleum units were the first ones that challenged it, providing a similar life-like tone & timbre. The midrange is outstanding on this amplifier and what I like about it, is that it never tries to sweeten the sound too much. There is only a smidge of warmth that lights your fire and rests you at the same time. It could sound like some gibberish nonsense, but this is what I'm feeling while listening to music via HPA-23RM and I wish there would be more solid-state amplifiers that would have the same purity in the midrange.
X. Treble
The treble is a mystical creature. It extended far and wide, there's more information up top even versus noise shaping THX-AAA and NFCA/PLFC amplifiers, and yet…you won't find the treble ringing. The cymbals need to sound metallic, but they don't need to sound fake and overdone. The leading edges were crystal clear, and the outline of the notes was sharper than a Damascus blade, yet the way that information flowed towards your ears will never make you lower the volume. The trebles are extra crispy, yet completely inoffensive. It's almost a miracle how the treble can be so clean and defined, yet completely brightness-free on a pair of HiFiMan headphones, which are notoriously hot sounding in this area, but not on Enleum's watch. In this regard, HPA-23RM outperforms my $15.000 Trafomatic Primavera, which gently rounds the frequency response at the very top. Primavera excels in the naturalness and dynamics department, but it's a no-match in terms of resolution and treble extension that I'm getting from Enleum units. Imagine the bass being an untamed wild horse, the midrange a soprano diva, and the trebles mimicking a technical drummer that holds the drumsticks backward while clicking the rim of the snare drum – in a nutshell, that would be the sound of the Enleum HPA-23RM.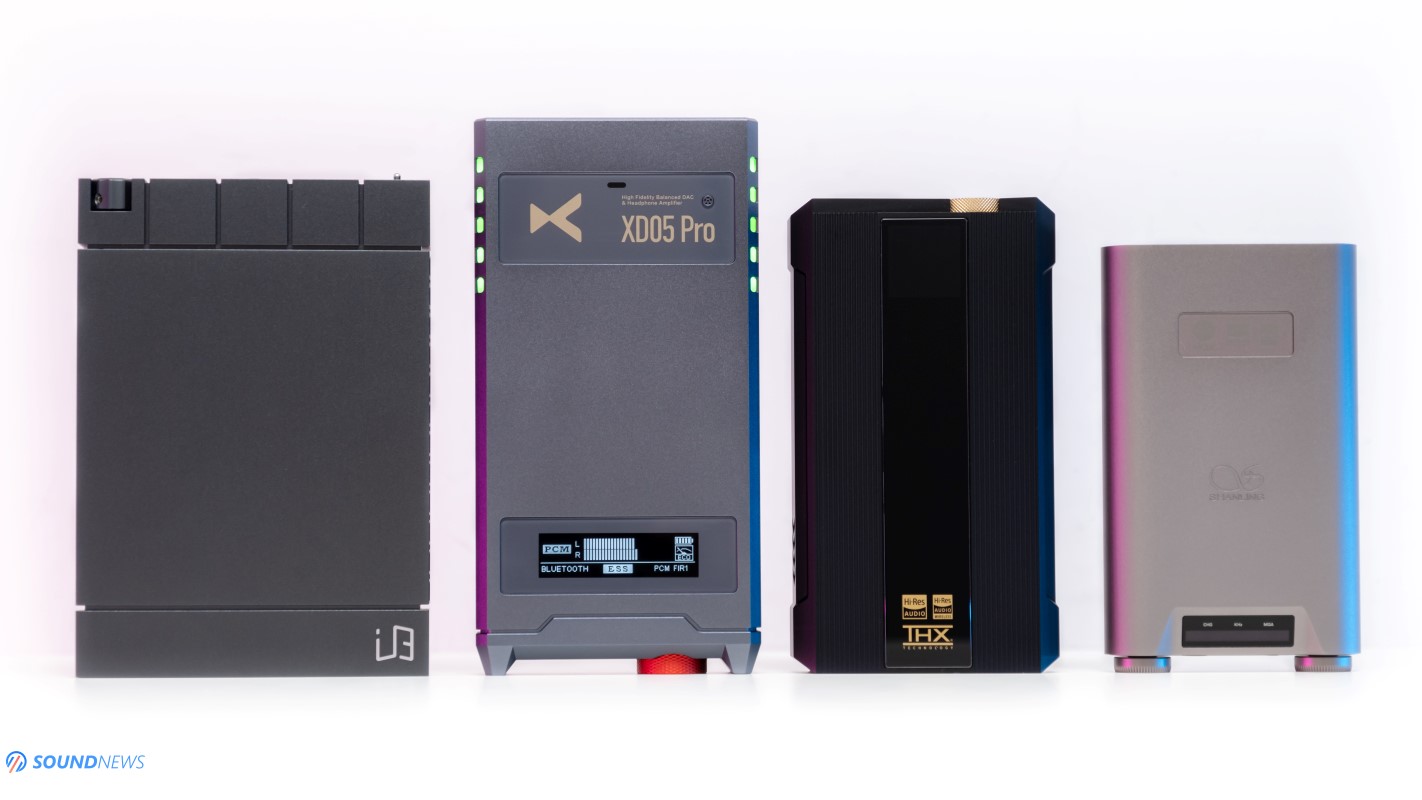 My Conclusion
It so happens that we have in our possession some of the best portable headphone amplifiers and I wish some of them could stand a chance versus the HPA-23RM. However, except for the power output which some units were ferociously holding the ground against the Enleum, everything else that has to do with transient response, soundstage, resolution, tone & timbre, cannot be compared, arriving at my very first headphone amplifier review which doesn't include a comparison (or two).
Although I called it portable, transportable, and mobile several times, in truth, this could be your sole stationary (read: desktop) reference headphone amplifier, even its creators described it with the following words: Originally, this was not meant to be developed as a "portable" headphone amplifier, but as our true reference headphone amplifier – i.e. The AMP-23R minus the speaker outputs, while adding the current output and battery power supply."
I tried to be as objective and as balanced as possible, but still, subjectivity plays a big role in this hobby. There are rare moments when I don't want to put down a single word on my keyboard while listening to music. Sometimes the sound envelops you in such a way, that you don't care if it's 3 A.M. and at 7 A.M. you need to drive your kid to school. Sometimes the sound makes you emotional, you might shed a tear and while I always thought I had a strong personality, going through a harsh adolescent life, I can't tell you how many times I got emotional with the HPA-23RM. It casts a spell in tandem with your favorite pair of headphones and it will grow on you. It sparked old memories and I can't explain why it had such an effect on me. Maybe it's the midrange purity, maybe it's the authority in the bass, or the treble refinement that never tries to offend you. Or maybe it's all of the above and a little extra, which makes you forget about your daily tasks, just close your eyes and have a great time in the company of your tunes.
This is an expensive unit, no matter from which angle I'm looking at. $3000 is a lot for a mobile/desktop headphone amplifier the size of your palm. However, you can't put a price on everything. Very few units made me laugh, cry and exclaim in the middle of the night, you can't put a price on that and it might sound out of place, but I believe it's worth every penny! It sounds as good as the AMP-23R, you are getting two sound signatures in return, plus you can travel with it and use it battery-powered together with a DAP, forming a neatly looking Head-Fi setup that could challenge the very best desktop rigs out there. My wallet cries in agony right now, because it knows what is going to follow. Do I need it right now? Tough question, but I want to carry it around on my trips.
If you're a headphone lover, then I believe it's worth more than its bigger brother, sounding the same with 95% of my headphones at a much more attractive price point. Its dynamics, power, and control will challenge big-boy amplifiers and for this reason, it just won our highest honors.
You can get it directly from Enleum's web store at $3000 right here, or you can get it from your local Enleum distributor. In case you're getting one and you have additional questions, please let me know in the comments section below. That's all for now, don't forget to live a little and I'll see you next week!
PROS:
A masterfully crafted device, the attention to the smallest details is staggering
Rock-solid build quality and a tiny footprint that won't rob too much pocket or desktop space
A two-in-one headphone amplifier, having two distinct tonalities
Fully drove my headphone collection
Always tries to connect you with your music
Effortless, unrestrained and unshackled
Lacks grain, hardness, and muddiness
Transparency and cleanness in its purest form
Spacious, open, and wide-sounding, fully preserving spatial cues
Slams and pounds like a bigger unit
Outstanding diaphragm control, an instant start and stop of the drivers
Best in class dynamics
Great tonal balance, tries to be organic and life-like sounding most of the time
This could be your last headphone amplifier
CONS:
Costly
Short battery life
Didn't sound as explosive and authoritative with the hardest loads as AMP-23R did
ASSOCIATED EQUIPMENT:
DACs: Chord Electronics DAVE, Rockna Wavedream Signature XLR, Gold Note DS-10 PLUS
Wireless Streamer & Music Server: Rockna Wavedream NET 4TB, EverSolo DMP-A6
Headphone Amps: Enleum HPA-23RM & AMP-23R, Trafomatic Primavera, Ferrum OOR & HYPSOS, Burson Soloist 3X GT, Flux Lab Acoustics Volot
IEMs: Westone Mach 50, Hiby ZETA, FiiO FX15 & FH9, 7Hz Timeless AE, Kinera Skuld & others
Full-sized headphones: HiFiMan Susvara, Arya Organic, Audivina, Meze Elite, Erzetich Charybdis & Phobos V.2021, Audeze LCD-5 & LCD-4, Sennheiser HD800S, Kennerton Rognir (planar) & Vali, Apos Caspian, Sendy Peacock & Apollo, HarmonicDyne Elite & Poseidon
DAC/Amps: xDuoo XD05 PRO, Shanling H7, FiiO Q7, Topping G5
DAPs: Hiby RS8, FiiO M15S, Shanling M6 Ultra
Interconnects: Crystal Cable Reference2 Diamond (x3), QED Reference (x2), Topping TCX1 (x2), Audioquest SKY RCA
USB Cables: Supra USB Excalibur (x2), Chord C-USB, Matrix Hi-Fi USB
HDMI Cables: Audioquest Diamond DBS, Supra 8K HDMI
Power Cables: Crystal Cable Reference2 Diamond (x3), Isotek EVO3 Premier (x2), iFi Audio SupaNova (x2)