I have a long history reviewing xDuoo gear. This website and YouTube channel sprinkled with life thanks to an xDuoo TA-20 review that started it all. I tried multiple desktop and portable devices of xDuoo and up to this point, all of them have been meticulously tested around here. Starting with tiny dongles and moving up the ladder to bigger units, all of them had an unmistakable house sound that could only be described as fun, life-like, and very dynamic sounding. From their tiny XP2 PRO to bigger units like XD05 Plus and XD05 BAL, the sound was brimming with more life compared to their close competitors.
Around two years ago I started exchanging emails with xDuoo, trying a plant a few ideas that might be adopted in the future. Some of those ideas are not ready to be revealed and the unit that I'm most proud about isn't ready yet, but the gizmo that I will be testing today was discussed for a very long time. You can dislike its sheer size, weight, and ballsy look, however, these guys put a much bigger effort into polishing its sound, tone, timbre, and feature set, which I believe are standing out from the crowd. The big guy is called XD05 PRO and in the following chapters, I'm going to reveal all the good, the bad, and the ugly. The coolest feature of the XD05 PRO is that we are dealing with a fully modular DAC/Amp combo and in time, we'll be able to swap the stock DAC and amp modules with new ones that are currently under development. Its stock DAC module is equipped with a flagship ES9039S PRO DAC chip, while the amp module consists of two OPA1612A op-amps which will be driving your cans. It goes for $799 and since its closest competitors (FiiO Q7 and Shanling H7) are still around here, expect a proper showdown at the end of this review. There is so much more about the XD05 PRO which makes it different from a sea of me-too DAC/Amp combos, so what are we waiting for? Let's jump right into it!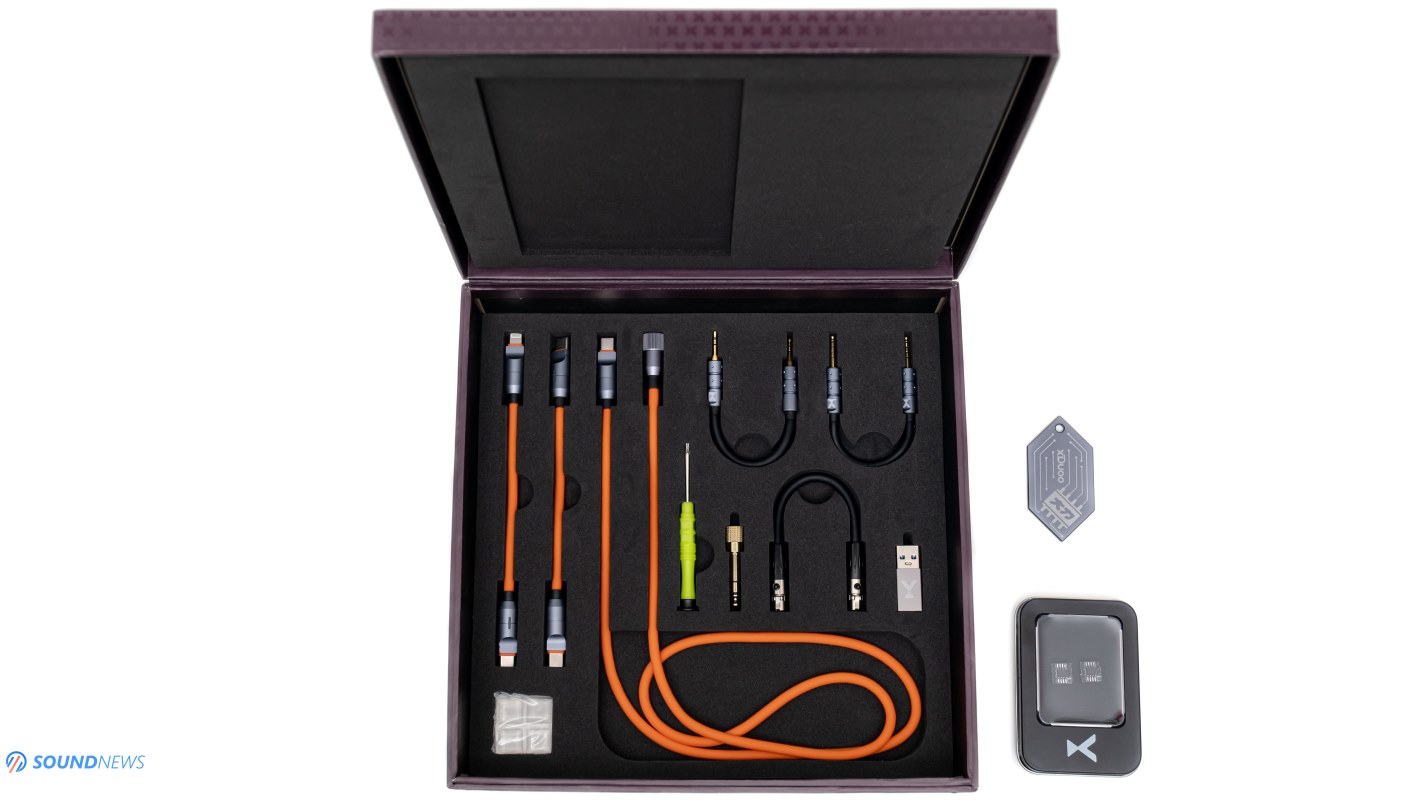 Unboxing Experience
Before we move on to the most important part of this review, let's stop for a moment and appreciate the quality of the included accessories and the sheer number of them! A picture sometimes is worth a thousand words, so look for yourself, impressive, isn't it?
Besides bundling it with all possible analog and digital interconnect cables, take a closer look at how thick these cables are and their outstanding build quality! Those are machined aluminum connectors and these cables can cost you up to $100 per cable if you search online for a similar build quality. Only the bundled accessories and swappable LME op-amps are worth a small fortune and even without listening to this unit, I already see a lot of value. For the sake of it, let's mention every piece of accessory you are getting:
A small tin case (similar to ALTOIDS cases) with a window on top that holds two op-amps, the LME49720 will be offering you a different sound signature compared to the preinstalled OPA1612A op-amps, but more about that in a minute
A xDuoo branded aluminum plate, laser engraved with the company logo. It doesn't have a use case as far as I know.
A short AES cable with 3-pin mini-XLR connectors at both ends. You can use their portable DAPs as digital transports via AES, moving the D/A conversion and amplification duties to the XD05 PRO
A USB-A to USB-C adapter
A long USB-C to USB-C cable for PC/MAC connectivity and for charging
A short USB-C to USB-C cable to be used with Android devices
A short USB-C to Apple Lightning cable to be used with iOS devices
A short 3.5mm to 3.5mm interconnect cable
A short 4.4mm to 4.4mm interconnect cable
A Torx T6 screwdriver
Five stainless-steel screws and five black anodized ones
Eight silicone feet
A 6.35mm to 3.5mm headphone adapter
A warranty card
A user manual
This is the pure definition of overkill! Nicely done xDuoo, you finally got my attention.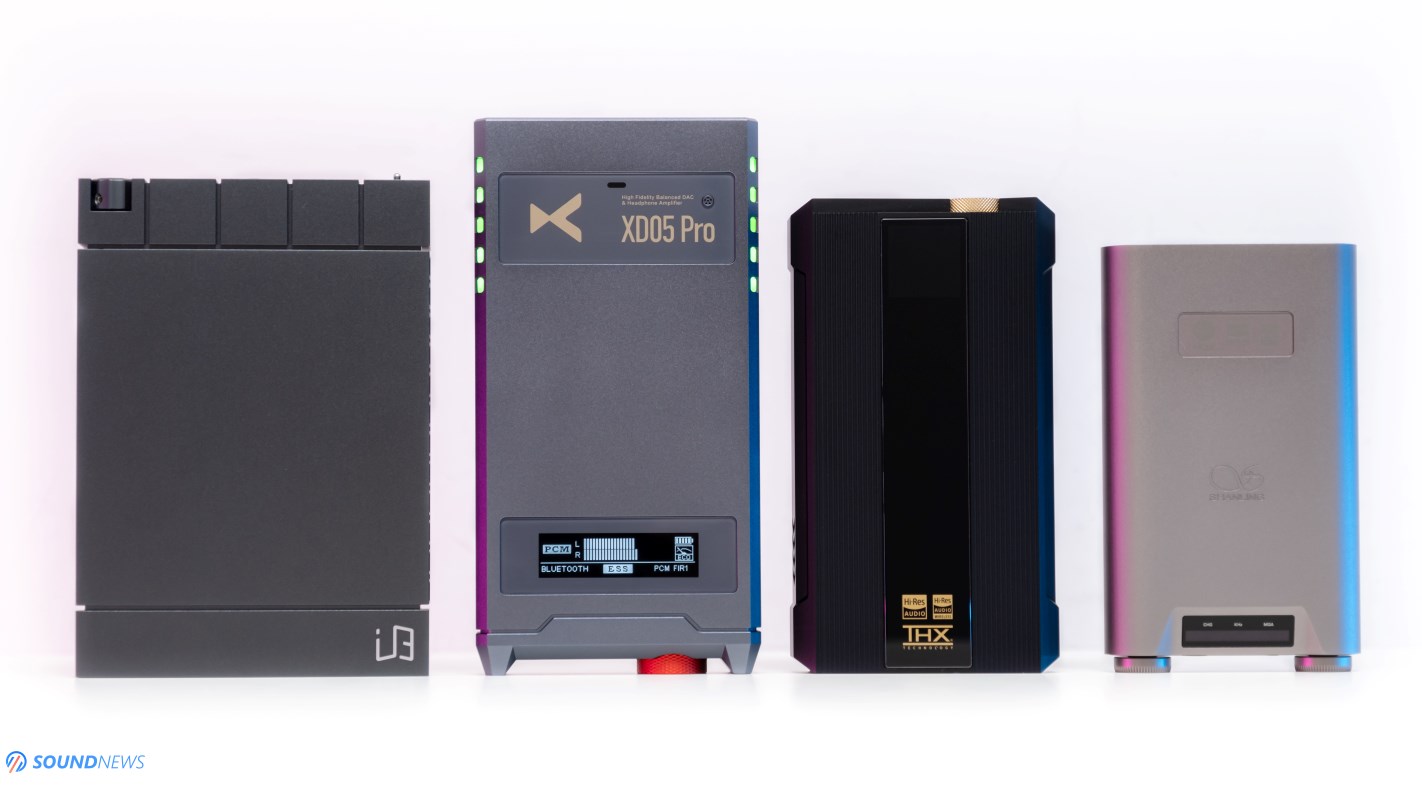 Design & Build Quality
I tried every xDuoo branded portable DAC/Amp combo that were released so far, except for the Link BAL2. Starting with xDuoo Link, XP2 PRO, XD05 Plus, XD05 BAL, and now XD05 PRO, the biggest releases were already tested by yours truly. Living with massive portable units like Shanling H7, but especially FiiO Q7 and M17 for quite some time, I expected a big unit coming from xDuoo labs, but nothing prepared me for the size and weight of the XD05 PRO, dwarfing every portable DAC/Amp combo I tried in the past.
Honestly, it's considerably bigger than some desktop DAC & headphone amp combos that were tested around here, just look how imposing it looks versus the FiiO Q7 and Shanling H7 which were already blurring the line between desktop and portable devices. XD05 PRO is a battery-powered unit (although it can be powered by an external power supply as well), however, its massive case and its heavy weight of 780 grams (or 1.72 lbs) will surely shoo away a few potential buyers. It should be noted that xDuoo didn't want to craft another portable DAC/Amp combo with their logo on top, they wanted a statement unit, never wondering about size or weight. As I will be showing you several pictures, this is a very unique DAC/Amp combo from multiple points of view. After unleashing their imagination, XD05 PRO emerged as a Kraken from deep waters, scaring off not only portable and transportable devices, but several desktop units as well (JDS Atom Amp+, Element II, Topping D50S & A50S, SMSL SU-6 & SH-6 and many more are coming to mind). I can barely squeeze it in my extra-large pants and I need to tighten my belt a bit more, so I'll call it transportable for now. You can carry it in a pouch, in a backpack, or maybe in a coat or jacket and I see it mostly as a transportable unit rather than as a portable one.
As for the build quality itself, I have only words of praise for it. It looks too serious at times, having straight lines and sharp edges, but I kind of dig its tank-proof case which can be used as a defensive weapon when things are getting out of control. It feels solid in the hand, it's sturdy and you can feel its massive weight while holding it. Besides the usual buttons, inputs, and outputs, there are two monochrome displays on its body and a window below it which highlights which DAC card is being used. Putting a display on top of its body isn't something new, the same thing can be spotted on the Shanling H7 and FiiO Q7, but putting a tiny OLED display inside its volume wheel…that's already thinking outside the box. The small rounded display will show you the volume level and the bigger display on top will provide additional information (battery level, selected gain, digital input, and digital filter).
Since this unit was biased into a deeper class-A operation, an oversized battery was used to power its internal circuitry, and since the Turbo-gain will be stressing the amp stage quite a lot, you can see 5 openings per side (10 in total) which will be moving hot air away from its precious electronics, cooling it down in the process. There's a glass sheet on top for a nicer Bluetooth signal strength, as wireless signals can easily pass through the glass but not so much through metal.
Turning it upside down, you can see the circuit diaphragm laser engraved on its body and two locking doors on both sides, which hold the amp and DAC modules. That's right! You can swap the amp module right away and insert those LME op-amps instead of the OPA ones, however, you'll need to be patient for additional amplifier modules, especially D/A converter modules which are being developed as I'm typing this. The stock DAC module already uses a flagship-grade ES9039S PRO DAC chip and I'm being told that AKM, Cirrus Logic, ROHM, and R-2R ladder DAC modules will be coming at a later date. I'm excited the most about the R-2R and ROHM modules and I'll be getting them as soon as they become available. As for the amp card, op-amps are cool and dandy and you can swap them right away with nicer ones, but I hope a full-discrete transistor-based amplifier card is also in development, which should further liberate the sound from the shackles imposed by the limited current output of dual op-amps.
Overall, we are getting a heavy, solid, brick-like unit, which packs a punch. Like it or not, flagship units will always be massive regardless if they are portable or not, as they're bypassing the limitations put in place by power consumption, filtering, regulation and buffering stages, D/A conversion, and power output.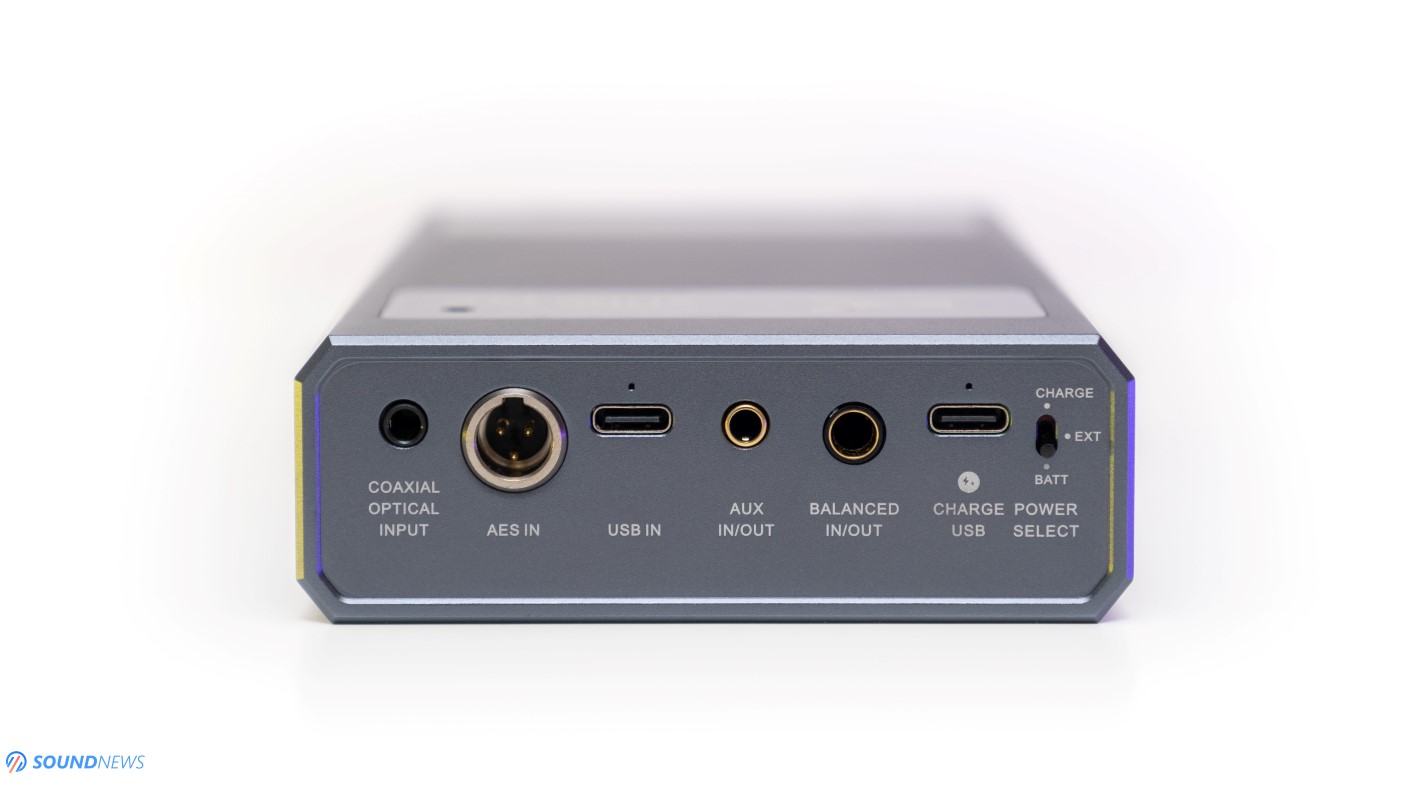 Controls & Layout
You'll need at least an hour, maybe two to accommodate its graphical user interface. Luckily, we have buttons only on the left side, all headphone jacks were moved to its front panel, and all possible digital and analog inputs were moved to its back.
It felt cumbersome at first, having a slow learning curve, especially when navigating its user menu. But eventually, you will learn all the shortcuts, inputs, and outputs and it won't feel unfriendly anymore. Five buttons are being offered but once you select your gain and digital input, you'll never press them again, only when putting it back to sleep. I can single-handedly power it on, select a desired input, gain, and volume position and in the end, I think it provides a good layout considering all the I/O options available to the end user.
On its front, you can see a 6.35mm SE headphone jack and a balanced 4.4mm output, and a beautifully machined aluminum knob that offers satisfying physical resistance. In case you're wondering, 99 steps are available, so there wouldn't be a guessing game on how much power is left on tap.
On its back, you can see (probably) the most complete back panel of any portable unit. From left to right you have your 3.5mm optical/coaxial input, an AES input, a USB Type-C input, a single-ended 3.5mm input or output (depending on the settings), a balanced 4.4mm in or out, another USB Type-C used for charging and a tiny switch which changes its operation from battery power, AC power or charging mode. In case you want to preserve the internal battery as much as possible, I recommend using an external power supply (a smartphone charger will work just fine), just make sure to supply at least a 5V, 2A (10-Watt) charger.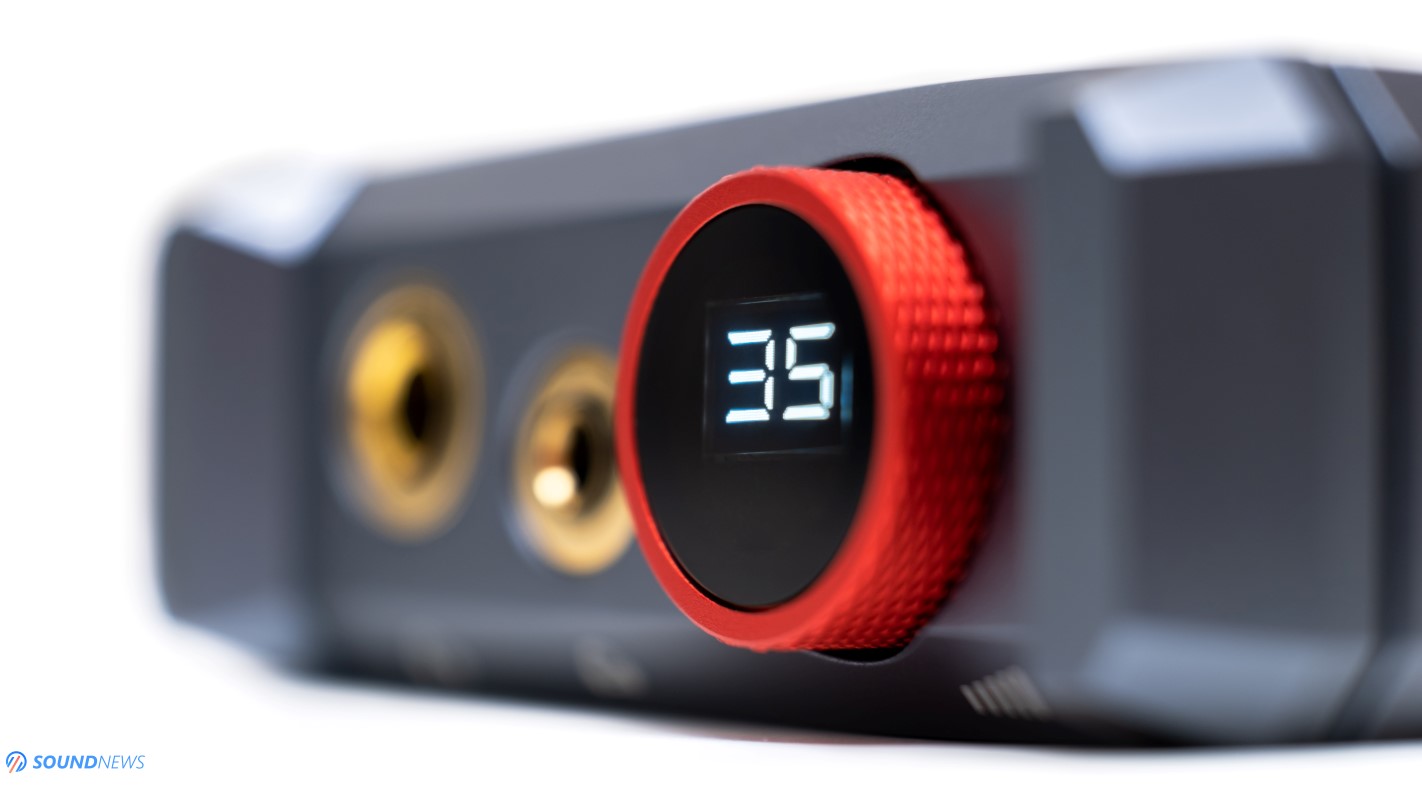 Menu Settings
You can access its user interface by pressing the Menu buttonon the left side. Once you do that, you'll get the following options:
Filter: you can pick between 7 digital filters that are working on a hardware level with the ES9039 PRO chip, however, the sound difference is minimal at best or indistinguishable at worst.
Backlight – You can select between 2m, 1m, 30 sec, and 15 sec backlight for each display and the OFF position never turns off its screens.
Brightness – 5 brightness levels are available for each display.
PH-Balance – in case you have hearing loss in one of your ears, you can mitigate that issue by balancing both channels to your will.
Display – lets you choose between Sampling and Spectrum, which will have an immediate effect on the main display. Once the music starts playing, you can visualize a FR spectrum at play or you can choose a stationary picture with the sampling rate
OFF Time – You can select between OFF, 15m, 30m, 1H and 2H shut-down timers
RESET – Goes back to factory settings
There's a separate button for gain settings (labeled as Turbo), an input selector, and another one for Bluetooth pairing. Apart from this, its display will show the selected input, the gain, the filter, the media type (PCM or DSD), the sample rate, and your volume position. If MQA files are being played locally or via streaming services, an MQA logo will appear on its screen. Very simple and efficient, a big plus right there.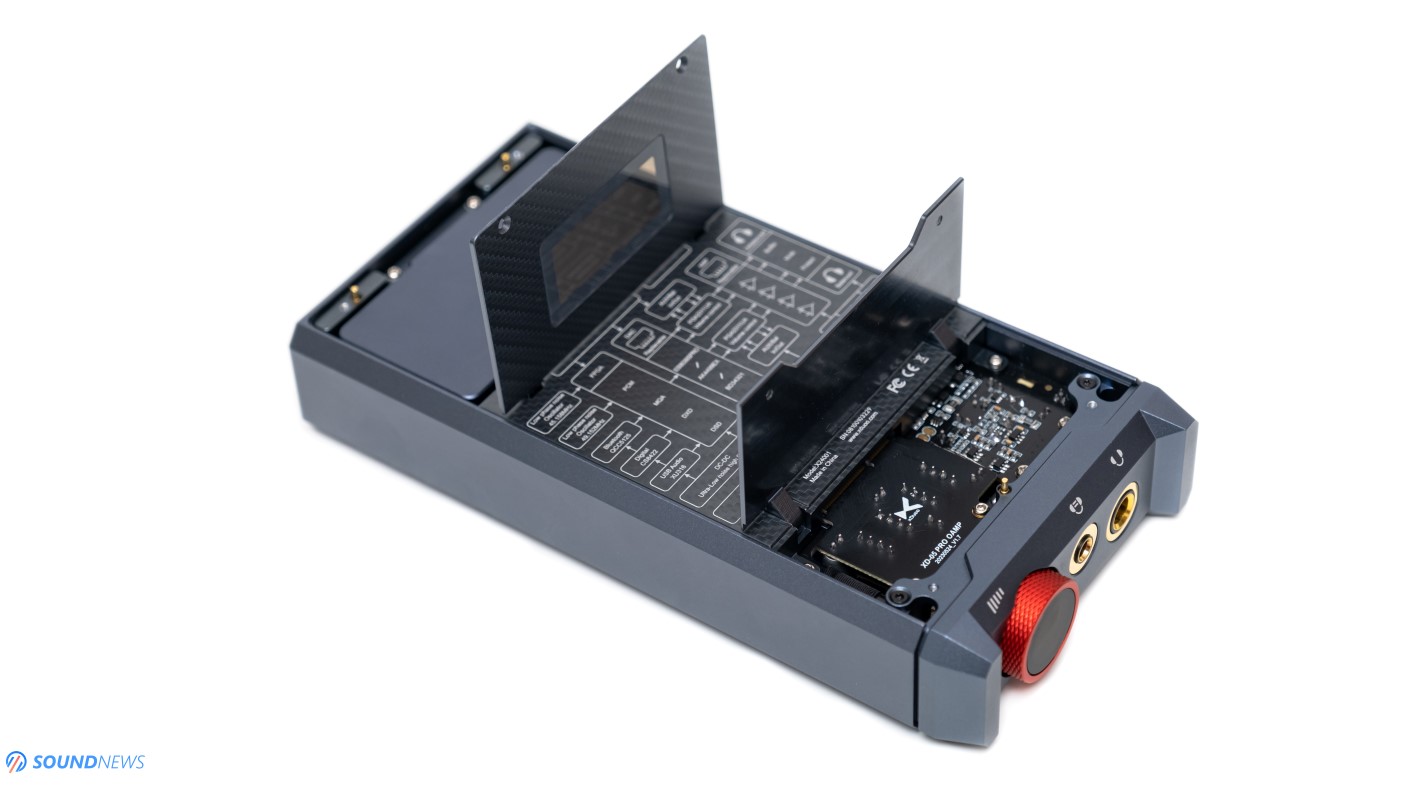 Battery Capacity
The overkill digital and analog sections required a massive battery and that's why xDuoo went with a giant 13600 mAh battery that contributes a lot to its thickness and weight. Fast charging is supported via the Power Delivery standard, you can use either a 9V or a 12V charger which should juice it up in about ~6 hours and a regular 10W charger will fully charge it in about ~10 hours. XD05 PRO will offer up to 20 hours of non-stop action when used just as a headphone amplifier via its analog AUX inputs and as a DAC/Amp combo, the battery will go blank in about ~11 hours at the medium gain and on 50 (out of 99) volume position. With demanding headphones such as low-sensitivity planars or high-impedance dynamic headphones via the balanced 4.4mm output, I've got around 7 hours and 35 minutes of use via Turbo gain. With regular IEMs, you'll be getting around 10 to 11 hours, depending on the volume, which should be more than enough. Do note that XD05 PRO can be powered by an extended power adapter, completely bypassing the internal battery, which should prolong the life of its battery cells.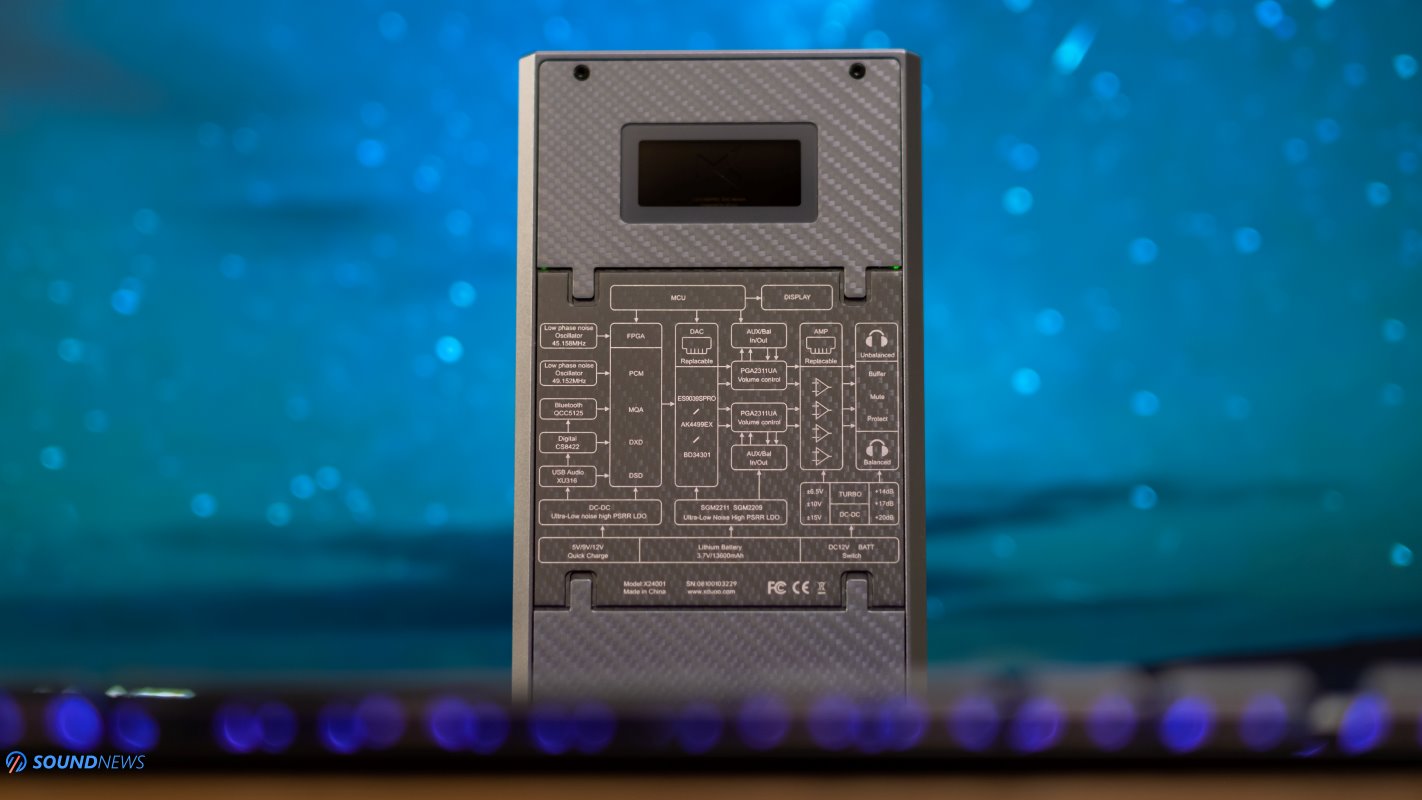 Under its Hood
xDuoo laser printed the circuit diagram on its belly, so you can see for yourself where everything starts, the whole signal path is unfolded before your eyes. You can see exactly what chips have been used, from digital receiver chips to Bluetooth chips, DAC chips, Op-amps, what voltages are passing through it, and what gain levels are being provided. For someone like me, it's like looking at a treasure map, I have everything I need to describe its inner workings.
You can power it with either its internal 3.7V battery or external power supply and in both cases high-performance voltage regulators will be cleaning up the power for the next stage. When a different gain setting is selected, there is a short pause when playing back the music as the internal microcontroller (MCU) with the help of a DC-to-DC converter, boosts or lowers the voltage of the internal battery/external power supply to +/- 6.5V, +/-10V, up to +/-15V which will change the gain of the amplifier from +14 dB to +17 dB, up to a maximum of +20 dB on its Turbo gain setting.
xDuoo went with the latest XMOS XU316 USB receiver revealed last year, which is a very stable digital receiver, supporting the highest sample rates available today including native DSD playback capabilities. The optical, coaxial, and AES inputs are handled by the CS8422 which is a common sight in high-performance desktop DACs, so no surprises there. xDuoo went with the highest-performance Bluetooth receiver, the QCC5125 of Qualcomm which supports all the latest audiophile-proof codecs, including AptX-Adaptive, AptX-Low Latency, LDAC, and many more. Two low-noise crystal clocks have been used (clocked at 45,158 MHz and 49.152 MHz) which will be dealing with 44.1 and 48 kHz content.
XD05 PRO is shipped with a brand-new ES9039S PRO DAC chip, which is currently the flagship silicon of ESS Technologies and you can already expect a resolving and highly technical sound. Although many other DAC modules are being developed as I am typing this, I'm sure the stock module will remain the most resolving and clean sounding. The stock OPA1612 dual op-amps together with a strong buffer stage are providing up to 2 Watts per channel in 32 Ohms via the balanced output and almost 1 Watt per channel in 300 Ohms – which are some impressively high numbers for a portable device. Clearly, XD05 PRO wasn't made only for low-sensitivity planars, but also for high-impedance dynamic headphones. xDuoo used one of the best volume control chips, the PGA2311, which can be spotted in dedicated preamps, generally considered an amazing volume control chip. This is pretty much it, so let's hit some eardrums and check how it sounds with a bunch of headphones and IEMs.
Sound Performance
I. Preliminary Impressions
Biggity Big (trans)portable DAC & headphone amp combos aren't a new concept. Living for a while with self-defense audiophile bricks such as FiiO Q7, M17, and Shanling H7 that were already blurring the line between portable and desktop gear, I swore that nothing else could impress me anymore…that's until the XD05 PRO showed up at my front door.
If you thought that Q7 was your biggest and meanest audiophile survival starter pack, then think again, as XD05 PRO is considerably bigger, heavier, and way more imposing. It is so big that even a few desktop units feel uncomfortable staying in its vicinity. It's non-sense mentioning that I dig its massive body and heavy-weight build, as I still need to carry it around, but at the same time…its heavy weight and tank-proof case are suggesting that I'm dealing with a no-compromise portable unit that was priced accordingly. When I knew that it was in development more than a year ago, I started guessing its price reveal. If XD05 BAL costs $429, then XD05 PRO at almost triple the weight, size & power output, should cost at least $1000 if not a bit more, as I knew that people didn't want to compromise it in any way. I was genuinely surprised when the price was revealed via social media. At that very moment, I knew that Shanling and FiiO were in real trouble, as XD05 PRO brings novelty and cool features that were never implemented in portable devices and those are swappable AMP and DAC modules, which is a very cool concept. I'm swapping DACs and AMPs on a weekly basis at SoundNews HQ, so doing that with a portable unit feels familiar and cool at the same time.
Enough with the talk, I hear you loud and clear, you are still wondering how the damn thing sounds in its stock form. Well, I'll say from the start that it hits and pounds like putting an angry gorilla on a drum kit. I don't recall feeling so much energy radiating from any of my planar and dynamic headphone drivers. The bass alone…is on another level from what I was getting from the aforementioned Shanling and FiiO units. While FiiO's Q7 can challenge or even surpass the mighty XD05 PRO in terms of transparency and cleanness, when it comes to dynamics & enjoyment factor, XD05 PRO is playing alone in the room. Q7 is almost there, especially in its DC power mode, but still, the xDuoo is simply more fun and engaging sounding, even with low-sensitivity planar headphones.
If you ever tried an xDuoo device to this day, regardless of its purpose or working principle (full SS, hybrid, or full tube design), then you already know that these guys are always doing it for fun. Impressive dynamics and a feeling of well-being will always embrace you while listening to music. xDuoo always cherished these skills and even if we're dealing with an ESS-Sabre design, based on a flagship ES9039S PRO silicon, the mighty XD05 PRO is still a lively-sounding gizmo, always pressing the gas pedal to the floor on modern tunes. You need to hear its bass roaring on electronic and rock tunes. It's a bit too much at first, but damn…it's so addictive and fun, I want to have it on all my portable devices.
As you probably guessed, this unit doesn't care that much for linearity (or neutrality), it doesn't care if you're getting a straight line in the frequency response, it only cares if you are having a great time. I assure you that once the music starts playing, it will infuse its own medicine and start mending with your brain. It's very addictive, as dynamics are rendered immaculately and for me, it means that 50% chances of success are already residing within its case. Dynamics are going through the roof with this one and it will be changing the voicing, even the nature of slow and mellow-sounding headphones. It changed the sound of Sennheiser HD660 S2, HD800S, Sendy Audio Apollo, and Peacock. So much so, that I could headbang with any of these on the fastest and most technical electronic beats out there. HD660 S2 and Apollo were never that fast and punchy sounding on battery-operated devices, quite the opposite really, but the XD05 PRO changed their gears, skipping a few, going directly with the sixth gear, pushing and pulling their membranes instantaneously. Undeniably the most impressive parts about this unit are the transients, dynamics, the fun factor, the tone & timbre, embracing warmth and naturalness, as opposed to thinness and brightness. xDuoo – you are on the right path already.
II. Power Output
Shanling H7 was providing up to 1.3 Watts per channel (or 1300 mW in DAP terms) capable of driving super heavy loads without too much trouble. FiiO Q7 upped the game, able to provide up to 1.5 Watts per channel when battery operated, which again made it a perfect candidate for long travels, late-night listening sessions in hotel rooms, or just as a bedside setup. It was capable of driving even heavier loads and it was the very first unit that successfully drove a pair of HiFiMan Susvara, albeit not having the tone & timbre that I desired with that particular set of headphones. It was a perfect candidate for a pair of Audeze LCD-4 tonality-wise, but it was a bit hotter than usual with the HiFiMans.
Now, imagine that xDuoo pushed the concept of desktop power on the go even further, going with a stronger output of 2 Watts per channel via 4.4mm balanced output on Turbo gain. Considering this is a 100% battery-operated device, 2 Watts per channel in 32 Ohms and almost 1 Watt per channel in 300 Ohms is a very impressive technical achievement! It's something that no other manufacturer achieved so far and I want to congratulate xDuoo for that! Take into consideration that this is only the stock amp module, there might be future developments that could offer you more juice. Maybe a fully-discrete module (transistor-based) is being considered that would further improve the power output. Nobody knows…but my ears started itching and that's a feeling I know very well. We should wait and see.
This incredible high-power output also comes with a big price to pay and that is the weight and portability factor. You see, Shanling H7 weighs only 352 grams and it's already impressive with most of my headphones. FiiO Q7 is considerably bigger and heavier at 620 grams, while marginally providing more power on tap. XD05 PRO weighs 780 grams and the power output is considerably higher. Would you sacrifice the portability of H7 (I could easily carry that one) for better dynamics, driver control, and sheer power output? That's a question you should ask yourselves. I don't see myself carrying this thing in my jacket, but I could do it in a backpack. Regardless of your answer and use case, I'm sure for one thing, as a battery-operated device, at its price point nothing could challenge it when it comes to power.
Regardless if it was a planar or dynamic headphone on my head, having a 32 or 300 Ohm impedance, having a sensitivity of 95 or 83dB, the XD05 PRO was driving them fully, with a huge grin on its gray aluminum faceplate. I was rarely touching its Turbo gain, even with loads like Sennheiser HD800S, Audeze LCD-4, and any of the HiFiMan creations (except for Susvara) were very happy on the medium gain. All of them were driven properly, having a sense of physicality, immaculate driver control, and an overwhelming sensation of power. Knowing how good the smaller brother XD05 BAL sounded with desktop headphones, I can't say it was a surprise. What was a surprise thought, was successfully driving a pair of HiFiMan Susvara on the Turbo gain with at least 15 steps remaining on tap. There were however a few quibbles with the Susvara which I'll mention in a dedicated chapter towards the end of this article, so keep on reading.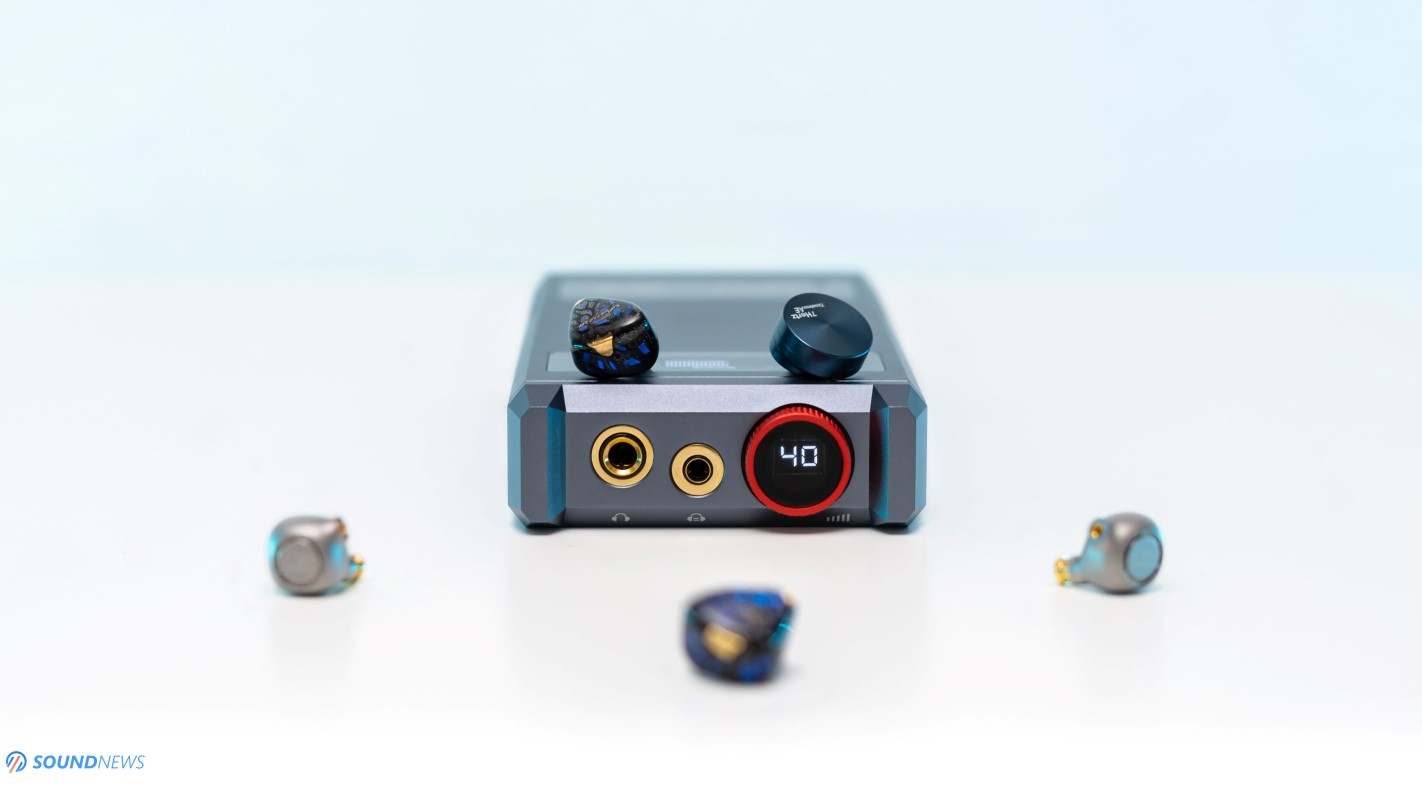 III. Noise Floor & IEM Pairings
I guess I never mentioned which are my all-time favorite IEMs and those are….drum roll…HiBy ZETAs. I got them about 2 months ago and I cannot take them off my ears, I finally found my everlasting love and appreciation for a pair of IEMs. They have the most impressive low-end I experienced from a pair of IEMs and the same can be said about their fun factor and crazy dynamics. These are ruthless on fast-paced music, exactly what my body needs after getting COVID-19 (for the fourth time) five days ago. I need the good vibes to start the healing process and ZETAs are providing me exactly what I need. The only problem? the ZETA (and the HiFiMan Svanar) need power-overwhelming quantities of juice. Lots of it! Ideally with lots of current that could control the low-end and decay it naturally. ZETA could sound boring and kind of slow on the wrong unit, but not on XD05 PRO's watch!
The same energy that was radiating from the Kennerton Rognir planar, Meze Elite, and HiFiMan Susvara, was now emanating from the ZETA and Svanar. The sheer dynamics and the fun factor gauge were going through the roof. I like engaging its visual Spectrum and while it's not as fun as looking at a digital VU-meter, it still puts me in a good mood with any pair of IEMs or desktop headphones. If you need maximum performance out of your multi-driver IEMs and if you need a great control over their drivers, an immediate start and stop of their tiny drivers, then I honestly think there isn't a better unit today at one kilo-buck or below.
My Noiz Annoiz sniffers are still FiiO's best IEMs, the FX15. These are extra sensitive to noise crawling through headphone jacks, so I set the stage for them in advance. I prepared two cables (a SE and a BAL one) and I started experimenting with both headphone jacks and three gain positions. The low and normal gain positions were completely dead silent with these at any volume levels, only the highest Turbo gain exhibited a higher noise floor with music on pause. The HiBy ZETA are not very resilient when it comes to noise and they will need the cleanest headphone jacks for the best results. It was a bit surprising to me, as ZETAs did show a noise floor even on normal gain – a faint, barely audible hiss always present when pausing the music. Luckily, the low gain was completely noiseless regardless of the headphone jack, so this is what I've used most of the time.
Long story short, if you remain on Low-gain, you can use either the 6.35mm or 4.4mm jacks and you'll still have plenty of volume remaining on tap even with multi-driver, multi-crossover designs like these. On low gain, the highest volume I could support was 35 out of 99, so clearly, it would power even the most demanding planar IEMs without much hassle.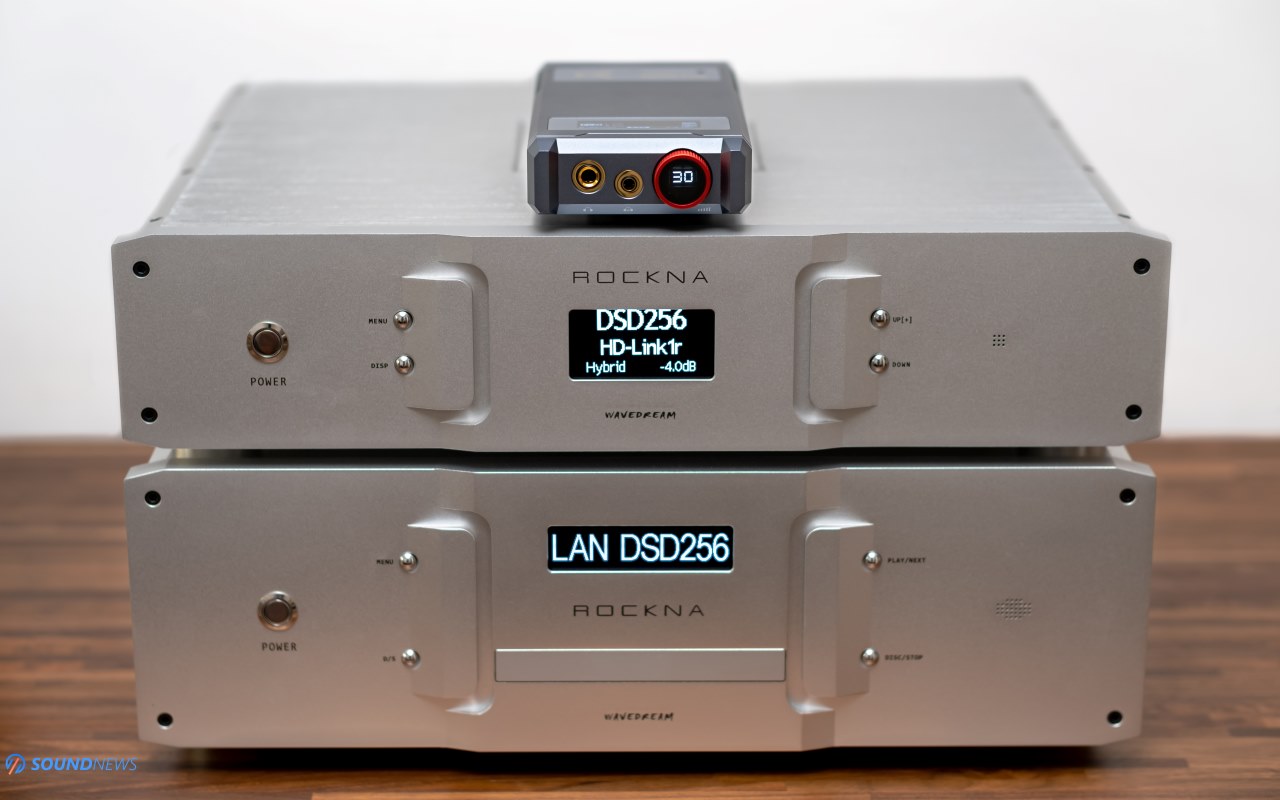 IV. Detail Retrieval
When FiiO's Q7 hopped on my table, I was taken aback by its resolving abilities. Not only it matched the sound coming from a pricier M17 DAP, but its dynamic range was similar with a couple of DACs sitting in the neighborhood of $1000. Q7 brought detail retrieval to the extreme, so much so that with a few headphones, it could be a little too much. With a few HiFiMan headphones, Q7 could tilt the balance from linear and honest to bright and harsh and this is where the XD05 PRO came to the rescue.
xDuoo armed it with the very best ESS Sable silicon and even if additional DAC modules will be coming soon, I'm pretty sure that the stock module will remain as the most transparent-sounding one, having the highest signal-to-noise ratio. The XD05 PRO is a very clean-sounding unit, but it doesn't go to the extreme as FiiO's Q7 was doing it for me. I don't believe FiiO's DAC section is better implemented, I think the THX-AAA circuitry said the last words in terms of transparency and detail, something that xDuoo didn't…for which I'm grateful. If you listen to a lot of acoustic music as I do, then in time you'll observe that THX-AAA-based amplifiers have an over-sharpness filter applied all over the music. It might appear clearer sounding than the original recording which is very unusual. An impressive effect at first and a tiring one later on. I don't enjoy that kind of sound anymore and for me, Q7 is the least natural sounding unit from my stable, although it's impressive when showing the last bits of information.
XD05 PRO doesn't have that over-sharpness filter applied and at first, it feels less resolving versus the Q7, but once you start digesting your music, especially orchestral work and everything that uses musical instruments, then you will have a very different opinion. You will get a more natural timbre and a life-like tonality on the XD05 PRO and Shanling H7. Right now, I can't say that XD05 PRO is providing you with less information, the only thing it doesn't do – is sharpness and strong leading edges. Depending on your listening habits you might like the Q7 or the XD05 PRO, but at this point, the xDuoo sounds closer to my reference setup. It's not fake, but believable sounding.
XD05 PRO is a highly resolving sounding unit, it's up there with upper-echelon DAPs and DAP/Amp combos. It's in between the Q7 and H7, while providing a bit more texture and meat on the bone versus both units and for me, that's more important than detail retrieval alone.
Several IEMs can be legendary sounding, but you will need to use some very specific HiFi dongles, DAPs, or DAC/Amp combos that would bypass their shortcomings. For example HiFiMan Svanar. These are highly resolving, their pace, rhythm, and timing are perfect. The only thing I would like with them is a higher sound density, more presence in the midrange, less in the treble, and overall – a punchier sound. That's mission impossible on a few units and a mission complete on others. Hiby's FC6 dongle worked like magic with the Svanar, Shanling H7 was also great…but it was slowing down their pace, lowering dynamics in the process. XD05 PRO was highly energetic, fast-sounding, dynamic, and quite explosive.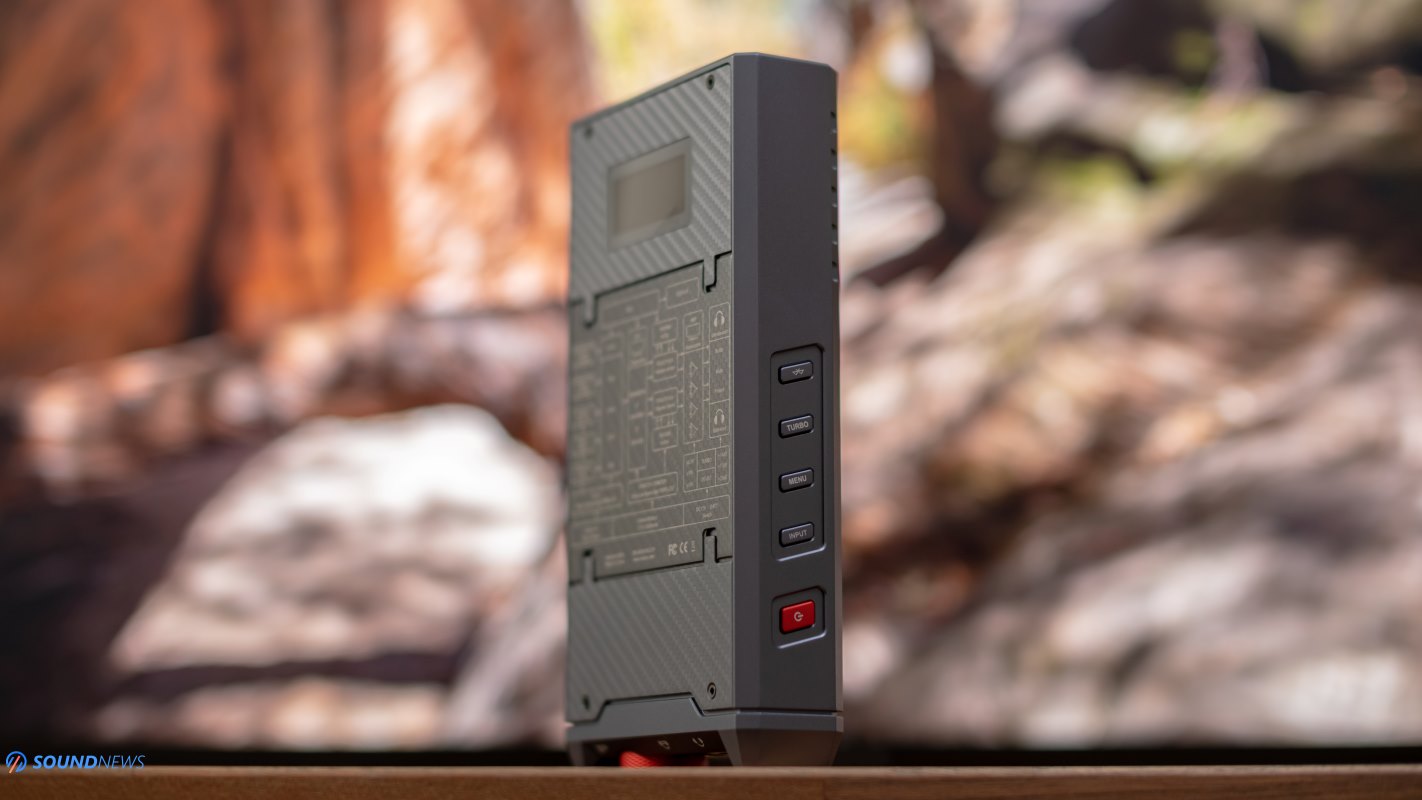 V. Transient Response / Dynamics
We might agree to disagree on several things, like sharpness vs. detail retrieval, and leading edge vs. texture, but I'm sure we'll all agree on one thing: this fellow will bring down the thunder every time you engage your '80-ties pop and rap tunes. It will mercifully slam and pound on electronic tunes and it will bring plenty of bass energy into IEMs and headphones that don't have any of that.
I have a few headphones at my disposal that aren't so impressive when delivering the low-end. Sendy Audio Apollo is shelving about 15 dB up to 30 Hz! That's a lot of sub-bass that plays a hide-and-seek game. Even much higher-priced Sendy Audio Peacock planar headphones are rolling off the sub-bass by 10 dB. Considering we are dealing with planar headphones…that's a little disappointing, since planars supposed to solve the biggest shortcomings of open-back dynamic headphones. The very same headphones put on the XD05 PRO are receiving a second chance in life, as suddenly the bass goes deeper, the punches are more powerful, and additional layers of bass start emerging from the deepest pits of Tartarus. XD05 PRO knows how to energize a set of headphones and it does it without engaging the Turbo gain. Normal gain via balanced output sounds the most natural to me, with a bumped-up low-end delivery for some extra-fun moments. The transient response is spectacular on the biggest xDuoo unit, be it sound acceleration, sustain, decay, or the final kick in the eardrums, it was always doing it like it was nothing. Put some big boy planar headphones and watch those earlobes flap in the air to the rhythm of the music. Nothing can stop the XD05 PRO from reaching the G-spot dynamics-wise, it was made for such moments and it was made for fast-paced music.
Combine an (almost) unlimited power delivery with a hard-slamming attitude and you can almost feel the energy emanating from within its electronics. A couple of music examples won't change the outcome. If you need the Mjolnir in your tunes, then this is its second name.
VI. Soundstage & Imaging
When Evocation I – The Arcane Dominion by Eluveitie (Qobuz / Tidal) started playing in the ancient, yet beautiful Gaulish language, I stopped from whatever I was doing, mesmerized by how authentic the fiddles, tin whistles, flutes, bagpipes, and hurdy gurdies sounded. The long bass sustain of hurdy-gurdy impressed me the most, it's so powerful and emotional at the same time. As a big fan of Celtic music, this album feels like a time capsule randomly found on streaming platforms. While tons of wind instruments play at various locations, trying to reach different frequencies and tonalities, I was surprised how well spread everything sounded via headphones. Even if the little ZETAs were still deeply inserted into my ear canals, the sounds were flying off, unshackled by the limitations put in place by their size and design. ZETA sounded spacious and I didn't have the urge to swap them with open-back headphones at that time.
As I was adding more music to the playlist, I swapped them with the Meze Elite and later with the Erzetich Charybdis which so far are the most open-sounding planar headphones that I had the pleasure of testing. I see that Fleetwood Mac's Rumors Live finally hit streaming platforms this month (Qobuz / Tidal). Although the big show happened in Inglewood, CA in the summer of '77, the recording feels surreal and authentic. If you close your eyes and hum together with the crowd for a few minutes, then I assure you that your consciousness will be teleported back in time. Listening to Dreams feels like unlocking a memory box. My imagination starts playing tricks as what was old becomes young again and what was sitting inside my head is now playing at an arm's reach. When I mentioned that XD05 PRO blurs the line between portable and desktop devices, I wasn't kidding at all, as I already tricked several people who came over for a listen. They didn't know what device was playing, so I put a massive cardboard box over the Rockna stack and a big white towel on top, trying to fool them. "A fully-discrete amplifier is the playing the music", someone hinted. "Spill the beans, it's the HeadAmp CFA3 playing the tunes, isn't it?". "It must be the Enleum HPA-23RM that you were supposed to review soon", someone else said.
Everybody was stunned when I removed the white towel and the big cardboard box, as the XD05 PRO was pulling the strings. We started laughing out loud, blaming the good mood and the alcohol. The final results didn't change a single bit, the XD05 PRO never sounded like a battery-operated device and more like an AC-powered unit that could provide an open wide soundstage that would never limit the air travel, divert the location of the notes or mingle with depth and layering of the music. XD05 PRO has all of that already and if the mighty Susvara is not sounding inside my skull, then I believe the final exam has been passed with flying colors.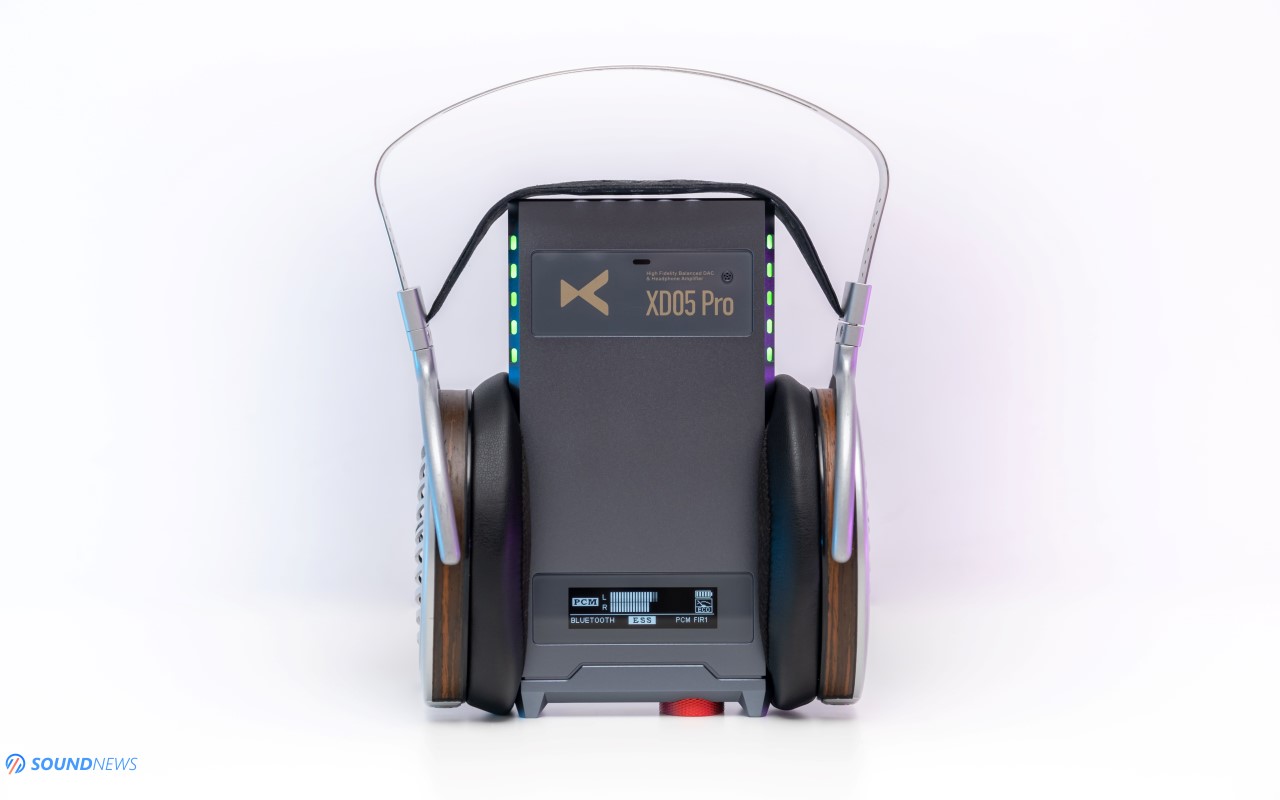 Frequency Response
VII. Bass
In a few words, XD05 PRO goes with a fun sound signature and most of the fun comes from its powerful and slightly elevated sub-bass delivery. It's a bit stronger than usual, there's more bass than what I'm getting from the Q7 and H7, but I kind of like this added fun factor. Maybe it's not as accurate and not as honest and true to the source, but who cares when the Mjolnir swings left and right, moving mountains along the way? The bass is omnipresent, even when not called for, you can feel the air heavier and the music weightier, the whole thing is fuller-bodied and those would be the last words to describe an ESS-Sabre design. But as good engineers proved the opposite so many times by now, XD05 PRO has nothing of that thinness or brightness. The basses are slightly more present than the rest of the spectrum, you can find them elevated by a little that can aid lots of headphones that were never shining in this particular area. Open-back headphones are getting an unstoppable force with modern tunes and if this is what are you chasing, then I don't know another DAC/Amp that can be as fun and majestic sounding as this little big fellow. It's the perfect candidate for sleepy and mellow-sounding headphones, it will shake them pretty well and I'm sure you'll hear a different version of your HD650/660, Sendy Apollo, Peacock, and many others will follow the same course of action.
VIII. Midrange
The stock OPA1612 op-amps are doing a better job than the LME49720 offered as replacement op-amps. I find the OPAs warmer sounding, having a pinch of organic matter, while the LMEs are nicely extending the top octave, getting more resolving and cleaner sounding, at the cost of a less impressive midrange performance. If you're an old timer, stick with the stock configuration and get the optional ROHM DAC module, until the R2R module gets available. If you want to spend your money wisely, just wait for the R2R DAC module, which should transform the midrange in quite a big way. Still, even in the stock configuration, I listened to more acoustic music on the XD05 PRO in two weeks, compared to a year on the FiiO Q7. It glues me to acoustic music; it also does justice to planar headphones. It sounds right from the start, but I need to use specific tracks and headphones on the Q7 for a similar performance. Live tunes are not getting crowded and the energy isn't dissipating so fast. The sounds are fading away slower compared to Q7 and I have slightly more time to appreciate all that goodness. Buckethead's Colma (Qobuz / Tidal) is an album to which I'm returning once in two months or so. It's the one that introduced me to Buckethead and it's the one that made me want to learn drums in the first place. Hills of Eternity is such a soothing track, it's sweet, but still highly technical and accurate sounding. You can feel every start and stop of a note, every tiny vibration, and remnants of guitar or drum solos. It's a bit repetitive, but calming, if makes you feel warm inside. I'm getting all of that with a pair of HiFiMan Susvara, I only desire for denser tone, but I know that only R2R designs are capable of that, so I'm waiting patiently for such a module and the fully-discrete amp module as well.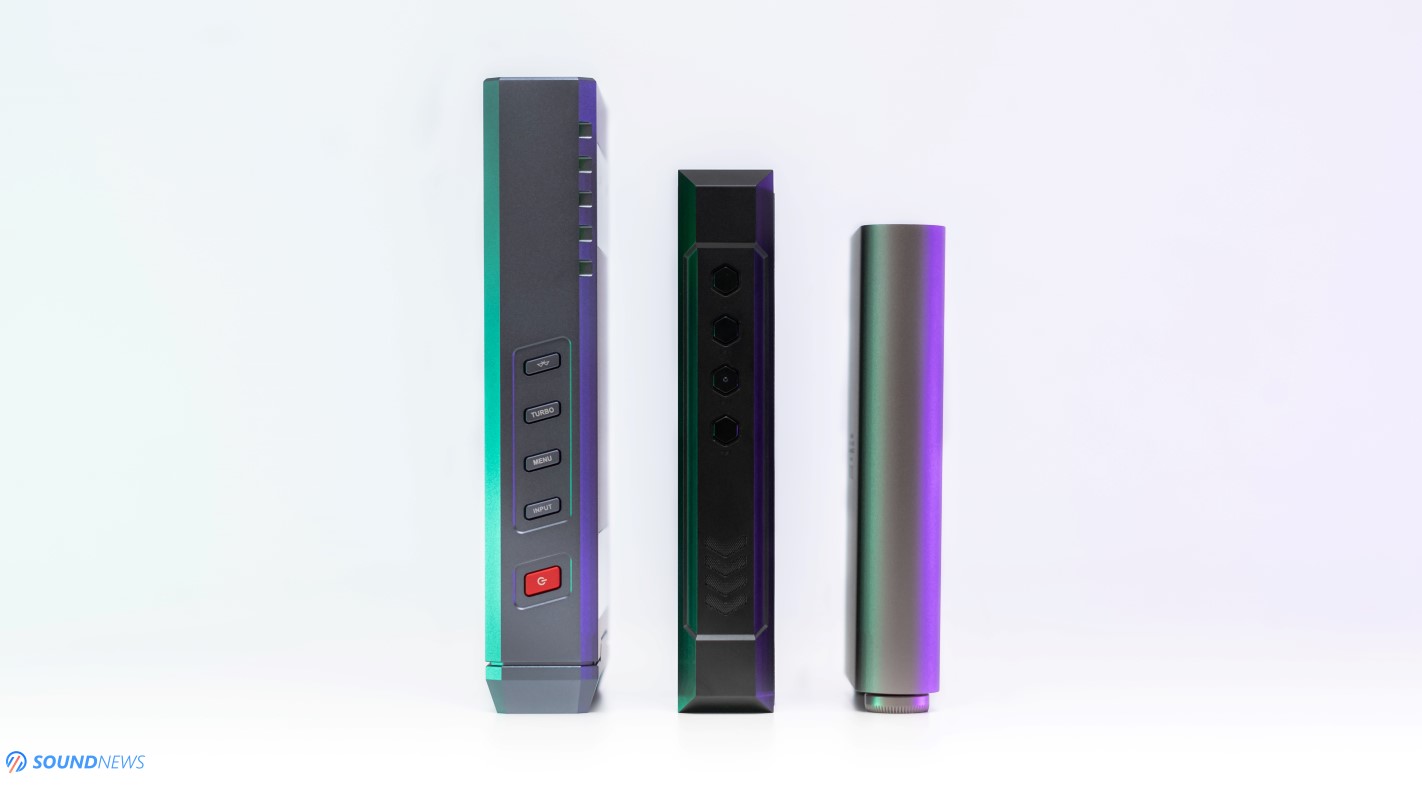 IX. Treble
The trebles are sparkly and playful and I don't find them problematic in long listening sessions. I went through several metal albums, some of them that built my personality a long time ago. The dark folk tales of Negura Bunget didn't scare the HiFiMans, the sound was far from shrill or edgy sounding. Negru sounded like it was again walking among the living. Their dark songs infused with local folk tales didn't compel me to lower the volume or swap the Arya Organic and/or Audivina with a warmer-sounding set. The treble energy was spot on! I didn't want more of it, nor did I need to lower it down. The LME op-amps offered as replacements would increase the treble energy and detail by a little and if you consider yourself a treble head, then the LMEs might be your winning ticket. For me, the stock sound is a little more natural and organic. I have a perfect balance of treble energy, shimmer, and extension, I fear that slightly more of it might ruin its like-life and easy-going tonality. You won't get sharp trebles with any xDuoo unit and XD05 PRO is no different from this formula. Forget about glass canon-like trebles or strong leading edges, xDuoo made sure such things will never happen on the XD05 PRO regardless of the DAC or amp modules. There is a minor treble roll-off, it's small but it's there and I kind of like that gentle roll-off that naturally removes treble excess.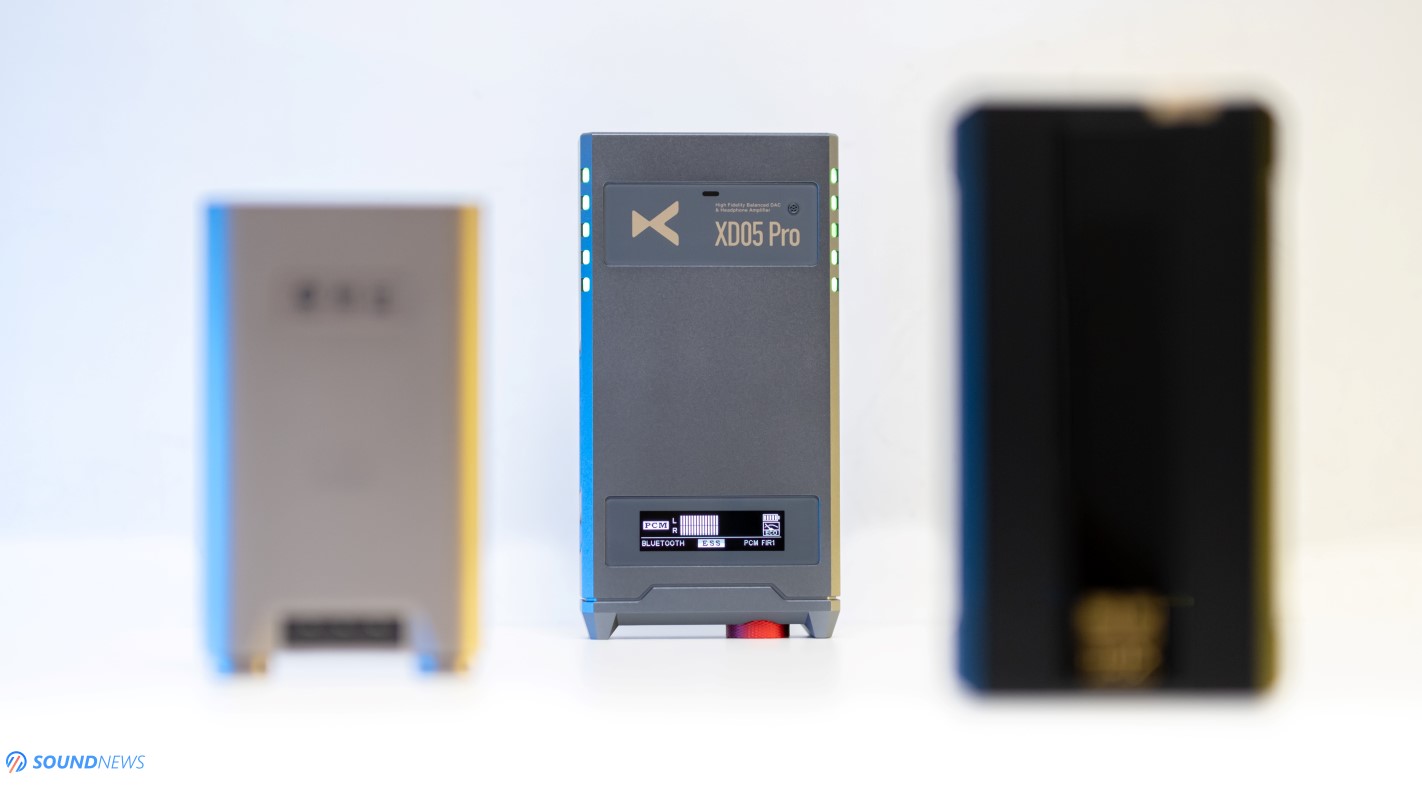 X. Comparisons
xDuoo XD05 PRO ($799) – VS – Shanling H7 ($829) – VS – FiiO Q7 ($749)
Pilling them on top of each other, feeling their body mass and weight single-handedly, you start realizing how much bigger and heavier XD05 PRO is versus the rest. Q7 feels familiar and at home, but H7 is like 3 times lighter weight and the same can be said once music starts playing.
If you care about the design and looks of such units, then undeniably Shanling's unit looks better. Having smooth lines and rounder corners makes it a little cooler looking. If you ask me, out of these three, H7 is the only unit that will fit in a regular jeans pocket without too much hassle. You can put it in the same pocket as your phone and that wouldn't be a problem. FiiO's unit already needs a separate pouch, maybe your jacket, as you'll look funny with something like this in your pocket. Lastly, you'll need a strong belt to support all that added weight of the XD05 PRO. Ladies will surely like the visual appeal, but your belt won't be that happy. With XD05 PRO forget about pockets, it might work with a larger jacket or with a coat. Otherwise, you'll need a backpack or a larger fanny pack that can hold it securely. Let's face it, XD05 PRO isn't so portable and more transportable. HiBy's RS8 already felt like a brick at 500 grams, but XD05 PRO at 780 feels like having two bricks in your hands. XD05 PRO is the most serious-looking unit of the bunch, you have only straight lines, pointy edges, solid feel, and appearance. FiiO's Q7 sits somewhere in the middle, as it's refined and solid-looking at the same time.
Performance-wise, Shanling and xDuoo units are walking a similar path, while the FiiO unit walks a lone path. Shanling and xDuoo units went with a fun sound signature, catering to music lovers and less to hardcore audiophiles. Both are putting a bigger accent on the bass and midrange delivery, gently smoothing out the top frequency range.
FiiO's unit goes with a very different principle, everything should be linear and true to the source, nothing should go up or down, and everything should play at exactly on the same level. For this reason, Q7 can feel boring at times, It is clean, highly resolving, true to the source, and very serious when playing back the music, but it never gets wild with the bass or midrange, it won't rock as hard and it won't deliver the fun as often. It's undeniably more technical than the rest, it's a bit faster and clearer sounding as well, but it's not as engaging, nor as musical sounding. XD05 PRO and H7 are very alike, with the exception that the xDuoo unit is faster sounding, it digs up more micro-level information, and it is Considerably (with a capital C) punchier sounding. When H7 is mellow and smooth, XD05 PRO will still swing that Mjolnir left and right (mind your head) to the rhythm of the music. XD05 PRO is the wild untamed beast from these three. If you fought that Q7 was punchy and alive, wait until you hear XD05's roar on modern tunes. What was punchy on Q7, would be ear drum slapping on the XD05 PRO. I wish this would be a bad joke, but that is exactly how these units are performing. XD05 PRO is the untamed version of the H7, everything that has to do with speed, dynamics, and bass slam, doubles on the xDuoo unit. What was slow already challenges the best laps of Nicky Lauda and what was relaxing and soothing feels like a drum solo sitting a meter away from the drummer.
If you like setting the mood and transporting your mind while listening, then H7 and XD05 PRO would be doing that much better, as Q7 would fall behind in the emotions department. While I can still change the tonality of the XD05 PRO through various amp and DAC modules, sadly the sound of H7 and Q7 cannot be changed in any way. I find the XD05 PRO considerably more interesting and better sounding overall, even if it comes with a few quibbles.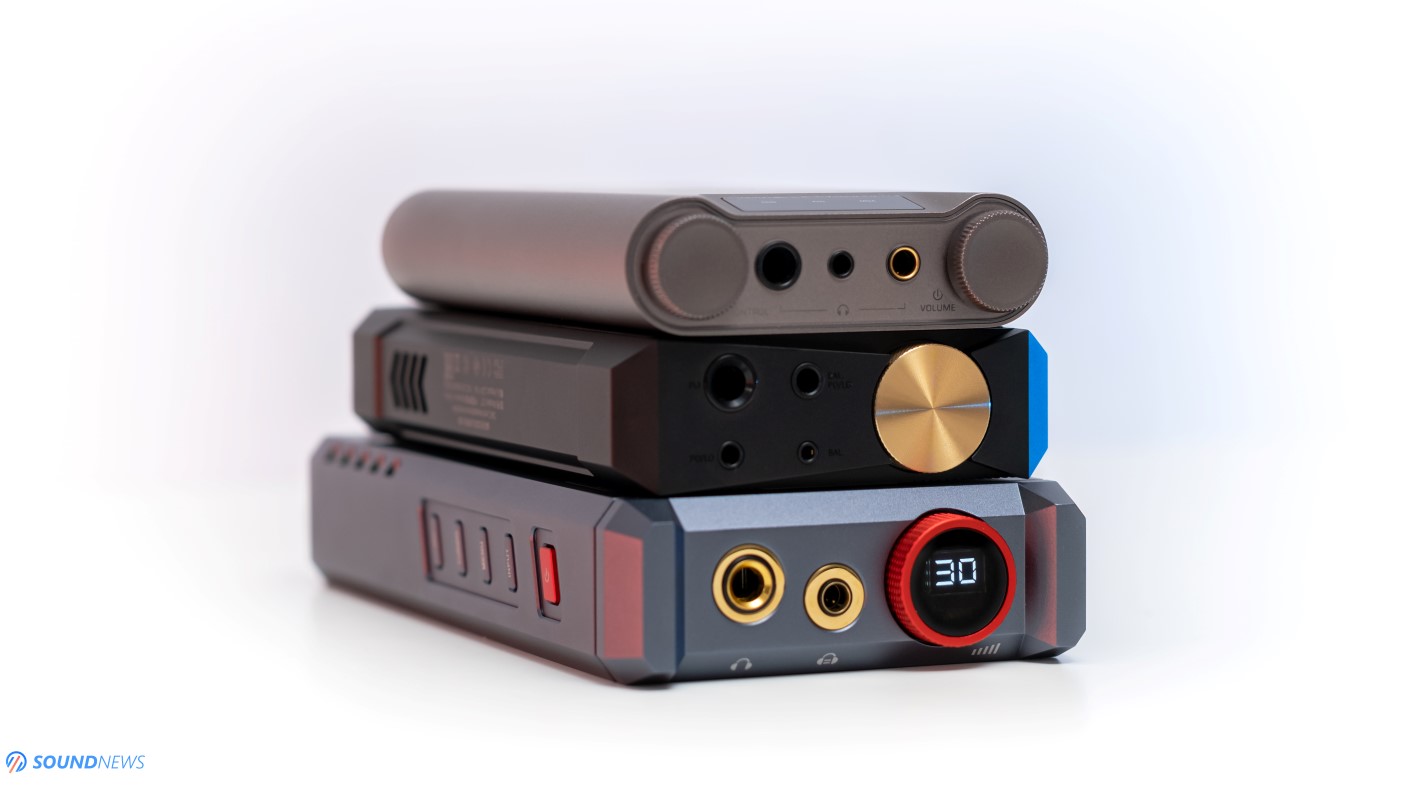 XI. The Quibbles
Everybody knows that HiFiMan Susvara is a difficult load for most desktop headphone amplifiers, let alone for portable devices. On the right settings, the Susvara will sound better compared to its close competitors, with one major caveat. To get them playing adequately, you'll need to engage the Turbo gain, use the 4.4mm balanced output, and crank the volume to around 80 to 85 to be more precise. When you're doing that, you'll observe that even if you have a fully charged battery, its gauge will start going haywire (not kidding) depending on the amount of bass passing through Susvara.
1) When it comes to power, about ~25% of it is used for the whole midrange and treble regions, and the rest 75% of it is used by the bass notes, more specifically by the sub-bass that puts a massive stress on any headphone or integrated amplifier. When a powerful bass note goes to Susvara the battery gauge can go from fully charged to depleted in a matter of microseconds and a second later, the batter gauge will go back to normal. It has the potential of becoming a problem when multiple bass notes are overlapping on top of each other and that would be a moment when XD05 PRO will shut down for a few seconds, or turn off completely. It happened several times already, please check the video review which will visualize the issue. The worst cases were when I was switching from battery power to "Charge" or "EXT", the volume no longer needed to stay at 90 positions for it to shut down completely, but at a lower position. I'm still investigating the phenomenon, but this is how it operates right now. This minor issue might also occur with DCA Stealth and Expanse and Abyss AB-1266 Phi TC should perform similarly. Please consider that the rest of my headphones didn't have any of these issues and regardless of how loud the music was, the battery gauge was not going up and down and it never shut down its operation. If you need to know the specific tracks that are causing this issue, give a try to Supersonic (My Existence) by Skrillex (Qobuz / Tidal) or Checkmate by Fytch (Qobuz / Tidal)
2) Another potential issue (not a major one) is the heat rising from within on Turbo gain. I measured its body temperature with a professional infrared thermo-detector getting 43.8 °C / 110.84 °F on its top cover and 46.3 °C / 115.34 °F below it – which is a similar temperature I was getting from a desktop Burson Soloist 3X GT biased into a constant Class-A operation. I don't know how good is the thermal protection on this unit (I don't want to test that), but it's hotter than the rest of the units tested around here. FiiO's Q7 can get even hotter in its DC power mode, but FiiO is bundling it with a USB-C powered fan, which cools it. These temperatures were taken in a well-ventilated room at 26 °C / 78.8 °F and I don't want to know what will happen in a pocket or a in fanny pack, it will surely get hotter than that. I'm reminding you this happens only in Turbo mode, used on upper power limits. It will get cooler when lowering the volume or when switching to the Normal or ECO gain.
3) The first generation XD05 BAL had a terrible Bluetooth connection…from the units I tried, it was in the last place, losing the signal even with my phone put on top of the unit. Bluetooth was a serious overlook on the first-generation XD05 BAL, but luckily, the XD05 PRO no longer has that issue. Sitting three meters away from it, the signal is still going strong and I'm not getting stutters. However, once there is a thick concrete wall in between them even at short distances, then I'm again getting a few hiccups. Without a wall…everything's fine even with at a few meters, but a single wall is no bueno. This is a decent Bluetooth performance but still, a far cry compared to what I'm getting from other portables. These aren't major issues, but I still need to mention them to you.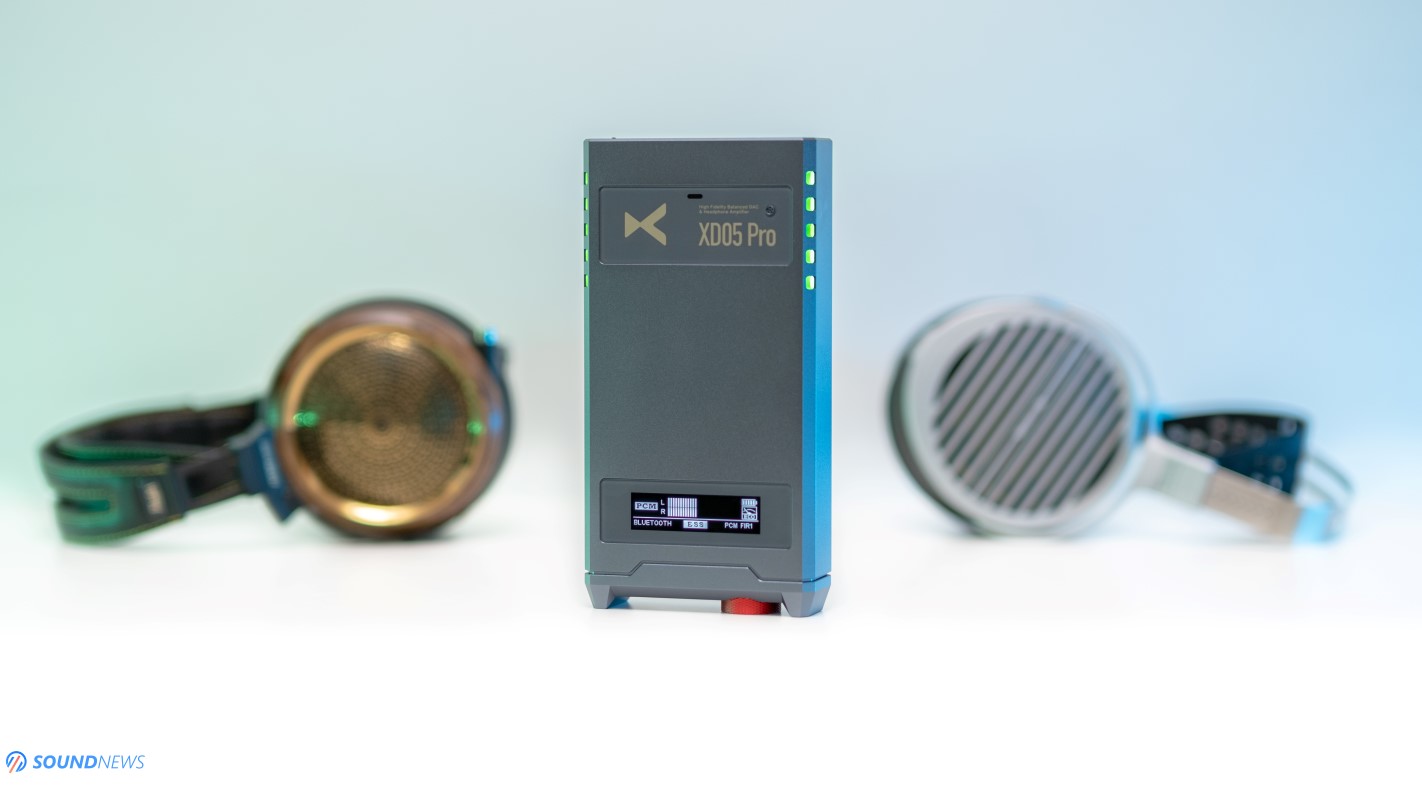 My Conclusions
If I'm ignoring its size, weight, and low portability factor, its mediocre Bluetooth range and hot case after several sparring rounds with the HiFiMan Susvara and the break-dancing battery gauge with bass-intensive music, then we are left with a dynamics beast that refuses to sound like a transportable unit, sounding more like a veritable AC powered unit. It sounded better than most entry to mid-level AC-powered stacks I tried to this point and it will challenge a few upper-echelon separate DAC & Amp combos.
A modular amplifier concept on portable devices isn't something new and several DAP manufacturers implemented them, but swapping both the amplifier and DAC stages with separate modules is a new concept that offers endless possibilities for a perfect match with one or multiple sets of headphones. I'm sure many of you will get it as a transportable rig to be used at the office, maybe as a bed-side rig, those were my main use cases as well. I don't see myself traveling with such a unit, nor going outside for a stroll, but hey, maybe you're crazier than me and you want the very best sound at home and on the go. It can offer you that if you accept the compromises.
xDuoo finally managed to arm it with enough power for the most demanding headphones out there. It will get hotter and the battery will start acting strangely, but it will get the job done, without limiting dynamics or bass slam.
Looking back at the xDuoo units that were featured around here, every single one conquered our hearts with great sonics to match the brand's heritage. Starting with the smallest units and finishing with the biggest fishes in the pond, the xDuoo house sound was always very strong. These guys like to party like crazy, they like their bass to be strong and outlined, plus the dynamics hammer will always swing around your head, so be careful with the volume. It can knock out a few headphones as well, so again, watch that gain and volume position, as it can get loud and very fast.
I hoped I could award them with our highest honors, but alas, a few things are still not polished enough, getting a well-deserved Silver Award in return. I'm not sure if there will be firmware updates down the road or if such units can be updated at all, but I hope all the quibbles I mentioned above will be taken care of in the future.
Regardless, I still think its price point was fully justified, I'm personally looking forward to the AMP and DAC modules that could further elevate its performance. This unit was kindly provided by the fine gents of Apos Audio, you can get it from here. Do note that Apos never influenced the final review as my thoughts are always my own. Apos Audio is still offering free shipping in the USA and Canada, free 45-day returns in case you don't like it, an extra year of warranty, and the lowest price guarantee. In case you're getting one, please say Hi and drop me a line in the comments section below. Keep rocking, mates!
PROS:
Oversized, Overkill, Overpowerful
Thick CNC machined case, tank-proof build quality
Nice grip when holding it single-handedly
Modular AMP and DAC sections, it's a Big plus for me
A legendary unboxing experience, including the widest selection of accessories
Easy to use UI, ergonomic button placement
The most powerful current-production (trans)portable DAC/Amp combo, drives even the notorious HiFiMan Susvara with enough headroom remaining on tap
It fills you with fun, fun, and even more fun vibes! did I happen to mention that it's like a non-stop fun-filled fiesta for your ears?
Fast & Furious with electronic tunes, watch out for double bass slaps
Detailed sounding enough, transparency is great, but it's not the best
Open & wide sounding, mimicking the sound of AC-powered DAC/Amp combos
Sounds effortless & easy going
Offers an extended frequency response, with a minor roll-off at the upper end of the spectrum
Dead-silent with IEMs and sensitive headphones in the low-gain position
Clearly, the best portable DAC/Amp combo I've heard so far
Great performance at the right price!
CONS:
It's transportable at best and stationery at worst
Bluetooth range is not the widest & Bluetooth signal is not the strongest with a concrete wall between the sender and receiver
Gets hot on Turbo gain & 4.4mm jack, could be a potential issue in a pouch or pocket
The battery gauge starts dancing on bass-intensive music put on low-sensitivity headphones
ASSOCIATED EQUIPMENT:
DACs: Chord Electronics DAVE, Rockna Wavedream Signature XLR, Gold Note DS-10 PLUS, xDuoo XD05 PRO
Wireless Streamer & Music Server: Rockna Wavedream NET 4TB, EverSolo DMP-A6
DDCs: Singxer SU-6, Matrix X-SPDIF 3
Headphone Amps: Trafomatic Primavera, Enleum AMP-23R, Ferrum OOR & HYPSOS, Burson Soloist 3X GT, Flux Lab Acoustics Volot, Topping A70 PRO
IEMs: Westone Mach 50, Hiby ZETA, FiiO FX15 & FH9, 7Hz Timeless AE, Kinera Skuld & others
Full-sized headphones: HiFiMan Susvara, Arya Organic, Audivina, Meze Elite & 109 PRO, Erzetich Charybdis & Phobos V.2021, Audeze LCD-5 & LCD-4, Sennheiser HD800S, Kennerton Rognir (planar) & Vali, Apos Caspian, Sendy Peacock & Apollo, HarmonicDyne Elite & Poseidon, others
Preamps: Chord Electronics Ultima 3 Pre
Power Amps: Chord Electronics Ultima 5 Power, Burson Timekeeper 3X GT (x2)
Loudspeakers: KEF Reference 3, Musician Knight 1, Sound of Eden Crescendo UNO
DAC/Amps: xDuoo XD05 PRO, Shanling H7, FiiO Q7
DAPs: FiiO M15S, Shanling M6 Ultra, Hiby R6 PRO II, RS8
Interconnects: Crystal Cable Reference2 Diamond (x3), QED Reference (x2), Topping TCX1 (x2)
USB Cables: Supra USB Excalibur (x2), Chord C-USB, Matrix Hi-Fi USB
HDMI Cables: Audioquest Diamond DBS, Supra 8K HDMI
Speaker cables: Kimber PR8, Audioquest Type4
Power Cables: Crystal Cable Reference2 Diamond (x3), Isotek EVO3 Premier (x2), iFi Audio SupaNova (x2)
Balanced Isolation Power Conditioners: PLiXiR Elite BAC1500 (stereo setup), KECES IQRP-1500 and P14 (headphone setup)