My Video Review:
When FiiO released their portable Q5S portable DAC and headphone amp combo some time ago, people that were serious about portable Hi-Fi were ditching their award-winning Chord Mojo and were jumping into the Chi-Fi bandwagon. Why would you do that you might ask. Mojo was noisy near any smartphone, 3G/4G networks and Wi-Fi routers would induce a painful amount of noise, making it a very bad idea near your phone or pretty much anywhere except for a cave in the mountains. Q5S on the other hand would repel that noise, including EMI, RFI and any other wireless interference, plus its battery would not die in a year… Yet, a lot of folks weren't sold on the Micro-USB port and on the Lightning only cable found in the package. Considering that Android has currently a market share of almost 72% and iOS just 28%, FiiO was shooting themselves in the foot with that device, but not anymore.
Enter a more affordable FiiO Q3, that tries to solve the issues of its fathers: It got USB type-C, it got lightning and USB-C cables too, so you can use it with iOS and Android smart devices alike. FiiO is into something with this one. If there is a company that listens to their customers and is replying openly on forums and social media, that is definitely FiiO. Q3 solved the biggest problem of its predecessors, it added some fresh new ideas and sought-after features that makes it a very powerful music making machine at only $150 in USA / €160 in Europe. Let's dive deep and see what makes it tick and how it really performs connected to a smartphone or PC, driving portable, desktop or ultra-sensitive headphones.
Unboxing Experience
The box is fairly small, but is quite thick and feels premium to me, it is the same box FiiO is using for their mid-fi equipment. There is plenty of padding around Q3 for protection and two soft accessories boxes under it are working as pillows for the unit itself. FiiO really outdid themselves in terms of how many accessories you can squeeze in a box this small and if you're wondering what's inside, here's a list:
A black textile storage bag with the FiiO logo
Four rubber rings to attach it to a mobile source (DAP, smartphone)
A USB-A cable to USB-C for charging and for PC/MAC connectivity
A USB-C to Apple Lightning cable for iOS devices
A USB-C to USB-C cable for Android devices
A mini-to-mini short cable (3.5mm to 3.5mm)
A silicone spacer that can be used between Q3 and a mobile source to avoid wear and tear
Some paperwork (a warranty card and a quick start guide)
The most important ones are those short cables which I will explain very soon, putting them to work. I'm really glad FiiO didn't forget its Android fan-base and included a much-needed USB-C to USB-C cable in the package. Hats Off!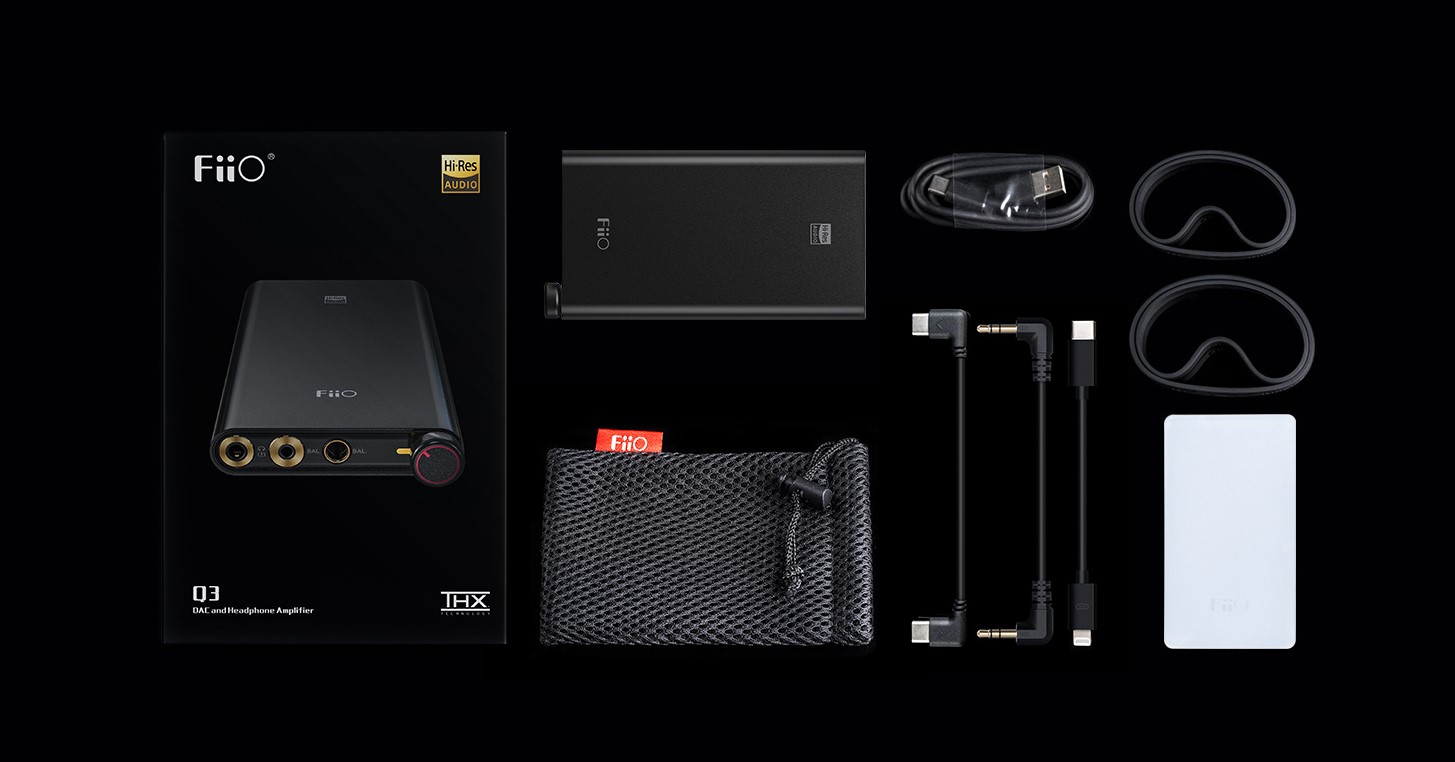 Design & Build Quality
Q3 is looking a lot like their Q1 MkII with some minor tweaks here and there, borrowing some design cues from their desktop line as K3 and K5 PRO. It uses an all-aluminum uni-body case that is wrapping it entirely. It has this rounded shape that should protect your phone or DAP from any wear and tear. I personally like its smooth lines, elegant curves and its humanized look. It is comfortable to hold, it isn't slippery at all thanks to its sandblasted matte-black paint. It gives a sturdy yet beautiful look while remaining practical in any situation. FiiO dropped its former Hi-Res sticker and instead laser-engraved it on its aluminum surface, it's a small detail that is adding class and refinement in my opinion. There are two things that I like the most about it: USB Type-C – thanks almighty Odin FiiO embraced the future! It is about time. Secondly, the charging switch on the back is more important than you might think. Q1 MK2 and first-gen Q5 were draining the batteries of your smartphones, but not anymore with the newest Q3 if you flip that switch to the Off position.
I like that FiiO dimmed those LEDs and knurled its volume knob to have a better feeling of it. Overall, it looks simple, modern, easy to use and really straightforward once you learn its buttons, inputs and outputs.
Buttons & Layout
On its front you can spot 3 headphone outputs: a regular SE 3.5mm (1/8") output and two balanced options: 2.5mm and 4.4mm, allowing you to connect all kinds of IEMs, portable and desktop headphones. If Q3 is not connected digitally via USB-C, its front 3.5mm headphone jack can also be used as an analog input, this way Q3 will be used only as a portable headphone amplifier, completely bypassing its digital to analog conversion. I don't know why would you do that, but an additional feature never hurts.
The volume knob on the right also works as an On/Off switch and the LED light near it shows the sampling rates of your tunes, Blue is your regular 16 bit PCM, yellow is your 24 or 32 bit PCM and Green is your DSD.
On the back you can spot a Bass On/Off switch, on the left a Gain button, a Charge On/Off switch on the right and a USB Type-C in the middle that will charge your device or put it to good use working as a DAC and HP amp for your desktop or portable smart devices.
Battery
FiiO used a Li-Po 1800 mAh battery inside, considering its slim body and small footprint, that is probably the biggest capacity they could squeeze inside. With an external charger in mere 2 hours it will be fully charged, offering back around 10 hours on the regular 3.5mm output, 8 hours and a half on any of its balanced output or it will work for 19 hours as a headphone amp only if the internal DAC is being bypassed. Those are some decent working times, but if you would like more, you can easily attach a power bank and charge it in no time.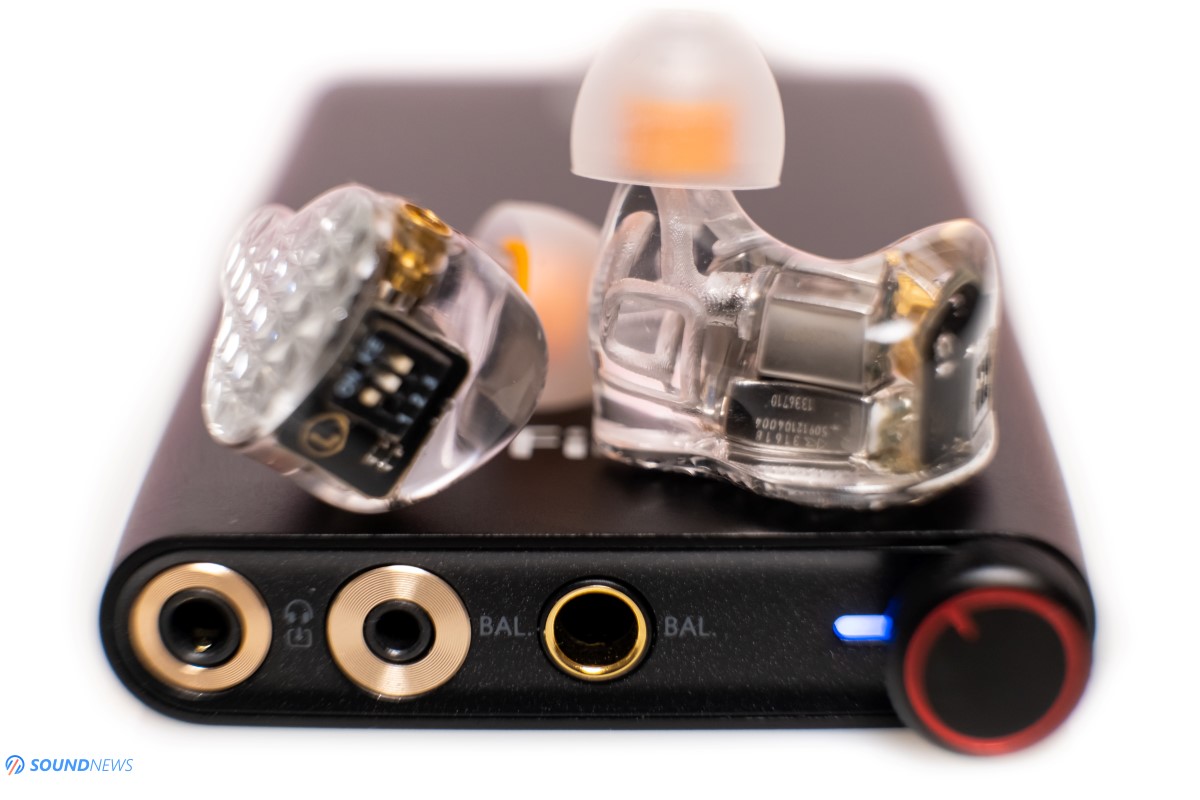 Under its hood
FiiO went with a brand-new midrange DAC chip from Asahi Kasei Microdevices (AKM): the AK4462 that superseded the AK4452 that FiiO used in their K3 and in the Q1 MKII. Both chipsets are having dual-channels meaning that its internal DAC section is not fully balanced – for that a quad channel chipset will be needed or two pieces of AK4462 silicon.
Helped by a powerful USB receiver like XMOS XUF-208, Q3 can natively decode 32-bit 768 kHz PCM files and DSD512 material. You can find this exact chipset in most modern DACs, it is a very stable chipset which I never had a problem with.
The stars of the show are obviously those THX AAA-28 modules which should offer undistorted clean power to your headphones without adding or subtracting anything from your tunes. We've tested a ton of THX equipped headphone amplifiers and our reference Benchmark HPA4 unit is using flagship THX-AAA-888 modules, so we know what to expect from them. THX Frontier modules are part of their audiophile mobile division and if you would like to know more about them, here is a graph that will tell you more.
Considering that its Reference design can output up to 168 mW of power in 32 Ohms and Q3 outputs 160mW of power in the same impedance, it is safe to say that FiiO squeezed the most out of these modules. Since FiiO used two stereo modules, its internal amplifier topology is fully balanced and in the same impedance Q3 is outputting almost double the power on its balanced outputs, 300 mW to be more precise. If you are new to THX AAA modules, these are reducing harmonic, intermodulation and crossover distortion by 20 to 40 dB and are offering a true to life, realistic and a fatigue-free listening experience. THX AAA modules accomplishes that by using a patented feed-forward topology to null conventional distortion and noise levels, resulting in the world's most linear sounding amplifiers.
Besides that, an analog bass booster that is adding 6 dB of gain somewhere between 20 and 300 Hz is used by the help of OPA2322 op-amp. Its volume control works in analog domain and thanks to a NJU72315 low-noise and ultra-low distortion volume control chip, you'll have a great channel balance even at lower volumes with ultra-sensitive IEMs.
Q3 is also Apple MFi (Made For iDevices) certified meaning that it will work exceptional with any of their portable or desktop units. It is USB-C certified too, meeting standard specifications to ensure a wider compatibility with Android smart devices.
Q3 is a simple wired DAC and headphone amplifier, but if you want to go wireless with your smart devices, I recommend their BTR5 that will offer you wireless freedom and almost the same sound quality.
Sound Performance
I. Preliminary Sound Impressions
As I've told you previously in my Kennerton Wodan review, those are so easy to drive by planar-mafia standards that Q3 was more than enough to drive them to ear-deafening levels even on its regular 3.5mm output. Q3 went with me in a long trip, somewhere at higher altitude surrounded by lots of snow and mulled wine, where Q3 was used daily from 9 P.M. to around midnight for several days in a row. Even without any kind of burn-in, I didn't observe much of a change, it sounded pretty much the same out of the box as it did seven days later.
I never thought I would write these words for a THX-AAA based DAC and headphone amp combo, but for the first time I've felt warmth coming out of such a device, it definitely felt smoother sounding compared to THX equipped SMSL SH-9, SP200, Drop THX-789 and to Benchmark HPA4, you name it. Of course, its internal amplifier section is absolutely colorless and straight as a line, but that velvety sounding AKM chipset started to blossom showing its true character. As a whole, Q3 is slightly on the warmer side, with a great rendition of the midrange that helped tremendously with V-shaped IEMs. Later after I've returned home, I discovered that is does some great things with Hifiman headphones, it paired really well with Arya and I am pretty sure it does the same with their HE400i or Sundara. I can listen to such a soothing and relaxing performance all day long and in all fairness, Q3 is not really about sharp defined leading-edges or about fast and snappy dynamics but more about the simplest things like listening to music and not caring about the technical aspects. There isn't even a smallest hint of brightness or dryness, I find its midrange performance juicy and meaty sounding, it draws a lot of attention into this region and not a whole lot on its highest registers which I found good, but not great. I this regarding, I strongly believe their wireless BTR5 is better as it has a cleaner and more extended treble, but it is also sharper compared to Q3. It is really my first time experiencing a warmer presentation from a THX module equipment DAC and headphone amp combo and I really encourage other manufacturers trying different combinations and sound signatures. It is really boring when all THX units are sounding pretty much the same.
My smartphone is equipped with a Hi-Fi DAC according to its manufacturer, but it was a no-match to the Q3 and I'm not only about its power delivery, but also about how clean, well-spread and airy it sounded. Q3 did indeed elevate my phone from Low-Fi to a much higher tiered Hi-Fi device, it approached dedicated DAP levels and to an entry level DAC + headphone combos, all that by using a speedy and well-known interface of my own smartphone.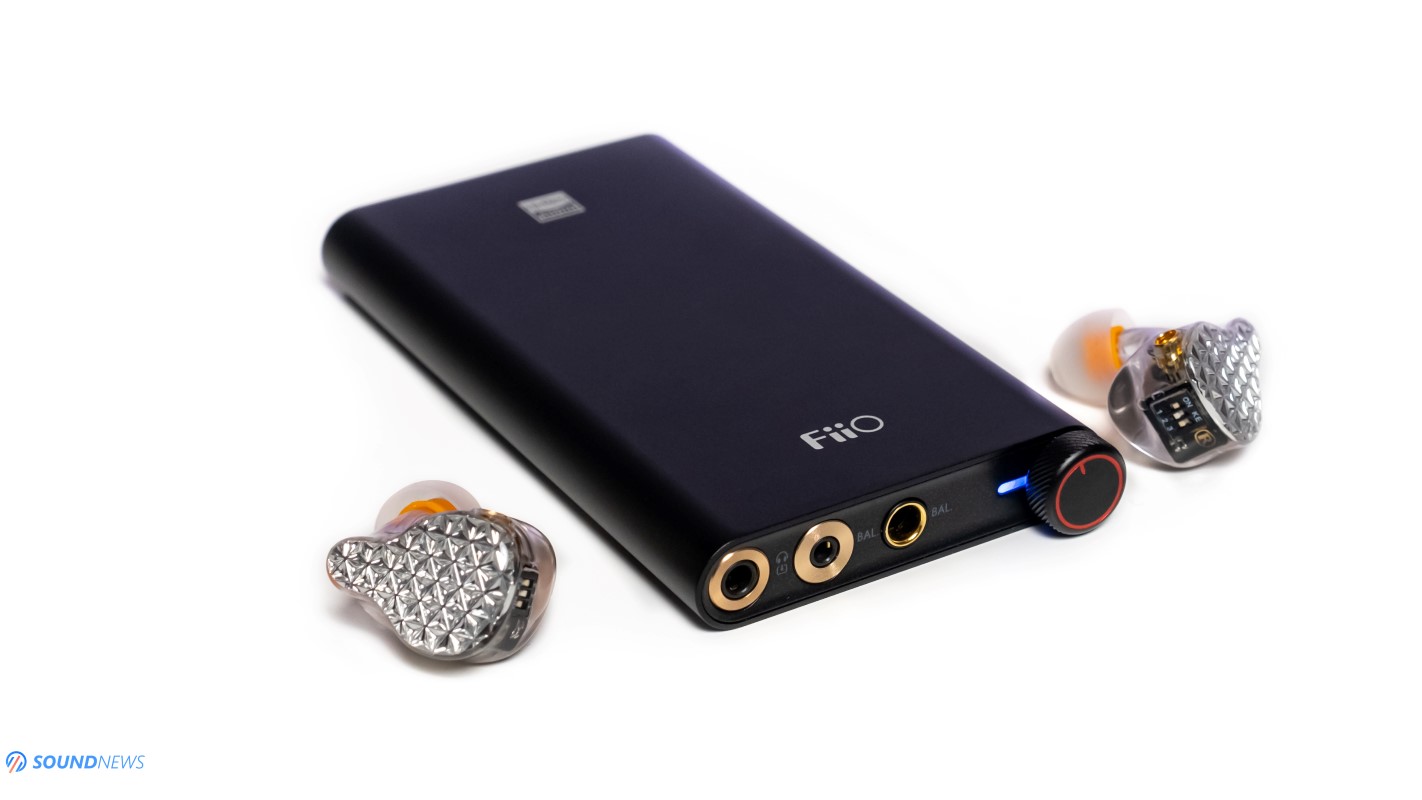 II. Noise Floor
Generally speaking, all THX-based amplifiers of any kind are extremely well-trained in fighting back all types of noise. Those are reducing harmonic, intermodulation and crossover distortions to inaudible levels. In addition to that, a copper-nickel shield under its case, plus some highly efficient absorbers are guarding it against any radio frequency interference coming from your phone, wireless networks and so on, making it in theory extremely good at repelling any type of noise.
Besides Kennerton Wodan, I also took with me several IEMs, three models to be more precise: the most sensitive FiiO FA9 to test its background noise, a Meze RAI Penta for its smoothness and a LittleDot Cu KIS just for its fun and engaging nature. If I'm using it with desktop headphones, like Kennerton Wodan, then sure enough it has a super clean background, much cleaner than that of my phone. Low intensity passages felt crystal clean without any kind of noises in between the notes. Same can be said about portable headphones like Meze 99 Classics or Sennheiser Momentum line, as those performed exactly the same as they did on a well-thought desktop setup. LittleDot CuKIS and Meze RAI Penta worked absolutely flawless and again I didn't spot any noises whatsoever, just a spooky black background so I could listen even to the most demanding music.
FiiO FA9 in its high-sensitivity and low-impedance mode (16 Ohms and 113 dB sensitivity) could barely spot its noise level and I'm not about hissing or about nasty pops and crackles in my music, there is just a barely audible hum when music isn't playing. You can spot it only with ultra-sensitive IEMs and only in a dead-silent environment, otherwise it isn't there. For me, that wasn't a concern, it still performed admirably with IEMs once music started playing, I still consider it clean and transparent sounding, just not on the same level with their top flight offerings like M11 PRO and M15 DAPs.
It has a noise floor of 5.5 microVolts on its 3.5mm output and of about 8 microVolts on its balanced outputs, it is safer using its single ended output with sensitive IEMs and both its balanced outputs with portable or desktop headphones. The best part is that no matter the volume position or the selected gain, its noise floor never increased or decreased, so at normal listening levels of 80 to 90 dB, it sounded clear, airy and transparent enough to me.
III. Power Output
Q3 offers a max power of about 160mW in 32Ω on its single ended output, 300mW on balanced outputs, plus a max current of 150mA. At first, it doesn't seem that much, but as I was testing more and more headphones, I was surprised to find that it has plenty enough power even for most desktop headphones I'm having around. Power output is actually the most interesting part of this device, because it has a lot more of it compared to Q1 MKII that offers only 75mW and it's about on the same level with first generation FiiO Q5, and that is kind of impressive only thinking about it.
All sensitive IEMs were driven to their fullest even out of its regular 3.5mm jack, portable over-ear headphones performed absolutely the same, balanced drive or high-gain wasn't even needed with those, Q3 was nicely controlling their drivers with slow or fast executed tracks.
I was genuinely impressed when on its normal 3.5mm headphone jack it was driving that huge looking Erzetich Phobos, Kennerton Wodan sounded like they did on a desktop headphone amplifier. Erzetich Mania, Kennerton Magni, Gjallarhorn and Quad ERA-1 performed excellent, it had dynamics, it offered a nice punch, speedy decays and it was keeping up with music as electronica and rock. The only two headphones that were lacking nerve and dynamics were Hifiman Arya and Audeze LCD-4 that truly deserve only desktop power. When I moved to balanced drive, Arya were sounding nicer to me, finally soundstage decompressed by a little, finally there was more volume to play with, but again I'm recommending desktop headphone amplifiers with high-caliber headphones like these. The interesting part is that there was plenty of volume left on tap with Wodan and Phobos, higher dynamic range tracks had enough oomph and punch in them, there was air around the notes, soundstage wasn't crippled, dynamics were pumping dopamine in the blood stream, it had a breathing type of bass in there too, midrange presence was all of the place. I only wished more sparkle up top, but as it usually happens, you can't have them all in a device this affordable, small and lightweight.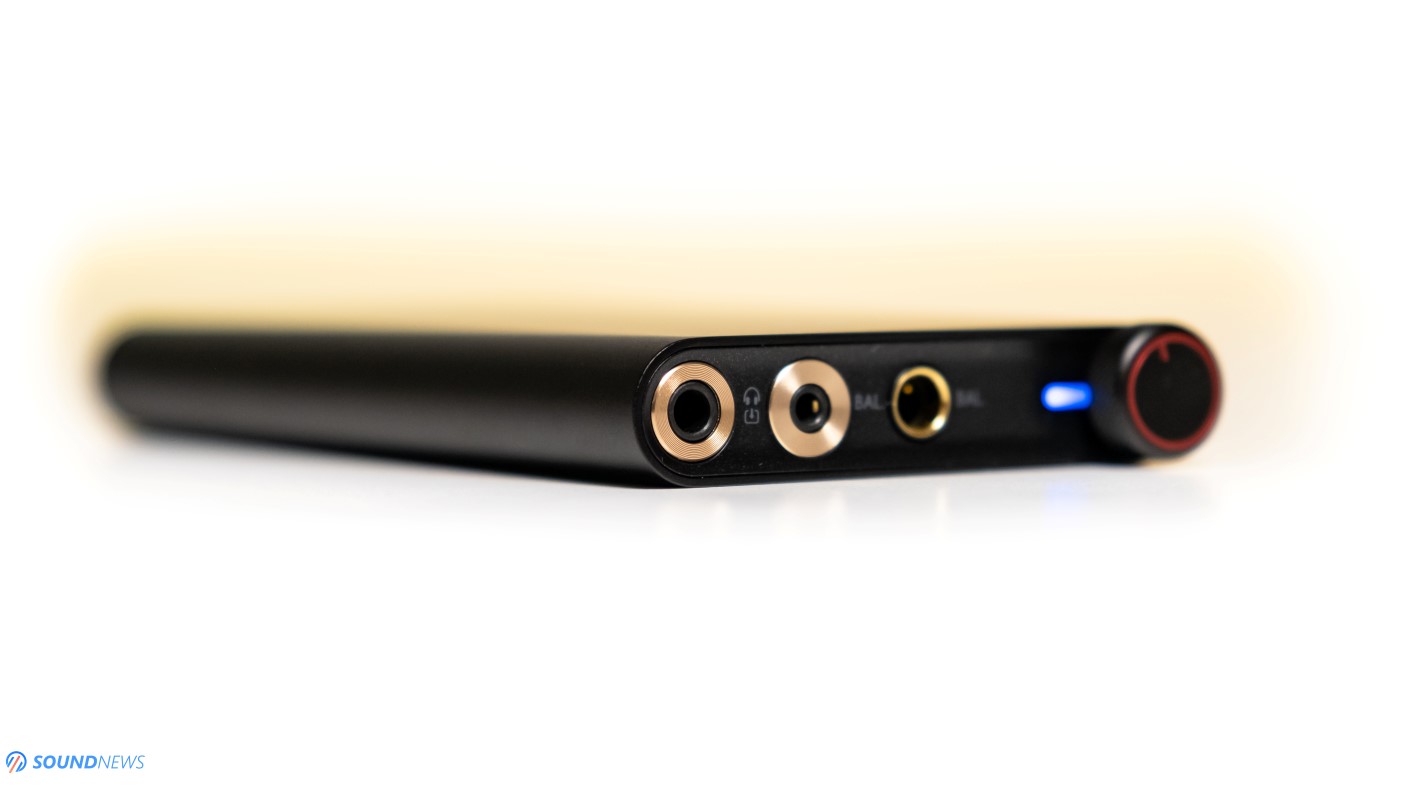 IV. Resolution & Transparency
I had plenty of time evaluating the little Q3 and since FA9 and Wodan are very good at showing the smallest nuances, I feel that I've formed a solid opinion about the little fellow. Q3 often times appeared as clean and transparent sounding, but it wasn't as clear and über-detailed as it usually happens with THX headphone amp-only units, I presume the DAC part is the culprit in here. In the best-case scenario, on the reference board AK4462 is having a signal to noise ratio of 113 dB in stereo mode and a total harmonic distortion of -107 dB, but presuming Q3 can't approach the performance of a reference board, those numbers are even lower than that. Those are decent numbers, but far from impressive. Q3 can't be compared to desktop units when it comes to ultimate resolution and transparency, because it can't reach the same performance numbers. It was clean and transparent sounding to a degree, but if I'd use higher quality recordings from the likes of Reference Recordings, Stockfisch-Records and Chesky Records then the gap between Q3 and desktop units would be considerably bigger.
If I would take in consideration the rest of FiiO flock in the same price bracket, I find Q3 less detailed and transparent than BTR5 and newest Q5S, but considerably clearer to Q1 MKII, K3 and BTR3K.
V. Transient Response
So, does it know to rock hard and rise horns on its forehead? Yes and No. Power some IEMs, portable or efficient desktop headphones and hell yeah! It will rock hard, it will pound and smash your ear-drums like putting Hulk on a drumming kit, but give it harder tasks and it loses control, power and dynamics. I've certainly rocked-out with Kennerton Wodan, anything from progressive to symphonic rock and metal, all kinds of electronica didn't pose a slightest problem for it. Just when I thought it was giving me its last breath, for an extra punch down low, that bass switch would do wonders to headphones like Hifiman Arya and in the end Q3 can be a bad-boy with the right headphone.
On the flip side, the AKM chipset is still rounding a bit the frequency response, few notes in the lowest and highest octaves were still missing, it wasn't the most visceral, energetic and head-banging experience. With few particular headphones I wanted more raw energy, I wanted more treble and sub-bass, but the most I longed for hard-hitting dynamics. But again, at this size and weight it was already giving me its last dying breathes with high-voltage music.
On the other hand, smoother music as classical, jazz and acoustic were a delight to experience on it. That slower pace, that wide spread nature and lots of warmth emanating from Q3 did wonders to such music. I listened to a lot of Pink Martini these past days and as much as I have tried, I didn't have to object in a bad way, it relaxed my spirits sending shivers through my spine at least several times a day.
VI. Frequency Response
As I've told before, in its stock form, Q3 is rounding a bit the frequency response, it focuses mostly on the core and less so on its extremities, it rolls-off sub-bass and upper treble, creating that cozy and familiar sound of turntables.
Sub-bass performance is fine and I've spotted it easily with bass digging IEMs as FiiO FH7 and LittleDot Cu KIS. It is clean, defined and seems layered enough to create a sensation of a high-quality bass. It loses only in terms of quantity as sometimes I wish for a nicer impact, but that 6 dB bass boost working in the analog domain is adding exactly what doctor asked. It elevates it nicely, adding weight and a much-needed quantity so it could stand out more often.
Mid-bass is not rolled-off at all and that bass switch it adding more quantity than needed, making it too obvious and longer in its decay. I'm inclined to say that is sounds more detailed without the bass boost and considerably weightier, but slower once that bass switch is engaged. Pick your poison.
Midrange is without a slightest doubt the nicest part of the little fellow. It's what I'm calling a natural and life-like rendition of it. Its vocal performance is close to perfect, there is a distinct difference between the male and female pitch. Piano sounded weightier and string-based instruments vibrated naturally somehow unveiling the material of their bodies. This kind of midrange is seriously upgrading some particular headphones, especially V-shaped ones that are lacking emotions.
Treble sounds clean and quite defined, it lacks any ringing so that harshness would not be a problem at all. It doesn't have the most defined leading edge and it is not extremely extended past top-octave, but that can be beneficial to some users and to bright sounding headphones. It is relaxed in here and smoother sounding too. Other than that, cymbals felt clean, their metallic bodies shimmered nicely, drums and snare drum hits had a nice thump.
Overall, Q3 moves your attention mostly to its mid-bass and midrange delivery, then to its extremities as sub-bass and upper-treble, making it rounder sounding and less extended at both ends of the spectrum.
Conclusions
Q3 feels like a major step into the right direction for FiiO, its full Android and iOS support, plus several short cables found in the package are important notable changes leaving both smartphone crowds happy. I still remember searching for a Micro-USB to USB-C short cable on eBay so I could finish my Q5S review. Not anymore, as everything you need is already included in the package, there is even a longer USB cable, just in case you want to use with your PC or laptop.
Sound wise, it delivered exactly what I was expecting, it has a good DAC section and a great amplifier section, powering even several high-end planar desktop headphones which came as a huge surprise for me. There are plenty of details and air around those notes, it doesn't sound up font, close and personal, there are natural textures and a lot of midrange presence that are scaring brightness for good. Most of my listening was made via its regular 3.5mm output, thinking that is delivers double the power on its balanced output, makes it a much better deal in my eyes.
At just $150 in USA and €160 here in Europe, I consider it a major step-up from their Q1 MK2 and it felt considerably clearer sounding to their desktop only K3. As such I cannot move forward without recommending the little one. It elevated my portable music listening from Low-Fi to Hi-Fi and it would do the same to you.
You can get it from FiiO's AliExpress Store right here, from their worldwide distributors that can be found here, or you can get it from Apos Audio right here – those guys will add an extra year of warranty, they'll offer free 30-day returns in case you don't like it and of course free shipping in the USA.
PROS:
Portable, small and lightweight
Smooth clean lines, sleek looking
Good balanced between being technical and natural sounding
Plenty of power for most headphones, including desktop ones
Great midrange performance
Warm and smooth sounding unlike any other THX-based amplifier
Clean sounding most of the time, good transparency and detail retrieval
Decently layered with an above average soundstage size
Good speed, nice control, fast decays
Full support for iOS and Android devices
A very good value!
CONS:
Slight hum with ultra-sensitive IEMs
Dynamics could be better
ASSOCIATED EQUIPMENT:
Sources: Xiaomi Mi 9T Pro, Corsair One i160
DACs: FiiO Q3, Audiobyte HydraVox + HydraZap, Matrix Audio Element X, Mini-i Pro 3, Soncoz SGD1, Burson Conductor 3X Performance, Flux Lab Acoustics FCN-10
DAPs: Shanling M6, FiiO M15
Headphone Amps: Benchmark HPA4, SparkoS Labs Aries, Flux Lab Acoustics FCN-10, LittleDot MKIII SE, SMSL SH-9, Topping A50S
Power Amps: KECES S300, Kinki Studio EX-M7
IEMs: FiiO FA9, FH7, Meze Rai Penta, Rai Solo & others
Portable headphones: Sennheiser Momentum 2, Meze 99 Classics
Full-sized headphones: Hifiman Susvara, Hifiman Arya, Audeze LCD-4, Kennerton Wodan, Magni & Gjallarhorn, Erzetich Phobos, Erzetich Mania, Quad ERA-1, Ollo S4X Reference
Loudspeakers: KEF Reference 3
Interconnects: QED Reference (x3)
Speaker cables: Kimber PR8, Audioquest Type4
Power Cables: Isotek EVO3 Premier (x3)
Balanced Isolation Power Conditioners: PLiXiR Elite BAC400