Who thought that from seven bucks apiece portable headphone amplifiers (yes, really!), FiiO would one day become a feared high-end portable digital audio player (DAP for short) maker that would compete with the world's best units? The oldest genes prevailed as no matter the market trends, FiiO's team would always turn their heads toward portable audio and focus their work on pocketable HiFi. I still remember when their OG M15 hit the market, it was the very first DAP that rocked brand-new dual mono AKM silicon, providing up to 800mW of power per channel, adequately driving a wide variety of desktop headphones, including planar magnetics. I dreamt about taking my beloved Audeze LCD-4 outside for a walk (my flagship headphones at the time) driving them with something that would fit in my pockets and as you can expect, M15 instantly became a god-sent unit for me, driving all and everything with aplomb. The Sony NW-WM1Z wasn't able to do that and lower-tiered units didn't have a chance, but a freshly released FiiO M15 paved the road for future devices that could be technical sounding, yet powerful, driving difficult loads without too much trouble. Soon after, close competitors started releasing their own units that competed with the M15, winning a legendary status in my rankings for the years to come.
It might sound cheesy, but FiiO opened Pandora's box many times by now, long before M15 was even released, adopting THX-AAA tech that (in some ways) revolutionized portable and desktop head-fi. I was one of the earliest adopters of such technology and I still remember trying their detachable headphone amplifier module for the X7 MKII DAP, being impressed by its clean and transparent nature. By late 2021, everybody was making THX-AAA-based headphone amplifiers or variations of such technology as Topping's NFCA and SMSL's PLFC tech that challenged world's best audio analyzers. However, when you take something from music and start messing around with noise-shaping techniques, you will always lose a few things and I'm not about the noise floor which was never spotted in such designs. By 2022, I couldn't stand such amps anymore, as all of them sounded more or less the same to me with minor variations. Getting ultimate levels of transparency on the cheap got its toll, as the music wasn't hitting its mark, I wasn't smiling anymore and I wasn't feeling every beat of my music, as the energy felt drained out. Except for their most affordable DAP, every current production FiiO DAP used such technology and while I understand what made M17 so interesting and desirable in the first place, I couldn't enjoy my tunes at all times with it. I longed for the velvety sound of the good old M15 that latched to my soul, sounding technical enough, but oh so…natural and right. Was it the right pitch, the natural timbre, or the meat on the bone that made it so special? I think all of the above made it that way. The time is now testing a follow-up to the legendary M15 DAP that ditched THX-AAA technology in favor of smoother-sounding OPA op-amps. On paper, it might sound like a downgrade, but with clever engineering, they achieved lower distortion numbers and a higher dynamic range compared to any current production FiiO DAP, putting everything into an M15S co-flagship DAP which was revealed a few weeks ago. It goes for $999 in the USA, making it by $300 cheaper versus the original gangster, while arming it with nicer electronics all around. As usual, I'll be conducting an in-depth review, reporting on everything I find interesting to share with you, and for a good measure, I'll add a detailed comparison with its predecessor. Until that happens, let's dive in and check what's inside that package.
Unboxing Experience
When its predecessor hopped on my table, I was surprised by a different unboxing experience and it seems that FiiO altered the formula once again. The original M15 came in a stunning wooden box that hinted at its flagship status back in the day. FiiO stated that using a similar wooden box would bring the price higher and nobody wanted that. As a result, the newest unit comes in a regular-sized cardboard box, similar to their M11 Plus and M17 units, which seem thick enough, padded with extra foam that will absorb physical contact. You get the unit first which is wrapped in a gorgeous leather case, making a positive first impression, as competitor brands are selling such cases at an extra. The leather case has similar design patterns to the one found on M17, made in such a way that the heat building around its back would be nicely dissipated. This case isn't making it hotter (although it looks that way if you know what I mean) to the touch and if I'm not attaching a charger unlocking its fifth gear (Ultra High gain mode), then M15S gets only barely warm. The case seems to be well-made, it's smooth and gentle on the outside and soft on the inside, thanks to velour padding. I don't think you'll need a third-party case after seeing this one, as it looks and feels fantastic.
Below it you'll find some paperwork, an accessory compartment that holds a short USB-C to USB-C cable, and a longer USB-C to USB-B cable that will help you connect it to your PC or MAC.
I wasn't aware that a multifunction dock was also included, similar to that found on their M17 DAP, it is just smaller and lighter. This cooled stand already suggests that M15S could be overdriven with additional DC power, but more about that in a minute. The unboxing experience stops here, just add a big capacity MicroSD card or connect it to your favorite streaming platforms and you will be ready to rock!
Design & Build Quality
FiiO didn't alter its appearance as M15 had a strong cult following, they just added minor quality-of-life improvements here and there. For example, the volume wheel was moved to the right top side to be in line with most DAP releases, it has a bigger 5.5" display versus a 5.15" one on the older unit, and on its back, you can see diamond-like patterns first introduced on the M11 Plus and later used on all their future DAPs. It's slightly bigger and heavier, but this is still the good-old M15 with its sexy curvy looks and rounded edges.
Obviously, we are talking about a fully CNC machined case, the unit feels sturdy and premium. It is solid in the hand and it's comfortable to hold as it follows the shape of a human palm. The aluminum parts seem to be sandblasted which added a better grip when holding it without the leather case. For a better Wi-Fi and Bluetooth connection it was mandatory putting a glass sheet on its back, in addition to the one found on top of its display. We are again greeted with a headphone trifecta first introduced on M15 and again there is a single microSD card slot, but don't you worry about storage as it supports cards of up to 2TB in size, add streaming services, Roon support and you'll never run out of storage.
The only things I dislike about M15S are its buttons placed on both sides. Three buttons on a single side would be more than enough, I don't see the reason for having a volume wheel on top and two additional buttons to control its volume. A multi-function button sounds kind of cool, but in reality, I never touched it, as all I need is a volume wheel together with play, next & previous buttons.
On the plus side, the buttons aren't wobbling, they have a short travel and a satisfying click once pressed. You need to apply a higher force to rotate its wheel which I like, but (again) having a volume pot sticking out on top doesn't seem like a good design decision.
Buttons & Layout
Instead of making it more ergonomic, FiiO moved the buttons sitting on the left on its predecessor to both sides, making it clumsier and impossible to maneuver single-handedly. You have On/Off, Play/Pause, Next and Previous buttons on the left side and a hold switch, a multifunction & volume buttons on the right side. On top, you can see three headphone jacks covering all our SE and BAL needs, plus a blue-lit volume wheel to the right. On the bottom, a microSD card slot is located, and a USB-C port will be used for charging, data transfer, or for using it as a desktop DAC/Amp combo.
Display
M15S uses a 5.5" 720P LCD screen – a similar one used on their M11 Plus. I find it good enough, it's quite bright and the viewing angles are great since it uses an IPS panel. It has the same resolution and aspect ratio as the original M15, so it will feel very familiar, even if the screen is a hair bigger. The short chin is still present and sadly this is not a 100% bezel-less screen, but in all seriousness, I'm not bothered by it. While five-point-five inches might not please your lady, for a DAP screen, it's more than enough for light web browsing or gaming on the go. Third-party apps looked crisp and sharp enough and I could even watch a few YouTube videos without stressing my eyes. Do note that a bigger and higher resolution display would consume a lot more power and low battery life is the last thing you want in a high-end portable DAP.
Battery
FiiO ditched the dual-DAC implementation of the original M15 and that's why a massive 7490 mAh battery was no longer needed, although I would really like it to remain. M15S used a smaller 6200 mAh one, that will provide a similar battery life to its predecessor. You'll headbang up to 9 hours via its balanced jacks and up to 10 hours and a half via its regular 3.5mm jack, but in reality, you should expect slightly lower run times, especially if you're using desktop headphones on higher gain settings.
A massive battery would need longer charging times, but thanks to Quick Charge 4.0 and PD 3.0 standards, it goes from zero to fully juiced in about ~3.5 hours. FiiO added the deep sleep functionality, it can drift off for 42 days, which sounds kind of crazy! You can forget it in your backpack for a month and you'll still have the juice to finish the newest Metallica – Lux Æterna album. I'm turning off my gadgets when not in use, but if deep sleep is important to you and you hate those boot times, then M15S can save battery life for long periods of time.
Under the hood of M15S
FiiO moved away from the aging Exynos 7872 SoC that was dwelling inside the original M15, to a newer and much faster 8-core Snapdragon 660 that is also powering their flagship M17 DAP. This change was bigger than expected, as sailing through third-party apps feels like multitasking on a modern smartphone. FiiO migrated from an ancient Android 7.0 to a much newer Android 10.0 ecosystem. You no longer need to rely on APKPure for the latest software updates, as Google Play store is there by default and you can install any app you can muster. Its UI is close to a modern smartphone, it boots swiftly but more importantly: it loads heavy apps considerably faster. I can multitask easier with it, going from FiiO Music to Qobuz, Tidal, Roon and then Spotify is done in an instant. I can even play natively DSD files and then multitask like a champ, something that M15 wasn't doing so smoothly.
FiiO increased the RAM size from 3 to 4 Gigs, which helped with multitasking & web browsing, you can have multiple apps running in the background without ruining your listening experience. 64 Gigs of storage are also on board, but due to the OS being installed on the same ROM, we're left with 46 Gigs of storage where you can save a few lossless albums. For the year we are living in, I expected higher internal storage, but hey! it supports MicroSD cards up to 2Tb in size, I used a 1Tb card which worked excellent with it, so no complaints.
Deep down I hoped FiiO would replace the aging AK4499EQ DAC chips with freshly released AK4499EX silicon together with AK4191 delta-sigma modulators. Alas, FiiO decided to go with the good old ES9038 PRO DAC chip, which takes care of the digital-to-analog conversion. ES9038 PRO is a flagship DAC chip of ESS Technologies and in many ways, it's one of their best D/A converters chips. One chip is enough for a fully balanced signal and that's exactly what FiiO used. They also shielded the entire digital board and amplification stage, reducing internal and external electromagnetic interference.
When making a high-performance digital-to-analog converter, the timing of the DAC is the second most important part and this is where M15S shines as bright as their pricier M17 DAP. It rocks the same femtosecond crystal oscillators from NDK, fully preserving the timing of the DAC, leading to higher precision, lower jitter (noise), and of course to a purer sound.
Going forward to the amp stage, say bye-bye to THX AAA-788 amplifier modules and say hello to organic and smooth-sounding OPA927 dual op-amps. FiiO has plenty of experience with these and once again they found their way inside the M15S. This is currently the second-most-powerful FiiO DAP, providing up to 990 mW of power per channel in 32 Ohms via its balanced outputs and up to 580mW on the regular 3.5mm jack. Like M17 DAP before it, M15S has an ace under its sleeve, unlocking the Ultra High gain mode once a fast charger is connected to it, spitting 1200mW of power in the same load via balanced outputs, making it ever so slightly punchier and more powerful. I will be telling you more about its driving power in a dedicated chapter, so stay tuned for that.
As for wireless capabilities, it supports 2.4G and 5G dual-band Wi-Fi, plus all those fancy Bluetooth codecs not only as a sender but also as a receiver. Thanks to a Qualcomm QCC5124 BT chip, it can send and receive data in the best possible codec (LDAC) and thanks to Bluetooth version 5.0, the speed doubled and the distance quadrupled compared to their former devices.
As with their former flagship DAPs, they incorporated a full-MQA decoder. It fully unfolds MQA files (8X mode) not only in the FiiO Music app, but also in third-party apps like Tidal. Another pleasant surprise was making it Roon ready and if you already have a Roon server installed at your place, then M15S can work as an endpoint, a similar feature that I tested on their R7 all-in-one unit. Last but not least, there are tens of discrete components, audio-grade filtering caps and tons of voltage regulators which will surely leave a positive mark on its performance.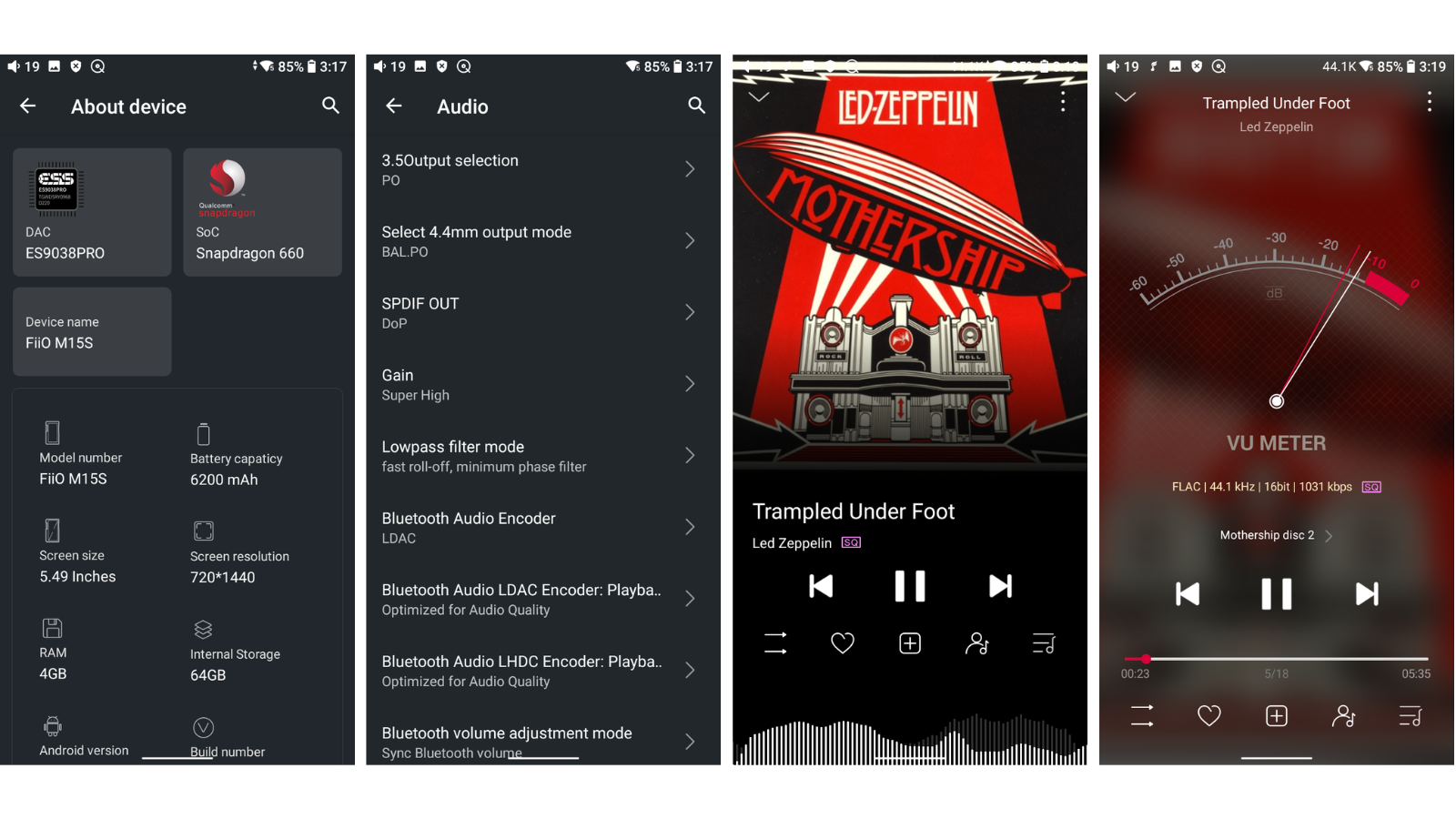 Graphical User Interface (GUI)
I already updated it to the latest 1.0.1 build and so far, it didn't crash on me. In Android Mode, it behaves like a typical Android device where you can install any app from the Google Play store. Switching to Pure Music mode, all apps are automatically halted, shutting down background processes and leaving only FiiO Music for offline music listening. No more apps, no notifications, no nothing, just you and your music collection. FiiO Music is constantly being updated with new features, hammering down known bugs that might appear.
USB DAC Mode is a self-explanatory feature, you can use it as a pure DAC with a clean line-out, or you can use it as a DAC & headphone amp combo, which worked great for me. It wasn't lagging behind, the lip sync was perfect as it behaved like a regular desktop DAC from any point of view.
Checking out the FiiO Music app, there are several features that are standing out like Wi-Fi music transfer and FiiO Link and if you never checked those features, please give them a try. FiiO Link can be a lifesaver if you can't take it out of your pocket but still have your smartphone around, which will work as a remote for your precious DAP.
As with all their previous DAPs, FiiO implemented endless shortcuts, swipes in different directions will access distinct menus, change the volume and many other things. If you want to know more, then I suggest checking its Quick Start Guide accessed from the Technical Support bubble. From there you can also check if a new update was released, I recommend updating it via OTA (Over the Air) for convenience.
On FW 1.0.1, its GUI seems polished, I didn't encounter stutters or slowdowns even when playing 32-bit Hi-Res or DSD content. Streaming MQA files from Tidal and then sending them to a Bluetooth headphone is simple and intuitive and as much as I've tried slowing it down, it didn't happen, so no complaints here.
If you are curious how the M15S fares compared to its predecessor M15 and to the flagship M17 DAP, I've run the latest version of GeekBench on all three devices and I believe those numbers are speaking for themselves. Moving twice as fast as its predecessor and sprinting on the same level with M17 is good enough for me.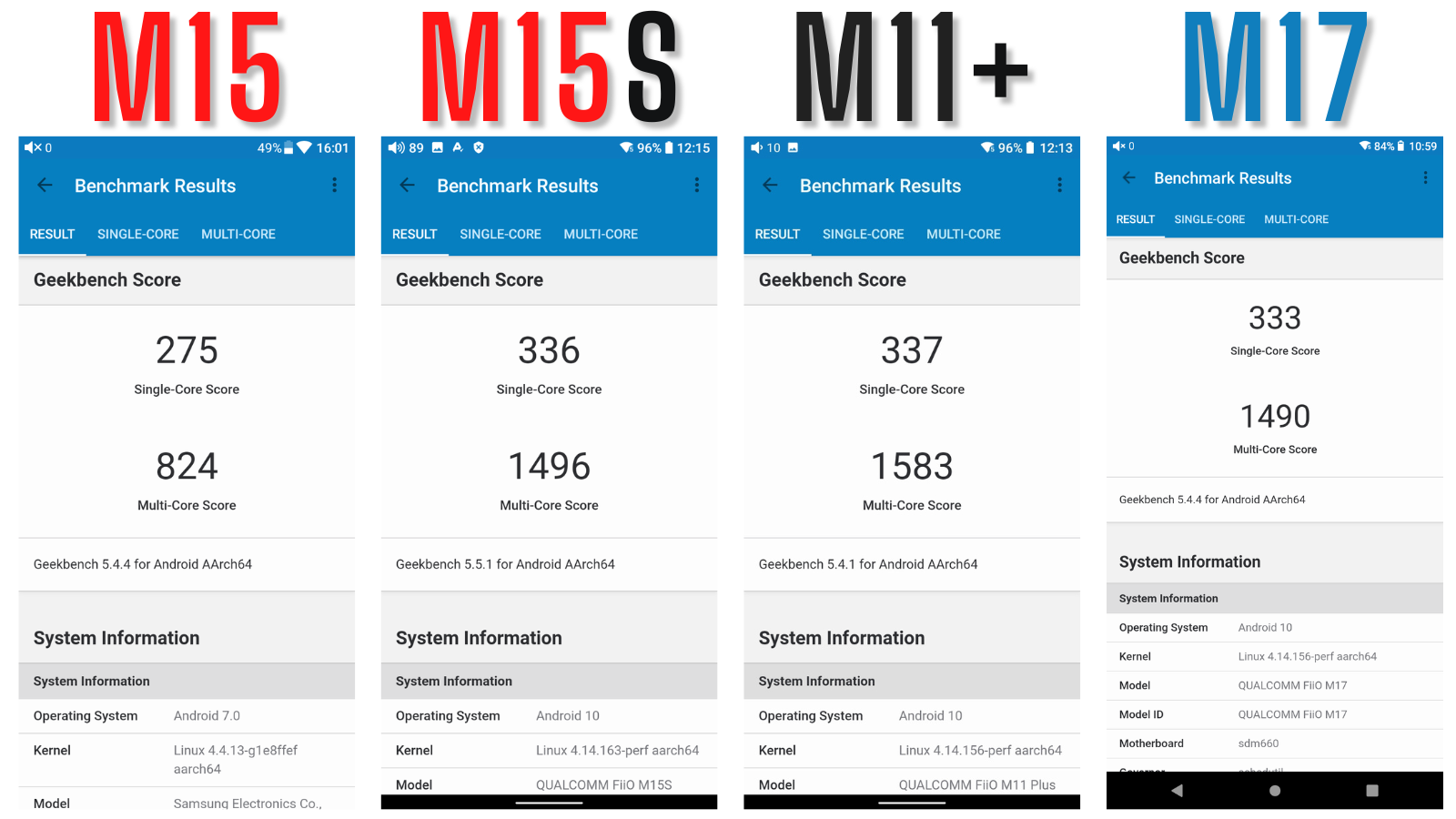 Sound Performance
I. Preliminary Sound Impressions
Most of my listening happened at home via desktop headphones such as Meze Elite, Erzetich Charybdis, Sennheiser HD800S, and a few more. For fun, I also tried two inefficient headphones as Audeze LCD-4 and Hifiman Susvara, as I wanted to know if 1.2 Watts of power would be enough for these hungry beasts. I just returned home from a one-week trip, where I took with me the M15S together with FiiO FH9 and Hifiman Svanar IEMs and I was able to test it as a portable unit, but also as a stationary DAC/Amp combo after unlocking its Ultra High gain mode.
A long comparison between the M15 siblings will happen in the latest chapter, but even right now I can tell you that M15S provides an extra deal of information that felt muted on the original unit. This comes as a little surprise as everybody hailed the dual AK4499 implementation of the M15. The newer unit isn't only more transparent and more resolving, but the sound itself is by a hair livelier and more dynamic. Stiff Upper Lip by AC/DC (Qobuz / Tidal) and then Sell The World by The HU (Qobuz / Tidal) just appeared on my playlist and immediately I felt how my body was revigorated with fresh energy, I started toe-tapping in no time and on the Super High gain mode, M15S was easily driving the Elites and those scary looking Charybdis, leaving a ton of volume for crazier dynamic swings.
The bass slam of the M17 made its way into M15S and while the original version was thumpy and quite impactful, the newest unit is more so and you can feel that in mere seconds. The very first beats put my eardrums into motion and finally, I can describe the newest unit as visceral and impactful sounding. The Ultra-High gain mode wasn't even necessary for most planar headphones, as I was barely arriving at 85 out of 120 volume levels, leaving a ton of headroom and never running out of breath on crowded music or reference show pieces.
The thing that I was most curious about was its tonality as frankly, I like the immaculate technicalities of the M17…but I didn't like its dead-neutral approach to music reproduction. Many close friends of mine still feel that the OG M15 was the best DAP that FiiO has ever made, as it sounded like music more than anything else, the midrange shined brighter than the sun and people were genuinely in love with the M15 working excellent not only with linear sounding IEMs and headphones but also with bright tilted & warmish music making machines, something that M17 wasn't so successful at.
I'm going to sacrifice a glass of Ardbeg to the all-knowing Odin, as clearly my prayers have been heard. Although the newest AKM silicon is not residing within its circuit boards, M15S is clearly sounding closer to M15 than to their latest units as M17 and M11 Plus. There is simply more meat on the bone, the midrange is richer, fuller-bodied, and heavier all around. The sound has plenty of substance and it is devoid of thinness. It's an emotional experience listening to music via M15S and seeing those planar drivers spreading their wings and reaching for Valhalla. The pocket-friendly M15S was easily driving my headphone collection with its metallic chin straight up, touching my shoulder that it got me covered.
I went berserk with the M15S, skipping DSD and reference HI-RES recordings, going directly with LOW-RES rock, metal & electronica tunes and it was still pushing the pedal to the floor in terms of dynamics. I wanted to feel its limits, pushing it towards clipping territory, but no matter how high I was turning that volume, it always held its ground, holding the door more fiercely than Hodor himself, never reaching clipping grounds. Dynamics never felt crushed and the sounds weren't pushed inside my skull. The sound wasn't limited on all axes and the legendary imagining and staging of the M15 was still present on the newest unit. M15S wasn't dead neutral and ultra-linear, but more fun and colorful sounding, adding more energy in the bass and midrange, while gently slashing glare and listening fatigue. What's there not to like?
II. Noise Floor & IEM Pairings
When FiiO adopted THX-AAA circuitry a long time ago, they went that route killing the noise and distortion with a simple power-efficient circuit. Ever since such amp modules moved into portable devices, music listeners around the globe forgot the meaning of noise floor or distortion, as their main goal was hunting noisy gremlins and imprisoning them for good. In simpler terms, even since adopting THX-AAA tech, ultra-sensitive IEMs became best friends forever with portable DAPs even when used at higher gain settings.
Just take their M11 Plus or M17 DAPs as good examples, never providing a higher noise floor with ultra-sensitive IEMs and people loved them for that. Such tech is no longer running through M15S's circuit boards and I feared that noise and distortion numbers will go higher…but to my surprise, FiiO was able not only to match the numbers of the M17 but even outperform it, arriving at the lowest noise floor they achieved so far. The line-out has a world-class 1.2 μV of noise, while the 3.5mm and BAL jacks have a slightly higher noise of 3.2 μV and 5.2 μV respectively.
In my prolonged Easter holiday far away from home, M15S was driving the majestic FiiO FH9 and Hifiman Svanar IEMs. Svanar are difficult to drive and I consider them the Susvara of the IEM world, FH9 on the other hand, are much easier to drive, but as much as I have tried, the noise floor never appeared around my tunes. M15S performed excellently, never raising the noise to dangerous levels. Via 4.4mm BAL output & Super High gain, I paused my music and went all the way up, just to hear a disturbingly loud…sound of silence. This is great engineering, but I was already expecting this. M15S was peaceful and completely noiseless via FiiO Music regardless of the gain, volume, or headphone jack. I redid my tests with third-party apps as Qobuz and Tidal and sure enough, the noise was inaudible, it felt like the unit was turned off completely, getting a pitch-black void of nothingness with musical notes appearing out of thin air.
Later on, I decided to enable its Ultra-High gain mode specifically tailored for desktop-grade headphones, and only then, a faint and barely audible hiss appeared on the FH9. Regardless of my volume settings, it could be zero or maximum volume, there was a constant low-intensity hum. My advice is a simple one, if you're an avid IEM user, then use its low, mid or high gain and you'll never experience the dirty background noise. Super-High and Ultra-High gain modes should be used only with difficult loads as desktop headphones. When I attached higher sensitivity planar-magnetic headphones as Erzetich Charybdis and Kennerton Rognir, regardless of the selected volume or gain setting, the noise floor went into the abyss and I couldn't detect it anymore, even on Ultra-High gain.
III. Power Output
M15S offers a maximum power output of about 1-Watt per channel or more exactly 990 mW in DAP terms in 32Ω on balanced outputs and Super High gain (highest gain setting via battery power) and it can go up to 1200mW per channel after attaching a fast charger and unlocking the Ultra-High gain setting, making it the second most powerful DAP I've used so far, eclipsed only by FiiO's M17.
These are impressive numbers, easily outperforming its predecessor and close competitors from Shanling and Hiby as M6 Ultra, M7, even M8 and M9, together with RS6 from Hiby. FiiO M17 is more powerful even on battery power, but it's considerably bigger, it's not exactly pocket friendly and it's more like a transportable unit to me. You feel the power when holding it in the palm of your hand, but it feels even more powerful when desktop planar headphones hop on board. On Super High gain it almost feels like listening to a desktop headphone amp, as except for Hifiman Susvara, I could never reach max power without blasting a hole into my eardrums.
Driving a myriad of IEMs and portable headphones felt like a walk in the park even on low and mid gain positions. The only IEM that demanded high gain was Hifiman Svanar to unleash its fullest potential, this is probably the hardest-to-drive IEM that passed through my hands, but as you can expect, M15S drove them fully. Engaging Super High gain on the 4.4mm output, I couldn't go higher than 70 out of 120 with a pair of Apos Caspian, Erzetich Mania and Kennerton Vali dynamic headphones, driving them with an unlimited headroom remaining on tap. The only cans that demanded higher power were desktop planars and the ones that I enjoyed the most were Meze Elite, Erzetich Charybdis, Kennerton Rognir and Audeze LCD-4. With the first three, I could go up to 85 out of 120 and only with the LCD-4 and Sennheiser HD800S I was arriving at 100, leaving a decedent amount of headroom, but not enough to awake the best dynamics. All of them worked great, the stage never collapsed on me and it was easily untangling my music, pumping positive vibes along the way. The only DAP that sounded as thumpy and alive with desktop headphones at a similar price point was Shanling's M7 ($1250) which felt slightly less technical and powerful.
Connecting a fast charger and unlocking the Ultra-High gain mode didn't feel like a massive boost of power, as I felt it via M17 which doubled the power output. M15S boosts it only by a little, going from 990mW to 1200mW per channel and you can feel that the loudness goes up by a click or two. Surprisingly, I didn't feel that my desktop headphones sounded better as it was the case with M17, in either Super High or Ultra High gain mode, most of my headphones felt well driven, pushing and pulling dynamics pretty easily.
Unfortunately, the Hifiman Susvara didn't work on Ultra High gain mode, arriving at maximum power with little to no dynamics to play with. You can almost forget about a punchy bass delivery or excellent control of the drivers and simply put, M15S was unable to drive the infamous Susvara. The only portable units that passed through my hands capable of decently driving the most inefficient headphones were FiiO's M17 DAP and their Q7 DAC/Amp combo.
IV. Transient Response
From FiiO's lineup, M17 was hailed as the most impressive DAP in terms of dynamics, followed by the M15 and then by the rest of the gang. M15S is not only taking the place of its predecessor, but it pushes the OG unit to third place.
FiiO put a smaller battery than that found on M15 and the D/A conversion stage takes less internal space, leaving more room for the power supply and headphone amplifier section and this is where M15S shines so brightly. From the FiiO lineup, M15 was the first unit that could be described as energetic and visceral, but FiiO took that concept further, improving the pace and timing as much as they could. You can feel the headphone drivers dancing around your ears and the air pushed inside your ear canal. In this regard, M15S isn't only better than its predecessor, but even compared to its close competitors such as Hiby RS6 and Shanling M7.
When I'm getting new toys to play with, dynamics and transients will be tested first, as if I'm not getting the chills and a nicer fun factor, then I'll probably return it and move on. In amplifier design, the most important part besides the amp circuit itself is the power supply implementation and this is where FiiO put their minds to good use, as good dynamics are coming from a good power supply implementation that will sustain longer bass notes and provide the current needed for the amp stage. The interesting part is that FiiO was able to maintain the bar so high while slashing the original price by $300! This will rarely happen in HiFi, especially at current market trends, where everything goes up price-wise. I'm taking my hat off to FiiO for feeding my insatiable desire for need for speed, while maintaining an attractive price point.
Rumble of Thunder by The HU (Qobuz / Tidal) sounded so punchy and alive via Elite, Charybdis and Rognir, that I never felt the urge of powering on the Trafomatic Primavera and planting a bit more life into them. M15S pumped dopamine and serotonin in mere seconds throughout my body, creating a feeling of being on top of the mountain, like nothing could stop it in terms of dynamics.
V. Detail Retrieval & Transparency
There is another thing that was marginally improved versus the original M15 and that is the perception of a clean, unspoiled sound that travels around without interfering with the grandeur of the sound. Nowadays there are many DAPs that could provide outstanding detail on the micro level (FiiO M11 Plus, Hiby R5 and R6 III seem like good examples), but I dislike when I'm not getting a defined outline of the notes (leading edges) and an out of head experience. M15S is not part of that group, there is plenty of air passing by and everything feels in focus & quite sharp without overdoing it.
Detail retrieval is great, but isn't pushed to the extreme as was the case with FiiO's M17, which challenged some of the best DAPs and even desktop D/A converters. M15S feels close behind M17's shadow, but it never goes overboard with sharp contours or tiny things happening in the background. A balancing act between technicalities and the act of music listening should always exist. Sometimes portable DAPs have a bit of both, and other times they can go to the extremes. From the units I tried, Shanling M6 Ultra was much smoother and warmer sounding, slightly neglecting the cleanness and inner detail, FiiO's M17 felt like its arch nemesis, providing the absolute last drop of information, but without putting me into a relaxed state of mind. M15S sits somewhere in the middle, as it is clean sounding enough, with a good deal of emotions coming forward while listening to it. What felt like a 10 out of 10 in terms of transparency and detail on the M17, feels like a solid 9 on the M15S and 8.5 on the good old M15.
It should be noted that the desktop version of ES9038 PRO is still one of the best current production DAC chips. Some regard it as the best chip full stop and you can find it in many esoteric DACs costing an arm and a leg. Obviously, the chip being used tells only a small portion of the story, its implementation and things lurking around it are more important and while it doesn't have a huge case for an overkill LPF, I/V, and final output stage, I still think that FiiO struck a nice balance in between technical and musical sounding and for that, they earned my respect.
VI. Soundstage & Imaging
I'm getting close to the end of my story and I feel that I need to leave a few words regarding its imaging and sound staging capabilities which were great by DAP terms, but not something to write poems about in a direct comparison with desktop components sitting near it.
Checking out its detailed specs you can immediately see two-dual op-amps being used and four channels from the ES9038 PRO. M15S works as a true balanced unit from D/A conversion to amplification duties and that is reflected in its dynamic range, power output, but also in the crosstalk reading, which tells us the exact point where the right channel starts interfering with the left channel. Ideally, you want your crosstalk to be lower than your listening volume. In case both channels would be crossing their paths, the imaging will get blurry and that will downgrade the perception of air passing by.
M15S has a channel crosstalk of -80 dB on its single-ended output and -106 dB on both its BAL headphone jacks. I'm rocking out at 90 dB on rock and electronic tunes and if I will be using its regular 3.5mm jack, it means that both channels would be interfering with each other, closing in the sound a little bit. On balanced jacks, I would still have 16 dB of volume left on tap for that to happen and if you listen closely with a pair of open-back desktop headphones, you can feel the sound expanding via balanced connection. Higher power output and lower channel crosstalk are strong reasons to invest in a balanced cable if you still don't have one. Luckily, most current production IEMs by FiiO are already bundled with interchangeable balanced jacks, including their freshly released FT3 desktop headphones and you can immediately reap the rewards of the balanced connection.
With a pair of open-back planar headphones like Meze Elite or better yet, Erzetich Charybdis which still offers the biggest sound I heard from a planar headphone, you can feel the sound expanding at a fast rate with live tunes. Nothing feels forced or pushy, everything just floats all around and you can literally pick up the sounds from thin air with the power of your mind. If it feels that I'm describing an outstanding DAP in terms of soundstage, depth and layering, then that's exactly what I'm trying to suggest. FiiO's M17 is still by a hair more holographic and more accurate when pinpointing the location of the notes, other than that, M15S is as expansive and airy sounding as the best FiiO DAP. The only DAPs that passed through my hands that could portray a slightly bigger picture would be Shanling's M6 Ultra and a resistor ladder-equipped Hiby RS6.
Frequency Response
VII. Bass
Usually, portable devices the size of M15S need a few days until they start showing their sharp fangs and red eyes, but this time around without any kind of burn-in, FiiO's co-flagship DAP impressed the hell out of me with a powerful & deep rumbling bass. It felt accentuated at first and a little uncontrolled, but three days later, the deep rumblings remained intact, adding a better driver control that wasn't present before. Although the original M15 was a far cry from their past doings, M15S is a bit more impressive here, especially when it comes to bass sustain and control. I have already described its bass performance in the fourth chapter, I will only add that we are talking about a high-quality type of bass, which feels layered and clean at the same time. When I'm getting a punchy and ballsy Sennheiser HD800S, I know that I'm dealing with a special-sounding DAP, but you should see my face with a pair of Kennerton Rognir or Erzetich Charybdis on my head, which added even more oomph, weight and texture in the lowest octaves. Bass-head material? Definitely!
VIII. Midrange
How on Earth FiiO went with ESS-Sabre silicon and yet the midrange is full-bodied, weighty and creamy? That's an unsolved mystery to me, as from the entire FiiO portfolio, M15S is easily winning me over with its juicy and rich-sounding midrange, followed by the M11S and then by the rest of the lineup. I always felt that M17 is sometimes too serious, especially its midrange region felt extra clean and crispy, so much so, that some magic faded away. I'm glad to report that M15S no longer has that issue and I could definitely feel the OG M15 DNA hidden within its circuit boards. My sadness went away as even without the newest AKM silicon, M15S is quite velvety and easy to listen to. I played a lot of folk-rock & metal tunes on this one, as M15S worked excellent even with aggressive music, something I won't say about the M17. Undoubtedly, M15S is quite a special-sounding unit for these reasons and that's why, M15S needs to exist and flourish.
IX. Treble
Erzetich Charybdis, Sennheiser HD800S and Hifiman's Svanar are all incredibly detailed, transparent and highly energetic sounding in the treble region. Add a grain of treble energy and the tonal balance goes to the trash bin. Luckily, I'm getting the information, but not the extra treble energy that was oozing from FiiO's M17. Their latest unit smiles back to bright-sounding headphones and while it won't transform them into smooth or relaxing-sounding cans, it will make them manageable and easier to listen to. There is more than enough treble extension even going beyond the top octave, but there aren't traces of a fake treble ringing or artificial sharpness. It isn't trying hard to please you with sharp contours, it leaves them peacefully without disturbing the tonal balance. This is a difficult thing to achieve, especially when you have a small PCB and internal space to work with, but after years of trial and error, I believe that FiiO found the winning formula and I hope they will stick to this sound for a while that is more real and less artificial.
X. An Important Comparison
FiiO M15S ($999) VS FiiO M15 OG ($1300 – Discontinued)
I will be skipping their specs, features and looks, focusing my attention on the sound quality and user experience. However, it needs to be mentioned that the newest SoC, higher RAM memory, and a bigger screen made the whole experience friendlier than ever before. It moves faster; it multitasks like a champ and I'm no longer getting stutters when I'm switching apps or playing back DSD content. When I got the M15, it opened endless possibilities, as finally, I could listen even to desktop closed-back headphones on the go, something that prior units weren't doing so well. The power output of M15 unlocked new possibilities, as headphones like Audeze LCD-4 and Hifiman Arya Stealth could be used in hotel rooms, something that was unthinkable a few years prior. M15S pushed that concept a little further, providing more power in battery mode and considerably more in DC power mode. My desktop planar cans were tighter and faster with it, but still not as impressive as M17 performed with power-hungry cans. M15 was already good in here, but M15S set the bar higher as I find it faster, punchier, and clearer sounding while maintaining a similar tonality. I don't think better dynamics came from a moderate power increase, but everything combined made it a little more technical and slightly more dynamic. I'm not getting the unlimited power feeling that M17 was providing, but M15S isn't very far off from that concept, especially if inefficient desktop headphones aren't part of your audiophile diet.
When it comes to simple things such as resolution and detail retrieval, M15 doesn't pale by comparison, but it still hides nuances and micro-details, as a thin mist surrounds my tunes and hides that last drop of information. M15S can't reach the legendary status of M17 in this regard, but it is very close to it. I find it clear and transparent sounding, but it's not brutally honest and merciless as M17 might appear on several occasions.
Tonality-wise, these are more alike than different and that's exactly what makes the newest unit interesting and desirable. Both are going with a rich tonality adding a layer of sweetness up top, although the original M15 does that by a hair better. FiiO went with a lush-sounding amplifier stage on their newest unit and what was supposed to be an ultra-linear-sounding unit, became a fun-sounding little gizmo.
I feel that power output and transients are closely tied, as unlimited power will always lead to better dynamics and that's exactly what I'm feeling with their newest unit. M15S is by a hair more powerful and as headphones are getting more demanding day after day (Svanar, Susvara, DCA Expanse/Stealth, AB-1266, Diana Phi), that additional power reserve could be a live saver someday. After carefully volume-matching both units, there is a minor difference between the two, especially when it comes to speed. The newest unit revs higher, winning better lap times versus the original unit. Modern tunes felt livelier and punchier and if that's important to you, then M15S seems like a natural upgrade.
Their sound staging capabilities are very similar and I could hardly differentiate them. Both sounded spacious, wide and quite deep with the right selection of music and headphones (ideally open-back). The frequency response feels slightly more extended on the newest unit, as the bass goes by a hair deeper and the treble feels clearer and more defined. There is at least a 10% increase in perceived detail all around the frequency response and that makes the original a bit rounded by comparison.
The thing for which I'm most excited and the strongest reason why M15S is the undisputed champion of these sparring rounds is the price point. Even without taking inflation into consideration (which by the way went up by 18% from 2019 to 2023), M15S is still by $300 cheaper, while sounding more polished on all accounts. If you couldn't afford the M15 back in the day, now is your chance to try out a great-sounding DAP without selling a kidney.
My Conclusion
I won't hide around the bush; I was an M15 fan, using it for so many years now. At one point in time, I had two units, one used for my travels and short walks and another one used as a bedside rig. I always thought that the original M15 struck a nice balance between being technical and musical sounding, although everybody knew that it was leading toward warmth and naturalness. FiiO tested grounds with a few linear sounding DAPs, FiiO M17 taking the lead as the most technical and clean sounding unit…but I was still longing for simple things, for fun times. I wanted to smile, I longed for goosebumps and I'm glad that FiiO responded to my prayers.
While M15S isn't as smooth and sweet sounding as the original unit, a big chunk of its DNA is still residing in the newest unit, sounding lively and fun, as opposed to dead-serious and ultra-linear. While the price went down, everything else went up by a little, including the power output which makes it a future-proof unit, driving nasty-sounding IEMs and stubborn desktop cans with aplomb.
It goes without saying that FiiO's M15S easily won our highest award and I hope someday it will get the same legendary status as its predecessor. The king is dead, long live the king!
FiiO M15S was kindly provided by FiiO, you can purchase it from their AliExpress Store, you can get it from their worldwide distributors right here or you get it from Apos Audio right here which are offering free shipping in the USA and Canada, free 45-day returns in case you don't like it, an extra year of warranty and they will price match the lowest one you can find online
If you get one, please come back, say Hi, and leave a comment below. I'm curious to know how it performs with your IEM & headphone collection.
PROS:
Similar design cues and a familiar-looking case that offers a firmer grip
Great selection of accessories, the leather case is a welcome addition
The screen size, weight and dimensions went up, but it's still pocket friendly
Faster System-on-Chip and larger RAM memory made it so much snappier
Unlocked Android 10 with full Google Play Store support
Great looking GUI with lots of features to play with
Feature packed to its teeth & Roon support feels like the cherry on top
Slightly more technical sounding than its predecessor, while retaining the same tonal balance
The second most-powerful DAP I have tested so far, easily driving demanding loads
Fast and punchy sounding, a transient response beast at this price point
Noiseless, distortionless, and highly detailed sounding
Extended frequency response at both ends
Deep and spacious sounding, especially via balanced outputs
Wide Bluetooth coverage and codec support
This is the best bang for buck from the entire FiiO portfolio
CONS:
Placing buttons on both sides was a bad design decision, plus I would seriously consider lowering their numbers (three buttons, please!)
Decent battery life, but not an outstanding one
ASSOCIATED EQUIPMENT:
DACs: Rockna Wavedream Signature XLR, Chord Electronics DAVE, Gold Note DS-10 PLUS & PSU-10 EVO
Wireless Streamer & Music Server: Rockna Wavedream NET, Roon Nucleus
DDCs: Denafrips Gaia, Singxer SU-6, Matrix X-SPDIF 3
DAC/Amps: Shanling H7, FiiO Q7, Topping G5
DAPs: FiiO M15S, M15, M17, Shanling M7, M6 Ultra, Hiby RS6
Headphone Amps: Trafomatic Primavera, Enleum AMP-23R, Ferrum OOR + HYPSOS, Burson Soloist 3X GT, Flux Lab Acoustics Volot
Preamps: Chord Ultima 3 Pre
Power Amps: Chord Ultima 5 Power, Burson Timekeeper 3X GT (x2)
Loudspeakers: KEF Reference 3, Musician Knight 1, Sound of Eden Crescendo UNO
IEMs: FiiO FH9, FH7S, Meze Rai Penta, LittleDot Cu KIS, 7Hz Timeless, Kinera Skuld & others
Full-sized headphones: Erzetich Charybdis & Phobos V.2021, HiFiMan Susvara & HE1000SE & Arya Stealth, Meze Elite & 109 PRO, Audeze LCD-5 & LCD-4, Sennheiser HD800S, Kennerton Rognir (planar) & Vali, Apos Caspian, Sendy Peacock & Apollo, HarmonicDyne Poseidon & others
Interconnects: Crystal Cable Reference2 Diamond, QED Reference (x2), Topping TCX1 (x2)
USB Cables: Supra USB Excalibur (x2), Chord C-USB, Matrix Hi-Fi USB
HDMI Cables: Audioquest Diamond DBS, Supra 8K HDMI
Speaker cables: Kimber PR8, Audioquest Type4
Power Cables: Isotek EVO3 Premier (x3), iFi Audio SupaNova (x2)
Balanced Isolation Power Conditioners: PLiXiR Elite BAC1500 (stereo setup), Elite BAC400 (headphone setup)