My Video Review:
I was dismayed when FiiO announced that their M11 PRO and M15 will be fading away into the history books. We all knew it would happen at some point, but that fire at the AKM factory skyrocketed the prices of the remaining stock, making it happen sooner rather than later, with clocks ticking counter-clockwise for both devices. Luckily, FiiO purchased a substantial amount of AK4497 replenishing a big chunk of their stock, but they decided to use them in the upcoming devices that are being developed as you read this.
FiiO followers and portable audio enthusiasts started asking themselves the same question all over again: what is coming next from the house of FiiO and when? Some hawk eyes spotted a FiiO M17 being mentioned on the iF Design Award page, but as FiiO is fine polishing it for an August 2021 release, a major time gap was still remaining and this is where the newest M11 Plus fits in like a glove. It's the third product in the M11 series, that brings a much faster SoC, a bigger RAM capacity, a newer Android operating system, some proper femto-second crystal-clocks, an innovative volume system, a bigger and a bezel-less screen and many other upgrades which I will be mentioning very soon.
They kept the same DAC chips and amplifier modules of its predecessor M11 PRO, but everything else was updated, making it fresh and new again, in-line with the newest DAP developments. M11 Plus is available in anodized aluminum alloy – the version that I will be testing today. Later on, a Stainless-Steel variant will be revealed in very limited quantities. M11 Plus LTD goes for $749 and SS version for $899 respectively, but you should hurry-up as they are selling like hot-cakes and when those are gone, they aren't coming back.
Unboxing Experience
FiiO redefined their packaging yet again, using a printed circuit board as background that highlights the crown jewel itself. FiiO sculpted it as a bas-relief that added depth and a pseudo-3D feeling. Seeing a box in another box isn't a novelty anymore, as FiiO does the same with all their high-end gear for a better protection. As usual, the unit itself is protected from all sides by thick layers of foam, so you can be sure that it will arrive safe and sound to your front door. Just below it, you'll find a small accessory compartment that holds a high-quality USB-C 3.0 cable that seems thicker and nicer to their usual cables, a mini (3.5mm) to coaxial adapter is also included in there. Under the unit, you'll spot a much bigger box that holds a metal pin that opens its Micro-SD card slot, a lot of paperwork is included as a warranty card, open-source licenses and a huge quick start guide that will explain the meaning of every button and feature to the smallest details.
It seems that my prayers were heard (Thanks Odin!), as finally FiiO included a very nice-looking leather case that fits like a glove to the M11 Plus. It's well-made, it's smooth and gentle on the outside and soft on the inside thanks to a velour padding. I don't think you'll ever need a third-party case after seeing this one, as it looks and feels outstanding! This is all you'll find inside its package, just add a big capacity SD card or connect wirelessly to some streaming apps and you're ready to rock!
Design & Build Quality
When I've seen the very first renders of it, I didn't know how to react to those hexagonal honey-comb buttons, but after receiving it, touching and playing with it for about a week now, I'm liking them so much more because I never missed a button blindly when going outside for a walk. I have bigger hands, so finding and pressing blindly the next or the previous button is so much easier compared to their discontinued units as M11, M11 PRO or M15. The buttons are almost 3 times wider so of course pressing them feels more comfortable, they have a solid build and aren't wobbling at all. The unit itself feels extremely solid and sits tightly in the hand. It gained 100 grams to the former M11, almost 80 grams to the M11 PRO thanks to a bigger battery and 3 grams to their former flagship M15, so obviously it feels heavier and a lot more solid. I particularly like its abstract design behind the glass on its back. Once light is shining through from different angles, you can see some gorgeous diamond like patterns that are delightful and bold looking. FiiO incorporated a bigger 5.5" screen and since its body is a little longer to M11 PRO, the newest variant looks bezel-less by comparison, making a stunning first impression. There is just a screen on its front panel, adding to the immersion, making it look a lot more modern and very much in line with today's smartphone trends.
Undeniably, the biggest design change to all their former DAPs was fitting it with an interactive and intelligent volume system. Yes, it is a system, because what you see is a touch panel in the middle and two physical buttons at its both ends. The volume wheel was taking too much internal space, limiting the size of the battery, but not anymore, as the newest system is much thinner and a lot smarter. You can increase or decrease its volume in a lot of ways: by sliding your finger up or down, by pressing the volume buttons, by touching its screen on the left side, or you can even use FiiO Link app or a Bluetooth remote control, the possibilities are almost endless…
Everything else is on a very high level, FiiO carved its body out of aluminum on a CNC machine, there's also a Stainless-Steel version incoming, that will be adding 95 grams to its weight.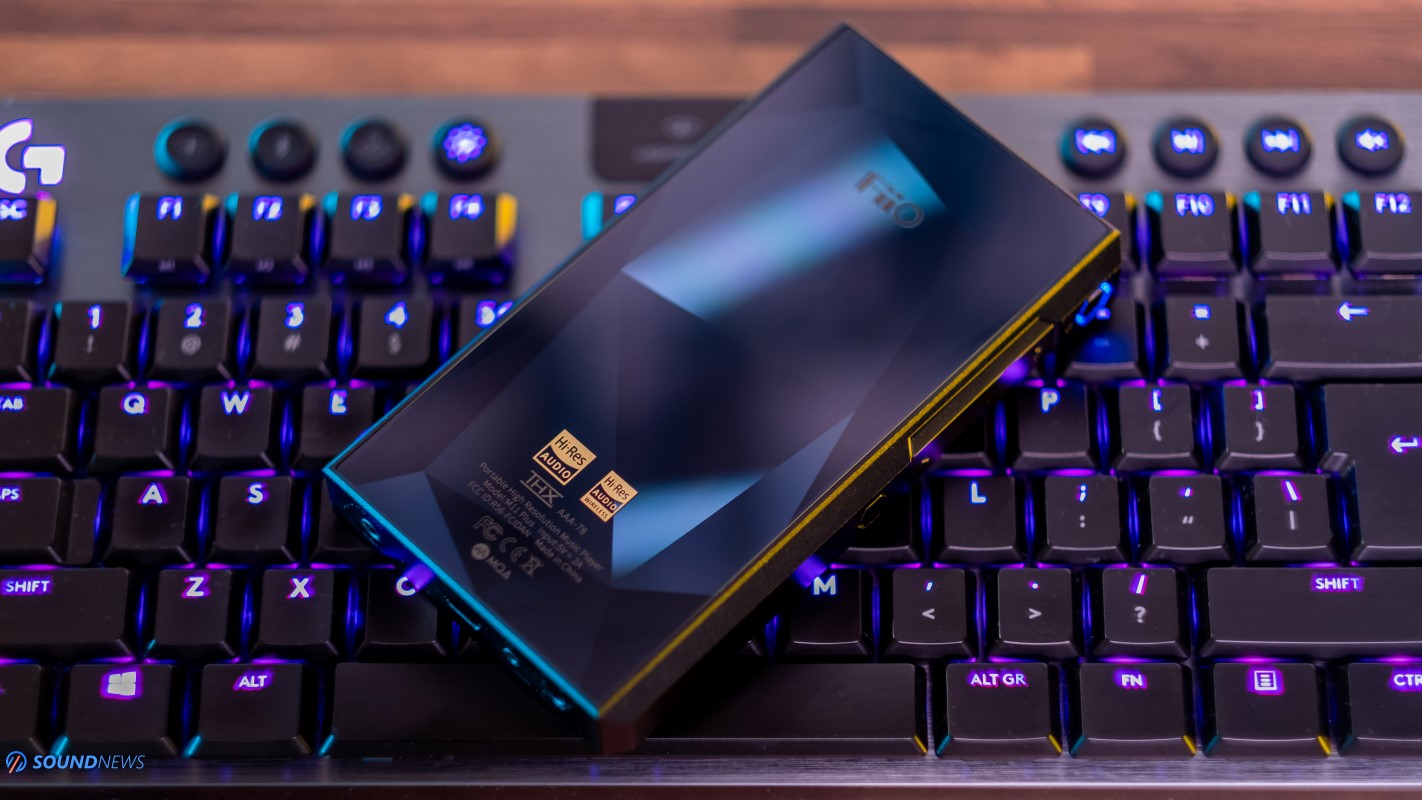 Layout & Buttons
Its intelligent volume system took a big portion of its left side, so obviously FiiO couldn't add all the buttons on that side as they did with M15 and that's why in addition to its volume pad/buttons, you'll find an On/Off and a multi-function button. You can assign different functions to that button like: switching hardware filters, switching EQ, entering its DAC mode or Bluetooth reception mode and many other features. On its right side, you'll spot several buttons as Next, Previous, Play/Pause, a Hold switch is also present and a single Micro-SD card slot. The newest DAPs are relying a lot more on wireless streaming capabilities and less so on physical media, plus the newest SoC silicon wasn't developed with two card slots in mind, so forget about two cards as it was the case on the former M11. On the plus side, it supports the biggest capacity Micro-SD cards and in time it will support the newer generation 2TB cards.
On the bottom you can spot all its inputs and outputs and as far as headphone jacks are concerned, the golden trinity is present coming in single-ended 3.5mm and 2.5mm and 4.4mm balanced flavors. Its regular jack can also work as a line-out or as a coaxial output. An USB-C port is also on-board for fast charging, for data transfers or for using it as a USB DAC.
Display
From a 720p 5.15" LCD screen on previous generation DAPs, they went with a bigger 5.5" screen, retaining the same HD resolution and the same golden aspect ratio of 18:9 which is neither too long, nor too wide, so you can easily hold and operate it single-handedly. Increasing the screen size, removed a longer chin found of M11 PRO and M15, leaving the whole space to its beautiful display. It uses an IPS panel with great viewing angles, it is a colorful and high-quality display, with a decent contrast ratio. Black and white levels are nice, but not exactly on the same level with a flagship smartphone. Image quality is more than okay thanks to a decent pixel per inch density and resolution. Please take into account that in a modern smartphone, a huge display will be drawing most of the power and since we are talking about a portable digital audio player, a big and high-resolution screen wasn't considered to preserve battery life as much as possible. Nonetheless, due to a high PPI, the final image is crisp and my cover albums looker vivid and clear.
At this display size, you can do some light gaming or watch some YouTube videos, its newest silicon is more than capable of handling harder tasks…but I would still leave them to your smartphone, so you can have a longer battery life.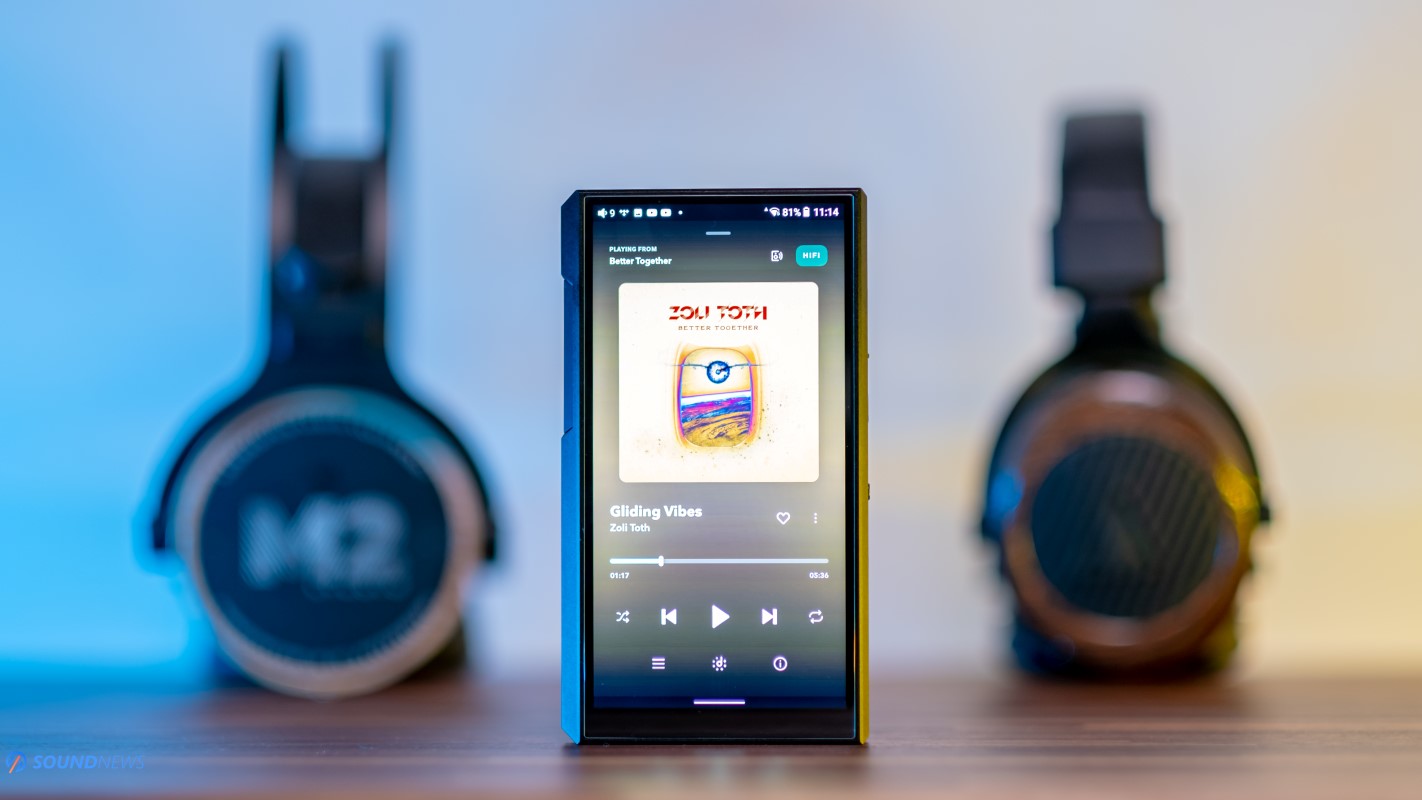 Battery
When FiiO dropped its volume wheel, internal space increased by a great extent, so they could accommodate a much bigger battery. How much bigger? From 3800 mAh on M11 and 4370 mAh on M11 PRO, they went with a massive 6000 mAh batter on M11 Plus! A bigger battery will need a longer time frame to be fully charged, but thanks to Quick Charge 4.0 standard, it charges 50% faster (27W) to the former FiiO DAPs. It goes from zero to full charge in about 3 hours and it will offer you back about ~11.5 Hours of music playback on its regular jack and about ~10 hours on its balanced outputs. In real time scenarios, using desktop planar magnetic headphones on its high-gain and 4.4mm balanced out, I've had almost 9 hours of non-stop listening, which is great considering I was squeezing a lot of power. With balanced IEMs, I've got 10 hours and a half, since high-gain and a lot of current weren't needed for ultra-sensitive IEMs as FiiO's FA9.
FiiO added the deep sleep functionality to the M11 Plus, it drifts off for almost 42 days! You can forget it in your backpack for about a month and you'll still have some battery left to finish the newest Måneskin album. I'm personally turning-off all my devices when I'm not using them (except for some desktop DACs), but if deep-sleep is important to you and you hate those boot times, then M11 Plus will save battery life for very long periods of time.
Under the hood of M11 Plus LTD
By far the biggest change to all former FiiO DAPs was moving away from that aging 6-core Exynos 7872 SoC made by Samsung to a newer and much faster 8-core Snapdragon 660 that runs all cores up to 2.2 GHz. The change is bigger than expected, as sailing through all its apps feels much faster and it feels like multitasking from a modern smartphone. FiiO finally moved away from an ancient Android 7.0, skipping several generations to Android 10.0. It means that you no longer need to rely on APKPure or CoolAPK for the latest updates to your software. You no longer need to use the Applications bubble outside China, as you can now use the official Google Play store and install the latest software without a problem.
The UI of M11 Plus is way closer to a modern smartphone, it literally moves like my phone, it boots much swifter, turns off instantly and more importantly: it loads all that software by orders of magnitude quicker. I can multitask much easier with it, going from FiiO Music, to Qobuz, Tidal, Roon or Spotify in an instant. I can even play natively DSD files and then multitask like a champ, something that M11 PRO and M15 aren't doing so smoothly.
FiiO also increased the RAM memory from 3 GB on M11 PRO and M15 to 4 Gb, that helped with multitasking, with web-browsing, you can now have multiple apps running in the background without ruining your listening experience. In all fairness, I can't differentiate my Xiaomi Mi9T PRO from the M11 Plus, they both move and respond to my commands instantly and I've never felt a stutter in a week of testing.
At the heart of M11 Plus as staying two AK4497 DAC chips, that are taking care of the digital processing. AK4497 is the former flagship DAC chip of Asahi Kasei Microdevices, pushing it up there with the best DAPs. Sadly, due to the fire at the AKM factory and big shortages, FiiO can produce only 6000 pieces of it, hence the LTD (Limited) moniker in its name. They'll make a lot less Stainless-Steel versions (I presume somewhere around ~1000 pieces) and when those are gone, those are gone for good. When making a high-performance digital to analog converter, the timing of the DAC is the second most important part and this is where M11 Plus looks much better to its predecessor. Rocking two custom femto-second crystal oscillators and the 4th generation FPGA, the timing of the DAC should be fully preserved, leading to a higher-precision, to a lower jitter (noise) and of course to a purer sound.
Going forward to the amp stage, FiiO went with the famous top-of-the-line dual-mono THX AAA-78 stereo modules in a fully balanced configuration from input to output. They used the same modules in the their M11 PRO, but with additional tinkering and some proper engineering, FiiO squeezed a bit more power out of these modules. From 550mW in 32 Ohms on M11 PRO it now sits at 588 mW on balanced outputs and from 255mW on the regular jack of M11 PRO, it plunged to 295 mW in the same load. It is not a huge jump in power, but it's always welcomed.
As with their former flagship DAPs, they incorporated a full-MQA decoder. It fully unfolds MQA files (8X mode) not only in FiiO Music app, but also in third party apps like Tidal, I've tried it and it worked natively displaying the MQA logo and the right sampling rate.
For me personally, one of the most important aspects of portable devices are their total harmonic distortion and noise floor levels. While THD is already very low due to those THX modules, the noise floor went much lower even compared to the best DAP FiiO made thus far. At less than 2 uV on its single ended output and less than 3 uV on its balanced out, there is 25% less noise compared to its forebear and much less compared to M15 with its Over-Ear mode engaged. I'm pretty sure, M11 Plus will be the first completely noiseless FiiO DAP with their FA9 at close to maximum volume, but will see about that very soon.
As for wireless capabilities, it supports 2.4G and 5G dual-band Wi-Fi, plus all those fancy Bluetooth codecs not only as a sender, but also as a receiver. It can now send and receive in the best possible codec (LDAC) and thanks to Bluetooth version 5.0, the speed doubled and the distance quadrupled compared to their former devices (that had version 4.2).
Graphical User Interface (GUI)
I already updated to the latest FW 1.0.1 and so far in a single week it didn't crash on me. In Android Mode it behaves like a typical Android device. Switching to Pure Music mode all apps are automatically halted, shutting down all background processes, leaving only FiiO Music for some offline music listening. No more apps, no more notifications, no nothing, just you and your music. This app was already updated multiple times, FiiO added several features in the latest updates. I particularly like the Wi-Fi music transfer and FiiO Link which will let you control your M11 Plus (that sits in your pocket for example) with the help of your smartphone.
As with all their previous DAPs, FiiO implemented endless shortcuts, swipes in different directions will access distinct menus, will change its volume or other things, I recommend checking the Quick Start Guide that can be accessed from Technical Support bubble if you want to learn them all. You can also check if a new firmware was released, I'm recommended updating it via OTA (Over the Air) for convenience.
On FW 1.0.1 GUI seems to be polished, moving extremely fast compared to their former devices, I didn't encounter stutters or slowdowns even when playing 32 bit Hi-Res or DSD content. Streaming MQA files from Tidal and then sending all that to a Bluetooth headphone is simple and intuitive and as much as I've tried slowing it down, it didn't happen, so I have no complaints in here.
If you are curious how much faster M11 Plus LTD moves compared to its predecessor M11 PRO and then to a high-end Shanling M8, I've ran the latest version of GeekBench 5.0 on all three and I believe that those numbers are speaking for themselves. Twice as fast to its predecessor and almost 3 times faster to a Shanling M8…Impressive, isn't it?
Sound Performance
I. Preliminary Sound Impressions
I always believed FiiO wanted to have three distinct sound signatures with the high-end DAPs. M11 was designed to sound smooth and relaxing more than anything else, with just a hint of what is to come next. M11 PRO was considerably more detailed, more mature sounding as a DAP, it was much cleaner, more spacious sounding, but linear and almost dead-neutral with several headphones. M15 on the other hand, proved that planar-magnetics can be driven by portable devices, combining warmth and refinement of M11 with the cleanness and ultra-detailed nature of the M11 PRO.
Spotting a very similar audio circuitry to the M11 PRO, the newest Plus LTD model goes almost in the same direction, choosing cleanness and a dead-neutral presentation over musicality. Almost, because M11 Plus LTD is by a hair fuller sounding in the midrange, a bit faster and punchier sounding, while unearthing an additional layer of information that was missing on its predecessor. That's right folks! M11 Plus LTD is both a cleaner sounding unit and can awake more emotions from your music compared to its antecedent, while further lowering down the noise floor and of course moving a lot faster through those apps and menus.
Much better femto-second clocks and better voltage regulators left a small, but clear difference between both devices. I always believed that for IEMs only, M11 PRO was one of the best DAPs, due to its highly-transparent nature and resolving presentation, it sounded colorless, leaving all the painting work to your IEMs and headphones. M11 Plus goes into the same direction, but instead on being completely neutral, it adds a sprinkle of midrange presence, highlighting the vocal performance and adding more meat to the bone. What M11 PRO did to the regular M11 in terms of resolution and transparency is what M11 Plus is doing to the M11 PRO but to a smaller degree.
The difference isn't immediate and with less revealing IEMs or headphones, it might appear as searching for the needle in a haystack, but add something like a FiiO FA9 or Hiby Crystal 6 and everything becomes clear as the blue sky.
While its forerunner never sounded slow or plain boring, M11 Plus added a faster tempo and a slightly better impact in the bass, transforming a dead-neutral device into an engaging one, improving the speed and decay of the notes, while adding more air in the sub-bass. FiiO is not what it used to be and with the same DAC and amplifier chips, they squeezed a higher degree of performance and I can only congratulate them for that.
After a full day of listening, I was surprised that the newest one was cooler on the outside and didn't overheat as much. I'm not sure if Snapdragon 660 is a lot more efficient, better at heat dissipation or maybe FiiO further improved its internal layout, but M11 Plus was barely warm after 8 hours of non-stop listening with some Audeze LCD-4 planars attached to it, something that all its predecessors couldn't do. Its leather case didn't make it considerably warmer, making them an outstanding duo to be used even in the heat of the summer days.
II. Noise Floor & IEM Pairings
As of right now, M11 Plus LTD has the lowest possible noise floor ever recorded on a FiiO DAP. M15 and M11 PRO has it higher, making the M11 Plus the best FiiO DAP to be used with ultra-sensitive loads as multi-driver IEMs. 2uV (micro-Volts) of noise on its single ended output at maximum volume and 3uV on its balanced outputs is world-class performance by my standards. Not quite on the same level with the Benchmark's HPA4 at 1.9 uV on all its outputs, but very close nonetheless.
Without too much fanfare, I've armed myself with the most sensitive IEMs I have in my possession (FiiO FA9 – 113 dB/1mW), I've went directly on the 4.4mm output, high-gain, I've paused my music and went all the way up, just the hear disturbingly loud the sound of…silence.
That's right folks, no matter the selected gain, the volume position or the headphone output, M11 Plus was dead-silent and outstanding with everything I had at my disposal. I was impressed by the complete silence between passages, there was simply nothing between them, a pitch-black void of nothingness with music notes appearing out of thin air.
As you can expect, anything else less sensitive like FiiO FH5S, FH7, Meze RAI Penta, Hiby Crystal 6 or Little Dot CuKIS performed absolutely the same, M11 Plus disappeared completely as far as noise goes. When noise drops to inaudible levels, the note separation increases, micro-details are coming forward, fully preserving all the inner-details and showing the best those IEMs are capable of.
Stacking it with my smartphone and using it as a USB DAC, should be the ultimate test in terms of noise floor, because it needs to deal with Wi-Fi, Bluetooth and 5G interference, but I'm happy to inform that it sounded exactly as it did on its own, it didn't increase the noise floor all, making it a perfect portable DAP or DAC to be used at home or on the go.
III. Power Output
M11 Plus LTD offers a max power of almost ~600 mW in 32 Ohms on its balanced output and while that might not seem like a lot of power, it is surely plenty for most dynamic headphones and should be enough for several planar-magnetic headphones. Throwing portable over-ears at it, IEMs and even several desktop dynamic headphones from the house of Kennerton Audio Equipment or Erzetich Audio didn't pose a slightest problem for the little fellow, as it easily drove them all with flying colors.
Engaging high-gain on its balanced output, maximum I could go was 70 out of 120 with the Kennerton Vali, Erzetich Mania and with a secret dynamic headphone that I'm developing. Magni, Gjallarhorn or M12S needed even less power to the fully driven, leaving plenty of headroom for nicer recorded music or just for loud drum'n'bass tracks.
Moving up the ladder to something more interesting like planar-magnetic headphones, Kennerton Wodan, Erzetich Phobos and Quad ERA-1 were already loud enough at around 80 and maximum I could go was 85, again leaving tons of headroom for crazy dynamic swings. Honestly, I was expecting this, because M11 PRO performed more or less the same, with a small difference that everything sounded a little more engaging and alive via the newest FiiO DAP.
Surprisingly, even Hifiman HE1000SE worked more than decent at around 95 on its volume wheel, the lack of a higher current output said its last word, as HE1000SE weren't sounding as impressive as I know them to be with desktop class amplifiers. Still, I've had decent dynamics, a faster tempo, a decent rumble in the bass, but not the best diaphragm control, leaving little to headroom for higher dynamics.
Audeze LCD-4 were sitting at about 105 out of 120 and those performed decent, but far from perfect, leaving that title to higher priced DAPs as FiiO M15 (now discontinued) and to Shanling M8, which by the way, drove the LCD-4 close to what I would describe as perfect. In all fairness, FiiO didn't make this one as the last DAP you'll ever need for your headphone collection, I believe that title would go to the M15 and to the upcoming M17 (trans)portable DAP.
IV. Soundstage & Depth
Here's the deal: If you want to hear your music flying around your head and if you want to pick-up notes around you like berries from branches, then you definitely want to use its balanced outputs. The thing is, with a headphone attached M11 Plus has a channel separation of 76 dB on its regular jack and a much higher separation of 111 dB on both its balanced outputs. These numbers are telling me two things: M11 Plus is indeed a true balanced device from input to output, since there is a much lower channel crosstalk and secondly it will be unlocking the potential of your IEMs and only via its balanced output. If you don't have such cable, it is time for an upgrade. No need for some fancy cables…anything would do, but I was to pick between a 2.5mm or a 4.4mm cable, I would get a four point four since that jack has a bigger surface area and a lower resistance (impedance).
As for the soundstage itself, if I'm playing live records then more air is gathering around me and if I'm playing regular tracks then everything happens closer to me, obviously M11 Plus can easily increase or decrease the stage size of depending on the music that is being played. If your headphones are fully driven, then M11 Plus will be unleashing its big guns, pushing those notes around you, sometimes even past your shoulder level.
Those THX-AAA modules aren't known to be impressive when it comes to stage size, but those are certainly one of the best when it comes to pin-point imaging and depth and I can certainly say the same about the M11 Plus. There are several DAPs more impressive when it comes to stage size, FiiO M15 and Shanling M8 are coming to mind, but when it comes to a precise location of all the notes, I believe M11 Plus does that better.
Live in the Netherlands by Xavier Rudd (Qobuz / Tidal / Spotify) is a real soundstage booster, like I've dumped my headphones and moved to a loudspeaker setup, except that I'm still with headphones on my head. Those electronic sounds mixed with reggae felt so airy and scattered around that I didn't need closing my eyes to find them all. That electric-guitar and drums felt playing far away at a greater distance, increasing the perception that sounds are traveling until they reach my body and M11 Plus easily shown that even with IEMs. The most magical combo was connecting the Hifiman HE1000SE or the Kennerton Wodan, that sounded extremely open, wide and incredibly deep, as I know them to be on my desktop setups. Seriously now, try the first tracks of this album, the crowd singing on the second track felt particularly impressive, so relaxing and yet so alive, airy and BIG.
V. Transient Response
I for one believe that replacing regular oscillators with higher precision femto-second crystal oscillators improved the timing and subsequently the speed, the decay of the notes or as a whole: the transient response. M11 PRO was already a nimble sounding DAP, but M11 Plus feels like a wilder mustang roaming the fields, it easily keeps up with demanding electronic music, but also brings a higher engagement factor, making it less neutral, tilting it towards the fun side.
The newest release of Infected Mushroom – Shroomeez (Qobuz / Tidal / Spotify) came right on time and what a better way to test the transient response of a DAP. Only a few seconds passed and I was already smiling with a pair of Kennerton Wodan around my melon. M11 Plus was going extremely fast, dynamics felt explosive, but most importantly it was not limiting the fun factor or the speed of those drivers, Wodan sounded as I know them to be on the Benchmark HPA4, being highly transparent, snappy and really punchy.
I've tried plenty of desktop THX Achromatic Audio Amplifiers by now and I'm yet to hear one that isn't impressive in this department. They all sounded lightning quick and agile, they were about fast transients with little to no decay and M11 Plus goes into the same direction. Its precursor was a little too aggressive with some particular music and compared to that one M11 Plus added a bit more soul into the midrange, making it more manageable in long listening sessions. However, if you're into aggressive music, M11 Plus will sound exactly like that, without any beatifying filters applied on top.
There is one spot where M11 Plus is not outperforming the best FiiO DAP and that is the slam department. While M11 Plus slams and kicks my eardrums with a higher force compared to its antecedent, there is still a long road ahead until it reaches the authority, boldness and the ballsy nature of their M15 with Over-Ear mode engaged. In terms of slam, M15 wasn't challenged and still reigns supreme.
VI. Detail Retrieval
I left it for last…as this is the culmination of what makes M11 Plus LTD an outstanding DAP in the first place, this is why you're interested in it. It simply sounds clean, undistorted, transparent to the source material, retrieving all the tiniest details hidden in your tracks. Looking behind all the FiiO DAPs that I've tried and listened to (I believe I've heard them all) in a span of almost ~9 years…M11 Plus looks like a far cry from anything they've done. I'll just say that it can easily replace a desktop DAC any time of the day, thanks to its highly transparent nature, to its flow and just pure raw detail retrieval. I am placing it at the same level with the M15 when it comes to cleanness, a little above its ancestor M11 PRO and much higher compared to anything else they have done before it.
I believe this is the first DAP that supports balanced line-out, you just need a 4.4mm to dual 3-pin XLR cable and you can use it with your integrated, power amplifiers or with desktop headphone amplifiers and I'm pretty sure that a dedicated desktop DAC at the same price point would sound more or less the same.
Compared to flagship AK4499 chips, AK4497 is a voltage output chip that doesn't need an I/V (current to voltage) conversion stage, so the signal it much shorter and less complicated, add some achromatic and utterly transparent amplifier modules as THX-AAA-78 and you're getting a device that can extract maximum amount of information from your tracks without going to the warm or bright side.
M11 Plus worked as Sherlock Holmes for my tracks, finding tiniest details even in less than perfect recordings, without any intervention from my part. Can you ask for more? I don't think so.
Dark Days Exit by Felix Laband (Qobuz / Tidal / Spotify) is an experimental downtempo album that puts a big accent on tiny sounds. The whole album feels like a story being told by sounds and noises, creating a dark atmosphere that persists for the whole album. You won't find musical instruments in here, but mostly sounds found in the mother natures mixed with glitches and noises that are always putting your imagination and focus on high alert. All the details are rendered on a macro scale, only some of them being hidden in the background. Unsurprisingly, M11 Plus LTD didn't have a slightest problem, easily placing them around me and letting me choose on which sound I need to focus and which one I need to discard. Falling Off A Horse and Sleeping Household were particularly impressive, you can try them at least once…but be warned! It can get addictive.
VII. Frequency Response
M11 Plus walks the same path paved by the M11 PRO, so you can except an extended frequency response, offering the full package when it comes to bass, midrange or treble delivery, exactly how a high-performance DAP should perform.
A. Bass
I find its low-end quite linear, it is flat down to 20 Hz, it is very clean, completely undistorted and present only when the music is asking for it. You won't find an exaggerated bass performance, but neither a relaxed or a shy bass delivery. Its sub-bass comes in right doses, it feels exact and extremely precise. There are layers of it in well-recorded electronica. More important than ever, I find its low-end controlled, decaying a fast manner. It is more of a speedy and high-quality type of bass, as quantity wise it is just right, without going overboard. I find it only by a hair more impressive to the M11 PRO and less so to a M15 that feels more powerful and harder slamming. I did enjoy my time with the newest Shroomeez album and most of my headphones didn't need more bass, with small exceptions like HE1000SE or LCD-4 which are demanding only desktop power to be fully driven.
B. Midrange
I'm glad that part of the velvety midrange that AKM chips are known for is also present in here, but to a smaller degree, as it doesn't stand out as much as it does with FiiO's M15 or with Shanling's M8. It comes in right doses and I find it just moderately warm. I can't say it is full-bodied, smooth or extremely relaxing, as FiiO went with a reference tuning this time around, going for precision, transparency and linearity. Those THX-AAA modules are dead-neutral, leaving all the magic to the digital to analog conversion stage, so you'll be listening to its DAC section and not to its amp stage. However, it is important to say that M11 Plus brought a higher degree of emotions compared to its precursor, it isn't exactly straight as a line as M11 PRO was, as midrange is by a fraction sweeter and meatier, especially when vocals start playing.
C. Treble
Its treble goes hand in hand with its bass performance, I find it extended, very linear, it easily reaches the highest peaks, without becoming a burden in long listening sessions. It is highly detailed in here, fully preserving the leading edges and the contours of the notes. The cymbals are strong and sometimes aggressive as they should be, tambourines and bells are crisp and very defined. M11 Plus doesn't have excessive ringing, it doesn't bring brightness, nor listening fatigue. It doesn't have a smooth treble, there aren't any roll-offs, just a perfectly flat line past the top octave. If you don't like your trebles detailed and extended, you might look elsewhere as M11 Plus is brutally honest in his presentation.
VIII. Wireless Performance
FiiO finally moved from that aging Samsung Bluetooth chip to the newest offerings of Qualcomm and let's be honest…when it comes to Bluetooth connectivity, Qualcomm are doing the best chipsets full stop. Qualcomm's WCN3990 is Bluetooth 5.0 enabled and it supports all those fancy Bluetooth codecs, including LDAC.
As a sender, I connected a FiiO UTWS3 to it, driving several pairs of IEMs. The pairing process was easy and straightforward, its BT connection was stable and reliable and both IEMs sounded good to almost great via Bluetooth.
As a receiver, I've connected my smartphone to it, I used Qobuz app and sent all that data to M11 Plus. Again, the pairing process felt easy-peasy and the BT connection was rock steady even from 15 meters away in an open space. I personally don't understand why would you use it as a receiver, because you can use any streaming app directly from it and it really moves as a flagship smartphone, you can even use your NAS, DLNA and UPnP servers with it and those will sound way better than any Bluetooth connection. But hey, additional features never hurt, it is always cool to have them at your disposal.
IX. An Important Comparison
FiiO M11 Plus LTD ($750) VS FiiO M11 PRO ($650 – now discontinued)
I will be skipping all the specs, features, looks and I will be focusing my attention mainly on the sound quality and user experience. M11 PRO is an outstanding DAP on its own, but on rare occasions it might sound lean and unappealing with some particular headphones or IEMs. Detailed and transparent IEMs like FiiO FA9 and Hiby Crystal 6 might appear as harsh in the treble and dry in midrange with it, lacking fullness, weight and body. M11 Plus on the other hand, adds nuance and texture, it is weightier, sounds more natural, never adding brightness or listening fatigue. It sounds more real, more tactile, there is less ringing in the treble and more naturalness in the midrange, making it linear but never bright or boring. The difference isn't huge, but immediate and very welcomed.
M11 Plus adds a nicer punch in the bass, unlocking an additional layer of information down low, making it more impressive with faster-paced music. I find its transient response better; it simply goes faster in and out, fading my music in a more natural way. While it isn't as sharp in the treble, I find those snare drum hits more impactful and livelier, I just enjoyed my jazz and rock tunes quite a bit more on the newest device. While M11 PRO is a clean and detailed sounding unit, M11 Plus can show a higher degree of information, higher quality crystal-clocks squeezed the last drop of performance out of those AKM chips, making it completely transparent and extremely detailed, so much so, that it can easily replace a desktop DAC with no sound degradation.
After a day of non-listening with All-To-DSD enabled, M11 Plus wasn't as hot in my pocket, something that can become a serious issue with M15 and M11 PRO units. I'm not sure if FiiO redesigned its PCB for a better airflow or the newest Snapdragon 660 is much better at heat dissipation, but after a full working day, playing off-line music or streaming via Wi-Fi, M11 Plus was cooler than both devices and barely warm on its surface.
If you're an IEM listener, a lower noise floor on M11 Plus leads to a clearer picture and to a blacker background, you'll never hear hiss coming out of its amplifier stage, even at maximum volume and high gain, something that M11 PRO can't be so proud about. At higher volumes there is some residual noise on M11 PRO and absolutely nothing on the newest device. FiiO FA9 put in its high-sensitivity mode (113 dB / 1mW) works as noise sniffer and so far, very few units were completely dead silent with it. The difference isn't that huge, as at normal listening levels both devices are keeping noise at bay, but go a little higher and it becomes obvious which one sounds clearer. If you are a serious IEM listener, then M11 Plus looks more than a slight upgrade.
While multi-tasking and browsing through its menu, M11 Plus feels like a brand-new smartphone, it boots-up way faster, everything happens instantly. I'm using Qobuz and Tidal third-party apps on a daily basis, relying a lot more on streaming services, than on offline music listening and for me there isn't a contest which one loads and starts playing my songs faster. While listening to native DSD files and then trying to browse some web pages, M11 PRO can become sluggish or unresponsive for several seconds, something that the newest one never did on me. Add some additional features of Android 10 and M11 Plus becomes a worthy successor to the legendary M11 PRO.
Conclusions
Are you still asking yourself if the newest M11 Plus is worth the extra $100 to its precursor? If double the speed, a nicer UI and a better third-party app support is important to you, then it fully deserves its asking price. If you care only for sound quality…the difference isn't huge and it is really up to you if all those changes are worth it or not. Its tonality didn't change that much, but FiiO added more flow, a bit more power, a nicer driver control, a better detail retrieval, a nicer transparency, a better bass impact and it lowered its noise floor to inaudible levels. In my eyes, FiiO fully delivered on all its promises, crafting an outstanding mid-range DAP from any point of view. It looks classy, it feels great in the hand, it is super responsive and it sounds just right!
If being completely honest with you, there isn't a more complete DAP today at this price point and that is why I'm going to award it our prestigious Gold Award. Congratulations to the team and I'm looking forward to what's coming next!
FiiO M11 Plus LTD was kindly provided by FiiO, you can purchase it from their AliExpress Store, you can get it from their worldwide distributors right here, or you get it from Apos Audio right here. (Apos is offering free shipping in the USA and Canada, free 45-day returns in case you don't like it, an extra year of warranty and they will price match the lowest one you can find online).
If you get one, please come back and leave a comment, I'm very curious to know how it performs with your IEM collection.
PROS:
Modern and unique looking, outstanding design
Build-quality is up there with the best
A leather case is finally included in the package
A much faster System-on-Chip and a bigger RAM makes it much faster and snappier in daily use
Unlocked Android 10 with Google Play Store support
Modern and fast-moving UI, FiiO Music never looked better
The newest volume system is a big plus
Linear tonality, balancing towards naturalness
Speedy and punchy sounding
Extended frequency response at both ends
An outstanding transparency and detail-retrieval
Dead-silent with IEMs, lacks a noise floor
Airy and deep sounding on its balanced outputs
A good power reserve and a nice driver control even with desktop headphones
Much better Bluetooth coverage and codec support
Probably the best midrange DAP at this moment
A worthy successor to the M11 PRO
CONS:
This is the heaviest FiiO DAP to date
A better slam in the bass would be nice
ASSOCIATED EQUIPMENT:
DACs: Audiobyte HydraVox & HydraZap, Matrix Audio Element X, Gold Note DS-10 Plus & PSU-10 EVO, Gustard X26 PRO, Gustard X16, Topping D90SE, D30 PRO
DAPs: FiiO M11 Plus LTD, M11 PRO, M15, Shanling M8, M6, M3X
Headphone Amps: Benchmark HPA4, Singxer SA-1, Flux Lab Acoustics FA-10, Burson Soloist 3X, Musician Andromeda, SMSL SP400, Topping A30 PRO, Gustard H16
Power Amps: KECES S300, SMSL DA-9
IEMs: FiiO FA9, FH7, FH5S, FD5, Meze Rai Penta, Rai Solo, LittleDot Cu KIS, Hiby Crystal 6 & others
Portable headphones: Sennheiser Momentum 2, Meze 99 Classics
Full-sized headphones: Hifiman Susvara, HE1000SE, Arya, HE400SE, Audeze LCD-4, Erzetich Phobos, Erzetich Mania, Kennerton Wodan, Magni, Gjallarhorn, Vali, M12S, Quad ERA-1, Ollo S4X Reference & others
Loudspeakers: KEF Reference 3, Natural Sound NS-17
Interconnects: QED Reference (x2), Topping TCX1 (x2)
Speaker cables: Kimber PR8, Audioquest Type4
Power Cables: Isotek EVO3 Premier (x3)
Balanced Isolation Power Conditioners: PLiXiR Elite BAC400