My Video Review:
Making good sounding digital audio players (DAP) takes time, dedication and a lot of experimentation, but making great sounding players is pure passion mixed with madness that can take years of polish until perfection is being achieved. Portable players of any kind took a huge portion of my life as a teenager and without them, this website wouldn't exist. I still remember brightly as if it was yesterday when I've listened to a Sony Discman D25 for the first time somewhere in the mid '90-ties with some freshly released Nirvana and Pearl Jam CDs, let's just say that it was an experience I will never forget. I liked that one so much, that I bought not one, but TWO of them and reconditioned their inner workings to their former glory, ~26 years later both look and work as brand-new units.
When Shanling released their M6 followed by M6 PRO DAPs a year ago, they strengthened my initial impression that well-designed digital and analog circuitries are not something new to them. With more than 25 years of experience under their belts, it would be unnatural expecting anything less. A year later, their flagship M8 made a blazing appearance on social media, but I watched its presentation with a half sad, half smiley face. I have a huge respect for companies that have a tradition, a design language with everything they do, a yearly cyclicity and financial stability – Shanling is certainly part of that group, but I think they came a little bit too late to the party, plus the Covid-19 thing and the fire at the AKM factory are far from great signs of success for our mate (M8) right here.
FiiO M15 was released exactly one year ago with the introduction of AKM's newest flagship chipset, AK4499EQ and it is already fading away, mostly because the AKM factory fire affected this industry much stronger than we would like to. As I will be guiding you through an 11-page review, it would be clear that M8 is nothing short of amazing from multiple points of view. I only fear for its ill-fated success long term, I hope they ordered plenty of AK4499 chipsets to manufacture a decent number of musical mates, as I find it different and quite special from anything else I've tried before.
Unboxing Experience
The biggest shock came when I've received the little package from the courier, it was small but way too heavy for its size. Shanling double boxed its flagship with plenty of foam and air-bubbles, so it would arrive intact to my doorstep. They also prepared a Russian-doll like experience and if I remember correctly, I've felt the same while unboxing the FiiO M15. These two DAPs are having a lot of things in common, not only the packaging, some of their inner workings too, but more about that in a minute. The product box is exactly as colorful and bright, but can you guess what I've found inside it? A heavy wooden box that screams refinement and has a high-end flair to it. It's carved from walnut wood with just a Shanling logo on top of it – simple, catchy and elegant. The unboxing experience is indeed quite special, like discovering some kind of jewel.
M8 was revealed first, it's bigger and heavier than what I've anticipated, but I like solid and well-built devices, so its design language is right up my alley. To its right there is a leather wallet that holds its detachable headphone sockets and a tool that will help you swap them in a plug & play fashion. Under a thick layer of foam, you'll find an accessory box that holds: a USB-B to USB-C cable with a textile outer jacket, a warranty card, a quick start guide and two screen protectors for it. Sadly, it isn't coming with any sort of case, you'll need to buy it separately. However, if you order it form the right online web-stores, you'll get a free leather case that works as glove for it. Luckily, I have one at my disposal, it looks and feels premium to me and if I'd buy the M8, I would definitely get it with the leather case for some extra protection.
Design & Build Quality
M8 is by far the nicest looking portable DAP I put my hands on. It looks absolutely gorgeous and it is very well thought down to the smallest details. I like that it follows the same design language of its predecessors M6, M6 PRO and the upcoming M3X looks pretty much the same too. If you already know the layout and interface of your M6, then M8 would feel like the same unit, just bigger, heavier and much better sounding. Come from a FiiO M11 PRO and then try switching to their M15, you'll need at least a day or two just to memorize its newest layout and the location of all its inputs and outputs.
I really like that is has only 3 buttons and a single volume wheel (that also works as an On/Off button), I mean, it can't be much simpler than this. You have your play/pause, next and previous buttons, a single headphone socket, a volume wheel and that's it! By comparison, FiiO M15 looks clumsier and not that pleasing with 6 buttons and 3 headphone outputs. M8 is by far the nicest looking DAP, it reminds me a little bit about the Sony WM-Z1, but I think it looks way cooler and minimalist to that one, with fewer buttons and headphone outputs. M8 is machined from a single block of aluminum, you'll find a glass sheet on top that is rounded to the shape of its body and a thinner sheet of rubberized aluminum underneath it, so that wireless antennas would perform better. You need exactly a minute so learn all its inputs and output and I wish some other DAPs offered the same learning curve.
They put small nuances on its back that are adding a bit a high-end flair to it. Shanling logo stays behind a sheet of glass and those Hi-Res and Hi-Res Wireless certifications were also placed under a sheet of glass on the bottom. Another interesting aspect is that the volume wheel is not sticking out at all, it is absolutely on the same level with its upper body, so in a pocket you wouldn't accidentally turn it up or down. You can always lock its wheel and all its buttons from its user menu, if you will. Its three buttons are flushed, are very firm to the touch and aren't wobbling at all. M8 seems to be built like a tank and at 342 grams, it is at the far edge of what I would consider a portable device. I personally like its sheer size and added weight, it gives an impression of a serious unit and bigger than this would be considered a transportable unit for me.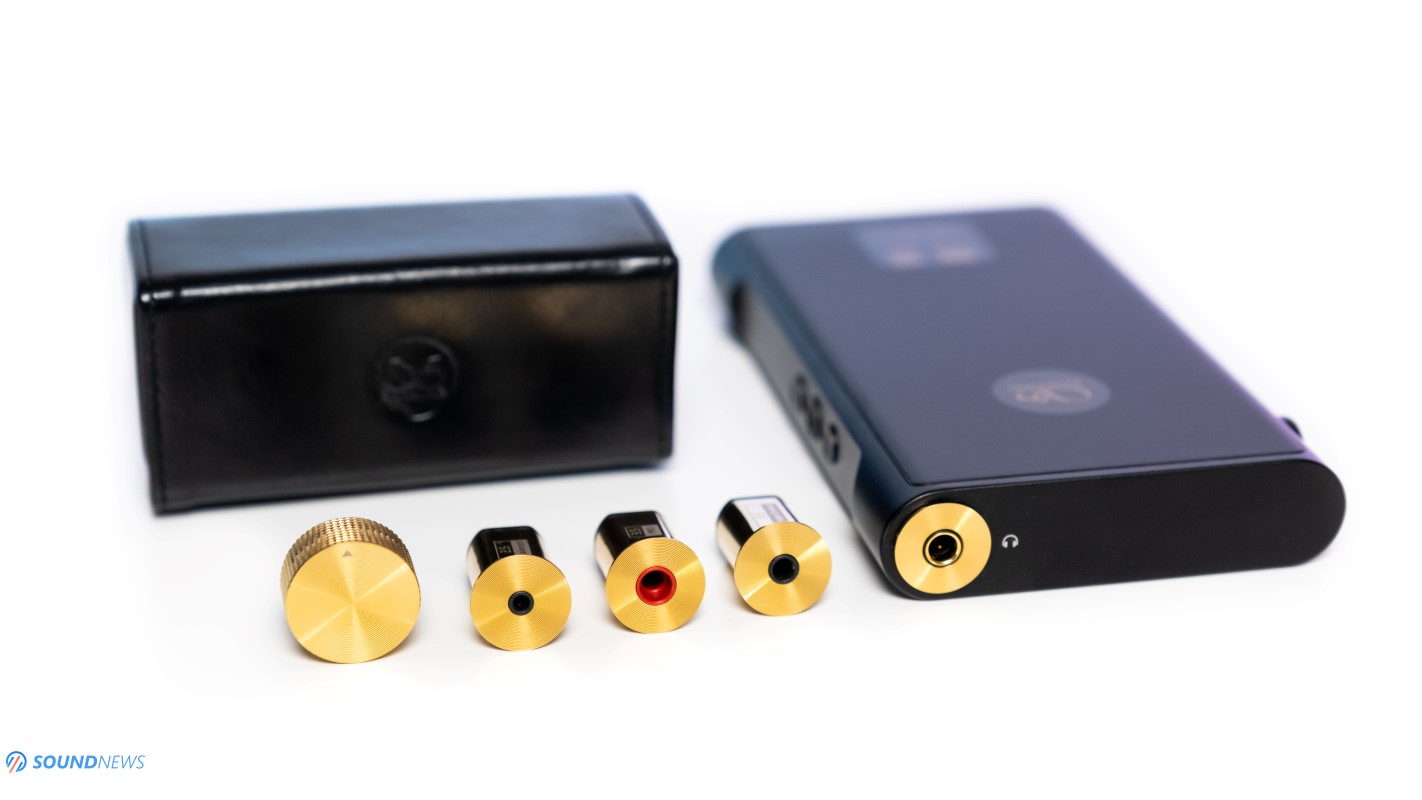 Swappable Headphone Sockets
One of the coolest ideas Shanling implemented in their M8, was going for interchangeable headphone sockets. Why? It saves a lot of internal space, so that more important components could be squeezed inside and it also makes it look much cleaner and simpler. Shanling is offering 4 sockets: a single ended 3.5mm and the rest are all balanced coming in 2.5, 4.4 and 3.5mm flavors. The last one is very popular in China and it called 3.5mm Pro Balanced. I'm using only the 4.4mm output, since I consider it the best socket, it has a bigger surface area and subsequently a lower resistance/impedance, fully preserving its damping factor. It's also sturdier and more secure compared to the clumsy 2.5mm jack.
The whole swapping process is really simple and immediate, just align its tool, pull out the stock socket and replace it with a desired one. It's plug & play and you don't even need to turn it off.
Display
M8 uses a 5" Full-HD (1080P) IPS panel, that is bright, has a good contrast ratio and viewing angles. I find it sharper compared to their M6 and to all FiiO offerings like M11 PRO and M15. A diagonal of 5" works decent enough for light web browsing, for Youtube videos and all 3-rd party apps looked crisp and sharp to me. You can see that its front glass surrounds the whole area creating an illusion of a bezel-less screen with a high display-to-body ratio, but once you power it on, you can spot a gap of about 1.4 cm bellow the display assembly. That isn't a huge con for me, but it needs to be mentioned.
Battery
Shanling went with a massive 7000 mAh and I'm glad they did that. It was mandatory putting a higher capacity one to feed a much bigger and complex audio circuitry. Sure, it added to the weight, but it also added several precious hours to its battery life. M8 supports Quick Charge 3.0 and I strongly recommend using a fast charger with it, otherwise charging time can take up to 4 hours or more.
From a decent 12-hour battery life on their M6 (on 3.5mm output), it increased to 14-hours which is an incremental, but welcomed improvement. In real time tests with a pair of planar magnetic headphone attached to it, hovering around 75 out of 100 on its volume wheel, I've got around 12 hours on its 3.5mm SE output and about 8 hours on its 4.4mm balanced jack.
Under the hood of M8
M8 rocks the same reliable Snapdragon 430, which they also used in their M6 and M6 PRO DAPs, it will also empower their upcoming M30 transportable thingy. It might sound like an entry to mid-level SoC by today standards, but for a DAP, that is among the fastest and reliable one. It's an 8-core CPU with a clock speed than can reach up to 1.4 GHz. Shanling put inside the biggest RAM capacity of any DAP, at 4Gb you can be sure that M8 is a multitasking champ even while streaming some Hi-Res content via Wi-Fi and then sending all that to a wireless headphone via LDAC. M8 works great even while listening to music and browsing tens of web-pages in the background. As for internal memory, M8 is having 64 Gb of ROM memory for music storing and if you would like to expand it, just use a microSD card up to 2 Tb in size. Considering we are talking about a high-end DAP, I would put at least 128, or even better 256 Gb of ROM memory, that is my only complaint when it comes to specs.
As you can expect, M8 supports Google Play Store, from which you can install any app you could possibly want, including games, streaming apps like Tidal, Spotify, Deezer and so on, you can install YouTube, mail clients and anything you'd want really. Tidal Hi-Fi works great for me, I can even listen to my offline music which is great, so far so good. If you are an APKPure or CoolApk user, Shanling left them by default, so again, you can download and install pretty much any app you desire.
At the heart of M8, two flagship AK4499EQ DAC chips are working in dual-mono configuration for the best possible signal-to-noise ratio and of course for the lowest channel crosstalk. So far, AK4499EQ is the first DAC chip that challenged and even surpassed some of the specs of the mighty ESS 9038 PRO. Compared to the former flagship of AKM (AK4497), the newest one doubled its pin numbers, increased in die-size, power consumption increased as well and, in the process, digital to analog processing improved as well. AK4499 are not your regular voltage-driven chips, these ones are current-driven and two of them are putting a heavy burden on the battery. These chips were made for desktop applications, for AC powered devices and certainly not for portable use. Most power is being consumed by this duo, hence putting a much bigger battery inside. Its complicated digital and analog circuitry is dissipating a lot of heat and as a result Shanling utilized a special graphite cooling system that would move excessive heat to its aluminum chassis, that works as a huge heat sink.
Since AK4499 outputs current instead of voltage, an I/V conversion stage was needed in order to send a voltage-driven signal to the amp stage. Shanling focused a lot of their attention in here by using only discrete components, including high-precision film resistors, the best-in-class Tantalum-polymer caps from Panasonic and high-speed voltage feedback amplifiers.
Shanling went overkill with its headphone amplifier section, warm and smooth sounding OPA1662 were used at the gain stage, followed by an JFET high-current amplifiers and the by several BUF634 stages that are seriously boosting its current output, so it could drive even harder loads like desktop dynamic and planar headphones. In my humble opinion, Shanling did a better job with the amp stage compared to what FiiO did with their M15 DAP. Those JFETs will yield better results with planar headphones and will fully preserve the warmth and the tone of the music.
M8 has 3 gain settings and on its highest it output some very serious 840mW into 32 Ohms with its balanced sockets and 260mW into the same load via its regular 3.5mm detachable jack.
Another first in Shanling portfolio of DAPs is using a dedicated USB receiver from XMOS, the latest generation XU208 that makes the USB DAC considerably more reliable and freer of any noise from your PC. Going wireless, M8 supports 2.4 and 5 GHz Wi-Fi bands, plus all those fancy Bluetooth codecs as AptX-HD and LDAC. It can work as a Bluetooth sender or receiver. Thanks to a newer BT chip it will not only send data in AptX-HD and LDAC codecs but can also receive it at the same speed, with the same codec support.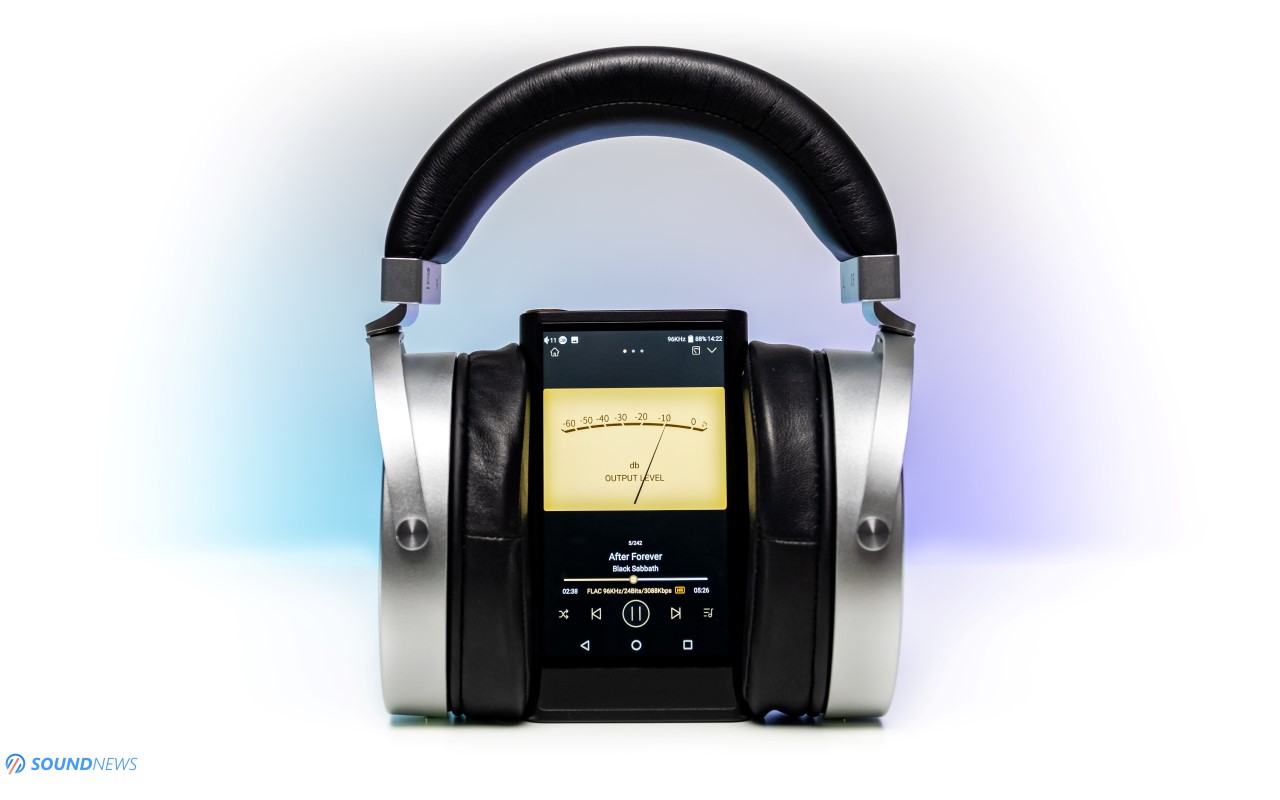 Graphical User Interface (GUI)
M8 uses a fully unlocked version of Android 7.1.1, it was recently updated to FW 1.22 which added some important quality of life changes. Shanling lets you choose two working modes for it:
Android mode, which lets you install and use any 3-rd party app. Shanling developed what they are calling AGLO Technology, which is short for Android Global Lossless Output, meaning that the music from all 3-rd party apps will be processed correctly at its native sample rate. They disabled the stock Android ASRC, that unlocks the full potential of M8 even in the Android mode.
Prime Mode, which completely disables its Android interface and lets you use the M8 as an old-fashioned music player. No more apps, no more notifications, no nothing, just you and your offline music.
Their own music playback software is called Shanling Music, it has all the important stuff a software music player should have, you can browse by anything you want, including by folder as I am doing, you can transfer your music wirelessly and even connect it to a UPnP (NAS) server.
There are a lot of settings in there, I like that it can play DSD files natively, not just via PCM (DoP), it has a proper EQ that starts from the 31 Hz and ends at 16 kHz and you can adjust it from -12 dB up to +12 dB.
Overall, its GUI seems polished (at least on FW 1.22), M8 moves decently fast, I didn't encounter stuttering even while streaming Hi-Res content via Wi-Fi or while playing DSD files natively. M8 is one of the fasted DAPs that I've tested so far, but I can't back-up my claims since AnTuTu Benchmark is stopping for no reason at Terracotta test and is not passing that one. In my daily tasks, I felt it performing at least on the same level with a FiiO M15, which was the fastest DAPs I've tested at that point. Alright folks, let's check how it performs!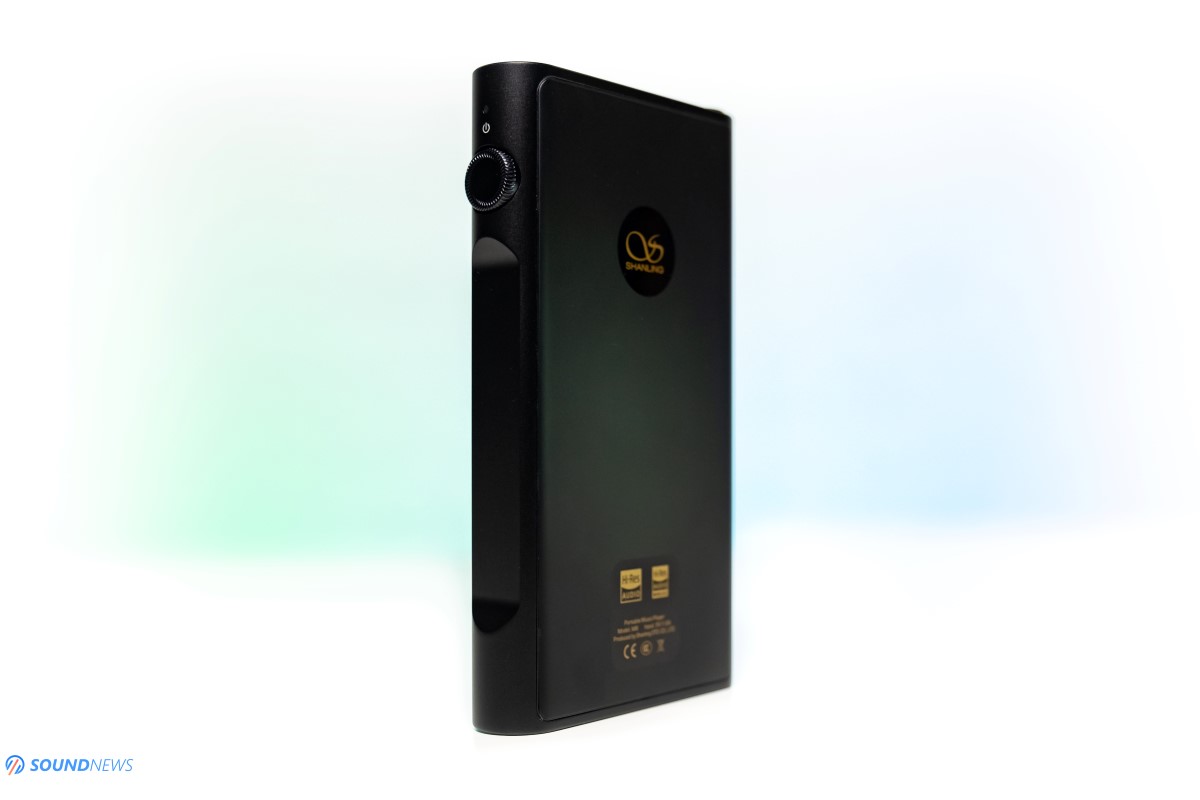 Sound Performance
I. Preliminary Sound Impressions
If you browse Shanling's English website you'll find mainly portable DAPs, IEMs of all sorts, including true-wireless ones, Bluetooth dongles, pretty much everything that is tied to portable audio. However, if you would browse Shanling's Chinese website, then that's a different story altogether. You'll find there everything that is tied to audio, including desktop CD Players, DACs, Preamplifiers, Intergated and Power amplifiers, really everything that is connected to desktop high-end audio. At their 25th anniversary they released a 5-component stack consisting of a DAC, Tube preamp, CD Player and two mono-block amplifiers outputting some 800 Watts into 4 Ohms! I just want to reinforce that Shanling is very much into audio, specifically into the desktop audio business for a very long time and I definitely felt that while listening to their M8.
While I have nothing against op-amps in portable audio, those will be always limiting you as an engineer. Op-amps are limited by nature, you always need to work around them, something like polishing a stone until it turns into a diamond. However, when you working with discrete components, sky is the limit! You have a total freedom of expressing yourself as an audio engineer, you aren't limited by the current of voltage output, so on and so forth. When I've seen JFETs specified in the M8 product page, I knew I'm in for a treat with it, as far as I know no other DAP manufacturer is using those today. If I would describe the sound of M8 with a single word that would be effortless. If I would describe it by a few more, it would be grand, decompressed, powerful down low, unrestrained and easy going. I was listening to it a few hours before bedtime for several days in a row with a pair of Audeze LCD-4 and it was driving them like I had a desktop headphone amp in my hands. Dynamics were to die for, smoothness was out of this word and its tonality was always spot on. So far, this is the smoothest and the fullest sounding DAP I've tried. There isn't even a trace of digitus, brightness is forever gone, never to be seen again. Its treble performance is clean, detailed and transparent, but the sound of its treble reminds about class-A headphone amplifiers, that are more about the music as an act of relaxation, of being carried away, than about anything else. I remember being thunder-struck when I've listened to the FiiO M15 for the first time, experiencing all that power, warm charismatic personality at my finger tips and I'm reliving the same experience all over again but at a higher level. To some degree, it reminds about the M15, but something is being dialed up to 11. There is definitely more bass, it is deeper, hits harder and it is better controlled. Frankly, I've never felt those LCD-4 so alive and @ss kicking from a portable device. I've also observed that after I've put them down, I had a light ringing in my my ears – a clear sign that I was listening at a slightly higher volume than usual. Why on earth that happened? The complete lack of distortion, grain and brightness, made me crank that volume higher, so I could better feel the rhythm and the music. It's quite amazing the amount of cleanness, power output and viscerality coming out of this thing. It's something else to what I've experienced out of portable devices. Preliminary impressions are very good, but I'm curious how it would perform with sensitive IEMs, with some other desktop headphones and how it would treat me with a wider variety of music, so let's go ahead and check that out!
II. Soundstage & Depth
If we're talking about DAPs, then M8 can be described as spacious, wide open and enveloping. Connect some desktop open-back headphones to it and prepare for a sound that you would normally experience with desktop headphone amplifiers. The more I listen to it, the more it reminds about a proper desktop setup, with plenty of power and current delivery for hard to drive planars. With our mate right here, I've never experienced a closed-in, an up-front presentation or some restrained dynamics. Its dual DAC configuration and a true balanced input to output signal path drastically decreased its channel crosstalk, considerably increasing the void space between the most right and the most left sounds that can be heard from your tunes. I've felt the same with FiiO's M15 and to a much lesser degree with lower tiered devices like FiiO M11, M11 Pro and with Shanling's M6. Even Sony WM-1Z wasn't as expanded and airy sounding to me. I believe that M8 has one of the nicest soundstage renditions I've experienced with portable audio and again, its well-designed digital and analog circuitry left the last word in here. Even my funky folk-rock is sounding incredibly open and very layered. The sounds are never exactly in front of me, but around me, coming from different angles, like from stereo I switched to some binaural music. The more open your headphones are sounding, the bigger this feeling would be with the M8. As you can imagine, something like Hifimam Arya, Audeze LCD-4 and Kennerton Wodan sounded impressively wide, scattering the sounds all around me.
The guitar whacking on Hotel California by Eagles (Tidal / Spotify) sounded so far to the left, like it wasn't part of this song, the drum hits on the 3:52 mark were all over the place, those were scary real, powerful and carried more air than usual. The drumming solo on Duende by Bozzio Levin Stevens (Tidal / Spotify) was impressively layered, very clean and believable sounding. Even those barely audible brush sticks hitting cymbals felt extra-clean and defined, without a single trace of sharpness. The whole 7-minute track is a soundstage feast in the true meaning of the word. Starting with 6:21 the pace keeps rising and rising, culminating with a drumming solo happening all around me, there were notes coming even from behind me on several occasions, putting goose bumps on my back. Please give this one a try, it's quite impressive.
III. Transient Response
Immediately after unboxing it, I gave it a longer listen, just to be let down by its weak bass slam, it was nowhere to be found and it sounded small and restrained. M8 has several high-end Tantalum polymer capacitors, several voltage feedback op-amps, a pair of warm and full sounding OPA1662, followed by high-current JFETs and finally by several BUF634 buffers at its output stage, so it was clear to me that at least several hours would be needed before it reaches its peak. Some ~12 hours later, bass impact made its appearance, the sound was already hovering outside my heard and I was seeing the light at the end of the tunnel, but still it wasn't completely detached in its presentation, so I left it play from another 24-hour marathon on repeat.
Early in the morning, I've come back to it and it changed from a shy little DAP, to an effortless ballsy performance, it was light on its feet, but hard on its punches. Bass stood out immediately, it was much harder slamming, it carried a higher force and more air with it. From a limited sound in terms of dynamics and punch, M8 became much braver in its presentation, dynamics were hitting me relentlessly even with hard to drive planar magnetics. M8 may be a little smoother and warmer in its presentation, but when bass notes are landing some hits, those are fast, powerful and immediate. M8 together with FiiO M15 are some of the hardest slamming DAPs I've experienced thus far, that is for sure.
Lowest notes of Angel by Massive Attack (Tidal / Spotify) are hitting 20 Hz territory quite easily and are sustained for several seconds, thus putting a much higher stress on the output stage of any amplifier. This song can easily clip amplifiers that are driving heavier loads, but it wasn't the case with M8. Even LCD-4 provided a healthy dose of bass impact, a bottomless depth, it was perfectly sustained and that made me quite happy with the final result.
IV. Detail Retrieval
The only thing that was clear from the start, even without any kind of burn-in, is that M8 can show the smallest nuances and the tiniest details, it was brutally honest with everything that I challenged it with. The grain and low intensity hum of R.A.T.M. – Rage Against The Machine (Tidal / Spotify) was immediately picked up by the M8 and mind you, not all desktop DACs would pick that up, let alone portable devices. All the imperfections were heard loud and clear, there wasn't a sound that could hide from its gaze. M8 can only be described as transparent to the core and staying true to the source material. I will go as far and tell you that I find it on the same level with some of the best desktop DACs I've heard at my place. Performance wise, it is at least on the same level with a Gustard A22 or Topping D90 and it even approached closely to much more exotic units, like $3000 Matrix Audio Element X and $4000 AudioByte HydraVox.
Its easiness and flow can sometimes deceive you when it comes for sharpness and strong contours of the notes, but that isn't the case with M8. It is detailed and transparent as DAPs could possible be, without the over-sharpness associated with several desktop DACs. I like linearity and detailed presentations, but I'm against treble ringing and over-sharpness, thankfully M8 is free from those shackles.
V. Noise Floor
Shanling M8 has a maximum noise floor of 1.7 microVolts on its regular 3.5mm socket and 2.1 microVolts on all its balanced sockets. As a point of comparison, FiiO M15 which already sounded impressively clean and noise-free has it at 3 microVolts on its SE output and 5.2microVolts on its balanced out. The best measuring headphone amplifier in terms of noise floor, has it at 1.9 microVolts at full power. By coincidence, I own that amplifier which is absolutely dead silent with everything that is connected to it and the same can be said about the M8. No matter the gain level, it could be even Turbo mode, with all my sensitive IEMs I was simply mesmerized by the complete silence in all passages, there was nothing between them, just a pitch-black void, experiencing notes that are born out of thin air.
Be them ultra-sensitive FiiO FA9 (113 db per 1mW) or FH7, be it Meze RAI Penta or LittleDot CuKIS, M8 was invisible in terms of noise floor and brought to the surface the best out of those IEMs. Dropping the noise floor to inaudible levels, increased the note separation and the feeling of air around the notes and as a direct result, all my IEMs sounded extremely alive, punchy, but also open wide and airy.
Background noise was nowhere to be found, it was as black is it could possibly be, there weren't nasty gremlins playing at higher volumes and no matter what headphone I would use, I knew that I can always rely on its clean and noiseless performance.
VI. Power Output
I'll tell you right away that M8 is the most powerful portable DAP I've experienced so far, with 840 mW per channel into 32 Ohms via its balanced sockets, everything I have around me (except for the Hifiman Susvara) is driven to their maximum. Throw some portable over-ear headphones to it, IEMs, desktop dynamic headphones, throw even planar-magnetic headphones into it and M8 would still sound effortless and full bodied. I'm not joking at all, as 90% of the time I was with a pair of Audeze LCD-4 on my head and 5% with a pair of FiiO FH7 or FA9. Everything else, like Kennerton Wodan, Erzetich Phobos, Quad Era-1 and Hifiman Arya were driven to their fullest and there was plenty of volume left on tap.
The most difficult load was the LCD-4, yet at about ~85-88 out of 100, M8 were pumping enough current and power to make them jumpy, explosive and engaging all time. I liked this combo so much that every day for two hours before bed time, I would just lay down, close my eyes and immerse myself into my musical nirvana.
The pairing with FiiO FH7 was also quite special as the slight harsh nature of FH7 was completely cured by the M8. The treble glare was nowhere to be found in this pairing and from great IEMs, FH7 transcended into world-class IEMs. I'm still using them daily and they still rock my world.
No matter what headphone I've tried with it, be it portable or desktop, plenty of volume remained on tap, dynamics were never squished and it was always impressively engaging, while sounding clean as a teardrop and flowing like a mountain river.
VII. Frequency Response
The best of Shanling covers the entire frequency response in full, there aren't roll-offs, several parts of its FR are standing out more often, apart from this, you'll hear everything from the lowest pits of sub-bass to the highest peaks of the treble.
Sub-bass felt lackluster at first, but 24-hours later it was something else entirely. M8 has definitely the most impressive bass delivery I've heard from portable devices. It easily reaches 20 Hz; it can sustain those notes (check James Blake – Limit To Your Love) for a longer period and deliver them with a higher sound pressure level. M8 moves plenty of air down low, you always feel it moving around, giving an impression of a meatier bass response.
Mid-bass walks the same path, always attracting your attention to it, it is elevated just by a hair, but I like it this way, as it adds warmth and heaviness. In a sentence, M8 has some of the deepest bass I've experienced out of a DAP, its impactful and speedy sounding.
Midrange is always velvety and natural sounding and I wouldn't expect less out of a dual-mono AKM design with some of the warmest op-amps being amplified by a pair of JFETs. This is pretty much the nicest midrange rendition I've experienced out of a portable DAP. M15 by FiiO is very close to it, but M8 has more meat to the bone, it's warmer in here and really soul-grabbing once acoustic music makes an appearance on my playlist.
Treble performance can be described as non-aggressive, clean and extended. It sounds like the real thing, the drumming solos, bells and cymbals were impressive. While still sounding metallic, I didn't hear excessive ringing and fake over-sharpness with it. You won't find traces of brightness in here, forget about listening fatigue. This is the kind of treble I want to hear with all my sources and amplifiers.
VIII. Wireless Performance
Having the best Qualcomm Bluetooth chipset inside, the mighty CSR8675 that I've already experienced multiple times in portable and desktop devices, I expect the same behavior and by that I mean a stable Bluetooth connection that sounds almost as good as going wired, if LDAC codec is being used.
As a sender, I connected a FiiO UTWS3 to it, driving a pair of FiiO FA9 IEMs and then a pair of Origem HS-3 Pro. In both cases, the pairing process was easy and straightforward, its BT connection was stable and reliable and both IEMs sounded decent to very good.
As a receiver, I've connected my smartphone to M8, I used Tidal Hi-Fi app and sent all that data to the M8. Again, the pairing process was easy-peasy and the BT connection was rock steady even 10 meters away from it in an open space. I don't understand why would you use it as a receiver, because you can use any streaming app directly from it, you can use your NAS, DLNA and UPnP servers with it and those will perform and sound better than a Bluetooth connection. But hey, additional features never hurt, it is always cool to have them at your disposal.
IX. Comparisons
Shanling M8 ($1659) VS FiiO M15 ($1349)
In terms of looks, build quality and layout, hands down, M8 is a better unit. Its volume knob doesn't stick out and all its buttons are flushed. It has only 3 of them as opposed to 6 on M15 and just a single headphone socket of your choice versus 3 on M15. The whole body feels more solid, it's thicker and I really liked its improved grip, thanks to its rubberized texture on the back. FiiO put reinforced glass on the back of M15, thus making it a lot more slippery and fragile. With M8 I have a feeling that I can defend myself with it, M15 by comparison feels like a fragile glass-canon. The screen of M8 is only by a hair smaller in size (5" vs 5.15"), but it wins in terms of resolution (1080P Vs 720P), offering a clearer and a sharper image. Shanling went with a warmer color of its screen, while M15 has a colder, blue-ish tint to it.
The whole UI is more or less the same on both devices, I will give a slight edge to the FiiO Music software, since it has several more features than that of Shanling. The whole experience is pretty much the same, both are quite smooth in their operation, their CPUs are decent enough and aren't struggling with 3-rd party apps like Tidal and Spotify. Both have full Android support with the Google Play store enabled, but M8 uses a slightly newer Android version of 7.1.1.
As for their specs, both devices have the same DAC chips and the same first voltage amplification stage, everything else is quite different, FiiO used a combination of op-amps for its headphone amp section, while Shanling used much costlier and better performing JFETs. The whole amplifier section of M8 occupies a lot more space than that of the M15 and its considerably more complex. The I/V conversion stage seems a bit more advanced on the M8, hence it being slightly bigger in size.
The power output is by a little higher on M8 with low impedance headphone and slightly higher on M15 with higher impedance headphones, meaning that M8 can deliver more current (amperes) for hard to drive planar-magnetic headphones. M8 has also a lower noise floor, it's absolutely inaudible with IEMs, while M15 has still a bit of residual noise if "Over-Ear" mode is being engaged.
In terms of sound performance, honestly the difference is not that huge, both are really exceptional and high-end sounding from any point of view. M8 worked better with IEMs since it was completely dead-silent, on the other hand putting the M15 in its low gain mode yields the same result.
The sound is by a hair warmer, fuller and more visceral sounding on the Shanling unit. The bass response is nothing short of spectacular, while M15 does also have an incredibly bass performance, M8 simply outplays it in here. With bass heavy music, M8 was more engaging, it was better controlling the drivers of LCD-4 and it never ran out of breath. Another interesting aspect is that M8 has a somewhat larger soundstage, live recordings sounded far and wide and a little less impressive on M15. The difference isn't that big, I was noticeable only with several tracks.
The sound itself is thicker and more liquid on the M8, while M15 has just a smidge of digital glare and treble ringing. I presume the limited current output of the op-amps inside the M15, puts a mild brake on its overall presentation. M8 sounds more effortless, without barriers, you know you have the full experience with it and about 95% of it with the M15.
The treble performance was quite different on M15, it had more ringing and a bit of over-sharpness, while I find it completely trouble free on M8. Don't get me wrong, M15 is far from being bright, it still has that warmth tint, but M8 has more of that.
The higher treble pitch on M15 could make you think it has a better detail retrieval, but in reality, that is just a higher treble pitch and ringing, nothing more and nothing less. Both are exactly as detailed and I find them exactly as transparent, covering all the entire frequency response in full. M8 is better when it comes to bass performance, it goes lower a bit, it feels slightly more visceral, more effortless and layered, while M15 seems to be putting a mild accent on its treble delivery. In M15 defense, its slightly bigger battery capacity of 7490 mAh (VS 7000 mAh) adds a few minutes to maximum an hour of runtime.
Overall, I find them pretty much on the same level, with minor differences here and there. To my ears and with my headphones, M8 performed a little better, it was seriously improving those FiiO FH7 IEMs and it was better awakening the bass slam of the Audeze LCD-4. I use both headphones on a daily basis and in my case, M8 was a better overall performer.
M8 is costlier by about $310, but you are getting a high-quality leather case in return and I feel that performance wise, the price increase was fully justified.
Conclusions
Shanling M8 felt and performed with all my headphones like a true high-end DAP from any point of view. Its build-quality is top notch, it has a perfect layout and sexy looks. I particularly liked its unique sound tuning, it played like anything I've tried up to this point and I hope they will continue using its unique character in the future and of course its legendary flow. Its bass performance was something I never expected to hear out of a portable device and its upper registers were quite special with treble intensive music.
M8 performed at a very high level with every IEM, portable and desktop headphone I've tried and as result prepare to pay a premium for all that goodness. Shanling M8 will cost you $1659, it is uncomfortable saying this, but it's worth it! I liked it so much, that I decided to purchase the review sample to be used in my future reviews, so you can be sure that these were my unspoiled, honest impressions.
Shanling released their M8 at a very troublesome time for DAPs in general, especially those carrying AKM chipsets were hit pretty badly. Of course, none of this is Shanling's fault and I wish M8 would succeed in times like these. Considering its immaculate performance, I am going to award it our highest badge, Gold Award it is and I am looking forward to what's coming next from them.
You can get it from HiFiGo web-store right here (they actually provided the unit), they are shipping it worldwide from the nearest warehouse to your location. I know it's expensive and not a lot of folks can afford it, but if you get one, I'd like to know your opinion on how it performs with your headphone collection.
PROS:
Solid as a brick, immaculate build quality
Highest attention to details, sexy looking
Easy to use GUI, moves decently fast
Widest soundstage I've experienced with a portable DAP
Sounds smooth as butter and sweet as honey
Warm, full bodied tonality, goes well with acoustic music
Its detail retrieval rivals high-end desktop DACs
Clean, transparent and noiseless
Goes to the lowest sub-bass pits and to the highest treble peaks (extended in the FR)
Great slam and impact, immaculate pace, rhythm and timing
Works great with MQA content, supports all the best Bluetooth codecs
Full Google Play Store support
CONS:
Only 64Gb of internal ROM memory
Pricey
ASSOCIATED EQUIPMENT:
Sources: Xiaomi Mi 9T Pro, Corsair One i160
DACs: Audiobyte HydraVox + HydraZap, Matrix Audio Element X, Flux Lab Acoustics FCN-10, Topping D70S, Gustard X16, Khadas Tone 2 Pro, FiiO Q5S TC
DAPs: Shanling M8, FiiO M15
Headphone Amps: Benchmark HPA4, SparkoS Labs Aries, Flux Lab Acoustics FCN-10, LittleDot MKIII SE, SMSL SP400, Gustard H16, Burson Soloist 3X
Power Amps: KECES S300, Kinki Studio EX-M7
IEMs: FiiO FA9, FH7, FD5, Meze Rai Penta, Rai Solo, LittleDot Cu KIS & lots of other lower tiered ones
Portable headphones: Sennheiser Momentum 2, Meze 99 Classics
Full-sized headphones: Hifiman Susvara, Hifiman Arya, Audeze LCD-4, Erzetich Phobos, Erzetich Mania, Quad ERA-1, Ollo S4X Reference, Kennerton Wodan, Magni, Gjallarhorn, Vali, M12S, GoldPlanar GL2000
Loudspeakers: KEF Reference 3
Interconnects: QED Reference (x2), Topping TCX1 (x2)
Speaker cables: Kimber PR8, Audioquest Type4
Power Cables: Isotek EVO3 Premier (x3)
USB Isolators: iFi Audio Micro iUSB 3
Balanced Isolation Power Conditioners: PLiXiR Elite BAC400