Prepare to be converted by Ferrum's newest WANDLA D/A converter
You need to be crazy, creative and quite a fun dude naming your newest D/A converter as The Converter, or WANDLA for short. Knowing the CEO behind this crazy naming scheme, I'm not surprised that Marcin Hamerla of HEM chose this name which states from the beginning its use case.
Ever since an over-powerful and natural-sounding OOR powered by HYPSOS landed at our HQ (review here), we started scratching our heads about when a proper DAC would be released by the Polish manufacturer. Their ERCO DAC/Amp combo (review here) was the all-in-one unit everybody was waiting for, while having the same soul-grabbing nature of the OOR. However, people were still sacrificing ales honoring the all-knowing Odin that hopefully one day an end-game DAC from Ferrum could be placed atop the OOR, for a tidy and neat-looking head-fi setup.
We know about the WADLA for more than a year, as these guys are polishing it for quite some time and I'm glad to announce that it just hit the market. OOR users no longer need to hunt for a matching DAC and PREAMP, as WANDLA does exactly that and a little bit more. If you're patient enough, we should deliver a comprehensive WANLDA review in the following months, until that happens I'm attaching a press release below so you can better understand its feature set and working principle:
The Converter
We at Ferrum love to create game-changing products. To do that, you have to start from scratch. We start every project with a blank page and a determination to push the boundaries of what's possible. Over the last few years, we've shown friends and strangers that we understand audio and music reproduction. And we have the track record to prove it. Our first two products, HYPSOS and OOR, have both been honored with coveted EISA awards, giving them peer acknowledgment. It also set the bar high – very high – for our latest flagship product. Enter WANDLA, The Converter. Ferrum's flagship DA converter will be setting new standards for high-end audio DAC's.
Made to purr like an F1 racing car
WANDLA embodies the best design we can create at a very accessible price point. We drew inspiration from Formula 1 racing, where every detail matters and perfection is the only option. With WANDLA, we believe we've achieved that same level of excellence and attention to detail. We meticulously implemented hundreds of innovations – large and small – to optimize every component of the DAC, resulting in a rich, detailed, and transparent sound with an incredibly low noise floor that lets every nuance shine through. And like a fine-tuned racing car, WANDLA delivers an exhilarating experience.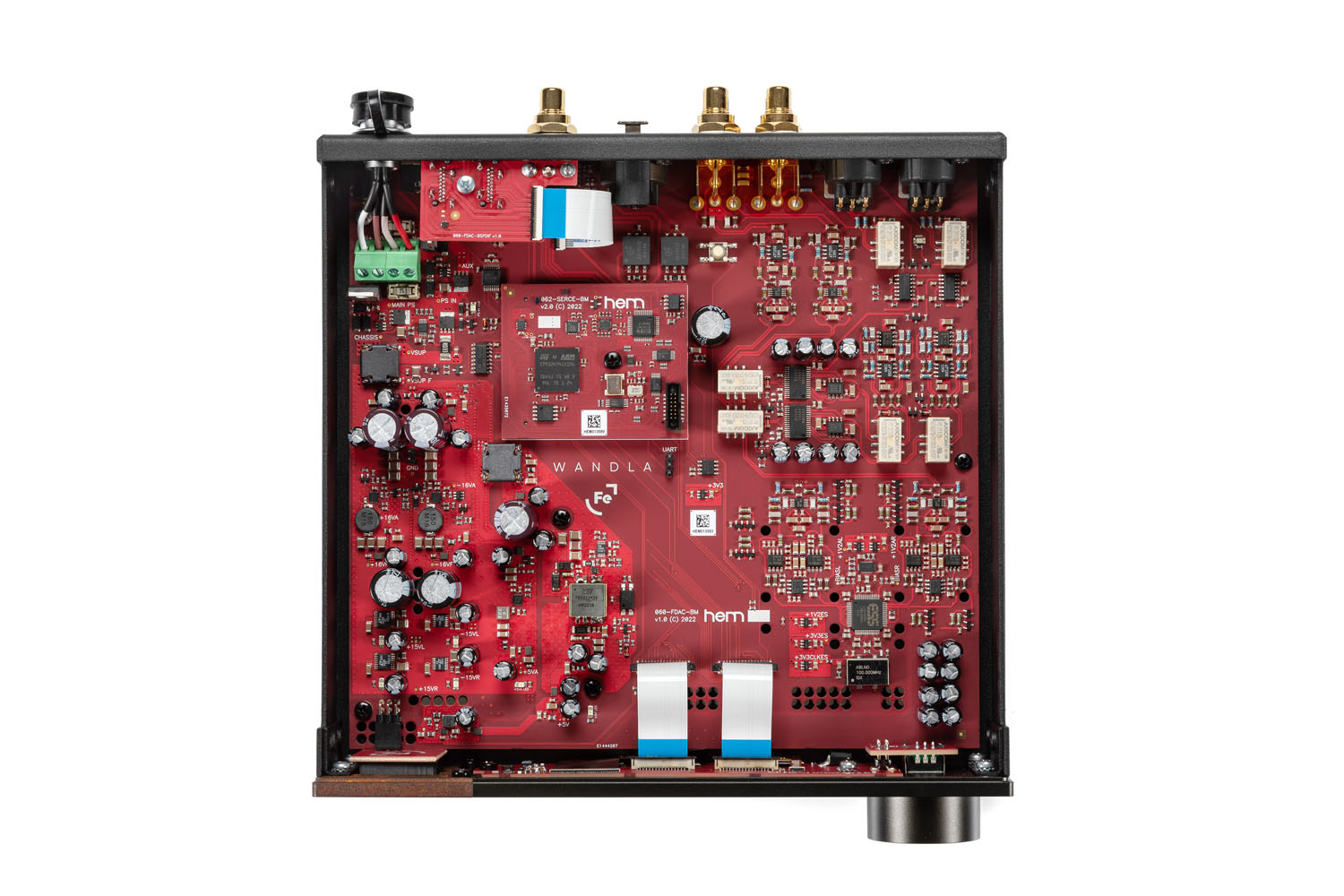 Under the hood
WANDLA has at its heart our proprietary ARM-based platform, SERCE. Running Ferrum's software, SERCE processes all incoming digital data streams. Our ARM processor singlehandedly performs the tasks of five chips and creates the shortest possible signal path for the audio-optimized USB, ARC, I2S, coaxial S/PDIF, and optical S/PDIF ports. Behind the conversion stage, our engineering team implemented an advanced new current-to-voltage converter and an output stage that benefited from their experience developing the acclaimed OOR and ERCO. Based on HYPSOS' revolutionary hybrid design, multiple internal supplies power both analog and digital sections to minimize interference and noise and maximize channel separation.
Crowd-sourcing the best Dynamic Digital Filtering: unique to the Hifi community
The powerful dual-core ARM chip can do much more than manage WANDLA's functions. First, to give people a real choice, at launch a set of five great sounding digital filters will be accessible, three of which reside in the ESS DAC. But the power of SERCE, WANDLA's beating heart, offers even greater opportunities. We wanted to add our own digital filters to bypass the ones in the DAC. We asked famous digital filter maker HQ Player to initially develop a set of two exclusively for Ferrum. To offer WANDLA users greater choice and more inclusion in the process of customizing their WANDLA, more special digital filters can be unlocked after launch once they engage with us via our socials. We dubbed this new and innovative way of our customers' interaction with our digital filter settings Dynamic Digital Filtering or DDF. This process will create a new community of digital filter specialists: people interacting with us and their WANDLAs in search of the best possible, tailormade sound. This collaboration between our users and us will be unique to Ferrum, the DA converter category, and the Hifi community. Ferrum will release an auto-updater application for Mac and PC to facilitate firmware updates.
It's also a preamp!
In addition to being a top-notch DA converter, WANDLA doubles as a premium preamplifier with a full-function IR remote. We've implemented two new digitally controlled attenuators for volume control: selectable analogue or digital. WANDLA has a truly balanced topology, and we took our modified IC amplifier and power section designs to the next level. In addition to the six digital inputs (USB-C, coax, optical, AES, ARC, and I2S), there is one unbalanced analogue input. This input bypasses all digital processing to remain faithful to the highest-quality analog sources. Both balanced (XLR) and unbalanced (RCA) outputs and a configurable trigger are provided. As one would expect from Ferrum, there are two DC power inputs (FPL and 5,5 x 2,5mm DC pin) to connect WANDLA to the supplied power supply or our HYPSOS. Whatever the choice, the result promises to be eargasmic.
Aerodynamic beauty – in the living room
WANDLA's internal design must speak for itself to bedazzle our music-loving community of Ferrum enthusiasts. But as always, we wanted to create a high-performing piece of equipment and something that would be a joy to use and a pleasure to behold. So we supercharged the visuals by implementing a hi-res touchscreen display with a super easy user interface (UI). You'll find any setting with a mix of touch, turn, and press within seconds. And when operated via remote, the display changes to 'distance mode' so it can be read from across the room.
Made for HYPSOS
Of course, WANDLA plays beautifully right out of the box, using the power supply we carefully crafted to feed its unique electrical topology. But its musicality can be even higher when paired with our HYPSOS power system. Using our proprietary FPL cable, HYPSOS can perform its magic deeper into WANDLA circuitry than any other power supply today.
Prepare to be converted by the real thing
WANDLA is perfect for audiophiles who demand the best at an amazing price. Pause a moment and ask yourself if tomorrow's music enthusiast is willing or able to pay 30.000 euros for differences that are too minute to measure and inaudible to most. Ferrum now offers its flagship quality at an unheard-of price point, boldly stating what tomorrow's high-end landscape could look (and sound) like. But please, don't take our word for it! We invite you to sit down, relax and play with WANDLA. Listen to your music as never before and let our little boxes of audio magic speak for themselves. WANDLA is destined to touch you in your musical heart: no coloration, low distortion, high dynamics, and more music, with a background of absolute silence.
Want to know more about Ferrum, WANDLA, or digital filtering? Please surf to www.ferrum.audio at your convenience or interact with us via phone, e-mail, or our social channels.
WANDLA specific key features
Tomorrow's High End Audio Today – WANDLA leads the way for tomorrow's high-end, offering flagship audio quality at an unprecedented price.
Finely tuned DA conversion – WANDLA is the latest exemplar of Ferrum's digital know-how and our in-house-developed analogue audio and electrical technology. The ESS Sabre ES9038PRO combined with Ferrum's advanced new current-to-voltage (I/V) converter compares to units many times its price.
SERCE – Digital audio system module – Our optimized ARM chip offers the shortest signal path possible, making 5 chips redundant. Includes MQA decoder/renderer and digital filter selection.
Dynamic Digital Filtering – WANDLA has three ESS digital filters to choose as standard and, as a world first, two digital filters created for Ferrum by renowned filter-maker HQ Player. More will follow with future updates after interaction with WANDLA users
Optimized Digital inputs – Specially programmed USB, and tuned coaxial and optical S/PDIF, ARC and I2S ports, optimized for audio.
Proprietary amplification – Fully balanced modified IC pre-amplifier, fine tuned for WANDLA.
Truly Balanced – The signal path stays truly balanced using the XLR inputs and becomes truly balanced using the RCA inputs.
Ease of use – Newly developed hi-res touch screen with intuitive UX that is a dream to operate, including remote control.
Enhanced transparency – The whole design is focused on a balanced and very transparent sound signature, making listening fatigue a thing of the past.
Made for HYPSOS – WANDLA performs beautifully right out of the box, but you can take its performance above and beyond when pairing it with HYPSOS. Using the proprietary Ferrum Power Link (FPL) connection with 4T voltage sensing, both components will perform to their absolute maximum, unleashing unheard-of musicality.
Specifications Ferrum WANDLA flagship DAC/PREAMP
Operation: Fully balanced, proprietary IC power amp
DAC chip: ESS Sabre ES9038PRO
DAC resolution: 768k/32bit, DSD 256
Digital inputs: – AES/EBU (up to 196kHz/24bit, DoP 64)
– Optical S/PDIF (up to 96kHz/24bit)
– Coaxial S/PDIF (up to 192kHz/24bit, DoP 64)
– USB-C (up to 768kHz/32bit, DSD 256)
– ARC (up to 192kHz/24bit), TV input with CEC
– I2S (up to 768kHz/32bit, DSD 256), PS Audio® compatible
MQA: decoder and renderer (on all digital inputs)
Analog inputs: RCA
Analog input Vmax: 9,5V RMS (2 – 3,5V RMS recommended)
Analogue input imp: 47kΩ
Line outputs: balanced XLR; unbalanced RCA
Volume control: analogue with bypass option / digital for DAC operation only
Output level: @0dBFS, 1kHz sine 9,3V RMS balanced, 4,65V RMS unbalanced
Frequency response: 10Hz – 200kHz +/- 0,1dB
DAC THD: -121dB (0,00009%); THD+N: -115dB (unweighted)
Analog input THD: -123dB @ 2V RMS output level
Dyn. range analog: 127dB (A-weighted)
Dyn. range digital: 122dB (A-weighted)
Crosstalk: -120dB for 1kHz, better than -100dB for 20Hz -20kHz
Output impedance: 22Ω unbalanced
Output impedance: 44Ω balanced
Power consumption: 10W idle / 15W max
Power inputs: 5,5/2,5 mm DC connector centre positive
proprietary FPL 4-pin DC connector (FPL)
22-30VDC
Power adapter: 100-240 VAC to 24VDC
Dimensions: 21,7 x 20,6 x 5 cm / 8.6 x 8.1 x 2.0 inch
(WxDxH)
Remote control: included
Weight: 1,80 kg / 3.97 lbs
Price (EUR/USD): 2.795
For more information please visit: www.ferrum.audio