My Video Review:
When I finished my FiiO BTR5 review, I was so impressed by its performance and overall sound quality in both wired and wireless mode that I immediately sent an email and a tweet to FiiO, literally begging for a DAP the size of M5 or slightly bigger, without any wireless capabilities, but with the electronics of the BTR5, basically wanting a stripped down DAP that would just have one single feature: listening to offline music stored on microSD cards.
FiiO replied that maybe or maybe not a device like that could happen as they started rolling dices in their labs behind closed doors. When official renders of M3 Pro flew online and after seeing some of the preliminary info on it, I was already screaming happily inside myself.
FiiO has a really long history of making great portable DAPs at affordable prices, they are simply one of the granddaddies of the post-iPod era that are keep pushing this industry into the right direction. FiiO has a lot of experience in the DAP world and quite a legacy behind this unit too. M3 Pro is currently the third generation of the M3 line of DAPs. I already tested the first generation M3, its improved all metal M3K was tested as well and the time has come to test the newest release of the FiiO team – the M3 Pro. Some of the tech I wanted is in place, some of it is missing, could this be the true portable DAP that I dreamed about? Let's find out.
Unboxing & Package Contents
FiiO is using its latest packaging with cardboard on the outside and plastic on the inside to protect the contents of the box. The unboxing experience is pretty nice, just slide nicely the cardboard cover and M3 Pro will appear protected by a lot of foam around it. Upon inspecting closely the unit, I see that FiiO already pre-applied a glass screen protector on both sides (front and back) so that is always very pleasant to spot.
Underneath the unit you will find two black accessory boxes, one is full with paperwork as warranty information, quick start guide and open source licenses and another box holds a simple USB Type-C cable that will charge the unit, will transfer songs from your PC or Mac or it will help you use it as a USB DAC with your PC or Mac.
Sadly, this is it, no more clear cases, no more silicone cases, not a single extra screen protector, you will need to buy those separately. When FiiO told that they want to be the Apple of DAPs they weren't kidding around…as most wanted accessories are now purchasable separately.
Design & Build Quality
Now, this is what I call a really portable, really small, easy to carry and easy to put in and out of the pocket device. It is slightly taller compared to their tiny M5 DAP, but M3 Pro is slimmer and much easier to hold in the hand. I actually like its iPod Nano like look, that was still the best DAP design I ever hold in my hand. At first, I thought that FiiO used plastic in this one, but no, it's a full metal cage with only two glass sheets on the front and back. It really screams high-quality once you hold it in the hand.
Gone are misaligned buttons of the M3 and questionable build quality. The buttons have a nice click to them and are not wobbling around. I also like that all the buttons were moved only on the left side and its connectivity is located on the bottom, very easy to remember everything.
I quite like the elongated touch screen that is almost bezel-less, except for that thin chin on the lower part. It actually looks like a miniaturized smartphone.
FiiO added all those small touches from its bigger brothers, for example the FiiO logo and Hi-Res Audio logo are engraved on the metal, under the glass. Overall, M3 Pro has a simple, clean and minimalist look, with smooth lines, rounded metal corners, with a killer matte black color that looks stunning together with that glass on both sides.
At only 70 grams and having a really small footprint, this is what I call a truly portable and pocketable device, way to go FiiO!
Buttons & Layout
M3 Pro is a touch screen enabled device exactly like its more expensive brothers from the FiiO family. It likes to be touched, swiped left and right and as a result FiiO put less buttons on it for an easier operation. All the buttons can be found on the left side, there is your On/Off button, once it is working a single press will turn the display off or wake it up. Volume up is the next button, followed by Play/Pause and by volume down button.
Under all those buttons you can spot the microSD card slot, it can hold microSD cards of up to 2TB in size, theoretically 2Tb because there aren't any released at that capacity.
On the bottom you can spot a small hole, that is actually the microphone so you can use it to record anything in mp3 or WAV format, followed by the multi-functional USB Type-C connector and then there is your 3.5mm (1/8") headphone jack that can also work as a clean line-out if you want.
Display
FiiO went with a really nice IPS panel, I don't see any color shift when I'm tilting it, blacks are nice, colors are saturated, the lettering is detailed, so is the album art. It has quite an interesting aspect ratio, close to 21:9 so it is really good at scrolling long playlists and at browsing music by folder as I am doing.
At almost ~3.5" in diagonal and having a resolution of 340 by 800 pixels, everything looks pretty sharp, colorful and clean. By doing a simple math results a PPI (pixels per inch) of 251, it's respectable and more than enough for such a small, lightweight and entry level device as M3 Pro, you won't be pixel peeping on a $79 unit, right?
Battery
FiiO went with a battery capacity of 1000 mAh that will provide about 15 hours of battery life. Compared to the rest of FiiO devices, that is actually a very good number. It will charge in less than 2 hours, so you can be back to your tunes in no time. It will go lullaby for about 35 days which is quite a lot. To preserve a good battery life, I still recommend turning it off completely when not in use.
The battery life depends a lot on how much screen time, swapping left and right you are doing, the brightness level and most importantly what headphones you are driving and at what volume level. With heavy to drive desktop headphones, at close to maximum volume M3 Pro played for me just a little over 10 hours.
Under the glass of M3 Pro
M3 Pro is not rocking a custom Android OS like its much bigger brothers M11, M11 Pro and M15 are having, it is lacking any Wi-Fi and Bluetooth functionalities, so it was natural going for a weaker SoC and CPU. FiiO has already a ton of experience with the Ingenic X1000E CPU clocked at 1 Ghz that powers the M5 and the older M3K so it was natural using it in this one as well.
M3 Pro doesn't have any internal ROM memory and it is relying entirely on external MicroSD cards, I used a 128 Gb one that worked perfectly fine and theoretically it should support the maximum capacity microSD cards of today. It has 64 Mb of RAM memory and it is quite fine with that small amount since it can't run apps or anything like that.
I'm glad FiiO went with the ES9218P DAC chip from ESS Technologies that impressed me a lot in the BTR5, sadly it is only one chip versus two on the BTR5. What is so special about this chip is that it doesn't need additional electronics as op-amps for the I/V conversion and for the final output stage. Everything is already located in the ES9218P chip, so the signal path is the shortest possible one.
I'm slightly disappointed that FiiO didn't use exactly the same electronics of the BTR5, so dual crystal clocks plus a programmable FPGA is nowhere to be found, the powerful XMOS XUF-208 interface on the USB input is not present as well, plus a single DAC chip was used instead of two. If everything would be implemented, M3 Pro would most probably cost double the price of the actual unit and that would create confusion among the FiiO M line of products, so I'm Ok with the setup they went on this one.
M3 Pro is having a single 3.5 headphone jack, no balanced out for now and it will offer about 75mW of power into 32 Ohms. According to my tests it is more than enough to power all the portable headphones from my stable. Output impedance is a very low one, at just 0.3 Ohm you can be sure that all the damping factor will be preserved for a nice and agile transient response.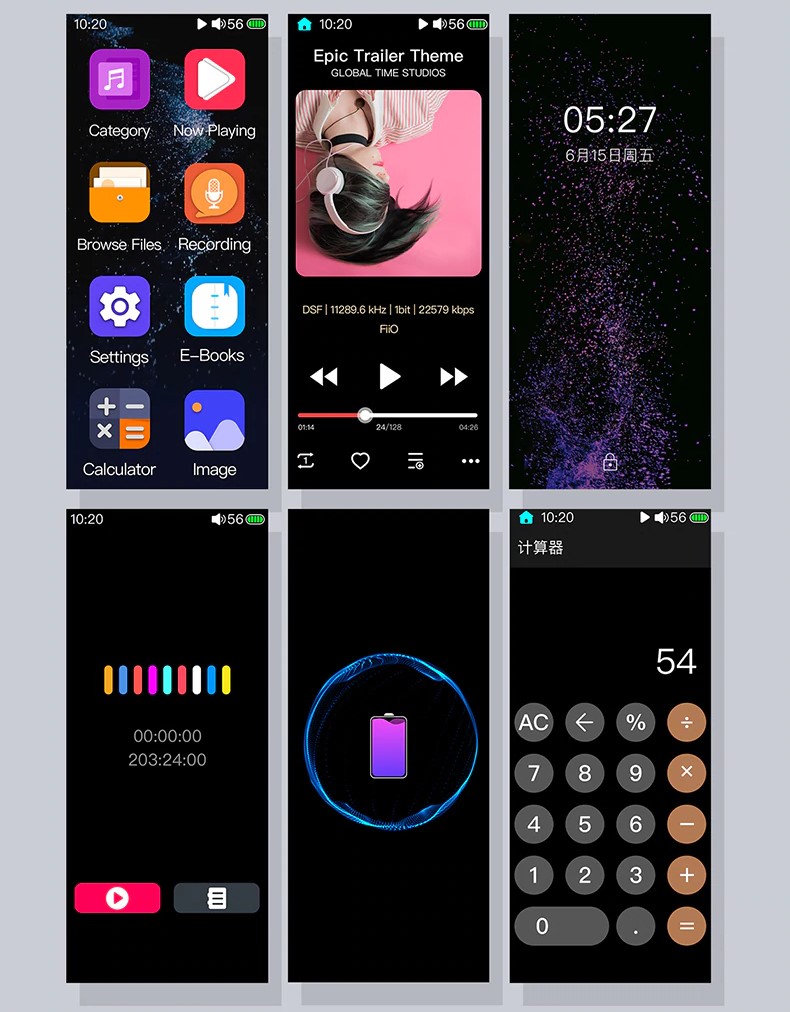 Graphical User Interface (GUI)
M3 PRO together with M5 are having the simplest GUI of any other FiiO device, its much simpler than that of M3K or of the granddaddy M3. FiiO proved that they can design a custom made (Linux-based) operating system that moves decently fast, that is easy to navigate, that looks fresh and colorful.
M3 Pro is a multi-touch device so it is obvious that its GUI was tailored to touches and swipes.
Besides the usual stuff a portable DAP should display on its main menu as Category, Now Playing, Browse Files and Settings, FiiO added some additional functionalities that might appeal to a wider audience. For example, you can use it as a simple recorder, you can use it as an E-Book reader and as a Calculator – all decent features if you ask me. There is a gallery as well, but without any pinch to zoom in or zoom out, I wasn't very excited about that feature. Your smartphone does have all those features already, but I still think M3 Pro feels more interesting and appealing with additional features.
I was pleasantly surprised to find that M3 Pro can also work as a dedicated DAC with your PC or smart device, which was unexpected at this size and price point.
I'm using the latest firmware FW 1.0.9, which still didn't crash on me, it moves decently enough but don't expect blazing fast scrolling or high refresh rates on that screen, it still lacks the speed of M11 Pro and M15 and nobody is surprised about that. Some of the issues on FW 1.0.8 were already addressed and FiiO even added additional functions in the Now Playing screen with the newest firmware.
Sound Performance
I. DAC mode
Most of the FiiO DAPs don't have a dedicated chipset like the XMOS that handles the incoming data stream via USB, that would remove all the incoming errors or jitter for a nice worry-free performance as a USB DAC. BTR5 and M15 have an XMOS interface that makes them work perfectly fine and exactly as a high-performance USB DAC.
M3 Pro does not have such a chipset, so I was kind of worried that its USB DAC function will be overlooked and it would not work blazingly fast as it is on BTR5 or M15. I was actually a bit disappointed by this feature on M5 (at the time of writing) because it moved slower and music would start playing after about one second or two which was annoying to experience.
After installing the latest USB DAC drivers, I was genuinely impressed by its performance as a simple USB DAC. Foobar2000 and JRiver Media Center worked perfectly fine with it, I was able to listen to 16 and 24-bit PCM files natively and most importantly the music would start playing instantly without any stutters, hiccups and without losing the first 2 seconds of all my music. It responded super quick even when I was switching between sampling rates and bit-depth, which again is kind of impressive to experience out of a small and affordable unit like this one.
I'm glad to report that it acts and works fast as a USB DAC, the sound felt slightly clearer when I connected it to the Benchmark HPA4, but I'm pretty sure HPA4 is quite a bit better and more transparent than the amp stage of the M3 Pro, so it surely added a bit of magic in there. The volume is controllable when the DAC mode is engaged, so it actually works as a digital preamp for the rest of your acoustic chain. You can even connect your headphones directly to it and control that volume which I did.
Another impressive thing that I experienced, is that M3 Pro is not picking any USB noise of my PC, at least in my setup, so no matter what I'm doing on my PC, M3 Pro sounded glitch free, without any noise, pops or cracks even by connecting some sensitive IEMs like FiiO's own FH7 and FA9 flagship IEMs.
II. Connected to sensitive IEMs.
FiiO has already years and years of practice, of trial and error when it comes to great compatibility with sensitive IEMs. Their first generation of DAPs weren't that good when it came to rejecting noise and were only decent enough with sensitive earphones. Only recently, after the release of M11 DAP and of their higher-performance IEMs like FA7, FH5 and FH7, FiiO started putting a lot more effort into fighting back all that noise that plagued the listening experience on their older DAPs.
Combine the lowest noise floor FiiO has ever recorded with their DAP of less than 2 μV of noise and a THD of just 0.001% and you could almost imagine how clean is the background of the M3 Pro. From the entire M line of DAPs only M11 Pro and M15 has slightly better specs in terms of noise rejection! When I connected FiiO's own FA9 and FH7 IEMs, no matter the listening volume, the background would be always very clean, simply put it was one of the cleanest I ever experienced in my life, think Benchmark HPA4 clean ($3000) connected to a TOTL DAC. I'm dead serious, I've tried a lot of music with it and there is an absolute silence between passages. A black noiseless void of nothingness even at maximum volume level is all I've heard. M3 Pro is not only their most affordable DAP, but also one of the best DAPs in their portfolio to use with sensitive IEMs.
In terms of output power with IEMs, the highest I can go is 33 out of maximum of 60, with some of the best recordings I can go up to 35 for the same SPL. There is a ton of headroom left on tap so I'm more than confident that M3 Pro could easily drive any multi-driver IEMs with ease.
III. Connected to portable over-ear headphones
Sennheiser Momentum 2 (over-ear) and Meze 99 Classics are both quite close in terms of power requirements and overall sound signature, offering a thick midrange at the cost of a slower transient response especially in the bass department. Highest I can go with them is about 42 with regular recordings or at about 45 with high dynamic range tracks. Mind you, this is the maximum volume not my actual listening levels. Headroom again felt bottomless, background was clear and really dark, M3 Pro offered a pretty nice grip over those mellow sounding drivers. M3 Pro made them a bit snappier and crisper sounding, a bit of upper treble awakened in the process as well. The slight mellow nature of both headphones was almost cured. Both headphones could still offer more than that, but hey, at just $79 M3 Pro already proved its value for the third time in a row.
I'm glad FiiO engineers went with a reference tuning on this one and by that I mean linear and quite neutral from my perspective, in detriment of a warmer and much smoother tuning that Shanling went with their Q1 DAP – that by the way uses the same ES9218P DAC chip. I felt that M3 Pro doesn't want to make your headphones smoother, warmer or colder sounding, it will leave their personalities intact and you will be mostly listening to your headphones than to the DAP itself.
IV. Connected to desktop and low sensitivity headphones
This was an experiment from my part that I did mostly for fun, but soon after connecting two big planar-magnetic headphones to it, the smiling face transformed into a serious one.
Both Quad ERA-1 and those extremely large and heavy Erzetich Phobos headphones are not your typical dynamic headphones, these are not easy to drive and if I want the best out of them, only desktop power could provide the best dynamics, details and airiness those two could provide. At about 50 volume out of 60, M3 Pro was able to offer all the loudness I wanted with both headphones. Headroom that was left on tap wasn't that impressive anymore, stage took a hit as well, dynamics were not kicking the same way I know them to sound on pricier equipment. However, it sounded more than decent enough for me, I had all the volume I wanted, sure it lacked the finesse of a well-engineered output stage and the absolute grip of a much more powerful amplifier, but it didn't lack at all in the detail department. Top end was felt quite crisp and defined, cymbals and tambourines didn't feel shy at all, leading edges were clear, the contour was quite sharp and clear too. I have experienced a decent performance considering its size and power output.
Only when I moved to heavier tasks as Hifiman Arya and Audeze LCD-4 it was clear that even maximum volume wasn't enough to offer a satisfactory experience. This shouldn't come as a surprise as M3 Pro was developed only for portable headphones and IEMs. However, with all that said, seeing how it performed with first two planar magnetic headphones, I'm inclined to say that it should work admirably with most of the desktop dynamic driver headphones like HD6XX line of headphones from Sennheiser or with Beyerdynamic DT line (except for the 600 Ohm ones).
What was a bit weird to me, is that M3 Pro felt a bit more powerful than the BTR5 on the 3.5mm jack as the later one shined mostly on the balanced output. M3 Pro doesn't offer any gain settings and maybe that is for the best, since I don't like when manufacturers are using (fake) digital gain just to impress headphone enthusiasts.
V. Frequency Response
FiiO went with the same reference tuning they applied to the BTR5 and that is a very good thing in my book. M3 Pro will sound smooth or warm, only if the track is recorded that way or if your headphones are sounding like that, otherwise M3 Pro is all about neutrality and linearity and that is very obvious even at the first listen.
Sub-bass was felt pretty good, having a decent detail and depth, but it wasn't going down to the lowest octaves and I'm blaming the weak amplification that simply cannot move air in that region. Bass felt clean and quite transparent, it was far from muddy or slow. It was quite defined and present, outlined from the rest of the sounds. Muddiness actually never happened on this unit and I'm quite pleasant to experience a very low channel crosstalk for a decent soundstage size and air around the notes. It sounds considerably bigger in size and airer than my Xiaomi Mi 9T Pro for example, I can listen even to cozy jazz records without experiencing any claustrophobia as it happens via my phone.
Midrange shines and is felt having a decent amount of presence, I felt it natural, voices felt guttural and defined. There was a very clear difference in pitch between female and male voices so I consider it more than decent in the midrange department. I listened to some older rock recordings and I felt that the soul of that music remained intact, everything was in the right place. Guitar plucks felt defined, clear and vibrated clear, I was quite impressed by the snare drum that had a pretty good slam and impact. I wouldn't lie saying that I started headbanging and I simply disconnected for few minutes from the world around me.
Treble had that bite and zing that I'm searching with my reference recordings. Compared to the best of the best DAP that cost 15 times the price of M3 Pro, the small guy losses just a bit of extension past 15 kHz, but not a lot of it, the leading edge is not the most defined and clear one, but it is far from blurry and veiled either. Generally, I'm listening to a lot of treble intensive music and I've heard smallest low intensity sounds on this one, I've felt those shimmers, the micro-details were there too, what I couldn't find at all on this one – was brightness and listening fatigue. FiiO has already a good relationship with ESS Sabre designs and learned how to fight back its cons like fatiguing treble or dry midrange. Luckily, M3 Pro has nothing of that, it sounds quite detailed, airy, carries a nice punch into the eardrums and is very good at managing the bright levels. I consider it having a close to perfect tonal balance, there is everything in right doses, nothing felt better or worse, there aren't dips or rises in the FR, everything worked as a team for me and the overall musical performance felt complete, enjoyable and trouble-free.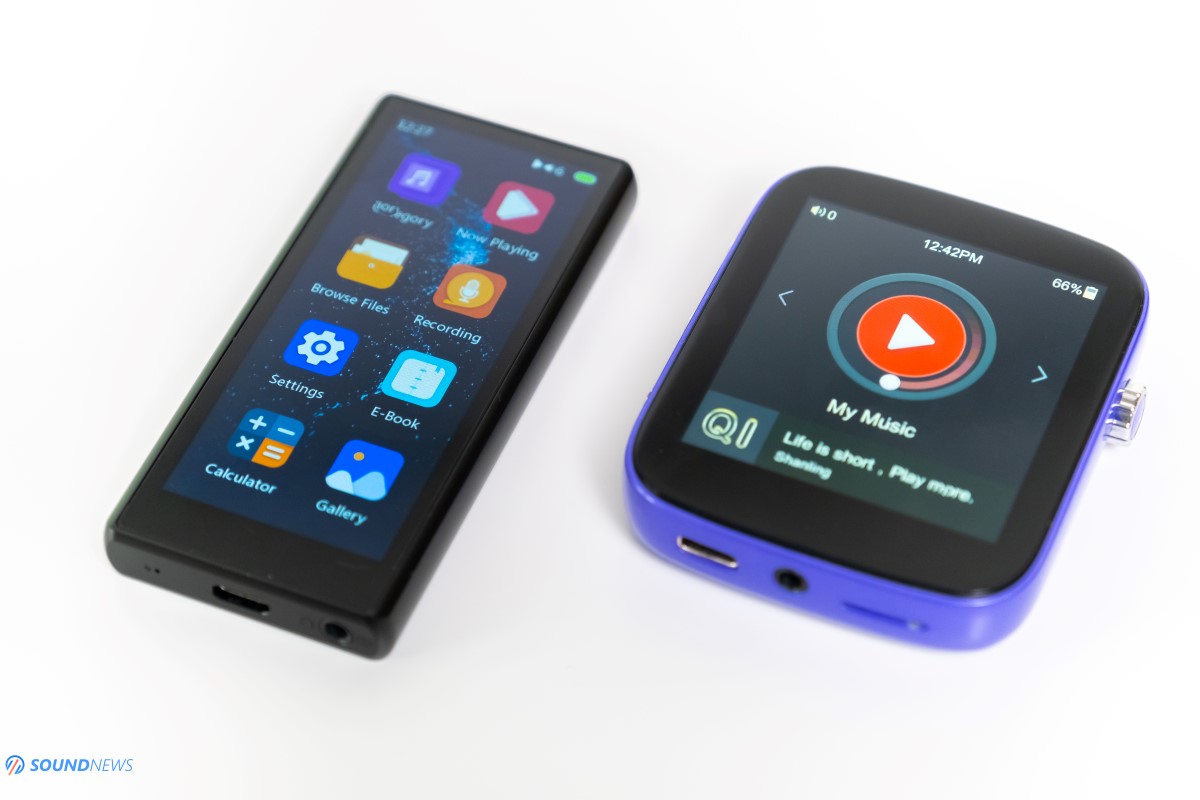 FiiO M3 Pro ($79) VS Shanling Q1 ($119)
When I tested the Q1 about half a year ago, it felt very unusual to me considering that ESS Sabre all-in-one SoC, if felt weird calling an ESS design natural sounding, super smooth and warm at the same time. Usually I would attribute words as sharp, linear, honest and extended to such digital creatures.
Shanling used a special zinc alloy body in combination with a thicker layer of paint and as a direct result Q1 is considerably heavier to the M3 Pro, actually it is twice as heavy, at more or less the same foot print. I like that Shanling went with a volume wheel that is always a pleasure to turn and touch in a portable DAP. Q1 looks more like a square and M3 Pro has an elongated body, both are looking nice and I will leave you being the final judge when it comes to design. One thing I want to add is that Q1 is quite slippery in hand and I'm always thinking that I might drop it, it simply begs for a rubber case, otherwise dropping it is only a matter of when and not a matter of if.
In terms of tech, Q1 is using exactly the same DAC chip, almost the same power ratings, 75mW VS 80mW is the same power output to me. Q1 has few additional features over M3 Pro, it can work as a Bluetooth sender and also as a receiver, it supports most of the newest Bluetooth codecs as AptX and LDAC so you can connect a wider variety of wireless headphones to it. In its defense M3 Pro is having a calculator, a voice recorder, a picture viewer and an E-Book reader. To me, those Bluetooth functionalities are more important compared to the features of M3 Pro, but do remember that Q1 costs $40 more.
In terms of sound quality, considering that both are powered exactly by the same DAC chip, that also works as the I/V stage and the final output stage is in there too, it was very weird for me spotting a quite different approach to music reproduction between both devices. Shanling went with a much smoother sound tuning, offering more midrange presence, its mellower sounding too with a slower transient response. It sometimes gave a feeling that upper treble is more rolled off on this one compared to M3 Pro. Rarely I would spot a thin veil over my music with Q1 that somehow makes bad mastered music sounding better. M3 Pro is more honest sounding somehow and will not make your music prettier, better or worse. Q1 felt more Hi-Fi somehow, more relaxed, very easy to listen to in the long run, without any listening fatigue. On the flip side, Q1 is not that impressive with faster beats or with aggressive type of music, even electronic music lacked the kick and impact I so crave about.
M3 Pro is very different by not enhancing the midrange at all, as a direct result both frequency extremes as sub-bass and upper treble felt clearer sounding, more defined, better outlined on every track. It carried a faster pace too, so my electronic music had a better kick, it impressed a lot more with aggressive music as rock or metal too. M3 Pro doesn't throw a thin veil over your music, so if it is recorded bad, it will not make it better sounding. M3 Pro is more studio like, than Hi-Fi and in my view, it stays truer to the original recording and to the original intent on the mastering engineer.
Both are quite interesting sounding DAPs, but clearly have different tonalities. I know that subjective opinion plays a big role here, so I will not leave mine and I'll leave you being the main judge which one appeals more to you and which one is not.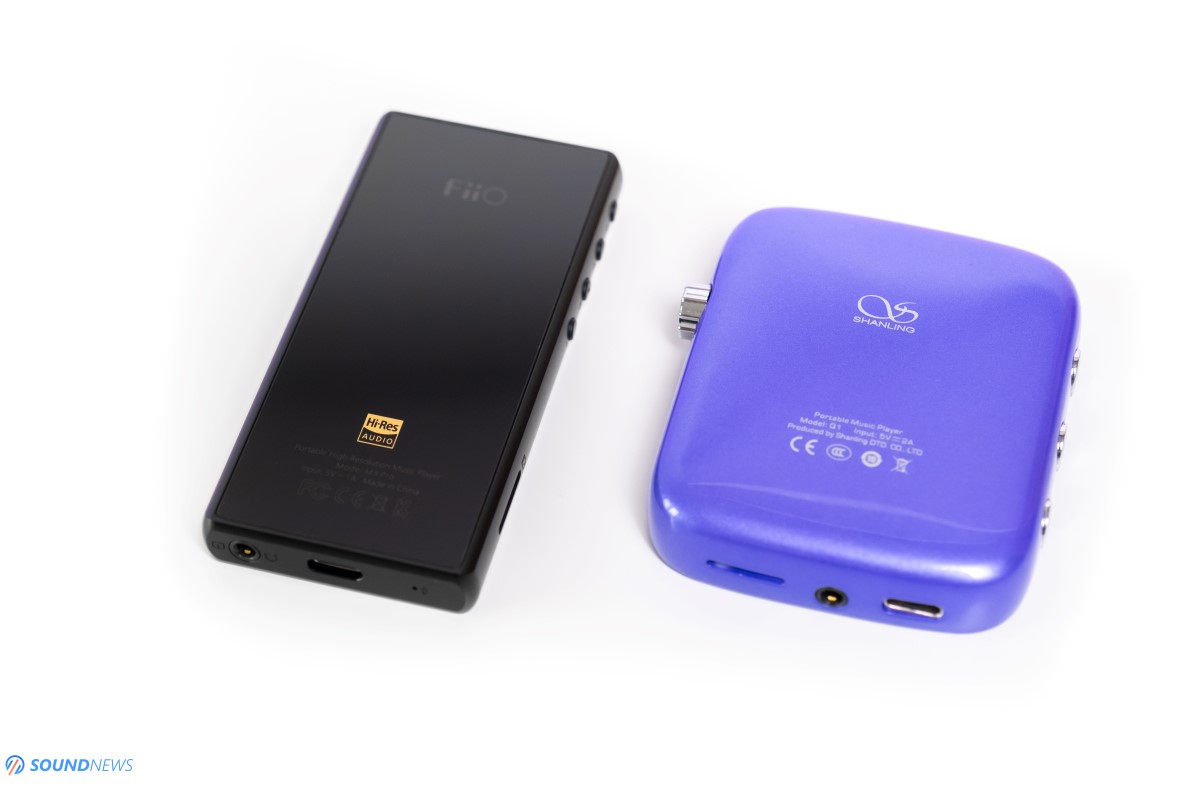 Conclusion
In the end, I experienced a user-friendly interface that moved decently enough, it was a delight using ultra-sensitive IEMs with this small wonder, usually you would need an expensive DAP for that to happen, but not anymore. Power wise at half volume it moved those FA9 and FH7 like they were nothing, so any multi-driver IEM should work no problem with it. Hell, even some huge planar-magnetics like Quad Era-1 and Erzetich Phobos worked above my expectancy, offering enough headroom, a decent punch and stage size.
If listening to offline music with your portable headphones or sensitive IEMs is still appealing to you, at $79, FiiO M3 Pro proved its value multiple times already. I wholeheartedly recommend it for a neutral, linear and quite detailed sound performance that will not break your bank.
PROS:
Small, lightweight and really portable device
Durable aluminum alloy body with scratch resistant glass on both sides
A very neutral sound with a balanced frequency response across the board
Decent stage size, sounds deep and airy with the right tracks
Unexpectedly good detail retrieval
Transparent sounding, free of any grain or veils
Completely noise-less headphone out, works great even with ultra-sensitive IEMs
Can work as a DAC via USB-C with your phone or computer and it's a very good at that
Some additional features were added to it appealing to a wider crowd
Amazing value!
CONS:
No Bluetooth capabilities
Limited power output for bigger headphones (I'm nitpicking at this point)
ASSOCIATED EQUIPMENT:
Sources: Xiaomi Mi9T Pro, Corsair One i160
Bluetooth receivers: FiiO BTR5, BTR3K
DACs: Matrix Audio Element X, SMSL M200, Denafrips Venus, Musician Pegasus, Audio-GD R7, Flux Lab Acoustic FCN-10
Preamps: Benchmark HPA4
Integrated Amps: KECES E40, Hegel H190
Power Amps: KECES S125
Headphone Amps: SparkoS Labs Aries, Benchmark HPA4
Loudspeakers: Buchardt Audio S400, KEF LS50W
Full-sized headphones: Audeze LCD-4, Erzetich Phobos, Hifiman Arya, Quad ERA-1
Portable headphones: Sennheiser Momentum 2.0, Meze 99 Classics
IEMs: FiiO FA9, FH7, Hifiman RE600s V2
Interconnects: QED Reference XLR, Aune AL3 XLR
Power Cables: Isotek EVO3 Premier (x2)
Speaker cables: Kimber PR8, Audioquest Type4
Balanced Power Conditioners: PLiXiR Elite BAC 400, KECES BP-600