Moondrop KATO Review – Mid-Fi at its Best!
My Video Review:
I still remember when IEM makers were trying to squeeze as many BA drivers in their creations, some squeezing as much as 24 drivers per side, yet Sennheiser drops the curtains on their top-dog single-driver dynamic IEM, that put them in the race for the best sound on the go. IE800 brought to the surface innovate patents that are still being used today by IEM makers around the world, reminding that simplicity is the ultimate sophistication.
MoonDrop Technology Co LTD is a fairly new company, established in 2015, in a short lifespan releasing more than 26 products. Nowadays their portfolio is quite impressive and you can choose from affordable earbuds to high-end IEMs and if you are a cable believer, they've got you fully covered. Back in 2019, they released their flagship single-driver dynamic IEM, calling it KXXS that was notorious for its natural tuning and easy-going presentation. Next year they released a much more affordable Starfield, which borrowed design cues and core technology from its flagship sibling, which (as you can guess) is still a single-driver dynamic IEM, that carries the same life-like tuning. After two years of trial and error, Moondrop releases a new single-driver flagship, calling it KATO, which stands for KXXS Advanced Technology Optimized, that uses a new generation ULT (Ultra Linear Technology) dynamic driver, that has more power and less distortion than the original KXXS.
Today I will be focusing my attention on their newest single-driver wonder that goes for $189.99 Are they worth it? That's the big question which I'll try to answer today. Let's unbox them first, check them out and listen to a lot of music.
Unboxing Experience
Moondrop prepared an outstanding unboxing experience, double boxed isn't a luxury anymore, but a norm in the Hi-Fi business and that's exactly how it should. Gently slide its sleeve and a matte-black box, two doors and a world of unknown would appear in front of you, adding some mystery to the whole affair. After opening its doors, two thick cardboard sheets are offering some useful information on how to install the cables and insert the IEMs into your ear canal. There is a quick start guide, a Moondrop post card and some contact information.
Everything else is being carefully arranged in three compartments. The one to the right hold the IEMs themselves and their detachable cable. On top a hard case can be spotted that feels great to the touch, it's padded with a velvety texture, protecting your precious IEMs from the outside world. The biggest compartment carries a soft pouch, a metal plate that houses two interchangeable nozzles, something that I've seen on a few FiiO IEMs by now and there's a plastic case that holds 6 pairs of ear tips. There are 3 pairs of memory foam or silicone (spring) tips, coming in 3 different sizes. I find them comfortable in long listening sessions, without leaking sounds outside, resulting in an outstanding low-end performance. Moondrop developed their own tips that are called Spring Tips, which according to them, would significantly lower distortion for a more natural sounding timber in the highest frequencies. Apart from that, a reinforced rib design prevents bass loss caused by sound leakage. I will be measuring both ear-tips in the later stages of this review, color me very interested.
Design & Build Quality
Looks is always a very subjective thing, but in my opinion, these are looking very well, reminding me quite a lot about their Starfield that I've reviewed more than a year ago. Moondrop is offering two case options, it's either a polished stainless-steel that looks more like a mirror or you can go with a scratch-resistant matte-steel body, that seems powder coated, looking less impressive on the first glimpse, but ensuring a longer service life.
I've got the mirrored finish, that according to Moondrop, adopts a modern aesthetic design that combines light and shadow, borrowing design elements from their Kanas and KXXS models. Every single KATO is hand grinded and polished and then powder coated that creates an impressive mirrored look. They feel quite heavy in the hand, these are really among the heaviest IEMs I have tested around here, making a successful first impression. It has smooth lines, a rounded body, the body surface is slippery and that adds a lot to the comfort level. You can clearly see the spot where the steel cover was attached to the rest of the body, but that doesn't bother me at all.
Since it lacks multiple BA's and a complicated crossover, it has a medium sized body, never sticking out too much. Speaking about that, if it gets direct sunlight, it will redirect it back when looking from different angles.
It is already a common practice eliminating the air pressure between the ear canal and the IEM body, Starfield is having two small holes on its body that will eliminate that air pressure. That trick right there enhances comfort levels and I happy to see this applied even to entry-level IEMs.
The IEM has a standard sized metal nozzle (~5.6mm in diagonal), so most third-party ear-tips should work just fine. I've tested several Spin-Fit, silicon and Comply tips and all of them worked nicely.
Cable Quality
KATO's detachable cable is one of the thickest I've encountered with personal audio. Its luxuriant and quite beefy, but that didn't make it stiff. Its flexible enough and rubbing it against my clothing didn't raise microphonics to alarming levels, strengthening the idea that it's a well-made cable in the first place. It uses high-purity copper wires that are silver-plated in a 4-core stranded geometry, which reduced the skin and proximity effect (microphonics). Its 0.78mm 2-pin connectors are gold platted and the same can be said about its 3.5mm headphone jack.
Tech Inside Moondrop KATO
KATO is a single driver dynamic IEM, based on the 3rd generation DLC (Diamond-Like Carbon) Composite diaphragm. It's a composite driver, which utilizes three distinct materials that are having different acoustic properties. This is a highly rigid and extremely lightweight driver that improved the damping factor compared to its predecessor.
KATO uses a custom 10mm ULT driver that is being developed for about 2 years now. It includes a more efficient composite magnetic circuit, a larger acoustic cavity that's made out of brass, plus a lighter CCAW voice coil is also being used in here. According to Moondrop, this newly developed driver will show excellent dynamics and abundant details, providing an excellent performance in both non-linear and linear distortion
Having a single driver in there, means that a passive crossover was completely bypassed, fully preserving the signal in its purest form possible. KATO has an impedance of 32 Ohms and a sensitivity of 123 dB per 1V Rms, suggesting that these are quite easy to drive. Obviously, dedicated audio sources as Bluetooth dongles, portable DAPs, DAC/Amps and desktop setups would further improve their performance. Make sure to use a cleaner sounding DAP, as they are quite prone to noise from the source. I will be measuring them in the latest chapters of this review, so make sure to read until the end for a detailed measurement analysis. Until that happens, let's hit some eardrums and check them out!
Sound performance
I. Preliminary Sound Impressions
If you going through their marketing materials, there an impression that these are the best IEMs that ever saw the light of the day, as if Apollo himself blessing these from Mount Olympus, sending goose bumps all over your body even before inserting them into your ear canals. Jokes aside, after listening to them for a few days and trying different sources, amplifiers, portable and desktop units…I started to understand them better and all the choo-choo hype train behind them. When I've reviewed their Starfield about 2 years ago, I was taken back by their immaculate build quality, but I remained impressed by their cohesive, natural tuning and by their excellent measurements. At that price point, no other IEM approached their technical and subjective performance, I really liked everything about those, except for a slight ringing in the upper treble, that was bothersome with treble intensive music.
Unsurprisingly, with KATO I'm getting a very similar vibe. If my using their Spring Tips, there is an excellent sub-bass definition, there is weight and fullness down low, there is plenty of meat in the midrange department and there is plenty treble even past top-octave, but treble glare is nowhere to be spotted. Before getting the KATO, my absolute favorite ear-tips regardless of IEMs were always memory foam tips. I've tried many brands by now and all of them sounded fantastic, offering zero leakage and an enhanced sound performance. Never I have believed that someone could develop some nicer sounding ear-tips that are even more comfortable to wear.
First of all, Spring tips are one of the softest tips I've used, they apply little to no pressure and aren't rubbing aggressively against my ear canal. I don't need to squeeze them before inserting deep, they aren't getting stiff when I'm getting outside, these aren't making sweaty ears either. Long story short, these are the most comfortable ear-tips that I've used up to this point and I will probably get a few more for my other IEMs. Besides that, there is indeed a lower distortion with them, as I can listen to my music much louder without being bothered by a higher SPL and lastly, they are calming the top-end compared to the memory-foam tips, so I can listen even to the angriest heavy metal without clenching my teeth.
With Spring tips, everything seems arranged perfectly in the frequency response, covering it completely, without getting dips or rises anywhere. The sounds are coming precisely at the same time in a natural way, without raising distortion levels. These are sounding extremely cohesive and natural, to a point of calling them linear and extended, exactly how a top-grade IEM should perform and, in all honesty, I don't think there is a full-sized headphone that could challenge their technical and subjective performance. There is little to complain about them, except for a few things that will be revealed very soon.
II. Power Requirements
It is a little unusual seeing their sensitivity being measured at 1V RMS of power instead at 1mW of power, how most IEMs and headphones are being measured around the world. At first, you might think that with a sensitivity of 123 dB per 1V RMS, these should work just fine out of anything that has a headphone jack, including low-power smartphones, but that wasn't really the case. 1V RMS at 32 Ohms equals around ~31mW of power, leading to a sensitivity of around ~109 dB per 1mW of power. KATO are far from being the most sensitive IEM from my collection and I don't find them very easy to drive. They actually need a little bit more power compared to some desktop headphones, like Apos Caspian or Kennerton Gjallarhorn, which is a little unusual, but understandable, given that a much smaller driver would work harder in achieving the same SPL compared to a bigger driver. With all that said, these are still small and portable IEMs, so don't worry that much about their power requirements, as even common audio sources as smartphones, tablets and laptops can drive them adequately.
My smartphone still has a headphone jack (Thanks Odin!), presumably a Hi-Fi DAC too (which I seriously doubt) and at around 90% volume wise, I started toe-tapping – a clear sign that there was enough volume on tap. With a Surface 7 PRO there is slightly more headroom and I couldn't go higher than 80% power wise. In the end, Kato aren't exactly power hungry, but will definitely sound nicer out of dedicated audio sources, that could offer more juice for better dynamic swings and for a nicer low-end control.
When I moved to several portable DAPs as FiiO M11 Plus and Shanling M6 V21, things improved considerably, especially when it comes to detail retrieval and noise levels. While my smartphone sounded like a good starting point, it felt like opening a Pandora Box with dedicated DAPs. Everything felt crystal clear, while dropping noise to inaudible levels. Small USB dongles as Shanling UA2 worked very well, Bluetooth thingies as FiiO BTR5 and Qudelix 5K were also quite impressive. Plenty of headroom remained on tap with them all, infusing just a nicer engagement factor compared to a laptop or smartphone. I tried them on several desktop setups and they sounded similar as they did on the go.
III. Transient Response
KATO is a dynamic IEM that relies on a medium-sized 10mm driver, that is pushing the sound waves into your ear canal. In my view, these are sounding natural and life-like, focusing mostly on the macro-dynamics, on the texture of the musical notes and less so on technicalities. You already know me well by now, give me some speed and hard punches down low and I'll be immediately impressed. Transient response is one of the most important aspects when I'm listening to music, as I cannot listen to anything if it puts me to sleep. KATO will be providing as much bass information as you can desire, without being mean, aggressive and hard slamming. They don't have a need-for-speed, so don't expect a lightning-fast approach of music reproduction like that of all-armature or hybrid IEMs. While I really enjoyed my time with some electronica tunes and I could listen to that for hours at not end, they never sent my ear lobes flapping in the air and I missed some viscerality and authority down low, that high-end planar-magnetics are providing so bravely. I like a lot of things about the KATO, especially their tuning, but at $189, I don't think you can have them all. Transient response was just fine, sometimes even great, but it will not impress a transient nut as myself and this is one of the less impressive things to write about them.
On the plus side, their low-end delivery lacked any form of distortion even at much higher volumes, I could go higher to my usual levels and still, noise floor or distortion wouldn't make an appearance. Their outstanding bass performance did help quite a lot, but they were still lacking a mean attitude that I was looking for, but offering a relaxed sound, pushing me to the back stage of a rock concert.
IV. Soundstage & Depth
If you look closely, KATO has two holes drilled in their body. One is moving excessive air remaining in the acoustic chamber and another one moves unwanted pressure from your ear-canal. When that energy goes outside, distortion levels would also drop, adding some transparency and cleanness to the final performance. While I can't say that KATO impressed me with a vast and incredibly wide soundstage, I was surprised by their depth and perfect note positioning around my head. KATO still sounded like everything happened inside my skull, but all that was perfectly arranged, never interfering with other notes or bumping into each other. There was some order and a decent amount of space between the notes, creating a really imaging.
KATO can't match the openness of semi-open IEMs like FiiO FD5 or FD7, but they can still sound decompressed and effortless, never mixing notes together into an amalgam of sounds and noises. They were still untangling my music, sounding by a hair bigger to entry level IEMs like IKKO OH10 or Meze Rai Solo. Please don't expect music flying above your shoulders, being completely enveloped by it, as that can't happen with drivers sitting millimeters away from your eardrums. However, you can expect a decently sized stage that will be offering you an effortless and comfortable listening experience.
I just finished listening to Nirvana's 25th Anniversary Unplugged In New York and KATO put me exactly where I wanted to be: in the front row with the musicians playing only for me. The whole experience felts soothing and relaxed, acoustic instruments always shined on the KATO, they fully conveyed their wooden bodies, their longer decays and gentle transients. This album worked extremely well with them, skipping their cons and highlighting their best parts. The crowd always felt behind me, putting me much closer to the musical performance, strengthening the idea that KATO is indeed quite an intimate sounding IEM.
V. Detail Retrieval & Transparency
KATO might not impress you at first with their technicalities, but as you spend more time with them in the company of a nicer DAP or desktop setup, you'll start appreciating the way, those notes are coming towards you. While I don't feel strong leading edges or sharp contour of the notes, all that energy flows easily and naturally into my ears like a mountain spring. KATO isn't forcing all the micro-details, it's never highlighting them aggressively, never stopping from what you're doing while listening to music. All those nuances are just coming out of shadows, never moving the spotlight towards them.
After listening to hybrid and all-armature IEMs for a few weeks and then moving back to KATO, the very first thought is that something is missing, as contours aren't that clean and defined anymore. However, in a few minutes you'll start appreciating its ability to put more meat on the bone, as you are no longer listening to an empty shell, you can now feel the weight of the music and air travel much easier. In absolute terms, KATO wouldn't knock you down with an outstanding detail retrieval, but it will impress in the long run the way those details are presented to you, always sounding organic and life-like. KATO wouldn't outperform detail-oriented IEMs, but they will still show you a higher degree of subtleties and nuances. Once you go with Spring tips, distortion goes out of the picture and you can feel surrounded by music alone and nothing more. That thought alone is more important than all the micro-details combined. KATO is lacking a crossover and that improves its timing, lowers distortion and adds some comfort in long listening sessions. I still find their drivers quite capable, covering the frequency range in full, never raising or dropping a region and scaling well with a clearer sounding source and amplifier. When it comes to dynamic only IEMs, KATO is up there with some of the nicest units, focusing mostly on the big picture and less so on individual technicalities.
VI. Frequency Response
Regardless of the ear-tips that are being used, KATO covered the frequency response in full, even starting with the lowest notes and finishing with the highest octaves. Tonal balance was absolutely phenomenal and I wish all higher priced IEMs would sound so real and cohesive.
A. Bass
KATO can be described as having a near-perfect bass reproduction and that isn't an exaggeration from my part. Forget about a roll-off in the bass, as everything comes forward even starting with 20 Hz. I'm into all kinds of experimental and underground stuff, most are mixing electronica with traditional instruments and that puts a huge burden on mediocre sounding earphones. That wasn't an issue with KATO, as they provided everything from A to Z. They shined with bass intensive music, putting its low-end by a few dB higher to anything else in the FR. Bass notes were clear, defined, textured and heavy-weight, but never muddy and distorted. They kept up with my usual electronica, pushing to the limits its dynamic drivers. I can't ask for more from a tiny caliber like this, a job well-done!
B. Midrange
Its midrange was fuller, warmer and smoother sounding to usual hybrids or armature-based IEMs. There was plenty of soul in my music, grabbing and teleporting me into my world, where I could be anyone I wanted. A violinist, a soprano singer, maybe a guitarist or a trouble maker put on a drum kit. KATO infused enough warmth and texture in the midrange, without overdoing it too much. Everything came and decayed naturally, voices sounded real that I've hummed the lyrics together. Its midrange felt exactly on the same level, never lower or higher in intensity, never attracting too much attention, nor going out of the picture. It was always present in right doses, winking from time to time reminding about its linear midrange performance.
C. Treble
Their treble performance is highly depended on the ear-tips that you'll be using. If you want a more natural and organic music reproduction, putting less accent on the top-octave, then go with their Spring tips. If you like your trebles sparkly, biting from time to time and making known their presence, then go with memory foam tips. I've enjoyed both, but Spring tips made my rock and blues tunes more manageable in the long run. The usual glare and artificial texture of armature-drivers is completely bypassed, there is detail and a lot of presence even past 15 kHz, but you'll never find them fatiguing in longer music sessions. While I really like my FiiO FH7 hybrids with fast impactful tunes, they can get a little tiresome in the long run, something that KATO never did in a 7-day period. They offered a refined top-end, lacking bloat and completely bypassing distortion.
Overall, Moondrop achieved something that no others did for me: a linear frequency response top to bottom, never rolling-off early and presenting as much information as possible to the listener, covering our hearing abilities in full.
VII. Detailed Measurements
Alright folks, after offering my full-blown subjective opinion, it's time putting them under a magnifying glass. When it comes to measurements, I have the highest confidence in the Benchmark HPA4, as it is as linear as headphone amplifiers could ever be and I have resumed at using the SMSL D1SE as the main DAC for the job. The measurement rig used was the MiniDSP EARS calibrated with IDF (IEM Diffuse Field) compensation files. Do note that MiniDSP EARS is not following IEC standards, meaning that my readings can't be used as reference measurements or anything like that, I'm doing them only to get a general idea about their sound signature.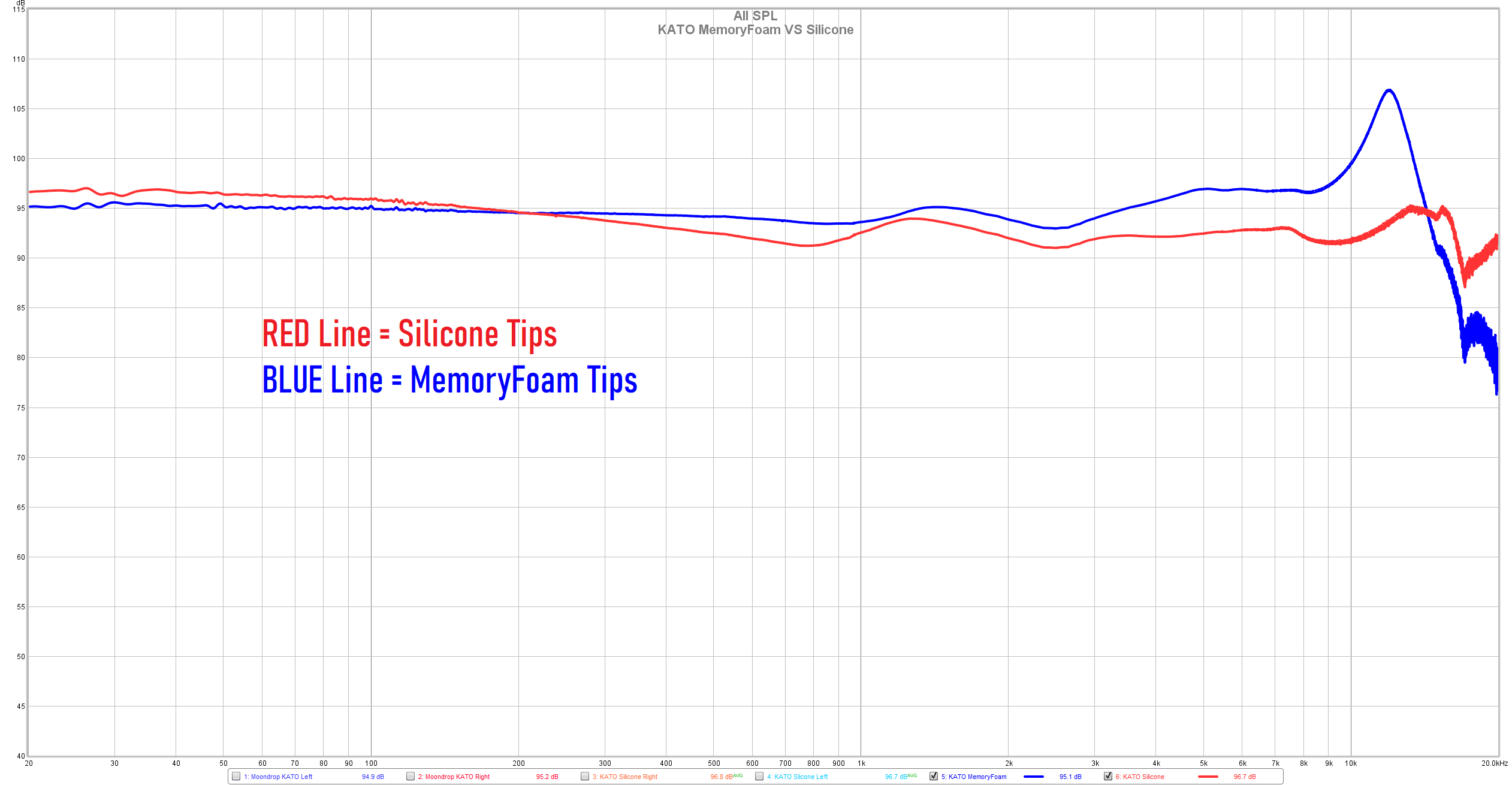 Probably the most important reading is a raw frequency response reading of its memory-foam and spring ear-tips. Wow! What a substantial difference! Notice a huge rise of around 12dB in the ~13 kHz region with memory foam tips, that is nowhere to be found with Spring tips. This is a very big deal, as Spring tips are measuring outstanding, something that I can't say about the other tips. Now look closely what happens above 15 kHz, memory foam starts rolling off early, while Spring tips are still maintaining momentum even past 20 kHz! If you want the absolute best performance, then please use its Spring tips. I'm beyond impressed by the outcome, this is great engineering right here and I don't recall ever measuring such a flat line before.
I wanted to check if there is a notable difference between their stainless steel and brass nozzles, while using its Spring (silicone) ear-tips. As you can see, the difference is quite minimal, there is just a higher emphasis on the sub-bass region with the brass nozzle and everything else is pretty much the same. Calling all bass-heads out there, brass nozzle is definitely for you.
Their Total Harmonic Distortion (THD) reading is good, but not exactly outstanding. It sits somewhere between 0.1 and 0.2% most of the time, raising slightly above 1% in the sub-bass and upper-treble territory, a common view with dynamic IEMs.
Spectral decay looks good, after sending a 300 Hz sweep tone at 94 dB, it drops to 55 dB after a short time frame of 160ms, strengthening my claims that this isn't a super-fast driver, decaying at a slower pace compared to hybrid or all-armature IEMs.
Waterfall combines the FR plot and decay into a single graph and you can clearly see that beautiful frequency response that is covered in full. Yummy! I wish all IEMs would look so beautiful in here.
Spectrogram shows some unwanted ringing of the driver/metallic body in the 30 Hz region, which is a common thing in IEM design. Apart from that, the drivers are perfectly controlled throughout the entire FR.
So far, I've recorded an outstanding frequency response reading with spring tips, a minimal distortion and ringing of the drivers and a decent decay that could be improved in the future. These are extremely cohesive and linear in the FR, something that I don't remember seeing on other IEMs. Honestly, I'm quite impressed.
Conclusion
To be fair with you, if I'm overlooking its mediocre transient response and average stage size on all axes, then Moondrop KATO is easily the best IEM I've heard and measured under $200. It sounds so cohesive and right from the get go, that I don't see the added value of much pricier IEMs. You'll get more accessories, fancier cables and maybe a better build quality, but better sonics? I'm not so sure.
With KATO, there is a sense that everything is located exactly where it should, having just the right intensity, texture and energy. While they are powered by a single dynamic driver per side, they fully covered the frequency response, recording driver movements even below 20 Hz and way above 20 kHz, putting to shame several pricier multi-driver IEMs. There is no need to compare the KATO with similarly priced IEMs as Meze RAI Solo, IKKO OH10 or FiiO FH3, as KATO sounds and measures better.
Those Spring tips were so impressive, that I feel like buying a bucket for the rest of my IEMs and I'll probably do so in the future. Finally, someone came-up with a better sounding and more comfortable ear tip compared to Comply and Spin-Fit that achieved legendary statuses in the past.
KATO wants to be remembered as life-like and organic sounding, very close to the real thing. Their natural tonality bypasses notions as system matching, but please uses dedicated audio sources for the best results. It is my pleasure to recommend the Moondrop Kato as a great sounding / measuring IEM at such an affordable price and it would be unfair without awarding it our highest Gold Award. Congratulations to the team and I'm looking forward to their next doings!
Moondrop KATO was kindly provided by ShenzenAudio and it can be purchased from their web-store by following this link and please don't you worry about your location as they are selling it world-wide. In case you get one, please come back and leave some feedback below. I'm dying know if you like them or not.
PROS:
Cool unboxing experience, was surprised by the cable quality
Rock-solid build-quality
Very comfortable in long listening sessions
One of the most natural and easy going presentations
Extended frequency response at both ends, without getting dips or rises
Organic and life-like sounding for the most part
Low distortion levels even at high SPL
Impressible rumble in the bass, even starting with 20 Hz
Linear and straight as a line midrange region
Extended treble performance, without becoming a burden
Highly transparent sounding
Outstanding measurements!
An incredible value
CONS:
Moondrop, can I buy a bucket of Spring Tips? Pretty please? (can't find them for sale, they should be)
Not the best transient response, lacking punch and mean attitude
Not the widest and deepest soundstage
ASSOCIATED EQUIPMENT:
DACs: Audiobyte HydraVox & HydraZap, Matrix Audio Element X, Gold Note DS-10 Plus & PSU-10 Evo, Musician Aquarius, Gustard X26 PRO, Topping D90SE, SMSL D1SE, SU-9N
DAPs: FiiO M11 Plus LTD, M15, Shanling M8, M6 V21
Headphone Amps: Flux Lab Acoustics Volot, Benchmark HPA4, Burson Soloist 3X, Musician Andromeda, SMSL SP400, Topping A90, Gustard H16
Preamps: Musician Monoceros, Benchmark HPA4, Topping PRE90
Power Amps: Benchmark AHB2 (x2), KECES S300, SMSL SA400, Burson Timekeeper 3i
Loudspeakers: KEF Reference 3, Sound of Eden Crescendo UNO, Natural Sound NS-17
IEMs: FiiO FD7, FA9, FH7, FH5S, Meze Rai Penta, Rai Solo, LittleDot Cu KIS, Hiby Crystal 6 & others
Portable headphones: Sennheiser Momentum 2, Meze 99 Classics, Sony WH1000-XM4
Full-sized headphones: Hifiman Susvara, HE1000SE, Arya, HE400SE, Audeze LCD-4, Erzetich Phobos 2021, Erzetich Mania, Kennerton Wodan, Magni, Gjallarhorn, Vali, M12S, Ollo S4X Reference, Apos Caspian, Sendy Peacock & Aiva, HarmonicDyne Poseidon
Interconnects: QED Reference (x2), Topping TCX1 (x2)
Speaker cables: Kimber PR8, Audioquest Type4
Power Cables: Isotek EVO3 Premier (x3)
Balanced Isolation Power Conditioners: PLiXiR Elite BAC1500 (stereo setup), Elite BAC400 (headphone setup)