KEF LSX II – the best Soundbar you can buy as a music lover

Audiophilia
I was sitting in a dimly lit circle in a vast room with other people. Most of them were looking down or somewhere in the distance, somehow avoiding direct eye contact with each other. Someone spoke in a low voice, and I knew what he was talking about, but I could not remember exactly the words. I moved my sight beyond the inner circle on the far, far wall behind. A once white banner yellowed now with big letters kind of magenta, a sign that there were red in the beginning, stated: "Audiophilia can be cured! Seek help now!" A very long phone number followed, and a web address, which I can not see clearly, obscured by the people in front of me.
I lowered my gaze and discovered a flyer on the unoccupied chair on my right. I picked it up and tried to read the cover. With the same large, reddish, and kind of ugly as the banner's letters, it stated: "Audiophilia (uncountable) – An interest in high fidelity sound reproduction and equipment." Bellow, with even uglier bold and blue letters: "The audiophilic syndrome is characterized by preoccupation with the reproduction of recorded music and other sounds in the home. The afflicted spends a high percentage of his/her income on electronic and mechanical equipment as well as recordings of the sounds themselves. – Diagnosis And Treatment Of Audiophilia… A syndromic affliction of the modern day; By Richard P. Goldwater."
So that was all about… I thought with panic crawling through my spine. I finally ended up here, after all. I might have hit the rock bottom then… Did I switch to vinyl? What was the last stage of my affliction? I might have lost everything by now, I wondered, with traces of sorrow and regret lingering in my heart. Putting the flyer back on the chair, I saw a small clear bag with cheap brown earplugs… As the feeling of unease started to grip me, I heard a rising voice, and I didn't understand what was happening in the first place. I heard it again, and this time, woking up from my reverie, I understood the words:
– Catalin, are you with us?
I raised my gaze to the guy in front of me, who seemed like the moderator of the gathering
– Yes, I answered, I am here…
– We'd like to know if you're kind enough to share what was for you.
I had a moment of confusion. What in the world is he talking about?
– I beg your pardon…
– The first piece that you bought, the beginning of all, the first seed of your affliction, how did it all start?
– Oh… I see… my first desktop system. I felt the panic gripped me again. How can I tell them that? I would be a pariah even in the recovery…
– Bo.., I mumbled, hoping it would be enough. But no, I only seemed to raise the interest.
– Sorry, can you speak louder? We can not hear you well.
– ..Oz.., I said, a little louder but still as my last breath was out this time.
I could feel everyone's eyes rising and pinning me to my chair. I can see the faces looking at me with expressions starting with disbelief and ending in building anger.
– Can you please repeat that? said the moderator, starting to show some irritation in his voice.
And then I was enlightened. No, of course not. The Bose desktop system did not start it all. It was KEF. I remeber now, It was the KEF LSX. Damn, I love those speakers…
– Are you going to share it, Catalin?
– Oh, yes, I am sorry, it was KEF. KEF LSX. Yes, that was my first piece of hi-fi!
The piercing eyes started to relax a little, some still showing traces of unbelief…
– KEF, it was KEF, I said it louder and louder; I am not lying; it was KEF LSX…
as my life depended on it…
---
I woke up screaming.
And after a few moments, I just started to smile when the fear and emotions left my heart. I was laying in bed, and for a long time, I was laughing at the start of a new day. What a crazy mind can dream something like that…
I remembered now what the grain of truth of all this was. I read an article the other day that started with the phenomenon called "The Audiphilic Syndrome," which was first described as an affliction to raise the bar later for a more attractive, lyrical explanation. The article cited:
If a person grows with a sufficient number or percentage of experiences which tell him/her that life is good within his/her comprehensible and manageable body and that he/she is sure of the love of his/her family, then he/she is likely to be able to take on new challenges in work, play, love, and autonomy. He/She is also likely to want to develop one of the things he/she likes to do or feel into a special personal skill that will earn him/her self-esteem and approval from important people. For example: He/She may learn to use his/her body to master a sport or a musical instrument…
Every person selects from among the human activities open those which will bring some happiness. An art form may result from the techniques of almost any activity using the body, the mind, or the senses.
It concludes in the end that what can be considered as an affliction in the beginning could be, in fact, a new form of creating art, a passive mode of creation but still one that requires experience, skills, passion, and soul:
… you may have guessed that listening to music on a home music system qualifies as a passive art form. Not only must one be an expert music listener, but it is now just as significant to be acutely aware of the sounds of various brands of audio components and the varying ways they can be used to affect sound. It is as much a part of the audiophile's art to experiment with deploying his/her speakers and comparing the sounds of various cartridges or record labels as it is for the wine fancier to know the tastes of wines from various vineyards in different years or the painting collector's to know how the painter's medium and materials affect his product.

(Article By Richard P. Goldwater, March 1973 issue of "The B A S Speaker". Richard P. Goldwater is a psychiatrist in private practice in Cambridge, Mass., and an Associate Director of The School We Have in Concord, Mass. Disguised as Lord Eccles, he is co-host of WBUR's very charming, very lovely, and very talented "Shop Talk.")
After all, in this age of mobile phones and pitiful AI, where fake images have replaced substance, there is still room for something beautiful drawn from technology and human experience. The search for a perfect-sounding home music reproduction system is as important an endeavor as any human quest for beauty and enrichment of life.
Today, I will have a glimpse of where my journey started. Looking back now, I feel light-headed about how much has happened and how much I learned, and it is incredible how much I still cherish my passion. The speakers I'll try to present today are the next generation of the first landmark of my journey. If the fact that I still own them now after so many upgrades in my relentless search is not a good sign of the established speaker's qualities or of the "right" path that I followed until now, I don't know what else could be…
Baby KEF, the LSX wireless
Yes, it is true. More than four years ago, I replaced my desktop speakers of a "We Do Not Speak" brand name with a new KEF LSX wireless system. It was Black Friday season, like today, and I got a decent discount from my local dealer AV Store for a white wonderful baby KEF pair. I can not think of any other piece of music-making machine that survived in my home for such a long time. Many came and went, but I still own and love these KEF LSX today. It all started for me with KEF LSX – my strive for more, better, wider, deeper, punchier, and more beautiful.
What is KEF LSX and LSX II?
LSX is the little sibling, all-in-one speaker system of the KEF LS Wireless family, now a second generation named LSX II. One can stream utterly wireless, including AirPlay 2, Chromecast, Spotify, Tidal (Connect), Roon (and many more…), and UPNP, or seamlessly connect it to your PC, laptop, TV, and many other devices. The advanced W2 wireless platform of LSX II ensures that no matter how you like to listen to music, you can do so with the minimum of fuss and in pristine sound quality.
Every aspect of LSX II is carefully considered, with an elegant rear control panel and subtle design accents such as color-matched finishes on the Uni-Q driver and ports. LSX II is available in a choice of six finishes: matte satin Mineral White and high-gloss Lava Red, plus Carbon Black, Cobalt Blue, Olive Green, and the Soundwave by Terence Conran Edition clad in a specially designed fabric from Danish textile designer Kvadrat.
With two speakers positioned apart from each other, the LSX II creates a three-dimensional soundstage of authentic stereo sound, bringing your favorite tunes to life for a listening experience that a one-box speaker cannot come close to.
Designed to fit into different spaces, LSX II delivers high-fidelity sound while it is compact enough to fit comfortably into any setting. It is also incredibly flexible with its dedicated accessories, including S1 floor stands, P1 desk pads, and B1 wall brackets, so you can place the speakers on a bookshelf or desktop, pair them with the floor stand, or even attach them to the wall.

Delicious Design by Michael Young
You all know by now that I am a big fan of modern, clean, conscious, minimalistic design that can fit and enrich a modern interior. Elegant all-in-one systems that look good and sound even better are a reality of modern times and are a winning card for those courageous enough to venture into the territory. KEF not only tried the market with such an endeavor, they actively built an entire ecosystem of products like this for many years. A perfectly designed sound-wise family is available, so you have much to choose from, counting on a well-established hi-fi sound legacy developed with the same fresh, colorful, and elegant design language.
The aesthetic design of LSX II comes courtesy of Michael Young, one of the leading lights in the industrial design world. Famed for his sophisticated take on minimalism, Young's innovative, pared-down aesthetic perfectly strikes the ideal balance between form and function on the LSX II.
Uni-Q® technology 
Uni-Q technology places the tweeter precisely at the acoustic center of the bass/midrange cone, so both act together as a single-point source to disperse sound more evenly throughout the room. The result is the elimination of the limited 'sweet spot', therefore allowing everybody sitting at different spots in the room to experience and enjoy the same natural, detailed sound.
On KEF website we can find:
"In conventional loudspeakers, mid and high frequencies radiating from different locations interfere with each other. Uni-Q places the tweeter at the center of the bass/midrange cone, dispersing these different frequencies from a single-point source, so interference issues are avoided, and the sound is less distorted."
KEF LSX, like any other KEF product, carries out the outstanding legacy of KEF's high-fidelity sound. Uni-Q® 11-th generation technology is the building block of KEF's signature sound. With an 11.5 cm aluminum/magnesium mid-bass driver and 1.9 cm aluminum tweeter, designed to perform at its best in LSX II, the Uni-Q driver array acts as a single point source to enlarge the 'sweet spot' and disperses sound more evenly, allowing everyone sitting at different spots in the room to experience the same beautiful sound.
KEF is obsessed with bringing a superior listening experience, whatever the size of the speaker. With built-in support for streaming up to 24bit/384kHz and dedicated amplifiers inside each speaker, LSX II offers the highest quality sound in its size. Two class D amplifiers inside of each speaker (70W for mid-bass and 30W driving the tweeter) will provide more than enough power for a beautiful, polished, and effortless sound.
What's new with the second-generation – LSX II?
More balanced sound in higher resolution is precisely tuned with enhancements on the bespoke Digital Signal Processing (DSP) algorithms in the Music Integrity Engine (MIE™). Optimized for the Uni-Q driver array, the MIE ensures a perfectly timed performance with a clear, accurate, and balanced sound.
In short and in plain language, the new generation will lift clarity and bass punch slightly, an audiophile improvement, not a night-and-day difference. It brings the KEF W2 streaming software platform and the new KEF Connect mobile application. But, most important (for me, at least) is the HDMI eARC connection. This is a must in today's connected devices, bringing such elegant integration to the table: power On/Off from the TV, control the volume with the TV's remote control, and higher sound quality than Bluetooth.
Instant control in your palm
I used KEF LSX initially as my computer / near-field desktop setup. I listened to music, watched YouTube, and, in general, everything that was playing on my computer I was hearing through my LSX. The well-designed DSP system will very easily accommodate the listening space so the sound will be properly calibrated. It will speak your language (you can also have access to the "advanced" language where you can speak in dBs if you like); you will have to set up the location of the speakers – desk or stand, the distance from the rare wall, desk margin, room size and how lively it is, or if you have a subwoofer attached or not. And that is all. The DSP will handle all the limitations of your space, providing the best sound possible.
The set-up is not just easy; it is even fun. In the new KEF Connect application, you can now select the subwoofer type used (complete KEF subwoofer list), and the DSP system will adapt to the technical details of the respective model, and will help you to select also the required parameters on the subwoofer itself.
The KEF Connect app can stream all well-known online services by configuring your account in any for which you have one. The user interface is excellent, and one of the most polished mobile apps I have tested until now. The new upgrade to the W2 streaming platform KEF Connect (unfortunately not available on the first LSX iteration) brings a much-expected unification of the two previous apps (one for streaming and one for settings). Also, the new platform brings an actual Roon Ready certification, and a more visually detailed bit-perfect signal path is available now in Roon. The new app delivers a far nicer user experience, with much better integration of the streaming services and a more accessible and complete settings section, especially for pairing with a subwoofer.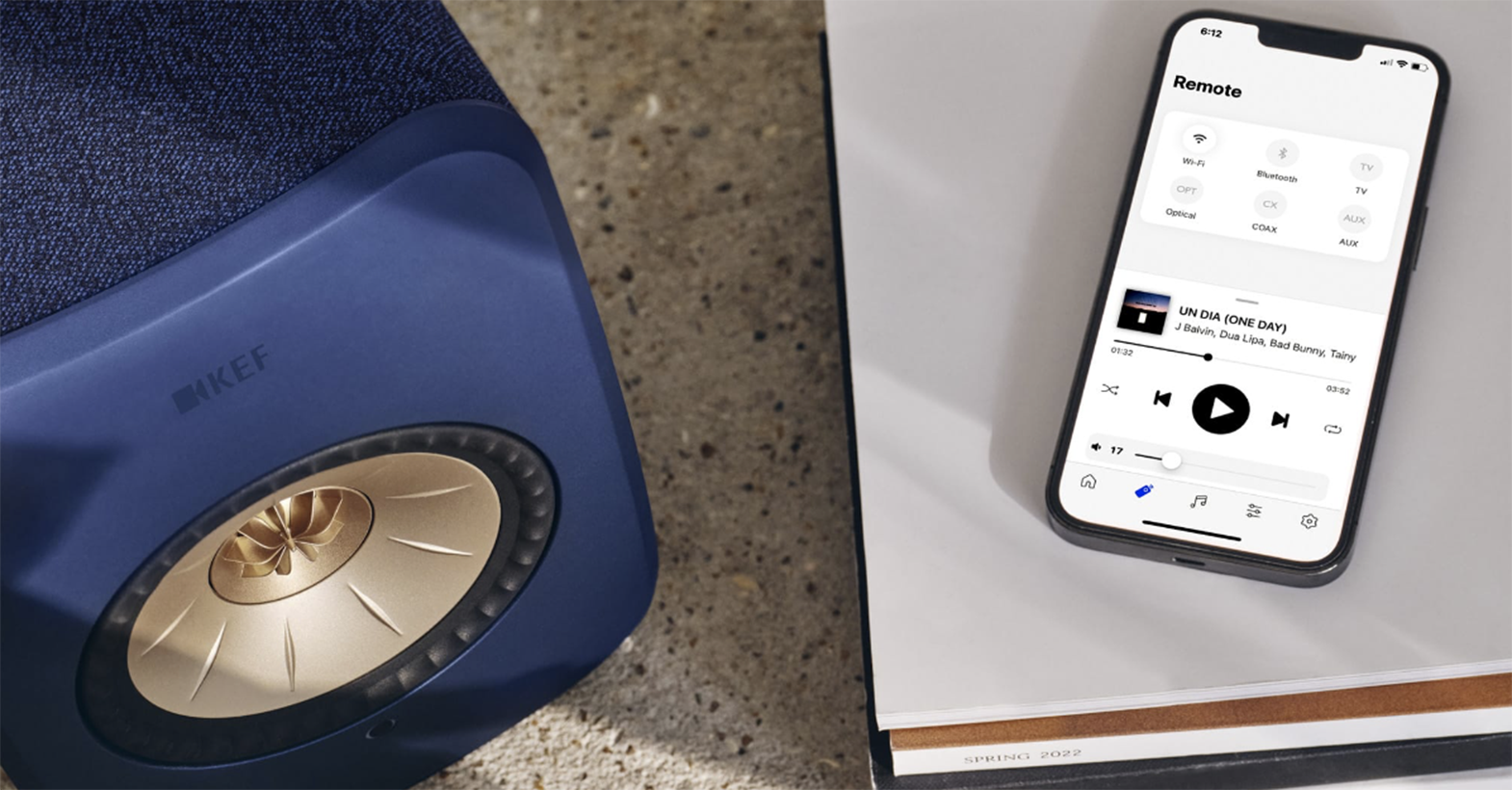 Sound Performance
Near field desktop sound impressions
I kept my KEF LSX paired with my computer for a long time. I enjoyed KEF's near-field performance a lot. The first thing I would recommend for this type of setup is to "help" the speaker's performance by decoupling from the desk. You can use the KEF's P1 desk pads; I used some other types of angling and decoupling risers. Whatever you choose, it will be far better to angle the tweeters to shoot your ears and minimize the bass-rattling effect. I would say, this is a must for this type of configuration.
The sound-wise character of KEF LSX and LSX II, with moderate improvements of the latter, will be a highly lucid way with voices. Those Uni-Q drivers provide an unmistakable clear upper midrange with transparent, colored-free tonality. The women's voices will sound very detailed and highly rewarding with distinctness, spaciousness, and honesty.
The highs are detailed and sparkly. Some will accuse KEF's high response of some metallic timbre. Truth be told, the highs are not rounded and subdued, but I would not classify the upper frequency as harsh or metallic either. Sparkly and vivid would be the proper characterisation, and do not forget that it is perfectly possible to town down in DSP the frequency response.
Bass is much more than you would expect for speakers of such dimensions. Punchy and clean. It will not go to the deepest of the deeps, but unless your poison is the electronic kind of music, you will not miss a lot. The reality is that you could get so much better by positioning the speakers on stands. Even so, one would not be disappointed even in the desktop setup. Adding a subwoofer, as we will see later, will completely transform the landscape anyway.
The experience is gratifying, even in this near-field scenario. Can those babies sound much better? Yes, indeed. But if your way of doing it is bound to the computer, I do not think it will be easy to find a more compelling alternative considering the quality, especially with a sub.
Replancing the TV Soundbar. An eye-opening experience!
My office TV is primarily used to watch movies; the news is forbidden on that OLED screen. That is because the unthinkable happened to me once… I could not stand another burned-in screen. And I used a soundbar of the same brand, not a cheap one, and not the most expensive either. I know that there are some really good and expensive soundbars out there. But after my experience with an honest 2-way sound system, I really do not have high hopes anymore.
And, maybe, you can get a little more bells and whistles with a soundbar for movies. Perhaps some sounds will dramatically recoil from the walls. But let's face it… if you can not put together a proper multi-surround sound with good physical speakers positioned in the right spot, the refraction of sounds from the ceiling or walls is just a gimmick. Especially if we are talking about a small room (20-ish sqm) for which KEF LSX II is not just perfect but ideal.
And if you have at least a little love for music, the battle is totally lost for a soundbar. There is no way to get a fair two-channel presentation with an excellent soundstage and all the goodies you will get from 2 speakers. Absolutely no way.
It was really an eye-opening experience for me when I tested the KEFs in the soundbar place. Even the dialogue clarity in the movies completely crushed the soundbar. Listening to music with a little more separation between the speakers now was so impressive. The KEFs got room to breathe and extend the soundstage beyond their boundaries, and they started to disappear as any good hi-fi bookshelves would. Even in the movies, the ambiance, background noise, and the midrange spaciousness will completely remodel the experience. Proper stereo separation is undefeatable and, combined with the KEF clarity, will give you a more enhanced experience.
It is such a great setup to recreate the movie ambiance and experience; the voices will be positioned precisely on the stage, mainly that your brain is also "helped" by the images. I am so confident in my experience that I stress it so much, so at least you should try it. I am sure you cannot return to a muffled and boring soundbar.
And the reward will double if you listen to music in equal parts!
Adding an impressive subwoofer – KEF KC62
The perfect subwoofer for those lovely KEF LSX II is a KEF mini monster, the KC62. Rated at 11dB, I write it again, 11dB in-room response, with Lilliputian dimensions of the Uni-Core force canceling technology; this sub is a wonder of human engineering.
KC62's twin drivers are powered by 1,000W RMS (2 x 500W) of specially designed Class D amplification, providing exceptional levels of control and the ability to deliver sudden bursts of power when required, for example, when enjoying your favorite high-octane action sequence.
KC62 slips effortlessly into any environment or listening room, with the five pre-set Room Placement Equalisation features ensuring the same performance no matter where you decide to place it: in free space, next to the wall, in a corner, nestled within a cabinet or using the dedicated apartment mode.
And mostly, you could choose it in the KEF Connect app, and the speakers will adapt and embrace their new friend! The speakers will breathe more and be freer now unburned of bass reproduction. The scene will go deeper, the spaciousness will increase, and the midrange will get air and show more precision and better tonality. The benefits are huge with any sub but pairing it with the right partner will create an impressive team.
It is a steady step in the actual hi-fi territory. You will discover the effortless and unburdened presentation with qualities and refinement found only in much more expensive and touted systems. Of course, those wonders will be revealed only in a small room with proper DSP setup in the KEF Connect app and speakers positioned at least on a desk with a decent distance between them.
KEF LSX II on stands. One more step to perfection!
I would love to put the KEF LSX II on stands, but unfortunately, it is not my use case due to lack of space. Beyond the excellent cable management, the real advantage is at the sonic level. I heard the LSXs on stands and know how much better it can be. It may not be an improvement of a subwoofer add-on magnitude, but it is the second-best step that you could make. The S1 floor stands are more than nice accessories; they become part of the system and build upon the great qualities of the baby KEFs.
You will get more nuanced clarity, a better layering separation, a much nicer sound stage, and a more well-defined bass above all. Separating the speakers from the desk and bringing them into the listening space will improve any bookshelves presentation, whether with DSP or not. Instead of performing corrections, the DSP will work now to improve the driver's capabilities without the limitations of not-so-ideal positioning. The sound will become more mature, precise, open, and vivid. The KEFs are already very good at communicating the recording space and the finest nuances of music; helping them with proper positioning and isolation will venture into new territory, reserved mostly for serious hi-fi gear.
The S1 floor stands are made of aluminum with an elegant design, a perfect match for KEF LSX II. The colors available can match the speakers, and the ideal visual qualities are just a bonus on top of the sound performance. This combination, matched with a well-positioned subwoofer, is one of the best small systems I have ever heard. It is becoming a proper hi-fi system, and combined with the wireless streaming characteristics, incredible versatility, great design, and a plethora of colors, it entirely became unbeatable at the price point.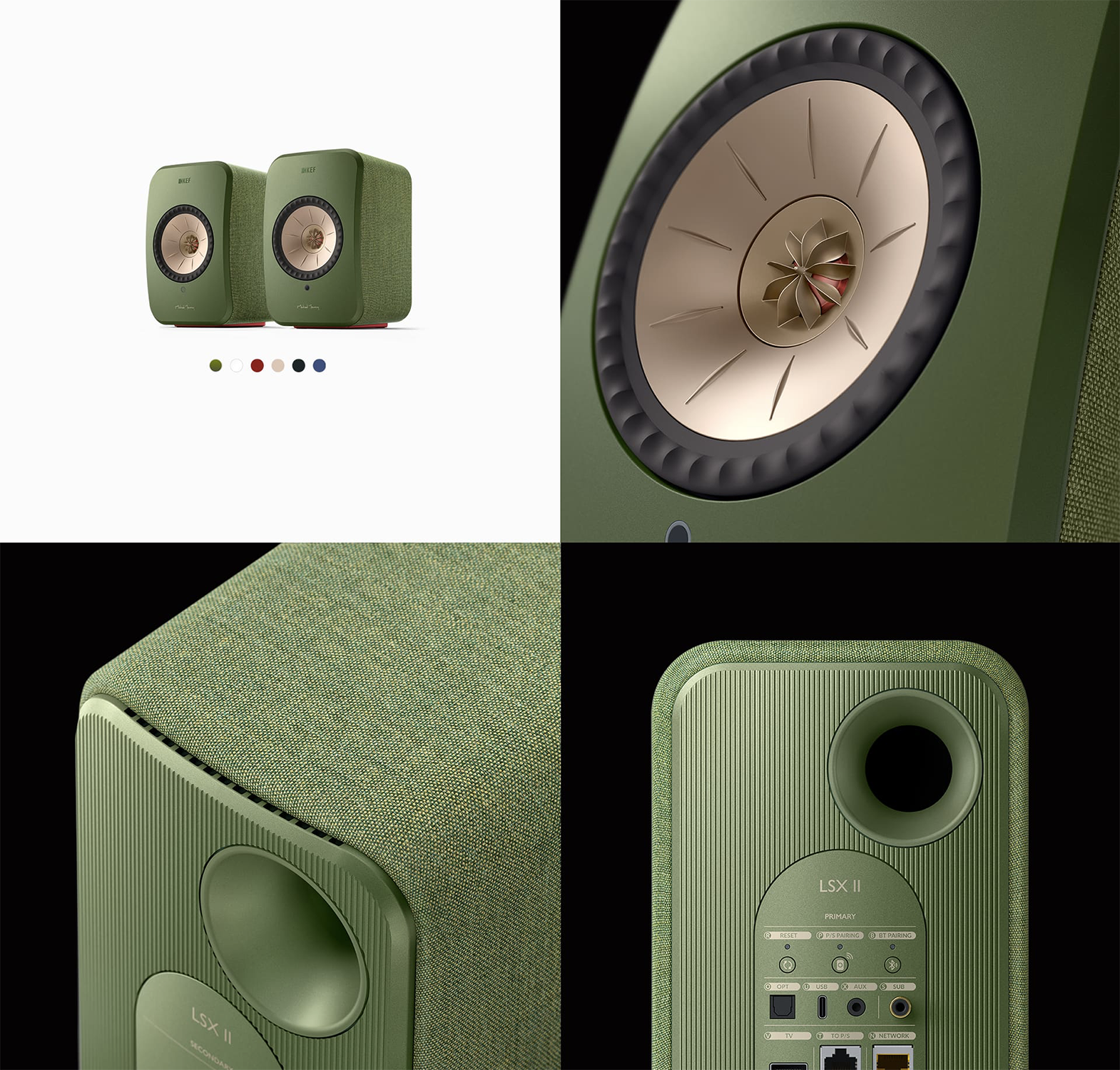 My Conclusion
We rarely get such an accomplished product. And yes, I am not entirely objective here because I like these small, active wireless bookshelf speakers so much. I liked them from the start, and I never felt they were outdated by the main system that I built on all these years of continuing struggle with Audiophilia Syndrome.
I will upgrade to the new LSX II because I am a snob like that 🙂 The olive green color version is the only one with the Michael Young statement signature on the front of the right speaker. I also think that HDMI eARC is more than a commodity; I missed that initially.
So what will you get?
A small, colorful, beautifully designed, visually unobtrusive package, great-sounding system. It will play anything – the W2 wireless platform brings a robust and broader range of wireless streaming services and extensive connectivity now with HDMI eARC and USB-C connection for a simple plug-and-play solution. Audiophile-grade resolution – supports up to 24bit/384kHz (PCM), DSD, and full MQA decoding. Intuitive control with one of the best applications on the market – KEF Connect.
Building your first high quality system
KEF LSX II will be 1.499 Eur, but now it is highly discounted to just 1.199 Eur per pair! Check the local dealer AV Store in Romania for an even better price this season of the year. For everyone else in Europe, there is a KEF online shop. Worldwide customers can also check the KEF website for a local distributor or the availability of an online shop.
The KC62 subwoofer is usually priced at 1.699 Eur. But, again, you will get nice discounts from your local dealer if you hurry up on this Black Friday. In Romania, our AV Store shop even put together some really lovely packages: KEF LSX II + KEF KC62 / KEF LSX II + KEF Floorstand S1 (usually priced at 349 Eur) / KEF LSX II + KEF Floorstand S1 + KEF KC62 (the ideal package).
It may seem expensive initially, but you could build the system step by step. And you can take advantage of the combined packages and high discounts. You get a lot of sound, design, and quality for your money from KEF. Above all, you will get a serious venture into hi-fi with little to no compromises. That is why I am wholehearted when awarding a Gold Award to KEF for these fantastic LSX II.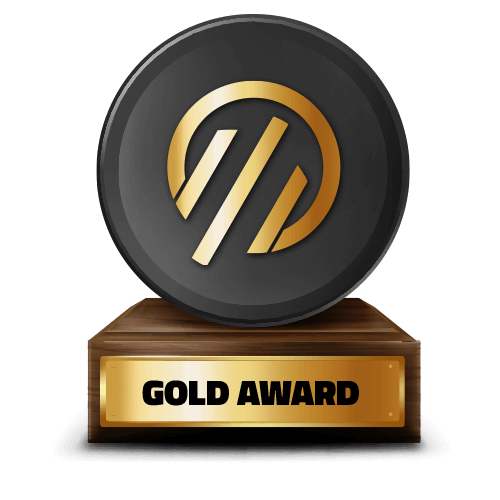 As always, I am grateful to you all, and I hope for a word in the comment section below. Thank you, and happy listening until we meet again.