Bookshelf speakers up to 500 USD
The last few years I was restrained by room space and free time and all my listening time moved to a dedicated headphone based system.
And that's why I forgot the sound of a good pair of bookshelf speakers in the listening room.
The current headphone system can be already considered a top one, I do not have much to improve on, I have reached the end of the road, mission accomplished!
As every human has to have a purpose in life, I decided that in the next few years I would be able to build a well put together speaker based system.
However I was in dire need of warming my neurons and dusting off my ears, this is why I decided to borrow four pair of bookshelf speakers whose value is around 500 USD mark.
I didn't want to be restrained by electronics so I decided to use upper class equipment.
Associated Equipment for this test were:
Our DAC of choice was the Matrix X-Sabre PRO and the integrated amplifier was the Cambridge Audio Azur 851A, I also used Audioquest Type 4 Speaker cables and QED Reference XLR interconnects.
I consider X-Sabre Pro to be very neutral and linear; it doesn't have coloration and offers an honest sound signature. It doesn't sweet up things and doesn't highlight any particular frequency range. Sound produces by this DAC is quite detailed and airy, it offers a wide and deep soundstage, an ideal component for this particular test.
For a more profound opinion you can check my detailed review for it, right here.
Cambridge Audio Azur 851A offers 200W in 4 Ohms, plenty enough for the most standfloor speakers, for our smaller bookshelves it is almost overkill.
Azur 851A has a slight coloration on midrange and a good bass control over the drivers that is so important in rooms that don't have acoustic treatments – the normal living room of an ordinary man.
All the electronics were connected using balanced QED Reference interconnects to minimize the cables impact over the analog signal.
Loudspeakers we tested were
Cambridge Audio SX60 – 300 USD
This particular model is part of the entry level line of the British manufacturer, SX-60 are the biggest ones from this line
The SX-60 is a two-way loudspeaker, with a front-facing bass reflex port – a great thing for me, as I didn't acoustically treated my listening room.
The speakers are looking nice, pretty well-done for at this price point, but they seem pretty lightweight for the size they have. Checking the specs I have great hopes they will sound great on bass.
The speakers are looking nice, pretty well-done for at this price point, but they seem pretty lightweight for the size they have. Checking the specs I have great hopes they will sound great on bass.

I started the audition with Infected Mushroom – Return to the Sauce because I was very curious how bass will be rendered.
The bass appears to be a double-edged blade: on one hand it really gets low very fast with good articulation; on the other hand, it stays too much at the point of being loose sounding. It decays really slow and gives the feeling of a poor quality subwoofer. Quantity wise bass response is impressive, quality wise it leaves to be desired
I know this record pretty well, unfortunately the transient response seems weak and slow and the notes are slightly washed with no real leading edges.
Of all the speakers present in the test these were the most inefficient, I had turn up the volume by 2-3 dB to reach the same volume of the other speakers.
Soundstage size is medium to wide, but the depth is quite impressive.
Listening to Pink Floyd – Hey You on the 3:22 mark there is a sonar in the background that sounds like it was projected behind the wall. The silk dome tweeters sounded…silky smooth and non-aggressive.
Overall, the sound relaxed me with its performance but I'd prefer more dynamics, speed and impact. The midrange sounded sweeter and placed really upfront together with bass.
The Dave Brubeck Quartet – Take Five sounded pretty dark but tight in the same time. It is clear to me that these speakers have a slightly warmer tuning where bass and midrange are the stars of the show and the treble is somewhat quieter than the rest.
Listening to these speakers more and more often and comparing them with the rest, I was thinking: For a multichannel system for movie watching SX60 are simply perfect – they are not exorbitantly expensive, they have a deep and authoritative bass, less qualitative but this aspect matters less in movies, the treble is not sibilant in any way, and the midrange pushes voices forward most of the time, exactly what is needed for a multichannel system.
They were good on music too, but lacking neutrality and transient response has bothered me.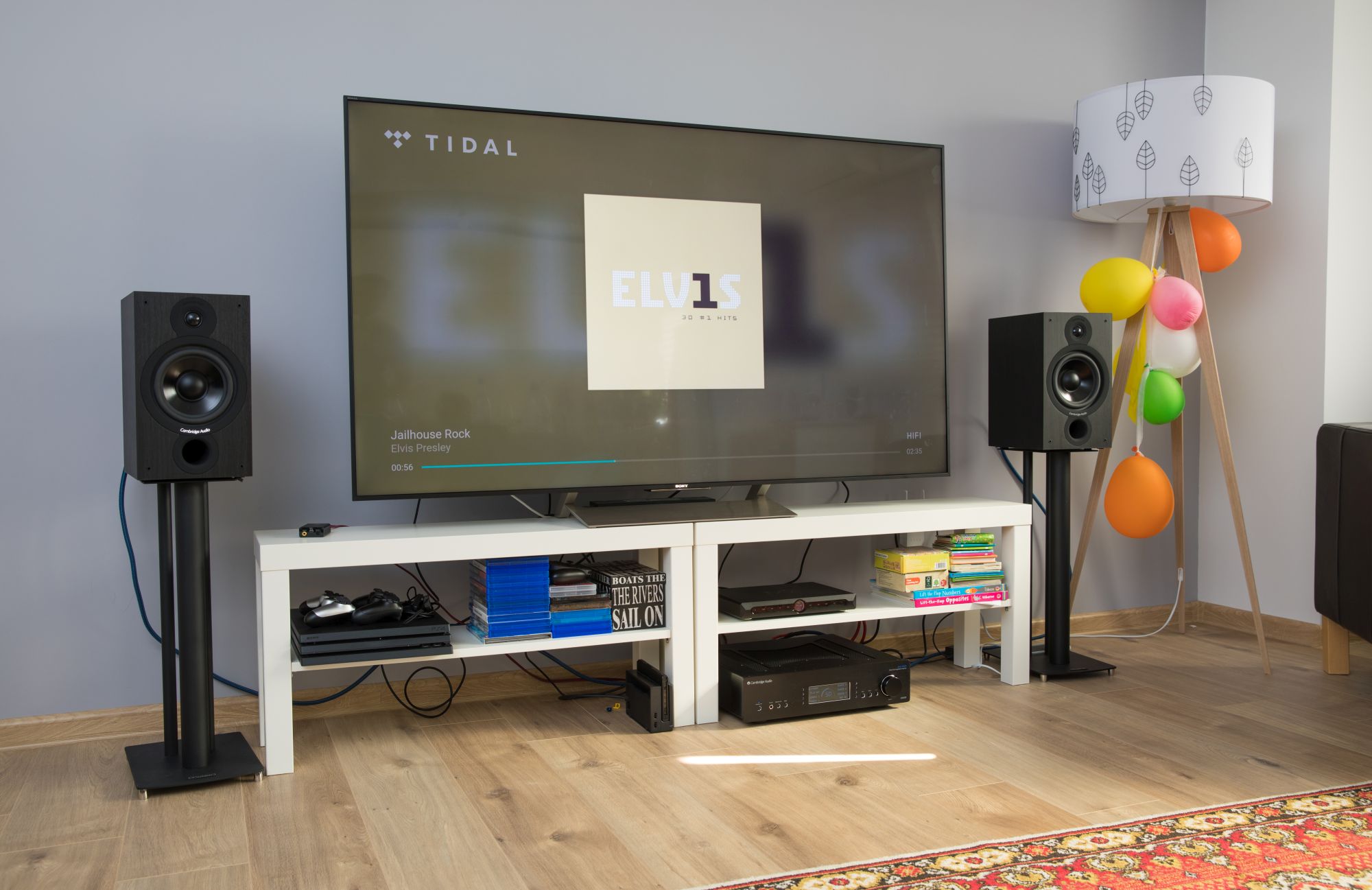 Monitor Audio Bronze 2 – 500 USD
We already know that newest Bronze range is using elements from the Silver, Gold and Platinum ranges, which would suggest that the speakers have an audio performance well above its price point.
The new tweeter has a C-CAM (Ceramic Coated Aluminum-Magnesium) diaphragm optimized for minimal distortion and a clearer sound.
The concave C-CAM woofer improves stiffness and thus reduces distortion; I'm hoping to hear a deep and clean bass response.
After I opened and touched them, I had the impression they were built by the same OEM supplier as the Cambridge SX60. They are built quite similarly, the MDF has the same thickness and texture and the speakers have approximately the same weight of ~ 5 kg.
Speaker design is two-way with a front-facing bass-reflex port.
From a visual point of view, I did not really felt impressed, and although they have some cool technologies from the upper ranges I didn't gave them much hope, I expected to hear a similar sound to the SX60.
After pressing play for Dave Brubeck's Quartet…I just stood there numbly and listened in awe to the whole track.
Of all the speakers present in the test, I think Bronze 2 offers the best balance between hi-fidelity and musicality. Everything just seems to be in his place, and nothing stands out too much.
Finally, bells and cymbals are heard very clearly, vibrating no more and no less than needed. The treble is not super resolving, but it is well integrated into the rest of the audio spectrum.
Listening again to Pink Floyd – Hey You, I realized that the voice is projected more forward this time in comparison to the bass. Voices and acoustic instruments simply shined.
Listening to them more and more often I realized they have a very good tonal balance. Obvious cons are hard to spot of this particular model.
Soundstage size is medium to large, due to very low distortion everything sounds more textured and outlined.
Superior detail retrieval stands out immediately and brings a feeling of fresh air and an open window to the music, which I was not feeling on SX60.
I enjoyed the bass performance just as much. It did not go as low comparing to previous tested speakers, but it was much more controlled, it was faster, offering a real kick to the chest. Luckily, it is not spilling over the midrange and sounds detailed and nimble. I did not hear layers of bass, but I honestly did not expect them at this price point.
Until this moment, I'm more attached to these ones. They are also one of the most easy to drive speakers in this test; they can be easily driven by entry-level amps.
They are not having a distinctive character and will always sound neutral and quite natural; they could be integrated into stereo or multichannel systems.
If you love natural sound with a good dose of acoustic qualities, then Monitor Audio Bronze 2 are the speakers you are looking for.
Wharfedale Diamond 11.2 – 599 USD
When I unpacked them, I felt a lot more weight from the speakers I had tested before.
Taking them out of the box I fell in love with both the finishes and the modern and beautiful design.
What can I say…Wow, these are by far the most beautiful speakers tested today, taking into account only the weight of 9 kg per piece suggests a solid construction, I expect also to hear a tighter and more controlled sound.
I have very big expectations from these, especially since we already know how old Diamond 9 and Diamond 10 series sounded.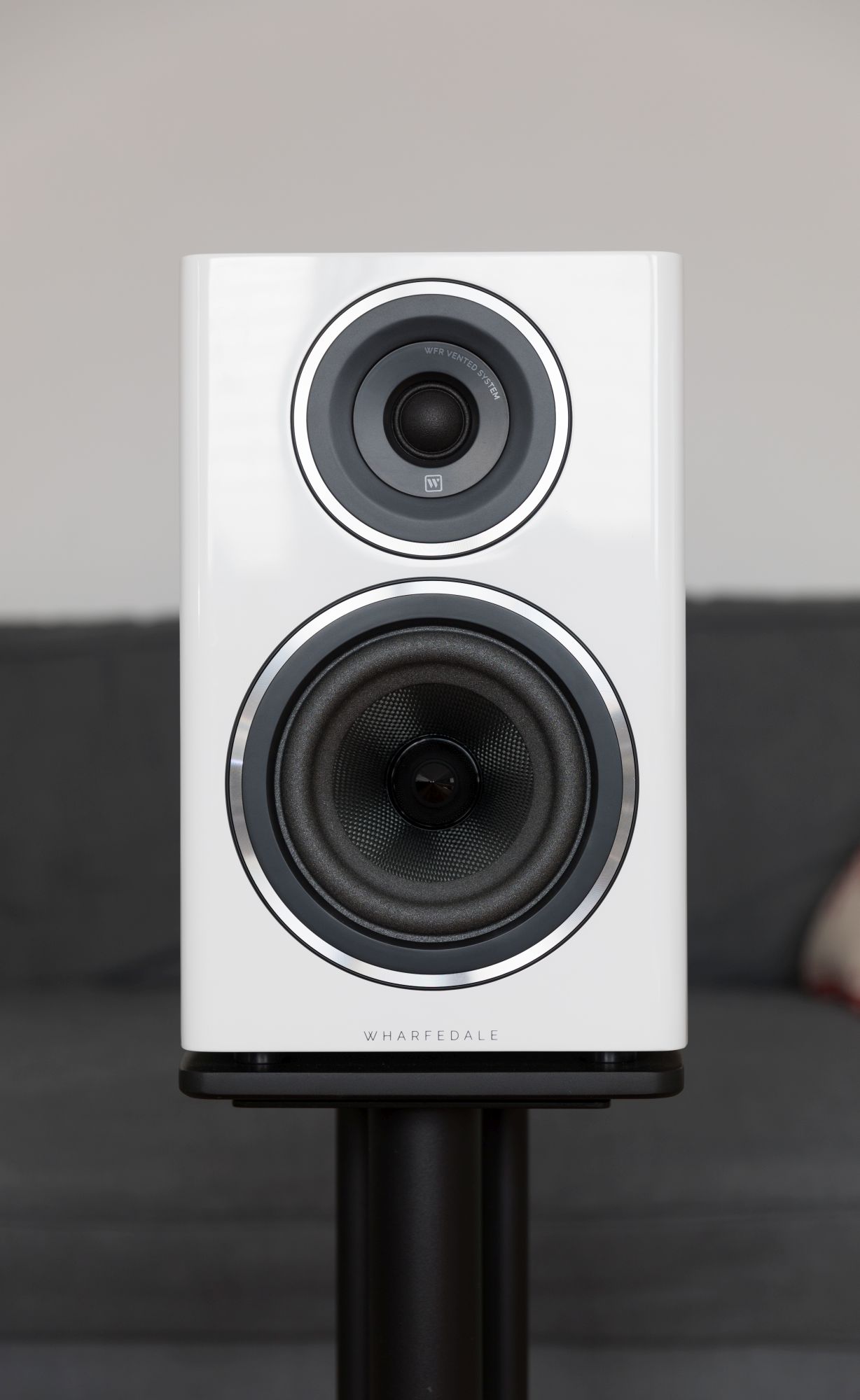 Specific to these enclosures are these huge magnets that provide absolute woofer control especially on low frequencies, they also help by increasing sensitivity. Also, the use of a special one-piece base with copper-capped cover, controls the magnetic flux and ensures reduced distortion in the critical area of the midrange frequencies.
The tweeter is also new and uses a large-sized ceramic magnet with a copper cap to control the magnetic flux, interesting is that the pole is ventilated through a special rear room.
The speakers are two-way, with a Slot-Port bass reflex system, meaning, the inner port tube opens in a slot formed between the enclosure and the plinth – this considerably reduces the turbulence which is plaguing conventional port systems.
As you can see both the way they are made and the unique design have triggered my curiosity, let's see how it sounds.
Listening again to the Dave Brubeck Quartet – Take Five I realized that by this time I have been listening to the most technical sound of the evening. Executed lightning fast and very controlled. The details jumped right in front of me, the notes seemed extra airy, and finally I heard a very clear delimitation of the notes.
The soundstage is wider and the instruments are well scattered in the listening room.
Slot-Port bass reflex system gives me the feeling of a 3D sound, lows are not only hitting me in the front, they come and hit from many angles, a very interesting sensation for sure.
The stereo image is the best so far, the sound is deep and breathes lightly.
Unfortunately, all of these elements put together noticeable reduced the naturalness that was so present on Monitor Audio Bronze 2. The sound is slightly more linear, maybe too linear. Although the sound is dynamic and explosive, it lacks just a touch of soul and emotion.
The overall sound is less relaxing, a little tighter and more aggressive than previously tested models.
The midrange is no longer placed in the foreground, it is placed behind somehow, it sounds a bit looser than the rest of the frequencies. Bass and treble appear well defined and are rendered really well.
The cymbals and the bells sounded clear, with a right vibration and decay, but on very linear and revealing systems it could sound sibilant.
Overall the sound is technical and serious, a little tense, offering equally explosive dynamics and absolute control of the transducers.
Until this moment in the personal rankings Diamond 11.2 are exchanging low kicks with Monitor Audio Bronze 2.
On Bronze 2 I like the balanced tone and naturalness and on Diamond 11.2 I was enchanted by the microdetail extraction as well as the absolute control over all frequencies, a hard decision for sure.
Q Acoustics Concept 20 – 500 USD
Oh my how these speakers look. The fit and finish is superb, the speaker terminals are looking very solid and build to last. It has a minimalist and appealing design; their finish is at least one class above all other models tested today.
These are the smallest of the bunch in this test but surprise! They are considerably heavier than SX60 and Bronze 2. The speakers are two-way, with bass-reflex port on the rear.
To eliminate resonances, Q Acoustics patented a new enclosure system called Gelcore, which basically involves building an enclosure inside an enclosure (see the Inception movie, you'll understand everything) and between the double walls a special resin is poured to eliminate all resonances.
The 5" woofer at this point is the only thing that worries me, I think bass response will not be so special.
Okay, let's see if it sounds like it looks.
Listening again to Infected Mushroom – Return to the Sauce I immediately remembered the performance of Diamond 11.2 but this time around the performance was even more precise and detailed.
I also noticed that the bass, although executed really fast has no weight to it, it sounds rather empty and does not have a body or a leading edge. I've approached the speakers to the wall a bit more (at first, they had 1 m away from the wall) and voila! the bass came back!
Unfortunately, they do not get as low and seem to have deficiencies in the sub-bass area. Instead, the bass seems to be fast, with a staggering impact and instantaneous decay.
Listening to Dave Brubeck – Take Five I realized I was hearing the most detailed cymbals of the evening. The treble has a detailed presentation and it is well-spread in the listening room. The stereo image is also well placed in the room. Unfortunately, soundstage is small to medium sized, I think it's the smallest from the rest.
The speakers are not pushing too much air to create a wide and believable soundstage, so I consider them good in rooms of up to 20 square meters. On these speakers I consider that the hights are executed the best and the spotlight stays more on them, the bass is hovering behind the curtain.
The midrange sounded alive, I did not consider them either dry or sweet sounding, somewhere in the middle.
Elvis Presley's – Fever sounded credible and tender with his guttural voice. The mix of guitars, voice and all the small details like the undertone drums have created a magical and very real sensation.
If they would not have bass deficiencies and if soundstage was a bit wider, they could be the No. 1 speakers in this test, unfortunately they are limited by their physical size. Instead they can be an excellent choice for a mini-stereo system in a small listening room.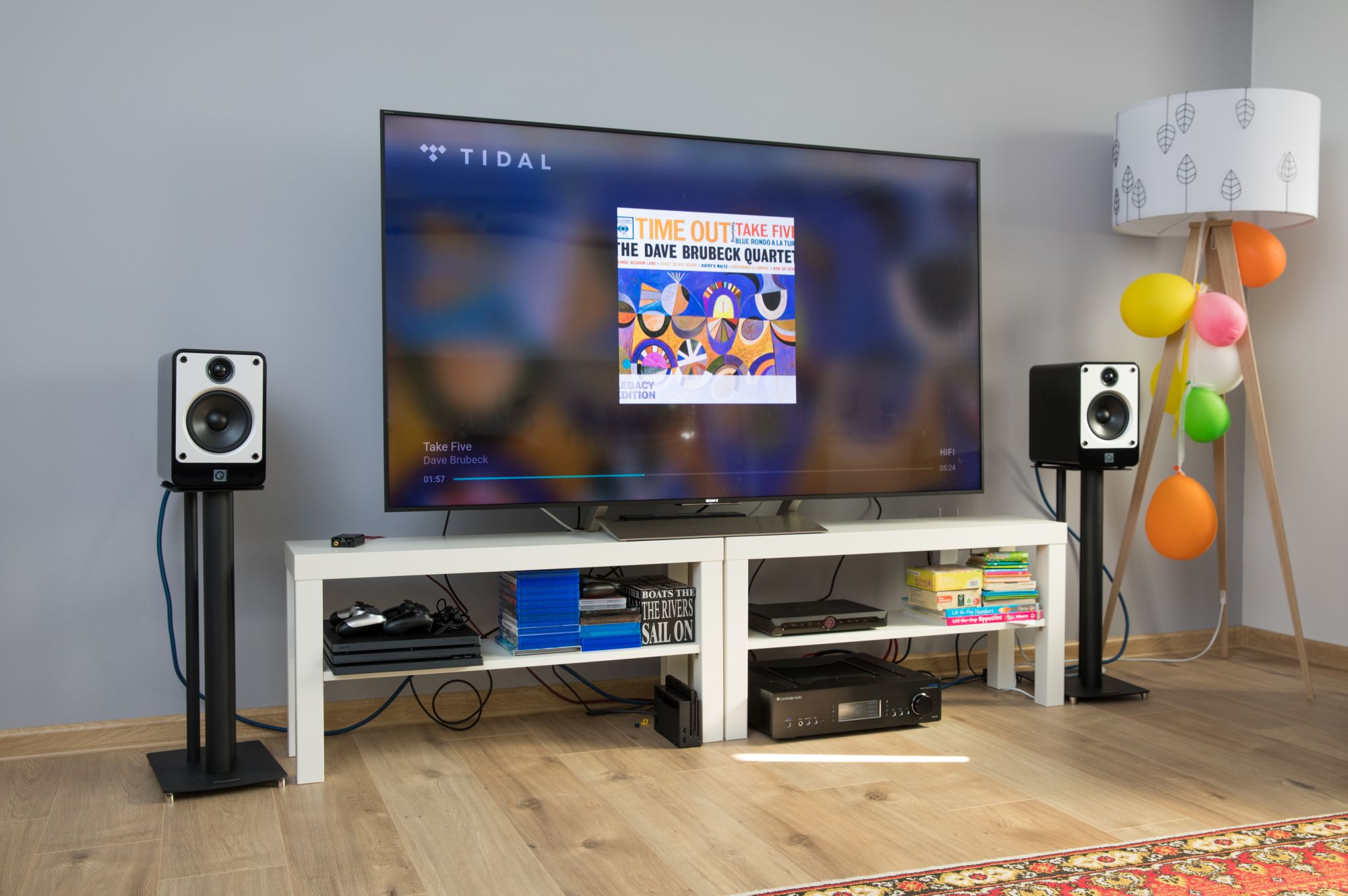 Conclusions
From my point of view, Wharfedale Diamond 11.2 and Monitor Audio Bronze 2 were the most complete speakers in this test, featuring a lot of technicalities and sounded as expected. If you prefer a more precise sound, then Diamond 11.2 is the perfect choice, if you are interested in musicality with a sweeter midrange performance then Bronze 2 will be to your liking.
I liked Q Acoustics Concept 20 quite a lot, but the deficiency on the sub-bass and bass area plus the limited soundstage makes me rank them in the 3rd place, although from several points of view (detail extraction, treble performance of the highs) they are beating speakers mentioned above.
Cambridge Audio SX60 were quite good, but that uncontrolled bass ruined everything for me, especially as it spills over the midrange that spoils the tonal balance, is not surprising since they are the cheapest speakers in this test.
So here we are folks, I am looking forward to our next speaker test that will be published next week where we'll be listening to bookshelf speakers up to 1000 USD.