LYNGDORF Cue-100: Iconic Design with a High-End Reference Sound
This is not just another story.
I am excited, and I am coming clean from the start.
I am genuinely excited about this new story that I am about to unravel sooner than I expected because it's itching me to say it all, to let you know everything in one breath. That is impossible, so please bear with me for another journey, and I promise I will do my best not to disappoint.
Democratic Danish design.
I am a UI and visual designer, and I don't pretend to be anything else. I am not a specialist in object or industrial design, and I am not an architect. But, I can seek and admire iconic landmarks in design, get inspiration from, understand, and cherish beautiful ideas. At first glance, the "democratic design" wording association seems a little odd, but in Danish design culture, it has a deep meaning and is intertwined with Scandinavian society, culture, and way of life.
Being "democratic" means it will blend into any interior. Scandinavian design has always focused on creating pieces that work in any type of home, famously functional, beautifully crafted, minimalistic, and sustainable, which explains its enduring appeal all over the world.
Danish design is known everywhere now for its sleek lines and sophistication. It first became popular in the 1940s and 1950s, when the light and simple style of Danish furniture proved a good fit for the clean lines of the new International Style of architecture.
Famous Danish designs, from Louis Poulsen's PH5 lamp, Verner Panton's Flowerpot lamp, Hans J. Wegner's CH24 Wishbone Chair, Viggo Boesen's Little Petra Chair to 1958 Arne Jacobsen's Egg Chair, shaped the new Scandinavian style. You will surely recognize some of these iconic pieces that are still enduring today or have been translated to so many other design languages.
I could go on and on… and give you tons of examples of Danish design landmarks, from Bang & Olufsen (Peter Bang & Svend Olufsen) Beolit 39 radio from 1925, the name (not the radio) that endured until today in the company's product lineup, to 1940 Finn Juhl & Niels Vodder Pelican Chair – look how incredible modern view projects even today. But you've got the idea of that "iconic" design endurance over the years and how something invented over 60 years ago can still look modern and highly sophisticated today. Because this is how good design looks like, always new and appealing.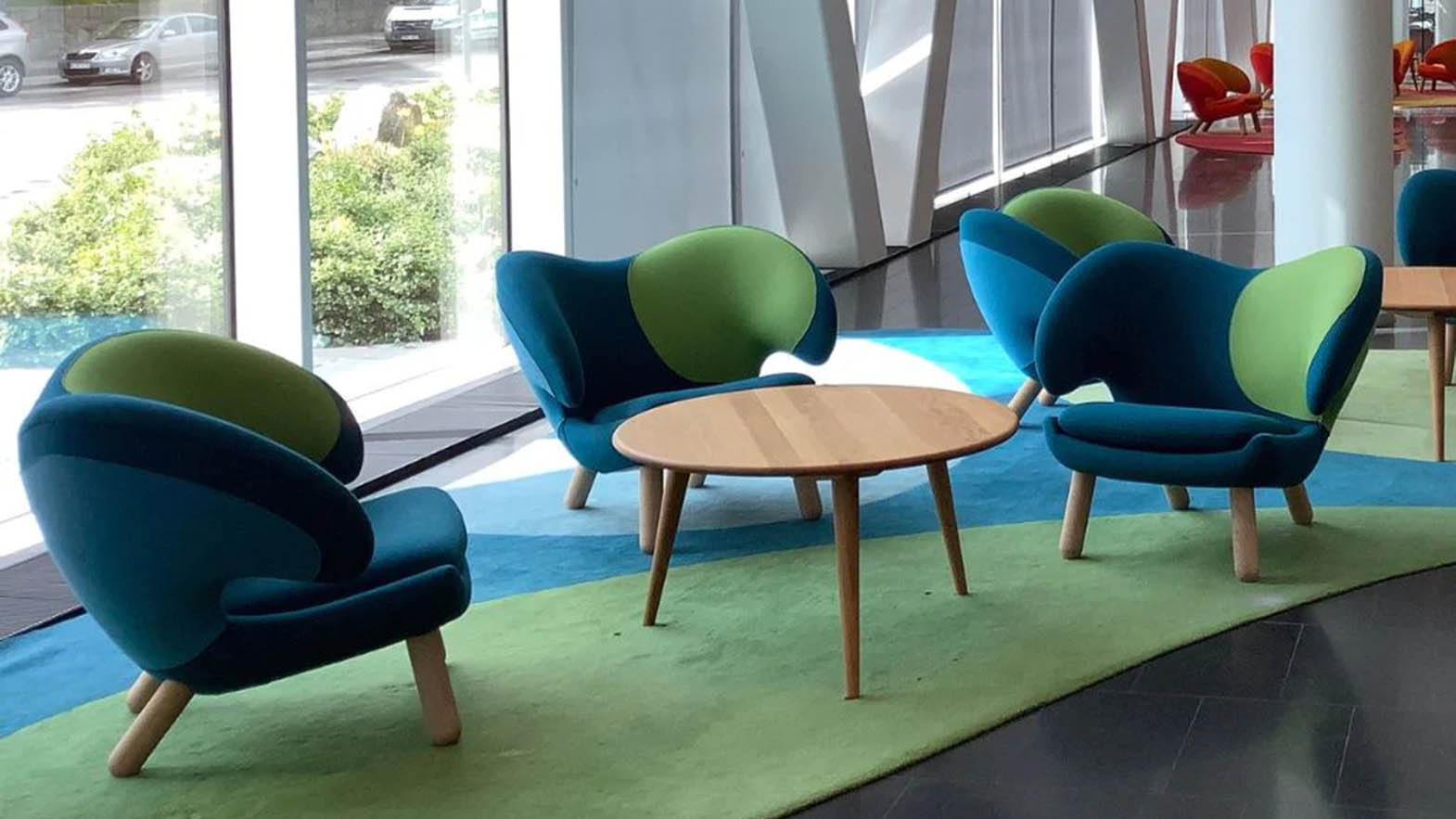 What is new here?
So, why am I so excited after all?
Because I am totally in love with the design, and for a very long time, I am seeing something new and spectacular in the audio world in a speaker cabinet design. Let's face it; the audio industry is one of the most conservative ones, highly dominated by monolithic, black or brown parallelepipeds, nasty fridge weight, and height that demand massive space in your living room. Maybe one of the reasons why the adoption rate of the young generation to this hobby is so low. Innovation in esthetics is almost near to none in the uber high-end part of the hobby, with very few exceptions, like the Danish companies that are a revelation of recent years, as opposed to the electronics equipment counterpart that showed spectacular revival, at least in the modern hi-fi – the more accessible part of the spectrum.
I am not judgemental and won't pretend to know about any product launch or specific company plans for the future; I am just sharing my perspective from the little I know and a few hi-fis shows I attended in recent years. The trend of imposing "enormity" is still there, and it has nothing to do with the modern house interiors, the way of life of the youngest generation, the appetite for well-thought elegant and "democratic" design, and our modest (in general) living rooms. The status quo speaks mainly about immutable physics laws and imposes the idea that this is the only way to achieve that level of performance. And, is it? The only way?
No, it is not! And I will prove it to you.
A wow moment.
I had a wow moment last year when I saw the first pictures of the newly announced Lyngdorf speakers. I was surprised and delighted to see finally a new bookshelf speaker design for a modern living room. But it was more than that because it was not just a speaker; from the pictures, it was obvious that this would be a very ambitious one. I could spot the Purifi driver, the EMT tweeter, and more drivers on the sides, and that was a promise already for a serious hi-fi piece.
I knew some facts about Lyngdorf, mainly about their digital amplifiers and RoomPerfect™ calibration/speaker setup platform. I learned a lot in the meantime, and please allow me to share some impressive historical facts with you.
Steinway Lyngdorf
Two Distinct Brands. One Unique Standard.
Under the umbrella of Steinway Lyngdorf (SL Audio A/S), we can find two legendary product lines: Steinway & Sons and Lyngdorf Audio. Both brands represent the pinnacle of the audio industry, and both lines meet unique needs — from experienced audiophiles and home cinema lovers to newly-awakened sound enthusiasts. Steinway Lyngdorf is the brainchild of Danish audiophile and entrepreneur Peter Lyngdorf, who began as a distributor of home entertainment components in 1975.


Steinway & Sons – Experience the extraordinary.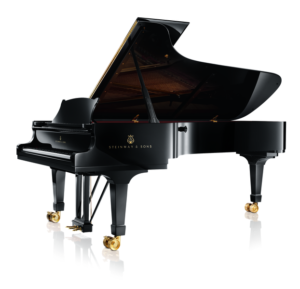 It is an iconic name and an unsurpassed audio experience. Designed, developed, and manufactured in Denmark, Steinway & Sons sound systems are the only loudspeakers and audio components in the world qualified to be manufactured in partnership with Steinway & Sons.
An incredible legacy comes from Steinway pianos with very high expectations: Steinway Lyngdorf brings together Steinway & Sons, makers of the world's finest pianos, for over 165 years. The partnership is based on an ambitious promise – that Steinway Lyngdorf systems would reproduce the sound of a Steinway & Sons grand piano to the highest degree possible. That is something to remember and hang on to. That is a real legacy and a bold promise for the future.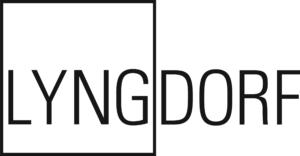 Lyngdorf Audio – Technology with a purpose.
The Lyngdorf Audio approach to product development has always been to implement technologies that are tested, proven, and supported by hard facts.
As Lyngdorf presents on their website:
"Our technologies are there for a reason – to make an audible and measurable difference. Despite their advanced technologies, Lyngdorf Audio components are among the easiest to install in the audio market. They are also built to last, embeded with strength and longevity unseen in competing products."
LYNGDORF Cue-100
Iconic design.
We are looking here at a very special product from Lyngdorf Audio, a product with deep roots in the impressive history of the "mother company" and, at the same time, a speaker that tries a brave departure from previous low profile design and conservative approach with high quality and creative developments, but mostly trying to conquer a higher new territory of sound quality and an exceptional, courageous approach to modern design.
Taking a long breath now, let's go back to the marketing pictures that wowed me in the first place. And what we can see is a minimalistic living room with just a few iconic pieces of Danish furniture, but beyond that, once seen, I can not imagine that room without the speakers. They blend so well and look so gorgeous that they become part of the design, being indispensable pieces of that room, completing that space perfectly. And that is a great design; that is a design with a purpose and not a purpose forced into design.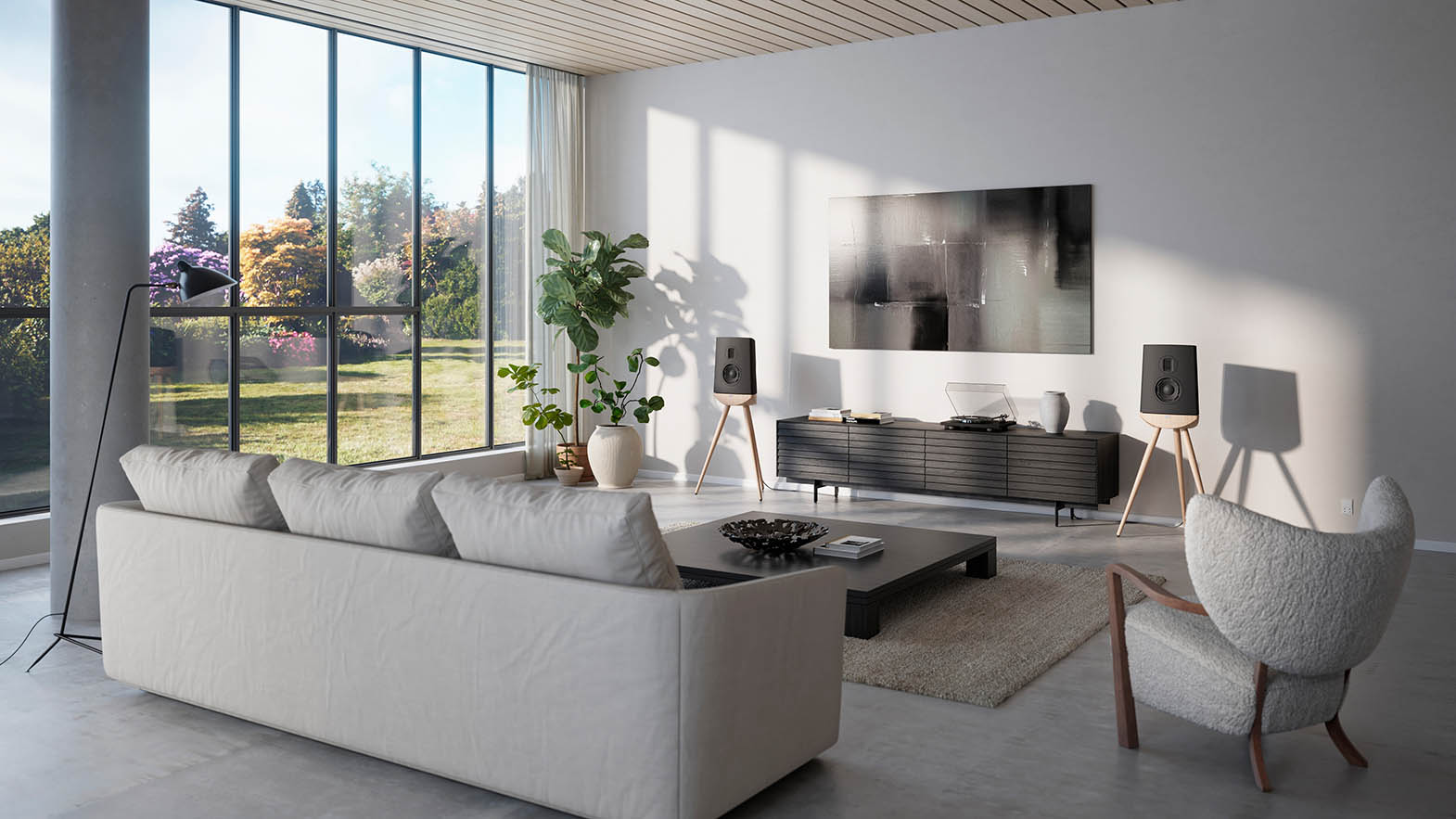 You can see from the picture that something special is happening with the speaker cabinets. The wood tripods become the speaker stands to complete the design and let the viewer's eyes travel beyond. Just looking at the speaker's base, imagine how big the pilar of a traditional stand could have been to sustain that properly. It would have been grotesque…
The natural blend of wood tripods with the solid wood base will show you half the picture because a lot more is happening behind the scene, the speaker cabinet being, in fact, on top of the solid wooden base, so I presume an excellent decoupling is still in place, it is not so damn obvious and just cleverly hidden in the design.
As I analyzed the picture, I knew this could be another iconic design. Not because it is just different but because it looks so good and resolves so elegantly the required technicalities of a product with a specific purpose. Fresh, clever, and creative. Munich High-End was just a few weeks further, and I set a must-see markerboard in my mind. Getting so excited now 🙂
Build quality and customization.
I have been to Munich last year, and I visited the Steinway Lyngdorf booth. I looked at the new Lyngdorf Cue-100 speakers, touched them, smelled them, and listened to them. Everything speaks of a high-quality build, and even if it wasn't a proper environment to evaluate the sound, the first impressions were excellent. I could hear that Cue-100 is reaching for a stand-alone full-range speaker status.
The real-life form of the speakers was revealed: tapered, slightly rounded corners, triangular shape, and a beautiful CNC machined solid wood base. The speaker's cabinets are also machined from 33mm MDF. A fascinating and appealing profile that can be customized in no less than 24 looks. With white and black options for the cabinets, natural oak wood or white and black base, Cue-100 speakers feature five colors of fabric covers by Gabriel from Denmark, one of the leading fabric specialists since 1851 for furniture, interiors, and acoustics. The fabric covers are magnetically attached to the top, perfectly dressing the speaker's body and adding nothing to the sound. I would always prefer to see the speaker's drivers, but the level of customization is awe-inspiring and definitely will improve the perfect blending in any space and will add protection when that matters.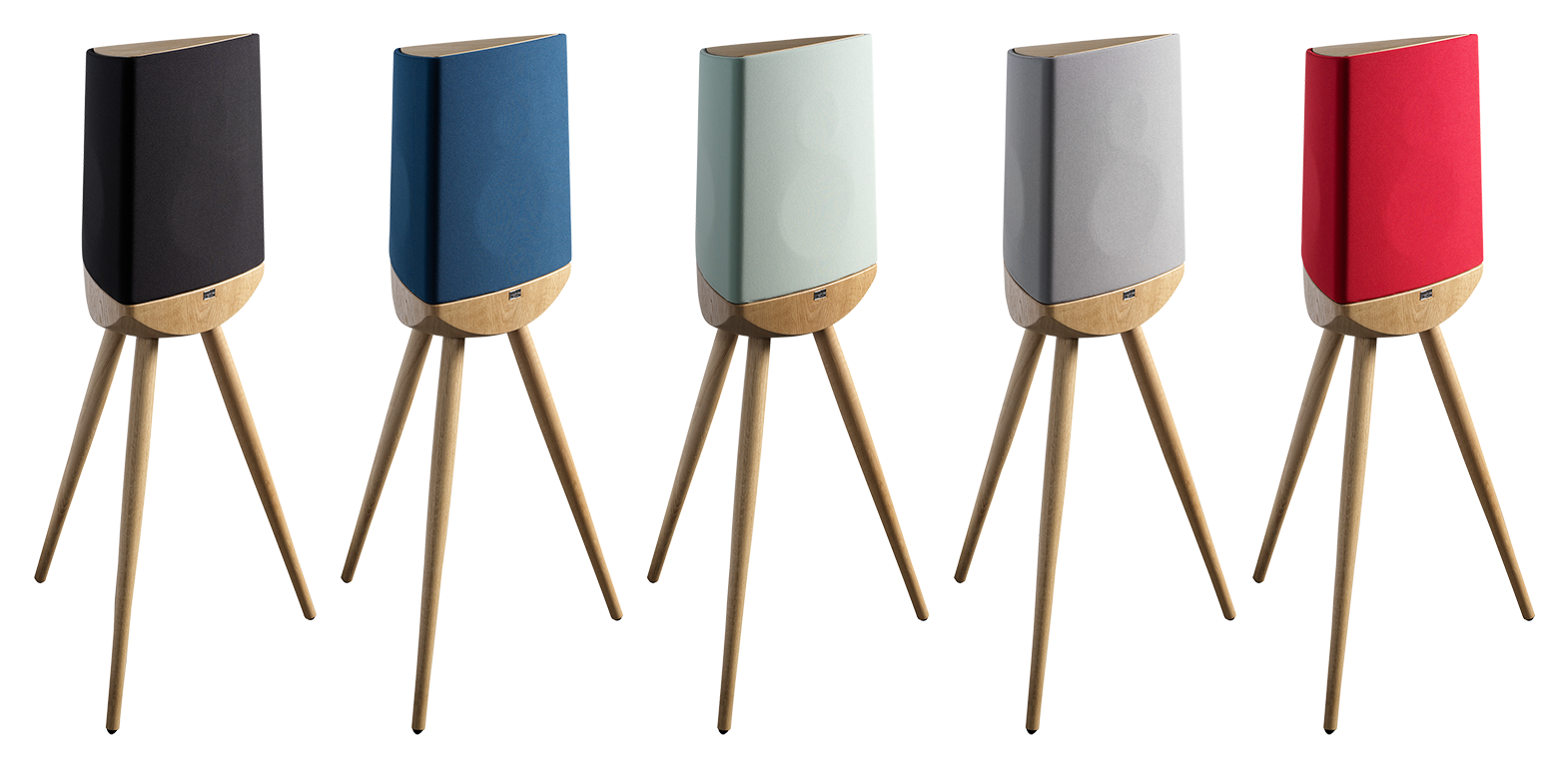 Being a slik, triangular structure without a standard back plate, hiding the binding posts was also challenging and once more denoted a clever design. Please remember to connect the speaker cables before attaching the stands and the plate; it will be much easier. Lesson learned on my side!
Technology inside.
Purifi speaker technology
The Lyngdorf Cue-100 uses Purifi speaker technology. Purifi, the Danish company around Peter Lyngdorf, Lars Risbo, and Bruno Putzeys, developed a brand new measuring instrument to test speakers. Because this measuring instrument can detect distortions that have never been measured before, Purifi's engineers discovered some more areas for improvement. As a result, the new woofer delivers near distortion-free performance.
With the so-called "Natural Surround Geometry" of this midrange/woofer with aluminum cone, a copper-coated fiberglass-based speaking coil, and a die-cast ventilated hive, Purifi sets new standards in speaker technology. The ring shape of the midrange/woofer consists of 'alternating mountain ridges', as they call it at Purifi – in ordinary human language, a woofer with a seemingly frayed edge.
On top of that, other well-developed Purifi technologies are going to sustain the superior performance of the driver: "Variable Pitch Coil" – being a constant force factor vs. excursion, "Permanent Core" – eliminates force factor modulation, and "In-Gap Shorting Rings" – reduces mid-band Hysteresis distortion.
The advantage of this design is that the edges of the woofer move as much outward as inward with each movement. That yields a long and proportionate stroke and an ultra-low degree of distortion.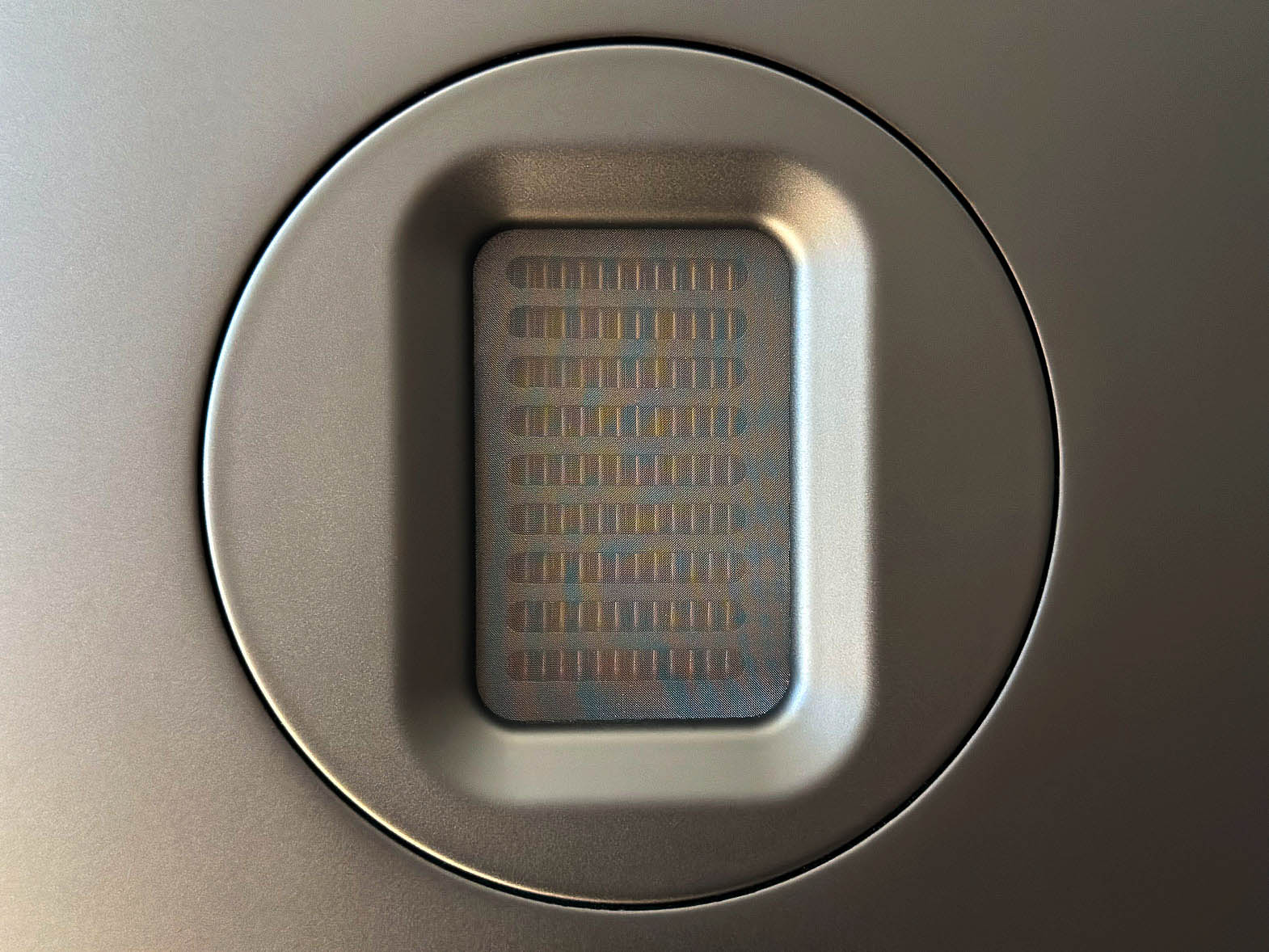 Air Motion Transformer
The AMT tweeter in the Cue-100 (or the Air Motion Transformer) is an electromagnetic driver moving the air in the harmonica-shaped construction suspended between two powerful magnets. The vertical pumping movement of the structure brings a much faster airflow in motion than that of a traditional tweeter. Due to the tight control of the magnetic field, the deformation chance is already much smaller.
The AMT tweeter will complement the faster, distortion-free woofer/midrange driver in a way that will allow for a lot of power to be handled by the speaker in a very composed manner.
Passive woofers
On each side of the case are two 6.5-inch passive woofers instead of classic bass ports that reduce the resonance frequency to create a deeper bass. They are the same Purifi driver of the front, just not active; they are purely acoustically driven by the front woofer.
Technical Details
Power handling: 250 W
Tweeter: Air Motion Transformer, Kapton foil, Neodymium magnet
Midrange/woofer: 18 cm / 6.5-inch Aluminum cone, 39 mm 4-layer copper-clad aluminum voice coil on fiberglass former, Neutral surround geometry, Die-cast vented basket
Woofer: 2 x 18 cm / 6.5-inch passive radiator, Aluminum cone, Neutral surround geometry, Die-cast vented basket
Enclosure: MDF, oak
Frequency response: 35 – 22,000 Hz (-3 dB)
Nominal impedance: 4 Ohm
Sensitivity: 83 dB 2.83 v/ 1 m
Crossover frequency: 2300 Hz
Dimensions (W x H x D): 350 x 513 x 329 mm /13,8 x 20,2 x 13 inches
597 x 1196 x 520 mm / 23,5 x 47,1 x 20,5 inches (including stand)
Weight: 13,8 kg / 30.4 lbs; 16,2 kg / 35.7 lbs (including stand)
"With the Cue-100, Lyngdorf is creating a new category and price range. The Cue-100 is the most expensive speaker Lyngdorf ever made. It's the brand's first full-range speaker that doesn't need a matching, separate subwoofer. However, it is, of course, perfectly possible to add a subwoofer if desired to achieve the maximum sound pressure."

Willy Van de Velde of Hifi Corner Trading
Many thanks to the local distributor.
My mind was still lingering on the newest addition of Lyngdorf after Munich High-End. I have met extraordinary people at the show. Hanging out with Lyngdorf's local distributor team was a true joy and a great moment to share impressions from the show. That was the best part of that trip, undeniable.
Some weeks later, I was pleased with a phone call from the Lyngdorf distributor in the country, Tehnică Vizuală – www.tehnicavizuala.ro, the same people I spent so much good time with in Munich. They asked me if I was interested in listening to the new Lyngdorf Cue-100 in my own space and writing a review about it. Really? Of course!
So, now, after some months spent with the speakers, I am so grateful for the opportunity.
Thanks a lot, folks! I truly appreciate your patience!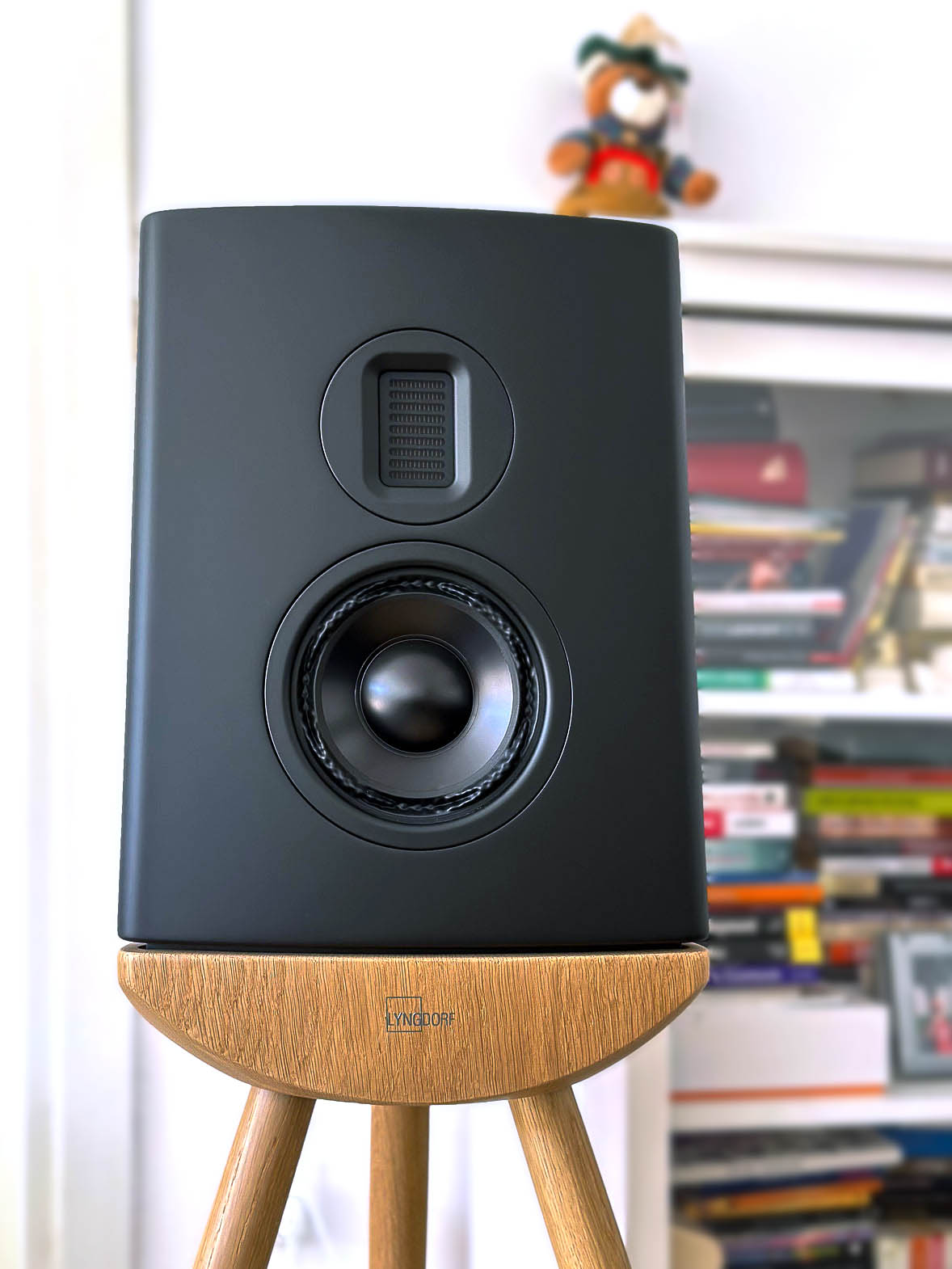 These speakers are beautiful, Honey!
And I got the speakers in my place, two boxes, one for each speaker. And two other smaller boxes for the stands and stand's plates. The mounting process is not complicated, but I would recommend having other people help out.
I just finished connecting the speaker cables; I started the Roon remote on my phone, eager to hear the first notes. At that moment, my wife was passing through the living room, and I expected her to roll her eyes as usual when she caught me installing new equipment or changing some cables. Not only that didn't happen, and I got a glimpse of a smile instead, but she said to me over her shoulder:
– These speakers are beautiful, Honey! What speakers are those?
She did not wait for my answer. I just smiled back after a tremendous effort to keep the phone in my hands and not drop it on the floor. It was pretty close.
I did not expect that; I tell you the complete and nothing but the truth because she is often annoyed when I add new and large equipment in the living room. I seem to destroy the pretty fragile "feng shui" in the house every time I do this. And it takes a while to be restored, and after that, I do it again. Very annoying, what can I say…
I pressed Play, listened for half a song, and she was making the trip in the other direction again. She stopped for a second this time and listened. It was "All Gone" from Oxbow's "Love's Holiday" album (Tidal / Qobuz). It's experimental rock, nothing she usually enjoys, not the experimental part anyway. But it was a slow piece, with cool guitars and enveloping bass.
– And it sounds nice, she said. I like it. Where do you find this music, Honey? You always play strange music, but this sounds nice.
I was thrilled. I had to seize the moment. In one breath, I told her that those speakers were a new Danish design made in Denmark; the "mother company" has built pianos for over 165 years, the excellent "Steinway & Sons" art pieces. In short. And:
Honey, do you want to know how much are these beautiful babies? I asked
How much?
Well, around 20K
Yeah, looks like, she said.
Say what? She didn't even flinch…
Probably, she never imagined that something so wild as having those speakers for myself would ever go through my head, so the cost didn't matter. But still, most of the time, she can not comprehend the prices floating around in this world. Like any other ordinary people, having nothing to do with this hobby, I would say. I was utterly surprised.
Do not get me wrong; I am lucky, really lucky. She accepts me with all that stuff adding up in our shared space, all the continuous changes of the speakers, new black or shiny boxes appearing all the time, bigger and bigger, heavy cables sticking from some corner, or me moving the furniture to change something or make room for new equipment constantly. She accepts me with all that, and I know she loves me despite everything. And I have no right to criticize that she likes Rod Stewart's love songs 🙂
The reality is that the shared space is a family place unless you are one of those fortunate guys with a particular room or the basement for playing around with this kind of stuff. And everybody should feel comfortable and at home in that space. Keeping some boundaries on changing and using the space is common sense. That is why I am so excited about this "democratic" design, which is not just good-looking but is transformative and elevates the interior visually and sonically simultaneously for every family member.
There was a saying about a happy life and a wife… I will remember that later.
Testing equipment.
Trafomatic Audio EOS
Integrated amplifier (see the full review here), my daily driver tube amplifier, push-pull 120 W.
Auralic G2.1 series
Also, my daily source for the speaker system is Auralic Aries G2.1 streamer and Auralic Vega G2.1, a perfect combo I am fond of.
Sound Performance.
And finally, we arrived here. If you, dear reader, still follow, please allow me a few more words before starting with the absolute joy, the music, and the sonic performance.
I have been living with these speakers for a while now, and I am so thrilled with the sonic performance, even more than the looks. Some other changes occurred in my system along the way, and now I am in love with Lyngdorf. They sound sweet, musical, and enveloping. A reviewer said these are "very linear" and "dry" sounding. Nothing further from the truth. These speakers were not clinical or dry sounding, never in my system. It was the opposite. But take it with a grain of salt: I am using an excellent tube amp, and just recently, I upgraded my power line with a dedicated one, wholly separated from the main apartment's outlet circuits, on an independent breaker. And yes, the sound becomes a little more detailed, relaxed, and full, but mostly liquid and moist, and it brings something that makes the Cue-100 an absolute joy. Not that before, it did not sound good, not at all. The differences are not night and day, as you already know. But they were substantial enough to transform the Lyngdorf Cue-100 into something extraordinarily beautiful.
The only comparison that I could talk about is with my Raidho TD1.2. And I will try to depict some differences that exist. Do not expect anything radical because, at this level, it is just a question of taste. Sure, we can debate about pure technicalities and speed for which Raidhos are a different beast, but we can also talk about the bass extension and the fact that Lyngdorf is an almost full-range speaker in that respect. So, there is no black and white; there are only delicate nuances of beautiful colors, and everything should have a meaning in what you like, dear reader, how big is your space, and which music do you enjoy?
That being said, let's hear some music or at least write something about it.
Preliminary Sound Impressions
The first sound impressions are very important to me, not because I can distinguish all the sound qualities from the beginning, but because my brain is not yet used to the new sound, and the differences are quite evident initially. After a while, my brain will adapt to the "new normal," and all the good surprises will become daily bread and butter. The not-so-good aspects will persist because this is how our brains work, ignoring the information that is good for us and highlighting more of what is perceived as annoying, unusual, or out of place.
The first thing that hit me was an excellent transparency and tonal balance. Coming from Raidho's real-life openness and speed, I did not feel I had lost something from the tone of the voices or the midrange transparency. That was surprising, knowing how incredibly good those Raidho's planar magnetic tweeters are. The air on the upper registers was not so obvious but still very present, and the surgical perfect cut delineation of Raidhos was replaced by a little more relaxed and a very fine easiness of powerful expressions.
It all has to do with how Lyngdorf is presenting the soundstage and the depth of the soundstage, so let's jump directly into that.
Soundstage & Depth
I discovered just recently (my fault here) an incredible piece of music, a superb album centered on the fantastic and powerful voice of ANOHNI.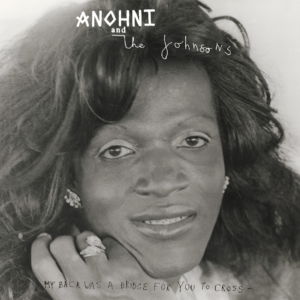 "My Back Was A Bridge For You To Cross", ANOHNI's first album with the Johnsons in over a decade (Tidal / Qobuz), is emblazoned with beauty, dignity, and humility. From the first track, "It Must Change," Anohni's voice rings out over chiming guitar and smooth brass and strings in a powerful and beautiful way.
Lyngdorf's Cue-100 perfectly preserved the voice and transmitted all the nuances in a pure emotional manner.
Lyngdorf does not project the voice in front of you as Raidho, but it will show a little more laid-back soundstage, and at first, that will trick you into sensing that the scene has more depth because it is so well layered, starting from the speaker's position. It will extend far back, and the positioning of each instrument is perfectly laid out. You exchange Raidho's front seat with another one, still well-positioned but with a broader stage perspective.
That is just another view where you do not reach to touch the singer in front of you but rather enjoy the full performance.
To experience this further, let's listen to Julie Byrne's beguilingly smoky vocal tone and whispery delivery in a deceptively varied palette of folk-style guitar, strings, and ambient synth "The Greater Wings," the first track of "The Greater Wings" album (Tidal / Qobuz).
The graceful acoustic guitar placks and the airy voice of Byrne depict the recording space in a very relaxed manner where all the reverbs and decays are glimmering with the right pitch.
Again, the stage is far and wide; you can feel it is more about enjoyment than perfection. Where Raidhos will show the singer sitting on the carpet in front of you and all the string tones floating around in a perfectly calculated position, the Lyngdorf will present a more relaxed stage with just a smidge less energy and extension. Raidho's surgical precision is replaced with little rounded corners on the edges with the right amount of energy not to lose any impact and lively presentation. As I said, it is more a question of taste; for me, both perspectives were glorious.
Detail Retrieval & Transparency
I mentioned already the high qualities of transparency, especially for the midrange of the beautiful Lyngdorf's Cue-100, but to conclude, I would say it is on par with Raidho's clarity of the voices. And that is something! You have texture and emotion, extraordinary good tonality and openness. I was really impressed by the performance. And because you will lose a little of the Raidhos perfect truth and no cosmetic real-life presentation, you can slide a little, just a little, into more honey on top of your daily bread and butter. One will say this is a more "musical" presentation, but that highly depends on one's taste and expectations. One can be more of a spectator and purely enjoy, or one can strive to be part of the stage and hear and feel any music movement with incredible precision. The nuances are thinner than words can describe, and ultimately, the choice is yours.
"Big Jet Plane" is a song written by Australian singer and songwriter Angus Stone. Re-recorded by Angus & Julia Stone, it has been certified platinum and got tons of awards along the way (Tidal / Qobuz).
Even if the album is more about the "Big Jet Plane", "Living on a Rainbow" is equally sweet and full of details. The drum could so easily bloat into the mids and lose the tight and dry original sense. The next track, "My Malakai," is a perfect candidate for testing detail retrieval. The whole album is a beauty of sweet voices and musicality.
And it sounded just like that – sweet and musical. I did not feel that I missed something from the upper registry, even if I knew the airiness had been sweetened.
Let's jump to some bass articulation of melding contemporary jazz and R&B with some nice trumpets and sax.
KOKOROKO's "Could We Be More" (Tidal / Qobuz) album mixes sweeping ambient sounds, chunky electric guitars, dubwise bass, and punchy trumpets in a buoyant groove.
The "We Give Thanks" atmosphere is very clear at the end of the track, and the drums are so rewarding; I give you that, dear Lyngdorf! Detail retrieval on lower regions is spectacular, as Cue-100 larger cabinets and lower extension allow for more performance here.
"War Dance" is just a delight of low rumble, very well defined and articulated, without any bloating or overdoing, even at higher volumes. Clean and enveloping bass with soft textures punched by the trumpet's elevated pitch and electric guitars.
Frequency Reponse
Bass – let's get this out and say it already. Yes, I am annoyed a little.
The bass qualities of Lyngdorf's Cue-100 are so good that I will miss them more than anything. I will never get that low, well-defined rumble from Raidho. It will be quicker, maybe more impactful, but never so low and enveloping. Because Raidhos are small cabinets, and despite how well they try to hide, it will never go down to 30Hz. And most of the time, you do not need that, true, but when you need it is like a warm blanket on a cold freezing day completely covering and warming up your soul.
Jamie Woon's "Making Time" (Tidal / Qobuz) is nuanced, quietly intense, with some degree of heartache. The gently pulsing "Message" or the snapping/bobbing "Sharpness" will sound so much alive and joyful with the added low extension of Lyngdorf.
Subtly gorgeous "Dedication" requires the mids transparency as much as an excellent low extension to illuminate the space and depict the subtle nuances and emotion.
Once you hear this album on Lyngdorf's Cue-100, it is so hard not to remember that you miss something on smaller and not so generously low-extended speakers. Of course, you could argue that there is always room to augment the bass with subs, but that is another story. It is quite a challenge to do that and maintain the speed and coherence of such performers as Raidhos.
Khruangbin, an American trio from Houston, Texas, is known for blending classic soul, dub, rock and psychedelia.
"Live at Stubb's" (Tidal / Qobuz) live performance surprised me more than the well-known "Mordechai" album. I always find live representations (assuming good recordings are in place) more colorful and enjoyable.
The whole album is just wonderful, but we are here to listen first to "Blind Man Can See It / (It's Not the Express) It's the Monoaurail" track that uses a lot of drums, kick, and electric guitars. It sounds nothing less than spectacular with the detailed, well-extended, clean, and textured low end of Lyngdorf. The next track, "Friday Morning," will surprise you the same.
---
Midrange – I witness unexpected openness and transparency. The voices are very good and tonally almost perfect. I have just one example of a glorious voice that could be tumbled pretty easily into harshness or lose proper composture on less refined performers.
It is a gorgeous, powerful voice evoking the maverick style of Nina Simone, none other than Lady Blackbird.
"Black Acid Soul" (Tidal / Qobuz) demands a very good chain to really enjoy incredible spectacular details and nuances of Marlin Munroe's (Lady Blackbird) voice.
The first track, "Blackbird," is quite astonishing from the album's beginning. The high dynamic of the performance is a challenging feat. Lyngdorf kept up with the highly demanding dynamic swings of the voice and never sounded bright or overextended.

"Fix It" showed so much texture definition in the singer's voice, and the accompanying piano was brilliantly portrayed in the scene with such a smooth and sweet tone. It was gorgeous; Raidho and Lyngdorf performed almost equally stellar on this album, even if the former could show more evident details on the upper part of the registers. So yes, Lyngdorf's midrange is on par with the best out there.
I listened again the whole album; I could not skip it. Listen to "Five Feet Tall" and "Lost and Looking" and tell me that will not melt your heart and you won't get gussbumps. I will not believe you…
---
Treble – Lyngdorf can sound fantastic with smooth jazz and extraordinary voices, and yes, it will show the same refined character with heavy rock metal clenching, ear-punching music. And that, thanks to the AMT tweeter, which is more refined and forgiving than I anticipated.
Unreleased recordings from Prince's legendary prodigious vault saw the light of day in this collection called unimaginatively "The Vault" (Tidal / Qobuz). It is not my place to praise Prince, but this album shows a beautiful, carefree feeling, a mix of rock, jazz, and funk, and has some rough swings along the way. I had never heard such sparkling piano notes coming like from guitar placks.
The well-known "When the Lights Go Down," as rough as it is around the edges, was reproduced by Lyngdorf in a strikingly smooth way without losing the strange metallic accents of the instruments and the incredible swing at the same time, piercing the ears elegantly and gentle when it has to. No details were lost in the process, and some fluidity and smoothness added to the presentation gently sweetened the sharpness of some pieces. "There is Lonely" could sound less dynamic on too gentle speakers or cruelly bright on some other breeds. Lyngdorfs nailed it with perfect highs and tone, so now I trust entirely their AMT tweeter, which is highly detailed, smooth, musical, and enjoyable.
---
Just a last word for the complete sound performance.
Lyngdorf Cue-100 is a genuinely high-end musical and beautiful speaker with an accurate, fluid, rewarding, and elegantly smooth presentation. The look is completely matched and surpassed by the sound quality. At the same time, Lyngdorf Cue-100 could become a love affair for serious audiophiles and design-conscious music lovers.
System Matching & Power Requirements
Unfortunately, I did not have the time to listen to the Lyngdorfs with multiple amplifiers or very different sources. I plan to because it could be interesting, especially with Lyngdorf's digital amplification like TDAI-3400, the most powerful and advanced amplifier from their portfolio. For now, I can only talk about my main driver – the Trafomatic EOS integrated amplifier, a push-pull vacuum tube design.
As for the source, I used my Auralic stack of Aries G2.1 streamer and Vega G2.1 digital convertor. I also used the Chord stack of Chord M Scaler and Chord Dave, my headphone source system, going in the same Trafomatic tube breed. Lyngdorfs clearly showed the source differences and behaved according to the highest expectations.
120W tube power of Trafomatic never seemed to lose grip, and it was effortlessly enough to unleash the full swings from the speakers. Even if Cue-100 is listed at 83 dB in 4 Ohm, which is a not a very sensible value and will indicate that it will require some serious power, in reality, I do not listen above 85-90 dB, 75 to 80 being, in fact, my comfort threshold.
I am happy when the speakers can show full dynamics at that 80-ish dB value, and I can distinguish all the details and nuances without having to crank up the volume too hard. Lyngdorfs proved they can do that and so much more. They have the advantage of larger cabinets, so working up on the scale will not show any sign of fatigue or flatness.
Lyngdorf Cue-100 can be much louder and maintain composure well beyond what Raidhos can do. That could be very useful for larger rooms or higher volume demands; it is just not my use case, so I am grateful that Cue-100 can swing nicely even at lower volumes.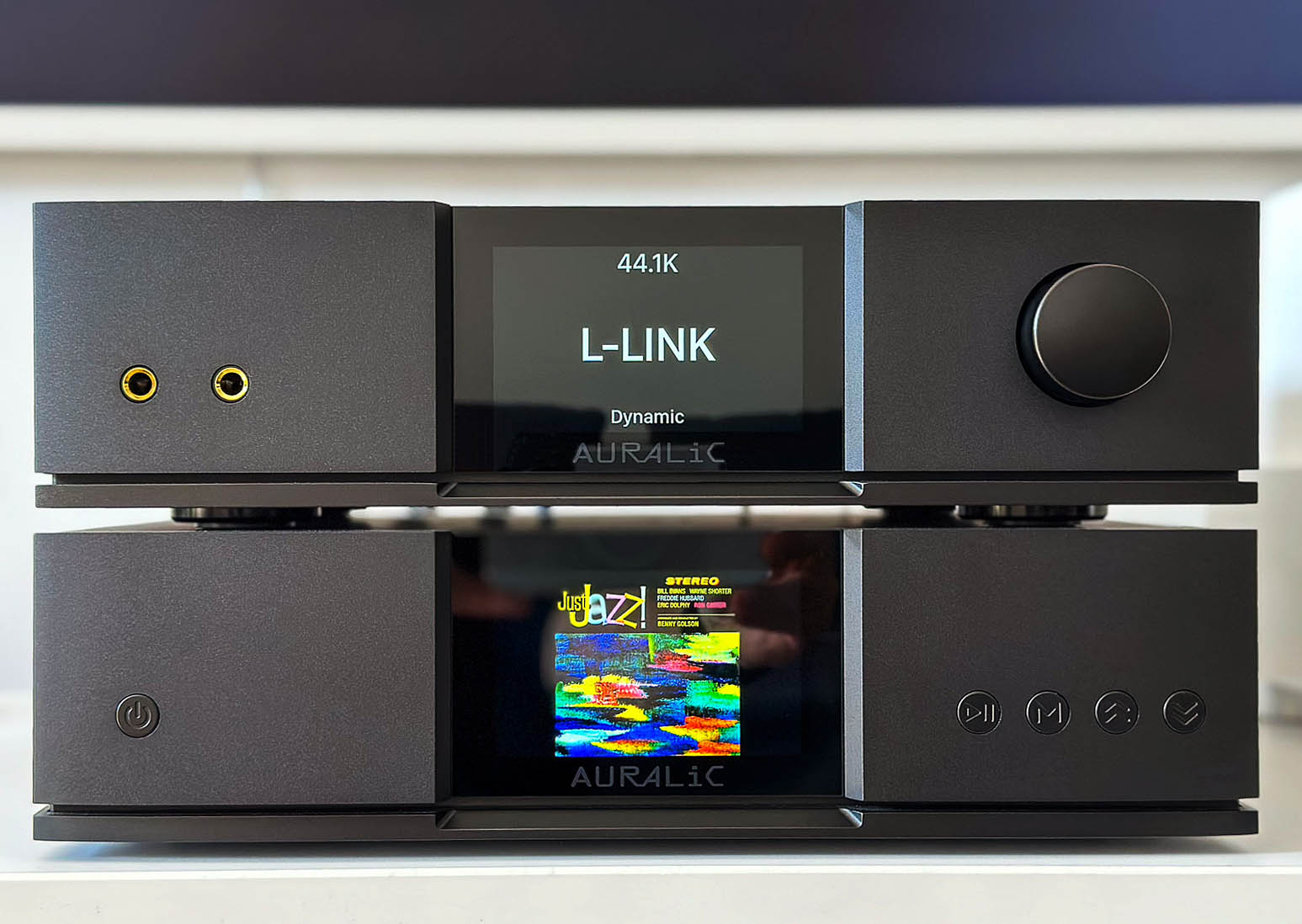 Conclusion.
After all what I have said, what is there to be told more?
Well, in the end, it was a fantastic journey and an unexpected one. Why? Because I did not envision the Lyngdorfs to be so up on the scale. The differences from Raidho's crowned king TD1.2 were not so dramatic; it was more about the last finest details and the slightest shift of personality. Yes, Raidho is still quicker, more precise, and more detailed, but Lyngdorf Cue-100 has some other advantages of its own, being full-range, more relaxed, and sometimes more musical and pleasant, even more enjoyable.
Adding that new iconic design to the beautiful sound quality is a nice package to look at. Can I tell you now that I can leave with any of them? It makes me feel guilty, as if I am in love with two girls at the same time. And now they know about each other; what a mess 🙂
The biggest compliment from my side is a deep sadness that I have to return them now and a Gold Award for the remarkable achievements of this Lyngdorf Cue-100. I am confident that it will become an iconic design on which Lyngdorf can build for the years to come. Success is reserved for the brave ones, those who dare to challenge the moment's status quo with creativity and daring endeavors. And I am confident that this step Lyngdorf made today into the higher echelon of audio and product design will pay big in the future.
Happy Wife, Happy Life
Yes, now I remember the saying: "Happy Wife, Happy Life".
So true 🙂 It was the first time that my beloved half had something good to say about my equipment. I hope not the last. But this is something to remember and look forward to in the future. I really hope that more and more audio manufacturers will become conscious of this aspect without sacrificing sound quality. Other well-regarded reviewers and many respected voices in the field spoke about that. It is just the beginning of a transformative era in high-end audio, starting with Class D amplification to every extent of the chain.
You can test and get qualified advice about the Lyngdorf product line at the "Tehnică Vizală" store (www.tehnicavizuala.ro) in Romania or through many fine distributors worldwide. Lyngdorf Cue-100 is available at 20,000 Euro.
Pros & Cons
PROS:
Unique "democratic" iconic design
Stand-alone full-range speaker
Versatile and almost endless personalisation options
High quality finnishing
Natural materials, real wood
Incredible bass performance
Midrange neutrality and openess
Very smooth and musical top end
Outstanding imaging
Exemplary wide and deep soundstage
Dynamics without any fatigue
High power capability managed with grace
Ability to fill larger spaces
CONS:
Pricing
Low sensitivity requires serious power
A final word
Dear reader, I hope I was not dull, and I brought you meaningful insight. It was a wonderful experience, and I am so glad that I have the chance to share it with you. As always, I am grateful to you all, and I hope for a word or two in the comment section below. Thank you, and happy listening until we meet again.