Bookshelf speakers up to 1000 USD
I already warmed my ears and wake up my neurons listening to good music from the previous comparative test of bookshelf speakers up to 500 USD that you can read right here.
I hope my curiosity will not kill me as it killed the cat but I already done my research on speakers two times the price and here we are with a new comparative test.
As we did it the last time, we decided to use higher grade electronics.
Associated Equipment
Besides the Matrix X-Sabre PRO DAC and the Cambridge Audio Azur 851A we de cided to upgrade our digital transport that up to this day was a Chromecast Audio that was sending optical signal from my TV to my DAC. We changed it with a better streamer: Bluesound Node 2, that improved the perceived sound quality and solved my fetishes as MQA decoding, wireless connectivity to my PC and external HDD, a very simple app that will control everything directly from your smartphone, direct access to majority of streaming services as Tidal, Spotify, Deezer, etc and a lot more features (secondary DAC, headphone amplifier) that I did not test yet.
Our cables remained the same, we used QED Reference XLR interconnects and AudioQuest Type4 and Kimber PR8 speaker cables.
The DAC and integrated amp have a precise and clean sound, putting a strong focus on timing, detail extraction and explosive dynamics.
Speakers we tested were:
SVS Prime – 500 USD
At the development cycle of this model, the American manufacturer has adopted some technologies used in the higher tier line such as the SoundMatch crossover and the 1″ aluminum tweeter.
SVS Prime are bookshelf speakers with a rear bass reflex port having and aluminum tweeter and a 6.5" polypropylene woofer. Nominal impedance is 8 Ohms, are weighting 7Kg per piece and frequency response is 48 Hz – 25 kHz.
They are quite plain looking, design is pretty common, the rear terminals are made with quality materials and are certainly well finished for this amount of money.
Speakers came brand new with no burn-in at all, we because time is something, we value a lot, we started listening to them straight away.
I immediately played The Prodigy – Invisible Sun I was very curious to know if the sub-bass at the 0:37 mark will shake the woofers. I left disappointed a bit not because of a weaker bass response but because treble was very sibilant and screamed louder than my mother in law, but also by the tense and artificial performance, the musical notes were not speaking to each other at all. All in all, I've heard an amalgam of sounds but not music.
I left them cooking for two days (about 30 hours of bur-in time) and restarted my auditions.
That is what I am talking about! Everything sounded smoother, with better dynamics, even bass response came back, I really missed it.
Overall after burn-in period this speaking are sounding quite neutral, without trying to highlight anything.
On vintage music I hear an easy attenuation of midrange – always put on the second row. Voices are again sounding sweet and have a pleasant presence, however are not very focused or centered.
Mid-bass was well defined both on The Prodigy and on Infected Mushroom, it hit and run at the exact timing, with quite a nice kick I may add. The emphasis is on the kick & impact and less on the depth.
Especially listening to Invisible Sun I noticed the sub-bass attenuation, which wasn't going low as I would have liked. I think it's the biggest con of this particular model, which by the way manufacturer specifies from the start (from 48 Hz and up).
Soundstage size is medium and not very deep, there isn't an imaginary wall that notes should hit. Notes are decaying slowly, without echoes or distortions.
The hot spot location is not that important, you can listen to these speakers from different angles without serious errors in sound reproduction, but every time I listened to them, I felt the need of a subwoofer in the acoustic chain. SVS Prime are most likely made to work greatly with SVS branded subwoofers that I listened recently and came positively surprised by their performance.
If bass response is not your first priority SVS Prime are sounding quite neutral without noticeable cons.
Cambridge Audio AeroMax 2 – 600 USD
AeroMax 2 bookshelf speakers are part of the flagship range of the British manufacturer. These are two-way speakers with a frontal bass-reflex port.
From the start I noticed that the tweeters are very different, unlike traditional ones these are using BMR (Balanced Mode Radiator) transducers that besides rendering high frequencies are also taking care of the midrange. Neat!
AeroMax 2 is using 2" BMR tweeters and 6.5" high powered woofers, weight per unit is 7.24kg and the frequency response is 40 Hz – 22 kHz.
These are premium finished, I really like the glossy black that looks stunning on this pair of speakers. The rear of speakers looks simple and quite modest, binding posts are quality made and that's basically it.
Having a frontal bass-reflex port I have high hopes that I will hear the deepest and most controlled bass from this evening.
First and foremost, I want to remind you that in our previous comparative test Cambridge Audio SX60 ranked last, so starting today's test we were very reluctant and we had low expectations regarding the performance of the AeroMax 2.
After Nils Lofgren – Keith Don't Go started playing I could not believe how different these speakers sounded from the entry level SX60, the difference is night and day.
I immediately noticed a sweet and warm midrange performance these speakers are capable of. Guitars and voices sounded textured and had a great presence. This time around voices are completely centered and very defined. Guitar vibrations is slightly extended, midrange to treble transition is excellent, without any drops or rises.
Treble sounded airy and detailed but highest notes were trimmed a bit.
Treble attenuation was heard especially on Bozio Levin Stevens – Duende, where cymbals sounded really calm and soft.
Of course, the best part I left behind: Bass!
On previous SX60 model I was complaining about the base that was completely out of control and very loose sounding for my tastes.
AeroMax 2 sounds very different in this respect, at least transducer control is back that I missed a lot. This time around bass notes are not only going very low, but have also a better control and decays much faster and doesn't linger too much. The sensation that bass notes are coming from a dirty barrel is completely gone.
Soundstage size is bigger than that heard on SVS Prime, sound became wider and deeper. The hot spot is almost nonexistent, these speakers will sound great from any angle.
Notes were never crowded, take for example Dave Brubeck – Take Five or Bozio Levin Stevens – Duende that sounded very airy, with a big void space between the notes and with a well spread rendering in my listening room.
I was quite surprised by the AeroMax 2 are liked them quite much, I consider them much better than SX60 of the same manufacturer, if your budget permits then AeroMax 2 are speakers to be seriously considered.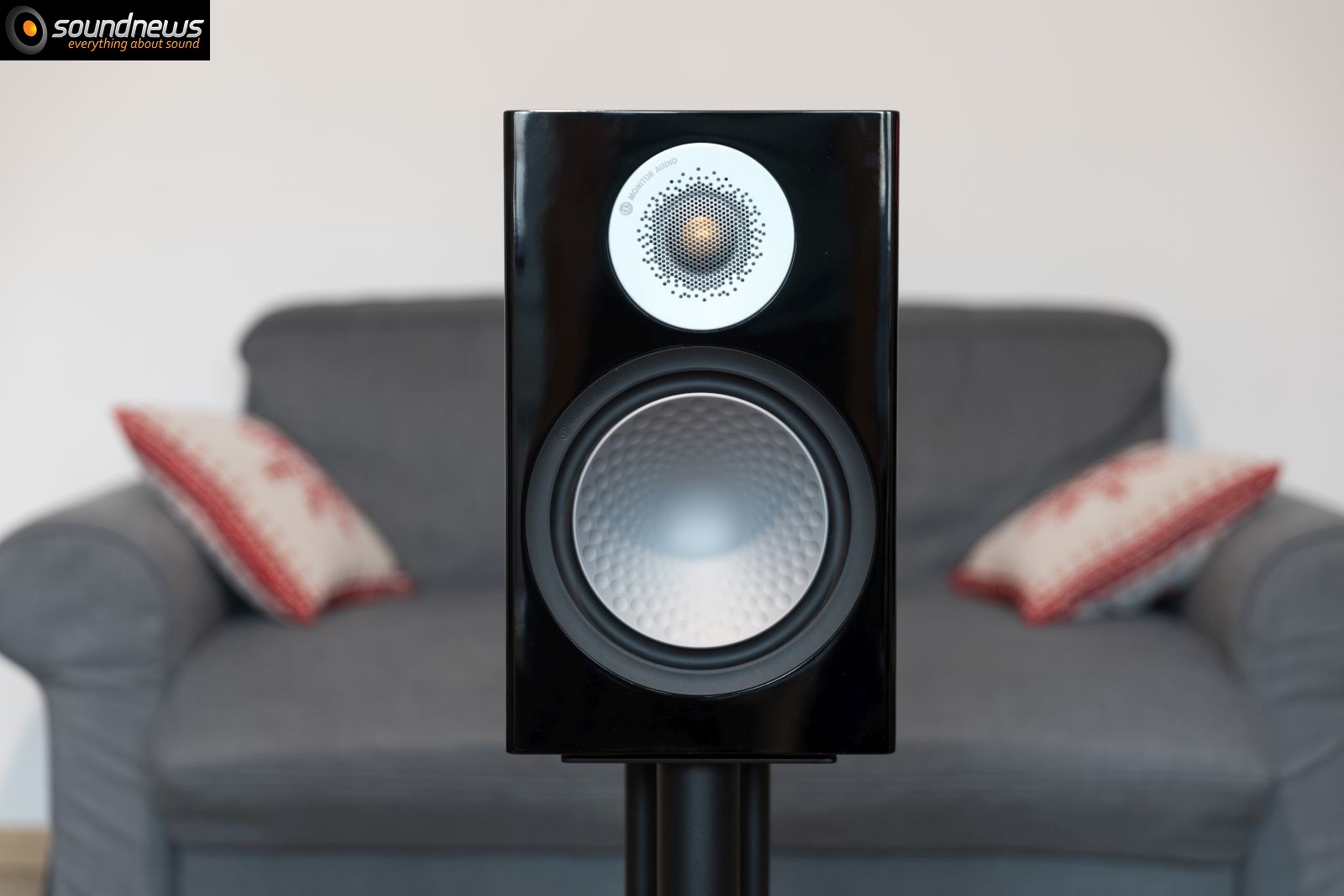 Monitor Audio Silver 100 – 1000 USD
We already know that the newest Silver range has a lot in common with the superior Gold and Platinum ranges like the C-CAM RST (Ceramic Coated Aluminum-Magnesium) woofer initially developed in the aerospace industry that Monitor Audio adapted to make speaker cones, the newest custom 1" C-CAM tweeter is also borrowed from the higher-end ranges.
These speakers are again two way with a rear bass-reflex port, weight is 9.3 kg per unit and frequency response is 40 Hz – 35 kHz.
Just look at them: big, beautiful, imposing, heavy, voluptuous with an "all about that bass" 8" woofer, what more can you ask for?
Seriously now, I like their looks a lot, there isn't a single screw in the front, tweeter is protected from my cute 4-year home destroyer (my son), the contrast between the glossy black and the silver woofer clearly highlights the beauty of these speakers.
The moment I pressed play on The Prodigy – Invisible Sun was the moment it I started peering into windows to see if anybody called the police. The windows glass started shaking and trembling from the overwhelming bass…
The giant 8" woofer (a mystery elucidated: size matters, after all) began showing his muscles.
Having more than 80cm between the wall and the speakers, bass hit with an incredible speed. It was going lower than that of AeroMax2, it was more present and had a greater authority. I liked that it was not hitting only my chest but my whole body from different angled, amplifying the sensation of a well spread soundstage.
Indeed, I heard the best soundstage of the evening, it resembles the performance of a stand-floor speaker and less than of a bookshelf speaker. Sound is always bold, imposing, has impressive dynamics and a fast transient response.
As with the lower tier Monitor Audio Bronze 2 speakers, I've heard a well-balanced sound and it impressed me the most.
Above the acoustic qualities, I am more impressed by the tonal balance in which I do not have to hear drops or rises, in which sound must breathe with a good detail and with a natural flow.
I'm glad that the tradition did not change and Silver 100 wins the most points in this category.
Unlike SVS Prime and AeroMax 2 midrange has a shorter decay, it just suddenly stops, it has clearly a better control of this frequency range. Nevertheless, mids are sweeter and are placed in the front row together with bass. Midrange is well defined and has a natural texture and that's why it is pleasant to my ears.
Treble is also quite special.
The upper extremities were not trimmed, I can clearly hear them having superior resolution than previous models. However, they aren't sibilant or sharp. I love when manufacturers are developing high-resolution speakers or headphones but that sounds natural without getting tiresome in the long run.
Like the bass, I think MA Silver 100 produced the clearest and most extended treble I've heard this evening.
I am not a Monitor Audio fanboy, a month ago I had the first contact with this company and slowly but surely, I started having confidence in this company.
Conclusions
Fanboy or not, Monitor Audio Silver 100 are again in the first place.
Personal tastes are not part of this as I was more objective this time around.
Simply, from all points of view, MA Silver 100 were always ahead over the other two pairs of speakers, they are more expensive but I consider the difference to be fully justified.
Design wise Silver 100 were standing out from the crowd, the contrast between the black enclosure and the silver drivers seems to be a successful combination. The sound exceeded my expectations, I heard a huge leap in audio quality over the speakers heard in the previous test (speakers up to 500 USD).
SVS Prime and AeroMax 2 are momentarily exchanging blows for the silver medal. If you are interested in a much more present bass and smoother treble then AeroMax 2 are exactly like that, if you interested in a clearer midrange performance and higher resolution treble then SVS Prime would be that.
Overall all three models on our test bench showed me that there was a big leap ahead over the speakers heard in the previous test.
The ones heard today sounded more controlled, more detailed, having even more air between the musical notes.
Any conclusion you draw from this comparative test, I recommend listening to them personally and choosing with your heart and not your head.