Chord Electronics Ultima 5 Power & Ultima 3 Pre In-Depth Review – Hit Me Baby One More Time
I have arrived at the end of the road with personal audio, building a marvelous sounding head-fi battle station, that compels me to discover new experiences on a daily basis. Audiophilia Nervosa is long behind me and finally, I can rest carried away by the sound waves. That setup performs so well that I started neglecting my other brainchild – the stereo rig which felt like unfinished business. I was still getting tremors when volumes were getting higher, the lowest octaves have nowhere near the quality and refinement of my head-fi setup. Was it fate or pure coincidence? But immediately after finishing my Chord DAVE review, I started scratching my head, wondering about their stereo amplifiers and preamplifiers.
Nowadays, Chord Electronics are best known for their digital to analog designs, which Rob Watts is developing for a few decades now, but if you dig deeper into the history books, then you'll discover that Chord started their business with analog amplifiers a long time ago.
As part of their 30th-anniversary celebrations in 2018, Chord updated the naming scheme of their high-end amps, implementing Ultima amplifier topology into a brand-new mono amplifier. In 2019, they started using the same Ultima topology in a smaller Ultima 2 mono amp and exactly a year ago, Chord infused Ultima genes into more affordable mono & stereo amplifiers, making their way into a brand-new preamp as well. The Ultima 5 stereo power amp is currently their statement stereo amplifier, a prodigy child of the legendary SPM 1200 MKII and the grandchild of the SPM 1200 amplifiers which were widely considered to be the definitive stereo amplifiers of Chord Electronics. The Ultima line represents the pinnacle of amplifier design and that was reflected in their looks, feature set, specs, sound performance, and price.
Although looking like HiFi components coming from the future, things are incredibly simple and straightforward on the inside, as everything works in the analog domain only. As usual, you'll find proprietary MOSFET transistors, a fully balanced input-to-output circuitry, Class-A/B sliding bias which will be offering the very first Watts in Class-A, the full power of the Infinity Stones capable of driving the hardest loads, plus a stable working temperature due to convection cooling that Chord Electronics is refining for a few decades now. Chord's newest Ultima 3 preamplifier is equally interesting, starting with its modest price tag and finishing with exceptionally low noise that shouldn't limit dynamics coming from the source. Working as an active preamplifier, accepting voltages up to 10V, outputting voltages up to 17V, having a gain factor of 1 (unity gain), a THD of 0.002% at max power, and 5 pairs of analog inputs, we're talking about the last preamplifier that you will ever need. Ultima 3 Pre goes for £5.995/ $8.495, while the Ultima 5 Power for £10.995 / $15.900 exchanging punches with upper-echelon HiFi. There's some interesting stuff happening on the inside which I'll mention in a minute, but until that happens, let's have a look at them in a customaryway.
Design & Build Quality
I didn't try their former SPM amplifiers in the comfort of my home, although I heard their beautiful voice many times by now. I always liked their bold design, screaming Chord Electronics from afar, having massive plates all around, as HiFi knights plated with aluminum armor. Having a thickness of 3cm, I don't think I ever experienced thicker plating on any component that passed through my hands, adding confidence that I'm dealing with ultimate levels of build quality as their names state. With all due respect, my former integrated and power amplifiers don't stand a chance versus these wonder boxes, which don't look like ordinary rectangular cases and more like modern pieces of art, where passive cooling, lights, and raw aluminum are all blending together.
A custom HiFi rack is already in the making and you will be seeing it in a couple of weeks, but until that happens, Chord Electronics had this clever idea of stacking their Integra legs, forming a simple yet effective rack that will null vibrations coming from within their electronics thanks to gel spheres forming a Bermuda triangle. Just look at this beautiful DAVE, Ultima 3 & Ultima 5 stack sitting atop each other.
I remember making a photo shoot of a matte-black D/A converter last year, with two matte-black Benchmark AHB2 power amplifiers sitting below it, and as much as I tried bringing shadow detail up in Adobe Lightroom, the final result wasn't spectacular, having 3 black holes with little to no information around and from that point onwards, I decided that my future devices would always have silver or white bodies, which would look better in the pictures. I had a loaner Ultima 5 in matte black with chrome feet which looked fantastic, but I like the raw aluminum look a bit more, which has an amazing visual impact with blue lights coming from within. The light show can be dimmed on Ultima 5 after pressing the button below the Chord logo and you can do that with the remote on the Ultima 3 Pre. I'm not bothered by it at the highest brightness setting, adding to the atmosphere, wrapping myself in a blanket while listening thanks to a chilly mood that always sets in.
Turning them around, you can see massive aluminum heat sinks glued to their cases, their sides were armed with massive heat sinks as well, which doubled the surface area for better heat dissipation. Chord Electronics calls this convection cooling, relying on heatsinks and not on active cooling, using the natural airflow as the amplifiers are heating up. After a few hours of music playback, both units are barely warm to the touch, which should prolong the life of their electronics. Both units have massive openings on top and below, including a top light ring, which will move hot air outside their case, lowering their working temperature, but please make sure to use them in an open area as their user manual suggests.
Figuratively and literally, I haven't come across cooler-looking units. Our listening space is also the living room and as much as I tried hiding audio components from the cat eyes of my wife, the WAF is something that can't be bypassed with massive-looking units like these, but she liked their look from the get-go, blending in as modern furniture and green lighting the project.

Controls & Connectivity
As a power amplifier only, Ultima 5 has a single button in the middle acting as an On/Off button and everything else was moved to its rear, where a pair of XLR and RCA analog inputs are located, a C19 AC socket and a pair of speaker terminals. Ultima 3 Pre is a bit more complicated, as, besides the On/Off sphere, there's a volume pot on the left which doubles as an input selector when pressed and there's a balance control on the right which doubles as an A/V bypass button – in case you'll want to bypass its volume, controlling the output with your source. Please be extra careful when doing that, a small mistake and you can blast full power into your loudspeakers.
On its back, you'll find 5 pairs of analog inputs, 2 balanced and 3 single-ended inputs (so convenient), a pair of RCA and XLR outputs going to your power amp, and another pair of A/V bypass XLR outputs. There's a little USB type-A socket as well, which in my case is a massive life-saver, powering a small media converter (5V 1A) just before my wired streamer that works as a Roon endpoint. You can charge your phone via that USB output, or better yet, you can power a small audiophile gizmo like a small DAC or a media converter and I'm sure there are other use cases.
Under the hood of Ultima 5 Power & Ultima 3 Pre
A. Ultima 5 Power
First and foremost, you need to know that Chord developed their proprietary MOSFET transistors, according to their needs to be used in their end-game amplifiers. How many amplifier builders do you know making their own transistors? I don't know any…
Ultima 5 uses 32 proprietary MOSFET transistors biased into a Class A/B operation and since it can burn up to 2000W per hour (at max power), the very first 15 Watts are being delivered in pure Class-A. There is so much more at work, for example, they use a sliding bias control, so the Class A/B mode depends on the working conditions and it varies with signal and load. Each of the output MOSFET transistors compares its own input signal with its output and then an ultra-high frequency difference signal for each power MOSFET is applied to the input. These signals feed forward and control the power stage with incredible accuracy, removing any transient distortion caused by the output MOSFETs themselves. Using this method, the bias is constantly monitored and adjusted depending on the signal requirements. This feed forward control is independent of the overall feedback of the amplifier, so it will always retain fast response times.
I wanted to know a little bit more about it and thanks to Chord Electronics engineers, I can share with you some additional information. Ultima 5 provides up to 350 Watts per channel into 8 Ohms and 500 Watts per channel into 4 Ohms, it has a channel crosstalk of -115 dB at 1kHz (an impressively low number) which should positively impact the depth and stage size and except for the buffer stage, the rest of the amplifier is fully discrete.
Like all Chord Electronics devices, the Ultima 5 uses an HF switching mode power supply, hence looking like a power amplifier and not like a fridge, it's a fully balanced amp input to output and it offers a gain of 30 dB. With the included Integra legs, it measures 18cm (H) x 48cm (W) x 36cm (D) and at 22.4 kilos (almost 50 lbs.), it is on the bigger and heavier side of things and it's probably the biggest power amp that was tested around here.
B. Ultima 3 Pre
I'm looking at Rob Watts with the same eyes I'm looking at Tolkien's Gandalf, I see him as a walking encyclopedia for all things audio. I interviewed Rob a few months ago and I must say that it was an eye-opening experience, talking off-camera a lot more than what was posted online. However, I wasn't on the same page with Rob on one tiny thing. Naturally, he loves all his creations and so far, DAVE seems to be one of his biggest achievements. According to Rob, DAVE won't need a dedicated preamplifier as it already acts as a marvelous passive preamplifier, losing little to no resolution when lowering its volume. As instructed, Ultima 5 was connected directly to the DAVE and for a few months, I was a happy camper, controlling the output with DAVE's remote control. The curiosity killed the cat and it killed my wallet later on, as when the Ultima 3 Pre was put in between the DAVE and Ultima 5, I got massive improvements, not only in timing but also in low-end control, stage size, depth, and pure dynamics. The difference was bigger than my expectancy levels, so much so that I needed to have the Ultima 3 Pre, and the rest was history.
Ultima 3 is an active preamplifier, supporting much hotter input signals, up to 10V to be more precise, capable of outputting up to 17V at full power. The same HF switching mode power supply sits inside it, the volume is being controlled by an ALPS RK27 Blue Velvet pot which has been used for many years in end-game integrated amps and preamps of Chord Electronics. Built from the ground up, it takes advantage of the latest developments in low-distortion power supplies and its advanced circuits offer exceptionally low noise and stable amplifier operation.
The best gain is no gain (unity gain) and that's exactly what Chord implemented in Ultima 3 Pre, as you'll be getting the purest, unaltered signal from your source, cleaned & revitalized, and then sent to the last amplifier stage.
The Ultima 3 Pre is equipped with five analog inputs (two balanced and three unbalanced), all of which benefit from individual buffering and are selectively filtered against wireless interference (EMI/RFI). With the included Integra legs, it measures 13cm (H) x 48cm (W) x 34cm (D), and at 12.7 kilos (or 28 lbs.), it has similar proportions to the Ultima 5, forming a beautiful all-aluminum 3-way stack.
Test Equipment
My source was a Rockna Wavedream NET 4TB working as a Roon server, but also as an offline music server where 3TB of space has been already filled with DSD and DXD (HI-RES PCM) material. I used a Zidoo NEO Alpha as a wired streamer and Roon endpoint, passing the data to a Chord DAVE which recently replaced a Gold Note DS-10 Plus Streamer & DAC. Ultima 3 Pre and Ultima 5 Power are following, driving two pairs of loudspeakers, the Musician Knight 1 and the KEF Reference 3, but most of my listening happened via Reference 3, which were giving me more of everything.
I used Crystal Diamond Reference2 interconnect cables, Kimber speaker wiring, and a combination of iFi Audio and Isotek power cables. The icing on the cake was the Plixir BAC1500 passive power conditioner, which takes care of weaker dynamics in daylight, adding a higher engagement factor like no other conditioner I have used in the past.
Alrighty folks, I think I'm ready for some well-deserved music, so let's hit some eardrums!
Sound Performance
I. How it All Started & Preliminary Sound Impressions
Except for my speakers, I didn't have a single British component in any of my stereo or head-fi battle stations, but the universe has its way of arranging things where they should belong, and just like that (snaps fingers), a gorgeous-looking HiFi stack consisting of a Chord DAVE, Ultima 3 Preamp and Ultima 5 Power amp teleported into the living room and I feel I didn't finish their story yet, as a fourth Chord component will be delivered at a later date, but that's a story for another time.
I'm a curious person by nature, I was quite an explorer as a kid and that got me into pleasant discoveries and oftentimes fewer pleasing ones, but I'm still lurking inside aluminum cases and I'm still scanning interwebs for interesting things to try out.
It all started with a Chord DAVE loaner, as I wanted to know if Denafrips Terminator Plus can be beaten at its own game, plus I always felt that the Gold Note's DS-10 Plus DAC section is good enough, but not outstanding. A loaner unit appeared on my desk and a week later, I was inquiring for a Silver DAVE at a small discount. I got accustomed to DAVE's sound and I couldn't go back to less special sounding D/A converters and a few months later, written and video reviews for it were posted online, which you can find right here. When DAVE replaced the DS-10 PLUS as the main DAC and Preamp followed by two Benchmark AHB2 mono amplifiers, I got ultimate levels of transparency. Crazy new things started appearing in my tracks and gobs of information (happening on the micro-scale) was pushed forward. I didn't notice such things before and slowly but surely, my stereo rig was evolving into a scarier beast altogether.
I liked the change so much, that I couldn't go back to the usual DACs that were coming for a review, I simply needed to have it. While KEF's Reference 3 driven by American power (AHB2) were getting a good bass control, ultimately…the sound felt crude and unpolished. The ultra-linear nature of AHB2 and the dead-neutral sound of aluminum woofers weren't making me dance to the rhythm of the music. As I was toying with acoustic treatments, Chord Electronics unveiled their newest Ultima line of power amplifiers and a brand-new preamp, but since Rob was still hailing DAVE's preamp, I thought that a brand-new power amp by Chord Electronics would be more than enough.
It took courage to get a loaner Chord Ultima 5 as I knew what could follow shortly. At first, I thought that there is no way the Ultima 5 power would match the ballsy attitude and the sheer power output of two AHB2 revving together in mono mode. I was still in denial at that point, trying to defend my current setup. I went through every stage of the Kubler-Ross Charge Curve. I started with shock and denial, I was slightly nervous that Ultima 5 felt even more powerful than two AHB2, then I started bargaining with myself, and then…I lost it completely and accepted the fact that the Ultima 5 wasn't only more powerful, but so much more natural, more refined, more real, and way deeper sounding. What was an ultra-transparent, but ultimately flat and uninspiring sound, transformed into a massive blob of positive energy. The stage widened considerably, but I was expecting that, as AHB2 were never huge sounding in the first place. There wasn't a minor difference at all, but a massive one that I didn't see coming.
I was trying to convince myself that what I own is good enough, but it never matched the performance of my head-fi setup, which sounded way better in all regards, not only in the technicalities department but in the simplest things as enjoying music and feeling every pulse of it. My mind was rarely clicking into place with AHB2, but that transformed into a goosebump fiesta with the Ultima 5. I called the local Chord dealer again and inquired for a silver Ultima 5 that would sit below an all-silver DAVE.
I deeply respect Rob Watts, I was inspired by his talks regarding D/A conversion techniques, FPGA programming, clocking, power supplies and so much more. He treated me kindly when I was interviewing him and although I was seeing him in person for the first time, I was a bit nervous talking in my Eastern-European accent to a veritable British man. He calmed my spirits with well-placed jokes and in a jiffy, it felt like talking to an old buddy of mine. Rob still rates the DAVE highly, mentioning that it won't need a dedicated preamplifier to be used in a stereo setup. The analog designs of Chord Electronics have nothing in common with Rob's work and I thought that it won't hurt trying a dedicated preamp. In the best-case scenario, I would be saving my wallet from further damage and in the worst-case, I would be getting the third Chord component.
Dear Rob, your DAVE rocks my world for quite a while and I thank you for being such a funny character, but the advantages that the Ultima 3 preamplifier brought to my setup felt bigger than when I replaced two AHB2's with a single Ultima 5. I don't understand from where that massive depth and stage size is oozing from and what really happened with the bass, as it no longer shakes the walls, while remaining as powerful and impactful. Ultima 3 Pre needs to be heard in between the DAVE and Ultima 5 to be believed. It brought an ultimate control that wasn't present on the DAVE powering the Ultima 5, the boominess went away, decompressing every track and adding more air all around. What felt limited, became limitless, be it the depth, height, or width of the stage. The sounds were no longer limited by the room's size. An old audiophile cliché, but I kid you not, this is exactly what happened. Remaining nasty, deep reaching and punchy to the core, the bass felt clearer, more detailed, and way more controlled. This was a novelty to me, as I didn't experience such a bass type before in the living room.
My wallet was giving me ugly looks, but I couldn't go back to the old sound that was clean and detailed, but sterile, too close and personal, limited in size and enjoyment. Once again, I called the local Chord dealer which remembered my voice from our previous talks (excellent service by the way), and in two months, I completely reshaped my stereo. My old setup is no more, it's buried, gone, and forgotten, making room for a more technical-sounding rig, which is more capable of evoking emotions.
II. Noise Floor
The noise is a scary mythical creature, audiophiles are trembling in fear after hearing its name. Only the bravest souls are going to great lengths in fighting it fiercely until banished for good. It can start as a simple ground loop, sometimes as a faulty cable or the questionable shielding of stock cables, sometimes it's the current that flows through AC lines (hence using passive conditioners), but sometimes it's much worse, coming directly from your electronics!
We're testing all sorts of equipment, starting with affordable HiFi and finishing with high-end stuff. We had several unpleasantries along the way, but most of them were coming from entry to mid-level amps that weren't meant to be used with revealing loudspeakers that could show the weakest link in your audio chain. The worst noise floor we heard was coming from affordable Class-D integrated amplifiers of SMSL Audio, hearing it from 2-3 meters away with music on pause. Moving up the ladder to higher-class electronics, it was barely audible via high-gain on Burson's Timekeeper 3X GT mono blocks, but my former Benchmark AHB2 mono amps were never adding traces of noise.
The UNI-Q driver arrays of the Reference 3 by KEF are extremely sensitive to noise coming from downstream equipment, even with music on pause they could pass residual noise and sniff all the bad stuff. DAVE was a noiseless-sounding unit back in the day and the Ultima line goes with the same principles, even if both units are powered by switching mode power supplies. Ultima 3 Pre offers a gain factor of one (unity gain) and usually, you can't get a clearer-sounding preamp than this. This combo never raised the noise floor, not even the slightest with or without music playing. I even approached the UNI-Q driver arrays, getting the sound of silence in return.
There's an ultimate noise sniffer test, fit for the Ultima line which I'm sure not a lot of guys are testing nowadays: connecting regular headphones to Ultima 5's speaker terminals via a special adapter cable (4 banana connectors to a 4-pin XLR jack). I used three planar-magnetic headphones and to nobody's surprise, the noise floor was always in check, trying a few tunes along the way. I remained speechless, as I never heard my headphones so alive and reckless sounding out of solid-state electronics.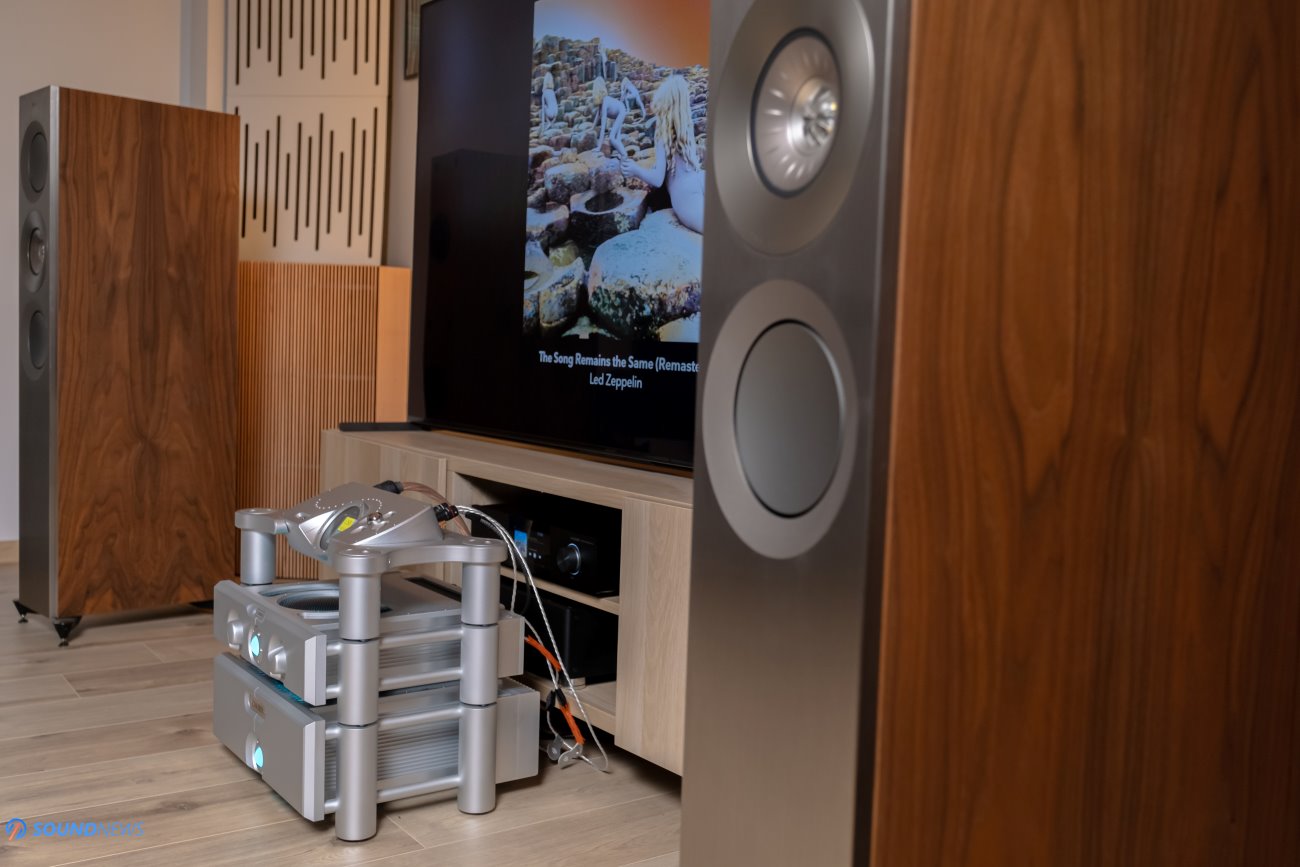 III. Transient Response
I'm a hard nut to crack, I love my beats alive and impactful. I love deep rumbles down low; I love when the lowest octaves are hitting my chest. I love having butterflies in my stomach, toe-tapping and smiling when music speaks to me. This is who I am and won't hide around the bush. If the planets are perfectly aligned, then I will be getting a physical connection with my tunes.
One of the strongest reasons I could never let go of the Ultima duet was their strong grip over speaker drivers. Prior to them, the Benchmarks had an amazing thump and impact down low, but there was too much residual energy pouring in the bass and treble and way too little in the midrange. AHB2s were boomy to the point of shaking the walls of my listening room. I tried everything to lower the vibrations, I tried the highest-rated Artnovion bass traps (I still use them today), I tried diffusion and absorption panels of different shapes and sizes. Around Christmas last year, a truck stopped by and unloaded ten massive cardboard boxes that contained all sorts of acoustic panels. However, after trying all possible combinations, two bass traps did 90% of the job…there was simply too much bass energy around the corners and I always blamed the room and the speakers (to a lesser degree) for that.
After installing the Ultima 5 & 3 duo, the excess bass energy vanished in mere seconds. The sound was exactly as punchy and alive, but the walls and glasses sitting on the table were no longer dancing to the rhythm of the music! My speakers weren't the problem, the amplifiers were the culprit which raised the damping factor too high, pushing too much air mass in the lowest octaves. The Ultima siblings never went back to the local dealer, solving the biggest issue of my listening space. The damping factor was probably the culprit, pushing too much energy in the bass that only 50-kilo-a-piece bass traps could deal with. Don't get me wrong, the Ultima line was never mellow or polite sounding, not even close! With them, the music feels at peace, it feels real with a clearer & more defined bass. Dwindling layers of sound strengthened their numbers, getting airier with additional sounds floating around. When removing excess energy, all that remains is a tighter and clearer sound. It might sound unreal, but the Ultima duo feels more transparent sounding to me, closer to the source material even if on paper they have a lower signal-to-noise ratio versus the Benchmark trio (HPA4 Pre and 2x AHB2 power).
If you admire high-quality bass, with layers of it coming slowly one after another, then honestly, I don't think you can do better than this. Many close friends came by after parting ways with the AHB2, mentioning a substantial increase in the bass quality and overall transparency. From a mid-fi setup, the sound went (much) higher and I could finally compare it with my end-game headphone setup.
As for the need for speed…it's redundant talking about this. Notions such as speed, kick, bass sustain, and decay are no longer important, Ultimas have it all, but more importantly, they sound unrestrained and effortless to their core. As a transient response nut that wakes up with electric beats and goes to bed after a relaxing blues session, you can bet that fast transients are important to me. In the end, I couldn't be happier with the final outcome, solving the biggest issues of my room, without adding additional acoustic treatments (which are making wifey happier as well).
IV. Soundstage & Imaging
There's one thing that I never liked about the Benchmark AHB2 controlled by their HPA4 and that was the scale of the music. While the Benchmarks could image like crazy and show the location of the notes with pinpoint accuracy…something I wasn't getting from competitor stereo amps, I couldn't immerse myself into the music due to their upfront presentation. The Benchmarks never sounded big, enveloping or three-dimensional. With them, everything was happening to my left and right, with little information coming from the ceiling, from the sides or behind me. I would describe their sound as flat in terms of tonality and stage, which never went past the borders of my listening room. I liked their incredible transparency, uber-class detail retrieval, and their noise hunting skills, but after exchanging the Kinki Studio EX-M7 with the KECES S300 and then with the Benchmarks, instead of getting a bigger picture, the sound was shrinking in size.
When Ultima siblings came for a visit, dissecting my tunes felt much easier, I felt surrounded by music, more of it was floating around me and the difference was literally, night and day. Finally, the vocals were coming from a wider spot and the rest of the sounds were coming from weird angles, I could even go deeper in crowded or live recordings.
Man Made Object by GoGo Penguin ( Qobuz / Tidal ) feels like an audiophile crack-up, mixing clean piano notes with distorted electronic beats, with tens of instruments in between calling for full attention. It's an album that intertwines humans with nature and technology. It feels like eating a pineapple pizza at first, but you will be craving for more the next morning. There are many crescendo moments and timing shifts that will impact your awareness and mood. Sometimes the sounds feel pushed into your face and other times you are being teleported on the last row of a live concert. After closing my eyes, I could feel the listening space expanding in size, piano notes were trying to escape outside the room as if sound inception points moved from behind the wall. This album is both serious and reckless, conjuring loose imaging and then tightening things together with nuts and bolts. Even in quiet moments the vibe never feels lost, the band never loses momentum or my attention, trying to reinvent themselves by shifting dynamics from low to high and by playing with the sound field, something that few stereo setups could pull off.
I can't explain what happened, going from a zero channel-crosstalk (dual mono amplifiers) which in theory should provide the most holographic sound, but after moving to the Ultima 5 stereo power amplifier, the sounds felt revitalized with more air all around, sounding deeper, effects that would rarely appear on the HPA4 & AHB2 combo. The Ultima team felt easier going, the sounds were floating around unrestrained as if a massive tube amplifier was driving my speakers. A good friend of mine loaned his Trafomatic Audio EOS ($8500) all-tube integrated amplifier which I immensely enjoyed, completely solving the cold nature of KEF's aluminum woofers. To my surprise, the sound wasn't much bigger versus the Chords as I have expected, becoming smoother, richer, and slightly more natural, albeit not as clean or tight sounding. Holy hell! The Ultima team wasn't lagging behind in terms of airiness and scale and that should tell you a little about their sound staging capabilities.
V. Detail Retrieval
Besides being a transient response nut, I like when I can wander around my tunes, getting a highly breathable and transparent sound that won't hide away micro detail. AHB2s stayed by my side for a year and a half thanks to their outstanding transparency and cleanness that I didn't experience up to that point. The only amplifier/s I could swap them with would need to be at least as clean or as close as humanly possible while bringing additional benefits which could steer me off from the American trio.
At first, I couldn't tell which combo was pushing more information to the surface, but after a few tunes, the Chords nicely arranged the bass notes adding velvety refinement, making it reasonable, yet clear and impactful. When the lowest octaves were no longer shaking the ground beneath my feet, everything felt clearer, more focused, and defined at the same time. The Ultima stack won the duel without even starting it, the difference was too obvious to ignore.
What's more interesting to this story is that the leading edges weren't razor-sharp as they were on the Benchmarks. The sounds were too sharp on American muscle, as if the music was crispier than the sounds happening in real life, adding listening fatigue after a few rounds of Iron Maiden. The Benchmarks had a moderate hardness and coldness to their sound, that would bring some listening fatigue along the way. If I would have paper-cone drivers on my speakers instead of aluminum ones, then this wouldn't be a major issue, but with resolving speakers like these, this is a pain where the sun doesn't shine. Ultima stack was adding a sense of refinement and rightfulness, bringing me back to reality and showing the beautiful side of music listening. I find this stack exquisitely detailed, bringing forward an abundance of information so gracefully, it's like listening to unamplified music in a venue somewhere. These aren't tilting the tonality towards coldness as my former amplifiers were doing, adding just a sprinkle of richness and organic matter that forever remolded the sound of my KEFs.
You shouldn't ask yourself if the Ultima line is detailed sounding, at these prices this isn't a valid question. Ask yourself if these are real sounding and if these can show you the technical side & the beautiful side of music listening. Knowing the brutally honest nature of Chord DAVE pulling the strings, followed by resolving sounding speakers as Reference 3, you can expect to hear things on the micro and macro scale without too much hassle.
There is another effect that I find interesting, the Benchmarks sounded best when I was raising the volume higher, usually past 75 dB. Below that point, dynamics wouldn't be as impressive and the midrange would feel puny in comparison to the rest of the frequencies. The British duo brings forward a cavernous air mass, with more sounds floating around, becoming alive and joyful even at low listening volumes. The vocals are still enchanting, brimming with life, having a long sustain and vibration which was missing on my former amplifiers. I could finally enjoy my tunes at lower volumes, writing, filming, and doing photo shoots with stuff playing in the background. Dynamics weren't botched at lower volumes, bringing a remarkable bass control that wasn't there on the Benchmarks. It seems that the Benchmarks are providing a much higher damping factor at higher volumes and a much lower one at low SPL, I can't measure this data, but the Chords are doing that better at any SPL, for this…I am sure.
A Night on the Sunset Strip (Live) by Eric Gales ( Qobuz / Tidal ) is an exquisite live album. Eric is quite a jamming virtuoso, stunning the crowd with guitar solos, you can hear people cheering him up and the rest of the band. This is a crowded album, filled with hundreds of sounds, but no matter how crowded it gets, be it a drum battle or a furious guitar melee, you will always have a big soundscape with plenty of air passing around the notes. You can feel the void spaces expanding and the depth having a precise distance between each band member and your listening spot. Things are going in and out of the picture so smoothly, gobs of details are popping all around and several crescendo moments will surely raise your hair. The music is breathing, nothing is being forced or pushed into your face, and the sounds are no longer fighting for prime time, sounding spacious & nicely scattered all around.
Frequency Response
VI. Bass
After swapping my former amplifiers with the Ultima stack, the biggest improvements happened in the bass. Working as an acoustic treatment, removing excessive energy that was shaking the foundation of the room, leaving a higher quality type of bass that I never thought was possible without placing heavy-duty bass traps around the corners. I still use them, which removed remaining traces of low-end excess, getting a tight, clean, and resolving low-end. My Reference 3 are quite bass-heavy to the point of becoming boomy in our 35 m2 listening space, they can be much worse in smaller rooms, but I don't recall getting them so tightly controlled with any other amplifier before. Every time I moved up the ladder, I was trying to get nicer control of the bass. KECES S125 was doing a much better job than my former Cambridge Audio Azur 851A, then it was the Kinki Studio EX-M7 which further improved it, then the KECES S300 came, then the Benchmark AHB2 duo, Burson Timekeeper 3X GTs followed and it feels like Deja-Vu with the Ultima 3 & 5 stack. Besides getting an iron grip, I like the added refinement while getting crazy dynamic swings, sometimes locking myself in the office whilst connecting planar headphones to speaker terminals for some wild head bangs. The bass is always visceral, it's lightning quick, it hits you hard and it goes away in an instant. It's a hit-and-run type of bass (when the music is asking for it), or a rounded and mellow sounding one with jazz & blues. It changes its hide depending on the music, it could be aggressive or slow & mellow, covering a wider variety of music. It's redundant mentioning their bass quantity, having the right amount of energy, sustain and cleanness to call it sophisticated, joyful, and highly refined as well.
My former amps were either smooth or aggressive, depending on the loudspeakers being used, but the Ultima line is more versatile, becoming wild beasts or obedient music-making machines. With up to 350 Watts into 8 Ohm, I'm rarely reaching 35% – 40% of volume, leaving unlimited headroom for DSD recordings and high-dynamic range tracks.
VII. Midrange
With all due respect to solid-state amplifier makers around the globe, very few could match the warmth and richness of tube amplifiers, especially when rendering the midrange's beauty. All discrete designs are sometimes trying to mimic that kind of sound, but rarely their goals are being achieved. With 32 proprietary MOSFET transistors biased into Class A/B operation, offering the first 15 Watts into full Class-A operation, Ultima 5 offers one of the most believable midrange renditions, having tube-like characteristics, reminding about Enleum's AMP-23R sound, without being limited by the power output as the Korean amp was (25 Watts into 8 Ohms). I counted a maximum of three amplifiers that delivered an organic, unrestrained and pure-sounding midrange. I didn't get hardness around vocals, creating a foundation for an emotional performance. This part of the frequency response reached a new level of greatness and I don't think that you'll be missing sweet mids or punchy bass notes with a duo like this. Ultima 5 sits on the opposite pole to a Benchmark AHB2 and to most class-D amplifiers that passed through my hands. I didn't get traces of dryness or thinness, getting a soul-touching midrange in return. There was a higher midrange presence, and my tunes felt saturated, like boosting contrast on a high-resolution image. It's going to sound great for just about every genre out there thanks to its sweet midrange rendition which wasn't that far off from the God-tier Midrange-Booster 9000, or as close friends are calling it: the Trafomatic Audio EOS Integrated.
VIII. Treble
Refined, smooth, easy on the ear, yet crystal clear would be the first words describing its treble performance. This is still, a neutrally tuned amplifier, having a strong equilibrium in the frequency response, fully preserving the signal's purity. While it adds a higher contrast and some weight in the lows and mids, this is a linear-tuned combo and you should expect a clean and defined treble delivery. I'm getting well-defined trebles with boosted clarity but without the usual letdowns as brightness, digitus, or listening fatigue. There is some magic going on like a hybrid amp relaxes the leading edges, removing remaining traces of sharpness. I find it exquisitely clean and defined here, yet velvety smooth and refined, exactly as I'm hearing the trebles in real life. Ultima stack felt so radical sounding in this department, that no matter what I did with the downstream equipment or cables of questionable quality, I couldn't make them bright sounding. I took the Sound of Eden Crescendo UNO for a listen and it seems that their ceramic woofers were no longer hot and sharp sounding, going through treble-intensive tracks like a hot knife through butter. At low to moderate listening volumes, the trebles were loud and clear but without becoming metallic or bothersome. In my view, the Ultima stack with the DAVE put on top was a match made in heaven with my loudspeakers, providing an ultimate set of technicalities, while keeping at bay the nasty treble ringing.
My Conclusion
I need to reinforce a statement: this article wasn't sponsored by Chord Electronics or by their local dealer. I would be shooting myself in the foot becoming a fanboy of a brand as an independent publication. I can be respectful of the heritage and long history of a brand, but that's where our friendship would end.
I'm writing these words for my readers, who hopefully one day will make an important purchase decision like I did. Nobody forced me into buying these things, except maybe for the walls of this place. I never felt bad about my purchase decisions, as I know that these will stay by my side for quite some time.
If you look around, you'll observe that I'm rarely changing my gear. You will find hundreds of reviews, but things will rarely impress me as much as buying them afterward. In the last years, I exchanged my DACs four times, my integrated/power amps three times and this is my second preamp. I think I found my sweet spot, a cozy sounding duet specially tailored for my speakers. This 3-way stack was technical sounding, yet musically involving. There are no limitations or flaws that would limit their performance in any way and I totally understand their naming scheme.
I would love to have a long comparison with any of my past integrated or power amplifiers, people are usually returning for long stories and showdowns, not for 3-second KO's. I decided to skip comparisons for now and you can guess why. The Ultima stack is considerably more expensive than any of my previous setups and I think that they performed according to their asking price. If you're a Chord DAVE user and you're undecided between the Ultima 6 or 5 power amp, please don't skip the preamp. I'm dead serious! As good as DAVE's volume control is, Ultima 3 Pre brought a level of control and refinement that wasn't present before. The difference was substantial to warrant my purchase and if you can loan a unit like this, please do so, you won't be disappointed.
There is one feature that is missing on the Ultima 3 Pre: there isn't a button that will offer a perfect channel balance and while I'm keeping the right wheel in the middle position, there is always a thought that maybe it's not exactly in the middle. With 350 Watts into 8 Ohms and 'bout 500 Watts going into 4 Ohms, with the first 15 Watts being delivered in Class-A, I don't believe there is a pair of loudspeakers that won't get juiced-up. Considering their outstanding craftsmanship, attention to detail, and ultimate levels of performance, it's my pleasure to award them with our greatest honors. The prestigious Gold Award was fully deserved.
You can get them from the local Chord Electronics dealer, my puppies were bought from the local dealer right here and I wholeheartedly recommend trying them first, as these aren't exactly cheap. In case you're getting a pair or you have some burning questions, then please leave a comment below. That's all for now, Sandu's signing out!
PROS:
Rock solid build quality, tank-proof cases
The coolest-looking duet I have come across
You can stack them together as Lego pieces (so cool!)
Always staying cool under heavy loads thanks to passive convection cooling
Lacks any form of noise or distortion, even at close to max power
The amount of current and power output of the Ultima 5 is mindboggling, I could never reach 40% on Ultima 3's volume pot
The purest gain is no gain, making unity gain a God-sent feature
Five analog inputs on the Ultima 3 Pre are welcome additions, giving a helping hand when comparing D/A converters
Close to zero output impedance on the Ultima 5 will control your speakers like no other amp
Going with a natural and organic presentation above anything else, having tube-like characteristics without their flaws
Incredibly technical sounding, without hardness, aggressiveness, or brightness
Highly transparent and uber-resolving sounding
Can slam and pound like crazy, the transient response is impressive
Expansive and holographic sounding, having excellent depth and imaging
Could be your last stereo stack
CONS:
Pricey!
Long burn-in times
ASSOCIATED EQUIPMENT:
DACs: Chord Electronics DAVE, Rockna Wavedream Signature XLR, Gold Note DS-10 PLUS & PSU-10 EVO, SMSL D1SE V2
Wireless Streamer & Music Server: Rockna Wavedream NET 4TB, Roon Nucleus
DDCs: Denafrips Gaia, Singxer SU-6, Matrix X-SPDIF 3
Preamps: Chord Electronics Ultima 3 Pre
Power Amps: Chord Electronics Ultima 5 Power, Burson Timekeeper 3X GT (x2), Benchmark AHB2 (no longer here)
Loudspeakers: KEF Reference 3, Musician Knight 1, Sound of Eden Crescendo UNO
DAC/Amps: Shanling H7, FiiO Q7, Topping G5
DAPs: FiiO M15S, M17, Shanling M7, M6 Ultra, Hiby RS6
Headphone Amps: Trafomatic Primavera, Enleum AMP-23R, Ferrum OOR + HYPSOS, Burson Soloist 3X GT, Flux Lab Acoustics Volot
IEMs: FiiO FH9, FH7S, Meze Rai Penta, LittleDot Cu KIS, 7Hz Timeless, Kinera Skuld & others
Full-sized headphones: Erzetich Charybdis & Phobos V.2021, HiFiMan Susvara & HE1000SE & Arya Stealth, Meze Elite & 109 PRO, Audeze LCD-5 & LCD-4, Sennheiser HD800S, Kennerton Rognir (planar) & Vali, Apos Caspian, Sendy Peacock & Apollo, HarmonicDyne Poseidon & others
Interconnects: Crystal Cable Reference2 Diamond (x2), QED Reference (x2), Topping TCX1 (x2)
USB Cables: Supra USB Excalibur (x2), Chord C-USB, Matrix Hi-Fi USB
HDMI Cables: Audioquest Diamond DBS, Supra 8K HDMI
Speaker cables: Kimber PR8, Audioquest Type4
Power Cables: Isotek EVO3 Premier (x3), iFi Audio SupaNova (x2)
Balanced Isolation Power Conditioners: PLiXiR Elite BAC1500 (stereo setup), Elite BAC400 (headphone setup)