My Video Review:
Meze Audio is surely one of the fastest growing headphone manufacturer I know of. Their Empyrean is stealing hearts around the globe for three years in a row with its unique sound signature and unmistakable look, while their heavenly RAI Penta offers the same liquidity and smoothness in a shell that weights only a few grams. I'm yet to hear such a distinctive sound tuning in both a headphone and IEM shape and I'm yet to gaze upon nicer looking headphones. With such a powerful design philosophy and natural sound tuning, there is only one way to go and that is…Up!
Last year I've made myself comfortable in the presence of the beautiful (and expensive) RAI Penta, but as it usually happens in all thing's audio, affordable gear will make its way on the market sooner or later, ripping DNA and design cues of bigger and costlier siblings and this is exactly what happened with their affordable RAI Solo IEMs.
Solo is sharing the same legendary build-quality, the same shape and lightweight body, a detachable cable and I hope that the same gentle and easy-going sound signature can be also found in here. RAI stands for Heaven in my mother tongue and Solo for a single driver. Let's dive deep, have a closer look, leave a ton of sound impressions and then measure their performance later on.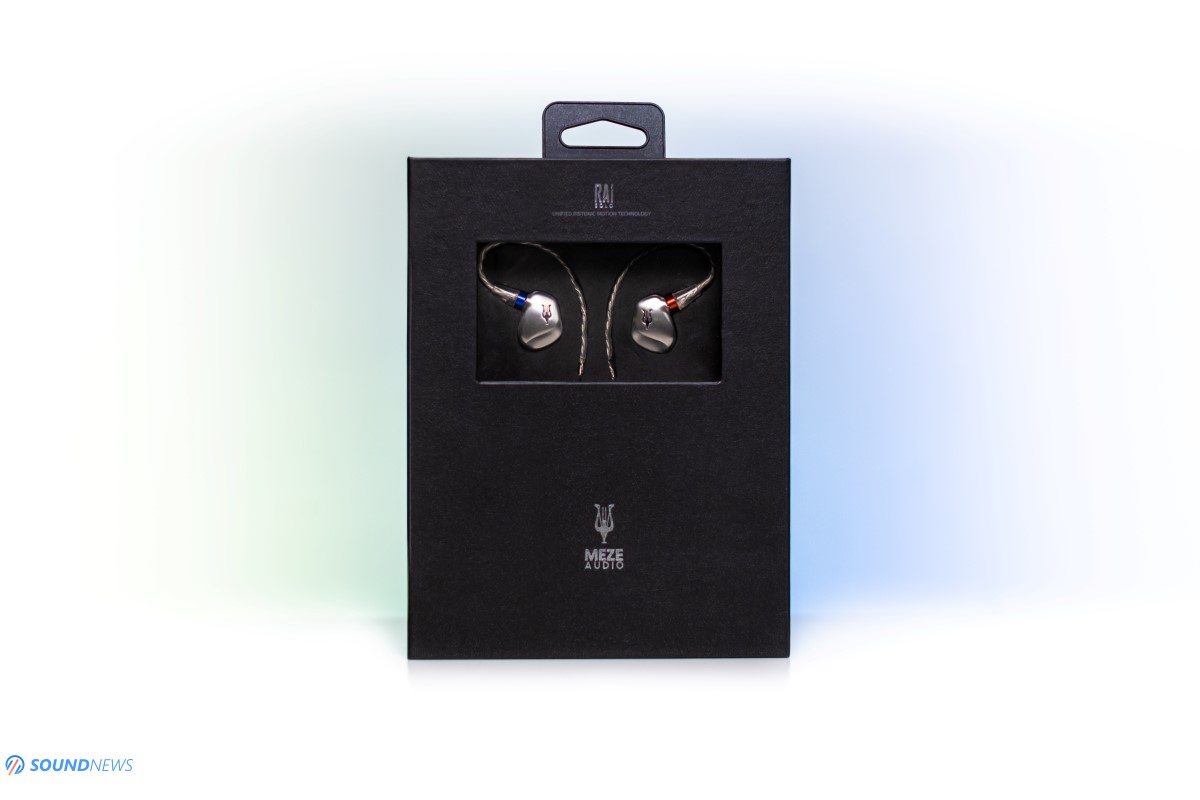 Unboxing Experience
RAI Solo are coming in a matte-black box with a pleasant leathery texture. There's a transparent plastic window on front, so you can clearly see their beautiful polished steel shells. The box itself is fairly small so I don't expect a lot of stuff crawling inside. On its back you can see their specs and some of the technologies that were put to good use in the Solo.
Package Contents
Unfolding its case like a book, I was greeted by the IEMs themselves rocking polished steel bodies, which were smaller compared to regular IEMs, suggesting a higher comfort level in long listening sessions. Its smooth lines, taking the shape of the Concha reminds that I am dealing with a Meze made IEM, as its bigger sibling looked pretty much the same.
Solo is bundled with a thinner 1.3-meter-long silver-plated copper cable ended with industry standard MMCX sockets. It's a decent cable, it should resist plenty of use and abuse, but it's not the sturdiest cable I've seen. On the plus side, it's a very flexible cable and it doesn't have any microphonics you'll usually experience with Chi-Fi IEMs. If you need higher quality cables or maybe a 2.5mm or 4.4mm balanced termination, Meze is offering those at $149, which are stronger and use higher-quality silver-plated copper litz wires and some better headphone connectors. You can also use your own third party MMCX cable, so there are plenty of options to choose from.
Just below the IEMs, you can spot a hard case with a metal logo in the middle. It's a decent quality case, it rocks a leathery texture and it feels quite sturdy. Inside it you'll find some extra ear-tips split in 3 categories, as follows:
Soft silicone ear-tips (3 pairs of S, M and L sizes), these are the standard ones. These worked decent for me, but didn't offer the best isolation
Double flanged ear-tips (3 pairs of S, M and L sizes), these worked better and offered a better seal in my case
Deep insertion double flanged ear-tips (2 pairs of M and L sizes), these worked the best for me and it seems that MiniDSP EARS also loved them the most.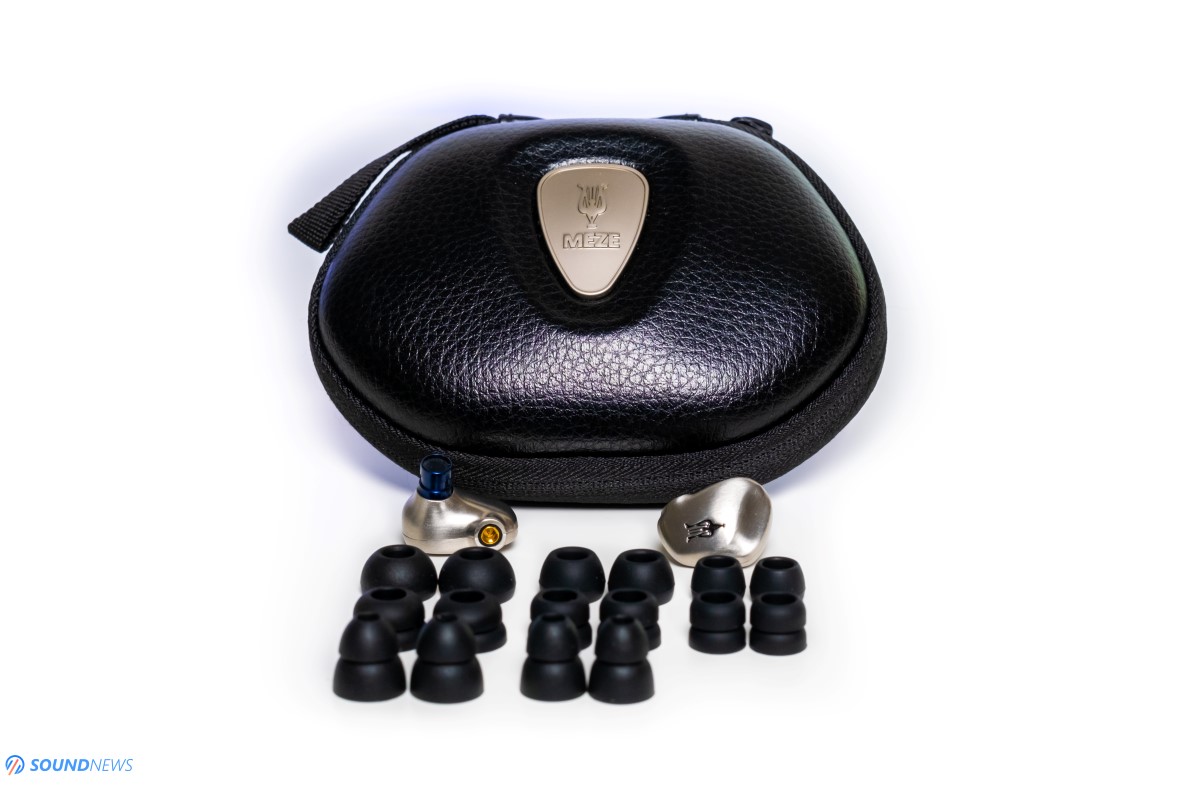 Build Quality & Looks
Their shells are made by using Metal Injection Molding (MIM) technology which significantly reduced the manufacturing process compared to CNC machining on their RAI Penta. Most firearms are using the same manufacturing process, to reduce cost and production time. Simply put, these are one of the nicest IEM bodies I ever played with. They look perfect to me and their shape fits like a glove for my ears, they are much comfier compared to FiiO offerings for example. Their polished texture makes them less slippery compared to electro-painted or resin bodies, so they will stay put and will not fell off that easily.
I like their size a lot, these are fairly small, much smaller compared to multi-driver IEMs, putting a smaller pressure on the ear cavity. After jogging for two hours outside, I didn't feel any discomfort as I'm usually feeling with multi-driver IEMs.
The outer nozzle is having a diameter of about 5 mm – it is the standard sized one, so you can easily use your growing ear-tip collection. The nozzle depth is at about 5mm in length, so again lots of Comply, Spin-Fit and other ear-tip brands would work with these no problem. The MMCX connector is buried in the shell and doesn't stick out too much. I like that you need to apply quite some force to attach and detach the cable. Meze doesn't have a long history of using MMCX connectors, but I feel that they started with their right foot on this one. The cable stays sturdy and doesn't wobble in the MMCX socket at all, which is a very good sign already.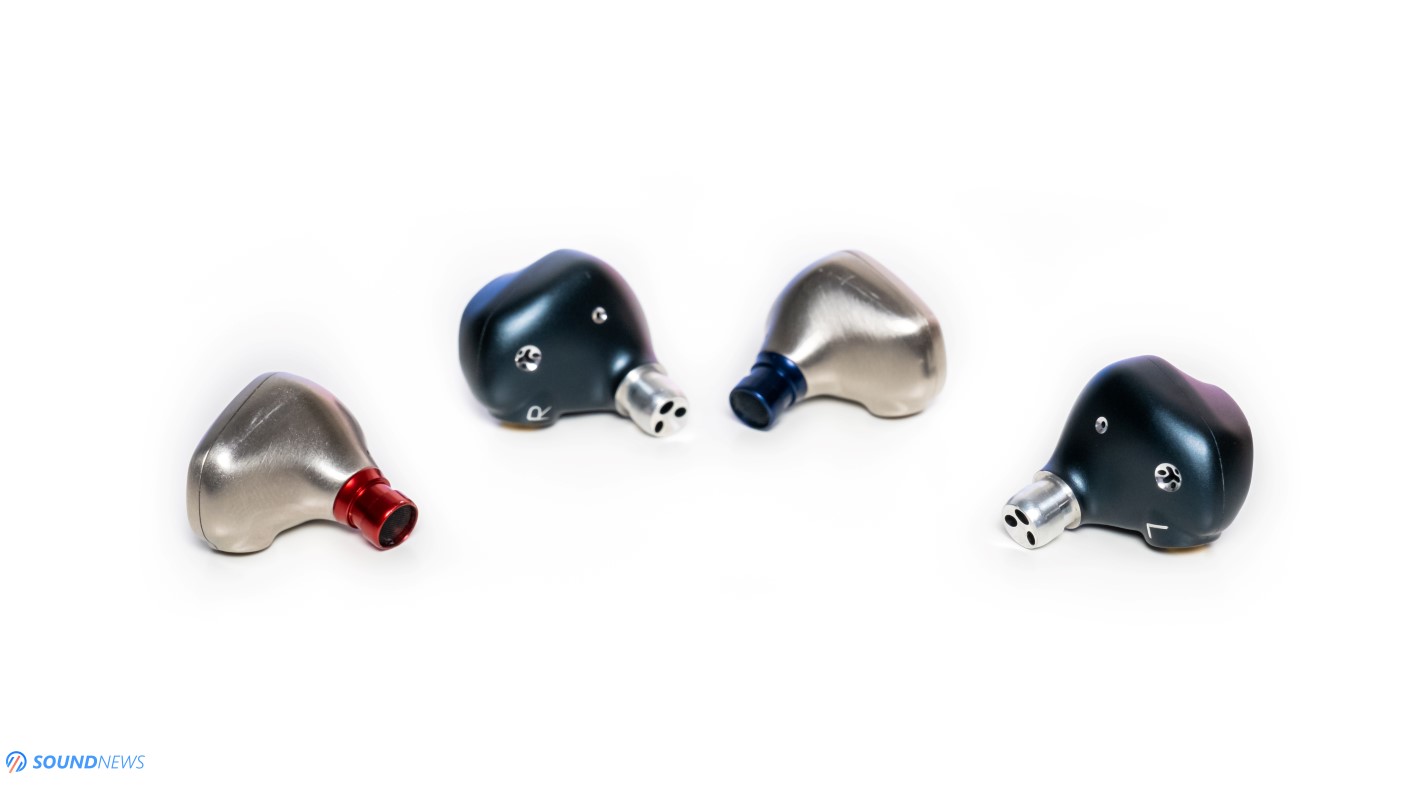 Tech Inside RAI Solo
As their name suggests, Meze put a single driver in these that covers the whole frequency response. It's a big 9.2 mm dynamic driver that works slightly different to usual single driver IEMs. Instead of going with traditional voice coil lead wires that are glued to the driver membrane resulting in uneven and unbalanced vibration of the driver, they went with a wire-free UPM design. The membrane itself is electrically conductive and therefore, no wires are glued to the driver membrane, resulting in a symmetrical pistonic motion through its entire surface. In short, Solo obtained a lower total harmonic distortion at higher volumes and of course a clearer and a deeper bass delivery.
Its body was made out of stainless steel through a metal injection molding procedure that reduced resonance and vibration created by the driver unit, further lowering its distortion, improving its imaging and cleaning up its background. A solo driver suggests that an electronic cross-over wasn't needed at all, making the signal path shorter, resulting in a clearer output, bypassing timing errors of multi-driver designs.
RAI Solo covers a wide frequency response of 18 Hz – 22 kHz, it has a very low impedance of 16 Ohms and a high sensitivity of 105 dB per 1mW, meaning that you can drive these with pretty much anything that has a headphone jack. Obviously, dedicated audio sources as Bluetooth dongles, portable DAPs, DAC/Amps and desktop setups would further improve their performance. Make sure to use a cleaner sounding DAP as they are quite prone to noise from the source.
Sound performance
I. Preliminary Sound Impressions
I used them the most in a highly transparent desktop setup, that is as linear as it can get, but also extremely fast and hard punching, this way I was able to expose the true nature of the Rai Solo. Those twin silver surfers appeared powerful in the treble region and extremely potent in the mid-bass. My usual rock, jazz and orchestral work sounded slightly mellower and calmer, Solo was pushing gently on the brakes, so I had more time looking at those macro-details. While Solo is hitting and pounding a little nicer to usual single driver IEMs, Solo also appeared as a smoother rider, trying to manipulate my mind with its easy-going approach to music reproduction. Some of the sub-bass was missing in action and some of the upper midrange felt subdued, creating a slight emphasis on the frequencies that followed. Solo are tricky little buggers, while they aren't bright or harsh sounding in long listening sessions, there is a quite some presence and brilliance in those regions. Cymbals felt powerful, quite textured, metallic and a little raw around the edges, but they didn't clench my teeth when aggressive music made an appearance on my playlist. Solo was rakish cool, oozing plenty of style and its colorful approach to music reproduction was felt immediately. Forget about linearity, about a lot of technicalities or about a super extended frequency response, as Solo is focusing on the core values on what makes us listen to music in the first place. It indeed rounds the whole affair, moving spotlights to its mid-bass, midrange and lower to mid-treble regions. The frequency extremes weren't that focused, dropping several micro-details and nuances from those regions.
The more I listened to them with a wider variety of music, the more they were putting a spell on me. Solo is about being carried away by music, about toe taps and I do think that Solo does it quite well, even at such an affordable price point.
Interestingly enough, the sounds weren't as cluttered as I've come to expect from single driver IEMs. Everything seemed airy enough, sounds were mostly flying outside my head and I could easily put my imagination to work, picking them up from a bigger image that appeared in front of me. Soundstage was quite layered and well-spread.
II. Power Requirements
At 105 dB per 1mW of power, these are quite sensitive IEMs, not quite as easy to drive to FiiO FH7 (110 dB) and FA9 (113 dB), but not that far off either. They actually need a little bit more power compared to Kennerton Gjallarhorn and Magni desktop headphones, which is a bit unusual but understandable, since a smaller driver will need more juice to offer back the same sound pressure level (SPL) of a bigger driver.
Power wise, you can drive these with pretty much everything that has a headphone jack, even Low-Fi smartphones, tablets and laptops were more than capable of very high volumes. I never passed 85% on my smartphone and could never go past 70% on a Surface Pro 7. Solo aren't power hungry, but they will definitely sound livelier with a better audio source, be it portable or desktop. Small Bluetooth dongles like Qudelix 5K and FiiO BTR5 elevated their performance and of course portable DAC/Amps as xDuoo XD-05 BAL and FiiO Q5S TC further improved their technicalities to the next level. Higher-tiered portable DAPs sounded probably the best with them, but in all honesty, you don't need expensive portable setups to enjoy them at their maximum. Higher-end DAPs and desktop setups were already overkill for the Solo, if you already have one that is perfectly fine, but I don't recommend upgrading your setup for the Solo alone.
Solo scaled nicely up to a mid-fi audio source, but when I went with a high-end one…it didn't transform them into a better sounding little creature, so it's probably a better idea remaining with your current setup, saving you from unnecessary expenses.
III. Transient Response
You already know me by now, don't you? Give me hard slams, give me speed and pass me that glass please. Speed and slam are part of me and this is who I am. Music doesn't need to be smooth and easy going all the time, sometimes it should go fast and punch you right in the chest, taking your breath away with impactful tunes. Solo wasn't tuned for that and doesn't have a…need for speed. I tried several electronic albums and of course a whole lot of rock and while all that sounded pretty good, I missed my ear-lobes flapping in the air and I missed a thumping sub-bass that I'm getting from high-end planars. The reality is that at $200 you can't have them all and transient response is one of the less impressive things to write about the Solo. Han Solo would approve their shiny brushed surface, but speed of light coming out of his heavy blaster pistol can't be attained with these.
On the plus side, its higher mid-bass presence does indeed give a helping hand when it comes to bass slam, but not when it comes to speed. My usual indie and grunge rock still awoke few emotions in me, I was gently head-banging and smiling with half a face. It was impossible to rage against the Solo, as it put me in the back stage of a rock concert, lacking the mean attitude I was looking for, by offering back a vintage relaxing sound.
With few albums, Solo worked as a blue-pill, teleporting me instantly to northern lands with music like Wardruna. Their newest Kvitravn (Qobuz / Spotify) portrayed a larger soundscape, a holographic imaging, an amazing depth, while completely relaxing my body and mind. The violins and backing vocals carried a bit more weight as I know them on some particular IEMs, infusing a tad more warmth, body and soul into this record. This particular album was nicely rendered by the Solo, fully preserving the naturalness and the pitch of the human voice.
IV. Soundstage & Depth
In my opinion the best pin point location of the notes and the nicest layering can give you only multi-driver IEMs. However, the most believable soundstage will be offered by dynamic only IEMs. I'm yet to hear a larger soundstage to the FiiO EM5 (earbuds) and to their FD5 IEMs. While the budget-oriented Solo can't match those, it surely walks the same path by sounding decompressed and quite airy with the right tunes. Double-flange tips worked the best for me, those went deeper in my ear canal and yet, here I was seeing a bigger picture in front of me. Solo was gently untangling music, placing every note where it belongs in the scenery, it sounded a little bigger and more expansive to a pair of $200 Ikko OH10 that are next in line. Solo is not that far off even from their heavenly RAI Penta when it comes to imaging and soundstage. Despite that, coming from open-back planar-magnetic headphones, please don't expect a huge enveloping sound pushed in all directions…as that can't happen with drivers sitting millimeters away from your ear-drums. Instead, you should expect a decent stage size that will offer you a comfortable listening experience.
November 99 by Manu Katché (Qobuz / Tidal) is an outstanding example of a perfect layering, 3D imaging and soundstaging. While being extremely technical and precise, it felt like nectar for my ears, as it was smooth, mellow and pleasing. The abundance of air around the notes made me forget that I am listening to IEMs in the first place. The backing trebles buried deep in the background felt so clear and so outlined, everything was in focus and placed accordingly in the scenery. The notes jumped everywhere around me, creating a map of every sound, if only all music would sound this way…
V. Detail Retrieval & Transparency
The more music I was listening to, the more I started to understand that Solo is more about transparency than about micro-details and small nuances hidden in your tunes. Solo can't match expensive detail-oriented IEMs, on the other hand the road to your musical bliss seems to be clear as the blue sky, as I can't find muddiness or bloat with them. Musical notes were clear; just with a lesser contour and leading edge compared to multi-driver IEMs. Detail retrieval felt above average, pretty much in line with most cost-effective dynamic only IEMs. However, if you go with reference recordings, Solo will surely show you a higher degree of subtleties and small nuances. Of course, its slight limited frequency response plays a role in here too. There is less happening in the sub-bass and in the upper treble and everything lingering in those regions was just harder to catch and follow trail. On the plus side, Rai Solo is lacking a crossover of any type and their symmetric pistonic movement scared away distortion for good even at high listening volumes. They still have capable drivers inside and can show a decent amount of detail and leading edge if you play some fewer demanding tunes like acoustic, jazz and classical.
For example, Keep on Trippin' by the same Manu Katché (Qobuz / Tidal) shown a higher transparency, leading to a better detail retrieval. Even cymbals and light snare drum hits felt clearer and sharper than before. Accompanying guitars and saxophones shined brighter, a higher degree of air around the notes also created an illusion of a clearer picture in front of me. The slower presentation of this track let me easier catch every sound, so I could better analyze their attack, sustain and decay.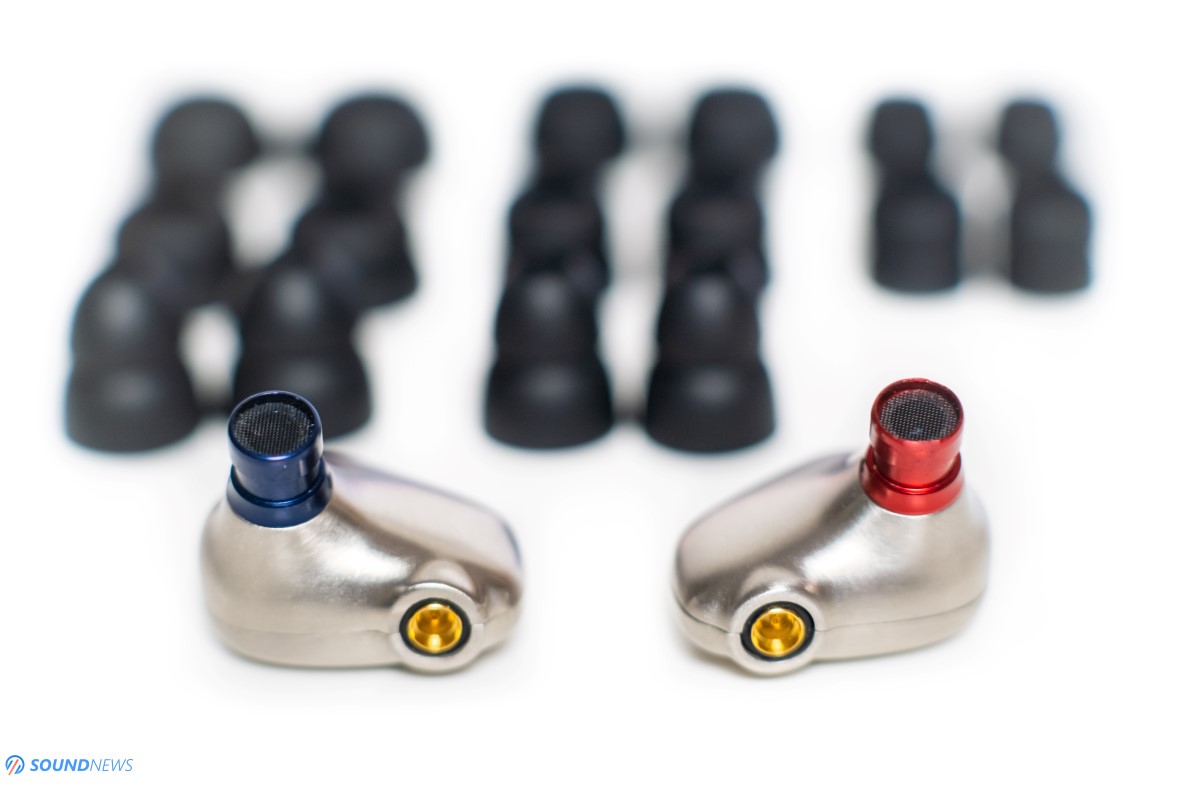 VI. Frequency Response
The frequency response of Rai Solo can be summarized as quite even with just a few drops and rises at certain points, it's quite extended but not at the lowest and highest octaves. There are few spikes in the treble and a small rise of the mid-bass creating a nicer presence and awakening more details in those regions.
A. Bass
Sub-bass makes an appearance in most tunes, but it isn't highlighted very often. I presume a small roll-off at 20 Hz is causing that. Going past 30 Hz, everything goes back to normal. The bass performance is actually one of the best parts of Solo. I find it very present, quite meaty, a little elevated for a fun listening experience. It is decently layered and clean sounding in here, but not a lot of air is passing through. Mid-bass is much better, it's stronger than usual, adding a lot more meat to the bone and a lot more warmth in here. It's elevated by a little and that works better with modern music. Thanks to a nicer mid-bass delivery, I have experienced bass slam several times with electronic tunes, it landed a few well-placed hits on my ear-drums and that was always pleasing to experience.
B. Midrange
Solo wouldn't be a Meze creation if it didn't have an amazing midrange performance isn't it? All their IEMs and headphones are extremely good in this region and Solo isn't an exception to that rule. I liked that male voices and piano notes were weightier, quite imposing and stronger in intensity to a violin or to a female voice. Solo is not as soul-grabbing compared to their flagship Penta IEM, but it walks the same path and tries to impress with its smoother attack and sustain of the notes. The upper midrange sees a gentle slope, creating a nasal and hollow effect in that region, like those notes made a few steps back. You can solve that with a mild 4 to 5 dB increase in the 1 to 3 kHz region.
C. Treble
Its treble performance can only be described as a roller-coaster, sometimes it is nice and smooth, sometimes elevated and sometimes there are a few dips that are helping cope with the brightness. They have clear and defined cymbals but the snare drum hits felt lighter and gentler. I will be measuring them soon, but even right now it's clear that a few sounds are getting too much attention while others are put in the shadows. The good thing is that I didn't find excessive ringing or nasty brightness with them. There is only very little of that, but it's manageable and didn't hear a higher degree of distortion even at higher volumes, so again its treble isn't a burden even in long listening sessions. I find it quite refined, lacking bloat, muddiness and distortion. It's definitely a higher-quality treble if I'm overlooking its rise in the most sensitive part of our hearing.
Overall, Meze achieved a nice balance in the frequency response, focusing mostly on the core values of what makes Meze…well Meze. Its mid-bass, midrange and lower treble are nothing short of spectacular and I can overlook everything else, considering that I am testing an affordable IEM.
VII. Measurements
When I'm measuring IEMs and headphones, I will always move to the Benchmark HPA4, as I find it extremely linear and super honest sounding. Gustard X26 PRO will be the main converter for this job and the measurement rig used was the MiniDSP E.A.R.S. calibrated with IDF (IEM Diffuse Field) compensation files. Do note that MiniDSP E.A.R.S. is not following any IEC standards, meaning that my readings can't be used as reference measurements. I'm doing them just to get a general idea about their sound signature. I've measured them only by using the normal sized double-flange ear-tips, I did that more than 15 times, as finding a perfect fit and a complete seal was quite a challenge.
Take a look at their RAW FR measurement. As you can see, their driver matching is good, there is a small deviation in the sub-bass and a much smaller one in the upper treble. I have re-inserted them several times in the test rig and I've got exactly the same set of measurements, meaning that there is indeed a very small deviation, but nothing to be worried about as in real life scenarios I cannot detect those mismatches.
You can also see its impressive bass performance starting with 30 Hz. It is impressive in here; it is elevated by a few dB and that adds plenty of soul and warmth, exactly as I like it to be. Midrange is impressive also having a gentle roll-off in the upper midrange that creates a hollow, honky effect with several tracks. Treble is uneven, its either recessed or elevated by several dB in multiple key areas. The most sensitive part is exactly at the same level with the 85 dB sine wave and there is a small rise of 3 dB somewhere between ~11 to 12 kHz after which it starts its descent. Solo is definitely a warmer and smoother sounding IEM compared to the ones I've tried before it.
Their Total Harmonic Distortion (THD) is very impressive! It sits at just 0.19% which is quite impressive considering their price point. I've measured plenty of IEMs that had a much higher THD, while costing twice or triple the price of RAI Solo. Their wire free UPM design and symmetrical pistonic movement really paid off, hats off Meze!
Its spectral decay is great considering that I'm dealing here with a single dynamic driver. Its diaphragm has a fast recovery (although not as fast to armature-based IEMs) and that translates into a very low Total Harmonic Distortion (THD), which I just mentioned before.
Spectrogram is super clean and is not showing weird driver behavior, as it would happen with multi-driver IEMs or with sensitive desktop headphones. You can also see their hot zones better; the treble is a bit sharper and more present in some areas.
Their waterfall can be described as smooth and gentle, it is good in here, the only thing that bothers is that spike at 12 kHz. It if bothers you too, it can be tamed with a parametric EQ, or with a simple one from your software music player.
Overall, I've recorded a fun and engaging sound signature, they have one of the lowest THD I've recorded so far, a fast driver recovery and a smooth waterfall.
Conclusion
Meze packed a whole lot of technology in this one, it bleeds and sweats Meze from afar. It has a lot in common with its bigger sibling RAI Penta, as both share the same long-lasting build quality, the same humanly shaped lightweight body, the same smooth and inoffensive sound tunning, the same detachable cable and MMCX connection at penta times cheaper to its heavenly sounding sibling. Its very high value cannot be contested, as you are still getting the same notorious Meze warmth, smoothness and liquidity at just $199.
You can get them directly from Meze Audio right here, or can you can get them from Apos Audio right here. (Apos is offering free shipping in the USA and Canada, free 45-day returns in case you don't like it, an extra 1 year of warranty and the lowest price guarantee).
PROS:
Great packaging
Solid build quality
Very comfortable in long listening sessions
Smooth and relaxed sounding
Natural timbre, warm sounding for the most part
Low distortion at high volumes
Brightness is not an issue
Decent soundstage and transparency
Great measurements
Very easy to drive
High value
CONS:
Rounded frequency response, limited at both ends of the spectrum
Lacks technicalities
Isn't that fast, detailed and punchy
Hollow upper-midrange is taking away some magic
Not the sturdiest cable
ASSOCIATED EQUIPMENT:
DACs: Audiobyte HydraVox + HydraZap, Matrix Audio Element X, Gustard X26 PRO, Gustard X16, Flux Lab Acoustics FCN-10, xDuoo XA-10
Headphone Amps: Benchmark HPA4, SparkoS Labs Aries, Flux Lab Acoustics FCN-10, Musician Andromeda, Burson Soloist 3X, Gustard H16, SMSL SP400
IEMs: Meze RAI Solo, RAI Penta, FiiO FD5, FA9, FH7, LittleDot Cu KIS & many others
Portable over-ear headphones: Sennheiser Momentum 2, Meze 99 Classics
Full-sized headphones: Hifiman Susvara, Hifiman HE1000SE, Audeze LCD-4, Erzetich Phobos, Erzetich Mania, Quad ERA-1, Fostex TH909, Kennerton Wodan, Kennerton Magni, Vali, M12S, Ollo S4X Reference
Power Amps: KECES S300
Loudspeakers: KEF Reference 3
Interconnects: QED Reference (x2), Topping TCX1 (x2)
Speaker cables: Kimber PR8, Audioquest Type4
Power Cables: Isotek EVO3 Premier (x3)
Balanced Isolation Power Conditioners: PLiXiR Elite BAC400