My Video Review:
Il Suono Italiano…now confess to me, how does that sound to you? Like a sweet melody whispered gently in your ear by a delicate midnight muse? Like a stroke of brush by the great Buonarroti that separated the sublime genius from monotony of formal thoughts? Like a poetry written in the middle of a creative rapture by a man touched by grace?
No, my friends, that is just the tuneful sound of Italian language, from which art and passion were born and I tell you this, everything that follows is pure heat burning passion. From a design that brings together the elegance of Carrara marble, a renaissance touch in its true form and the gorgeous design of an Italian sports car to the philosophy behind it…It's a monolith of Italian passion, dedication, skill and way of life.
Because when you say Italy, you say good taste, joy of life, bright colors, creativity and attention to detail more than anything else. And that's why Gold Note are some of the very few that created the unmistakable Italian sound as we know it today. By definition, it envelops you completely in a mesmerizing explosion of senses and velvety tones, offering a unique experience of a grandiloquent concert for your body and soul.
Today I'll be lending-an-ear to their most ambitious project yet that embodies 5 devices in a single component: it's a fully-fledged streamer via Ethernet or Wi-Fi by its own GN Control app, it's a Bluetooth receiver, a top-class digital-to-analog converter, a dedicated headphone amplifier and a proper preamplifier, all wrapped in a beautiful golden case that is Gold Note DS-10 PLUS. I'll be testing it with and without its external power supply PSU-10 EVO that you can get separately for €1100. DS-10 PLUS goes for €2890 and thus far it's their statement all-in-one unit so I'll prepare an in-depth look to their golden brainchild.
Unboxing Experience
For me the magic starts with the unboxing experience, seeing two massive boxes that were momentous and much heavier compared to regular DACs I'm testing on a weekly basis, already sent a clear message of what should I expect.
You can never be too careful when it comes to packaging, especially with high-end audio. There is a right amount of hardened foam for a nicer protection and both units are sitting in a carved spot completely surrounded by it, so you can be sure that both units will arrive in an immaculate condition to your door.
The main unit, comes with an outstanding remote control – a far cry from anything I've seen to this point, there's also a power cable, a high-quality Ethernet cable wrapped in a textile outer jacket and a very comprehensive user manual. The external power supply unit is coming with another power cable, with its detailed user manual and with a custom made 1-meter-long umbilical cord that will be providing power to the main unit. A single power cable will be powering both units and if you are getting them both, place the main unit to the left of PSU-10 EVO as it is recommended in the manual, you should never place it on top, so you would never experience transformer hum or overheating.
Design & Build Quality
DS-10 PLUS and PSU-10 EVO units inherit the brand's traditional esthetic features, while showcasing a high-quality craftsmanship in every possible way. I've seen plenty of devices by now that had a see-through case for a better heat dissipation, but most of them were plain and simple or straight ugly. Gold Note added a touch of refinement, making them unique and beautiful and for some reason they remind me about Italian sport cars, if only Gold Note will offer their devices in deep red glossy finishes, that would be something to behold. As of right now, they are offering 3 color options: black, silver or gold, all in stealth matte finishes. I am sometimes mentioning the Wife Acceptance Factor (WAF for short) in my reviews as the units that would be staying in the living room, need to be approved first by my beloved. There was one unit that that didn't cut it, many others were on the edge of being rejected and just a handful passed this test with flying colors. When I've unboxed the golden armada, I've immediately asked her opinion, words were necessary as the shine and glitter coming from her eyes were more than sufficient, so we can all exhale and relax.
Gold Note used thick CNC machined aluminum and you can actually see the thickness through those fins, nicely adding to a positive first impression. I really dig that golden coin on its front plate, the bigger logo on top is also interesting to look at. Since both units are having massive openings so that hot air could move outside of their cases, I am not recommending stacking both on top of each other, Gold Note is recommending putting the main unit to the left and there should be a little space between them so that transformer noise would not move to the most crucial digital and analog circuitry. Both units are getting warm to the touch after a few hours of use, so I'm recommending leaving them in a well-ventilated area. Another thing you shouldn't do is stack another amplifier on top of them. With gear of this caliber, I would put them on a dedicated audio rack, maybe on different levels for a better ventilation.
In the end, their build quality is absolutely spectacular, they look eye-catching, fit and finish is at the highest level I've encountered with personal audio. Putting it near a high-end Chinese DAC, like Matrix Audio Element X or Gustard X26 PRO feels like putting a Ferrari near a Dongfeng or a Geely car, it's something else entirely, there isn't even a contest.
By the way, armed with a smartphone or tablet you can actually see it in your listening environment, be it your living room or your office desk. Check all that in here, once the 3D render is fully loaded tap on the AR (Augmented Reality) icon in the upper right and enjoy the show.
Controls & Connectivity
DS-10 PLUS has a straightforward and simple to use front panel, with just a 6.35mm (1/4") headphone jack to its left, a volume wheel to its right, that works as a menu navigator and as an On/Off button and there's a big LCD screen that will show all the important stuff as the selected input, output, the volume level, the working mode, chameleon DAC settings, bit-rate and data stream.
DS-10 PLUS has one of the most impressive back panels I've seen with digital audio, just look at those ports. When it comes to inputs, there aren't many devices than can challenge it: there's a 3.5mm analog input and 8 digital inputs as follows: an Ethernet (RJ45) port so you can use it as a streamer via UPnP, DLNA or via their own GN Control app, there's mini-USB port, a USB Host so you can use it as a music player with external USB flash drives up to 32 GB in size, there's an AES, Coaxial, an USB Type-B and two optical inputs. To its right you'll find a Wi-Fi antenna socket, a WPS button for an instant connectivity to your Wi-Fi network and then there are two analog outputs coming in RCA and XLR flavors. Both outputs can be fixed or variable, so you can use it as a pure DAC or as a DAC + preamp combo if you will. DS-10 PLUS can be powered by its internal power supply via an AC inlet, but if you want to squeeze the last drop of performance, its external PSU-10 EVO power supply, with an overkill capacitance and with 4 audio-grade transformers inside, will be improving its noise rejection and subsequently its sound to the ultimate level.
Menu Settings
DS-10 PLUS has one of the most advanced and user-friendly interfaces I've seen in all-in-one units. If you find it a little overwhelming at first, please check its 84-page user manual that will explain every setting and feature to the smallest details. I've learned everything in the first hour or so, after which it became clear and easy to use. Unlike many other companies, Gold Note put a much bigger effort in their GN Control App that moves snappy and fast, without experiencing a single glitch in a span of two weeks and that really differentiates a rushed product from a well-engineered and well-thought one to the smallest details.
By default, the main unit will show on its big screen, the media type (PCM or DSD), the sample rate, the selected input and output, the working more, the chosen preset of its chameleon DAC settings and its volume level. Every single setting can be accessed either by its remote control, or by the volume wheel that works as a menu navigator and as an okay button if you push gently on it.
By far, the most interesting feature, is its chameleon DAC setting that can be accessed in the lower right side of the screen. You can tailor it exactly to your needs, you can make it linear and super extended in the frequency response, you can make it analytical or a lot smoother and easy going, you can even roll-off its upper treble if you want. I personally saved three presets: Preset no.1 is using its default super slow roll-off filter (for a natural tonality), I completely disabled the De-Emphasis Curve (the treble roll-off) and increased the current flow to the DAC chip to 34.4 mA so it would sound full-bodied, natural and engaging. Preset no.2 is my reference tuning, with a sharp roll-off, no DEE and I've lowered the DAC power to 31.6 mA for a more detailed and analytical sound. Preset No.3 will be mimicking the sound of a turntable: using a slow roll-off filter, DEE at level 1 slightly rolling the upper treble and I again increased the current delivery for a heavier sound. You can tune it and change its tonality and that is precisely why Gold Note is calling it a Chameleon DAC.
If you're a headphone user, you can use its Low-Gain setting with high-sensitivity IEMs and portable over-ear headphones, its High-Gain setting will pump five Watts of power instead of just one, capable of driving even the most demanding tasks as planar-magnetic headphones.
Technology Inside the DS-10 PLUS and PSU-10 EVO
I. PSU-10 EVO
PSU-10 EVO is not included in the original DS-10 or DS-10 PLUS package, it comes as an extra accessory, as an upgrade path, just in case you'll want to hear the best your unit is capable of. It will set you off €1100, it has exactly the same dimensions and design cues and it weighs 4 kilos. It comes with a single 8-pin umbilical cable, so it can power just a single unit, be it a DS-10 or a DS-10 PLUS.
PSU-10 EVO is an inductive power supply that was designed and developed with high-quality components having a single purpose and that is enhancing the performance of DS-10 and DS-10 PLUS to the next level. This external power supply is using four audio grade and ultra-low noise transformers (a dual choke hybrid inductive filter and 3 transformers dedicated to the power supply) and two ultra-low-noise voltage regulators. PSU-10 EVO will be lowering the noise floor (be it line noise or common mode noise) with more than 80 dB, providing clean energy for the DS-10/ DS-10 PLUS units, increasing the inner-detail and realism, achieving better dynamics and control with your loudspeakers and headphones.
It is a universal 100 – 120 V to 220 – 240V PS unit with automatic voltage detection, so you can use it anywhere without flipping a switch. It draws 70 Watts of power in normal conditions, up to 100W on loud busy passages.
II. DS-10 PLUS
This is a very complex all-in-one unit, so I'll be mentioning only the most important parts of its circuitry, as everything else you can check in its detailed user manual.
First of all, it is an advanced streamer, you can use it wired via Ethernet or wireless via Wi-Fi. Its GN Control app available for iOS and Android devices is super intuitive and easy to use. You can link your Deezer, Tidal, Qobuz, Spotify and vTuner Internet Radio accounts and start streaming high-resolution content right away. It can be 24-bit bit PCM files via Qobuz or it can be MQA files via Tidal, it is really up to you. You can even link your Dropbox or OneDrive accounts, this app will let you play music that is being stored on an external USB drive, transforming it into a powerful all-in-one unit. In my opinion, DS-10 PLUS sounded most impressive via Wi-Fi and Ethernet, bypassing a USB connection and an operating system. I've used it this way most of the time, without powering my PC or TV. It is Roon Ready certified and can be used as an end-point, it supports AirPlay with Apple devices, so I consider that it offers the full package, working as a future-proof modern unit.
Secondly, it's an advanced digital to analog converter or DAC for short that uses the newest generation silicon of Asahi Kasei Microdevices, the famous AK4493 DAC chip that is capable of natively decoding PCM up to 32 bit/768 kHz and DSD512 files. While this is not a top-of-the-line silicon, everything around it is. Its power supply is well made, there is a huge capacitance inside for power filtering and storing, its chameleon DAC settings really sets it apart from anything else I've tried before it, as you can tailor it exactly to your needs, to your system, you can make it smooth and gentle, you can make it fast and hard slamming, it depends on your preference and on your setup.
Thirdly, it is an advanced preamplifier that uses an actual line-amplifier circuit inside, instead of a volume attenuator that you can spot in entry to mid-level converters. Gold Note has plenty of knowledge when it comes to analog preamplifiers, so they added a switchable high-end analog preamp stage, enabling volume control even by using web clients.
Lastly, it's a very good single-ended headphone amplifier with two gain stages. Low-gain is offering up to 1 Watt of power and high-gain 5 juicy Watts that can move and control even the most demanding headphones as planar-magnetic ones. It will be testing it soon with several IEMs, portable over-ears and with a lot of desktop dynamic and planar-magnetic headphones. All you need is a smartphone; a pair of high-end headphones and you can lean back end enjoy a lengthy playlist while sipping from a glass of wine. No PC or wired connections are needed, no other additional electronics. In a loudspeaker setup, just add a power amplifier (their PA-10 seems like a logical recommendation) and enjoy your music the way you like it.
Test Equipment
DS-10 PLUS is targeted as the only driving force behind your headphone or loudspeaker setup and as such I've used it in two very distinct setups:
In my office it worked as a streamer, DAC and headphone amplifier, driving about 12 pairs of desktop headphones, several portable over-ears and plenty of sensitive in-ear-monitors, so I could know it better, I could understand its tonality, its chameleon DAC settings and of course its headphone amp section.
Since it can drive directly a power amplifier, I've moved it in the living room where it was powering a KECES S300 power amplifier and driving a pair of KEF Reference 3 stand-floor loudspeakers.
Okay everyone, I've prepared a glass of wine, my body and soul are ready for some well-deserved music, so I'll just close my eyes and enjoy the ride.
Sound Performance
I. Preliminary Sound Impressions
DS-10 PLUS is being used for about two weeks now, first week in its stock form and the second week I've added PSU-10 EVO so I can better feel the added performance. When listening to such a unit, the spec sheet and the chips that are being used don't matter that much, as the final outcome is a whole lot more important. In a headphone setup, it literally transformed those HE1000SE of Hifiman from treble oriented headphones, into a beautiful pair of headphones that fully preserved their crisp and detail-oriented nature, toning down the sharp overtones, the fake treble ringing that you can find in perfect measuring DACs and amplifiers. DS-10 PLUS didn't add sharpness, didn't boost its bass delivery, didn't add some ringing in the top octave, it just added more flow, more emotions, it added weight and color to my music, without overdoing it too much.
Compared to a well-made Chinese DAC, there is more happening in the midrange, there is more vibration in the human voice, there are more nuances that I can pick and more important than ever, it just relaxes me every time I push that play button on the GN Control app. You can certainly make it drier, slightly more analytical sounding, but I think that its genuine Italian sound should be experienced first, before playing with those chameleon DAC settings. I've experienced a see-through transparency, a high level of detail retrieval and some of the best layering and depth I've heard with all-in-one units. In some ways, it resembles the sound of the AudioByte HydraVox, there is always an invisible silk-tread that binds all the music together, creating flow, an easiness that is hard to describe by words. After switching it with a mid-level oversampling DAC, the music became a little robotic, more processed, more digital in way, there was more empty spaces and less music in the room, leading to a less emotional experience.
Some close friends came for a listen and they all agreed that its midrange delivery is something truly special and that should be a norm as most of the sounds surrounding us are happening in this region. I still find it quite linear and extended in the frequency response, but it doesn't charm me with its technicalities, it enchanted me with the listening experience itself. It knows how to awake emotions in your tunes, how to be gentle and smooth, but it can also increase and decrease dynamics in a split second. When it's called for, bass becomes athletic and mighty, slamming precisely at the right time with a higher sound pressure level.
I started doing some calculations, how much do I need to save for the same high-quality streamer with iOS and Android support, a chameleon like external DAC that can change according to your needs, a dedicated headphone amplifier and then a line preamplifier. While I can have them all at the same price point, I don't believe all those separate units will be creating the same eco-system and the same outstanding experience, connectivity, design and build quality. I truly believe that DS-10 PLUS is a bargain at €2890 and if you don't need a 3.5mm analog input, then the regular DS-10 at €2490 looks like steal in my eyes.
II. Adding the PSU-10 EVO into the chain
The driving force behind your stereo setup is your digital or analog front end. Music starts its life from there and slowly moves the ladder to the preamplifier, to amplifier stages, then to the diaphragms and then it hits your eardrums. If you want to make things the proper way and kill noise for good, you need to do it at the inception point, you need to start with your DAC, with your CD player, with your tape player or turntable. Stop the noise there, until it become a gargantuan of a problem down the road.
Gold Note knows it very well, currently they are making one of the nicest turntables, on the other hand digital audio seems like a new adventure, but they started with their right foot. External power supplies for your source equipment aren't something entirely new, as there are brands that are doing this for quite some time. Remember SBooster? They are making linear and regulated power supplies for Mytek DACs, for Benchmark Media DACs and really for any other DAC, digital or analog source that uses a DC input instead of an AC input.
PSU-10 EVO is something a lot more advanced to a SBooster that uses just a single toroidal transformer. EVO is having 4 transformers inside and from those one is used as an inductive filter. Several voltage regulators and of course a higher capacitance will be conditioning all that power, lowering the noise floor by more than to 80 dB!
That is a biggity BIG number if you ask me and it matters a lot if you dislike hearing noises and gremlins at higher volumes. DS-10 PLUS itself is a clean sounding unit, with defined leading edges and full-bodied musical notes. However, when PSU-10 EVO was added into the chain, the void spaces between the notes became bigger and blacker, the textures and leading edges became clearer, but the biggest change can be summarized by a single word: Dynamics! On its own, DS-10 PLUS is a snappy and engaging sounding unit, always putting a smile on my face, but with the EVO in place, everything became more colorful and tasteful, I had more low-end, a denser midrange and even less digital glare in the treble. It added muscle mass, it added punch in the chest, it added deeper bass notes, all coming in an effortless easy way towards the listener. Interestingly enough, the biggest change was felt in my loudspeaker setup, because the added air mass and layering was much easier to spot. Soundstage improved a little bit, but transparency was on another level as I could easier reach to the tiniest details without flexing my mind, musical notes that were hidden in the shadows took a few steps forward so I can better feel them with my entire body.
With headphones, I've immediately observed a higher dynamic range, a better impact and a lower noise floor, with the stage remaining exactly as big, as deep and wide. It is a must-have upgrade in a headphone setup, as for my stereo, let's just say that I cannot go back listening to the DS-10 PLUS alone without its complementary power supply. If you're planning on getting the DS-10 or DS-10 PLUS, then PSU-10 EVO looks like a logical upgrade in the future. With four transformers inside, it's the pure definition of overkill in a very good way, as you can never be too careful with your digital front end. With it you'll be killing the noise for good, while unleashing higher dynamics at the inception point.
III. Noise Floor in a speaker and headphone setup
From this point on-wards, I will be using the DS-10 PLUS together with the PSU-10 EVO for the best results. Driving directly a power amplifier followed by a pair of KEF Reference 3 worked impressively well, it was completely noiseless on the XLR output no matter the volume level. I didn't hear stutters, hissing or disturbing noises at higher volumes, nothing like that. KEF's UNI-Q coaxial drivers are quite sensitive to noise and upstream equipment and can pick-up residual noise with lower quality sources or amplifiers, that happened several times already. Gold Note didn't put nasty gremlins in the background and as far as noise floor goes, it can't be cleaner than that.
Switching to its 6.35mm headphone output with all my desktop headphones, including low-impedance planar-magnetic headphones, its background remained as clean and noiseless as it was with loudspeakers. I went through several albums just to arrive at the same conclusion, that it was a clean sounding unit with such headphones.
Dynamics were swinging in full-force, music was hitting me hard, with a huge grin on my face everything felt at its right place. Even going as loud as 70 out of 100 on its volume, everything remained clean and defined, without losing inner detail or crispness. In this regard, it behaves exactly as a high-power Class-A desktop headphone amp, so no complaints in here.
However, when I switched to the most sensitive in-ear-monitors as FiiO FA9, FH7 and Hiby Crystal 6, no matter the volume level, be it the lowest or the highest, there would be a faint low-level hum all over my music. Moving to its low gain position, the noise went down considerably, but it didn't go away completely. If I'm leaving it on low-gain and I'm trying to do some low-level listening, then I cannot spot it anymore. Even the most sensitive desktop headphones I've tried as Kennerton Magni and Vali are performing almost the same, with the exception that low-gain was completely noiseless with them.
In its defense I will mention that several desktop headphone amps behaved pretty much the same, be it Audio-GD Master-9, Burson Audio Soloist 3X, Musician Andromeda or Flux Lab Acoustics FCN-10, all offered lots of power for harder to drive headphones, but a bit of residual noise with the most sensitive IEMs and portable over-ears. You can't have a lot of power, without a noise increase. I want to be clear, that this happens only on its headphone output and only with sensitive in-ear-monitors. Its RCA and XLR outputs were dead silent and didn't exhibit the same behavior.
When I connected it to a few perfect measuring headphone amplifiers via XLR and attached some sensitive IEMs, the noise went out of the picture, suggesting that the hum is coming from its headphone amp section and not from the DAC itself. If you don't plan on using extremely sensitive IEMs with it, you will be perfectly fine, even portable over-ears worked great on its low-gain setting.
IV. Headphone Amplifier Section
This is an interesting topic and there is no other way in mentioning it that DS-10 PLUS has one of the nicest headphone amplifier sections I've experienced with all-in-one units. It offers plenty of power on its high-gain setting even for the most demanding headphones. As you can imagine, everything like portable over-ears, IEMs and desktop dynamic headphones were easily driven with flying colors. The biggest majority of my headphones are planar-magnetics and it didn't have a problem driving most of them, except for one stubborn black sheep. Even Audeze LCD-4, Kennerton Wodan, Erzetich Phobos and Hifiman HE1000SE were fully driven with flying colors, with plenty of authority in the bass, sweetness in the midrange and with a harsh-free top octave. Dynamics were explosive, going up and down, offering a high engagement factor and a perfect transient response. On its volume wheel, I could go up to 70 out of 100 with headphones of such caliber, leaving tons of headroom for better mastered music.
Hifiman Susvara is easily the hardest to drive headphone I have ever tried, as several desktop-class headphone amps were unable to awake better dynamics or offer a satisfactory volume. At around 90% of its power, Susvara were already playing quite loud, but DS-10 PLUS wasn't fully controlling their drivers, restraining dynamics and increasing its distortion. It wasn't shutting down, as it happened with some other units, but it was losing its grip, adding clipping and a bit of distortion. This isn't a surprise to me and I don't see it as a con, as Susvara works only very few headphone amps can offer more than 10 Watts of power. For now, I'm driving them with a Class-AB power amplifier and that was the only one that awakened from their deep sleep.
I'll remind you that it still incorporates a powerful headphone amplifier section, offering up to 5 Watts of power and a low output impedance, preserving the damping factor, leading to a lightning-fast start and stop of the drivers.
V. Resolution & Transparency
While reading its spec sheet, especially seeing that mid-range AK4493 unwillingly you'll start thinking that it cannot compete with the best of the best. However, I still remember listening to terrible sounding gear that used top-of-the-line chips and I remember trying great sounding units that had outdated silicon. Surely, the sum of all parts is a lot more important than just one single thing. The whole job of a DAC is being correct and precise in its math as no other unit is more important than your digital or analog front-end when it comes to detail and resolution. A lot of people like some kind of flavor added into the mix, others like a more linear, a more honest sound, a more extended frequency response. I am part of both camps and that is why I'm using at least 3 DACs at my listening battle stations. When I want to be Sherlock Holmes analyzing the tiniest details in my tracks, I'll be listening to the Matrix Audio Element X, when I want to lean back and be carried away by music, I'll power on the Audiobyte HydraVox and when I want to rock-out on a freshly released album, I'll probably engage a Gustard X26 PRO. What is kind of impressive is that DS-10 PLUS can be all of that if you wish. At first, I didn't use its chameleon DAC settings that much, because I imagined that Gold Note will be offering only digital filters incorporated on the hardware level on the DAC chip itself, exactly how all DAC manufacturers are doing, but no, it's something else entirely. That De-Emphasis Curve is a God-sent for bright and harsh sounding setups. There is one setting that felt like the cherry on top and that was the DAC Power that lets you choose the current that is being fed to the DAC chip itself. Send it a lower amount and it will start sounding more analytical and more transparent, send a higher current and it will start sounding warmer and smoother for prolonged listening sessions. DS-10 PLUS can be linear, it can uber-transparent and detailed, it can be smooth, it can be gentle, it can be warm, or it can be a combination of multiple things. You can make it both engaging and linear or ultra-smooth sounding, it is kind of difficult exposing its true nature. I will say it straight away, that it doesn't aim for an exaggerated detail-retrieval, for an abundance of micro-details in your tracks, it doesn't steal your attention with a fake treble boost. Nevertheless, it always delivered my music accurately, precisely and honestly. Each touch of a string, each brush of a cymbal and each inhale and exhale was delivered with proper inner-detail, texture, intensity in full compliance with the original intention. It had all the details be them on the macro or micro scale, it just didn't show them in a brutal unrefined way, it was more subtle and courteous, showing only what was needed, without harming its tonal equilibrium.
Listening to The Q Sessions by Christian McBride (Qobuz) completely filled the room with musical notes and sweet overtones. That percussion work felt exemplary, standing out immediately with its cleanness, speed and impact, never becoming burdensome or out of place. The cello and bass guitar added a nice extension in the lower frequencies, improving the layering and moving plenty of air down low. This track really highlights how expressive DS-10 PLUS can be with micro-dynamics. Its clarity and all those subtleties had an emotional impact on me, as with most entry to mid-level DACs the dynamic range was lacking, almost sterilizing the listening experience. In the right setup, DS-10 PLUS can offer an almost an out-of-body experience with the right music – letting the sound take over not just audibly but emotionally as well. Not many all-in-one units can do that for me.
VI. Transient Response
After listening to it for two weeks, moving it in the living room and then back to headphones, I always had a numb feeling that it offers the full package: it has all the speed I need, an impactful presentation, while offering a complete relaxation of body and mind, offering an overwhelming sensation of power and control, especially with the PSU-10 EVO that elevated my listening sessions to a whole new level. I had more time experiencing guitar plucks, vibration of the violins, even cymbals sounded fuller and more expressive to me. It worked amazingly well with all kinds of acoustic and instrumental music.
Several classical pieces sounded limitless when it comes to depth and stage size, with dynamics hitting me relentlessly like I was listening to some rock tracks. Take this one-month-old recording as a very good example. Vivaldi – Paganini – Tartini by Nils Mönkemeyer (Qobuz / Tidal) sounded like I was sipping from an exotic cocktail while riding a rollercoaster, there was just an explosion of high and low dynamics in my room, everything expanded to almost infinite, while kicking my body with musical notes from different angles. That viola sounded more like a guitar in the hands of Steve Vai. That mid-forward, close and personal pugilist attitude of DS-10 PLUS did not disappoint one bit. What sets it apart was its immaculate attack and control of the driver. It always sounded fast and precise, while never going overboard to the aggressive side. The low-end felt thick but clean, detailed and layered.
Allegro followed by Violin Concerto in D Major had such an incredible build up and an explosion of dynamics that it felt like I had an ear-gasm. There were butterflies in my stomach and that midrange simply grabbed my soul and waved it in the rhythm of the music. Try it for yourself, an album that should be heard with loudspeakers and headphones, it was mind blowing when it comes to transients and dynamics.
Listening to some lightning-fast electro beats of Infected Mushroom felt like a machine gun was always aiming for my body. DS-10 PLUS didn't have issues with a much faster tempo, it stood its ground, it was going as fast and sounded as nimble as I know this music to be. I want to point out that with a potent power amplifier, you don't really need some boomy songs to feel the speed and the punch it can provide. It fully preserved a speedy transient response, delivering nasty punches not only with speakers, but with headphones too!
VII. Soundstage & Depth
Soundstage, imaging and depth were always tied to the output stage of the DAC, to its power supply, capacitance and to its filtering. If I'm removing the external PSU-10 EVO, then the sounds wouldn't fly into the abyss, the air bubbles between musical notes will be decreasing in size and instead of an enveloping 3D sound, I'd get a less impressive bi-dimensional soundscape. With PSU-10 EVO in place that houses 4 audio-grade transformers, dynamics improved considerably, moving a lot more air in room, adding heft and increasing the sensation of a breathable three-dimensional sound, so I could better feel its depth, height and width. Music flew far and wide, crowded music felt no longer closed-in and personal, decompressing beautifully on all axes. It was expressive and emotional, fully surrounding the listener, so much so that I've forgotten that I was using headphones in the first place.
In a stereo setup, it easily challenged some of nicest units that I've tried at my place. Working as a streamer, DAC and preamplifier it filled every corner of my room with music, the air felt heavier and full of substance, placing all the notes exactly where they belong in the scenery. I felt more air in the room, more depth, a taller stage. Picking up notes from thin air became so easy, it wasn't a slightest challenge anymore. Reference 3 felt tight and controlled, fast and punchy, exactly as I know them to be. Unlike cheaper alternatives, I didn't experience a lighter-weight and ethereal sound, it was opposed to that, preferring a much fuller and denser sound, filled with texture and emotion.
Live At Pompeii by David Gilmour (Qobuz / Tidal) is my personal favorite live album thanks to its outstanding mastering, to its warm tonality and of course to its open wide soundstage that feels limitless at times. I just closed my eyes and completely immersed myself into it. Low-end felt punchy, and present, even when brass sections were screaming, the top-end rolled-off nicely, so that high-brass and other piercing sounds wouldn't bother at all. There was sparkle in the air, all those slight imperfections of a live recording felt warm and inviting, leading to a very relaxed and honest presentation from the artists. The scale of this record really shows off the soundstaging capabilities as each and every instrument was placed with pin-point accuracy in the scenery.
I can go on and on about how impressively layered, big and wide it sounded in my room and all that wouldn't be enough. It indeed worked as a sound stretching machine, adding air and boosting the scale to a whole new level even compared to my reference DAC.
VIII. Frequency Response
While I never used EQ and probably never will, its chameleon DAC settings felt like playing with an EQ curve. Do you want more warmth, bass and midrange, no problem, increase the DAC power and choose the slow roll-off filter. Do you find your speakers or headphones somewhat bright and screechy? Just use its De-Emphasis setting and you'll be back to headbanging in no time. Since I can alter it to my liking and completely change its tonality, I disabled its chameleon DAC settings for good and evaluated it in its stock form.
A. Bass
DS-10 PLUS possesses an unrestrained, wild and punchy bass performance. It sounds effortless even when it comes to bass. It just appears from a black void and all the spotlights are moving towards it, showcasing its cleanness, its low-level vibration and its natural decay. It felt muscular and hefty at times and it easily reached those 20 Hz notes. Be it electro, jazz or rock, it just delivered and enjoyable and fun listening experience starting with the lowest notes. It is super-extended down low and it isn't shy showing off all that muscle mass and bad boy attitude. While there was plenty of bass notes, those weren't aggressive or all over the place, they came in right doses and only when called for. Forget about muddiness, distortion, as DS-10 PLUS is free of those shackles and instead chooses a deep reaching bass that is more about the quality then about the quantity. Mid-bass felt by a hair elevated, drawing more attention to itself, it was fuller sounding even to my reference DAC. It had more presence, highlighting it beautifully, adding more fun into the mix.
B. Midrange
The beautiful unmistakable Italian sound starts with midrange and what a midrange! Instead of a linear and straight as a line performance, it goes a step forward into the light, revealing itself as a meatier, much denser sounding midrange. Instead of being just there in your living room, it carries more emotions, it feels heavier, sweeter and smoother. With it, I've listened to a lot more jazz, classical and live albums, I just cannot get enough of that juicy, bold and soul-grabbing midrange. Yes, it is by a hair elevated, but man…it works exceptionally well with instrumental and acoustic music and don't get me started with lifeless sounding headphones or speakers, as it will be infusing some of its own medicine, adding warmth and a higher engagement factor. All that music felt real, music became alive, I wasn't listening to the music anymore, music was just happening in my room, it would appear from a black void of nothingness.
C. Treble
Its treble performance is resembling very much the sound of non-oversampling DACs, the sound of R2R DACs and sometimes of FPGA software defined DACs as Audiobyte's HydraVox. There is just that easiness and harsh-free presentation that is missing with entry-level devices. You can feel the brass of cymbals, you can feel the higher impact of snare drum hits, but you don't feel the fake ringing associated with treble-oriented units. There is texture, there is detail, there is transparency, but there isn't sharpness and that is another trait I find interesting and unique. You know, I'm very much into all kinds of music, including into treble-intensive music and with some particular gear, I just refuse listening to such genres, because I wouldn't enjoy my time. With DS-10 PLUS I could listen to rock all day long, feeling those metallic textures, sans the issues associated with less than perfect digital sources. I can't call it rolled-off in here, there is plenty of presence and detail, it just isn't overdone and it isn't attracting a lot of attention to it. This is an outstanding treble performance that I wish I could borrow and place it in my Element X.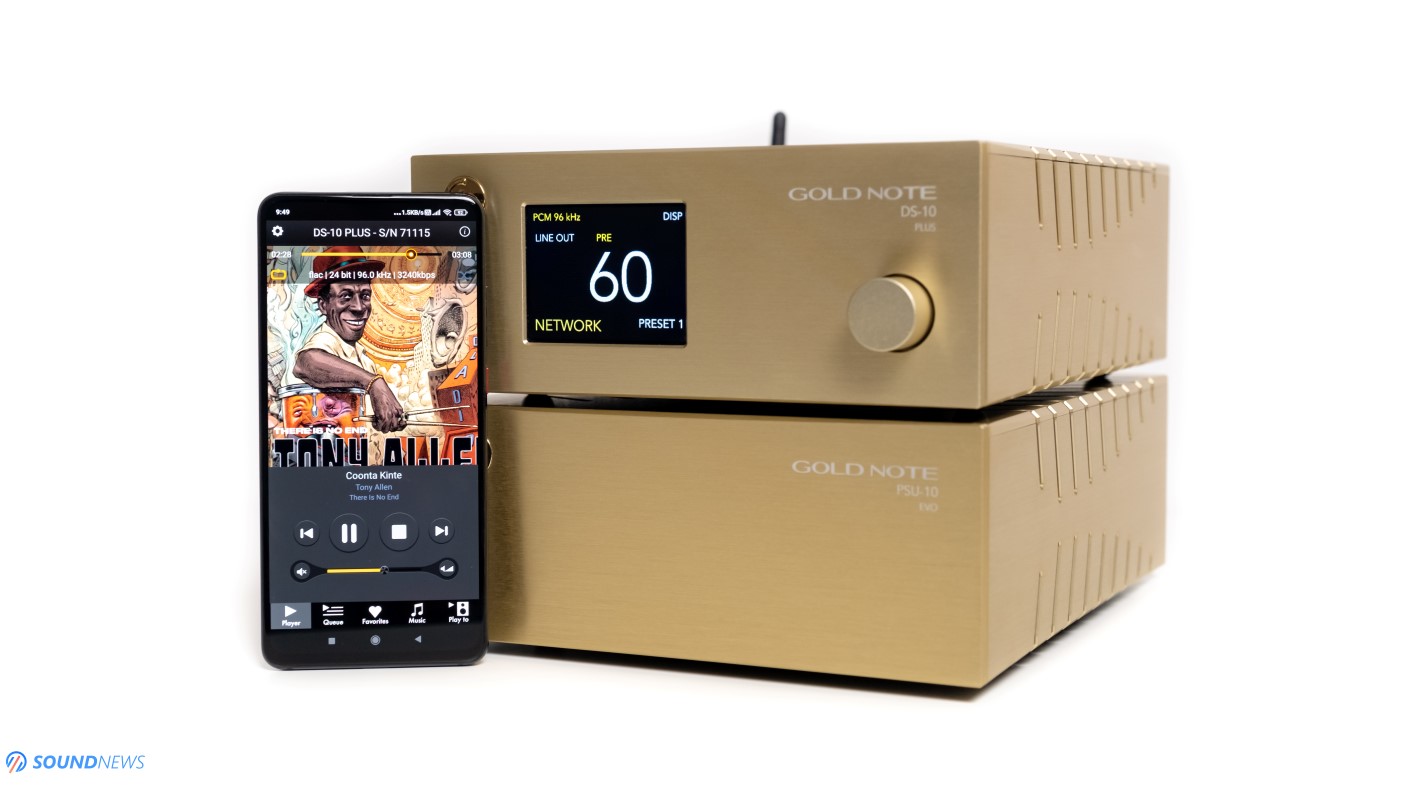 IX. Streamer & Bluetooth Performance
A. Bluetooth Performance
DS-10 PLUS is equipped with a Bluetooth receiver, it uses Bluetooth version 5.0 for a wider range and for a better connectivity. When it comes to codecs, the best one is AptX-HD, sadly it doesn't support Sony's LDAC with its 990 KB/sec bandwidth. My smartphone detected it immediately and I could even control its volume. It worked great even with 2 concrete walls between it and my phone and the signal was still going strong, without dropping a beat. When I've moved to the balcony, music started stuttering, a clear sign that it was losing signal, but at about ~14 meters away and with 3 concrete walls between us, that was understandable. It worked exactly as I've expected, but I would rather use its streamer that isn't losing bits of information and sounds by a whole lot better. Via Bluetooth, transparency took the biggest hit, detail felt rounded at both frequency extremes like I was listening to low-bitrate mp3 files, instead of a Hi-Res lossless file. It was Okay, but don't expect revelatory experiences via Bluetooth, if you want that…use its internal streamer for the best results.
B. Streamer Performance
You know why Matrix Element X stood by my side for so long? Because I use it as a streamer, DAC and preamp in my living room, so I can save space and evil looks from my wife. It just works and it delivers high-quality sonics. The thing that bothered me the most is that I was tied to Tidal in the beginning and its MA App wasn't as cool and user-friendly as Tidal's own app. Gold Note went much further with their app, I find it more interesting, it never crashed on me and it just offers you a lot more flexibility. You can link your Tidal, Qobuz, Deezer, Spotify, vTunner Internet Radio accounts, hell you can even listen to some music stored in your Dropbox or OneDrive. How cool is that? Fancy some DLNA, UPnP or maybe you're an old school and use USB flash drives filled with music. Gold Note will play all of that, without the need of a PC or a TV. Just use a smart device, link your streaming service to GN Control app and you're ready to dance or rock-out. I used Qobuz Hi-Res streaming for the most part and all that worked flawlessly, 24-bit 192 kHz files loaded and played immediately. I saw my playlists there, my favorite songs, my favorite albums, everything was in there and more important than ever, it sounded the best this way. Via USB it sounded amazing, but via its streamer it was glorious!
Conclusion
It got a fantastic set of features, great connectivity, an amazing design, a high-quality build and it is hard finding faults when you're full of goose bumps all over your body. Although it has an eye watering price tag, no matter how you look at it, this combo just delivered every single time I pressed play, so if you're looking for a no-compromise all-in-one unit, you definitely came to the right place.
I've rediscovered several headphones with it, Hifiman headphones were particularly impressive, sounding effortless and powerful, without a slightest hint of treble itch, I just fallen in love with them all over again. Gold Note DS-10 PLUS and PSU-10 EVO are indeed flagship level all-in-one units. Their inviting, mid-forward and natural sound-signature was highly enjoyable and super fun. Combined with an amazing feature set, you have a perfect recipe for some amazingly long and pleasant listening sessions.
I liked this combo so much that I will be awarding it our highest badge! Congratulations to the team and I'm looking forward to their next doings.
Gold Note DS-10 PLUS will set you off €2890 and PSU-10 EVO another €1100. You can get them directly from Gold Note or you can contact your local GN distributor.
PROS:
Outstanding design
Solid build-quality
Feature packed to its teeth (a 5-in-1 unit)!
GN Control app works like a charm
Widest selection of inputs and outputs
Chameleon DAC settings are amazing to play with
Warm, liquid and full-bodied
Great soundstaging capabilities, always layered and 3D sounding
Great imagining and depth
Rhythmic and highly engaging sounding
Detailed and transparent
Powerful headphone amplifier section
Preamplifier section is top-notch
CONS:
PSU-10 EVO is more or less mandatory for the best dynamics and noise rejection
Slight hiss with sensitive IEMs
ASSOCIATED EQUIPMENT:
DACs: Gold Note DS-10 PLUS + PSU-10 EVO, Matrix Audio Element X, Audiobyte HydraVox + HydraZap, Topping D30 PRO, Gustard X26 PRO, X16
Headphone Amps: Benchmark HPA4, SparkoS Labs Aries, Singxer SA-1, Flux Lab Acoustics FCN-10, Musician Andromeda SMSL SP400, Topping A30 PRO, Gustard H16
DAPs: Shanling M8, M3X, FiiO M15
Power Amps: KECES S300
Loudspeakers: KEF Reference 3
IEMs: FiiO FD5, FA9, FH7, Meze Rai Penta, Rai Solo, LittleDot Cu KIS, Hiby Crystal 6 & others
Portable headphones: Sennheiser Momentum 2, Meze 99 Classics
Full-sized headphones: Hifiman Susvara, Hifiman HE1000SE, HE400SE, Audeze LCD-4, Erzetich Phobos, Erzetich Mania, Kennerton Wodan, Magni, Gjallarhorn, Vali, M12S, Quad ERA-1, Ollo S4X Reference, HarmonicDyne Zeus & others
Interconnects: QED Reference (x2), Topping TCX1 (x2)
Speaker cables: Kimber PR8, Audioquest Type4
Power Cables: Isotek EVO3 Premier (x3)
Balanced Isolation Power Conditioners: PLiXiR Elite BAC400