My Video Review:
Can you guess which is my favorite DAC manufacturer from Asia? That's right folks, that's Topping… and if you are asking yourself why? It's a cumulus of multiple factors: Build quality and aesthetics are first, feature set comes second, price point comes next and most importantly their sound quality is still unmatched at their respective price points. Nowadays, there are way too many companies that are making affordable desktop DACs, but high-performance ones that are measuring and sounding exceptional, not that many. Most of them are still coming from Asia and as much as they are trying, none can keep up with the number of new products and with the quality that Topping is putting in their units. I'm yet to see a nicer looking DAC than their D50S and a more feature packed unit than their D90 MQA at less than one grand. Wait a sec and hold my beer! screams Topping from afar, as it's that time of the year, when they'll raise the bar of affordable high-performance audio yet again with the introduction of their newest D70S MQA DAC.
I have tested all their DACs they came up with in the last two years and I always had a strong feeling that Topping wants to make their DAC line-up very distinct sounding from each other, so that people could choose something with their ears, not only with their wallets.
With D10S they are just scratching the surface, letting you know that there is more of everything in your music, kickstarting a beautiful journey for young audiophiles
With E30 line they are showing that music can flow like a river with its sweet tonality, that is putting a bigger accent on air and scale, but less so on the technical aspects.
D50S line is the Yang to the E30's Ying, as it's a lot more technical, more detailed, but less impressive when it comes to awaking emotions and putting goose bumps all over your body
Their D70 line is simply soul grabbing and easily the most natural and smooth sounding from their entire line-up
D90 line felt like a combination of everything they've done until now, it is both technical and musical, with a lot of features put as cherries on top.
D70S is indeed part of their 70-ies line-up, but after popping its hood, checking all its internal components, all its features and after exchanging several emails so I could better understand its circuit board – it felt more like a D80 to me, like a pseudo-flagship device that has a different flavor to the D90, as it isn't that far from it. In the latest chapters I will be comparing both units, be sure to check that out, but until that happens let's unbox it and see what's inside.
Package Contents
It is already a norm seeing everything double boxed with lots of foam inside for a better protection during shipping. It was a small surprise seeing the D70S MQA bigger and heavier compared to the flagship D90 MQA which is a bit unusual. On the right there is an accessory compartment that is holding a power cable, a USB Type-B cable, a standard Topping remote control, a Bluetooth antenna, a warranty card and a detailed user manual. As with all Topping manuals, they included actual measurements as THD vs FR, FFT Spectrum, FFT Spectrum of all its 6 digital filters, Jitter level, SNR and Dynamic Range.
Design & Build Quality
I have to say that D70S looks and feels exactly as premium an any other TOTL DAC feels to me. Starting with its casing and finishing with the smallest details, D70S is built to very high standards and there is no other way in saying it. It has a thicker aluminum case compared to D90 which I like, with just two plates attached on its front and back. CNC machining looks top notch, its anodizing surface seems to be scratch resistant and you shouldn't worry too much while operating audio gear around it. Its silicon feet were placed in small cut-outs in the case itself, so no matter how often you drag it around your table with an amplifier on top of it, those will always stay put, forget about misaligned silicon feet as it usually happens with mid-fi DACs. While it is slightly bigger and heavier to the D90, it still has a small footprint and can be easily integrated into tight spaces as office desks or headphone setups. Its case has a rounded shape and it quite pleasant to the touch, I like that its buttons aren't sticking out too much and that its OLED screen is perfectly aligned in the middle, so no more OCD for me.
Topping always cared for the look and build-quality of their gear and that can be immediately felt while touching and closely inspecting the D70S. There are two color options for it: matte-black (our review unit) or matte-gray. D70S has a simple metal brick-like design and I'm fine with that, as most of the Hi-Fi gear is looking this way.
At about 1.9 kg or 4.2 pounds, D70S is nor heavy nor lightweight, but gives an impression of a well-engineered and well-made product. From all the Chinese DAC manufacturers I have tested of late, I think Topping has definitely one of the best looks and form factor.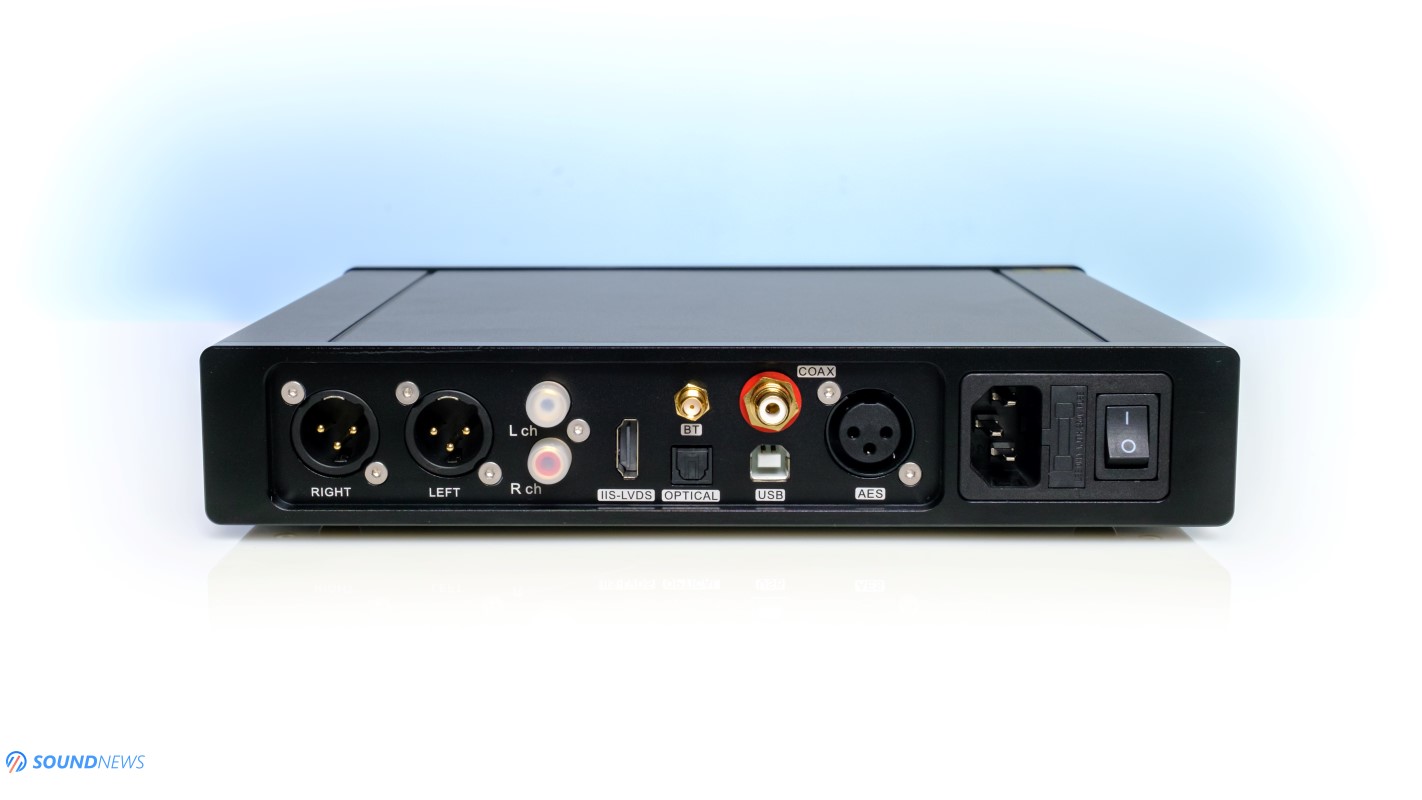 Controls & I/O
D70S has a clean looking front panel, with just an On/Off button to the left, a monochrome OLED screen in the middle and two volume buttons plus an input selector can be found on the right. Its screen is moderately big, but thanks to its bigger lettering you can clearly see the volume level and the selected input even from afar.
On the back all the nicer digital inputs are present as: USB, I2S, Optical, Coaxial, AES, there is a Bluetooth antenna socket too. Being a fully balanced DAC, it offers a pair of XLR and RCA outputs. Both are volume controllable or fixed, depending on the settings and you can even disable a pair of analogue outputs if you want. It has pretty much the same inputs, outputs and feature set of its bigger brother D90 MQA.
Tech Inside D70S MQA
Topping went with the second-best DAC chip of AKM, the famous AK4497EQ, but with a lot of tinkering and by using two pieces of the same silicon, they were able to achieve a better channel separation (a lower crosstalk) and a lower noise floor (THD + N) even compared to AKM reference boards and to AK4497 datasheet which is impressive to say the least!
The actual measurements that can be seen in its user-manual are approaching dangerously close to those of D90 and to be completely fair with you, most of them are very much on the same level, including signal-to-noise ratio and dynamic range.
Since AK4497 is a not a current output DAC chip as AK4499 is, an I/V conversion stage wasn't necessary as it was on D90, completely dropping four OPA1612 for a purer and a shorter signal path.
However, its output stage is based on three OPA1612 op-amps instead of three LME49720 that are found on D90 MQA, one op-amp for every DAC chip and the third one will convert the balanced output into a single ended one. OPA1612 is very well-known to me and it is considered as one of the smoothest and natural sounding op-amps of the latest generation, which already tries to tell a small story of the differences between D90 and D70S. The small description of the D70 line that I've made fits like a glove the newest D70S too.
Everything else, remains on the same level with D90 MQA, as you can find the same high-performance Accusilicon AS318 femto-clocks (2 pieces), the same Altera MAX II CPDL processing. It is important to know that the Altera FPGA is infused with Topping own code so obviously the same hardware with different software code can sound very different, hence the substantial difference in sound quality between various DACs with the same components.
It has the same linear and regulated toroidal transformer, followed by 8 independent voltage regulators and by 7 big electrolytic high-grade caps (Nichicon FW series) that were specially designed for audio components, so you can be sure that clean power will be delivered to both analog and digital circuitry.
You'll find the newest XMOS XU216 that also sits in the D90 MQA and in my own reference DAC (Matrix Audio Element X) that has double the processing power (2000 Mips) compared to its older generation XU208 and it is the recommended receiver for full-MQA decoding DACs. That's right folks, D70S MQA has a full MQA decoder inside that will fully unfold MQA files before playing them back natively.
Asahi Kasei recommends using their own low noise S/PDIF receiver with their digital to analog converters, so it was natural using the AK4118 that takes care of all its digital inputs except for I2S and USB.
For a good Bluetooth codec support and stable connection, they went with the highest performance CSR8675 BT receiver from Qualcomm, that currently supports all the best codecs as AAC, SBC, AptX, AptX-LL, AptX-HD and LDAC. Bluetooth version 5.0 and that wireless booster (antenna) will make sure to play all your tunes interrupted even with two concrete walls between the source and the D70S MQA.
Now, here comes a huge surprise which I am really excited about. By now, I've tested several power amplifiers with bookshelf and stand floor loudspeakers that were driven by DACs with variable volume levels (with preamplifier circuits). From them all, the ones that worked best were those that could go higher than 4V on its XLR outputs, they were bigger and deeper sounding, had more flow to them, they were more holographic and more natural sounding to me. I am extremely happy that Topping decided to increase its output voltage from 2V to 2.5V on its RCA output and from 4V to 5V on its XLR output. I am pretty sure that D70S would work better with power amplifiers compared to D90 if a dedicated preamp is not being used at all. If I'm adding a preamplifier into the chain like Benchmark HPA4 or Topping Pre90, then there isn't much of a difference between D70S and D90 in a loudspeaker setup.
I sometimes drive a KECES S300 power amp, without a preamp in the chain and I always had a feeling that Gustard A22 (6V on its XLR) and Matrix Element X (up to 15V on its XLR) worked better than everything else I've tried up to this point.
Tips & Tricks
Before going deep into its performance, in typical SoundNews fashion, I have some tips to share with you that will help you achieve the best sound quality out of your D70S MQA.
You can control the D70S MQA with its buttons on the face plate, but with the included remote a few additional settings will be unlocked – this is why I recommend using the remote as much as possible and there is also a hidden menu which Topping buried deep into the user manual. To access it turn it Off completely (with the switch on the back), press and hold the select button on the front panel and while you keep pressing it turn the switch on the back to On position and an advanced menu will appear, from which some settings are quite mandatory:
If you are using the D70S MQA in a headphone setup or if you already own a dedicated preamp in a speaker setup, I strongly recommend disabling the preamp mode, the setting no. 3 will let you choose between DAC mode (completely disabling its volume control, keeping it fixed at full power – 5V on XLR and 2.5V on RCA) or PRE mode.
If you use just a single analog output, RCA or XLR and don't use the second one, I recommend disabling the second output – it is setting no.4
If you don't plan on using the Bluetooth input, or maybe you'll use it casually from time to time, I recommend disabling the BT module – it is the setting no.5 from that menu
Lastly, if you check the user manual carefully, the FFT Spectrum will show the measured difference of those 6 digital filters, out of those Filter 3 and Filter 4 have the lowest ringing past 20 kHz, this is why I recommend using filter no.3 for a smoother top end or filter no.4 for more treble presence
If you plan on using the D70S MQA in a speaker setup as a DAC + Pre unit, just skip the first recommendation. By following these steps, you will be squeezing the last drop of performance out of your unit.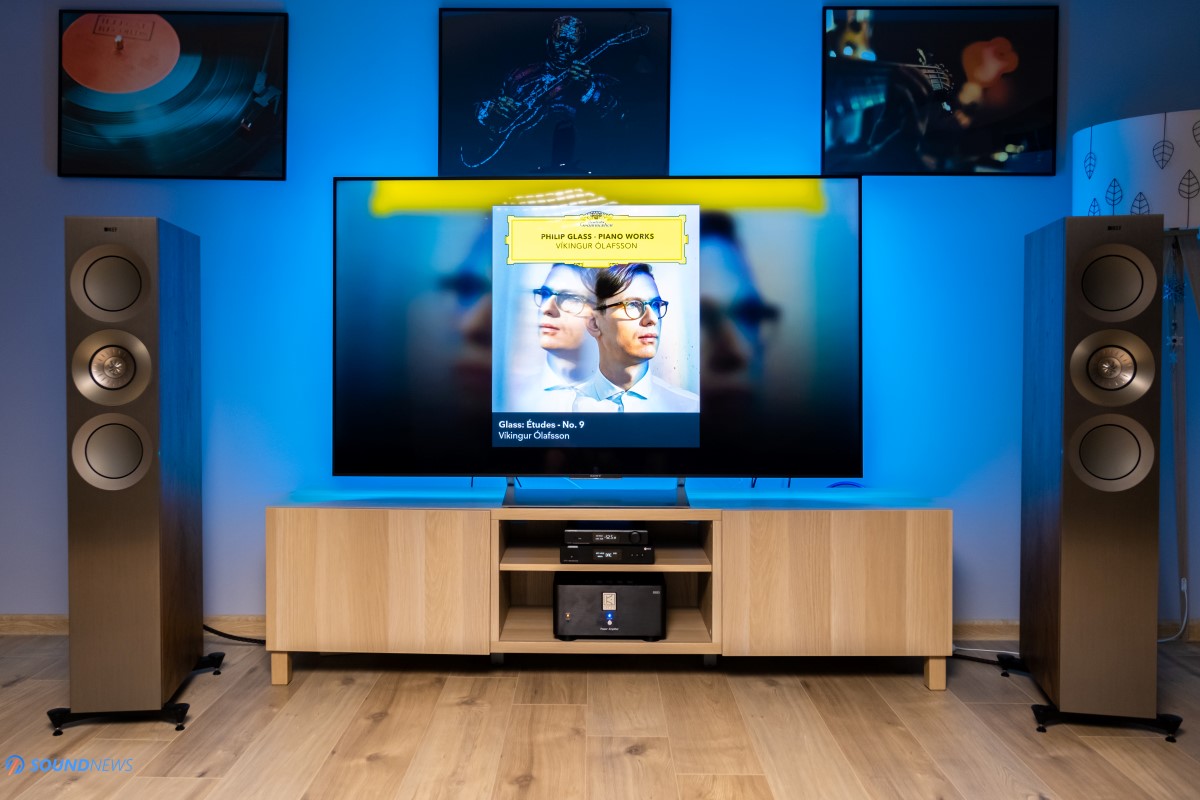 Test Equipment
I tested it in a high-end loudspeaker setup and also in a headphone setup. When I used it in the living room, I've tried it as a DAC + Pre unit and then only as a DAC, leaving the preamp duties to the Topping Pre90 or to a Benchmark HPA4. I've used a Keces S300 power amplifier, that was driving a pair of KEF Reference 3.
In the headphone setup, it was mostly connected to the Benchmark HPA4 driving several high-end planar-magnetic headphones and a bunch of dynamic headphones. Enough with the talk, my ears are itching for some music, so let's hit some ear-drums!
Sound Performance
I. Preliminary Sound Impressions
After a full week of burn-in working as a DAC + Pre in the living room, I finally made myself a coffee in the morning, I sat down and started a long listening session with my son. Not long after we were already smiling and winking to each other. D70S seemed like a really engaging and toe-tapping type of DAC, I was quite impressed by how smooth and natural it sounded compared to my reference DAC, even D90 didn't feel as liquid and as easy going as D70S sounded in my setup. In all fairness, D70S reminds quite a lot about the sound of R2R DACs, than to super-precise and technical sounding delta-modulators found in most digital to analog converters of today.
D70S felt like drinking mulled wine on a super-cold day and like pouring milk and honey when you got a cold. It has something that wakes you up and steals your attention, a smoothness and a liquidity that is hard to be expressed with words. It has to do with natural rendition of textures as it doesn't sound like a digital to analog conversion is happening in real-time, it sounds like real music and not like a reproduction of it.
D70S is also a technical sounding DAC, easily on the same level with D90, so expect a higher level of detail retrieval and a lot of technicalities. Topping finally solved the limited bass and upper-treble performance of the regular D70, while completely preserving its flow and uniqueness that not a lot of DACs are having nowadays. In a headphone setup, it was connected to a drier and more linear sounding Benchmark HPA4 and yet, I'm hearing something else entirely, more exactly a smooth rendition of my music, with it flowing like a river putting myself into a relaxed state of mind. D70S is quite possibly unlike any other DAC they made until now, it reminds about the liquidity of E30 and D70, but everything else is dialed up to eleven. There is a lot more air in my room, a lot more details and everything feels transparent and breathing, without a single trace of ringing in the treble, harshness or brightness, call it as you want. D70S is a huge problem solver for linear or bright sounding setups, it will immediately infuse some of its own medicine, by adding some soul into your music, awaking emotions and some smoothness in the process. While I find it speedy, it is not exactly lightning fast like my reference DAC, instead it focuses on delivering a stronger kick into my chest, slam performance is really good and it's easily on the same level with D90. It is quite unusual to me, as D70S costs by $200 less to their flagship unit D90 MQA and yet in two high-end setups, it didn't sound worse or like a lower-tiered device. It sounded more or less at the same level with D90, a whole lot better that the former D70, it is by a hair less technical to D90, but with an added naturalness and smoothness that makes it exceptional with some particular setups.
II. Using D90 MQA in a speaker-based setup
I'm really glad that Topping increased its maximum voltage output from 4V to 5V on its XLR output as that works better with power amplifiers like Keces S300 and Kinki Studio EX-M7, but if you want the absolute best, then adding a dedicated preamp like Topping Pre90 would be mandatory. On the other hand, with most bookshelf speakers and with active speakers of any kind, a dedicated preamp is not really necessary for the best results, so D70S worked really well in both cases without additional electronics.
I will compare the D70S with D90 in the latest chapter, but even right now, I will say that without a dedicated preamp, D70S felt smoother sounding, it was warmer in the midrange and bolder in the bass, it had a slightly bigger soundstage in my room and it was more holographic and 3D sounding to me. Not by a whole lot, but enough to be felt with a pair of KEF Reference 3 and with a pair of 36-year-old ears.
When I've added a Topping Pre90 in my chain, I finally arrived close to maximum those speakers could deliver in my room. Driver control was better, especially in the bass, the image was clearer and sharper to me, depth was nicer as if the sound was coming from behind the wall. The bass slam improved too as there was more raw energy coming out of those speakers. Topping D70S and Pre90 costs just a small fraction compared to the Audiobyte HydraVox DAC + HydraZap power supply + Benchmark HPA4 preamp that I am normally using with these speakers, but the final outcome is not that far off if being completely honest with you. Yes, there is even more liquidity and flow with the Audiobyte unit, it has a higher resolution and a nicer impact, but apart from that, the Topping combo sounds dangerously close to high-end and in a less revealing setup, that difference would be way smaller to a point of guessing which is which. D70S is clearly not addressing veteran audiophiles with fat wallets that are ready to shelve some serious amounts of cash for a minimal increase of performance, but for a newer generation of audiophiles that want to squeeze the highest performance out of their speakers with the lowest amount of cash and it this regard, D70S seems like a no-brainer device to me.
III. Background Noise
From all headphone amplifiers that I've tried of late, Topping A90 together with the Benchmark HPA4 and Sparkos Labs Aries were the cleanest sounding, having an inaudible noise floor that worked flawless with ultra-sensitive IEMs like FiiO FA9 for example. However, those units cannot solve the issues of a weak-performing DAC, as noise-floor would always appear in my tracks at higher volumes like 90 or 95 dB with several converters I've tried in the past. This will feel like a shorter chapter, as there is no other way in saying that D70S is clean, undistorted and really inaudible when it comes to noise floor if ultra-sensitive IEMs are coming to play. The same feeling I had in my loudspeaker setup, I've went higher than my usual listening levels and there was only a complete silence coming out of my speakers. I went as far, and approached those drivers and all I've heard was the sound of silence.
Background noise was nowhere to be found, it was as black is it could possibly be, there weren't nasty gremlins playing at higher volumes, nothing like that. No matter what transducer I would use, I knew that I can always rely on its clean and noiseless performance.
IV. Transient Response
After listening for several days to D70S, moving it to speakers and then back to headphones, I always had a feeling that it offers a smoother ride, with notes fading away by a little longer to what I am accustomed to, I simply had more time to feel those guitar plucks and violin vibrations, even cymbal hits had a longer shimmering. That worked well with acoustic and instrumental music, it was a delight with old and modern jazz, I wanted to feel those vibrations and D70S offered exactly that to me.
Chapters by Kneebody (Tidal / Spotify) is blending contemporary jazz with aggressive guitar riffs which sometimes are executed perfectly, sometimes feels like an improvisation job, but more often it makes me move my body. The Trip has a really nice tempo and a really good impact in the chest. It's a perfect track, checking the overall transient response of your setup. KEF Reference 3 are extremely fast sounding and the same can be said about the Keces S300, the only one that remained to keep up with an increasing tempo was the D70S. Double drums were increasing their intensity and so was D70S, it didn't had issues with so many musical notes hitting one after the other, it never felt closed-in and claustrophobic, on the contrary it was pushing everything much farther away.
Wolf Totem by The Hu (Tidal / Spotify) is always a very blood-boiling experience for me, the combination of throat singing, that magical sounding horse-head fiddle and those impactful drums created several chest pounding moments that I will not forget very soon. I've observed that D70S can easily move a bigger amount of air an instant and delivery that mercifully.
While with some lightning-fast electronica, D70S wasn't as exceptional as D90 or Matrix Element X was, it was impressive when it came to landing punches at the right moment. Indeed, D70S is more about the kick, than about the speed and I'm fine with that.
V. Resolution & Transparency
This is a really a funny chapter, because I am trying hard for several days finding a clear difference between D70S and D90 and I always struggled with that, because both units are sounding equally clean, detailed and transparent and knowing that D70S is considerably cheaper, it would be hard recommending the D90 from now on.
Topping used two DAC chips, so they could squeeze the best out of this silicon, one will be decoding the right channel and the second one the left channel. That seriously decreases the channel crosstalk and increases the perception of soundstage, it also makes the music less cluttered, more transparent and ultimately more detailed sounding. By now, I've tried plenty of AKM 4497 based converts and while I don't have them right now with me, D70S feels like one of the cleanest designs I've heard so far with this particular chipset. I've tested several mid-fi decoders with this chip and some of them weren't that impressive in the top octave, nor in the sub-bass, but I can't say the same about the D70S. It is powerful down low, extended in the upper treble and always feels detailed sounding down to the smallest nuances and micro-details.
Sometimes I get a feeling that D90 is cleaner sounding, sometimes there is no difference at all, sometimes D70S feels more natural with that intoxicating flow it pumps in my music. What I am 100% sure is that D70S will never limit the transparency of your tunes, it will never limit the scale and your source material. I'm going as far and say that D70S felt more detailed even compared to some of the latest ESS-Sabre designs, I'm not exactly sure how Topping did it but I'm guessing a super short signal path and a good power supply implementation made it sing in a very honest and polished way.
There isn't a point of giving several music examples, as I will be arriving at the same conclusion that it performed like a grown-up, balls to the wall DAC and with its chin up. It has all the traits of modern digital to analog converters and if you're looking for a fly buzzing around your tunes, for some slight imperfections and micro-details to be heard in your tunes, you will easily hear that with D70S in a revealing setup.
VI. Soundstage & Depth
Finally, we have arrived to the centerpiece of what is making the Topping D70S special, as even without a proper burn-in and even from the first day of listening, it presented itself as smooth sounding, but also very well spread, airy, holographic and ethereal sounding. Literally all AKM designs are impressively good in here, but double-AKM design are something else entirely, almost at the same level with top R2R DACs that I've tried like Denafrips Venus and Audio-GD R7. I'm yet to hear a double-AKM design that isn't impressive in terms of scale, that will probably never happen.
Wardruna just released their newest album called Kvitravn (Tidal / Spotify), if you know them well, you'll understand why I picked them up for this particular chapter. There isn't a Wardruna songs that isn't enveloping my entire body, all their songs are extremely impressive with a pair of stand floor speakers and to a lesser degree with open-back headphones. If I'm closing my eyes, there is music everywhere around me as if the band made a circle around me and started singing only to me, all that comes from different inception points like the speakers themselves are everywhere in the room. D70S made that much more special compared to other entry to mid-level DACs. The first seconds of Helvegen always sends shivers through my spine and I am always looking outside if there is indeed a storm gathering. Please give it a try, it's the pure definition of a well-spread song, it puts clear holographic images that our brain can beam in front of us. It is an old-fashioned stereo track and yet it sounds more 3D than several binaural recordings.
I can go on and on about how good D70S is rendering depth information, pin point location of all the notes around me and how far it can push those notes in my room and that wouldn't be enough. Apart from being a music making machine, D70S is also a soundstage booster arranging every note precisely in the scenery so you could decide on focusing on that note or not, it is really up to the listener.
D90 was already impressive in terms of scale, as it sounded as one of the widest AKM based DAC I had experienced so far, yet D70S is somehow better at this, it excels with live music, with acoustic music and will be always throwing a bigger picture in front of the listener.
VII. Frequency Response
This is where I moved back to listening to high-end headphones that are capable of going to the deepest pits of sub-bass and to the highest peaks of the upper treble. While KEF Reference 3 are extremely good in here, Hifiman Susvara and Audeze LCD-4 are simply better.
I clearly remember my Topping D70 experience as if it was yesterday, it was good when it came to midrange delivery, but less so at both frequency extremes and in this regard, the newest D70S feels like a big upgrade to its predecessor.
I'm hearing bass notes reaching sub-bass territory easily, not only with my electronica, but even with regular jazz or dark folk music. Its powerful down there, it is clean and it will show layers and sub-layers of information. It's hard slamming all right, exactly as D90 is, just a little more focused in the mid-bass section. About that, D70S is extremely potent in the mid-bass, it sometimes elevates that region, it is a bit fuller than D90 in here and a lot fuller sounding than regular ESS-Sabre DACs. Even my reference Element X don't have as much mid-bass presence all over my tunes. D70S is a fun and engaging DAC, it puts a higher emphasis on the act of music listening, than on analyzing every second of it.
Midrange is easily the nicest part of this DAC when it comes to frequency response, it feels elevated and most of your attention will be drawn to this region. No matter what I was playing, it would make it sweeter, smoother and warmer sounding. That's right folks, D70S is coming close to what I'd call a warm sounding source and while it doesn't roll-off anything in the frequency response, its midrange part is standing out very often. Acoustic instruments felt crude and real, all the voices felt alive, having heavier tonalities. I really liked the added weight it brought to my music, as everything that was linear shifted into smooth and engaging and everything that was bright, became neutral and extended.
Treble is quite unusual, since there is plenty of it, it is extended to its highest peaks, it is clean and it's defined, but it lacks the usual treble ringing Delta-Sigma modulation DACs are normally having. There is a little of that R2R goodness, an invisible silk that makes music smooth and liquid. I didn't experience treble roll-off, all my rock and metal still sounded raw and unpolished, but easier to swallow in long listening sessions. You'll not find signs of brightness and digitus in here, as D70S is more about emotions than about metallic trebles. This part alone again feels like a major improvement to the former D70, that was a rounding the frequency response.
VIII. The MQA Experience
Streaming music via Tidal Hi-Fi desktop app became my number one music source and most of my reviews were done with it. Sometimes I'm using music stored on my PC and play it back via JRiver Media Center, I'm doing that mostly for DSD content or high-resolution 32-bit PCM. So why I'm still using streaming services? it is a lot more convenient, Tidal has a friendlier interface, it is constantly recommending new artists and new music and I am getting the latest albums in the same day they go live worldwide.
When it comes to high-resolution MQA streaming, for now there are only 3 services that are offering such files: Tidal, Nugs.net and Xiami Music in China. Once you have a subscription to any of these 3, you'll have access to a wide variety of MQA files that are released on a weekly basis. These files can have up to 24-bit and 192 kHz in resolution with the last bits of information being stored in a lossy format, so in reality a 24-bit 192 kHz MQA file can have almost the same file size as a 16-bit 44.1 kHz WAV file. An MQA file would still have additional information and bits of resolution compared to a lossless 16-bit file, so it is normal that an MQA record will sound better than a non-MQA variant of the same recording.
Now, here is the clever part: to playback that MQA content you have three options: software decoding how for example Tidal desktop app is offering and hardware decoding split into two categories: by using a hardware rendered (most iFi Audio stuff are only renderers, except for their newest Diablo) or by using a full-blown MQA decoder – that is the best possible scenario. Luckily, D70S MQA has a full MQA decoder inside and once you play those files, MQA lettering will appear on its OLED screen.
Going back and forth between software and hardware decoding, there is a clear difference that hardware decoding sounds simply better.
So, what was the difference? I had the same feelings when I compared a well mastered 24-bit Hi-Res record to the same record in 16-bit. The frequency extremes at both ends are just richer in information and a bit more defined, there is a little more sub-bass, a clearer treble and most importantly music sounds more liquid, smoother in a way, more life-like and less digital once it is played in MQA format. If you are streaming a lot of music as I do, D70S MQA is a must-have upgrade over the regular D70 or D70S or over other non-MQA DACs.
IX. Bluetooth Performance
There are plenty of DACs that are offering Bluetooth capabilities, but not all of them are supporting the best codecs as AptX-HD and LDAC and not all of them are having a Bluetooth antenna that works as a signal booster. Luckily, Topping has them all, it has an antenna and it supports the nicest codecs. My smartphone natively supports LDAC and AptX-HD data streams, it is also Bluetooth 5.0 enabled, so I will be squeezing the best D70S MQA is capable of via Bluetooth.
To connect to it, simply press the select button until the BT lettering will appear on its screen, enable BT on your phone, search for the D70S, connect to it and that's it! My smartphone is showing a stable LDAC connection, so I will be testing the best it could offer, as LDAC is currently the best Bluetooth codec that supports 24-bit files at up to 990 kb/sec.
I have also Tidal Hi-Fi app installed on my phone, so I can send all that data via Bluetooth directly to D70S without additional electronics. It is very convenient to use, I just need to connect D70S to a power amplifier and music is ready to be played. To my surprise, the difference is very small or close to zero if I'm listening to the same non-MQA 16-bit lossless file via Bluetooth (LDAC) or via USB. Since it was sitting in the middle of our home, I walked in all other rooms but it never dropped a beat, BT signal was always strong and it worked flawlessly in my case. Only when I moved to the balcony, with 3 concrete walls between my phone and D70S, it started losing few beats which was understandable as other devices like D90, D50S and a lot of SMSL units did the same. In an open space, as much as I have tried, the signal was always strong and steady. Bottom line is that D70S MQA works really well with Bluetooth senders if those support BT 5.0 and LDAC codecs, just make sure to stream lossless content for a better sound quality and you're ready to rock.
X. Comparisons
A. Topping D70S MQA ($650) VS Topping D90 MQA ($850)
Design wise there isn't much to say about them, D70S is slightly deeper, wider and heavier, but I personally dig the cleaner look of the D90. In terms of features, inputs and outputs, both devices are absolutely the same. D70S MQA has indeed all the features of D90 MQA while costing exactly $200 less and that is quite amazing.
On the inside D90 uses the flagship AK4499 DAC chip – just a single unit, plus 4 op-amps are needed to convert its current output to a voltage output. D70S on the other hand has two pieces of a lower grade AK4497, but it doesn't need those additional 4 op-amps, so the signal path is actually shorter and a bit clearer. Both devices have the same remotes, the same monochrome OLED screens, the same menus and the same build-quality which I always liked.
In terms of specs, measured in the Topping Audio labs by one of the nicest audio analyzers on the planet, both are really close to each other, so much so that in a real case scenario you cannot differentiate their signal to noise ratio or noise levels. I couldn't…
The biggest difference between them is that D90 will output 4V at max power via XLR and D70S can output a hotter signal of 5V via XLR. This fact alone is more important than you might think. If you are using headphones, there isn't much of a difference with headphone amplifiers, with the exception of SMSL SP400 that really likes a hotter signal of 5V or even better 6V to shine bright with hard to drive headphones like Hifiman Susvara.
In a loudspeaker setup, it matters only if you are using power amplifiers instead of integrated amplifiers. By now, I've used a dozen of power amplifiers and tens of DACs with or without variable outputs. It so happens that those that could go higher than 4V via XLR, sounded livelier to me, more engaging, bigger, deeper and also smoother to me. The only reasonable explanation is that power amplifiers like to have a bigger headroom, the other explanation is that a higher voltage input will automatically increase the power output of the power amplifier, better controlling the speakers and increasing the overall performance. There is a reason the best DACs out there can go as high as 15 V on their XLR output, completely bypassing the need of a dedicated preamplifier. Rockna DACs can go as high as 15V, my Matrix Element X can also achieve those voltages.
In my particular loudspeaker setup, if I would take away that Topping Pre90 or Benchmark HPA4, then D70S sounded better than its higher priced sibling. It had more of everything, a nicer slam, a bigger stage, a better control, it wasn't even a contest. If I'd add a dedicated preamp, then D90 is winning back lost ground, but let me explain the difference between them in situations like these.
D90 is by a hair more technical sounding, it is slightly faster and more linear in the FR. D70S on the other hand, had more midrange presence, more meat to the bone, it was weightier, voices carried more nuance and more weight to them. D70S was also smoother and more musical sounding, while D90 less so. D90 is winning if you want a super technical DAC, that is fast, agile and hard smalling, but also capable of awaking emotions in your music. D70S leans mostly to the emotional side than to the technical side, D70S gets as close to the sound of R2R units, without being one…if that makes any sense to you.
In all honesty, I don't think one is better and one is worse. It really depends on your listening habits, on your setup and on what sound you really want to achieve. If you don't have funds for a serious R2R unit, then it is quite easy: get the D70S and be done with it. If you want a more reference tuning that has more of everything without leaning too much to any camp, then D90 better fits that description. If Topping would ever come up with a D90S, I urge them retaining the 5V output of the D70S, for me that's a big plus, as a dedicated preamp wouldn't be needed with such a unit if you're using bookshelf speakers.
There was also a small difference when it came to scale, I've felt that with headphones and with loudspeakers alike. D70S was wider and deeper sounding to the D90 and even to my reference Element X ($3000) it felt more wide-open. If soundstage is something that you crave with your speakers or headphones, then you can't go wrong with D70S, it is massive sounding all the time.
Conclusion
Topping took their best DAC and used its technology to create a more affordable unit like D70S MQA. Problem is they used so much tech from its bigger brother, that it no longer felt being part of the D70 series, but more like a D80 series to me. There isn't a feature that D70S MQA doesn't have compared to D90 MQA and that might slightly cannibalize the sales of the D90 and D90 MQA. It has absolutely the same features and in some cases even better specs (output voltage). D70S came so dangerously close to the performance of the D90, that sometimes I was hard pressed finding any difference whatsoever with less than perfect recordings. It felt indeed like a pseudo-flagship device to me, than like a lower-tiered device and that makes D70S an absolute steal by today's standards.
I cannot go on without awarding the D70S our highest badge, it really deserves one as it performs like a high-end DAC from any point of view! Congratulations to the team and I'm looking forward to their next digital creatures!
Topping (again) raised the bar of what means affordable, high quality and top sonics and if I think about it, I don't know any other DAC that performs the same at $650.
Topping D70S MQA was provided by Apos Audio, it can be purchased from their web-store by following this link (they offer free shipping in the USA and Canada, free 45-day returns in case you don't like it, an extra year of warranty and lowest price guarantee).
PROS:
Great looking device, solid build quality
One of the widest soundstage I've experienced with D/S DACs
Holographic, airy and 3D sounding all the time
Wider frequency response to its predecessor
High levels of details, great transparency
Smooth and liquid sounding, mimicking to a degree the sound of R2R DACs
Rich in tonality and full-bodied
Its warmish tint makes it a perfect candidate in bright and dry sounding setups
Black background, no noise to be spotted
Highly engaging and rhythmic
Widest selection of digital inputs
Has all the features it its bigger sibling D90 MQA
An incredible value
CONS:
Its speed of delivery could be improved in the future
ASSOCIATED EQUIPMENT:
Sources: Xiaomi Mi 9T Pro, Corsair One i160
DACs: Topping D70S MQA, D90 MQA, Matrix Audio Element X, Audiobyte HydraVox + HydraZap, Flux Lab Acoustics FCN-10
Headphone Amps: Benchmark HPA4, SparkoS Labs Aries, Flux Lab Acoustics FCN-10, SMSL SP400, Topping A50S, LittleDot MKIII SE
Integrated Amps: KECES E40
Power Amps: KECES S300
IEMs: FiiO FD5, FA9, FH7, Meze Rai Penta, Rai Solo, LittleDot Cu KIS & lots of other lower tiered ones
Portable headphones: Sennheiser Momentum 2, Meze 99 Classics
Full-sized headphones: Hifiman Susvara, Hifiman Arya, Audeze LCD-4, Erzetich Phobos, Erzetich Mania, Kennerton Wodan, Magni, Gjallarhorn, Vali, M12S, Quad ERA-1, Ollo S4X Reference, HarmonicDyne Zeus
Loudspeakers: KEF Reference 3
Interconnects: QED Reference (x2), Topping TCX1 (x2)
Speaker cables: Kimber PR8, Audioquest Type4
Power Cables: Isotek EVO3 Premier (x3)
Balanced Isolation Power Conditioners: PLiXiR Elite BAC400