My Video Review:
When FiiO embraced the future putting USB Type-C ports on their Q3, it was only a matter of time when the same would happen to their upper echelon portable units. Q5S was still their flagship portable DAC/Amp, but it was plagued by an aging Micro-USB port and by the Lightning only cable found in the package. Not anymore! I hear someone shouting in Chinese, as FiiO eventually released an updated version to its flagship, called Q5S TC (Type-C), which I'll call Total Commander or simply TC to save a few words and several brain cells.
Its universal USB-C port is not the only update, there is much more to say about its pre-installed headphone amp module and about its Bluetooth chipset. Apart from that, it's the same good old Q5S that people still love and cherish, after ditching their award-winning Chord Mojo. TC solved the biggest issues of its predecessor, added some cool new ideas into the same body, making it a universal music making machine. It will cost you $399 in USA and €399 in Europe, but let's dive deep and see for ourselves if it's worth it or not.
Unboxing Experience
The TC is coming in the same small box its predecessor and the newest Q3 came in. I'm glad they didn't use a bigger one like what is coming with their newest DAPs and IEMs, that would be a huge waste of space. Everything looks super tight and secure inside, besides the unit itself, there is a shocking number of accessories which are very pleasing to experience firsthand. They went a little overboard with them and if you're wondering what's inside, here's a (long) list:
A soft textile storage bag with an embossed FiiO logo
Four rubber straps (2 shorter and 2 longer) that will help you attaching it to a mobile source like a smartphone or DAP
A USB-A cable to USB-C for PC/MAC connectivity or for charging
A USB-C to Apple Lightning cable for iOS devices
A USB-C to USB-C cable for Android devices
A mini-to-mini short cable (3.5mm to 3.5mm)
A mini to Coaxial adapter
A mini to Optical adapter
A silicone spacer that can be used between it and a mobile source to avoid wear and tear
4 additional screws for the Amp module (the stock ones are so easy to lose)
A screwdriver to change the Amp modules
Some paperwork (a warranty card and a quick start guide)
The most important change was adding a short USB type-C cable which its predecessor didn't have, I'm glad FiiO acknowledged its growing Android fanbase and I'm also glad the unit itself is also coming with a universal Type-C port.
Design & Build Quality
I'll be short in here, Q5S TC looks exactly the same as its predecessor Q5S, with just a small important change: the outdated Micro-USB port was dropped in favor of the newest USB Type-C which you can spot everywhere nowadays. Can't wait for my toaster, fridge and toilet cover to have it too. Even Apple devices embraced it and TC can work with them all.
Sandblasting its surface with Zirconium created that matte-titanium look which looks pretty cool in person. Its face plate seems to be anodized and, in both cases, it should resist plenty of drops, accidental dents or scratches. Its case is made from an aluminum alloy on a CNC machine and the final result is pleasing to the eyes.
There are plenty of small details which are cool to experience firsthand, for example the FiiO, Hi-Res, Hi-Res Wireless and THX logos are all laser engraved, gone are those days when FiiO would put paper stickers on their devices. On its back it has this eco-leather surface that was put there for two very specific reasons: Its Bluetooth antenna stays just behind it for a better wireless signal and it saves from scratches when you put it on a table or attach it to your smartphone, that part is softer and that works as a small pillow.
I like its knurly volume wheel which seriously improves its grip, all its buttons are completely flushed so you can easily carry it in jeans pockets. I've tried it several times and I didn't have issues with that. Everything is secured tightly; nothing is wobbling and it seems to be well put together.
However, there is one thing that I dislike: All its 4 sides are covered with ports, buttons, switches, volume wheel, LEDs and at first that can be a little overwhelming. Their newest Q3 has all that on its 2 sides and that makes it look cleaner and much easier to understand. Q5S TC is of course a way more advanced unit, it has more digital inputs, analog outputs, Bluetooth connectivity and all that is fine, but in their shoes, I would drop the whole swappable amp module idea and would make it look like a bigger Q3 with more ports. Apart from that, there isn't much to complain about its build quality as it seems to be well made from high-grade materials.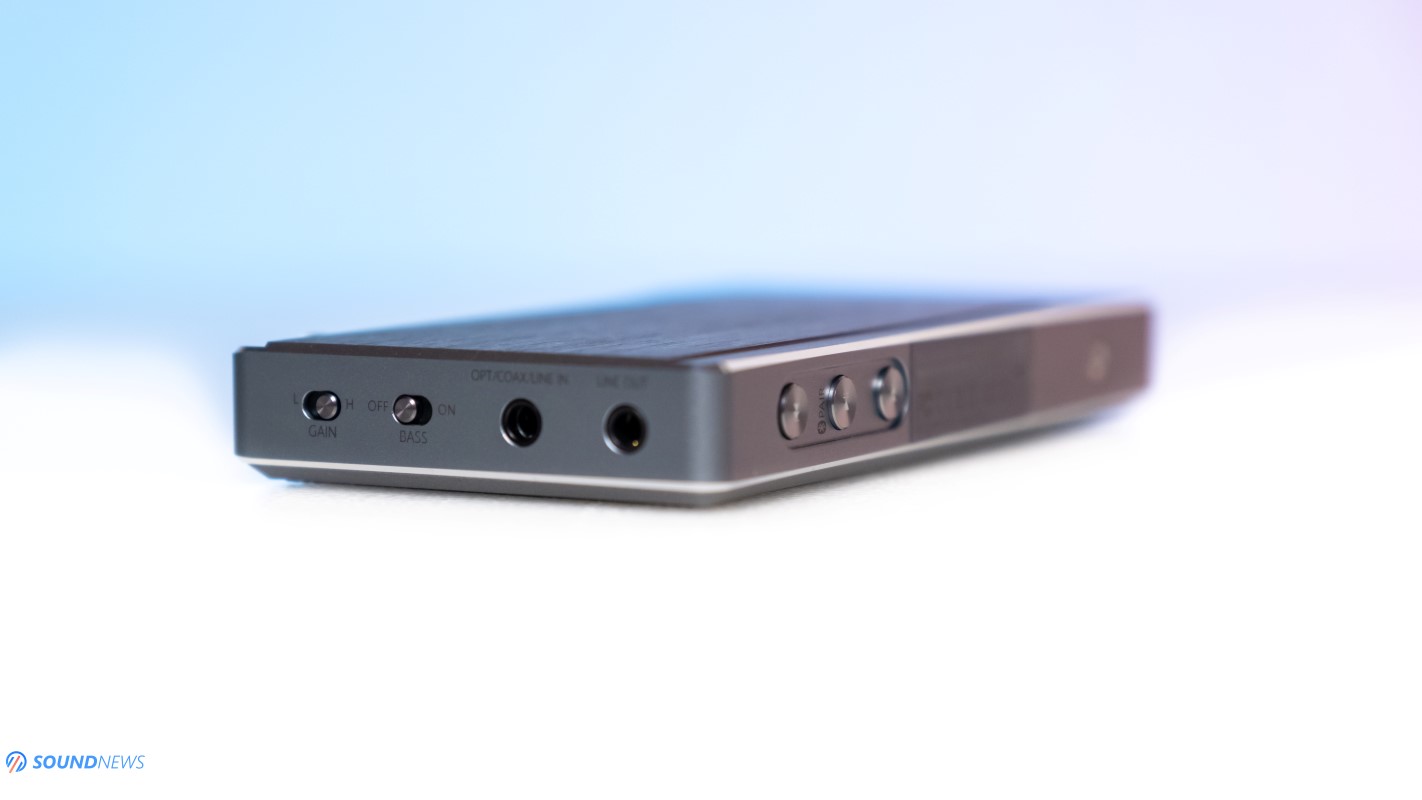 Buttons & Layout
Oh boy, here we go! TC is covered with a whole lot of everything, you just need to remember that on top you'll have all its inputs and on the bottom all its outputs, everything else are just buttons and controls.
On top you find a Gain and a Bass boost switch, a 3-in-1 Line-in/Coaxial/Optical and a clean Line-Out – be warned though, that is not your headphone jack!
To the left you'll find its Play/Pause/BT pair, next and previous track buttons
To the right you'll find a sexy volume knob that also works as an On/Off switch, there's an input selector with 4 LEDs bellow it, that will show the selected input and it also indicates the battery level when you charge it.
On the bottom you'll see the swappable amp module, in our case it is their best one yet, the famous AM3D which carries low distortion and low noise THX-AAA amp modules. On it you'll find your regular 3.5mm headphone output and a balanced 4.4mm Pentaconn output.
The amp module can be swapped of course, some of them will drop a headphone jack or would add another one. FiiO made them so you could tailor it to your needs to your sound preferences, but in all fairness its stock AM3D module is their best one, it's the cleanest sounding, having the lowest noise floor, so I see no point in investing in other modules.
In the end, it's not that complicated isn't it? But of course, it could be improved upon in the future.
Battery
FiiO used the same Li-Po 3800 mAh battery that also powered their firstborns Q5 and Q5S. The slight difference in run times between all three devices can be attributed to different amp modules as some will draw more power and others are not that power hungry. With the AM3D pre-installed, it is offering around 9 hours of run time via USB or Bluetooth, up to 10 hours via Optical and Coaxial and a whooping 25 hours via Line-In (Aux-In), since in this case only its analog section will be working, completely bypassing its digital-to-analog conversion.
Under its Hood
At the heart of its digital processing two DAC chips will be doing the heavy work, FiiO went with two AK4493EQ which are part of their Premium line of converters. They already have tons of experience with this particular chipset, it already powers their desktop K5 PRO, their popular M11 DAP, its predecessor Q5S. Spec wise, it isn't far off from AKM flagship converters, but it is much better to the one found in their Q3 (AK4462).
The second most important thing to know is that AM3D modules uses THX Achromatic Audio Amplifier modules which are reducing harmonic, intermodulation and crossover distortion by 20 to 40 dB and are offering a true to life, realistic and a fatigue-free listening experience. THX AAA modules accomplishes that by using a patented feed-forward topology to null conventional distortion and noise levels, resulting in the world's most linear sounding amplifiers, that made big splashes in the audio communities around the globe. Instead of going with entry level THX-AAA-28 modules that are powering their Q3, they went with the best mobile modules yet, more exactly with two THX-AAA-78 that can offer a true balanced output. In terms of power, it outputs up to 560 mW in 32 Ohms on its 4.4mm balanced output or 210mW in the same impedance via its regular headphone jack. That is actually plenty of power and should be enough even for some demanding desktop headphones, which I'll try later on.
Another change to the regular Q5S, is the Bluetooth chipset that is being used. Instead of Qualcomm's CSR8675 which mind you is absolutely phenomenal and supports all the best audiophile codecs out there, they went with a newer generation of silicon, the QCC5124 which consumes less power, but offers the same legendary codec support, it adds on top AptX adaptive and it's a native Bluetooth 5.0 chipset, which should cover a wider area and have a stronger wireless signal.
Some of the less important specs, includes the most used USB receiver on the market, the XMOS XU208 that can be literally found in every second mobile or desktop DAC. I find it stable; it is free of jitter (noise) and I never had issues with any DAC that is having it. Thanks to XU208, TC can now natively decode DSD256 and Hi-Res PCM material as 32 bit / 768 kHz. FiiO also incorporated an advanced power supply with independent voltage regulators for both the digital and analog circuitry, delivering clean power to the most crucial components in the signal path. Considering its specs, its size and weight, I don't think anybody could squeeze more tech inside than FiiO. Alright everybody, I'm ready for some well-deserved music so let's hit some eardrums!
Sound Performance
I. Preliminary Sound Impressions
I'm listening to it for several days now and the more I listen to it, the more it reminds me about the sound of another portable device, interestingly also made by FiiO. Q5S TC sounds awfully close to the sound of their M11 PRO DAP which I still consider one of the nicest midrange DAPs out there. There is plenty of juice in this one, so much so that Kennerton Wodan planars didn't need more than 50% of juice on its balanced output to drive them at their fullest. In short, the sound can be described as very clean, quite detailed, always snappy and engaging, having a pitch-black background and a breathable well-spread sound. It was never clinical and dry sounding with all my headphones, those AK4493 and OPA1642 added more weight and more body when listening to music, everything felt heavier and harder slamming. Midrange felt bolder, voices were sweeter sounding, bass was impressive even without touching that bass switch. It sounds like a much more serious and advanced device compared to Q3 that was tested several weeks ago.
I didn't expect a close to perfect driver control and I'm pretty sure that its THX circuitry has to do with it, dynamics kicked in in full-force and when I was listening to some faster paced music a thought never left my mind: this sounds nor rushed, nor dragged, just right my tempo. Most of my desktop headphones (but not all of them) were driven much better compared to Q3 or to other lower-end devices like xDuoo XP2 Pro and Khadas Tone 2 Pro, hell even Audeze LCD-4 out of that 4.4mm Pentaconn jack were quite engaging and smile-inducing.
There is a regular track that is far from having an audiophile-proof badge, that I'm testing when it comes to detail retrieval and transparency. Staring from the 15 second mark on Yuve Yuve Yu by The Hu (yep, don't laugh) Tidal / Spotify, a very defined guitar pluck on the far upper right position and past the shoulder level can be heard clearly with open-back headphones. That sound is crystal clear with nicer DACs and somewhat muffled or completely muted with average or Low-Fi DACs. Imagine my reaction when I've heard it loud and clear as if I would be listening to a nicer desktop DAC. It was there and it was so easy discerning it from everything else that was going on around me. It's an amazing Mongol folk track that uses plenty of traditional instruments, which Q5S TC rendered scary real to me. Preliminary impressions are good, but there is a lot more to write about.
II. Noise Floor
FiiO doesn't mention its exact noise floor in microVolts how they are doing with their DAPs, only its Total-Harmonic-Distortion (THD) of 0.002% is mentioned, which of course is pretty low, but not the lowest I've seen. However, all THX-based amplifiers are extremely well trained in dealing with any types of noise. THX are describing their modules as a no compromise headphone audio experience with extremely low levels of noise, distortion and power consumption, but of course I will be testing all those claims immediately.
I was quite skeptical at first, so I connected some desktop planar headphones to it, which sounded extremely clean with zero noise levels even at the highest volume position. Then I went with the most sensitive desktop headphones at my disposal as Kennerton Gjallarhorn and Magni and to my surprise the same story repeated itself. I've paused my music, I put it on high gain and went all the way up to max volume and still, it was dead silent. I've re-tested it with 2 software players (JRiver Media Center and Foobar2000) and then with Tidal desktop app and again, an inaudible noise floor was experienced even on its balanced output.
Moving on to ultra-sensitive IEMs, FiiO FA9 are still the most sensitive IEMs I've ever experienced and yet again Q5S TC was absolutely dead-silent, even at maximum volume. This is an immaculate performance which I honestly didn't expect, mostly because both FiiO Q3 and xDuoo XP2 PRO had a noise floor that I could easily hear at higher volumes.
So far so good, but the most difficult test will follow shorty. I connected my smartphone to it via Bluetooth, sticking them together with rubber bands while playing some music from Tidal HiFi. In this test, Q5S TC will need to deal with Wi-Fi, Bluetooth and 5G interferences and I seriously don't know how FiiO have done it, but it sounded exactly as it did via USB, there was an eerie feeling of silence on its maximum volume, on high gain and on its balanced output. It cannot be better than this and I'm yet to experience a completely dead-silent performance via Bluetooth with some other devices as Q5S TC provided. Chapeau bas FiiO! I'm impressed!
III. Power Output
Q5S TC might look small in person, it is a little bigger to their Q3, yet it offers almost double its power. With 560mW of power under its belt plus a max current delivery of 150mA, should be plenty even for most desktop class headphones. As it was expected, all sensitive IEMs were driven to their fullest even on the low gain position and without touching half of its power output. The same can be said about portable over-ear headphones like Sennheiser Momentum 2 and Meze 99 Classics. There was plenty of travel on the volume wheel and I find the channel balance perfect even at low listening volumes, which is a huge plus for IEM users.
I wasn't surprised that desktop headphones as Kennerton Magni, Vali, Erzetich Mania and Quad ERA-1 planars sounded exceptionally and easily on the same level with a desktop setup. Low-gain was more than enough, there was plenty of power left on tap, resulting in a bottomless headroom, driver control was immaculate, dynamics rushed it and I didn't need anything else for an enjoyable experience. Lower sensitivity planar-magnetic headphones are much harder tasks to deal with, so high gain was immediately engaged and unsurprisingly at about 50% of power, Q5S TC was easily driving a pair of Kennerton Wodan and Erzetich Phobos with a lot of power to spare. Both sounded very good, it didn't decrease their transient response, they were as fast and as hard slamming as I know them to be, soundstage wasn't shrinking in size and again it reminded me about the sound of desktop setups that have unlimited power.
The biggest surprise was when I've connected a pair of Audeze LCD-4 and then a pair of Hifiman Arya on the 4.4mm balanced output, which are some of the hardest to drive headphones I know of. At about 75% on that volume wheel, it became way too loud so I went back a click or two. The sound, wasn't as impressive as it was with all previous headphones, simply because bass notes lacked weight and impact, soundstage was decreasing its size, like I switched to some closed-back headphones and air around the notes wasn't that easy to spot. It was a decent pairing, there was still some power left on tap, but they didn't perform so well and in all fairness that shouldn't come as a surprise, as both deserve only desktop power to unleash their fullest potential.
IV. Resolution & Transparency
You know what? Audeze LCD-4 and Hifiman Arya may be under-performing and press the brakes from time to time, but they can still show me the amount of detail Q5S TC can discover from my music. While it can't reach the amount of detail I'm getting from a serious desktop DAC, it surely sounded a lot cleaner and more transparent compared to FiiO Q3, xDuoo XP2 Pro, Khadas Tone 2 Pro and I'm pretty sure it would sound cleaner to its predecessor Q5S, mostly due to a better amp module that is pre-installed from the factory.
The lack of a noise floor that I've experienced with ultra-sensitive IEMs is seriously boosting its transparency, that I can easily look deeper into my tracks and analyze all their flaws, I can easier perceive depth information and I don't even need to close my eyes to feel all that. Its transparency is on the highest levels as it always tries to untangle my music, stretch it wide open, add some empty spaces so I can easier focus on what is more important.
Its detail retrieval on the other hand is only good, sometimes even great, as I could hear small nuances and micro-details that are supposed to be buried deep in my tracks. However, it wasn't legendary in here, as how their M15 can peel off another layer of information and present that in an easy natural way. Some imperfections in several songs that I know for a lifetime, were a bit muted, with their intensity lowered, so I could focus on the grand scale of things, on the macro-details and less so on the smallest nuances. On the plus side, most of the tracks that were bright or had too much distortion, would be easier to swallow as Q5S TC adds an invisible smoothing filter, taking away most of the grain and imperfections.
V. Transient Response
Before telling you more about it in here, I will start by saying that I've tried all their detachable modules in the past, from AM1, to AM2, AM3 and then to AM5, I've tested all of them and while some were great with IEMs and some were better with desktop headphones, I didn't find either of them truly universal that can work equally well with IEMs and desktop cans alike, save for the AM3D that is pre-installed on my review sample. I was a huge fan of AM2 and AM5, mostly because those Muses op-amps were adding a lot of character into the mix, but I disliked their (dis)ability to press the brakes and offer a mellower and a much-more relaxed experience. That worked great with music like blues and jazz, but it wasn't that great with faster paced music. On the other hand, AM3D is powered by two THX-AAA-78 modules and it's way different sounding to anything they've done until now. You'll find lightning speed in here, you'll find hard slamming bass notes, you find fast decays, precision and cleanness, without a single trace of noise or distortion.
My reference desktop headphone amplifier is also being powered by THX-AAA modules and that tells a lot how I feel about them. Benchmark HPA4 is still the pure definition of lighting speed and Q5S TC reminds me quite a lot about it. FiiO balanced its tonality very well, the combination of a colorless amp module with natural sounding AKM DAC chips, made the Q5S TC a great performer with any type of music. Be it ultra-fast or slow, crowded or not, it always delivered a musical, clean and undistorted performance and that is all you need to know about it. Q5S TC knows how to accelerate and decelerate immediately, it knows how to land punches with modern music and to me it appeared as having a close to perfect transient response in a portable body.
VI. Frequency Response
Before telling you more about its FR, I will be briefly touch on its bass switch: don't use it very often. Problem is that besides sub-bass and mid-bass, it also has an influence over the lower midrange. That switch will boost frequencies even past 500 Hz and that is already midrange territory. Move it to on position and everything will sound fuller and meatier, at the expense of being less clean and sparkly. I don't use it at all, maybe with some bright headphones might benefit from it, otherwise I don't see its true purpose.
As long as your headphones will be fully driven by it, sub-bass performance can be only described as great. Q5S TC always offered plenty of it in a very clean and transparent way. You'll find layers and sub-layers of it, it goes to the lowest octaves and it's being delivered in a super-fast manner. Mid-bass is pretty much the same, I don't find it elevated, it is there in right doses and it appears as linear and straight as a line, exactly how I want it to be. It's a speedier type of bass, it moves more air down low and that subsequently improves its slam and impact, having a huge positive effect on the mood of the listener.
Midrange is probably the best part of this device as I'm yet to hear an AKM-based DAC with OPA op-amps in its output stage that isn't sounding warm, smooth and soul-grabbing. Its vocal performance reminds me a lot about serious desktop DACs, it has that like-life rendition of the human voice, a heaviness and a naturalness is present all over my tracks, that is hard to be expressed with words. Everything that has to do with acoustic instruments and voices sounded exemplary and there isn't much more to add in here.
Treble is clean, textured and detailed, yet it lacks brightness and disturbing ringing past a certain point volume wise. It definitely has that velvety sound that AKM chipsets are famous for. I find it both technical, very extended even past top octave, yet it doesn't bother me at all in long listening sessions. The best part is that I don't find it rolled-off as it was the case with xDuoo XP2 PRO and to a lesser degree with FiiO Q3.
Overall, Q5S TC has a great tonal balance across the board, an extended frequency response at both ends, all wrapped in a small portable unit.
VII. Wireless Performance
My Android smartphone is Bluetooth 5.0 enabled, it supports all the nicest Bluetooth codecs, including AptX-HD and LDAC, that the little fellow can natively decode. To connect to it, simply press the PAIR button, connect to "FiiO Q5" with your phone you're ready to rock!
I went out for a walk, I pulled my phone from the jeans pocket and together with a Tidal Hi-Fi subscription, I could stream all that goodness directly to it, while still using the trusty interface of my phone. I used only sensitive IEMs with it, mostly Meze Rai Penta or FiiO FA9 – which I find extremely resolving. With Q5S TC in my right pocket and my phone in the left pocket, I didn't experience hiccups, stuttering or disconnects. In a two hour walk, it performed flawless with my Mi 9T Pro and I couldn't ask for more. In our house, in an open space the same story repeated itself and I didn't experience hiccups or disconnects. However, Q5S TC doesn't have a wireless booster, an antenna that would stick out, so obviously it can't be compared with devices like Topping D70S MQA / D90, D50S, SMSL SU-9 or Gustard A18 that had a much wider Bluetooth coverage, a much stronger Bluetooth signal thanks to their detachable antennas. Nonetheless, at short distances Q5S TC worked nice even with a concrete wall between the sender and receiver, so that is a decent wireless performance in my book. As for the sound quality, Tidal lossless files (16-bit PCM) streamed via LDAC codec sounded pretty much the same wirelessly or wired, I didn't spot much of a difference. Only with master files (Hi-Res) it added a thin veil all over my music, making it less resolving, but smoother compared to playing the same tracks via USB.
VIII. A Comparison
FiiO Q5S TC ($400) VS FiiO Q3 ($150)
Design wise, I find their Q3 nicer looking, it's a gorgeous unit from any point of view, it's simple, minimalist and very easy to understand. Spec wise, Q3 uses lower-grade DAC chips and THX-AAA amp modules, plus it omits Bluetooth functionality entirely. Both have plenty of accessories inside, that will help you connect them to your iOS or Android device and of course to your PC or MAC. Q5S TC has more accessories and that's understandable given the price difference.
Sound wise, Q3 has a warmer tonality, it masks a lot more details compared to Q5S, it isn't that bad, it still sounded as Hi-Fi to me, but not as proper Hi-Fi how Q5S presents itself. With IEMs only, Q5S went ahead by offering a pitch black background, seriously improving their transparency and detail retrieval. With high-end IEMs, there is no point in going with Q3, as Q5 will simply unearth a lot more details from your tracks, while having a better driver control and an infinite power reserve. Q5S was even faster, even harder slamming and was cleaner sounding in the same time.
With harder to drive desktop headphones like Kennerton Wodan or Erzetich Phobos, the gap would increase in size, I felt a desktop amp like experience with Q5S and clearly a less impressive mobile sound coming out of Q3. The little one was lacked grunt and ultimate slam with desktop headphones, it was giving its last breath while doing so, Q5 sounded bolder, fuller and easier going with a lot more power under its belt. A high level of detail and a see-through transparency was experienced via Q5 as opposed to Q3 that was good, but far from great.
Q3 worked well with entry to mid-level IEMs, with portable over-ears like Sennheiser Momentum line and Meze 99 line and it also worked with sensitive desktop headphones. With higher class IEMs and headphones, Q3 would limit their performance, pull them down, hit the brakes when it comes to dynamics and add an invisible veil all over the music, covering some hidden micro-details.
In the end, Q5S TC is a much pricier device, it adds a Bluetooth connectivity, it supports all the best BT codecs, it has higher grade components and that can be easily felt while listening to it.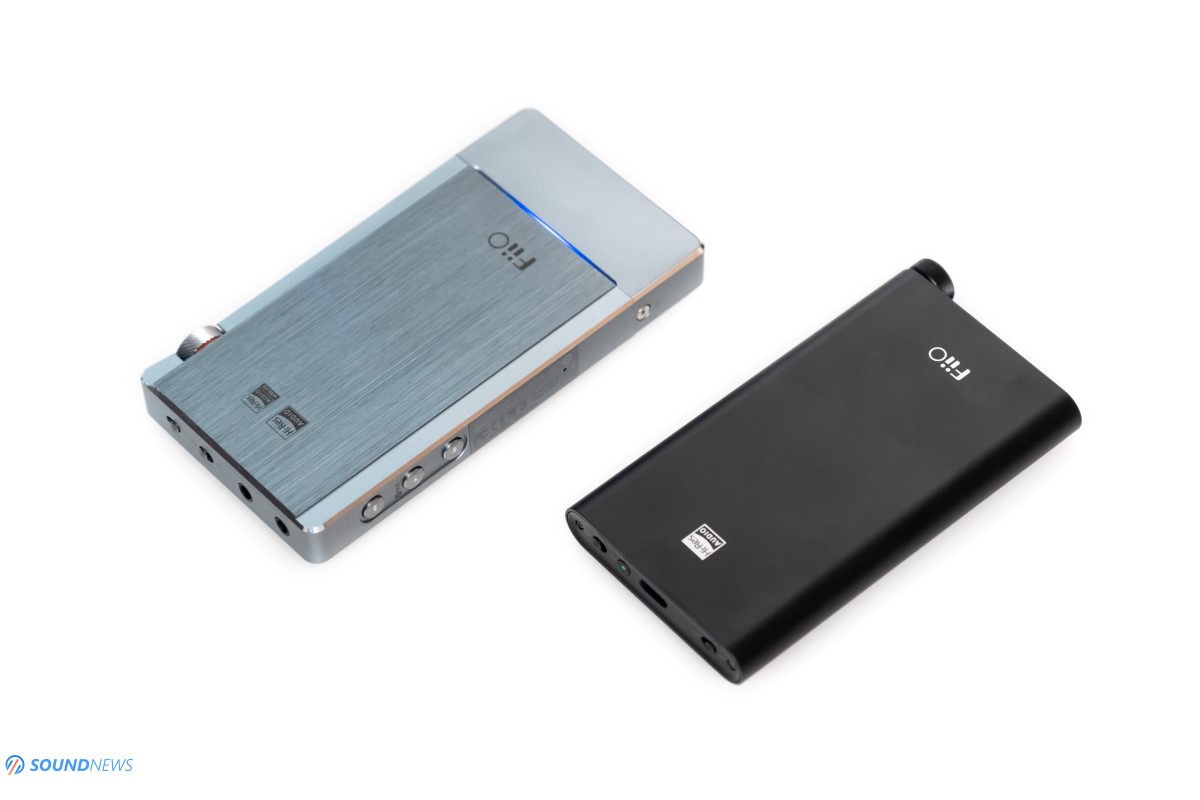 Conclusions
Q5S TC feels mostly like a mini transportable desktop setup that could power IEMs, several desktop headphones and everything in between. I only disliked its complicated layout with all 4 sides being populated with buttons, inputs and output. Other than that, it offered a clean undistorted sound, while fully preserving the warmth and the soul of the music. It was able to drive fully 3 desktop planar-magnetic headphones, so it can be easily used as a desktop unit at home, at your work place or as portable unit on the go via USB or Bluetooth.
It finally comes with USB-C and the included THX-AAA low-voltage modules, makes it a highly desirably unit, especially since it sounds so incredibly close to their $650 M11 PRO DAP.
It's a major step-up from any other desktop unit they released so far, it will cost you $399 in USA and €399 here in Europe. You can get it from FiiO's AliExpress Store right here, from their worldwide distributors that can be found here, or you can get it from Apos Audio right here – those guys will add an extra year of warranty, they'll price match a better offer, they'll offer free 45-day returns in case you don't like it and of course free shipping in the USA and Canada.
PROS:
Simple and elegant looking
Solid build-quality
Linear and extended frequency response
Punchy and impactful sounding
No ringing and no brightness in the top octave
Some of the nicest midrange I've experienced out of portable devices
Dead-silent with IEMs
Amazing speed, great driver control
A feature packed 4-in-1 device
Supports all the best Bluetooth codecs
Plenty of power even for desktop headphones
Impressive transparency, good detail retrieval
Awfully close sounding to their pricier M11 PRO DAP
A very good value
CONS:
Its complicated layout needs a rework
FiiO you need to choose: it is either an anodized or a sandblasted aluminum surface
Raw aluminum edges are prone to scratches
ASSOCIATED EQUIPMENT:
Sources: Xiaomi Mi 9T Pro, Corsair One i160
DACs: FiiO Q5S TC, FiiO Q3, xDuoo XP-2 Pro, Audiobyte HydraVox + HydraZap, Matrix Audio Element X, Soncoz SGD1, Flux Lab Acoustics FCN-10
DAPs: Shanling M8, FiiO M15, FiiO M11 Pro
Headphone Amps: Benchmark HPA4, SparkoS Labs Aries, Flux Lab Acoustics FCN-10, LittleDot MKIII SE, SMSL SP400, Topping A50S
Integrated Amps: KECES E40
Power Amps: KECES S300, Kinki Studio EX-M7
IEMs: FiiO FA9, FH7, FD5, Meze Rai Penta, Rai Solo, LittleDot Cu KIS & lots of other lower tiered ones
Portable headphones: Sennheiser Momentum 2, Meze 99 Classics
Full-sized headphones: Hifiman Susvara, Hifiman Arya, Audeze LCD-4, Erzetich Phobos, Erzetich Mania, Quad ERA-1, Ollo S4X Reference, Kennerton Wodan, Magni, Gjallarhorn & Vali
Loudspeakers: KEF Reference 3
Interconnects: QED Reference (x2), Topping TCX1 (x2)
Speaker cables: Kimber PR8, Audioquest Type4
Power Cables: Isotek EVO3 Premier (x3)
Balanced Isolation Power Conditioners: PLiXiR Elite BAC400