My Video Review:
I knew Topping was brewing something new about one year ago, something that would sit on an iron throne in their product line, in the summer of 2019 I found out it's their flagship D90 DAC that just entered its final polishing stage. Taking into consideration that Topping is playing with the reference AK4499 boards from AKM for about 2 years now, it's clear to me that they didn't rush this one as others might think. Yes, it is among the first available commercial DAC equipped with the newest and greatest DAC chip from AKM, but behind all that, D90 had a long research and development time and it's finally ready to sing beautiful songs to the world.
I already tested their tiny D50S, their big D70 and their DX7 PRO DAC and headphone amp combo, so I'm quite familiar with this brand and their products and frankly I couldn't wait testing their newest D90 DAC.
I'm glad Topping took out the best parts of DX7 PRO and D70 as their newest metal enclosure, Bluetooth capabilities, high-performance Accusilicon femtosecond clocks, the best XMOS interface and put all that inside D90, they also replaced two AK4497EQ DAC chips with a single top-of-the-line AK4499 DAC chip and achieved a staggering measured performance of 127 dB of dynamic range and 122 dB of SINAD. It's a first for Topping and it's a first for DACs under $1000, my curiosity level skyrocketed as usual and the moment I received it, I just unboxed it and started listening to music right away.
Unboxing & Package Contents
As with all Topping products, D90 came double boxed, the smaller product box has an insane amount of foam for extra protection. In typical Topping fashion, its user manual contains actual audio measurements made by an Audio Precision AP555x, you can find everything there from RMS levels, THD plus noise ratio, FFT Spectrum, measured difference between all digital filters, IMD ratio and others, if you are into that, Topping got you covered. There is also a warranty card with a short introduction to multiple Topping products, there an USB Type-B cable, a screw type Bluetooth antenna, a power cable and a much-needed remote control for us, speaker-philes.
It is a rare sight nowadays to see manufacturers posting actual measurements and real technical specifications without a single buzz-word or audiophile snake oil like Jitter-Killer™, Noise-Eliminator 9000™, Dynamic-Range Infinite Multiplier version 7.0™ or many other funny names. Topping is all about pure specs, numbers and measurements, the evil-scientist in me is pleased.
Design & Build Quality
Topping adopted the same enclosure DX7 PRO is having and I loved that one quite a bit. What is there to love in a simple black box you might ask? For starters there isn't a single visible screw on any side, you can spot them only on the back plate and underneath it. Another thing I like is that it has the same width as the Benchmark HPA4 and these two became best buddies for the past 2 weeks or so because of that. They look nice together and they make a great team on an office desk and if you are searching for a top-of-the-line desktop headphone rig, it just might be it.
D90 feels on the heavier side, with such a small foot-print and having 1.4Kg (about 3 pounds) of weight I feel its case is thicker than usual and I'm sure its toroidal transformer added a bit of weight too.
To me, D90 looks simplistic, has a clean look, you might even call it elegant looking. The case is beautifully crafted on a CNC machine. You can choose for a silver or for a black case, I've seen them both and both have scratch resistant surfaces. As with DX7 PRO, the rubber feet are placed in 4 individual carved spaces on the aluminum case itself so you can be sure those feet will not move an inch if you are repositioning your DAC quite often as I do.
I like that it has rounded edges, so it will not damage my headphones when I'm handling them around, I like the flushed buttons on the face plate, I like the satisfying click sound they make when pressed, the buttons are firmly attached to the device and are not wobbling around. The monochrome OLED screen is quite bright and offers 3 brightness levels. All in all, I have nothing to complain in terms of design and looks.
Controls & Connectivity
D90 is a pure DAC so obviously the headphone outputs have been dropped. Apart from that, it is very much the same in terms of connectivity with their D70 and DX7 PRO balanced DACs.
The front panel is really simple, the On/Off button on the left works as an input selector and a longer press will turn it Off or On. The up and down buttons on the right will control its preamp volume level and if you are using it as a pure DAC please leave it at 0.00 dB volume (maxed-out) for best performance. Buttons are flushed and you can be sure that you will not accidentally press them. The OLED screen in the middle will show all the important information as the selected input, output, the sample rate, the PCM or DSD data stream and the volume position.
On the back all usual suspects a balanced DAC should have are present: you have your RCA and XLR outputs, a USB type-B, coaxial and optical inputs and some fancier inputs as AES and my personally favorite I2S (LVDS) input via a HDMI connector. Please do note, this is not a HDMI input that you can use with your TV, media box or video player, this is an I2S input that is just using the HDMI connector. Few people already asked me why their D70 and DX7 PRO are not working with their HDMI video devices…For D70, D90 and DX7 PRO I2S input you will need an external S/PDIF interface that can output an I2S data stream that will skip the all the digital receiver chips like AK4118 or the XMOS ones and will send all that directly to the DAC chip itself.
An important thing to know is that if you want to unleash the full potential of D90, you will need to use the included remote. With it you can select from 6 digital filters that are working on the hardware level, you can select 3 brightness levels, desired input and output, the volume position. If you press the center button it will change the output to RCA only, XLR only or RCA+XLR at the same time. If you plan on using just a single output on the back, I strongly recommend changing its output on that particular one without engaging both of them. By doing that, D90 will operate cooler and will be less prone to noise that might come from the other interconnect cable.
Tech Specs & Detailed information
The star of the show is obviously the newest and highest performance DAC chip by AKM, the AK4499 that Topping put inside it. This is a Very special chip and I will explain you why.
First of all, it is the first commercial DAC chip that challenged the mighty ESS 9038 PRO and surpassed some of its specs.
Secondly, AK4499 has the biggest die-size/surface area of any chips made by AKM. If you are into computers, you probably know how important is the die-size of a CPU or GPU, a bigger size means it will have a higher performance and, in the process will consume way more electric power. Same applies to DAC chips, as strange as it might sound, bigger DAC chips means better performance and much higher power consumption.
Compared to the former AK4497 DAC chip, the pin number doubled from 64 to 128, the die-size increased and the power consumption increased as well. AK4499 is also the first AKM chip to be current driven and not fully voltage driven. It eats current for breakfast and implementing two pieces of it means dissipating a lot more heat, using a much bigger power supply and doubling all the components around it. In simple words, it would use a much bigger case and the final assembled unit would be double the price. Since Topping is trying to make high-performance DACs at affordable prices, for the moment a single AK4499 design made a lot more sense to them. Who knows, maybe sometime in the future, dual-AK4499 designs will be released from them as well. I hope that will happen sooner than later.
Now, here is the interesting part: AK4499 is a quad channel design, meaning a single DAC chip can produce a true balanced output, a single AK4497 for example couldn't do that. The clever part is that Topping used 2 outputs in parallel working as a single channel, by doing that they squeezed the best of out this silicon, I'm impressed.
To let the DAC chip, breathe and work at its maximum potential two femtosecond crystal clocks from Accusilicon were used controlled by the Altera FPGA for the best results.
Apart from this, the USB receiver is the latest one from XMOS so you can be sure the USB connection will be noise and glitch-free.
The S/PDIF (optical/coaxial and AES) receiver duties are handled by the AK4118 from AKM that ensures low jitter and low noise and good compatibility. However, do note that these 3 digital inputs will be limited to 24 bits/192kHz files. If you want to squeeze the best out of D90, you will need to use USB or the I2S input.
The Bluetooth chip used in this one is the flagship one from Qualcomm, the CSR8675 that is capable of receiving all modern Bluetooth codecs as SBC, AAC, aptX, aptX-HD and LDAC. If you are using it with a Bluetooth sender that is capable of LDAC then you can send music files up to 24bit 96kHz.
A small change from DX7 PRO is that the LPF op-amps are not socketed anymore but are soldered directly on the mother-board. DIP8 op-amps were replaced by SOIC op-amps so no more op-amp rolling for you, but sincerely very few DX7 PRO users rolled op-amps in it since it sounded already impressive in its stock form.
I'm dying to have a serious listen to it so I will just press play and lean back for few hours.
Sound Performance
I evaluated the D90 performance in a headphone and in a speaker-based system. However, truth to be told, since I am working full-time in my office, I listened to D90 a lot more connected to the Benchmark HPA4 and then to a trio of planar-magnetic headphones.
I am not that easily impressed when it comes to audio sources, I evaluated more than 20 audio sources last year and out of all of those, probably only 3 of them created goose bump moments for me. D90 is sounding easily in the top 3 DACs I tested at my place at any price point. It sounds so familiar and yet so different compared to other delta-sigma designs that I don't know how to start this evaluation.
I will start by saying what I didn't like about all AKM based designs I listened to until now. Absolutely all AKM designs, be it from Topping, Aune Audio, SMSL, xDuoo, FiiO and so on have a slight mellow approach to music reproduction. They know how to involve you with their musical wizardry, with that intoxicating flow and naturalness, with that impressive holography and note placement in the room. However, they never properly punched and slammed my body like a serious ESS based DAC did. They never properly shown me a clear sub-bass note that can be sustained for a second or two. This is the sole reason Matrix Audio Element X stayed at my side no matter what, it can be gentle, but it can also be a wild beast unleashing fast and energetic bass notes that strike fast, while being in total control and having everything breathing and at its place.
This is the first time I can say the same about an AKM based design. Ladies and gentleman, D90 is fast, articulate and it hits like a train when its needed. It doesn't roll-off sub-bass information and my usual pugilist music as electronica and rock started throwing punches at me, I finally felt a crazy amount of energy and impact. Finally, I can listen to my rock without feeling that something is missing from my music. In this respect, D90 is sounding like a grown-up, balls to the wall DAC with authority, has its chin up and knows for to impress a music aficionado like myself. Finally, an AKM based DAC with slam, speed and impact, the end must be near for sure.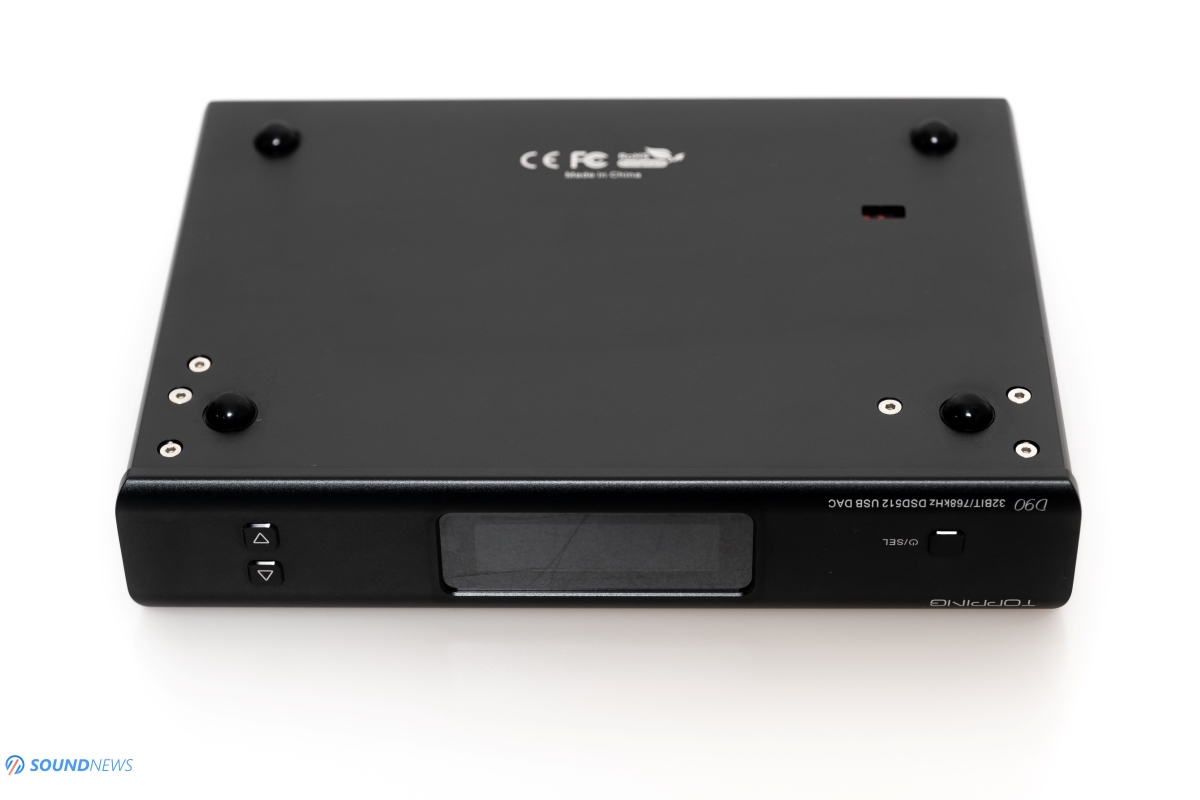 Depth & Airiness king
The best part that I loved about AKM based DACs is their ability to present spatial cues around the listener. I don't mean just a wider soundstage that usual, not at all, I mean that every single note is like floating individually to the other one near it, the gap between all notes is bigger, you feel like there is more air in the room. With D90 that feeling is multiplied and I am pretty sure I am hearing the airiest performance in a delta-sigma DAC I've heard so far.
I am hearing more air even with lower-quality recordings and there is more of it even compared to my reference Element X, as painful as this sounds to me, this is the ugly truth. D90 is without a doubt the airiest DAC I listened to at my place with the most layered sound, with the deepest depth and with a well spread-out soundstage.
If you want to feel every vibration of every note and if you are wondering if bass is one-noted or has multiple layers of it, then D90 is the right tool for you. If will dissect and show everything there is to hear.
The Pale Emperor by Marylin Manson is not a record I enjoy a lot, but I was always thrilled by the technical aspect of this record, for a metal/rock release it sounds damn impressive. From the first notes a thought never left my mind and I re-checked the recording, it sounds very 3D, completely outside my head, very much so that I thought that Tidal Hi-Fi desktop app was updated with 360 Audio files that its mobile app has for few months now. That wasn't the case and the sad truth hit me again, D90 is sounding wider, deeper, more holographic and more layered than my own $3K DAC unit.
Any music I would play, D90 would always unfold it like a candy in front of me. It grown on me, because I can now listen even to crowded and up-front music with ease, D90 makes that a lot more approachable, I can chew that pill much easier, I'm again impressed.
Genre Master
Listening to the legendary B.B.King – The Thrill is Gone (featuring Eric Clapton) and then to Early In The Morning (featuring Van Morrison) felt like pouring milk and honey over my ears. It awoken so many feelings, so much emotion is still there waiting to be heard and feel, everything flows so easily towards me. I can't believe I'm listening to a 40-year old recording, it sounds like it's happening right now, so alive and natural. Who thought playing out of tune would make him so loved, I miss the old man, the good part is that I can resurrect him when and where I want with a DAC of this caliber at my side, it can sound smooth and gentle with a guitar that weeps with the right recording.
Moving on to modern versions of Jazz, like zen-funk of Nik Bärtsch's Ronin of Switzerland, a band that I am very fond of. You need time understanding and appreciating them but when you do, you will not feel whole again without them. Their drummer and saxophonist are good friends of mine and their stories always fascinated me. D90 is somehow creating order where everything is chaos, I don't know if this makes sense to you, but I can see the beauty with it where others will see a mess. Ronin is unusual since it never ever has a chorus, from start to end there is no order in their music and somehow it sounds so familiar and so strange in the same time. These guys are using only musical instruments, including lots and lots of hidden and small details that a lower tier DAC might not even show. D90 is putting everything in front of me on a plate, like: here's everything and listen to any sound you want from this plate. I am not even closing my eyes to hear every layer and every micro-detail. I'm astounded we have this right now at such an affordable price, I like where audiophilia is going, me gusta!
Moving on to some electronica mixed with some drums, bells and anything you'd imagine like The Chemical Brothers – Hanna OST, the impressive part this time around is the perfect timing of any note, the speed of everything and the final kick that is felt with the whole body. Former D70 didn't impress me a lot when it comes to bass, it was fine but not very good. D90 offers more of it, a better control and a much-needed improvement in terms of pace, rhythm and timing. D90 feels like a race car by comparison and can behave as one, D70 on the other hand can't keep up with a faster pace. Bass-heads out there will be impressed by the D90 and by its ability to move large amounts of air in an instant with an impressive start and stop of the transducers.
I love the feeling that all those computer-generated notes are sounding weirdly enough quite real and very humane, part of this feeling is due to that, large amounts of air are enveloping every sound, it makes me be in a relaxed and not in a ready to fight state.
Moving to faster beats, D90 is like pressing on the gas pedal, changing the state of mind of the listener, headbanging and toe tapping will surely follow together with a wild smile on the face. D90 is like that type of movie, where you would laugh, cry, feel good and sad in a span of 2 hours, it plays tricks on me and it will play them with you too.
For me, D90 is definitely a genre master that plays exceptionally well everything from relaxing and soothing tunes to fast executed and wild slamming bass riffs. It has a perfect blend of musicality and technicality without skewing the frequency response at all.
Frequency Response
I will briefly go through it and will just mention that D90 has some impressive bass in terms of quantity and quality. This time around I felt it going really low, awakening those low intensity hums and rumbles that only a really good source (and amplification) can offer. I all seriousness, up until this moment X-Sabre Pro and Element X were the clear and undefeated winners when it came to bass response. I am not a bass head by any means, but if it's there, I want to hear it and those two units offered the best sub and mid-bass performance. D90 is up there with both of them at just a fraction of their price, if bass information is important to you and if you like listening to some stand-floor speaker or desktop planar-magnetic headphones then D90 will unleash the full force of the low-end. Besides going low, it has a very detailed type of bass, you hear it pulsating and vibrating a lot and thumping just a right amount.
When it comes to midrange D90 is absolutely impressive and there is not much to say about it. I'm listening to a lot of blues, jazz and rock, so mostly to instrumental music and D90 always delivered everything I wanted. It can show low-level information, guitar plucks are decaying at the right time, violins always grabbed my soul and the voices always sounded authentic and full of energy. I personally don't like V-shaped type of sound, to me midrange is the most important part of the frequency. We, as humans hear it 90% of the day so it is just mandatory having a life like and excellent midrange performance and D90 is exactly like that. I like that it resonates a bit like R2R ladder DACs, it might sound weird to you me saying this but D90 doesn't sound like a typical delta-sigma DAC but more like a really well-made ladder DAC. That silk thread that is binding all notes together that creates music is so apparent on D90 and it missing in so many modern delta-sigma designs.
Moving on to the treble area is done really easily and natural and I can hear everything crystal clear up to the highest registers without fearing a bright note will hit me soon and that I should prepare for that. D90 is somehow very detailed even past 16kHz and yet very life-life and very unoffensive. When I'm going to a groovy concert, I hear a lot of treble and yet all that is pleasing to me and not bothersome at all, D90 is very much like that and it's very close to the real thing.
D90 as a whole has a really extended frequency response, I didn't hear a drop or a rise somewhere, just a full-bodied, textured and detailed presentation, exactly how a digital audio source should sound.
Wireless Performance
For wireless tests I used a smartphone that is Bluetooth 5.0 enabled, that supports LDAC and AptX-HD so I could actually test the best D90 can offer in terms of wireless tech. You might be surprised how easy is connecting your phone to it, just select BT from the remote as its digital input, search for D90 with your phone, connect to it and that is basically all.
You can play the music stored on your phone or tablet, or you can use streaming apps like Tidal, Spotify, Qobuz and so on. I tested Tidal HiFi from my phone and I streamed 16 bit and 24 bit PCM files to D90.
Thanks to the included antenna of D90 that actually works as a signal booster, the signal was always super strong and, in this regard, it performed much better compared to other devices like the BTR range by FiiO, the UP range by Shanling and better than any Bluetooth capable DAP I have ever tested. Signal stays strong even with 3 concrete walls between the sender and D90 and in an open-space my apartment seems to be way too small to actually hear a stutter, losing a beat, or anything bad at all. What surprised me a lot is that I couldn't hear a difference playing a lossless 16 bit file on my PC via USB or playing it wirelessly from my phone to D90, 16 bit lossless files (CD quality) sounded impressively good. Only with 24 bit files I felt a pronounced smoothness, a laziness somehow, like that impressive speed and impact is not that impressive anymore and like some of the top octave notes are losing a bit of information and air around those notes. Not a huge difference, but a noticeable one. I would personally stream only 16 bit lossless files, those are good enough for me. LDAC can send data up to 990 kB/sec and since all the streaming services are using the FLAC codec and not the WAV masters I am pretty sure most of the music will be streamed bit-perfect.
Comparisons
I will spare you the time with comparisons with D70 and DX7 PRO from Topping and will just say that D90 is in another league compared to the other two. I still think DX7 PRO is an extraordinary DAC and headphone amp combo but as a DAC only unit, D90 pulls ahead on every key aspect.
I will however compare it with my reference Matrix Audio Element X and I feel that this will be a bloody battle.
Matrix Audio Element X ($3000) VS Topping D90 ($700)
Besides being a DAC, Element X is also a full-blown streamer, preamp, balanced headphone amp, it is Roon enabled, it has its own MA app on Android and iOS and you can stream your music via Wi-Fi, it has also an internal music player that plays any music format from an external USB drive connected to it. Feature wise, Element X is something else and its much more advanced than anything I've tried.
D90 can be also a preamp and has a powerful Bluetooth receiver, its smaller and way cheaper too.
When it comes to music reproduction, they both are more alike than different. Topping worked a lot in making D90 sounding faster, slamming harder and having a wider frequency response. On the other hand, Matrix Audio worked a lot into making their ESS Sabre design natural, musical and full bodied. Both companies knew the shortcomings of their platform and worked hard on improving them to a point of solving those flaws. When an audio source is developed, you have simple targets: make it as resolving as possible and sounding as real as possible and I think that both achieved that.
Besides that, I still feel that D90 has a better depth and holography, I can see deeper into the mix, I can walk by easier around my favorite musicians. I feel an additional layer of air around every note. If I'm switching to speakers the difference becomes even bigger as somehow with D90 I'm listening to music in a bigger hall and everything is just floating easily around me.
Only sometimes I felt that maybe Element X offered a tiny bit more resolution especially in the highest registers but only when listening to high-end material and top-notch recordings. Otherwise, that thought will never appear in my mind.
I was quite stunned to find that D90 has such a clean and detailed performance, from the lowest bass to the highest treble, everything was there in spades and nothing would hide away from it.
Conclusion
Topping is quite secretive about their devices and as a result D90 had a long development time and optimization process. I have a huge respect for companies that are not rushing products and that are releasing them only when it's done with their best version. D90 is such a device and Topping is such a company. As time passed, I listened to more of their designs and I started having a deep respect for them. With every new product, they would raise the bar of what affordable and high-performance would mean to me and D90 didn't disappoint at all. On the contrary, it again opened my eyes how good a digital audio source can sound at such a low price to pay.
Was I offended by it sounding about on the same level with my own $3K Element X? Not at all, I'm actually very glad this happened and I envy all of you that will experience it for the first time. I remember I was impressed by it from the first second, those that are upgrading from lower tiered DACs should feel a much bigger improvement. I can't wait hearing your thoughts and your experiences with it.
Topping D90 review sample was provided by Apos Audio, you can purchase it directly from their webstore.
PROS:
Beautiful and sleek looking device with a solid build quality
Deepest depth, widest soundstage and the most 3D sounding DAC I have tested
Linear frequency response and super extended on both ends
Impressive levels of transparency and resolution
High-precision pin-point imaging
Excellent dynamics, pace, rhythm and timing for an AKM design
Lacks any noise and distortion, black as night background
Full-bodied, rich in tonality and very life-like sounding
Unexpected high-pressure slam and impact
Widest selection of digital inputs
Excellent price to performance ratio
CONS:
ASSOCIATED EQUIPMENT:
Sources: Xiaomi Mi 9T Pro, Corsair One i160
DACs: Topping D90, D70, DX7 PRO, Matrix Audio Element X, KECES S3, Burson Conductor 3 Reference
Headphone amps: Benchmark HPA4, Kinki Studio THR-1
IEMs: FiiO FH7, Simgot EN700 PRO
Full-sized headphones: Erzetich Phobos, Quad ERA-1, Hifiman Arya, Sennheiser HD660S
Loudspeakers: KEF LS50W
Interconnects: QED Reference XLR (x2), Aune AL3 XLR
Power Cables: Isotek EVO3 Premier (x2)
Balanced Isolation Power Conditioner: PLiXiR Elite BAC400, KECES BP-600