My Video Review:
Don't ask me why the most covered manufacturer I have around here is Topping Audio, but if you do…it wasn't one of my goals. You really wanted to know my opinion on most of their doings and the rest is history. I have no regrets, as the most commented articles are for gear coming from Asia, but especially from…you guessed it: Topping Audio! That's precisely why most of their units were covered by me in an in-depth fashion and plenty will be receiving a proper treatment in the future.
With all due respect to all Topping distributors, dealers and resellers around the globe, but so far, the biggest e-commerce platform specialized in all things audio coming from Asia is undoubtedly ShenzenAudio. Topping and ShenzenAudio can't possibly operate without helping one another and since doing collaborations became the next best thing, it was only a matter of time when something like that would happen. I mean, I've collaborated with Kennerton Audio in delivering the Apos Caspian headphone and I'm urging others in unleashing their imagination, as team work always wins.
Both parts were teasing for quite some time that something is coming soon with an EX5 hashtag appearing in several posts on their social media. It was clear that EX5 would be releasing on a short notice and without too much fanfare, some days later the little EX5 was brought to the surface. We are looking at a lightweight desktop DAC, Bluetooth receiver, Preamplifier and Headphone amplifier, that carries all the latest tech of Topping like NFCA modules, a dual ESS-Sabre configuration, a full MQA decoder is also on-board, all wrapped in a small enclosure that fits even in the tiniest stereo or headphone setups. The best part? It costs only $349 for this do-it-all thingy that skips additional boxes and unnecessary cables for the minimalist audiophile of the future. As usual, I'll be approaching it as a critic and as a music lover, commenting on everything I find interesting to share with you.
Unboxing Experience
I wasn't surprised seeing a much smaller product box, but it came double-boxed and well protected, so you can be sure that it will arrive safe and sound to your front door. As usual, there is plenty of foam surrounding the unit for a better protection and it wouldn't be Topping if I wouldn't spot their RC-15A remote control, that you can find from their entry to top-level units. There is something cool in the package, I've always appreciated seeing actual measurements in the user-manual, performed by one of the nicest Audio Analyzers out there. From frequency response, to total-harmonic-distortion, FTT Spectrum, digital filters and then to dynamic range, everything can be found in the manual. As with all their converters, there are some hidden menus that you can access by a combination of buttons or by the remote control, so I am recommending checking out its manual if you want to use it as a DAC only device, as by default it will turn on as a DAC + Pre unit. Besides the remote, there's a power cable, a warranty card that doubles as a product catalogue, a USB Type-B cable, a Bluetooth antenna, a headphone adapter and that's all you'll find in the package.
Design & Build Quality
I knew that Topping was cooking something with ShenzenAudio, but neither part wanted to spill the beans for me and I don't blame them for that. The cute little EX5 follows the same design language of their D30 PRO and A30 PRO units, using absolutely the same case size, weight and build quality, which is a great thing. You can squeeze it in tiny setups, even behind a TV if you will. It is small enough and it doesn't get that hot after a few hours of use. Exactly how D30 PRO and A30 PRO felt to the D90 and A90 is how EX5 looks and feels to their DX7 PRO all-in-one DAC, Preamp and headphone amplifier.
Seriously now, it looks like its smaller brother, it has the same CNC machined aluminum enclosure, the same thickness, the same matte finish, even its display has the same size. Most importantly, it isn't triggering my OCD and I think that it looks modern and cool enough.
Its footprint is naturally…very small, it has a slightly bigger surface area to their D50S and exactly the size of my palm, so you can easily integrate it into very tight spaces, you can even carry it to your office and back home since it weights as little as 750 grams (~1.65 lbs). As with their nicer units, they carved four circles underneath it, so its rubber feet are placed in there without moving an inch while I'm re-arranging it on the table. I'm quite annoyed when rubber feet are leaving a trail of glue on expensive audio gear or on my table. Hiding all the screws on the back plate is a norm, making it look classy and handsome. La pièce de résistance is definitely that unibody case, which has a simple front and back-plate attached to it and it looks nicely put together.
Topping is offering two color options for it, in matte black or silver, I received it back in black, which I like a lot due to its stealthy look. Both color options carry a huge WAF, as my beloved never asked what's that little box sitting in our living room.
Controls & Connectivity
EX5 has one of the simplest front panels I've encountered with all-in-one units. A volume wheel can be found to its right, that can work as a stand-by button or an input selector, there's a screen in the middle, two headphone jacks coming in 4-pin XLR and 6.35 mm flavors and a tiny LED will be showing the MQA status. There aren't ugly buttons, mechanical switches, just a simple and elegant face plate.
On its back you'll find 3 digital inputs as USB, Optical and Coaxial. As you can expect at this size and price, some compromises needed to be made, dropping several digital inputs, but honestly now…how many of you ever used the AES or the I2S input? I did, but not as often as I wanted to, as USB already supports the highest sample rates and sounds almost as good as a high-end USB to I2S converter. Being a fully balanced DAC, you'll find a pair of XLR and RCA outputs, both are volume controllable or fixed and you can even disable an output if you want. A fully balanced DAC, Preamp and headphone amplifier in such a small package, makes me feel like holding a pocket rocket in my hands.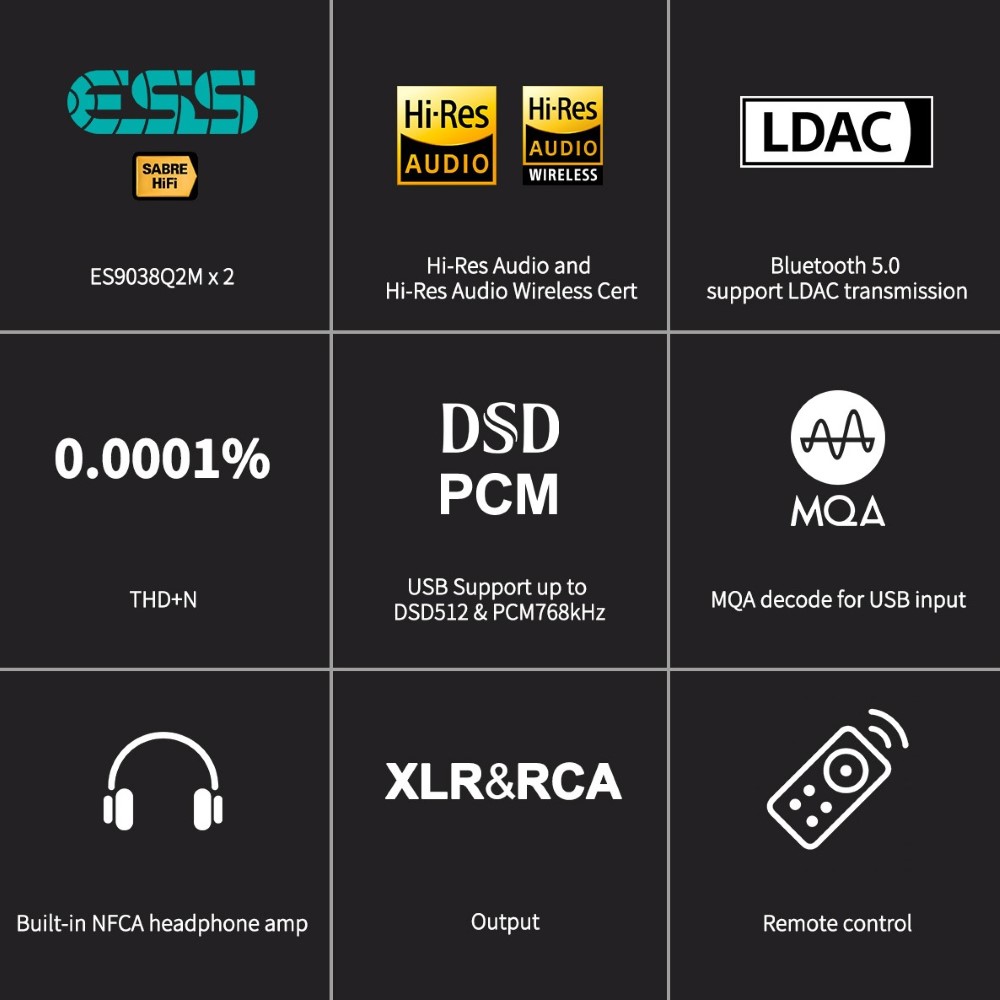 Tech Inside EX5
Due to chip shortages around the globe and especially to the AKM factory fire, we'll be seeing a lot of ESS-Sabre equipped units from now on, if you look closely that change is already happening. Most chip-based DAC manufacturers already moved to ESS Technologies silicon and EX5 is no different.
Luckily, Topping used the highest spec ES9038Q2M mobile chipset, in a dual mono configuration for a higher dynamic range, for a lower channel crosstalk and of course for a fully balanced configuration. It was a great idea using a mobile variant that needs a lot less power to unleash its fullest potential. There isn't that much space inside, meaning that a complicated output stage and power supply design wouldn't fit. Topping moved to a switching mode power supply from Meanwell that outputs 15 V and 1.4 A (that's a 21W power supply), bypassing the need of big electrolytic capacitors, as you won't find those in here.
I'm spotting 4 crystal clocks and I'm glad that DSD files are getting their own clock, there's an ARM CPU probably doing all the clock management, PLL shaping and DOP modulation. The highest spec XMOS (XU-216) interface is also present, taking care of the USB input and giving a huge helping hand with MQA decoding. Speaking about that, thanks to the newest XU-216, to its higher processing power (2000 Mips) and RAM size, EX5 is capable of fully decoding MQA files. It will fully unfold those files stored on your PC or played directly via streaming services as Tidal for example.
For a good Bluetooth codec support and stable connection, they went with the highest performance CSR8675 BT receiver from Qualcomm, that currently supports all the best codecs as AAC, SBC, AptX, AptX-LL, AptX-HD and LDAC. Bluetooth version 5.0 and that wireless booster (antenna) will make sure to play all your tunes even with two concrete walls between the source and the EX5.
Its headphone amplifier section is based on their popular NFCA (Nested Feedback Composite Amplifier) circuitry that is being used in their A90, L30 and A50S headphone amplifiers for a while now. Topping redefined the Nested Feedback topology by employing an Ultra High Gain Feedback and a Voltage Current Hybrid architecture. In simple words, the biggest drawbacks of the composite amplifiers of the past (low-gain, low power output, increased resistance) were dealt with and those are no-longer apply to the Topping analog designs. Topping squeezed from its NFCA modules some 1.3 Watts per channel in 32 Ohms and 140mW in 300 Ohms on both its headphone jacks…meaning that EX5 doesn't have a true balanced headphone amplifier inside. If you'll be using it with an external amplifier, EX5 outputs a true balanced signal via its XLR outputs, delivering up to 4.3 Volts and half that power on its RCA outputs. Output impedance stays incredibly low and at only 0.1 Ohms I'm sure that its damping factor wouldn't be affected with low-resistance IEMs.
Test Equipment
Most of the time it was playing tunes as an all-in-one combo driving plenty of headphones, ranging from IEMs, portable over-ears, to desktop dynamic and planar-magnetic headphones. I have also used it in the living room, driving directly a power amplifier of my choice (it was either a Benchmark AHB2 or KECES S300) and a pair of KEF Reference 3 loudspeakers. Later on, I left its preamp duties to the Topping PRE90 or to a Benchmark HPA4, driving the same power amplifiers and loudspeakers.
Okay folks, enough with the talk, my ears are itching for some music, so let's hit some ear-drums!
Sound Performance
I. Preliminary Sound Impressions
So how does the little EX5 is sounding more exactly? Well, it sounds exactly like a miniature version of its DX7 PRO sibling that I've hailed as being a dead-neutral combo, focusing mostly on technicalities, rather than on the act of music listening and the same can be said about the EX5. Those NFCA modules aren't crippling its DAC section and are more like improving the timing, the pace, speed and decay of the notes, while highlighting inner-details more than anything else.
The little EX5 is a detail-oriented unit and will be showing the smallest nuances hiding in your tunes without any intervention from my part. Its dead-neutral approach to music reproduction works as magic with warm and dark sounding headphones. For example, the Apos Caspian, Kennerton, Meze Audio, Audeze and most Sennheiser headphones (with the exception of HD800 and all its variants) worked really nice and I was able to disconnect from the outside world for a little bit. While it doesn't focus on the emotional side of music listening, how their D30 PRO and D70S did for me, you can still counterbalance that linear tonality with a correct system matching.
On the other hand, linear and bright tilted headphones or loudspeakers will be immediately suggesting that you aren't getting your money's worth and some listening fatigue might crawl inside your ears. From my headphone collection, Hifiman creations didn't work that well, starting with HE400SE and finishing with the HE1000SE and Susvara, I didn't enjoy them that much out of the EX5, mostly for its linear tonality and for a somewhat limited power coming from its headphone amplifier circuit.
On the merry side, it's a transparent and noise-less sounding unit, always focusing on the leading edges and contours of the notes, in detriment of their texture and weight. With EX5 there is always a need for speed, there are instant decays, but a lack of impact and slam that I so crave about. There is a decent midrange rendition without going overboard to the smooth and warm side. Its treble seems to be extended in the top octave, there is some ringing and plenty of shimmering, without being gritty and itchy sounding. Surprisingly, I don't find it bothering in the treble and I've never found it bright sounding…well maybe a little with the Hifiman HE1000SE. When it comes to detail retrieval, I find it clean and transparent, very similar to something like a SMSL SU-9, Gustard A18, X16 and Soncoz LA-QXD1. When I fired Tidal Hi-Fi, it locked on instantly on that MQA content and it showed correct sample rates. Bottom line is that it will be impressing a lot more with its cleanness, squeezing plenty of information from your precious headphones and loudspeakers, it will be driving several headphones with authority, but it wouldn't be adding a lot of meat to the bone, warmth, silky smoothness or hard bass slams – that EX5 cannot do.
II. Power Output
Its headphone amplifier section is one of its strongest points, but also one of its biggest cons. For the record…I personally greatly enjoy NFCA designs and I don't have a problem with linear, honest and super-detailed amplifiers. I mean, I'm still using the Benchmark HPA4 and Topping's NFCA amplifiers and in this regard, EX5 behaves pretty much the same. I find it's headphone output noiseless, it carries the same tonality or…should I say a lack of it, because it is as achromatic as headphone amplifiers can be and there are still plenty of good things to say about it. For example, it is a very fast type of amplifier and if you're listening to modern pop, hip-hop or electronica music, nothing will be slowing it down. Fast decays are also present, so it pushes and pulls back those membranes in a split second, delivering an amazing pace, rhythm and timing.
However, when it comes to scale, depth and sheer power, EX5 will be struggling with the hardest loads. I personally enjoyed it with everything out there, with the exception of Hifiman headphones, but when it came to driving the hardest loads…it was running out of breath and was chocking down dynamics. While it really rocked my world with the Kennerton Wodan, Sendy Peacock, Erzetich Phobos and Mania and mind you, those are not exactly easy to drive, but it was running out of steam and couldn't provide enough headroom with something like Audeze LCD-4 and don't get me started with the Hifiman Susvara. Apart from these two, it had authority and a strict control over the drivers and I've rarely passed its 85 out of 100 volume level. By default, it comes with Low-Gain enabled, but since it's a noiseless amplifier, I recommend switching it to High-gain immediately as you are getting it and all your desktop headphones will be thankful for that. A smaller con is its limited soundstage with open-back headphones, the lack of current and a higher-channel crosstalk said its last word, as it couldn't move as much air down low…my music wasn't enveloping me entirely, it felt like I was listening to semi-open headphones the whole time.
III. Noise Floor
When Topping created their own NFCA modules, they wanted the maximum amount of power, the highest signal-to-noise-ratio and of course the lowest levels of noise at reasonable prices. A30 PRO, A50S and A90 already proved themselves noiseless and really IEM friendly amplifiers. EX5 might be using different op-amps, but it has the same working principle and some of the lowest noise floor ever recorded. With a measured noise floor of 1.5 uV on its low gain and up to 3 uV on its high-gain, EX5 has it very low, but not Mariana Trench low as its A30 PRO and A90 siblings had it.
As for subjective testing, I've went directly for its jaw and connected the most sensitive IEMs I have at my disposal. At around 113 dB per one single mW of power, FiiO FA9 are my personal noise sniffers, as those already demystified plenty of amplifiers by now. I'm not surprised anymore, as once again Topping proved that even entry to mid-level devices can kill noise at the inception with clever engineering. By definition, nested feedback amplifiers like the EX5 are having excellent DC and AC characteristics, its feedback loop was created to improve DC accuracy, thus removing the noise within the circuit. In simple terms…FiiO FA9 were completely noiseless and offered a pitch-black background even on maximum power and high gain. Obviously, my loudspeakers behaved absolutely the same and I've never heard pops or hisses coming out of those KEF Uni-Q driver arrays.
EX5 is an extremely IEM friendly combo and you could use it directly with power amplifiers in a stereo setup, without the need of an active or passive power conditioner. As you can expect, every other IEM, portable or desktop headphone behaved exactly the same and a slightly more sensitive Natural Sound NS-17 bookshelf loudspeaker didn't increase the noise in my room. EX5 might be small and cute, but it fights AC noise with ferocity and it's very good at that. I'm impressed!
IV. Transient Response
As always transient response is a cumulus of four important factors: (1) The speed that it is capable of, (2) the kick that follows or as I am calling it – the slam. Usually, you can feel it much better with bass intensive music or with snare drum hits in a loudspeaker environment (3) sustain comes next, you can feel it with big orchestral work where organ and huge pipes are playing and lastly (4) decay of the notes. In my view, EX5 is outstanding at two things and just okay with other two. When it comes to speed and fast decays, it sounds as agile and as nimble as a top-performing DAC would be sounding in a well-thought system, easily keeping up with the most demanding tunes. Yet, when it comes to delivering and sustaining longer bass notes, EX5 isn't that fearless anymore. It wasn't as visceral and hard punching as higher tiered converters are doing nowadays…but that shouldn't come as a huge con as pricier converters like Gustard's X16 performed more or less the same. There are certainly many D/A converters that could deliver excellent performance on all four aspects of transient response, but not at this size and price point.
I'm yet to experience them all in such a small and affordable package. EX5 was only decent when it came to hard punches in the chest and a far cry from the best I've tried. You can certainly bring back some of that lost bass slam, but for that some mean Class-A amplifiers of all sorts would be needed. Adding a clean preamplifier, followed by a power amplifier known as transient response God (you've guessed it, it's the Benchmark AHB2), finally EX5 makes me move and toe tap my feet. If you are willing to improve its performance, all-discrete Class-A/AB amps are your best bet at unlocking body impact and the same can be said about headphone amplifiers, just add a Burson Soloist 3X or a Flux Lab Acoustics FA-10 and watch those ear lobes flap in the air like butterflies!
V. Soundstage & Depth
Having such a small footprint and lightweight chassis and of course being limited by budget, Topping couldn't fit inside a serious LPF stage and they couldn't double its amplifier circuitry for a fully balanced configuration. No matter if you are using the 4-pin XLR or the regular headphone jack, you'll be getting the same results and by that, I mean a clean, undistorted power that lacks noise even at maximum volume…but it wouldn't stretch that stage wide open and it wouldn't fill those musical layers with a lot information. If your headphones are fully driven by the EX5 and mind you, it drove many desktop headphones, then it will be infusing some air in the most crucial places. But add some distorted rock or metal, maybe a cluttered electronica and EX5 will start choking and closing in its soundstage. With all due respect, it's impossible creating a small and affordable combo that would sound good on everything and EX5 is exactly like that, scoring points in key areas and losing in others. Soundstage, depth and bass slam are the biggest drawback of the EX5 and if you aren't adding additional electronics on top to counterbalance those issues, then it would be remaining shy and up-front sounding with most of your tunes.
I want to be very specific that if your headphones are fully driven, then the smaller soundstage wouldn't be as claustrophobic and closed-in, but with harder loads it certainly loses air, definition and control. As a side note, all NFCA and THX-AAA amplifiers never excelled much in this department. In my own experience, only Class-A/AB amplifiers that are tensioning the final transistors at all times could portray a bigger picture and could improve the scale of the music, but we're already talking about $1k+ units that EX5 can't possibly compete with.
VI. Resolution & Transparency
Voila! I've arrived at the culmination of what makes EX5 a desirable product in the first place. It sounds clean, it is always honest in its presentation, it puts everything on a plate and lets you pick all the notes with the power of your mind. Making clean and detailed sounding DAC and headphone amplifier combos at $350 is no easy task…There are much pricier units that doesn't offer half the cleanness of the EX5. Especially for me, detail retrieval is extremely important so I could skip the GIGO (Garbage In > Garbage Out) effect. In all fairness…the most expensive units that I ever bought (with the exception of my loudspeakers) were my digital to analog converters. Sure, you can make your music livelier or bigger sounding with a nicer amplifier, but you cannot make it cleaner sounding. Without detailed sounding converters we would still be listening to radios and cassette players in our homes. EX5 is without a single doubt a clean sounding unit above anything else and this is its strongest skill point. D/A converters are like small computers that need to do their math precisely and instantly, sadly not all them are doing that accurately and as close to the source material as possible, but EX5 is up there with some of the nicest units.
If you don't care as much for soundstage with headphones – which is slightly exaggerated by the headphone community, then EX5 is an outstanding proposition as an entry-level converter that wouldn't leave a hole in your pocket.
There is no need to listen to a few songs, because I will be arriving at the same conclusion all over again that I'm dealing with a highly detailed Delta-Sigma DAC, something that would be unthinkable a few years ago.
VII. Bluetooth Performance & MQA Experience
I will briefly go through this chapter and will just remind you that it uses the best Bluetooth chipset of the moment, that supports all the nicest Bluetooth codecs, plus it is Bluetooth 5.0 enabled. It uses a Bluetooth antenna that works as a signal booster, it's the same one I've seen on all Topping units that were tested around here. I'll cut to the chase and I'll tell you that it has a rock-solid Bluetooth performance and several concrete walls between it and my smartphone didn't pose even a slightest problem. A few meters away and the signal was still going strong and only when I moved to the balcony, with several concrete walls in between, it started stuttering and losing some beats here and there. In an open space, I've tried as hard as I could, but it never lost sync and was always playing music as if I was sitting near it. All Topping devices had a rock-solid Bluetooth performance and EX5 is really no different, performing more or less the same.
Sending music from a smartphone via streaming services as Qobuz and Tidal worked as a charm and LDAC codec sounded almost indistinguishable to its USB connection if a 16-bit PCM lossless files was being played. Bottom line is that EX5 performed very good in here, exactly as good as their top-of-the-line D90SE.
Its MQA decoder works as intended, it locks on instantly and a blue or green light would pop on its front panel. If you are streaming lots of music from Tidal, then EX5 looks like one of the most affordable MQA enabled all-in-one unit. I'm using Tidal almost daily, as it helps discovering new music, always reminding if a favorite band released some new tunes. Bottom line is that Bluetooth and MQA worked flawlessly and I was happy with the end result.
VIII. Frequency Response
This is probably the easiest chapter to write about as in my opinion EX5 delivered an outstanding performance from the lowest pits of sub-bass to the highest treble peaks. I find it dead-neutral and it covers the frequency response will flying colors.
A. Bass
EX5 offers an instant start and stop of the drivers, it's very impressive when it comes to speed and fast decays and those little traits carried over to its bass performance. It is a hit and run type of DAC, delivering quick and agile bass lines. EX5 is more impressive when it comes to bass quality, rather than quantity. There were moments when I craved for a nicer bass slam, but with the right headphones and loudspeakers I've had all the bass energy that I wished for. This is still a linear DAC and amplifier, so expect bass notes only when those are called for, this isn't a bass heavy unit. It reminds about several Topping units, with its ride-fast and die-young personality.
B. Midrange
With EX5, you won't find a lot of warmth, smoothness or a higher saturation of musical overtones, as pretty much all NFCA creatures behaved the same. On the flip side, EX5 still has a tiny bit more flesh on those skinny bones compared to THX-AAA units. There are still believable voices that have the right pitch and carry some weight, guitars sounded electrifying and all other string-based instruments were weeping nicely adding just a pinch of naturalness and warmth into the mix. EX5 is a linear sounding unit and with the wrong headphone or loudspeaker, the final result might lack some weight and texture. If you own natural sounding transducers in headphone or speaker forms, then you're completely safe from brightness and listening fatigue. This is good neutrality, playing safe for the most part, without becoming boring or emotionless.
C. Treble
The upper range seems to be defined, detailed and very precise. There are sharp leading edges and contours, but all that isn't adding a fake brightness filter all over my music. I don't find it rolled-off in here, on the contrary its top-octave flies sky high showing the last drop of information from that region. I'm not really sure what op-amps were being used at its LPF stage, but is seems that Topping nicely balanced its treble delivery, so it would be clean and detailed, without adding ringing, distortion or nasty brightness. If you like your trebles clean and textured, then you are definitely reading the right article, as EX5 renders bells, cymbals, tambourines and snare drums with utmost accuracy. I felt their metallic shimmering, all their RAW and unpolished surface, without making me lower that volume down.
Overall, its frequency response feels complete, there aren't dips or rises, you won't find roll-offs in here, just an extended frequency response at both ends of the spectrum.
My Conclusion
Neutrally tuned D/A converters and nested-feedback composite amplifiers were always to my liking when using them separately with some of my favorite gear. Having said that, when mixing them together in the same case, you are getting absurd levels of details, a see-through transparency, all the speed and acceleration, an instant decay of the notes, a super wide frequency response, at the cost of some lost warmth in the midrange, punch in the bass, losing precious musicality in the process. I can nitpick about its less than perfect channel crosstalk, about its limited stage size, about its shy character down low and about a weaker power reserve with difficult loads as planar magnetics…and this is where my complaints would see a full stop. For such a small footprint, you are still getting lots of features for your hard-earned money. There's a full MQA decoder, the best Bluetooth receiver with Aptx-HD and LDAC codec support, a decent preamplifier section to be used in a loudspeaker setup, a good headphone amplifier that could drive almost anything out there and last but not least, you are getting an honest sounding DAC section that isn't sugar coating your music in any way. This is exactly why EX5 is still a desirable unit that offers a lot in return for $350.
Topping EX5 was kindly provided by ShenzenAudio and it can be purchased from their web-store by following this link. Don't you worry about your location as they are selling it world-wide. In case you get one, please come back and leave some feedback below. I'm curious to know how it performs in your headphone or loudspeaker setup.
PROS:
Sleek looking device, solid build quality
Small footprint and very lightweight
Extended frequency response at both ends
Colorless DAC and headphone amplifier section
Noiseless even on high-gain and maximum power
Highly detailed and resolving sounding, on par with some pricier units
Offers a precise imaging and only a decent layering
Clear leading edges and contour of the notes
Outstanding speed and decay of the notes
Lacks digital glare and listening fatigue
Great Bluetooth coverage
A feature packed 4-in-1 combo
A good value
CONS:
Not that punchy and impactful sounding
Soundstage and depth weren't that impressive
Couldn't drive the heaviest loads
ASSOCIATED EQUIPMENT:
DACs: Topping EX5, Burson Timekeeper 3i, Musician Aquarius, Audiobyte HydraVox & HydraZap, Matrix Audio Element X, Gold Note DS-10 Plus & PSU-10 Evo, Gustard X26 PRO, X16, Topping D90SE
DAPs: FiiO M11 Plus LTD, M15, Shanling M8, M6, M3X
Headphone Amps: Flux Lab Acoustics Volot, Benchmark HPA4, Singxer SA-1, Burson Soloist 3X, Musician Andromeda, SMSL SP400, Topping A90, Gustard H16
Preamps: Musician Monoceros, Benchmark HPA4, Topping PRE90
Power Amps: Benchmark AHB2, KECES S300, SMSL SA400, DA9, Burson Timekeeper 3i
Loudspeakers: KEF Reference 3, Natural Sound NS-17, Audiomotiv Crescendo Uno
IEMs: FiiO FA9, FH7, FH5S, FD5, Meze Rai Penta, Rai Solo, LittleDot Cu KIS, Hiby Crystal 6 & others
Portable headphones: Sennheiser Momentum 2, Meze 99 Classics, Sony WH1000-XM4
Full-sized headphones: Hifiman Susvara, HE1000SE, Arya, HE400SE, Audeze LCD-4, Erzetich Phobos, Erzetich Mania, Kennerton Wodan, Magni, Gjallarhorn, Vali, M12S, Ollo S4X Reference, Apos Caspian, Sendy Peacock & Aiva
Interconnects: QED Reference (x2), Topping TCX1 (x2)
Speaker cables: Kimber PR8, Audioquest Type4
Power Cables: Isotek EVO3 Premier (x3)
Balanced Isolation Power Conditioners: PLiXiR Elite BAC1500, Elite BAC400