My Video Review:
Oftentimes I'm being asked which DAC is the best you can get at less than one grand. That is a very broad question that can't have a simple answer from my part, as I can't possibly know your music preference, your stereo or your headphone setup. In spite of everything, Topping D90 and D90 MQA were on top of that list for quite some time, because they could awake emotions while listening to music, they added fluidity and soul where Delta-Sigma DACs were struggling with and they had a great deal of technicalities, by sounding clean, detailed and noiseless all the time. When flames erupted at the AKM factory, I felt like watching the Chernobyl TV-series all over again. I had a gut feeling it would leave a bad mark on everything related to digital audio, not only on the D/A converters themselves that are carrying such silicon. Slowly but surely, audio manufacturers would be emptying their AKM stocks, without a chance of replenishing them anytime soon. Some on-line retailers skyrocketed the prices of remaining AKM stocks by tenfold! Affordable DAC manufacturers can't possibly survive or continue making such units, when a single silicon costs more than their finished products.
Some of the coolest AKM-based devices are starting to fade away into the history books, Topping no longer makes the legendary D90 and D90 MQA and I have a weird feeling that Santa Muerte is numbering the days of D70S too. Topping being themselves, couldn't just stand still, as others would be ripping apart a big chunk of their market share, they needed a replacement for their top-of-the-line and they need it Now.
Enter the newest Topping D90SE or Special Edition, but wait a minute…what is so special about it you might ask…Dropping AKMs in favor of ESS Sabre units doesn't sound so special to me, until I've opened it up and everything became clear as the blue sky. D90SE doesn't feel like a quick money grab, as for the first time ever, they redesigned from the ground-up its power supply, its voltage regulation, its clocking system, the I/V conversion and the output stage are on a different level, something that I have never seen on a Topping device. I now get what is so special about it, D90SE might have the same lettering, case and design cues, but I kid you not! This is next level; this is Topping 2.0 and it is happening right now.
In typical SoundNews (read: Overkill) fashion, I will be going deep into the rabbit hole, I won't go easy on it and in the latest chapters of this review I'll be comparing it with several top-class ESS-Sabre based converters, including a clash with its predecessor D90 MQA. Be sure to check that out and until that happens, let's unbox it and see what's inside.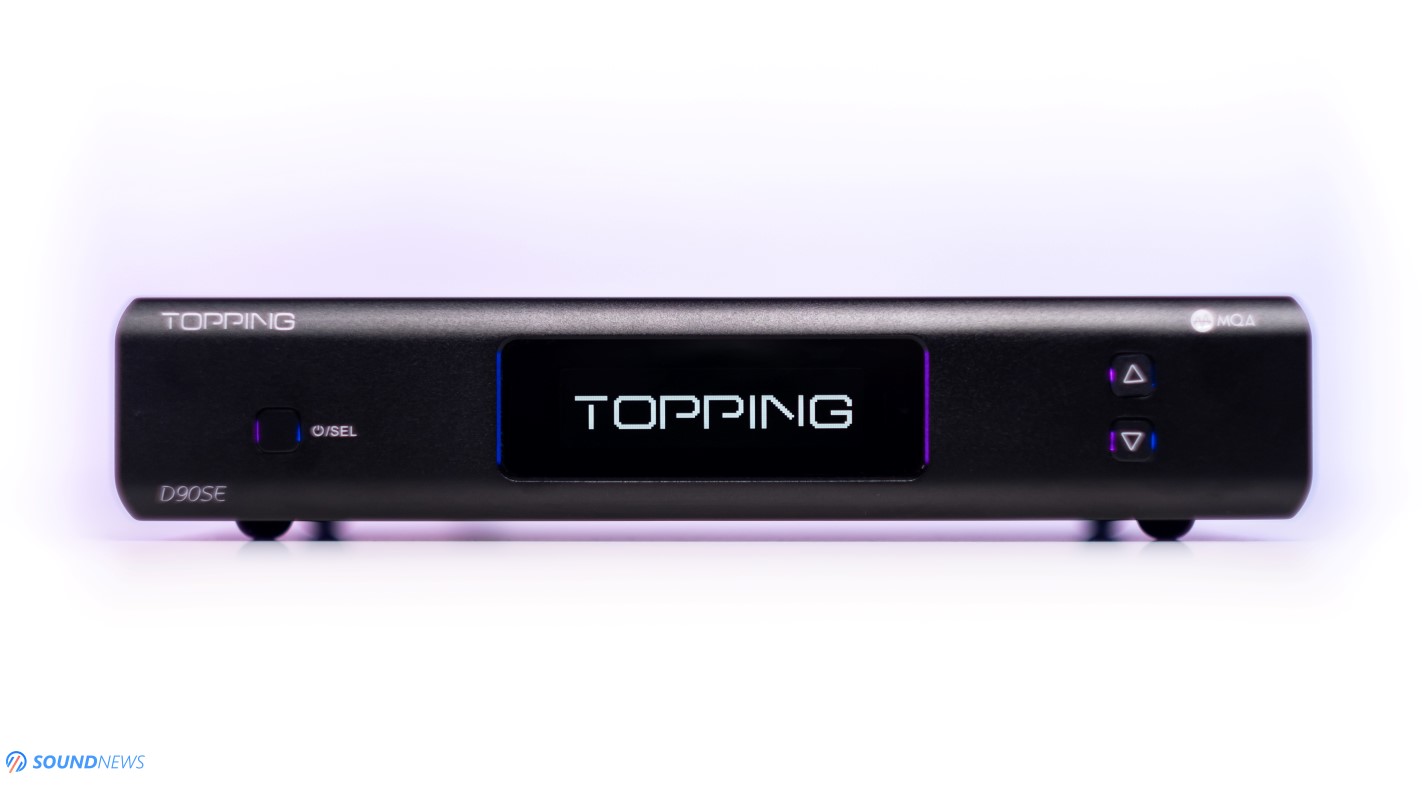 Unboxing Experience
There is one thing that Topping didn't change a bit to their former champions and that is their packaging and contents. As usual, it came double-boxed with a lot of foam for a better protection. In usual Topping fashion, there's an impressively detailed user manual that contains actual measurements as Frequency Response, THD, FFT Spectrum (noise levels), FFT Spectrum of all 7 digital filters, IMD Ratio, SNR and Dynamic Range. The same good old Topping RC-15A remote control is present in the box, there's a power cable, a USB Type-B cable, a Bluetooth antenna and a warranty card that doubles as a product catalogue. As with all their converters, there are some hidden menus that can be accessed by a combination of buttons or by the remote control, so I am recommending checking that out if you want to use it as a DAC only device (by default it will run as a DAC + PRE unit).
Design & Build Quality
I'll get straight to the point: D90SE looks exactly like a D90 and D90 MQA, there is just a different laser engraved lettering on its front panel, everything else looks exactly the same and that's a good thing, since I always liked the sleek and minimalist look of its predecessors. You are looking at an uni-body case that was carved from a single block of aluminum with two metal plates attached to its back and front. The frontal one is much thicker, a common practice in the Hi-Fi world to eliminate all types of wireless interference. The whole body has rounded corners and smooth lines, so you won't cut yourself or damage your precious equipment while handling them around. I find it elegant looking and when I'm not spotting screws, only on its back, that thing alone adds some sex appeal. I always liked the idea putting a display exactly in the middle, something that its competition didn't think of as of yet.
On its front plate you'll find just three buttons, that aren't sticking out too much, a monochrome OLED screen that can be dimmed or brightened and that is pretty much it. Its rubber feet were placed in 4 perfectly cut round spaces and those wouldn't budge when dragging it over your table. All markings are laser engraved and finally Topping removed the ugly 32BIT/768kHz DSD512 USB DAC lettering on its front plate, that was damaging the Feng Shui of its founding fathers.
There are two color options for it: matte black (my review unit) or matte silver and in both cases, it is equipped with a really high WAF. Weighting around ~1.1 Kg and measuring only 222 mm wide by 160 mm deep and 45 mm tall, D90SE is neither small & lightweight nor heavyweight & big, just right to be used in tight spaces. All in all, Topping always cared for the look and build-quality and that can be immediately felt while closely inspecting the unit.
Controls & Connectivity
D90SE has one of the simplest front panels I've encountered with digital audio. On it you'll find three buttons, the one to the left will power it On and a longer press will put it into the stand-by mode, once the unit is working a short press will let you chose its digital input. On the right you can spot two buttons that lets you navigate through its menu, or select a desired volume level if the preamp mode is engaged. In the middle there is a nice and bright monochrome OLED screen that will show a lot of important stuff as the selected input, output, the working mode (DAC or DAC + PRE mode), the sample rate, PCM of DSD data stream and the volume level if the preamp mode is engaged.
On the back all the nicer digital inputs are present as: USB, I2S, Optical, Coaxial, AES, there is a Bluetooth antenna socket too. Being a fully balanced DAC, it offers a pair of XLR and RCA outputs. Both are volume controllable or fixed, depending on the settings and you can even disable a pair of analogue outputs if you want. You really can't get a better connectivity than this.
Under the Hood of D90SE
At the time of writing, Topping didn't offer a spec sheet and didn't mention anything that would aid me in better understanding the unit and that is precisely why, the next minute my trusty iFixit Pro Tech toolkit appeared in my hands and I was already disassembling it.
After opening it up, it was clear to me that I am looking at something else, at Topping 2.0, as starting with power supply and finishing with the LPF (output) stage, everything felt new and completely different to what they were doing with their former flagships. This is a huge surprise and it's clear that Topping is developing this one for at least a year or two. This is not a quick money grab and sincerely I can't spot rushing on its PCB design.
That beautiful but unobtanium AKM 4499 DAC chip was replaced with an equally matched top-of-the-line ES9038 PRO 8-channel DAC chip of ESS Technologies. This is their best and most premium converter. Topping has already plenty of experience with this chipset, as they used it in DX7 PRO and its mobile variant is sitting in their D10S and D50S units. ES9038 PRO is a very interesting silicon, as it can work in mono, stereo or 8-channel mode with either current-mode or voltage-mode operation. Most ES9038 PRO designs that are I know of are using it in stereo configuration with a voltage mode operation due to a much lower cost, R&D and that is perfectly fine. However, if you want to squeeze maximum performance out of it, this particular silicon gives a lower total-harmonic-distortion if current mode is being used. This configuration adds a lot to the cost, as a powerful I/V (current to voltage) conversion stage needs to be built around the ES9038PRO. The better the I/V conversion stage is = the higher precision can be squeezed from the DAC chip and the same can be said about its operation mode, as in mono mode it will output a higher dynamic range.
For the first time ever in Topping history, they used eight (8!) OPA 1612A for the I/V conversion stage, meaning that all 8-channels of this DAC chip are being used. Meaning that D90SE performs an independent I/V conversion for all 8 channels and then connects them in parallel, squeezing the best this silicon is capable of. This is clever engineering that added a lot to the cost. As for the OPA1612 themselves, those are regarded as warm, smooth and natural sounding, exactly what a super-linear silicon like ES9038 PRO really needs. Another two OPA1612 with plenty of resistors around them are being used as VREF, offering an accurate temperature-compensated voltage value and a maximum current to the load. D90SE looks overkill, but in a good way, since they drained the last drop of performance from that ESS Sabre chip. Around those op-amps and the DAC chip itself, hundreds of high-precision (0.1%) resistors can be spotted.
For the first time ever two Accusilicon femto-second crystal clocks were replaced with four clocks of a different brand. I can't see the exact markings on them, but I'll go with a wild guess that those are Crystek femto-second clocks, most probably CCHD-950 series were used in here (I will be editing my article once D90SE is being released and I'll know exactly what are those).
Topping left untouched its Altera Max II FPGA that is working in tandem with its clocking system. An ARM CPU is also present and the (in)famous XMOS XU-216 interface takes care of the USB and I2S input. Thanks to the newest XMOS interface, to its high processing power (2000 Mips) and RAM size, D90SE is fully capable of decoding and unfolding natively MQA material. It can fully unfold MQA files stored on your PC or streamed directly via streaming services as Tidal for example. I was very surprised finding out that MQA files will be decoded natively not only via USB, but also via Optical, Coaxial and AES, which is a big novelty for me.
For a good Bluetooth codec support and stable connection, they went with the highest performance CSR8675 BT receiver from Qualcomm, that currently supports all the best codecs as AAC, SBC, AptX, AptX-LL, AptX-HD and LDAC. Bluetooth version 5.0 and that wireless booster (antenna) will make sure to play all your tunes even with two concrete walls between the source and the D90SE.
For the first time ever, Topping replaced its regulated and linear toroidal transformer with a Meanwell switching-mode power supply and while that might sound like a downgrade, Topping replaced its tiny voltage regulators with bigger and much higher-performance Mornsun 3W isolation transformers (DC to DC converters) that bypassed the need of big electrolytic capacitors. That's right, you won't find big ELNA or Nichicon electrolytic caps, as D90SE doesn't need any of that!
As you can see, the power supply and its filtering stages, its clocking system and its I/V conversion stage are brand-new, never to be seen in any other Topping device. Its output and I/V stage look a little overkill, there are more chips inside and that is why it will dissipate a little more heat, D90SE is indeed warmer to the touch compared to all their past doings.
Now, here comes a surprise which I am really excited about. By now, I've tested several power amplifiers with bookshelf and stand-floor loudspeakers that were driven by DACs with variable volume levels (with preamplifier circuits). From them all, the ones that worked best were those that could go higher than 4V on their XLR outputs, they were bigger and deeper sounding, had more flow to them, they were holographic and more natural sounding to me. I am extremely happy that Topping decided letting you choose the output voltage. It is either a 2.1V or 2.6V on its RCA output and 4.2V or 5.2V on its XLR output. If you want a nicer performance with your power amplifier, use the higher voltage output and call it a game. I sometimes drive a KECES S300 power amp, without a preamp in the chain and I always had a feeling that higher voltages from the source worked better. Okay folks, let's move on to some tips & tricks and then to the sound performance.
Tips & Tricks
Before going deep into its performance, I have some tips to share with you that will help you unleash the best sound quality out of your D90SE.
You can control it with those buttons on the face plate, but its remote control a few additional settings will be unlocked – this is why I recommend using the remote as much as possible and there is also a hidden menu which Topping buried deep into the user manual. To access it turn it Off completely (with the switch on the back), press and hold the select button on the front panel and while you keep pressing it, turn the power switch to On position and an advanced menu will appear, from which some settings are quite mandatory:
If you are using the D90SE in a headphone setup or if you already own a dedicated preamp in a speaker setup, I strongly recommend disabling the preamp mode, the setting no. 3 will let you choose between DAC mode (completely disabling its volume control, keeping it fixed at full power) or PRE mode.
If you use just a single analog output, RCA or XLR and don't use the second one, I recommend disabling the second output – it is setting no.4
If you don't plan on using the Bluetooth input, or maybe you'll use it casually from time to time, I recommend disabling the BT module – it is the setting no.5 from that menu
If you check the user manual carefully, the FFT Spectrum will show the measured difference of those 7 digital filters, out of those Filter 3 (default) and Filter 7 have the lowest ringing past 20 kHz. This is why I recommend using filter no.7 for a smoother top end, filter no.3 for more treble presence and if you need even more treble, go with filter no.2
Lastly, change its 0 dB level from 4V to 5V, so that you could squeeze a little more power out of your headphone amp or power amp – it is the setting no.12
If you plan on using the D90SE in a speaker setup as a DAC + Pre unit, just skip the first recommendation. By following these steps, you will be squeezing the last drop of performance out of your unit.
Test Equipment
I tested it in a high-end loudspeaker setup and also in a headphone setup. When I used it in the living room, I've tried it as a DAC + Pre unit and then only as a DAC, leaving the preamp duties to the Topping PRE90 or Benchmark HPA4. I've used a Keces S300 power amplifier, that was driving a pair of KEF Reference 3.
In the headphone setup, it was mostly connected to a Benchmark HPA4, driving several high-end planar-magnetic headphones and a bunch of dynamic headphones. Okay folks, enough with the talk, my ears are itching for some music, so let's hit some ear-drums!
Sound Performance
I. Preliminary Sound Impressions
After more than ten days of continuous burn-in, I finally opened two bottles of Trappistes Rochefort 8 that I was saving for a while, I've calmed my spirits and I commenced a long listening session, comparing it with its predecessor and also with my own Matrix Audio Element X…which by the way, was never beaten at its own game: telling the truth.
To say that I was surprised or stunned hearing a micro-detail that I never heard at around ~1 minute and 58 second mark on No Surprises by Radiohead (Qobuz / Tidal) would be a huge understatement! There is a brush stick that is gently touching a cymbal two times, repeating those two strokes several times throughout the track. That sound felt almost muted on Element X and on Gustard X26 PRO and it didn't exist on other converters, even on several ones that are costing 4 times as much as the little D90SE. I'll start with a Bang saying that D90SE is one of the most detailed and transparent sounding DACs I had the pleasure of listening at my place. When I'm engaging my detective skills, I am always doing that with the help of Hifiman Susvara being connected to the Benchmark HPA4…While I've heard Susvara sounding much better on some other amplifiers, on HPA4 I am hearing only the truth and the truth alone, which is crucial when doing reviews like these. If you think about it, D/A converts have a single but complicated job, bringing out everything from your music, they need to be 100% precise in their math, without adding coloration, distortion, noise or other artifacts. Easier said than done, as DACs are here for more than 50 years and they still aren't exactly 100% accurate in their conversion, but I feel that we are getting there closer and closer, year by year.
It is weird saying this for a device that costs less than one grand, but D90SE is indeed the embodiment of cleanness, of showing the last drop of information from your tunes. I am using 3 DACs on a daily basis and all of them are sounding quite different from each other, but the one that I am listening the most is Element X due to its highly detailed nature, putting the truth on a plate, above anything else. By some clever engineering, Topping was able to lift the last remaining veil between myself and my music. I'm serious, this is transparency in its purest form, just arm yourself with an equally impressive amplifier, loudspeaker or headphone and be amazed by how much more can still be picked-up from your music.
Some ~11 years ago when I've heard for the first time an MSB Analog DAC, I believed that I was listening through wolf years, there was so much more of everything, in such a relaxed and natural way and looking behind all my past experiences, I almost can't believe how much digital to analog converters moved forward. Not only those, Achromatic Audio Amplifier modules of THX and NFCA modules of Topping really pushed forward when it comes to dynamic range, by seriously lowering the THD to inaudible levels. If I needed to sell my apartment ~11 years ago for a high-end setup that could reveal close to everything, I no longer need to do that nowadays. Add a PRE90 to D90SE, a Benchmark AHB2 power amplifier, some transparent sounding speakers and you would be listening to the unspoiled truth.
Besides disappearing from my acoustic chain, leaving the music alone do its own thing, there is something else that not a lot of ESS-Sabre DACs can do effectively. Topping D90SE was never harsh, never bright in its presentation, it was never lean or boring and it never had a digital glare so to speak, something that I can't say about its smaller siblings like DX7 PRO or D50S. I was so stubborn thinking that only toroidal transformers could instantaneously pull current from the wall and deliver it promptly to crucial parts of its circuitry, without slowing down music and without shrinking the boldness and bad attitude. It seems that great engineering can save even switching mode power supplies, as I had all the bass I've wanted, all the midrange presence and the highest trebles, without making it thin, lifeless or plain boring sounding. I'm very impressed and I'm glad hearing this from a device people could afford at some point. This is high-end audio without compromises without killing your wallet for good.
II. Using D90SE in a loudspeaker setup
The newest Topping creation isn't using analog relays for a perfect volume matching, nor does it use a high-end stepped volume attenuator. In its defense, they lowered its noise floor to inaudible levels, so you can connect it directly to a power amplifier without increasing the noise floor or your setup. The output impedance stays rock solid at 100 Ohms on both outputs, making it a very good preamp to be used with a power amp. I've very happy that Topping decided to integrate a selectable voltage on its RCA and XLR output. If you're using it with power amplifiers, then the 5V settings will be offering a bigger headroom and a lower harmonic distortion. The slight increase of its voltage output is having a beneficial outcome not only in a loudspeaker system, but also in your headphone setup, since the amplifier that follows will work less, thus slightly reducing its total harmonic distortion. There are many amplifiers that were specifically designed to be used with higher voltages.
On its own, D90SE performed a little better to its antecedent as a DAC + PRE combo, due to a speedier presentation and to a tighter diaphragm control especially in busy passages. D90SE doesn't have an actual line-amplifier circuit inside, it works more like a digital-preamp or like a passive-preamp if you will. It performed great with my stand-floor speakers, immediately I've felt its character and its neutral tonality. It didn't add warmth or anything particular, as it wanted to disappear from my acoustic chain and let those speakers do their own thing. After adding a dedicated preamplifier like Topping PRE90 or Benchmark HPA4 into the chain, the sound became more focused and grippier. The bass started firing out of a canon, it was more powerful, better controlled and tighter sounding. Those preamps didn't add quantity anywhere in the FR, but they added quality like I have magically treated my room with acoustic absorbers and diffusers. The difference wasn't as big with bookshelf speakers like Natural Sound NS17, it wasn't as significant to warrant a preamp purchase.
III. Transient Response
Oohhs and Aahhs, this is my personal favorite chapter, so strap yourself in. When it comes to speed and impact of chip based oversampling D/A converters with delta-sigma modulators, there aren't better ones that would inflict a higher damage than ESS-Sabre based converters. All others have an unexplainable softness that could slow down the final outcome. Not on the ESS-Sabre's watch, as those are fast wild horses and in the hand of the right people, they could become hard slamming in the bass, merciless and extremely impressive in a loudspeaker or headphone setup. When I was visiting audiophile shows, people would always put slow and smooth music and I get it, I like that music too, but would you test a Bugatti while cruising at 50 Km per hour (30 miles / hour)? I don't think so. All DACs can sound slow, smooth and relaxed, but not all of them can be mean and aggressive, lighting fast and hard punching. Sadly, this happens not only with entry-level converters, but with high-end units as well.
Compared to everything Topping has done until this day, D90SE feels faster and more impactful sounding and that can be felt with headphones and speakers alike. I always felt there is a small gap in Topping's portfolio when it comes to transients, they were good…but not exceptional. This is going to change today, as D90SE crowned itself as their best unit when it comes to chest pounding impact. Transients are always fast, musical notes are going in and out in a split second, decays are sharp and it kept up with the most demanding tracks.
If you're into electronica and rock, D90SE would be right up your alley, it would be infusing a higher engagement factor and would never press the brakes. I never doubted its ability to strike fast and hard, it is boxing in lightweight category when it comes to speed and in the heavyweight division when it comes to hard punches. This is still an oversampling pulse-modulation ESS-Sabre based DAC and I wouldn't expect anything less out of a great engineered unit.
After volume matching it with my own Element X, I felt that D90SE carried the same weight in the bass, it moved as much air down low and created layers and sub-layers of bass. It presented a high-quality type of bass, while fully preserving on its quantity. I was head-banging like a mad-man on heavy off-beats, tummy-slaps, blistering riffs and baroque melodic motifs of Camel Dancefloor by Igorrr (Qobuz / Tidal). This unorthodox track isn't an easy listen for everyone, but if you wanna taste some of the newest experimental electronic stuff filled with avant-garde, baroque and grotesque, then please be my guest. Those dynamics and heavy bass notes exploded in my room, so much so, that I needed to go back to my headphone setup. I know this track pretty well and it isn't working that good on all D/A converters. Gold Note's DA-10 Plus is an outstanding all-in-one unit, but it wasn't made for tracks like these. Finally, there's a Topping DAC that wouldn't slow your system (of a) down.
IV. Detail Retrieval & Transparency
I believe I need to quote myself to reinforce my initial statement: "I'll start with a Bang saying that D90SE is one of the most detailed and transparent sounding DAC I had the pleasure of listening at my place". When doing tens of DAC reviews, this is a big and difficult statement to make, but it is all true. I'm listening to it for several days now and the shock-wave isn't as big three days later as it was on the first day, but I'm still rediscovering tiny nuances in tracks I never knew were there in the first place. The biggest shock comes when listening to music that I know for a lifetime and experiencing it exactly as clean, as vivid and as detailed as a 3 or 4-times costlier DACs and maybe even cleaner than that. This is easily the most impressive part about it and the biggest reason you're interested in it.
Using all its 8 channels in parallel, unleashed the true potential of this silicon. I've tried terrible and mediocre ES9038 PRO designs, there were several that stood out and only a handful of units elevated it to the next level and I'm happily adding the D90SE to this short naughty list.
If you're thinking about a high level of details in a clinical and stressful way, then please discard those thoughts as D90SE doesn't have any of that. Listening fatigue? None. Brightness? Forget about it. Thinness in the midrange and lifeless vocal performance? Nada. If I'm not having any of that with a dead-neutral setup as Hifiman Susvara, KEF Reference 3 and Benchmark HPA4, then all that simply doesn't exist on D90SE. Musical notes are just appearing and disappearing, without causing listening fatigue, it is kind of a sound that you want to listen to without thinking about technicalities or other things. One of the drawbacks with such a unit is that you can't multitask while listening to music with it. It happened so many times already, a new nuance would appear in a track and I would turn my head checking if someone came into my office. It wants you to hear everything, it shows all the details in a brutally honest way. Mastering errors can become a burden as you can't skip them, there is nothing to hide in the shadows, for me that is a big plus as this really differentiates a mediocre DAC from a high-performance one.
It is important to say that from everything Topping has made so far, D90SE has the highest signal-to-noise-ratio and dynamic range that are sitting at nearly 135 dB! Those numbers are challenging our hearing abilities and the best audio analyzers on the planet. If you're into measurements, this is The One.
V. Soundstage & Depth
Out of all Topping DACs, D90SE has currently the lowest noise floor sitting at just 1.1 uV on its balanced XLR output. As a small detour its precursor D90 has it at 2.5 uV, DX7 PRO at 2.6 uV and newer breeds like D70S have it at 2.0 uV. As you can clearly see, it dropped by two times compared to anything they've crafted, that boosted the signal to noise ratio and dismantled all road-blocks for the music itself. Secondly, a much higher channel separation on its XLR output of 140 dB also improves the perception of a 3D sound that is breathing, that is present on different layers, that can play not only to your left and right, but even from behind, below or on top of you. Thirdly, a DAC with an amazing bass performance like D90SE will be boosting the soundstage level of your equipment, as the sounds happening below 250 Hz will be traveling through furniture and walls, making it sound bigger.
Anything I've listened through it sounds open and wide, there is plenty of air traveling around, especially while listening to live records. If you have your system fully-balanced from input to output, then the final outcome is even better. In a loudspeaker setup, I was completely surrounded by sounds that filled every corner of my room, picking up notes out of thin air wasn't a challenge anymore. The air felt heavy and dense and after adding the PRE90 into the chain, driver control was improved, especially in the low-end, the images became clearer and sharper, depth was nicer as if the sounds were coming from behind the wall. If I'm playing live albums then more air is flying around me and if I'm playing regular tracks then everything would be happening a little closer to me. For D90SE, it was an easy task increasing or decreasing the stage size depending on the music that is being played.
It was a little unexpected comparing the D90 and D90SE and realizing that the newest unit sounds exactly as decompressed and ethereal as its precursor, which mind you was excellent in this department. D90 was already quite impressive in terms of scale, as it sounded as one of the widest AKM based DACs I had the pleasure of listening, yet the Sabre equipped sibling sounded equally impressive.
With all that said, when comparing it with higher tiered devices like Gustard X26 PRO and Matrix Audio Element X, D90SE wasn't on the same page, it wasn't as deep and as grand, it wasn't teleporting musicians in front of me as easily and this is probably the only con I can write about the newest Topping DAC.
VI. Noise Floor
This will be a very short chapter as pretty much all the newest generation of DACs are already very impressive when it comes to repelling mains noise or any other type of noise. I've added a Benchmark HPA4 into the chain, which is known to be noiseless with anything I've thrown at it, including ultra-sensitive IEMs. Connecting it to a passive power conditioner didn't change the noise-floor as I couldn't spot it in any configuration with a pair of IEMs. Putting it in my loudspeaker setup, adding the PRE90 or HPA4 and then a KECES S300 power amplifier didn't add grayness or hiss into the mix. KEF's UNI-Q drivers were absolutely dead silent even after approaching them closely. Considering those isolation transformers and well-designed power supply, I would be surprised hearing anything less than an immaculate performance in terms of noise floor. Adding a cell phone on top of it, didn't add hum/hiss and all I've heard was a clean, undistorted sound that didn't stay in front of the musical signal. Background was simply nowhere to be spotted, it was as black as it could possibly be, there weren't nasty gremlins playing at higher volumes, no grain, no grayness, nothing like that and no matter if I would be using headphones or speakers, I knew that I can rely on its clean and noiseless performance.
VII. Frequency Response
Even from the first minutes of listening, it was clear to me that I am dealing with a dynamic range behemoth that can pull out the deepest and the highest notes, that can drag into your musical nirvana, while preserving natural overtones and a rich tonality in the midrange…something their DX7 PRO and D50S couldn't execute at such a high level. I moved back to high-end planar-magnetic headphones (Hifiman Susvara), as they could show me a little more even compared to a high-end loudspeaker like KEF's Reference 3.
A. Bass
When it comes to bass, from their entire portfolio, D90 was by far their strongest candidate. It had all the quality and quantity you could possibly desire. I've compared that one even with some DACs costing as much as $5000 and D90 was still going strong when it comes to bass. D90SE is however a wilder horse, using a beefier I/V conversion stage and a better power supply implementation, releasing the Kraken when it comes to bass delivery. If you love your bass strong and authoritative, then D90SE is exactly what doctor prescribed. D90SE was impressive in the transient response department thanks to its outstanding bass performance. Be it sub or mid-bass, D90SE sounded effortless, layered, extremely detailed, without a trance of distortion. It was impactful and mean with the right gear. I was smiling all along when electronica music hit my playlist, as it went fast in and out, it was articulate and very textured. When Christian McBride started slamming his cello on Night Train (Qobuz / Tidal), I couldn't believe how much bass energy started moving from my left to right and the same happened when Ron Tutt started improvising on its drum kit.
B. Midrange
There is a wrong trend going on that ESS-Sabre units can't do midrange properly, but that is all wrong. With proper engineering, everything is possible. My Element X is a testament to that, Gustard's X26 PRO is also incredibly alive, dense and full-bodied sounding in the midrange, going against popular beliefs. When I've seen ten OPA1612A placed around that ES9038 PRO, I already knew that it would be sounding impressive in the midrange too. I've matched it with a dead neutral amplifier (HPA4) and headphones (Hifiman Susvara) on purpose and guess what? There wasn't a trace of thinness or listening fatigue. Voices were full of life, sending shivers thought my spine, violins and guitars cried emotionally making me hum to the rhythm of the music. Flag (Live) by Xavier Rudd (Qobuz / Tidal) sounded so incredibly smooth, oh so relaxing and easy going, I've checked again and yep, Susvara was still on my head and yet there was boldness, an unexplainable heaviness and a warm presence all over this track. Omegacoustic by Epica (Qobuz / Tidal) touched something inside me, their orchestra filled with exuberant choirs, transported me into fairy tales. Sirene's voice vibrated full of life, shining bravely throughout the album. D90SE is indeed an ESS-Sabre based DAC, but it embraces emotions and vivid colors, midrange's beauty is preserved and there's nothing more to add in here.
C. Treble
The top of the frequency range, carries lots of details, so no matter if treble is actually or virtually derived, it is absolutely convincing. There's confidence to the top end, but there's never a trace of hardness or grittiness. You can sleep tight, as D90SE isn't bothering with its trebles. There isn't glare, listening fatigue or a so called digitus. It was never clinical and obsessive and it never made me clench my teeth. I find it clean and expansive; it goes way past top octave and there are still driver movements happening up there. Leading edges are defined and extremely precise, cymbals and snare drums hits are aggressive and alive. Double drums on rock and metal albums went fast, those were perfectly executed, sending a nicer kick into my eardrums. D90SE pairs well with linear/neutral setups, it pairs excellent with smoother sounding equipment, hell it even works with bright sounding setups if you use the right digital filter (no.7). I have tried some of the brightest recordings I know of, I've used brighter sounding electronics and I was perfectly fine, still smiling and toe-tapping.
If you need a gentle treble roll-off and a bit of that R2R goodness, you might look elsewhere (their D70S is a good starting point) as D90SE doesn't have any of that. As far as frequency response goes, it is extended and honest sounding.
VIII. Bluetooth Performance
I have already tested Qualcomm's flagship CSR8675 Bluetooth receiver more than ~20 times already, not only on Topping products, but on many portable and desktop units and all of them performed equally well. Desktop units that are using an external antenna had a wider Bluetooth coverage since that works as a signal booster. My smartphone natively supports LDAC and AptX-HD data streams, it is also Bluetooth 5.0 enabled, so I will be squeezing the best D90SE is capable of via Bluetooth.
D90SE has a rock-solid Bluetooth performance, 2 concrete walls didn't pose a problem for it, even from a substantial distance. Several meters away and the signal was still going strong and only I moved to the balcony, with 4 concrete walls in between and 15 meters away, it started stuttering and losing beats. In an open space I've tried as hard as I could, but I never lost its signal. BT connection was always strong and it worked flawlessly in my case.
Sending music from my smartphone that was connected to streaming services as Qobuz and Tidal worked as a charm and LDAC codec sounded almost undistinguishable to its wired connections. Bottom line is that D90SE worked well with all Bluetooth senders, but it performed better with those that support BT 5.0 and LDAC codecs.
IX. Comparisons
Okay folks, it's time for a proper showdown between the best Topping DACs. To my right sits the good old Topping D90 MQA wearing silver shorts and to my left sits a young contender, wearing black shorts and smelling bad attitude from afar, give a round of applause for Topping D90SE! Ladies and Gentlemen, let's get ready to Rumble!
A. Topping D90SE MQA ($899) VS Topping D90 MQA ($849)
Both units share the same bodies and footprint, they look absolutely the same with a minor difference that D90SE is a little lighter since it doesn't use a regulated transformer anymore. As far as inputs and outputs go, you can't differentiate them as they have them all.
However, on the inside a very different story is undergoing, as they use different DAC chips, op-amps, I/V and LPF stages, clocking system, voltage regulation and power supplies are all very different. With D90SE everything is dialed up to eleven, noise levels went extremely low, dynamic range went high and so far, this is their best DAC yet.
When it comes to features, its predecessor can decode natively MQA files only via USB and I2S, while D90SE adds those capabilities to its optical, coaxial and AES inputs too. The biggest difference between them is that D90 will output 4V at max power via XLR and the newest one can output a hotter signal of 5V via XLR. This fact alone is more important than you might think. If you are using headphones, some amplifiers would be working much better (SMSL SP400 is a very good example, Burson Soloist 3X and Singxer SA-1 are also working better with a hotter signal) and the same can happen in a loudspeaker setup. By now, I've used a dozen of power amps and it so happens that those that could go higher than 4V via XLR, sounded livelier, bigger and deeper to me. The only reasonable explanation is that power amplifiers like to have a bigger headroom, so they could better control the speaker diaphragms. There is a reason some DACs can go as high as 15V on their XLR output, completely bypassing the need of a dedicated preamplifier. Rockna and some Matrix DACs can achieve those voltages.
Before any listening, I've set the voltage on D90SE at 4V, so I wouldn't need to volume match them. I've used the same power cables, the same interconnects and USB cables for both devices.
The most shocking difference is that both units don't sound that different from each other, as their components might suggest. Topping used neutral sounding op-amps with a velvety sounding AKM chipset on D90 and vice-versa, smoother sounding op-amps on a dead-neutral ESS chipset on D90SE, arriving at the same finish line. While their tonalities are very alike…there is still a minor difference that can be perceived with nicer headphones or loudspeakers.
D90SE had a better bass impact and overall a nicer transient response. I don't find the D90 soft or slow sounding at all, but D90SE was going a tad quicker and moved more air in the bass. Especially with electronica and rock tunes, it became obvious that D90SE sounds more engaging and visceral. After several minutes, I've observed that additional details starting appearing on D90SE's radar, that were completely stealthy on its predecessor. I've discovered a brush stick hitting a cymbal on No Surprises by Radiohead (Qobuz / Tidal), that was much lighter, almost muted on the D90. On Que Sera Sera by Pink Martini (Qobuz / Tidal) the triangles had more nuance and a sharper contour on D90SE. The leading edges were impressive, everything that has to do with higher registers, had more contour on the D90SE. Again, the difference wasn't huge, but it was there with Hifiman Susvara that were capable of showing me those tiny nuances.
Listening to more and more music I've observed that D90 was going by a hair smoother and it was more relaxed, highlighting the innards of the midrange while rounding just a little the frequency response…exactly where D90SE felt more extended and more complete in a way. There was a little more bass and additional treble information, revealing a higher degree of detail to its forebearer. D90SE felt like a transient monster, always going fast and hitting hard, while D90 was a kinder creature, slowing down just a little with my electronica music.
When it comes to soundstage and depth, I couldn't differentiate them in my headphone setup. Only when I moved to a loudspeaker setup and changed the voltage to 5V on D90SE, it felt like having a better grip over the low-end. It had faster decays and an iron grip over the sub-bass territory, which wasn't as tightly controlled on the discontinued DAC. After adding the Topping PRE90 into the chain, the difference shrunk by a lot and I was only experienced a wider frequency response and a better transparency on the newer unit.
I'm impressed that Topping nicely filled the remaining gaps, added additional features and raised its performance higher, while making it just a little costlier. You should ask yourselves if the switch is worth it or not, but if you never tasted a high-performance DAC, maybe now is the right time as D90SE just become my no.1 DAC at less than $1000.
B. Topping D90SE MQA ($899) VS Matrix Audio Element X ($3419)
I know, it's crazy comparing a TOTL all-in-one unit with just a DAC that has preamp capabilities, but why the hell not? They have a lot in common as far as internal components go and maybe they can even sound the same. As a preamble, I'm using the Element X for about two years now and while I've heard DACs that had a better flow, some nicer textures, that could look directly into my soul, those weren't as detailed and transparent as Element X was and that is why it always stood by my side no matter what. Plus, when you're doing amplifier, headphone or loudspeaker reviews on a weekly basis, you really need the most honest sounding source that is dead-neutral and transparent to its core.
There isn't much to say about their appearance, one is small and light and the other is huge and heavyweight. They both look nice to me; their casing looks exceptional. When it comes to features, inputs and outputs, Element X is on a much higher level, as I just need my smartphone, a Qobuz or Tidal subscription and I can start listening to music. Can't wait to see a proper streamer being released by Topping at some point with an Android and iOS support, that would be something.
On the inside, they are using the same DAC chips, I presume the same clocking system. I don't know for sure if D90SE uses Crystek clocks, but they look like them. The power supply and the volume control are more advanced on Element X, but Topping added two isolation transformers that lowered the noise floor to inaudible levels.
Before doing my listening tests, I needed to volume match them, since D90SE is outputting 5V on the XLR and Element X a weaker signal of 4.5V. For that I used a MiniDSP E.A.R.S. system and a 300-Hz sine wave. E.A.R.S. detected a difference of exactly 1.4 dB, that was corrected by the help of the Benchmark HPA4. As usual, I have used the same power cables, the same interconnect and USB cables.
I was comparing them for about 20 minutes, then another 20 minutes passed and I honestly couldn't differentiate one from the other. I've went to sleep, so I could continue my quest in the morning. I'm again spotting exactly the same tonality, both are going neck in neck when it comes to frequency response and transients. They sounded as mean, as fast and as hard slamming. I've had an eureka moment when the same track by Radiohead appeared on my playlist. The brush stick was waving in front of me, while being less clear on the Element X. I couldn't believe this, so I have asked my beloved to try the same passage and she confirmed my findings. D90SE was indeed by one percent clearer and more transparent sounding, I couldn't believe my ears that my champion was not only challenged, but overthrown…The difference is so tiny, that with less than perfect recordings and in a less revealing setup, I couldn't differentiate them.
When I moved to a loudspeaker setup, leaving them work as DAC + Pre units, I finally calmed myself as a much nicer volume control (relay based) and a proper preamplifier section (up to 15V of pure analog gain) on Element X was shining like a bright start. My speakers disappeared, there was just music and nothing more, musicians were playing just for me in an effortless and natural way. D90SE (without the PRE90) was a little reserved as far as dynamics go, it didn't push those drivers to their limits, something was pressing the brakes making the whole affair smaller, almost bi-dimensional. I'll tell you this: If you are a headphone user, then D90SE is an outstanding DAC that would hard to beat at its price point. If you don't care for headphones, then I would add a Topping PRE90 immediately after the D90SE, making it disappear and just beautifully, bypassing all the cons I've mentioned before.
As a DAC only device, Topping D90SE exceeded my wildest expectations. Could this be the most transparent and detailed DAC I ever heard? It just might.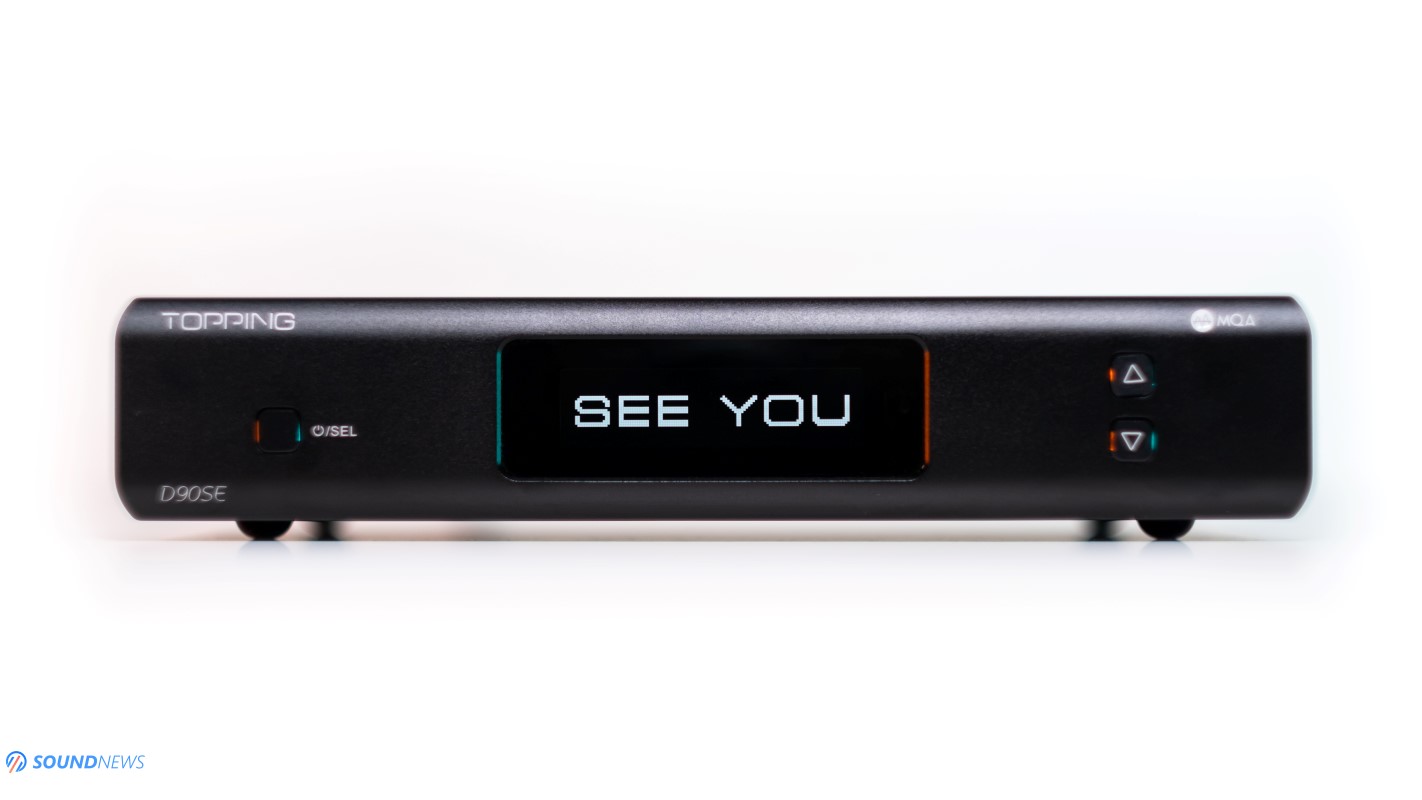 Conclusion
Once again, Topping proved that high-end sonics with little to no compromises can be achieved with as little as $899. D90SE will be knocking out plenty of DACs from now on, to be more specific it just outperformed all DACs that I've reviewed in the last 3 years, with just 3 exceptions! I know plenty of audiophiles that are measuring audio performance by looking at their price tags, I did that mistake myself several times, but I won't do it again. A Ford can't outperform a Bugatti, right? But with audio, the same rule doesn't always apply, as an absurd price doesn't guarantee outstanding sonics.
Topping D90SE was a huge turning point for me, a real eye-opener and I hope it would do the same to you. Always listen with your heart, with an open mind and never with your wallet. I really like that they let me choose a 4V or 5V output, they made it MQA proof on all its digital inputs (except for I2S), they shelved its noise floor to inaudible levels and boosted its transparency to the stratosphere. You probably guessed which DAC I will be recommending from now on at less than one grand, don't you?
Topping D90SE fully justified our highest Gold Award as it performed like a TOTL DAC from any point of view. Congratulations to the team and I'm looking forward to what's coming next!
Topping D90SE was kindly provided by the fine gents of Apos Audio, it can be purchased from their web-store by following this link (They offer free shipping in the USA and Canada, free 45-day returns in case you don't like it, an extra year of warranty and lowest price guarantee).
PROS:
Beautiful and sleek looking device
Some of the best specs I've spotted in a D/A converter
MQA now works natively with 4 digital inputs
Selectable voltage outputs is a very usable feature
Holographic, airy and quite 3D sounding
Precise pin-point location of the notes, great imaging
Linear and super-extended frequency response
Detail retrieval and transparency incarnate, it will reveal everything from your music
Lacks a noise floor, one of the blackest backgrounds I've experienced with digital audio
Speedy transient response, highly engaging
Impressive when it comes to dynamics
Fuller and warmer sounding to regular ESS-Sabre designs
Decent preamplifier section
Great connectivity
An outstanding value!
CONS:
Not as grand, open and wide sounding to the best ESS designs.
ASSOCIATED EQUIPMENT:
DACs: Topping D90SE, D90, D30 PRO, Audiobyte HydraVox & HydraZap, Matrix Audio Element X, Gold Note DS-10 Plus & PSU-10 EVO, Musician Aquarius, Gustard X26 PRO, Gustard X16 & others
DAPs: FiiO M11 Plus LTD, M11 PRO, M15, Shanling M8, M6, M3X
Headphone Amps: Benchmark HPA4, Singxer SA-1, Flux Lab Acoustics FA-10, Burson Soloist 3X, Musician Andromeda, SMSL SP400, Topping A90, A30 PRO, Gustard H16
Power Amps: KECES S300, SMSL SA400
IEMs: FiiO FA9, FH7, FH5S, FD5, Meze Rai Penta, Rai Solo, LittleDot Cu KIS, Hiby Crystal 6 & others
Portable headphones: Sennheiser Momentum 2, Meze 99 Classics
Full-sized headphones: Hifiman Susvara, HE1000SE, Arya, HE400SE, Audeze LCD-4, Erzetich Phobos, Erzetich Mania, Kennerton Wodan, Magni, Gjallarhorn, Vali, M12S, Quad ERA-1, Ollo S4X Reference & others
Loudspeakers: KEF Reference 3, Natural Sound NS-17
Interconnects: QED Reference (x2), Topping TCX1 (x2)
Speaker cables: Kimber PR8, Audioquest Type4
Power Cables: Isotek EVO3 Premier (x3)
Balanced Isolation Power Conditioners: PLiXiR Elite BAC400