My Video Review:
One of the most mysterious DAC manufacturers from China is surely S.M.S.L Audio. We already tested some products made by them, more exactly 3 DACs, a headphone amplifier and an integrated amplifier. Funny thing is that most of them looked so different, that I would never guess S.M.S.L is behind all of them. I've said it multiple times and I will say again that brand identity is important, it works like free marketing. I only need to look at the shape of Aune or Topping products and I will instantly recognize their brands. That is not happening with SMSL, as most of their products have different shapes and I wish they would choose one single form-factor and stick with it. Their M400 DAC completely changed my vision, as it looked like a modern digital to analog converter that I could easily mate with a preamp and power amp in the living room or with smaller electronics in a headphone setup. It had a nice LCD screen, an easy to use interface and a normal shape that could blend with the rest of the gear sitting on a table or in a rack. Their newest SU-9 DAC that I will be testing today borrows some design cues from M400 and that is a very good thing in my book. I'm seeing a pattern in here, hopefully they next devices will remain this way and elongated or angled metal boxes will be a thing of the past.
I might be complaining a little about their looks, but when it comes to sonics and high-value, SMSL is very much among the best ones in the business and that my friends is a fact. Remember that their M500 DAC was the cheapest converter that offered full MQA decoding, an all discrete headphone amplifier at only $499 that recently dropped to all-time low $399! None of its competition were able to offer the same features at the same price point.
SU-9 DAC that I will be testing today is also one of the most affordable DACs capable of fully-unfolding and natively decoding MQA files, it has the best Bluetooth receiver on the market, the highest performance commercial DAC chip, an easy to use interface via its LCD screen and everything is wrapped with a $439 price tag. As usual, I will be approaching this unit as a critic, but also as a music lover and will be commenting on everything I find useful to share with you.
Unboxing
It is already a standard seeing everything double boxed and filling the product box with lots of foam for a better protection during shipping. SU-9 is quite small looking and it is lightweight too, I'm pretty sure it doesn't have a linear toroidal transformer inside. Besides the unit itself, you will also find a USB Type-B cable, a power cord, a Bluetooth antenna that works as a signal booster and a standard SMSL remote control which I've seen multiple times already. There is also a warranty card and a very detailed user manual in English will guide you through its user menu, will address its digital filters and will explain how MQA is working – do check it out, it is very informative. If you are using a PC with it, please download its USB drivers from here and install them before using.
Design & Build Quality
I have to mention that SU-9 is among the very few SMSL units which I like its look and form factor. It does not have an odd shape, an elongated body, a tiny screen or a weird volume knob, so SU-9 is already going into the right direction. It looks like a matte-black metal brick, it is milled on a CNC machine with just two panels on top and underneath attached to it. Its body has a thickness of about 3.5 mm, so wireless interference shouldn't be a problem at all. The front panel houses a glass sheet with an LCD screen behind it. The volume knob feels considerably better compared to their SP200 and M200 with less wobbling and slightly higher resistance. There are 3 rubber feet underneath the unit and if you have heavier power cords as I do, it might lean to the right. You can separately buy few additional rubber feet, detach the one in the middle and put two in the corners so it will not wobble on your table. I find the build quality really nice and I have close to zero complaints. SMSL moved most of its screws on the back and under the unit, so it would look much cleaner. Under the unit, I am spotting an unknown 7-pin connector, I presume that SMSL will soon unveil a device, maybe a full-fledged streamer that can be docked to SU-9. SMSL didn't mention it anywhere, pretty curious about this one. Everything else looks nice, everything is secured tightly, nothing is wobbling with 4 feet instead of 3, it looks clean and minimalist, with a very high WAF factor.
SMSL is offering it only in matte-black and at only 800 grams or 1.75 pounds it is in the lightweight DAC division and you could easily place it in very tight spaces, in a killer headphone setup, you can hide it just below your TV if you want, or on top of your gaming console or Blu-ray player – in this regard it is very versatile.
Controls & I/O
SU-9 has a clean looking front panel, with just a volume knob that works as a menu navigator, plus an LCD screen in the middle makes it quite a looker. LCD screen is moderately big, but thanks to its bigger lettering you can clearly see the volume level and the selected input from afar.
On the back you can spot a trio of digital inputs as USB, Coaxial and Optical, a Bluetooth antenna socket, an AC inlet and of course a balanced XLR and a single ended RCA output. Both outputs are working at the same time and you can have them fixed or variable.
Menu Options
All the features of SU-9 can be controlled via its remote control or via the volume knob that doubles as a joystick for its menu. In the stand-by mode a single press on the knob will power it on and another press will enter its menu where you can select:
Input – USB, Optical, Coaxial and Bluetooth – very straightforward
PCM Filter – you can select your desired digital filter that are built-in directly in the ESS Sabre DAC chip, there are 7 filters to play with, but the sound difference between them is slight at best
DSD Filter – 47, 50, 60 or 70 kHz Cut Off – for the most natural sound choose first option, for the most extended sound choose the latest
Sound Color – Standard, Rich 1,2,3, Tube 1,2,3 and Crystal 1,2,3. I like the standard one the most, but if you would like to alter its voicing, there are plenty of options to choose from.
PRE Mode – Volume Fixed or Variable, if you will be using it as a DAC only device, leave it at Fixed.
DPLL Bandwidth – 15 positions, 7 is the default one. A higher number you select – the higher Jitter reduction would be, leave it in the default position.
Brightness – 6 positions, lowest one is almost dimming it completely
Reset – back to factory settings
Version – will show your hardware, software and USB version.
Most of these settings are set and forget, but thumbs up for implementing such a cool user menu.
Tech Inside SU-9
SMSL are quite proud about this one as they included one of the best chipsets you can find right now on the market. At its core, stays an 8-channel ESS 9038 PRO DAC chip that will be providing a true balanced output. 9038 PRO is making the best team with their own voltage regulators, so ES9311 was used in here.
I've spotted 4 crystal clocks – that is a higher number than usual, most probably 3 of them are used for PCM material and one for DSD material. I'm not sure what op-amps were used for the input buffer stage, but the output stage is based on three natural sounding OPA1612 op-amps. These are dual op-amps, so a single one is enough for the RCA output and two of them will be driving the XLR output. I've experienced OPA1612 multiple times, these are some of the warmest sounding op-amps, they are part of the Burr-Brown Audio line – the highest performance series of Texas Instruments. I already have a feeling that SU-9 will not sound dry or linear at all.
SMSL went with the fastest XMOS chipset that will handle incoming USB signals, it is the famous XU-216 (2000 Mips) that is recommended for MQA playback, that Matrix Audio and Topping did also use in their MQA capable DACs.
SMSL also included the newest and the highest performance Bluetooth receiver that is supporting all Bluetooth codecs available as SBC, AAC, AptX, AptX-HD, AptX-LL, LDAC and UAT for up to 1.2 mb/s data transfer and up to 192 kHz sampling frequency. Thanks to version 5.0 and to its external Bluetooth antenna, the signal should be strong and reliable even with few concrete walls between the sender and SU-9.
I'm also spotting a nice AC filtering stage, plus an encapsulated ultra-low noise power supply that will be replacing a toroidal transformer. I've seen the same power supply in their SP200 and M200 where it was dead silent and noiseless even with the most sensitive loads.
There is a decent number of metal-capacitors for power storing, their size is not that impressive so I'm not that sure if I will be experiencing a really nice punch into the chest in a speaker setup, will see about that soon.
All in all, there are small compromises that needed to be made to achieve such a low price point, but its digital and analog sections are looking very good, so I'm expecting some nice sonics out of it. So, what are we waiting for? Let's dive in and listen to some tunes!
Sound Performance
I. Preliminary Impressions / Timbre
I've unpacked it, connected it to Benchmark HPA4, put the Kennerton Wodan on my head and without any burn-in, I've started my morning routine. Coffee didn't do much, I was still sleepy as hell, next step was of course unleashing the heavy artillery. I couldn't believe my ears how much raw and mean energy was emanating from this small thingy that was looking more like a midget next to bigger digital sources near it.
From my past experiences, Benchmark HPA4 is liking a hotter signal than the industry standard 4V via XLR, Element X is outputting 4.5V and that makes HPA4 slightly bolder and harder slamming. SMSL thingy is outputting a stronger 4.7V via XLR if I am disabling its preamp and the next minute, I was having goose bumps all over my body. It punched way above its price point and weight class. Is this Vasyl Lomachenko of the DAC world? It could possibly be. I was underwhelmed when I've seen it first, it was too small and lightweight – first sign that it doesn't have linear transformers inside and sincerely I don't get it how SMSL did it, but its slam and impact didn't lack at all. Wodan are not the fastest headphones I have around and yet they were pounding my ears with an incredible force. Unwillingly I was air drumming and air guitaring, playing ghost instruments only for myself (thanks Odin nobody saw me). The amount of bass and midrange presence was through the roof in this one and I am still contemplating what is causing this.
We are not talking about a linear and straight as a line DAC, not at all. We are talking about probably the warmest sounding ESS-Sabre based DAC I've heard of late. It has incredible textures in the bass and midrange, all my attention was moved in here, my mind and ears were all focused mostly on its naturalness and flow, I was simply flooded with positive emotions. With all my tunes, it was dancing like a butterfly but stung as a bee when music demanded higher dynamics.
SMSL SU-9 is without a slightest doubt a warmer sounding DAC, that is more about emotions, body hits, about making you move while you listen to your music, instead of analyzing it. It is very weird writing these words about a D/S DAC based on a flagship ESS-chipset, because normally I would attribute such words to a well-made R2R DAC. The next seconds I was thinking about that monstrous 15 kilo Audio-GD R7 2020 Edition, that sounded exactly as mean, ballsy and authoritative. The only thing that was missing in here was that unlimited soundstage that was hitting some imaginary walls with SU-9.
I'm most impressed by midrange density and if a DAC manages to render that correctly, there is a huge chance of having an amazing tonal balance. SU-9 is a midrange focused DAC, it is incredibly meaty, dense and full-bodied in here, that even bright sounding speakers and headphones will start sounding much smoother and alive. Preliminary impressions are very positive and sincerely it exceeded my expectations. I couldn't stop from wondering if a linear transformer would further improve its slam and impact…we will never know. On a second thought, a device like that already exists and it is called SMSL M400. In all fairness, SU-9 is not sounding like a device that cost less than half a grand, oh boy, it is far from that and can be easily compared with much nicer digital to analog converters.
II. Noise Floor
I see that no one tested its noise floor and IEM compatibility and since SMSL didn't publish it in the manual or on their website, it was mandatory putting it under a magnifying glass with few IEMs checking if gremlins are living inside its case.
For this task I'm going to use the Benchmark HPA4 which at maximum volume (0 dB – unity gain) has an inaudible noise floor with ultra-sensitive IEMs, it is simply the best candidate for this job. The most sensitive IEMs I have at my disposal are FiiO FA9 in their low-impedance mode (16 Ohms / 113 dB per 1mW). I paused my music and went completely full power to 0 dB and SU-9 managed to be completely free of any noise. In this regard, SU-9 performs exactly like the best DACs, including those costing 10 times its price.
I redid my tests in a speaker setup connecting it directly to a KECES S300 power amplifier. In this case SU-9 worked as DAC and preamplifier, luckily a remote is coming in the package which was really helpful in a setup like this. Buchardt S400 are sensitive loudspeakers and don't need huge amounts of power to be driven. S400 are sensitive to noise coming from both the source and amplification. I paused my music and I went almost full power, just to experience the same noiseless and clean performance. SMSL really outdid themselves with this device, as besides being a very natural performer and an impressive eardrum kicker, it is also dead silent with my headphones and speakers. I redid my tests with its optical and coaxial input in the living room and to my surprise both seem as clean and free or any jitter, which is pretty amazing as lots of people are using their DACs with a Chromecast Audio, a gaming console or digital receiver and SU-9 should work flawless with any of them. In the end, SU-9 performed really good in here, it was simply dead silent with loudspeakers and headphones alike.
III. Transient Response
This is by far my most favorite chapter to write about and since listening to Agnes Obel didn't increase my dopamine level that much, naturally some harder slamming music will be needed.
Buchardt S400 loudspeakers are sounding extremely well in their price category, yet they are no match for the speed and punch that is coming out of a Hifiman Susvara, Audeze LCD-4 and Fostex TH909, so most of my listening was done via three pairs of headphones.
Buddha Bar VIII by Sam Popat is a well mastered album with a multitude of sounds coming from different places. Normally I would use a song like Istanbul 1:26 AM (Tidal / Spotify) to test the soundstaging capabilities of a loudspeaker or headphone, but the amount of slam coming out of this thing makes even a song like this very engaging and alive. There are many things happenings in this song, yet I locked my hearing on those snare drum hits and tambourines. I could never imagine that that I will be enjoying oriental music that much, those instant attacks and decay of these notes were so mesmerizing that I couldn't look away. I was surprised that every note was defined and really outlined, tambourines sounded extremely snappy and engaging. It never crossed my mind that I would be tapping my feet on a relaxed song. In the middle of the song, there are some afro-cuban bongo drums on my left, a saxophone in the middle and a tambourine on my right, all sounded so defined and so far away from each other, there is simply too much air between them, yet none of those instruments are losing energy and tempo.
Increasing the pace with some R.AT.M. – Know Your Enemy (Tidal / Spotify) the bass notes were so obvious even from the start, it was almost too much bass, too much impact and body hits. At 1:41 mark, I was toe tapping like I had double drum pedals under my feet and a huge spike of positive energy went through my spine. As I have mentioned before, SU-9 is a natural hitter, it doesn't want to be linear, straight as a line, it doesn't follow those rules. It's very mean in the bass and midrange section, brutal at times, raw around the edges, unsophisticated, messy and aggressive, but when it's time to land some well-balanced hits and decay everything in an instant, as it does that with its chin up like it's nothing. SU-9 is not the most refined and smooth sounding digital source, nor the most detailed one, it always presses the gas pedal, it's like you best friend that always looks for a fight after a drink or two. It is brutally impactful and hard hitting and I love it for that!
IV. Resolution & Transparency
Attach a transparent sounding amplifier to it, be it a power or a headphone amplifier and SU-9 will be showing it truest form and identity. I'm reminding that I am still listening to an ESS 9038 PRO based DAC, with 4 dedicated crystal clocks for all possible sample rates. It might carry a warmer tonality, a nicer slam in the bass and a deeper vocal performance, but it also sounds clean, defined and transparent. A lot of these chapters are interconnected, for example speed and decay are directly connected to its transparency. Since we have instant dynamics swings and fast decay, not a lot of things are staying in the signal path. SU-9 is a detailed sounding DAC and it will show small details and nuances in your music.
Chocolate Chip Trip by Tool (Tidal / Spotify) is an amazing song to test the pin point location of all the notes around you, a very good song to test the soundstage of your room, but also a nice track to test the micro-details and smallest nuances in your setup. The drumming part is absolutely amazing, I am always mesmerized by the cleanness of the drum solo. Every single hit felt visceral, clean, super defined and outlined. There isn't a slightest trace of muddiness or veil in here. SU-9 presented itself brutally honest, everything felt extremely detailed sounding, even the slight beeping sound in the right channel was not hiding at all.
Money For Nothing by Dire Straits (Tidal / Spotify) has one of the cleanest backgrounds I've experienced in digital audio with an inaudible noise floor. Its intro is simply legendary and it will put to test even the best converters. This song has one of the highest dynamic ranges recorded in a rock track and if hair is not raising on your hands or on your spine, double check your electronics, speakers or headphones. This song worked as magic for me, its higher midrange presence, a slight bump in the bass and its transparent note delivery was exactly what I wanted to hear. SU-9 rendered it perfectly and there is nothing more to add.
Overall, SU-9 offered a higher transparency compared to midrange DACs and a mind-blowing detail retrieval that I was not expecting at this price point.
V. Soundstage & Depth
As a general rule of thumb from the flock of D/S DACs, the ones based on ESS-Sabre chipsets will sound more up-front, cozier and smaller compared to the rest. R2R DACs and FPGA DACs are pretty much the absolute rulers when it comes to things like stage size and imaging. With all that said, with a lot of work, tinkering and experimentation, you can make a D/S DAC sounding big and stretching wide in all directions, but that is not the case with the smaller SU-9. The stage size is not grand, is not upfront, it isn't collapsed and I am not experiencing claustrophobia while listening to it, but in the same time I do feel it sounding by a hair less expanded and wide open as pricier units would sound. With headphones this effect is considerably less apparent and I wouldn't be worried at all as it didn't limit the stage size of my headphones, they are still sounding exactly as I remember them.
In the living room, it was clear that the lack of a true line-amplifier (preamplifier) in SU-9 and probably the smaller number of capacitors didn't push the sound that far from me. Please understand that I am exaggerating a bit, I am still enveloped by music and sounds are coming from different angles, but the void space between each note is smaller and there is less air in the room. I actually liked this effect with rock and electronica, but disliked with jazz and blues which are already recorded in busy places.
However, do note that wide sounding albums like live concerts, orchestral work, soprano voices and others were not botched at all, only by a hair those sounded more intimate, closer to me, some voices felts like whispering directly into my ears, spooky at times but enjoyable nonetheless.
You And Your Friend and Brother In Arms by Dire Straits (Tidal 1 / Tidal 2 / Spotify 1 / Spotify 2) are very good examples. The smooth approach of both songs remained intact, there is a still a natural flow in both songs, notes are well spread and separated and there is plenty of air around all of them, but I am sitting by two rows closer to artists and everything seems even more visceral and impactful at the cost of smaller stage size and of lesser air flying around me.
I want to be clear that SU-9 will still increase and decrease the stage size depending on the recording and gear used and if a record is meant to sound big and airy, it will sound that way with a small decrease of its size compared to top of the line DACs. Some bigger capacitors and a nicer power filtering would not limit the soundstage size and if that is crucial to you, look no further to the SMSL M400 DAC.
VI. Frequency Response
I've moved back to listening to high-end headphones that are capable of going to the lowest and highest octaves, something that Buchardt S400 cannot provide even out of the best amplifiers.
SU-9 feels ballsy, mean and rebel in the bass region, it is extremely good in here, I almost want to call it a bass heavy source, but that is not the case. It simply increases the perception of slam and impact in this region, something that is incredibly pleasing with some particular music. I've heard the lowest 20 Hz notes, it was able to sustain them nicely if the song would ask for it. Lightning fast tunes were never pressing the brakes and SU-9 was able to keep up with double drums, snare drums and electronic vibes. Not going to lie that I really enjoyed the hell out of it with meaner sounding music, it simply called my name and SU-9 delivered all the raw energy of said music. Mid-bass is exactly the same, slightly elevated and louder sounding, always asking for the attention of the listener. The spotlights are redirected to its bass section and it was able to improve the performance of some headphones. For example, Hifiman HE400i are no longer having a gentle roll-off in the bass, on the contrary they are now punchy and super defined in the bass, feels like I have applied a gentle EQ curve in here. A very welcomed addition with some particular gear, bookshelf speakers have a lot to gain from a source like this.
Those bipolar op-amps can really transform a D/S DAC into a non-D/S one. The midrange was also improved tremendously, the voices felt heavier, guitar players swapped their amplifiers with nicer ones, violins were weeping with more emotion and voices would never pass unnoticed. Everything in the mid-section felt more defined, meatier and heavier sounding. Again, this is a very pleasant effect with some particular speakers and headphones and could completely change the tonality of your setup. If you wanted a warmer sounding DAC, but can't afford a nicer R2R unit, SU-9 could be a really good replacement. I'm not joking, because SU-9 does indeed remind me a lot about good sounding R2R DACs with its natural and sweet-sounding midrange. It is still shocking to think that I am experiencing all this in a ESS Sabre DAC…Midrange is the most important frequency range and I am actually happy that it is a bit elevated and contoured in here.
Treble is having a very good extension, presence and detail. It is the only range that is not overdone or elevated, yet there is plenty of driver movement in here. Texture is nice, drum impact is top-notch, snares are scary real, cymbals are metallic and raw sounding. The only thing that is missing in action is brightness and teeth clenching shrillness. SU-9 will render your treble nicely, but it will not induce unnatural excessive ringing in here. It might sound like rolled-off at first, but the more you listen, you start realizing that is not the case. Generally speaking, D/S DACs have higher ringing in the treble compared to good R2R and FPGA designs, but I'm not spotting it in here, so you can listen to brightest recordings all day long without a problem. It feels slightly less extended in here compared to the latest units I've reviewed but maybe that is for the better. I've found system matching to be quite difficult with linear sounding gear and much easier with warmer sounding gear. You simply add it to your chain and start blasting loud tunes to your neighbors, it's that easy.
Overall, SU-9 is a warm sounding source, that delivers heavier bass and midrange density at the cost of less treble presence. It isn't linear sounding and maybe that is for the best as sometimes music wants to be listened and enjoyed, not only analyzed.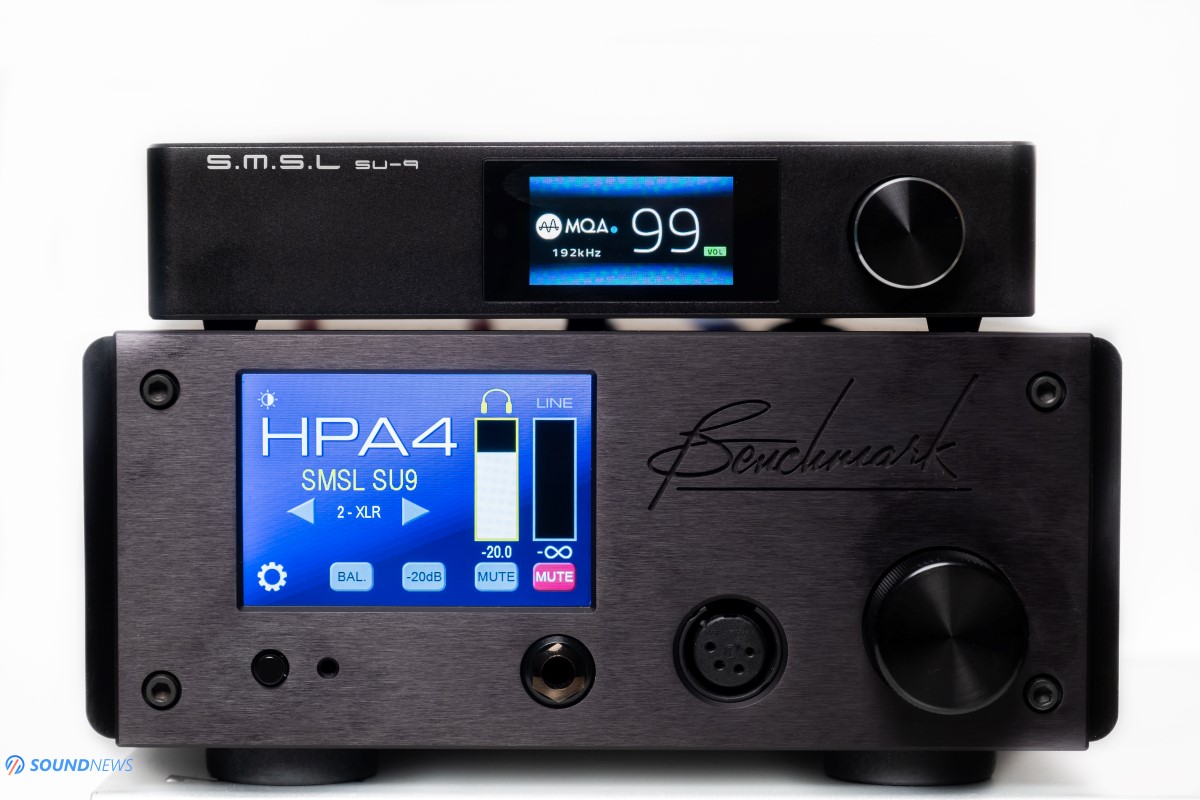 VII. MQA Experience
SU-9 is coming with a full blown MQA decoder that will fully unfold an MQA file before natively playing it. I am personally streaming a lot of music via Tidal Hi-Fi, it is super convenient as you can do that with pretty much any smart device, you can do that even with your TV if you want and SU-9 can even work with OTG capable smartphones. Do note that MQA will work only via its USB input, coaxial or optical will not work with MQA files.
I've tried several MQA albums, it locks on the signal quite fast and the MQA logo will appear on its screen. Don't worry if you see a blue or green dot next to the MQA logo, in both cases it fully unfolds a MQA file before playing it natively. Before streaming and playing MQA files, I strongly recommend checking Pass-Through MQA in the Tidal desktop app – meaning that software decoding will be disabled and SU-9 will decode those files with its hardware. Check Use Exclusive Mode and Force Maximum Volume for the best performance out of it.
As you can expect, it worked very well with MQA files, once it locked on its stream I will playback all those files without issues. In case you want to listen to an MQA file from an exact spot, say from the second minute, it will need on average about 1 to 3 seconds before locking in again. It will lock faster with 44.1 kHz files, and slower with 192 or 384 kHz files. I redid my tests with Matrix Element X that uses the same XU-216 chipset but a faster CPU and it locked on average twice as fast compared to SU-9. SMSL unit is a bit slower in locking on the MQA stream, but everything else worked exactly as it does on Element X.
Going back and forth between software and hardware decoding in the desktop Tidal Hi-Fi app, there is a clear difference that hardware decoding sounds better. So, what was the difference? The frequency extremes at both ends were richer in information and a lot more defined, there is a bit more sub-bass, a clearer treble performance and most importantly music sounds more liquid, smoother in a way, more life-like and less digital once it is played in MQA format. If you are streaming a lot of music as I do, SMSL SU-9 is still one of the most affordable MQA capable DACs that also happens to sound very good.
VIII. Comparisons
SMSL SU-9 ($439) VS Soncoz SGD1 ($459)
In terms of build quality, I would give an edge to the SGD1, due to its bigger and more imposing posture. It is heavier, much bigger, has a nicer ventilation system, it houses two toroidal transformers and uses two DAC chips instead of one. It follows almost every rule a top DAC should possess. Both are looking very clean with matte black paint, but SGD1 is stealthier looking with its simpler interface with close to zero light polluting in late night listening sessions like I'm having right now. SGD1 feels like it was built to last and follows most rules a high-performance DAC should have. It does offer an additional USB Type-C input, plus an AES input, so it definitely wins the digital input battle. SMSL SU-9 on the other hand has a nicer Bluetooth chipset that beside LDAC, also supports UAC at up to 1.2 Mb/s data transfer. At the time of writing SGD1 doesn't not support LDAC codec, but it would be implemented in the next firmware update. SU-9 has a nicer user menu, it is more feature packed, including sound filters, PCM and DSD filters, you can play with its PLL settings and overall, it seems to offer a nicer user experience.
Both units can work as DAC and preamp combos, but instead of offering actual line-amplifier (preamplifier) circuits, they implemented some digital attenuators and that is precisely why I'm calling them digital preamplifiers.
Before my listening tests, I have volume matched both units by using a MiniDSP EARS system and a Benchmark HPA4 that can individually control every analog input, including their signal strength. I used the same power cables; USB cables and I have set the listening volume to 85 dB.
When music started playing, I was quite surprised by how close both units sounded to each other. When I was finishing my SGD1 review, it presented itself as one of the hardest kicking D/S DACs that had an amazing bass control and impact, but I've felt the same about SU-9. I don't recall hearing the same bass performance out of SMSL M500 or M200 for example, or out of Topping D70 and D50S. Both units excel in the bass region, they simply deliver punchier notes and with some particular music it feels as being bottomless. I was very surprised that SU-9 can keep up with the bigger SGD1 in here. Moving on to the mid-section, there is a slight edge of the SU-9 over the SGD1, but not a huge one. SU-9 felt by a hair more musical and natural sounding. I went through a lot of songs and only with very crowded pieces, SU-9 outplayed its rival with deeper voices, having a more natural rendition of the string instruments. The difference was not huge, still SU-9 was warmer sounding and that was apparent after few well-known songs.
The treble region was more defined and more extended on the SGD1, it offered by a hair more info in here to a point that it felt more complete in here and SU-9 was by a hair rolled-off – mimicking somehow R2R units. Cymbals felt having a clearer shape with SGD1 that could sometimes hurt the tonal balance, those sounded less sharp with SU-9. Again, the difference was not that big, but noticeable.
I was surprised that both units sounded exactly as clean and detailed, without any noise floor to be heard in very silent passages. In this regard, they performed like some of the best D/S DACs I've tested up to this point.
In a speaker setup, they both delivered good sonics and I couldn't find major cons with either one. As I've said in the beginning of this article, Benchmark HPA4 loves a hotter signal and that is why SU-9 with its 4.7 Volts played by a hair nicer in a speaker setup. It sounded more engaging and livelier to its competitor.
All in all, I was surprised that SU-9 was keeping up with such a nice unit like SGD1. There was a clear difference in their tonalities as SGD1 sounded by a hair more linear and extended in the treble and SU-9 warmer, smoother and more natural sounding with a slight roll-off in the treble. In the end, it comes down to system matching and to the sound signature that is more to your liking.
Conclusion
Until this point, I've tried only linear sounding DACs of SMSL. Their M200, M500 and Sanskrit 10th sounded neutral and linear with little to no personality at all. On the other hand, SU-9 feels like a Rock 'n' Roll child that is no longer following any rules and plays exactly as it wants. A very welcomed addition to SMSL portfolio.
The interesting part was designing an ESS-Sabre DAC from the scratch that doesn't sound as one, at all. if I wouldn't check its spec sheet, I would never guess I'm listening to one and this part alone proves again that the DAC chip is only a very small portion out of a much bigger story. SMSL was able to transform a linear and über-transparent chipset into a sweet, smooth and natural sounding digital creature. Its noiseless performance was impressive with sensitive IEMs and its lightning quick transient response will impress a speed and slam addict as myself. Its MQA performance was flawless and the same can be said about its Bluetooth performance with a rock-steady signal even with 3 concrete walls between it and a smartphone.
I am extremely happy that I am experiencing such a complete package (DAC, Preamp, full MQA decoder and a Bluetooth receiver) at such an affordable price point. I really don't want to throw awards left and right, simply because only the best units deserve one, but considering how much fun I've with a DAC that costs only $439 and its immaculate performance, I can't go without awarding it our highest Golden Award! It exceeded my expectations and it simply deserves one. Congratulations to the team and l look forward in testing their next digital creatures!
SMSL SU-9 was kindly provided by Apos Audio and it can be purchased by following this link (they offer free shipping in the USA, they will price match any price you can find online, they offer free 30-day returns in case you don't like it and extra 1 year of warranty).
PROS:
Small and lightweight, can be used in tight spaces
Good build quaility
Extended in the frequency response,
One of the best dynamics I've experienced thus far, extremely punchy sounding
Tilts towards warmth and naturalness, has a great flow too
Great resolution and transparency
Good imaging and decent soundstage size
Noiseless with ultra sensitive IEMs
Incorporates a Full MQA decoder
Some of the best Bluetooth capabilities, supporting all the best codecs
One of the best values right now
CONS:
Its preamp section could be better
Not the most extended in the treble
ASSOCIATED EQUIPMENT:
Sources: Xiaomi Mi 9T Pro, Corsair One i160
DACs: SMSL SU-9, Soncoz SGD1, Aune Audio S8, Burson Conductor 3X Performance, Audiobyte HydraVox + HydraZap, Matrix Audio Element X, Flux Lab Acoustics FCN-10
Headphone Amps: Benchmark HPA4, SparkoS Labs Aries, Flux Lab Acoustics FCN-10, LittleDot MKIII SE
Integrated Amps: KECES E40
Power Amps: KECES S300, S125, Kinki Studio EX-M7
IEMs: FiiO FA9, FH7, Meze Rai Penta, Rai Solo & lots of other lower tiered ones
Portable headphones: Sennheiser Momentum 2, Meze 99 Classics
Wireless headphones: Sony WF-1000XM3, Sennheiser Momentum 3, Master&Dynamic MW65
Full-sized headphones: Hifiman Susvara, Hifiman Arya, Audeze LCD-4, Erzetich Phobos, Erzetich Mania, Fostex TH909, Quad ERA-1, Ollo S4X Reference, Kennerton Wodan, Magni & Gjallarhorn
Loudspeakers: Buchardt S400
Interconnects: QED Reference (x2), Aune AL3
Speaker cables: Kimber PR8, Audioquest Type4
Power Cables: Isotek EVO3 Premier (x3)
Balanced Isolation Power Conditioners: PLiXiR Elite BAC400, KECES BP-600