Burson Soloist 3X Review – A Heavy Lifter

My Video Review:
I always loved the way Burson Audio was approaching analog designs. Instead of waging wars with its competition on lower distortion numbers and on higher signal-to-noise ratios, the simplest things were more important to them. Above some numbers appearing on the screen of an audio analyzer, sounding good, sending shivers through our spines, placing goose-bumps all over our bodies and smiles on our faces – were some of the most important aspects to them. Their Conductor 3 Reference and Performance units sounded unlike any other ESS-Sabre powered devices I've tried. They weren't super linear or extremely detailed, they weren't straight as a line when it comes to frequency response, but they weren't harsh, boring, lean and colorless either. They were strikingly engaging, hard hitting, always pressing down the gas pedal in terms of dynamics, they were powerful down low and meaty in the midrange, while completely ditching the treble brightness for good. Those weren't following the modern rules of being achromatic, uber-transparent and lean sounding. I'm glad such companies still exist today; it would be a very sad world if all audio devices would sound the same. While the latest all-in-one Conductors performed great, transforming several headphones from good to great, I always thought that a sole no-compromise headphone amplifier and preamp combo would be nice to develop. Why? If you are into high-performance audio, you already have at least one digital or analog source, I have several DACs which I cherish and love and for people like me, a sole headphone amp would make a lot more sense. That's why Burson went back to their drawing board, stripped down its digital section and further tuned its amplifier and preamplifier section to better work with a wider variety of headphones. A top headphone amplifier should work equally well with low and high-sensitivity headphones, while still retaining a perfect channel balance and this is exactly where Burson engineers focused all their attention. Without further ado, I present the best headphone amplifier and preamplifier Burson has ever made. It's called Soloist 3X that will be singing beautiful songs for 12 desktop headphones, for a backpack of IEMs and for several portable over-ears. I will be also using it in a high-end loudspeaker setup working as a preamplifier, put in between a Matrix Audio Element X (Streamer + DAC), a Keces S300 (power amp) and driving a pair of KEF Reference 3. The stage is set, the curtain rises, we're ready to begin. The game is On!
Soloist 3X VS Conductor 3X
Soloist has the same size and weight with the Conductor 3X Performance, the same efficient Cool Case, but does it mean that it uses the same amplifier and preamplifier sections, sans the DAC part? Not exactly.
The biggest difference between the two is their volume implementation. Soloist 3X is the only device in Burson's portfolio that uses a high-end Muses 72320 volume control-chip that you can find in some of the best preamplifiers. It is being helped at the input stage and respectively at the output stage by 4 state-of-the-art Burson V6 Vivid all-discrete op-amps. Dropping the noise floor substantially and plunging high its signal-to-noise ratio.
Its discrete op-amps are biased into class-A and its 8 output transistors are also biased into Class-A, improving the power output from 6 to 8 Watts on its balanced output and from 3 to 4 Watts on its single-ended output. Soloist 3X is currently the most powerful headphone amplifier Burson has ever released
Soloist 3X has also a super-cool feature called Headphone Power Amp Mode. Although the Muses 72320 is an amazing volume control chip it can be completely bypassed and your DAC or preamp would be controlling it volume.
Apart from these changes, both units are sharing the same DNA, they have the same Cool Case which is by 300% more efficient at heat dissipation. The case has rounded edges so your will not cut yourself or chip your headphones while handling them around. They both use their newest generation V6 Vivid discrete op-amps, both use the same Max Current Power Supplies and the same fully discrete Class-A output stage.
Unboxing Experience
I was greeted with the same good old Burson packaging, double boxed is the usual business, with an opulent amount of soft foam to better protect the unit during shipping. Besides the unit itself, there's an accessory box nearby that houses: a high-quality aluminum remote, a torx screwdriver, an extra fuse, an external power supply and + a power cable that attaches to it, a certificate of compliance, four JRC 5532D op-amps from New Radio Japan – Burson put them just in case your unit starts acting weird, those weren't put for op-amp rolling purposes, but you can certainly do that if you please. They added a 4-pole splitter for its microphone input – just in case you're using a headset with two headphone jacks. The accessories inside are plenty and I'm pleased to find a metal remote which I'll use in a loudspeaker setup.
Design & Build Quality
Soloist 3X may be the fourth generation Soloist device, but it is the first that doesn't follow the same design language of its founding fathers. Burson dressed this one with a much nicer Cool Case that is considerably better at heat dissipation. On the outside, it looks pretty much the same with its all-in-one sibling that we reviewed some time ago: Conductor 3X Performance, sans its digital inputs on the back. Burson redesigned its case from the ground up and used every internal square inch at maximum. It's fully stocked with some of the best components in a shiny aluminum case.
The fins that are wrapping it entirely doubled its surface area, working as a huge heat sink for its 8 output transistors. The threaded volume wheel has a nice grip to it and it reminds a lot about my tactical flashlights. Burson hid all the screws on its back panel, for a much cooler look. Naturally, the case was milled on a CNC machine, exposing its raw aluminum look, that fits it like a glove. It has some decent sized rubber feet underneath it, but since it always works in Class-A, dissipating a lot more heat to traditional amplifiers, I recommend elevating it further for a better ventilation. IsoAcoustics Puck Mini or Orea Graphite will do a great job at keeping it cooler and as an added bonus those will absorb its micro-vibrations too. However, if you want the absolute best solution at keeping it cool, nothing beats the Burson Cool Stand that you can buy separately for $99 or for $125 for your bigger Conductor 3 Reference, here it is. With it, Soloist will be standing up, using less desktop space and you shouldn't worry about scratches as it uses a thick layer of anti-slip scratch-resistant silicone lining. Its literally and figuratively very cool.
Controls & Connectivity
Soloist 3X is a fully balanced input to output preamp and head amp and as such, on its front panel you'll find a 4-pin XLR headphone output, a SE 6.35mm output, a 3.5mm microphone input (as a small detour, if your headset uses two male jacks instead of one, just use the included adapter from the package and you're ready to rock!). In the middle there is fairly small OLED screen, that will show your volume position, the selected gain, input and output. The volume wheel on the right is quite a special one and with 99 steps you'll no longer guess how much power is there left on tap. On the far right you'll find a small menu button that lets you choose its gain, its working mode (pre or head amp) and its analog input.
On the back you'll find its 24 V DC input, a pair of XLR and RCA inputs and since it can work as a preamplifier, on the far right you'll find a pair of XLR analog outputs.
Under the hood of Soloist 3X
We are dealing here with a fully discrete, fully balanced input to output preamp and headphone amp that is always working in Class-A, you should expect a higher heat-dissipation and a much warmer case. From input to output the signal is always balanced and if you want the best performance out of it with the lowest channel crosstalk, please use only XLR interconnects. It uses 8 output transistors in total, 2 of them are creating an amplifier module and it has 4 modules for a fully balanced signal. It outputs some very serious power, more exactly 8 Watts on its balanced out and half of that on its single ended output. Burson used two of its discrete V6 Vivid op-amps at the input stage and two of them are buffering its volume control chip – the elitist Muses 72320 than can be found in the world's best preamplifiers. Exactly the same chip sits inside the Pass Labs XP-30 ($16,500) and in the AVM Ovation ($9,000) preamplifiers.
Although the Muses 72320 is a high-end volume control chip, you can bypass it if you want, putting the Soloist 3X in the Headphone Power Amp Mode, so you can control the volume with another preamp or with the volume control of your DAC. In this mode, Soloist 3X outputs full power and you should be extra careful with this feature enabled.
Don't get upset seeing its external switching mode power supply, because its actual power supply is sitting inside the unit. Soloist 3X uses 3 MAX Current Power Supplies (or MCPS for short) that Burson developed and included for the first time in their Conductor 3. Those are raising the voltage frequency from 50 Hz to 170 kHz, pushing the noise floor beyond human hearing and its low impedance ensures abundant and instant energy for output transistors.
If you love rolling op-amps you can do that too, it uses four V6 Vivid dual all-discrete op-amps, you can mix two V6 Vivid with two V6 Classic op-amps, or can make it even smoother sounding by going all-in with four V6 Classic op-amps. Mix and match, play with different flavors, just remember to use only dual op-amps.
Sound Performance
I. Preliminary Sound Impressions
Armed with a pair of Hifiman Susvara in one hand, with a bottle of Trappistes Rochefort 8 (The Special) in my other and with an exciting playlist in the middle, covering every musical genre you can possibly think of, I was ready to kick some eardrums!
Make no mistake, this is still a Burson amplifier and it felt like one immediately after pressing play. If I would describe its sound with a single word, that would be powerful, with a few more that would be impactful, incredibly punchy, fast sounding, carrying natural harmonics, a meaty midrange, a grain free treble performance and for the first time: a much cleaner and more transparent sound than ever. I'm yet to hear a nicer bass slam and a warmer midrange with a transistor-based amplifier, while retaining a super low noise floor. Finally Flux Labs Acoustics FA-10 found its arch-nemesis, coming from a Faraway land. Both units are sharing the same DNA and sound characteristics, both are biased into Class-A, using an old-school all discrete circuitry. Soloist 3X is sounding completely different to all Chi-Fi amplifiers I've tried of late, be them from Topping, SMSL or Gustard. Those are still waging the measurement war that started a few years ago, Burson on the other hand is staying true to its roots, taking care of its sound quality first and less for anything else.
Still, if you care about those numbers, Soloist 3X is so the best measuring amplifier and preamplifier Burson ever released. They further lowered its noise floor and used a much better volume control, letting the amp shine brighter with transparent sounding headphones and loudspeakers. As an audio reviewer, I need to have a standard when it comes to transparency and linear frequency response, that is precisely why I'm shackled to a Benchmark HPA4 that is helping me differentiating warm from bright sources or wet from dry sounding ones. However, when I'm listening to music as an act of pleasure, without writing down anything, I'm doing that less and less often with the HPA4. Soloist 3X together with the Flux Labs Acoustics FA-10 have that something, that is missing from modern amplifiers. While listening to Soloist 3X I'm always getting an overwhelming feeling of effortless, powerful and natural sounding, like two double-triodes were hidden somewhere inside that are adding more emotion to the whole affair, more meat to the bone and more air between those notes. Soloist is the pure definition of a warm and bold sounding analog amplifier, it's old school in its tonality and this is what makes it so special.
Buckethead's Whitewash (Tidal / Spotify) feels a lot more impactful compared to some other amps that are surrounding me. The first seconds moved a tremendous amount of air, those hits felt brutal, blunt, but so rewarding to experience. As if those bass notes were felt with my whole body and not only with my ears. This still has a Burson sound signature written all over it, but this time around, it is even clearer, even more transparent, even more IEM friendly and even more powerful than ever. I'll be honest with you guys, out of all headphone amplifiers I've tried of late, Soloist 3X was the only one that drove the Hifiman Susvara close to their maximum potential, it was even better compared to a Flux Lab FA-10, as it wasn't shutting down as FA-10 did with bass intensive music. If you hunting for one of the best amps for your Hifiman Susvara or Abyss AB-1266 without breaking the bank, Soloist 3X just might be your best option right now.
II. Background Noise & IEM Compatibility
I've criticized both the Conductor 3X Performance and the Reference units for having a slight hiss on any gain or volume position. They weren't that bad, after all, the noise floor was barely audible on the low gain, but they weren't exactly IEM friendly on their own. An iFi Audio IEMatch and Ear Buddy would completely solve that issue, those trinkets are simply must-have if you're using IEMs with desktop gear.
The most sensitive IEMs at my disposal are the FiiO FA9. With their high-sensitivity switch enabled, FA9 are offering a sound pressure level (SPL) of 113 dB with a single mW of power. Since Soloist 3X has 8000 of them, low gain was mandatory. FA9 is brutally honest when it comes to noise floor and so far, only very few units were completely dead silent with them. At first Soloist 3X appeared silent as voiceless Muscovy ducks, at any volume position I couldn't spot anything at all. But once I've got them out and inserted them back, there was a faint white noise humming in the background, the quietest noise I've experienced out of a desktop amplifier, it was almost mute, but it was still there. The noise floor feels much lower than that of 3X Performance or 3 Reference and an IEMatch wasn't needed at all. With all my other IEMs like FiiO FH7 (110 dB/1mW), LittleDot Cu KIS (105 dB/1mW) and Meze RAI Penta (100 dB/1mW) I couldn't spot that white noise anymore, unplugging and connecting them back didn't increased the noise floor of the Soloist 3X and I'm happy to say that Burson achieved their mark as Soloist 3X is indeed an IEM friendly amplifier without the need of external help.
I was surprised that on the low gain, this time around Burson left a lot more steps to play with, so I could easier find my desired volume level. What was 60 out of 100 on the Conductor 3X Performance, now sits at about 85 out of 100, so obviously I could easier find my desired volume position, there is plenty of play on that volume wheel, it doesn't get way too loud and way too fast.
As you can expect, all IEMs performed at their maximum, the same ballsy nature of Soloist 3X carried over, it drove all those IEMs with an amazing control, speed and slam. It sounded precise, fast and punchy; it provided an extended frequency response. I observed that low-intensity bass notes were bottomless, unearthing a huge quantity of sub-bass in a very clean way. Soloist 3X moved larger amounts of air compared to portable DAPs, making all those IEMs more like over-ear headphones. Pin point placement of the notes around me was very accurate and precise, soundstage went far and wide, I didn't have anything to complain about.
III. Power Output
Soloist on paper seems like the second-best headphone amplifier I've tried in terms of output power. It was able to drive most headphones on its mid-gain position, with the exception of Hifiman Susvara, that demanded high-gain only. Surprisingly, Susvara sounded impressively well, very close to what I'm experiencing out of the Keces S300 speaker taps. They were alive and @ss kicking all the time, dynamics didn't take a hit and I was grooving all along with a huge grin on my face. What was really unusual is that at around 80 out of 100, Susvara became way too loud and there was still plenty of headroom left on tap. Bass intensive music was not hurting the overall performance, it wasn't shutting down and it was able to maintain even a 10 second bass note, a thing that no other headphone amplifier could deliver with the Susvara. Not even Flux Labs Acoustics FA-10 that was turning itself off with bass intensive music. My instincts are telling me that Soloist is a lot more powerful device than the specified 8 Watts of power…
Any other headphone, was driven to its maximum potential and I don't need to mention them all. Starting with IEMs and finishing with the hardest to drive headphones, Soloist performed absolutely the same and that was flawless. No matter the headphone, dynamics felt limitless and headroom bottomless, while having a lighting start and stop of the drivers. As of right now, Soloist 3X felt like the most powerful headphone amplifier that passed through these hands.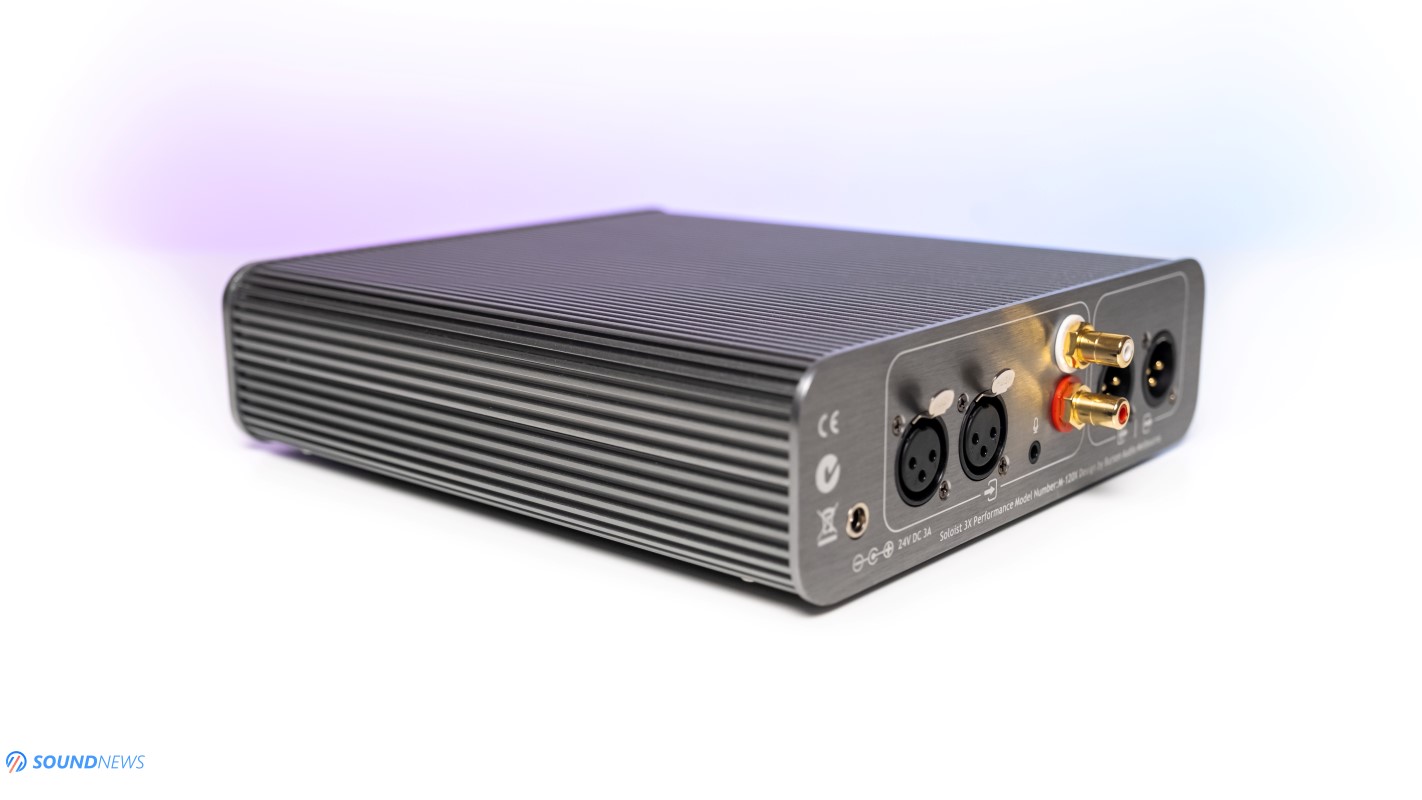 IV. Resolution & Transparency
By completely removing the digital section of the Conductors and employing a more precise volume control, that dropped its noise floor to inaudible levels and raised higher that signal-to-noise ratio, seriously improved its overall transparency and detail retrieval. I'll say right away that from all Class-A headphone amplifiers I've tried, Soloist 3X is the most detailed and it's cleanest sounding one, followed by the Flux Labs FA-10, by the Gilmore Lite, by the Audio-GD D38 and then by the Kinki Studio THR-1. It is still not on the same level with a Benchmark HPA4 ($3000), Sparkos Labs Aries ($2500), SMSL SP400 ($630) and Topping A90 ($500), but it's the cleanest sounding class-A amplifier I've tried that is coming dangerously close to the best THX-AAA and NFCA amplifiers. Hifiman Susvara is still the most transparent / detailed sounding non-electrostatic headphone I've heard (HE-1 is still a bit clearer sounding), it will be always trying to show you more of your audio chain and it's pretty much the best candidate for this job. Connecting the Soloist to an Audiobyte HydraVox and then to a Matrix Audio Element X, I knew that the weak link can only be the amplifier, since those two are still standing tall above any other digital source I've tried so far.
The usual boring music you'll be listening at an audiophile convention, like Diana Krall, Katie Melua or that Nils Lofgren song, (you know which one, don't you?) sounded layered, all those were breathing an obscure amount of air, the music was decompressed and stretched wide open, all my attention went to the smallest details and sure enough, those were heard pretty easily and I didn't need to stress myself too much. The usual foggy nature of older Class-A amplifiers is not present in here (older version of Audio-GD Master 9 was like that and to a lesser degree – the Kinki Studio THR-1), that mud staying in front of the musical signal cannot be spotted. Soloist 3X in its stock form with the V6 Vivid installed was clean, transparent and detailed sounding with pretty much everything I have at my disposal. The leading edges of the notes were very clear, almost sharp at times, without going overboard with the treble edginess. I particularly enjoyed the way it presented treble information in an intricate and natural way, without increasing the tension in that region.
V. Transient Response
How should I put it mildly…Fellow music enthusiasts, if poopy pants is something that are you chasing for while listening to your rock or electronica, then there isn't anything better than a powerful Class-A amplifier driving some planar-magnetic headphones. My Benchmark HPA4 doesn't stand a chance when it comes to sheer impact and bass slam with electronica music, Chi-Fi amps also cannot move the amount of air Soloist is moving instantly through sub-bass territory. Burson always stood on top of the mountain when it comes to things like speed and body impact. It is always a visceral experience with it, it always goes for the jaw with snappy tunes, dynamics are through the roof, climbing higher and higher trying to impress a music addict. I didn't expect anything less out of a potent all-discrete amplifier biased into Class-A, that is detailed and uber transparent sounding to its core.
First seconds of Buckethead's Whitewash (Tidal / Spotify), Killing Strangers by Marilyn Manson (Tidal / Spotify), the final drum solo of Chocolate Chip Trip by Tool (Tidal / Spotify) and Duende by Bozzio Levin Stevens (Tidal / Spotify) were raw, bold, uplifting, almost painful at times, but oh so pleasant feeling bass notes pulsating, breathing at you and thumping my ear-drums with a higher force than usual.
Soloist 3X matches impressively good with mellow sounding sources, put in on vinyl, on tape, on a tubed digital source or on a R2R DAC and it will fully preserve its mean and ballsy nature. It matched well with all DACs I've around me, be them ladder based, FPGA or carrying delta-sigma modulators, it wasn't pressing the brakes, on the contrary it was living its ride fast, die young philosophy.
VI. Soundstage & Depth
Soundstage is always tied to the output power of an amplifier and to its transient response, simply because for some higher dynamic swings, it needs to deliver immediate power, so that more air would be lingering around your tunes. Another thing to know is that transistor-based Class-A amplifies are always delivering the maximum amplitude to your drivers, it passes the same current at any load and at any volume, tensioning the magnets every second and delivering an instant power on the spot. Out of all solid-state amplifiers of any kind, Class-A amps were always the absolute rulers in terms of soundstage delivery. Soloist 3X easily moves air around, if your tunes have plenty of that, it will be decompressing those tracks, so you could easier trace a single note, you can focus on the instruments playing in the background much easier, you can focus in the smallest details if you want. It really knows how to pump more air around and this regard, it might resemble the sound of tube-based amplifiers, that are also tensioning the magnets and the headphone drivers every second. Soloist 3X is airy open and wide sounding, it is quite special in here and that happens not only with live music or orchestral work, but with regular music that I'm listening on a daily basis.
With acoustic music like that of Eric Clapton, Johnny Cash and Neil Young, from a wild horse, it shape-shifted into a gentle giant, it became smoother and much calmer sounding, still rich in its tonality and full-bodied with plenty of air around those notes. Pin point imagining was precise, I felt the exact positioning of every note. I could pick a guitar from a song and trace it all along, I could count the distance between the band members and myself. Music was expanding on all axes and I was walking easily through all that with my imagination.
VII. Frequency Response
Soloist 3X is a wide-bandwidth amplifier, it is clean and super extended at both ends. It renders everything from the lowest octaves to the higher treble peaks, without flexing a muscle.
At first it appeared as having an elevated sub and mid-bass performance, it felt extra powerful down low, electronic music was pushing a bigger wall of sound. It was hitting and pounding relentlessly with a higher force than usual, I felt being its punching bag. The more I was listening to, the more I started to understand that this is how the lowest octaves should be felt, this is the proper way to feel the sub-bass with my body. Besides being punchy and mean sounding down low, it rendered all that in a clean, breathable and undistorted way. Burson team managed to maintain a higher air density in here, while being extra clean and distortion free.
Midrange is following the footsteps of transistor-based all discrete Class-A amplifiers, like the Flux Labs FA-10, Kinki Studio THR-1, Audio-GD D38 and of course, the Conductor series of Burson are sounding very much the same. Its warmth and tube-like fullness are coming mostly from this region, that is oozing naturalness and life-like overtones. If you love your guitars thicker, a longer vibration of violins and cellos, a natural piano rendition, guttural and soul grabbing voices, then you came to the right party. With its bigger power reserve, the voices felt wet, powerful and more humanized. I didn't spot a trace of dry of thin midrange, it was the exact opposite of that. I liked that even boring and overly dry sounding music, became denser and fuller sounding.
Treble is a cute little creature. While its loud and clear, feeling its shape and contour and going up to the highest octaves, it never appeared as bright sounding to me. It never added listening fatigue into the mix. It was clean and extended, but it wasn't overly sharp even with rock music. The nasty ringing that is sometimes appearing on ultra-linear THX-AAA and NFCA amplifiers is nowhere to the spotted in here. To some degree, I find it more natural to the Conductor series and to the older Soloist units as well. I remember using warmer sounding headphones in the past with the first and the second-generation Soloist, but that is no longer the case with 3X. I can listen even to Hifiman Susvara and Arya all day long and it wouldn't be a problem at the end of the day.
Overall, Soloist 3X just might be the most complete headphone amplifier and preamplifier they ever released. It is not only the most powerful unit they have, but also the cleanest sounding one they released so far.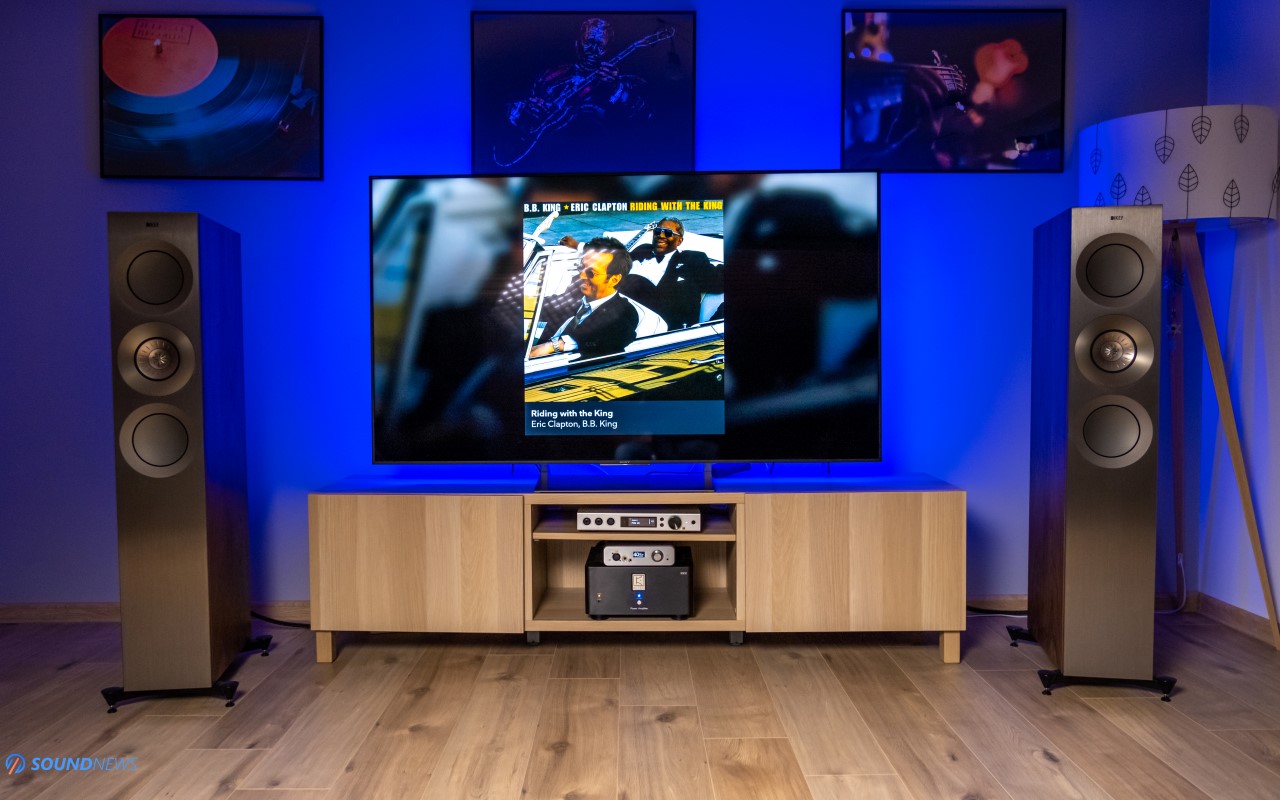 VIII. Preamplifier Performance
Burson team kindly suggested trying it in a loudspeaker setup, so I've put it in between a Matrix Audio Element X working as a streamer and DAC and a KECES S300 power amplifier, driving some detailed and punchy sounding loudspeakers: the KEF Reference 3.
The first thing I've observed is that its gain setting was working in the preamp mode too. I would personally stay away from its high-gain, as it became way too loud and way too fast in my room and the absolute worst thing is that UNI-Q coaxial drivers (Tweeter + midrange woofer) were picking up plenty of hum, that could be heard even from 1 meter away. It was quite noisy on high-gain, mid-gain was a whole lot better, as I couldn't spot that noise anymore from the same distance. Low-gain was dead quiet even after approaching my ears to the UNI-Q drivers.
It worked great as a preamplifier, pretty much the same how Conductor 3X worked in my living room. Compared to the preamp inside the Element X, the whole experience felt more engaging, much more impactful, there was a thicker bass and a warmer midrange, it was infusing its medicine in my loudspeaker setup. It wasn't exactly dead-neutral how I would describe the sound of the Topping Pre90 or that of the Element X, as it was adding more weight and body into my music. It should work great with lean and clinical sounding setups; it would surely add a higher engagement in any loudspeaker setup.
IX. Quirks
There are few weird things that I've discovered while testing the Soloist 3X for more than a week on a daily basis. First of all, on its back panel the XLR inputs and outputs are not labeled at all, you need to guess which is your right channel and which if your left. One the far left, near its DC input you'll find its right XLR input and on the far right you'll find its left XLR preamp output. I suggest labeling those XLR inputs and outputs in future, it shouldn't be that hard.
While operating it, I've observed that there was a much higher spike in the perceived volume between the 51 and 52 step on its volume wheel and that happened with all its gain settings. Weirder than that, between the 19 and the 20 step, the volume is actually decreasing by a very little and the same happens between 35 and 36 step, where 36 sounds quitter to the 35-volume position.
A friend of mine measured the output of its 99 volume steps and with his permission I'm allowed to show the final graph, please take a look.
This is not a huge deal-breaker, with 3 gain settings and 99 volume steps, you can easily find your desired volume position and I really don't want to make a big mess about it, but it's a weird behavior for sure.
X. Comparisons
I've already compared the all-in-one Conductor 3X Performance with the Flux Lab Acoustic FCN-10 and I feel that I need to do the same with the cleaner sounding Soloist versus the amp only FA-10, so here it goes!
Burson Soloist 3X ($1100) VS Flux Lab Acoustics FA-10 ($750)
In terms of build quality, FA-10 looks bigger and heavier thanks to its toroidal transformer and fatter capacitors, however its internal space wasn't used to the maximum, there is still some unused space inside. On the other hand, Burson used every single square inch, packing it with a lot more tech, while making it smaller and lighter. The casing looks nicer on Soloist, the punched steel case of FA-10 doesn't look as beautiful, especially its back panel appears rough around the edges.
In terms of features, 3X has a super convenient LCD screen in the middle that shows your exact volume position, it has a very nice metallic remote control. Besides its analog RCA and XLR inputs, Soloist can also work as a high-performance preamplifier in a loudspeaker setup via its XLR output on the back. It has a microphone input and output and I see it as a more feature packed device to the FA-10 from any point of view, hence a substantial price difference between the two.
In terms of sheer power, on paper Soloist seems to be less powerful with its 8 Watts versus 16 Watts on the FA-10, but as my (hardcore) tests proved, Soloist worked by a hair better with the notorious Hifiman Susvara and it was able to better control their drivers. Before Soloist 3X, FA-10 was a match made in heaven with the Susvara, it sounded the closest to my power amplifiers. However, on several occasions, where a longer bass note should be maintained for several seconds, FA-10 with its robust 16 Watts of power, was shutting itself off! That isn't a weird behavior at all, as all other headphone amplifiers were doing the same with Susvara, including my beloved HPA4. Soloist 3X on the other hand, at around 80 out of 100 on its high-gain section, fully maintained those bass notes on Limit To Your Love by James Blake, without shutting itself down. The interesting part is that its bass was always deep, visceral and engaging, it sounded effortless, big and airy with Susvara and so far, this is the best headphone amplifier I've tried with the notorious Susvara. I don't know exactly how Burson measured it at 8 Watts, because a friend of mine measured its output at 15 Watts and my first-hand experience tells me that Soloist 3X is a lot more powerful to its official specs.
Apart from that, both amplifiers sounded almost indistinguishable, they both share the same DNA, the both sound meaty, powerful and impactful. Both have pretty much the same bass and midrange delivery, with an exception that Soloist 3X has its treble clearer and more transparent. The biggest difference between the two lies in the detail retrieval. While FA-10 is no slouch in here and sounds clean and undistorted most of the time, Soloist 3X is just better, it unveils an additional layer of information and feels complete from the sub-bass to the upper treble. The difference is quite small, but noticeable with detailed sounding headphones like Hifiman Susvara, Arya and Audeze LCD-4. Soloist 3X feels like a clearer and more detailed version of the FA-10, that is better at driving the heaviest loads out there and as an added bonus it can also work as an outstanding preamplifier.
If I'm putting the Flux FA-10 to the far left as the warmest and the smoothest sounding amplifier, to the far right the Benchmark HPA4 as the most detailed and transparent sounding, being completely colorless in its tonality, then Burson Soloist 3X would stay much closer to the FA-10, while still retaining the transparent nature of the HPA4. In my opinion, the higher price of 3X versus the FA-10 is fully justified as of right now it performed as the best headphone amplifier for the hungry Hifiman Susvara.
Conclusion
I knew the newest Soloist 3X would outperform both Conductors in terms of sheer power and driver control, but I didn't expect such a big leap in terms of detail retrieval and transparency. So far, this is the cleanest sounding all discrete Class-A amplifier I've tried, followed by the Flux FA-10, by Burson Conductor 3 Reference/Performance and then by the Audio-GD D38 and Kinki Studio THR-1. With this unit, Burson Audio fully preserved the soul of the music, the warmth is still lingering in there, that immense soundstage didn't run away, pin point imaging and depth were up there with the best tube amplifiers, frequency response felt extended and linear and the only thing that was missing the action was the brightness and the listening fatigue.
It has a few small quirks here and there, but if you care for the sound quality the most, then Soloist 3X delivered on all fronts and it left me speechless on several occasions, especially when Hifiman Susvara was connected to it.
It might look like an expensive unit at $1100 and €1350 here in Europe, but I think it performs at that level, this is still the best headphone amp and preamp Burson has ever made and the cleanest Class-A amp I've tried so far.
It fully deserves our Silver Award and if Burson solves all its quirks, I'll give it a Gold one instead and that's a promise I intend of keeping.
You can get the Soloist 3X directly from Burson Audio for $1100 by following this link, or you can contact your local distributor for a listening session.
PROS:
Unique looking casework, that doubles as a giant heat-sink
Rock solid build quality
Small footprint, works great in tight spaces
So far, this is the most detailed Class-A amplifier
Extended frequency response
Wide open sounding, amazing depth
Very engaging, punchy and hard slamming, it's a transient response monster
Life-like and natural sounding all the time
IEM friendly on the low gain
Extremely powerful, drives even the Hifiman Susvara with plenty of power left
Great Preamplifier section!
Good value
CONS:
The XLR inputs and outputs aren't labeled
Volume control is not linear (see quirks)
Quite hot after an hour or so, making the Cool Stand a mandatory purchase
ASSOCIATED EQUIPMENT:
Sources: Xiaomi Mi 9T Pro, Corsair One i160
DACs: Audiobyte HydraVox + HydraZap, Matrix Audio Element X, Flux Lab Acoustics FCN-10, Gustard X16, Khadas Tone 2 Pro
DAPs: Shanling M8, FiiO M15
Headphone Amps: Burson Soloist 3X, Benchmark HPA4, SparkoS Labs Aries, Flux Lab Acoustics FCN-10, SMSL SP400, Gustard H16
Power Amps: KECES S300, Kinki Studio EX-M7
IEMs: FiiO FA9, FH7, FD5, Meze Rai Penta, Rai Solo, LittleDot Cu KIS & lots of other lower tiered ones
Portable headphones: Sennheiser Momentum 2, Meze 99 Classics
Full-sized headphones: Hifiman Susvara, Hifiman Arya, Audeze LCD-4, Erzetich Phobos, Erzetich Mania, Quad ERA-1, Ollo S4X Reference, Kennerton Wodan, Magni, Gjallarhorn, Vali, M12S, Gold Planar GL2000
Loudspeakers: KEF Reference 3
Interconnects: QED Reference (x2), Topping TCX1 (x2)
Speaker cables: Kimber PR8, Audioquest Type4
Power Cables: Isotek EVO3 Premier (x3)
Balanced Isolation Power Conditioners: PLiXiR Elite BAC400