My Video Review:
I like the most about xDuoo is that they are not copying anyone, just look at all their portfolio. They are still releasing plenty of tube-based amplifiers, hybrids for the most part so that harder to drive headphones would perform well. They are very much into transistor-based Class-A power too, check their newest XA-10 with 8 output transistors under its hood working always in Class-A. Still, some of the most popular devices are their portable units. With them, xDuoo stood out from the crowd with obscure numbers like 1 Watt of power on the XD-05 Plus that we reviewed last year and with other interesting things, like op-amp rolling. xDuoo is recommending trying different op-amps for different flavors, they suggested several ones like Burson V5i, TI's OPA627 and LME49720, NJR's Muses02 and AD8620 for their XD-05 Basic and Plus models. While the Plus will keep up with more expensive units like iFi Micro iDSD, it was never outperforming it, calling for a higher tiered device to be made from the house of xDuoo. If there is demand, there will always be supply. They went back to their drawing board and came up with a flagship unit that was called XD-05 BAL, having an ace under its sleeve and that is a 4.4mm balanced output. Its beautiful story doesn't end here, as xDuoo included some of the best components, they added even more inputs and outputs, while retaining the same size. With the introduction of their latest and greatest, xDuoo trifecta is finally complete covering have-not and have-all pockets: XD05 Basis goes for $155, XD05 Plus for $289 and the XD05 BAL for $429. The fully balanced unit is quite expensive for what it is, but how does it perform at its asking price? Let's check that out together.
Unboxing
xDuoo prepared a stellar unboxing experience with a staggering number of accessories laying inside. I thought that FiiO went a little overkill with their Q5S TC, but this one is outplaying it at its own game. A much bigger packaging already tells that xDuoo packed a lot more stuff in here. Besides the unit itself which looks considerably nicer to its older siblings, you'll find the following things:
Two JRC NE5532 op-amps: those are performing less impressive to the mounted ones, xDuoo left them for troubleshooting purposes or in case you'll start rolling
A so called "Magic Stick" made out of aluminum, the user manual isn't specifying its true purpose, I really have no clue what it is.
A short AES cable with 3-pin mini-XLR connectors at both ends, you use their X10T II Player as a digital transport if you will
A USB-A to USB-C adapter
A long USB-C to USB-C cable for PC/MAC connectivity and for charging
A short USB-C to USB-C cable for Android devices
A short USB-C to Micro-USB cable for older smart devices
A short USB-C to Apple Lightning cable for iOS devices
A black silicon spacer that can be used between it and a mobile source to avoid wear and tear
A torx T4 screwdriver
Four additional screws
Two 3.5mm headphone jack covers, for the AUX input and for the COAX/OPT input
Ten silicone feet
A 6.35mm to 3.5mm headphone adapter
A warranty card
A user manual
The pure definition of overkill, nicely done xDuoo!
Design & Build Quality
Starting with XP2 Pro, I've felt that xDuoo put a bigger accent on the feel and looks of their devices. While there is nothing wrong with their XD05 Basic and Plus units, the sharp edges and pointy corners weren't their best ideas. Bigger guy adopted smoother edges, it looks more elegant this way and my OCD is not triggered when expensive IEMs and headphones are handled around it. It has pretty much the same size with its siblings, but it gained some weight to accommodate its Bluetooth feature and its double DAC configuration. The case looks to be sandblasted, it has a matte grey aluminum case – in my view this is still the best painting technique, saving it from deep scratches and helping it resist a few accidental drops.
The 2.5D glass panels that you see on its back were mandatory, xDuoo soldered a Bluetooth antenna to them for a better signal reception. They did the same with XP2 PRO, wrapping it entirely with glass for a better reception. Surprisingly, it isn't a fingerprint magnet as I have expected and I've rarely seen a stain on it. On the flipside, it's a slippery surface and you should be extra-careful while holding it in hands and while it is being attached to a smartphone.
The unit itself feels pretty solid, it is slightly smaller to a modern smartphone, but of course much thicker. xDuoo hid its volume wheel inside, exposing just a part of it to its right. I'm not exactly sure how I feel about it, but it does look unique and there is no way the volume would go up and down in a pocket, so maybe it's for the best. xDuoo logo under the glass is adding a pinch of style and the cherry-red volume barrel complements nicely its matte-grey case.
Buttons & Layout
Its front panel houses a monochrome OLED screen that shows all the important stuff like the selected input, the sample rate, the PCM/DSD filter and the battery level. Under it you can see three switches: On/Off, Boosts switch that increases its current output for a better driver control and there is a 2-position gain switch, its either low or high gain. The big fellow can drive desktop headphones with ease and that is the main reason xDuoo put a bigger 6.35mm (1/4") headphone jack and also a balanced 4.4mm Pentaconn jack.
To its right you'll see a barrel like volume well and to its left 3 additional buttons can be found: Input button, filter button and lastly its Bluetooth pair/play and pause button.
The back-panel is impressive to look at, I never thought so many inputs can be squeezed in such a small area. From left to right you can spot a line-in/line-out jack, a USB-C digital input, a battery power or external power switch, a digital AES input – so you can use it with their X10T II Player, a USB-C charging port and a double-trouble Coaxial and Optical input. That's right folks, it has 4 digital inputs! The only thing that is missing, is a small LED light that would show its working or charging status.
Battery
xDuoo used the same Li-Po 5000 mAh battery that powers their XD-05 Plus. The slight difference in run times can be attributed to a bigger power draw of XD-05 BAL since it uses a dual-DAC configuration and two dual op-amps instead of one. It is offering around 9 hours of run time via USB or Bluetooth, up to 15 hours via Optical and Coaxial and some whooping 24 hours via Line-In (Aux-In) – in this case only its analog section will be working, completely bypassing its digital-to-analog conversion.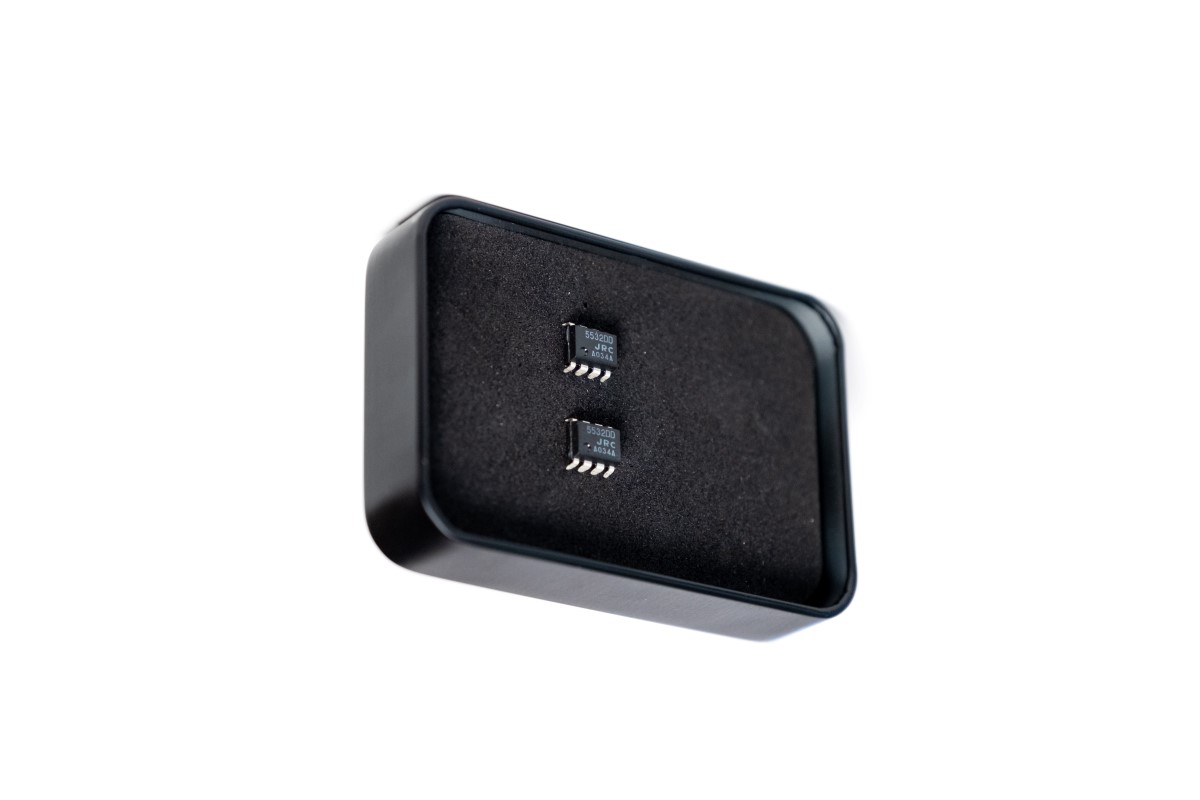 Under its Hood
At the heart of its digital processing two DAC chips will be doing the heavy work, xDuoo went with two ESS 9038Q2M, which are part of their Premium line of converters. They don't have a lot experience with this particular chipset, but there is always a first for everything in life. I'm pretty sure the AKM factory fire, made them re-think their future strategy, hence choosing a different chip maker. They went with two socketed DIP8 op-amps, those are OPA1612 which are known to be smoother and mellower sounding, followed by a powerful buffer stage (most probably by 2 x BUF634). xDuoo included another set of NE5532 op-amps of New Radio Japan, those are much cheaper and less transparent sounding, I personally wouldn't use those.
In terms of sheer power, it outputs 1000mW in 32 ohms on both its single ended and balanced output and since it uses two dual op-amps, its internal circuit seems to be fully balanced. xDuoo went slightly overkill with its digital section, including 3 crystal clocks (two for PCM and one for DSD material) and an Altera MAX II FPGA for data reshaping and jitter management. This type of configuration can be normally spotted in high-performance desktop DACs, so my expectations are already quite high.
They went with the best Bluetooth chipset available today. The mighty CSR 8675 from Qualcomm already supports all the best Bluetooth codecs as AptX-HD, AptX-Low-Latency and LDAC.
Some of the less important specs, includes the most used USB receiver on the market, the XMOS XU208 that can be literally found in every second mobile or desktop DAC. I find it stable; jitter free and I never had issues with any DAC that is using it. Thanks to that one, the big guy can natively decode DSD512 and Hi-Res PCM material as 32 bit / 768 kHz. xDuoo incorporated an advanced power supply with independent voltage regulators and a much higher capacitance will be filtering that power. High-end Elna Silmic II and Nichicon audio-grade capacitors are everywhere inside and that's always a pleasant sight to experience.
Sound Performance
I. Preliminary Sound Impressions
With 1000mW of power under its hood, without thinking twice I connected a much harder load than usual (Audeze LCD-4) and somewhere between its 7 to 8 volume position, I've heard all the signs of a well driven driver. Dynamics were rocking my world; it was going fast, passing the speed limit a portable device should normally have at this size. Its much higher capacitance to a regular portable DAP and DAC/Amp really paid off, as it was pushing and pulling that membrane like it was nothing. All my music sounded incredibly engaging, even explosive at times.
There were several things that stood out immediately. The big guy wasn't sounding like the regular ESS-Sabre units I'm listening on a daily basis. While its speed, slam, transparency and detail retrieval were still intact, its tonality shape shifted completely. From lean, clinical and slightly dry nature of the Sabre units, the big fellow sounded livelier, with a meatier midrange performance, voices weren't voiceless, as those carried more emotions. It's a rare sight attributing such words as warm and inviting to a ESS-Sabre design, it was calling for more music to be added to the playlist. The pulsating bass notes on Below by Leprous (Tidal / Spotify) were rendered perfectly, coming out of a complete darkness and vanishing slowly into thin air, it moved air down low easily and gracefully, sub-bass notes were clean, defined, nose-diving to the deepest pits. Treble was contoured, detailed and extended, I wasn't clenching my teeth, it wasn't bright or grainy and it didn't spot traces of the ESS Sabre glare.
After trying plenty of desktop and portable units, you would think that nothing can surprise you anymore, but I was toe tapping and shaking my head in disbelief. It sounds really good!
For headphones of such caliber, driver control was perfect and I'm pretty sure that those 15 audio-grade capacitors gave a huge helping hand. While xDuoo changed its clothes and its innards, it still has that xDuoo tonality tattooed over it. It mixes some warmth of their TA-10R, with the precision of solid-state electronics. Its mind boggling how well it was able to control the drivers of the LCD-4, Hifiman Arya, Kennerton Wodan and Erzetich Phobos. In all fairness, all my headphones didn't need more power than what's lingering inside it. It makes me even more curious about their desktop class, transistor based XA-10.
II. Soundstage & Depth
I've unplugged the LCD-4, I've dressed them with a 4.4mm cable and then I plugged them back. I didn't do that to increase the power output, because XD05 BAL pumps exactly the same power on both jacks. I did that to lower its channel cross-talk from –78 dB to –100 dB and as long as I don't go past 100 dB (please don't do that) volume wise, channel cross-talk shouldn't be an issue. In simple words, if you crave for a larger sound scape, for a better layering, for precise location of all the notes, then balanced is the way to go.
While its sound isn't stretching wide open in all directions, how I felt on their TA-10R, it was neither playing in my head, it was hovering around it most of the time. Its higher capacitance gave another helping hand in the soundstage department, as it was never crowded, super upfront, close and personal. The easiest way of testing the sound staging capabilities of a device can be done via live recordings. Everything Changes by Staind (Tidal / Spotify) is a very good example. I like the way it makes the notes go away into the abyss in a very natural way. The bass guitar and Aaron voice decayed smoothly, without skewing the overall pace of the song. The balanced output definitely places the sounds more precisely around me, like I know exactly where to focus my attention. The "Boost" feature had a subtle effect at best, but still, it improved the feeling of immersion and the overall impact of this track. When Boost is enabled, the current output is boosted and that can be felt easier with current driven headphones like low-impedance planar magnetics. The biggest impact was felt via headphones like Hifiman Arya, that felt energized, better responding to the music. Arya offered a nicer layering via its balanced output, increasing the overall picture.
III. Noise Floor & IEM Pairings
xDuoo doesn't mention its exact noise floor in micro-Volts, only its Total-Harmonic-Distortion (THD) of 0.0009% on its Balanced out. Its siblings XD05 Plus has it higher at 0.0016% and the XD05 Basic has it considerably higher at 0.0025%, so it is clear that xDuoo further tuned its circuit for a better compatibility with sensitive loads as IEMs, lowering the noise floor as much as possible.
Armed with the most sensitive IEMs I have around that have a sensitivity of 113 dB per 1mW of power, I went directly on its balanced output on the lowest volume position. I've plugged and unplugged those FiiO FA9 several times, just to release that I can't detect any noise or a trace of it. At my usual listening level and on the Low Gain, again I couldn't detect anything bad happening in the background. It wasn't extremely quiet; it was just dead-silent and I had the same feeling with my other IEMs. Increasing the volume much higher, started to increased its noise floor by a little. However, at that volume, I would blow my eardrums. The story repeats itself on the High-gain, I can't detect any noise at my usual listening volume, but I start hearing on a much higher volume wheel. In my view, it passed the noise floor test with flying colors, as its background is black as night at my usual listening volume. The only thing that is bothering me is that on the low gain, I cannot go past its second volume position out of 10, it becomes loud and way too fast, sometimes I'll be micro-adjusting that volume for a minute until I find my desired position. With lower-sensitivity IEMs, this issue wasn't that big as I went between its 3 and 4 volume position.
Everything else, like portable over-ears or desktop class headphones were absolutely dead-silent, even that Kennerton Gjallarhorn with its 116 dB per 1mW didn't pick up its noise-floor. It's safe saying that at my usual listening level (ever higher than ~90 dB), the big fellow performed marvelous, clean and undistorted.
Stacking it with my smartphone, putting that silicone spacer in between and gluing them together should be the ultimate test in terms of noise floor, because it needs to deal with Wi-Fi, Bluetooth and 5G interference. I'm happy to inform you that it sounded exactly as it did via USB, its noise didn't increase at all, making it a perfect companion in front of your PC and also on the go.
IV. Power Output
Size wise, XD05 BAL is one of the biggest portable DAC/Amp I've tried and one of the most powerful too. There are more powerful units than this, but those are bigger and more expensive. You should never confuse peak power with continuous power. There is one sneaky manufacturer that puts on a plate the peak power on their website, misleading potential buyers and that is the wrong thing to do.
One Watt of continuous power in 32 Ohms is more than enough for desktop headphones, including planar magnetic ones. I'll get straight to the point, with Audeze LCD-4 and Hifiman Arya (which mind you are not that easy to move and control), the big fellow drove them fully on its 7 out of 10 volume position. Sometimes I go to 7.5, but only with some groovy songs and mostly on Fridays or week-ends, when I care less for my hearing and more about my mood, immersing myself into the music. LCD-4 and Arya punched incredibly good, dynamics were going up and down like a roller-coaster. When Infected Mushroom made an appearance on my playlist, the amount bass slam coming out this thing, fitting in the palm of my hand was impressive to say the least.
Going down the ladder to more sensitive desktop headphones, be them dynamic or planar, I needed considerably less power to drive them fully. I've barely went past its 5 out of 10 volume position with most of them. FiiO M15 and Shanling M8 already reminded about desktop devices, but this one is more powerful and it feels like it, outputting more juice and better controlling those drivers. XD05 BAL is indeed working more like a desktop unit. It had boldness in the bass, midrange felt full and heavy, air was moving freely around, I've spotted all the signs of well driven headphones. Headroom felt bottomless, drive control was immaculate and if you're searching for a transportable unit that can power pretty much everything except for Hifiman Susvara, then XD05 BAL should be on your radar.
V. Detail Retrieval & Transparency
In my humble opinion, xDuoo focused most of their attention in here and the fruits of their labor are speaking for themselves. The good old AK4490 sounds mellow and smooth in the Basic unit, without putting an accent on detail retrieval, AK4493 in the Plus version retains the same tonality, while boosting its transparency level, but the move to dual ESS 9038Q2M seriously elevated its detail retrieval and transparency to a whole new level. This is where it shines the most and stands out even compared to pricier devices like iFi Micro iDSD. I went through a series of tracks ranging from jazz, rock and electronic, dodging boring audiophile proof music and sure enough, it was able to show small details here and there. It wasn't exactly clinical or super precise like latest batch of desktop DAC are doing, but it was going into that direction. The usual mastering errors were picked up pretty easily with detail-oriented headphones and IEMs, the grain and hum of old tracks was still heard loud and clear. The usual tiny sounds scattered around in live recording were also in there. To me it appeared as a clean sounding device, without going overboard to the clinical side. It was quite detailed and transparent sounding, I was following the voice of the singer in a crowded track, without putting too much effort into it.
I really like the way xDuoo is counterbalancing its linear sounding DAC chip with a warmer output-stage and with warmer capacitors like Elna Silmic II. From all Chinese manufacturers, xDuoo is part of the very few that focuses mostly on sound quality, on the emotional link with your music, putting a much lesser accent on perfect measurements. xDuoo uses very different components compared to others, tailoring them for a warmer and a smoother tonality. This is still an xDuoo device and sounds like one too.
VI. Transient Response
You can never go overboard with capacitance in an amplifier of any sort, the higher it is – the harder and more often it will start pounding those speaker or headphone drivers. xDuoo is known to be going a little bit further in this department, dressing them with as many capacitors as possible. Helped by a large number of Nichicon and Elna Silmic II capacitors and by a faster sounding Sytem-on-Chip like ESS9038, XD05 BAL was brutal at times and raw in its performance. The bass slam stood out immediately while listening to it. Even past first hour of use, it was already punching hard, providing the right amount of current for a lighting fast rendition of electronic music. Sometimes it was too much, sometimes I wanted more and sometimes it was just perfect. I'm sure about one thing though: if you like your music fast, engaging and snappy on a device you can easily carry around, then XD05 BAL just might be the right unit for you. You can make it calmer by disabling the Boost switch, or you can lower its volume if you find it mean and aggressive.
While I didn't test a whole lot of portable devices, there are still many I'm curious about. From the ones I've tried, XD05 BAL feels not only like the most powerful, but also the hardest slamming one too. Instead on focusing on its feet movements and speed, XD05 BAL chooses to focus on the sheer impact a musical note can deliver. It doesn't have long decays, instead it chooses to have a snappier, electrifying performance. It knows to accelerate and decelerate in an instant and that fully preserves the transient response.
VII. Frequency Response
The best xDuoo portable device is extended in the frequency response, it's very potent at both frequency extremes, especially the low-end begs for your attention 99 times out of 100.
Its Sub-bass performance is just spot-on! It starts strong, it sometimes feels as a little elevated by a few dB, it is really powerful down there. As I've mentioned before, it can be too much at times, especially with electronic music. It's ballsy and mean sounding in this region, it moves lots of air down low, there isn't just a whole lot of it, it's a high-quality type of bass too. I find it layered and detailed sounding, without a single trace of distortion.
Mid-bass is exactly as powerful, slightly fuller in its presentation and that makes the whole affair heavier and warmer sounding. It never felt ethereal or lightweight, on the contrary it infused more low-end information even in regular tracks, there is definitely a higher density in here and it stands out very often. Its bass performance is working as a drug for me and I consider it being the best part in terms of FR.
Midrange is mostly linear, seasoning it with just a pinch of naturalness. It isn't that seducing and soothing like it was on their TA-10R hybrid unit. Nonetheless, it's far from being thin, lifeless or boring. Voices are still spooky real and their timber was just right from the get go. Blues are still sounding like them, male voices didn't lose their manliness and authority, those are still going deep and carry their weight. I'm not hearing the usual Sabre thinness as xDuoo fought it back, added warmer sounding components to counterbalance its flaws.
Treble can only be described as clean, detailed and quite sharp, but again there aren't signs of it going overboard to the bright side. It goes up to the highest octaves, it will render all that info in a grain and harsh-free manner. There is only a small trace of sharpness, but it's nothing to worry about as I can't stand brightness and that didn't happen. I find it both technical and smooth with the right music and the best part is that I don't find it rolled-off how it was the case on their XP2 Pro and to a lesser degree on their TA-10R.
Overall, their best shot at portable audio feels incredibly powerful and extended at both frequency extremes, while having just the right amount of warmth and flow in the midrange. For the most part it feels neutral, with a small bump in the bass region.
VIII. Wireless Performance
The big fellow supports all the nicest codecs like AptX-HD, AptX-Low-Latency and LDAC. My android smartphone has them too, so I'll be squeezing the best it has to offer via Bluetooth.
I don't know exactly how xDuoo configured its Bluetooth antenna, since I cannot take out the daughter board that is attached to its PCB, but something clearly isn't working that well. This is probably the biggest con I have about it. In an open space the signal is losing strength at about 3 meters away, but only if I'm facing it. If I turn my back and the signal needs to pass through my body, then its dropping at around one meter and a half. It can't pass the wireless signal through a concrete wall and sometimes even staying close to me, it starts dropping few beats once or twice per track. It doesn't happen that often with 16-bit PCM material, but it happens a lot more often with 24-bit PCM. I'm sorry to disappoint, but its Bluetooth implementation isn't working that great. Since I need to stay very close to it for a better signal reception, using a USB connection with my smartphone seems like a much better idea.
Conclusions
Let's be honest, xDuoo overlooked its Bluetooth feature, apart from that, it performed at a higher level to everything they've done until today. It sounds considerably clearer, more transparent and more technical, having a better driver control, while retaining the same warm tonality xDuoo is known for. It was able to drive and control some of the hardest to drive headphones and it tamed the most sensitive IEMs, making it a universal device to be used with low and high-sensitivity loads. I never seen so many inputs on a portable device, plenty of desktop DACs can't offer you the same connectivity. Four digital inputs in a device that fits in the palm of my hand is not something I see very often. It worked well with a TV and gaming console via optical, it worked well with a stereo receiver via coaxial and of course iOS and Android smartphones worked perfectly fine via its USB-C input, making it a perfect companion not only for audiophiles, but also for gamers and cinephiles.
It will cost you $429 in USA and €439 here in Europe. You can get it from their webstore right here. You can also get it from Apos Audio right here – they'll price match it; they'll offer free 45-day returns in case you don't like it and of course free shipping in the USA and Canada.
PROS:
Great packaging, unbelievable number of accessories
Much nicer design and build quality
Size remained the same, while rocking better electronics
Unbeatable in terms of connectivity
Feels too powerful at times, drives almost every headphone
Much lower noise-floor, IEM friendly unit
The most detailed and transparent sounding xDuoo device
Thunder like bass slam and impact
Amazing speed, great driver control
Great tonal balance
Op-amp rolling at its finest
A Feature-packed 4-in-1 device
CONS:
With sensitive IEMs the volume rises way too fast even on low gain
Its Bluetooth performance was seriously overlooked
ASSOCIATED EQUIPMENT:
Sources: Xiaomi Mi 9T Pro, Corsair One i160
DACs: xDuoo XD05 BAL, Audiobyte HydraVox + HydraZap, Matrix Audio Element X, Flux Lab Acoustics FCN-10, QLS QA390, Gustard X16
DAPs: Shanling M8, FiiO M15
Headphone Amps: Benchmark HPA4, SparkoS Labs Aries, Flux Lab Acoustics FCN-10, xDuoo TA-10R
Power Amps: KECES S300
IEMs: FiiO FA9, FH7, FD5, Meze Rai Penta, Rai Solo, LittleDot Cu KIS & many others
Portable headphones: Sennheiser Momentum 2, Meze 99 Classics
Full-sized headphones: Hifiman Susvara, Hifiman Arya, Audeze LCD-4, Erzetich Phobos, Erzetich Mania, Kennerton Wodan, Gjallarhorn, Vali, M12S, GoldPlanar GL2000, Quad ERA-1, Ollo S4X
Loudspeakers: KEF Reference 3
Interconnects: QED Reference (x2), Topping TCX1 (x2)
Speaker cables: Kimber PR8, Audioquest Type4
Power Cables: Isotek EVO3 Premier (x3)
Balanced Isolation Power Conditioners: PLiXiR Elite BAC400