My Video Review:
I still remember the craze Audioquest started several years ago with the introduction of their Dragonfly line-up. The idea was very simple: transforming your OTG capable smartphone into an audiophile quality source that could drive higher-quality headphones, without a need of a clumsy and heavyweight DAP. Some publications went as far telling that DAP days are over, but of course that didn't happen and DAP market grows steadily by the day. Soon after Audioquest, everyone rushed developing their own portable gizmos that could work with smartphones and nowadays there are tens of manufactures that have such devices. Some of them wanted just to test the waters, others went deep into the rabbit hole developing new devices on a yearly basis, pushing the envelope higher each consecutive year.
A second wave followed that would ditch wired connection, in detriment of the newest wireless tech. First Qualcomm AptX capable devices promised big improvements to SBC and AAC codecs, then AptX-HD came over improving the wireless transmission and lastly LDAC and HWA capable devices started offering lossless audio transfers via Bluetooth and the need for cables was a thing of the past.
Then there was a third camp that offered both connections to you, so you could choose the one you like the most. xDuoo is certainly such a manufacturer, it developed multiple devices and it is still doing it very often. I have already tested their entry-level USB Type-C dongle called Link, then I've tested their flagship portable wired and wireless DAP/headphone amp called XD-05 Plus and it's time to put under a magnifying glass their midrange proposal by the name of XP-2 Pro, that has pretty much the same feature set of its bigger brother, but at a smaller scale and at a much lower price point of just $155.
XP-2 Pro is a direct successor to the aging XP-2 that is still being used by several friends of mine and if you are curious what was updated and improved upon, here's a short list that would tell you more:
Dual Micro-USB ports were replaced with dual USB Type-C ports
Bluetooth chipset was upgraded to the best one (Qualcomm CSR 8675) that added a much better codec support like LDAC, AptX-LL and AptX-HD
Power delivery was improved and from 245 mW on the older chap, it now outputs 300 mW in the same 32 Ohm impedance
Thanks to newest USB chipset (XMOS XU208), it now supports higher sampling rates as 32-bit 384 kHz PCM and it can even natively decode DSD64 to DSD256 files.
Total Harmonic Distortion (THD) dropped by 8 times, from 0.008% to 0.001% – that is a huge improvement on its own.
Everything else remained the same, including its dimensions and weight.
Unboxing Experience
The box is neither big or heavy, suggesting that a lightweight portable device is lurking somewhere inside. It has some really nice graphics on it and most specs are already printed on it as well. After opening it up, I've spotted plenty of black foam around it for protection, which is always pleasant to see. I was surprised by how small XP-2 Pro is compared to their XD-05 Plus. Under the unit there is an accessory box that houses:
A longer USB Type-A to Type-C cable that will help you charge the unit or use it as a DAC/Hp amp with your PC or Mac
A short USB Type-C to Type-C cable so you can connect it to your Type-C capable smart device
A short mini to mini (3.5mm to 3.5mm) analog cable just in case you'll want to use it only as a portable headphone amplifier, completely bypassing its DAC section
A warranty card
A user manual in Chinese and English
I would like to have the same silicone spacer that XD-05 Plus had in the package, it would sit in between your smartphone and XP-2 Pro, so that neither will get scratched. A small carry case would be also nice to have, but XP-2 Pro is about half the price of XD-05 Plus and some cutting corners were needed to be made.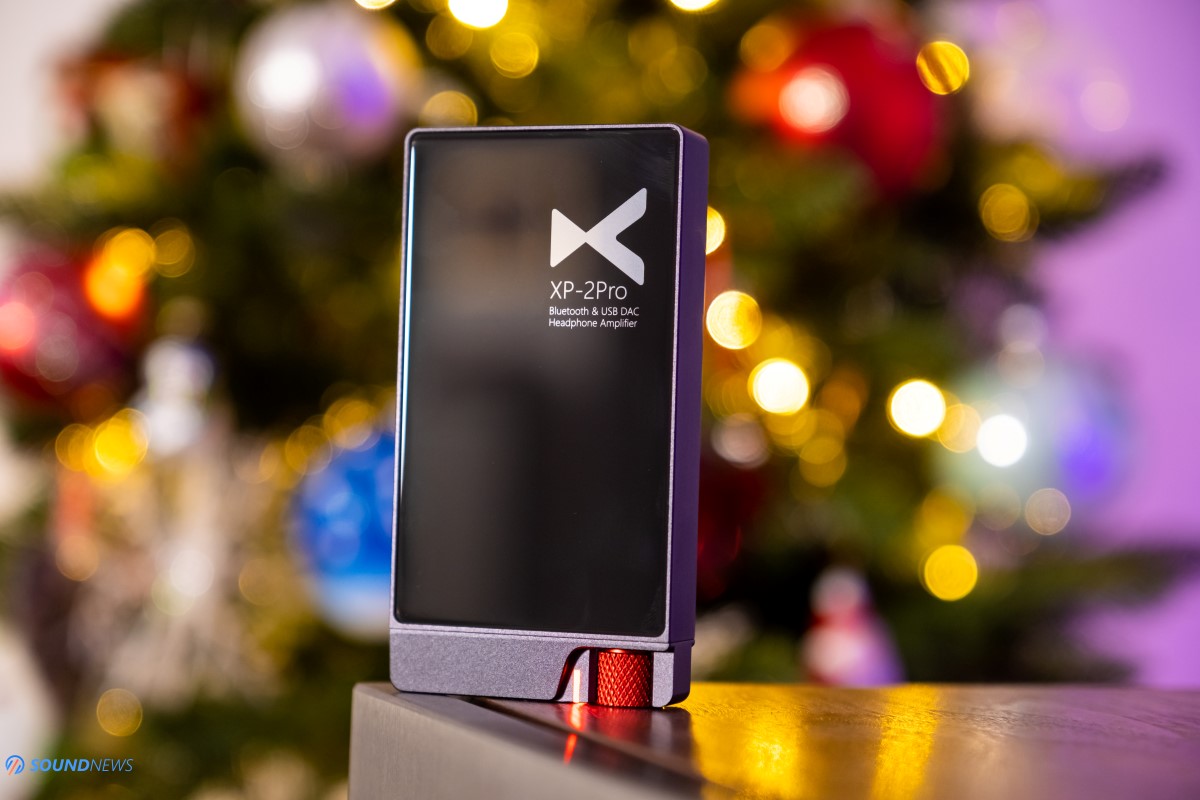 Design & Build Quality
XP-2 Pro is looking a lot like their XP-2 with some minor tweaks here and there, it borrows the same design cues and form factor, it has the same weight of 142 grams (5 ounces) and the same tiny dimensions of 105 55 15 mm. It uses a sand blasted matte grey aluminum case that should resist accidental drops and scratches. Since it has an NFC chip inside and a powerful Bluetooth chipset, it was mandatory exposing some parts of its case, for a stronger wireless signal and that is precisely why it is covered with tempered 2.5D glass on top and underneath it. Surprisingly, it isn't a fingerprint magnet as I have expected and I've rarely seen a stain on it. On the flip side, it is a slippery surface and you should be extra-careful while holding it in hands and while it is being attached to a smartphone. Some rubber rings and that silicone spacer would make a much sweeter package in my opinion.
The device itself is incredible small, but it is well built, the volume knob has a higher resistance while turning, which I personally like. That NFC and xDuoo logos under the glass are adding a pinch of style and class and the cherry-red volume knob complements really well its matte-grey case.
I like that it no longer has Micro-USB ports for a much better compatibility with newer devices and I also find the recessed 3.5mm headphone jacks very convenient, just in case some thicker cables are being used.
Buttons & Layout
On its front you can spot 2 headphone jacks: one works as an analog input – just in case you'll want to use it as a simple headphone amplifier, completely bypassing its DAC section and the second jack is your usual headphone output. It doesn't have any balanced 2.5mm or 4.4mm outputs and maybe that is for the best, since not everybody is happy paying extra for a custom headphone cable which could cost as much or even more than the device itself. The volume knob on the right also works as an On/Off switch and the LED light near it shows the selected input: Blue – Bluetooth, Red – USB-C, Green – 3.5 mm input.
On its left side, from left to right there is a microphone for making or receiving phone calls, a play/pause button that works only with Bluetooth connection, then there is a Low/High gain switch and an input selector. On the back there are two USB-C ports, one will charge your device and one will use its internal DAC section for your desktop or portable needs.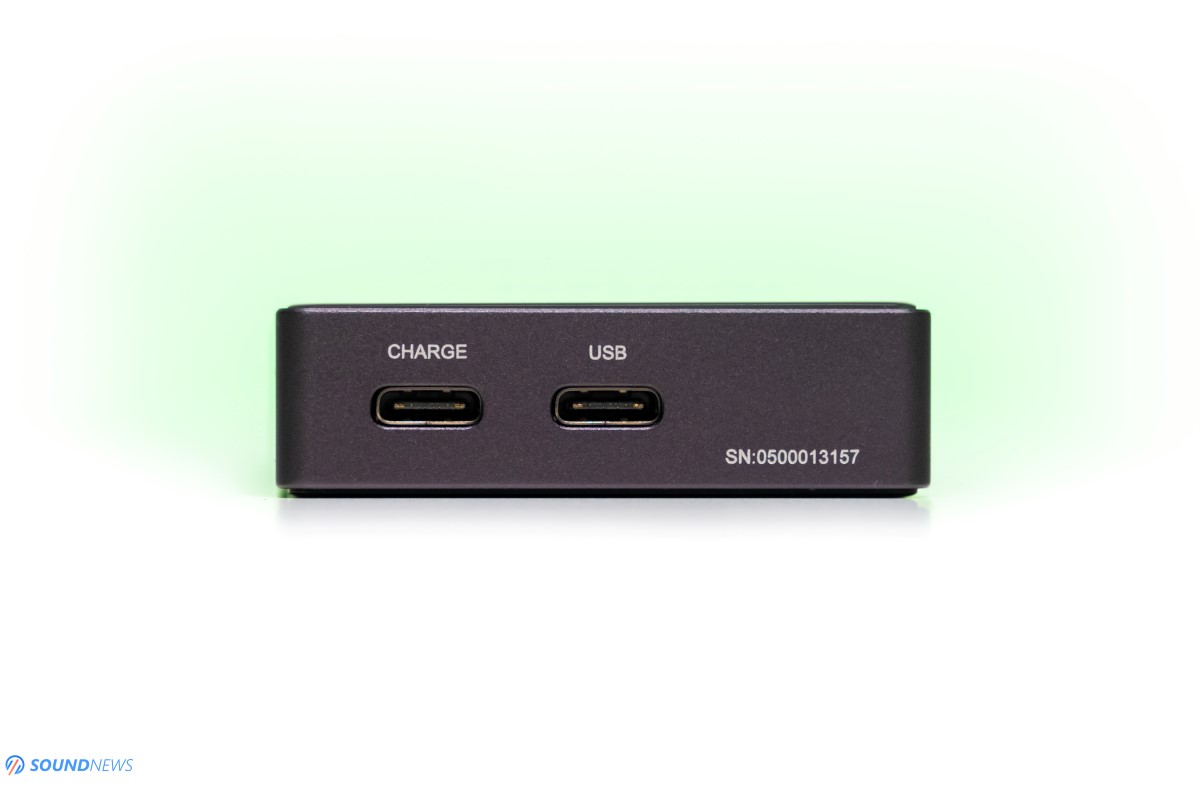 Battery
xDuoo used a Li-Po 3.7V 1800 mAh battery in this one, it is the same they used with XP-2, considering its small size and form factor, that is probably the biggest capacity they could squeeze inside. I charged it fully with a 5V 2A fast charger in about two hours and it needed three hours with a regular 5V 0.5A charger. XP-2 Pro will offer you back about ~22 hours on its AUX input, ~15 hours via Bluetooth and ~8 hours via USB-C. Those are some decent working times and if you would like more, you can easily attach a power bank on its back and rock out for as much as you want.
Under its hood
xDuoo went with a two channel (stereo) 32-pin AK4452 DAC chip of Asahi Kasei Microdevices. It is part of their premium DAC line, that features the same Velvet Sound Architecture of their flagship chipsets. AK4452 is a low power consumption DAC chip that was developed to be used mostly in USB DACs, AV Receivers, CD/SACD Players, Network Audio Players and with Car Audio. You can learn more about it in here.
With the help of a powerful USB receiver like XMOS XUF-208, XP-2 Pro will natively decode DSD256 and PCM 32-bit files. This exact receiver is being used in most modern DACs of today, it is a very stable unit, which I never had a problem with. It works driver-less on Windows 10 and Mac OS.
The headphone amplifier circuit is op-amp based, plus a high-speed buffer stage will further increase its power delivery (most probably a BUF634/636 was used in here). It outputs a respectable number of 300mW of power into 32 Ohm load, which should be plenty for most desktop headphones and for all sensitive and portable headphones.
XP-2 Pro is equipped with the most powerful Bluetooth chipset, the mighty Qualcomm CSR 8675 that currently supports all major audiophile proof codecs as AptX, AptX-LL, AptX-HD and LDAC, plus its Bluetooth version 5.0 should provide a better signal strength.
Other than that, it is also NFC equipped and with a simple one-touch it can be immediately recognized by an NFC enabled device, without going through Bluetooth connection settings. Its high-sensitivity microphone supports voice calls via Bluetooth, it features CVC 8.0 voice noise reduction technology for clearer and louder voices even in noisy environments.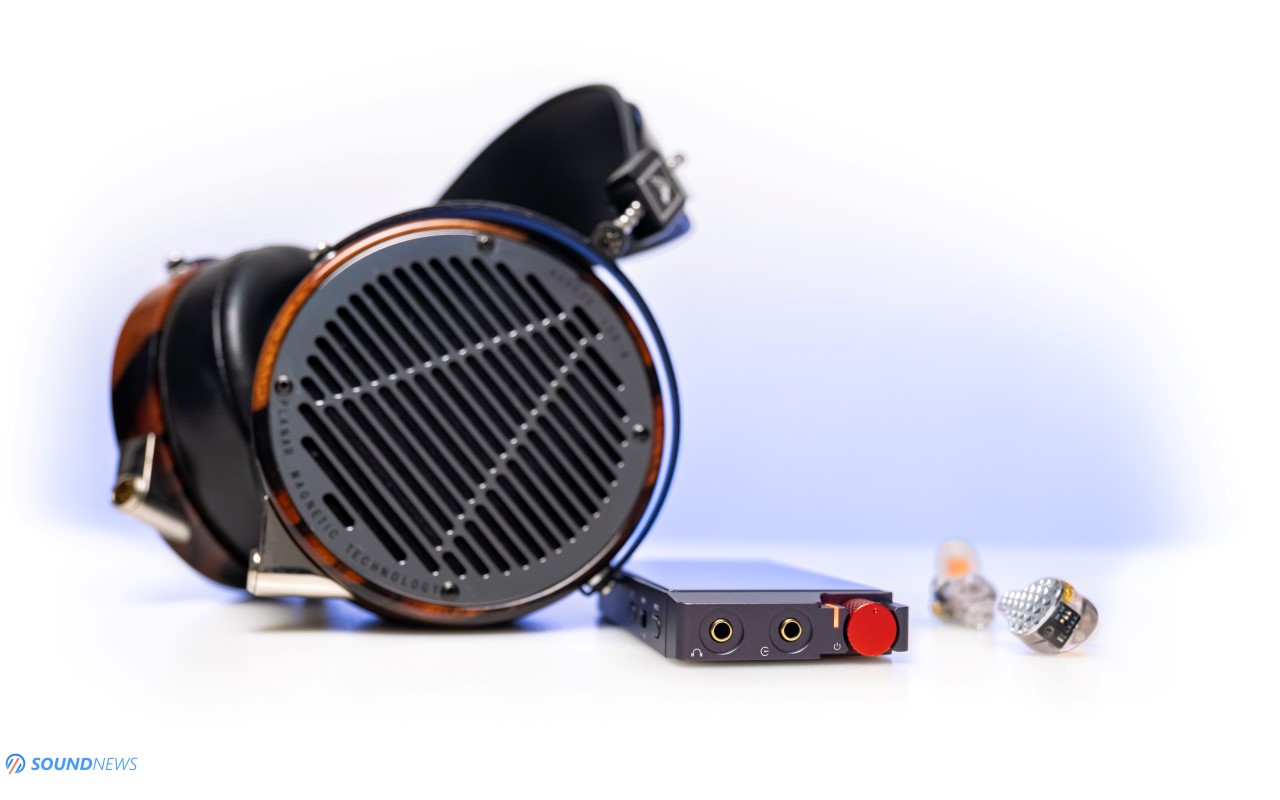 Sound Performance
I. Preliminary Sound Impressions
Before I tell you exactly how it sounds, you should first understand who xDuoo really is. Their flagship device is a tube-based DAC and headphone amplifier combo called TA-30 that I have reviewed last year, the ones siting under it are all-tube or tube-hybrid headphone amplifiers. As you can expect, such devices will never appear on a test bench that is measuring total harmonic distortion or noise levels, but they will surely appear on someone's table that truly appreciates music and all its subtleties, sweet harmonics and natural textures. Generally, tube amplifiers are not about the numbers, they will impress you only after the play button is being pressed. XD-05 Plus portable DAC and headphone amp combo that I've also tested last year, carried a warmer tonality than usual, two OPA1612 that are powering it, are known to be smooth, natural and easy going most of the time and xDuoo is adoring them for that. This manufacturer does indeed have a house sound compared to others and by that, I mean a sound that focuses on emotions, on textures, on guttural voices and on a fuller tonality.
While I don't know exactly which op-amp is powering the little XP-2 Pro, that velvety sounding AKM chipset and its headphone amplifier section were tuned towards naturalness, bold bass and midrange and less so towards piercing upper trebles. I've went through a collection of old-rock and jazz tunes and all that sounded smoother and warmer than my reference setups by a long shot. Not everybody enjoys such type of sound, but if acoustic music is your thing, it is quite difficult not liking the sound coming out of the little one. While the power output is not that impressive and it can't move massive amounts of air, its airy sounding DAC section gave a huge helping hand, making it decently layered and well-spread around the listener. I've observed that the little one is not putting a huge accent on detail retrieval or on absolute transparency, but it does other things extremely well: tonal balance is very good, its mid-tones are considerably warmer that should help your bright sounding headphones and IEMs. Its noise floor stays in check most of the times and distortion was never a problem in my case, clipping never occurred and while it might not be the best portable all-in-one device I've tried, it managed to pull me into my musical wonderland and it was able to awake some emotions in my music.
It has a good liquidity that binds all the musical notes together, it is very good in the midrange department and less so at both ends of the spectrum and by that, I mean sub-bass and upper treble. I really liked the idea that I can use it wired or wireless with my phone and in both cases, it easily surpassed the Hi-Fi DAC inside my smartphone. It had a much higher power delivery, it sounded much cleaner and considerably wider on all axes with every single headphone. From my Low-Fi it plunged into Hi-Fi territory and with a Tidal Hi-Fi subscription I could enjoy my tunes in a clean and undistorted way anywhere I go.
II. Noise Floor
xDuoo mentions a distortion of 0.001% via USB and a signal to noise ratio of 115 dB, those are some respectable numbers in their own that should have the noise floor in check most of the time. You should know that via Bluetooth distortion is slightly increasing, as it should normally be, that's because an additional chipset is being added to the signal path.
Making a phone call or just putting it nearby my phone while listening to music, didn't increasing its noise floor and I am experiencing the same sound as if it would be connected to my PC, which is already a good sign. If I'm using it with high-performance planars like Kennerton Wodan, Erzetich Phobos or Quad ERA-1, I'm not spotting an increase of the noise floor, as it always appears crystal clean sounding. Via portable over-ear hearphones, the same story repeats itself and again all I've heard was a clean background, much cleaner than that of my phone. Moving on to IEMs like LittleDot CuKis and Meze RAI Penta, there was only a tiny bit of white noise on the high-gain and just a trace of it on low-gain at close to maximum volume. On my actual listening volumes, I couldn't spot that anymore. Only when I moved to FiiO FA9 putting them into their high-sensitivity mode (16 Ω and 113 db sensitivity) I was able to detect a higher noise floor via high-gain and a barely audible one via low-gain. My actual listening volumes didn't increase its noise floor, so forget about nasty pops, crackles and hisses because that never happened. It isn't a concern to me, it was still clean sounding, just not on the same level with pricier offerings.
Weirdly enough, the noise floor was much higher at 2'clock, than at full power (6 o'clock), than was unexpected as normally max volume has the highest noise floor. xDuoo is not specifying its exact noise floor, but after further investigation it seems to be at the same level with FiiO Q3 in the balanced mode, which has it at 8 microVolts of noise.
III. Power Output
The little one offers about 300 mW of power in 32 Ω and while it doesn't seem that much, it is plenty for most headphones, even for desktop ones, it is undeniably quite a powerful little devil. All my sensitive IEMs were driven to their fullest at 12 to 1 o'clock position on low gain and same can be said about the potable over-ear headphones that performed marvelously. I would personally like to have a longer travel on the volume wheel on the low gain, since there is a little bit of channel imbalance at very low listening levels. It gets loud way too fast and sometimes I need several seconds adjusting to my usual 85 to 90 dB listening volume.
I've raised an eyebrow when desktop headphones came to play with it. Dynamic headphones like Kennerton Magni, Gjallarhorn, Erzetich Mania and Quad ERA-1 planars sounded mighty fine even on its low gain position, I could go high-gain but I'll have a shorter travel on that wheel, which I don't like. All those sounded pretty much like they did on desktop power, there was driver control, there were fast decays and a well spread presentation. It was capable of unleashing nicer sonics out of them at just half the power on its low-gain position. There was plenty of headroom left on tap and dynamics were increasing my dopamine levels in a matter of seconds. Now, imagine my reaction when on high-gain it was able to drive the Kennerton Wodan and those huge looking Erzetich Phobos with a lot of power to spare. At 1 o'clock it was already way too loud for me (~95 dB) so I went back a notch. As you can expect, it was able to infuse some juicy power and control their drivers nicely, dynamics were pounding and kicking my eardrums, soundstage didn't collapse at all and there was enough bass for my electronica needs.
The only two headphones that were lacking nerve were the Audeze LCD-4 and Hifiman Arya, but as we all know, those two deserve only high-quality desktop power, no less. XP-2 Pro will also drive most dynamic headphones like Sennheiser HD6XX line, the DT line by Beyerdynamic should be fine too and AKG's K line shouldn't be a problem for the little one.
IV. Resolution & Transparency
The Achilles' Heel of the little one is this part alone and while it isn't sounding muddy, it doesn't distort at higher volumes and it isn't a noisy device, it isn't that impressive when it comes to detail retrieval. Leading edges are not exactly sharp, you hear the insides of the musical notes, but not their sharp outline.
It will surely improve the sound of your smartphone and of your PC, but it can't be compared with dedicated desktop DACs, even entry level ones like Toping D10S or E30, Loxjie D30 and SMSL Sanskrit 10th MKII would outperform it in here. Transparency is decent, but there wasn't enough air around the notes, so I couldn't feel the depth information to call it a completely transparent sounding. Its mid-range DAC section is probably the culprit it here and of course its weak output stage said its last words exactly in here. There are few details that I've spotted in my tunes, but some micro-details were still lost and I couldn't spot them even with flagship headphones and IEMs. You can't have it all at only 155 bucks and that is perfectly fine by me. It actually reminds me very much about the FiiO Q3, that had pretty much the same tonality and a weaker detail retrieval, even its THX-based headphone amp section couldn't wake up micro-details and subtleties in reference recordings and again that is fine in an entry-level device that wouldn't hurt your wallet that much.
V. Transient Response
This is another chapter that felt like hit or miss with some particular music. For example, it rocked impressively hard with rock music, but it wasn't that good with electronica music and after going back and forth for a few days and listening higher dynamic range tracks, I've come to the conclusion that it is good when it comes to slam and just decent when it comes to speed and decay of the notes. It wasn't keeping up with the fastest tunes, so electronica felt a bit disjointed with notes overlapping, but when drums started hitting, that visceral and raw energy felt very pleasant. It hits pretty hard but it isn't a nimble and agile fighter. Speed and decay are actually its second flaws which are less impressive in my opinion. Transient response is good to a degree and I've felt pretty much the same with FiiO Q3 via its balanced output. Pair it with a slower sounding headphone like Meze 99 Classics, Erzetich Mania or Sennheiser Momentum line and you will never observe its longer decays, its slower pace, because those headphones are sounding pretty much the same, but pair them with some lightning fast planars and everything will be revealed in a second.
On the plus side, some all-armature IEMs could sound a little bit raw and unnatural with a faster paced source and amplifier and I do think that a device like XP-2 Pro or FiiO Q3 would improve them, adding weight in the bass and midrange and making them a whole lot more natural sounding, wiping clean that listening fatigue those are having in their stock form.
As I've expected, every older record of mine had the same smooth rendition, that slight fog on Led Zeppelin and Deep Purple remained intact, those records sounded like when I've listened to them decades ago for the first time and I do think the soul of older recordings was perfectly preserved with it.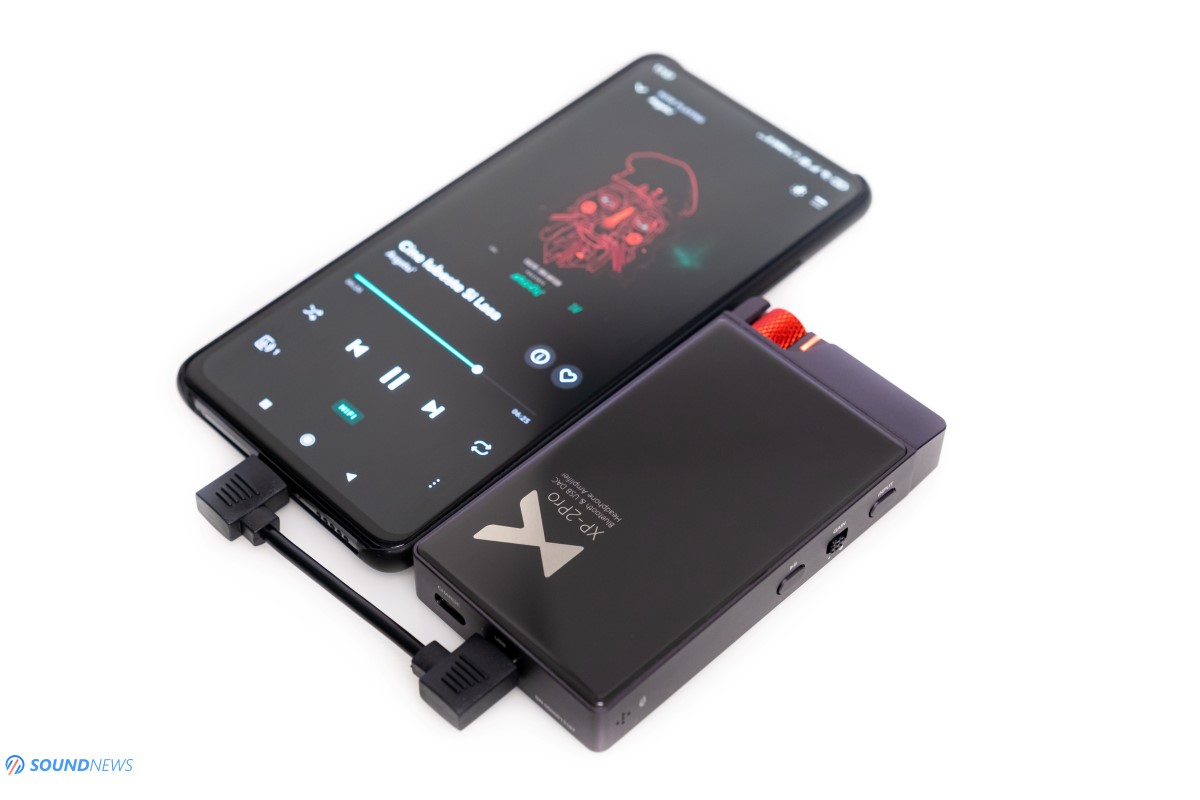 VI. Frequency Response
This will be an easier chapter, mostly because XP-2 Pro is very impressive in the mid-section and less so at the both ends of the spectrum.
Sub-bass is there in right doses, but don't expect it rumbling and crushing your eardrums with 20 Hz notes, that didn't happen. While it has plenty of it, it wasn't exceptionally clean and defined to me. Sometimes it felt like a one-note type of bass, it wasn't very detailed and transparent to me, but quantity wise there was plenty for my electronica needs. It worked better with bassier IEMs like LittleDot Cu KIS and FiiO FH7 and those substituted its lack of sub-bass presence and energy.
Mid-bass was considerably better, it added warmth and a lot more weight and body into the mix. It had more of it to what I would call a neutral type of bass. It went deep, it was visceral and it was hitting pretty hard with the right track. I wanted just a little more detail and air down low, but everything else was really good.
Midrange is without a doubt the best part of the little one. It's weightier in here, much fuller, having lots of muscles and meat to the bone. Everything that has to do with midrange felt sweeter, I was emotionally attached to string-based instruments, all the voices carried more air and more energy. Piano notes had that pulsating pitch, it was all over the place but in a very pleasing way. Old gangster blues of Junior Wells' Chicago Blues Band and gypsy-jazz of Django Reinhardt sounded as they went back to life in my room, jamming together for one last time.
Treble sounded okay to me, the lower and mid-treble had enough presence and detail, but the upper part was losing momentum and felt rolled-off most of the time. As I've told you before, xDuoo has a house sound and pretty much all their devices are not moving the spotlights in this region. Treble ringing is not an issue in here, brightness didn't make an appearance, while it was quite clean and defined, it wasn't sharp at all. It has a relaxed type of treble infusing its medicine into bright headphones and recordings.
Overall, XP-2 Pro has a good tonal balance, highlighting its mid-section the most, followed by the mid-bass, by mid-treble and only after that by its extremities like sub-bass and upper-treble, reminding me quite a lot about my old cassette decks and about my first portable CD player: Sony Discman D5.
VII. Wireless Performance
My Android smartphone is Bluetooth 5.0 enabled, it supports all the nicest Bluetooth codecs, including AptX-HD and LDAC, that the little fellow can natively decode. To connect to it, simply select its BT input (Blue LED light) and with your smart device connect to the XP-2 Pro and that is basically it, it's all set up and you're ready to rock!
With a Tidal Hi-Fi app installed on my phone, I was able to stream my music directly to it and that worked as a charm if I would sit near it. I moved away from it and the signal was strong at about 6 meters (~20 feet) away, but if a thick concrete wall would sit in between, it would immediately lose some beats. There were a few desktop DACs that had a stronger signal even with two concrete walls between us, but those had external Bluetooth antennas that worked as signal boosters, so it all makes sense now. In an open space I didn't have issues with it and on the go outside leaving it in a pocket and my phone in the other pocket I didn't lose a beat in a two-hour walk.
As for the sound quality, lossless files of Tidal (16-bit PCM) streamed via LDAC codec sounded pretty much the same wireless or wired, I didn't spot much of a difference if being completely honest with you. Only with master files (Hi-Res) it sounded smoother via Bluetooth, masking even more that detail retrieval, wiping an additional layer of information. It worked well via Bluetooth while casually listening around, but if we are talking about real Hi-Fi, then you should probably use it mostly via its USB input, which sounded the best with DSD and Hi-Res PCM files.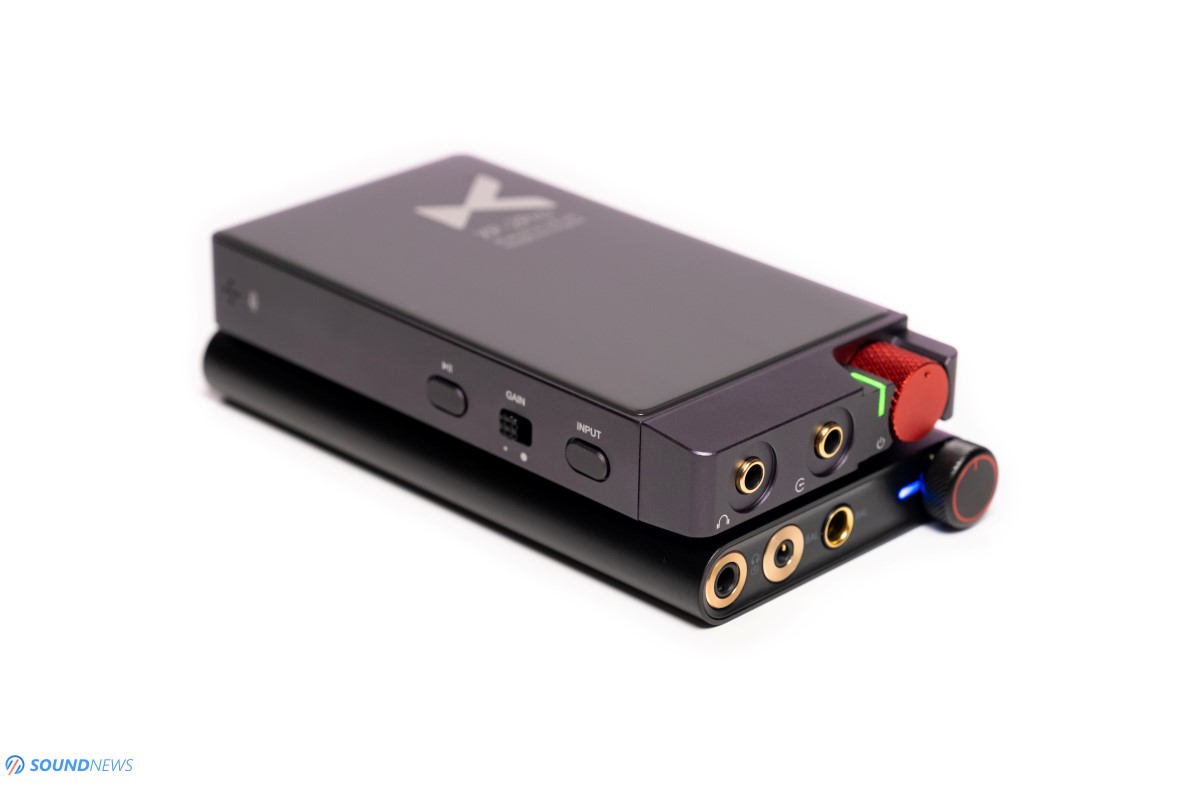 VIII. A Comparison
xDuoo XP-2 Pro ($155) VS FiiO Q3 ($150)
Design wise, both are cute little devices, but I'm going to give the Q3 an advantage since it doesn't have glass panels on top and underneath. In terms of packaging, again Q3 is winning more ground, since FiiO added a much-needed silicone spacer and some rubber rings to get it attached to your smartphone, plus that simple but effective carry case is a really nice touch too.
When it comes to feature set, this is where XP-2 Pro plunges ahead as besides working as a wired USB DAC and headphone amplifier, as a headphone amplifier only, it can also work as a wireless DAC/Amp completely ditching all those cables. This is a biggie in my opinion, because regular 16-bit PCM lossless files from Tidal Hi-Fi are sounding pretty much the same in wired and wireless mode via LDAC codec. I no longer need to glue it to my phone, just leave it in my pocket and control everything else with my smartphone, that is very convenient and simple to set up.
When it comes to sound quality, If I'm using single ended only headphones via the 3.5mm jack, the XP-2 Pro is considerably more powerful, harder kicking and slightly warmer sounding, it could drive even desktop headphones, a thing that Q3 can't do via its 3.5mm output.
If I'm using Q3 via its balanced 4.4mm output and xDuoo via its only headphone output, then both are becoming exactly as powerful and now both can drive desktop class headphones. Their tonalities are very alike, but a slightly higher performing DAC chip and those THX-AAA modules, made Q3 by a hair more detailed, more transparent, having a little more treble presence unearthing more subtleties from my music. On the other hand, XP-2 Pro felt smoother sounding, it had a warmer tonality, mimicking the sound of tubes and it had a better slam and punch. Depending on what is more important to you sound wise, you could prefer one to the other, but there is no denying that XP-2 Pro has more features at the same price point.
Conclusions
I never tried their former XP-2, but XP-2 Pro is very reminiscent of everything they've done until now, there's a bit of XD-05 Pus in it and some smoothness and naturalness from its bigger brother TA-30. It is feature packed alright, it can work in 4 different scenarios which is pretty cool and its bigger power reserve should pilot even heavier loads with plenty of juice left. IEMs were good sounding, but the most sensitive ones weren't that spectacular due to a higher noise floor and a short travel on the volume wheel was slightly bothersome in the long run. Portable headphones, desktop dynamics and three planar magnetics on the other hand worked as a charm and I never longed for a desktop setup with those. Dynamics were impressive, it was hitting pretty hard and naturalness made an appearance in my tunes. It worked flawlessly with my phone in wired or wireless configuration and it seems like a good deal if enjoyment factor is more important than technicalities to you.
It is priced at $155 in USA and €140 here in Europe and you can get it from their web-store right here. You can also get it from Apos Audio right here – they'll price match it, they'll offer free 45-day returns in case you don't like it and of course free shipping in the USA and Canada.
PROS:
Small, portable and cute looking device
Solid build-quality, can't go wrong with its sand-blasted look
Natural and smooth sounding, good tonal balance
Midrange and mid-bass presence are very obvious
Plenty of power for most headphones, including desktop ones
Clean and undistorted sounding
Good slam, nice control, decent speed
A feature-packed 3-in-1 device
Supports all the best Bluetooth codecs
A good value
CONS:
Rolled-off in the upper treble and sub-bass
Slight hiss with ultra-sensitive IEMs
Speed and decay could be better
Transparency and detail retrieval is not that impressive
ASSOCIATED EQUIPMENT:
Sources: Xiaomi Mi 9T Pro, Corsair One i160
DACs: xDuoo XP-2 Pro, FiiO Q3, Audiobyte HydraVox + HydraZap, Matrix Audio Element X, Soncoz SGD1, Flux Lab Acoustics FCN-10
DAPs: Shanling M6, FiiO M15
Headphone Amps: Benchmark HPA4, SparkoS Labs Aries, Flux Lab Acoustics FCN-10, LittleDot MKIII SE, SMSL SH-9, SP400, Topping A50S
Integrated Amps: KECES E40
Power Amps: KECES S300, Kinki Studio EX-M7
IEMs: FiiO FA9, FH7, Meze Rai Penta, Rai Solo, LittleDot Cu KIS & lots of other lower tiered ones
Portable headphones: Sennheiser Momentum 2, Meze 99 Classics
Full-sized headphones: Hifiman Susvara, Hifiman Arya, Audeze LCD-4, Erzetich Phobos, Erzetich Mania, Quad ERA-1, Ollo S4X Reference, Kennerton Wodan, Magni & Gjallarhorn
Loudspeakers: KEF Reference 3
Interconnects: QED Reference (x3)
Speaker cables: Kimber PR8, Audioquest Type4
Power Cables: Isotek EVO3 Premier (x3)
Balanced Isolation Power Conditioners: PLiXiR Elite BAC400