FiiO FH5S IEM Review – Best Value For Your Pocket
My Video Review:
I have long relationship with FiiO, way before this website came into existence. You see, portable audio took a big portion of my life. My journey started with portable cassette players in the 90-ties and since then, audio gear that could fit into my pockets always appealed to me and I'm pretty sure I'll have the same feelings decades later. I'm that guy that goes outside with a DAP, with a Bluetooth dongle (just in case) and with two pairs of IEMs, out of which one is surely the FiiO FH7. It is overkill, but tell me what isn't in this hobby. When I say FiiO my mind pictures high-quality portable audio at affordable prices and that always have been the case.
When I've tested the FiiO FH7 two years ago, it outperformed two pairs of IEMs that were considerably more expensive, they become my daily drivers and I still regard them as one of the best IEMs at less than $1000. FiiO recently announced a successor to their aging FH5, that didn't draw much attention after the FH7 launch. Needless to say, their newest FH5S that I will be testing today…just might be the most interesting IEM I've seen for ages from the house of FiiO. Spotting not one, but two beryllium coated dynamic drivers that are taking care of the bass and midrange, another two balanced armatures for treble and top octave, swappable headphone sockets, three tuning switches that are working as a hardware equalizer and a semi-open design that should improve their soundstage at only $259 is something that I've never seen as of yet. Some detailed measurements will follow shortly and I'll compare them with my daily driver FH7 in the later stages of this review. Until that happens, let's unbox them, check them out and listen to a lot of music.
Unboxing Experience
FiiO prepared a nice unboxing experience that is reminiscent of their upper-class gear. You are presented with a card-board box that houses a glossy FiiO box stamped with some cool graphics and within it another matte box opens up like a book. I'm glad FiiO updated their motto that can be seen after opening up the final box, born for music sounds so much better to me. I've experienced quite a few >$1000 IEMs that aren't as impressive when it comes to packaging, care and protection during shipping. FiiO did an impressive job here, as the first impression is very important.
Package Contents
Upon opening the last matte-black box, I was greeted by the IEMs themselves that have a cool dragon-scale face-plate, featuring nicer ergonomics and a better fit to their top-dog FH7. They look exactly as stealthy, following the same design cues and color palette, spotting the same DNA and moving forward the heritage of the FH line.
FH5S are coming with a sturdy four-strand 120 core, high-purity monocrystalline silver-plated copper (or SPC for short) cable that tries to faithfully reproduce your music without adding any coloration. There are several things that I like about this cable: it will not go down fast with that thickness, it doesn't have any microphonics while rubbing against your clothing and its flexible but not too flexible, so it will not entangle easily in my jeans pocket how cheaper Chi-Fi IEMs are doing. The coolest thing about this cable is that it uses swappable audio plugs. Three plugs are included coming in 2.5, 3.5 and 4.4mm flavors, so you can use a single cable with all your single-ended or balanced sources, without the need of a secondary cable.
After taking the IEMs out, I was surprised by the sheer number of ear-tips and accessories that FiiO put in this package. They added their HB3 leather case in there that houses a MMCX assist tool to detach your IEMs from the cable, under that case you'll find a cleaning brush, that will come in handy cleaning the IEM nozzle and at moving those EQ switches up and down on the IEMs themselves.
FH5S are coming with a total of 26 ear tips, split into 5 categories, as follows:
Balanced ear tips (3 pairs of S, M and L – the standard grey silicone ones) Here's a free tip on how to improve your FH5S: take out the default balanced medium sized tip and never use it again! Bingo! It's that easy, as any other tip will sound better.
Vocal ear tips (3 pairs of S, M and L – the white silicone ones with a red inner tube). These are boosting the midrange presence, pushing all those voices closer to the listener.
Memory foam tips (3 pairs in M size only – the black foam sticky ones) Here's another free tip on how to improve your FH5S: presuming you already followed my first tip, insert the memory foam tips and that's it! They will be singing at their maximum potential. These are my favorite tips
Bi-Flange ear tip (a single M sized pair) Etymotic users know them very well. They should be inserted deeper for a better seal. Sadly, they don't work for me, my ear-holes are not that large (Yet!) Insert at your own risk.
Bass ear tips (3 pairs of S, M and L – the grey silicone ones with a red inner tube). Self-explanatory, are you a bass-head? You must consider yourself a true audiophile then, these will rock your world.
The only ones that are missing from their high-end FH7 and FA9 IEMs are Spin-Fit ear-tips and if you like them a whole lot, you can get them separately from 3rd party retailers.
Build Quality & Looks
The FH5S employs a so called TRISHELL Acoustic Design Technology that was inspired by supercars. Their aluminum-magnesium alloys shell, body and front covers are fixed together at 3 points to greatly reduce excess resonance and distortion. They actually made a short video where you can see how their body is carved on a CNC machine and how everything is put together by FiiO engineers. See it for yourself right here:
The shell itself looks pretty much the same to that of FH7 with a slight redesign to improve ergonomics and comfort in long listening sessions. It is the same lightweight aluminum-magnesium alloy that improves sturdiness of the shell, while reducing unwanted resonances coming from those four drivers. Instead of drilling holes on that metallic shell, they created a semi-open design at the rear cavity that will move excessive air pressure outside, seriously boosting comfort levels and most importantly their soundstaging capabilities. The outer mesh and the fins around it are creating a stunning dragon-scale like look, highlighting a new design philosophy for their FH line.
The IEMs themselves are medium sized and comfortable to wear even for a few hours. This is their third-generation ergonomic design that was optimized for a nicer fit around the human ear. I can certainly say that they stay snuggly and firmly in my ear and I find them more comfortable to their past doings as FH5 and FH7. The outer nozzle is the standard one, having a diameter of about ~5mm, meaning that you can use your growing ear-tip collection and its depth is also at ~5mm, so again lots of Comply, Spin-Fit and many other ear-tip brands should work with these no problem.
The MMCX connector is sticking out a little as it was the case on their FH7. I like that I need to apply a bigger force to attach and detach its cable and this is where that MMCX tool might come in handy. FiiO has several years of experience with this connector and I'm pretty sure they found the perfect balance between being flexible and strong enough at the same time.
Tech Inside FH5S
FiiO moved to a brand-new architecture consisting of two beryllium coated dynamic drivers and of two balanced armatures. Replacing the BA used for mid frequencies in the original FH5, the newest dynamic driver provides a better vocal performance and a bigger soundstage to its predecessor. The dual dynamic driver setup connects the bass and mids much smoother, covering a wider range of frequencies and creating a better sense or air traveling around.
Those two beryllium-coated drivers are being pushed by a powerful 1.5 Tesla magnet that should improve transient response and control of those drivers. I must add that driver size is impressive, 12mm for the bass and 6 mm for the midrange are some of the biggest drivers I've seen in IEMs.
If you followed FiiO for a few years, you would observe that they already crafted strong bonds with few partners and Knowles is probably the biggest connection they've made. The whole treble area is being reproduced by a time-tested Knowles TWFK-30017 dual balanced armature driver. FiiO placed it directly in the sound tube to be as close as possible to the ear, fully preserving treble extension in the top octave.
It looks that FiiO implemented a four-way crossover design, so that each driver should focus on the low, mid, high and ultra-high frequencies, working seamless with each other. It is kind of interesting seeing that besides high frequencies, FiiO is taking care of the ultra-high frequencies too or top octave as I am calling it. I'm already expecting some extra details in those regions and I'm quite curious what MiniDSP EARS will have to say about this.
By far, the coolest thing FiiO incorporated are those 3 tiny adjustment switches. I'm eager to try them for myself and combine some of them too. The switches are working directly with the electronic crossover and allows a fine tuning of the sound, as follows:
B is the Bass boost switch that has two positions. By default, it's turned off.
M is the Midrange boost switch. By default, it is disabled and if you would like to hear a meatier midrange, simply turn it up for more presence in that region.
T is the Treble boost switch and it works exactly as the other two. For a crisper top-end, simply turn it on.
Of course, you can mix and match according to your music, to your source and to your mood in that particular day and to your musical preference. I consider that FiiO opened a pandora box with this one and I'm sure there is a setting that works nicer for you. I will be testing all those switches soon and I'll be measuring them too. That is everything you need to know about them, so I'll just stop here and I'll start hitting some eardrums.
Sound Performance
I. Preliminary Sound Impressions (in their stock form)
I'll start by saying that these don't sound like entry to mid-range IEMs at all, even in their stock form. There is nothing reminding me of that lifeless, thin and boring Chi-Fi sound. Forget about a lack of midrange presence, or about an elevated brightness of Knowledge Zenith and forget about a lack of transparency and details of BLON IEMs. These are considerably more balanced sounding top to bottom, going for a higher degree of technicalities, putting plenty of micro-details on the foreground, while still infusing soul and warmth in the midrange and some fulness in the bass.
I don't find them extremely engaging in their stock form with memory foam ear-tips, nothing is really missing from my music, but nothing is standing out. There is a good amount of bass, that is clean and completely undistorted, there is a nice midrange performance that preserved the pitch of male and female voices and there is a higher treble presence that could pose a slight problem in long listening sessions. In my humble opinion, that treble switch should be never touched, as even in the off position, there is a higher treble presence to their FH7 and FA9 IEMs. It isn't too much, but it is definitely elevated by a few dB.
The amount of micro-details coming out of them was surprising to say the least, frankly these aren't that far away from their top-dogs FH7, as I find them equally transparent and clean sounding. If you love your mastering errors and hearing everything that is hidden in the background, then FH5S will easily show that to you without too much effort. A pleasant surprise was hearing a bigger sound compared to other entry to mid-levels IEMs like IKKO's OH10 and to Meze RAI Solo. Their semi-open design is indeed making them airier sounding, as not everything is happening inside my head. They aren't claustrophobic and aren't mashing all the notes together. Even in crowded rock or electronica they added some space and air between the notes, so you can hear them individually and defined if you focus your attention on each and everyone.
Probably the biggest surprise for me, which I didn't observe at first while surfing through its specs is their higher impedance of 40 Ohms and their lower sensitivity of 106 dB per 1mW of power. On one hand you will need a little bit more power compared to their FA9 and FH7 IEMs, but come on…these are still IEMs and don't need that much juice to be fully driven. Their biggest plus is that you can use them even with noisier portable or desktop amplifiers. If you had hum with FiiO FA9, there is a big chance you will never hear that on FH5S. FiiO's M15 DAP has just a tiny bit of residual noise via its balanced output with the FA9 on higher volumes, but that isn't the case with the FH5S. This is a big deal, as realistically speaking there are only very few dead-silent DAPs and headphone amplifiers out there, a common issue with IEMs that FH5S completely bypasses.
II. Power Requirements
At 106 dB per 1mW of power, these are not the most sensitive IEMs, so prepare to use a dedicated DAP, maybe a Bluetooth dongle or an external DAC/Amp with them, as regular smartphones wouldn't cut it. There is decent volume with my smartphone, most of my music works at 90% and better recorded tracks will need the full power of my Mi9T Pro. They worked better with a Surface Pro 7 and out of a laptop, but it all seriousness, I didn't enjoy them as much as I did with dedicated audio devices. A lower volume level wasn't an issue, but a lack of dynamics and impact was a serious concern. FH5S sounded better out of dedicated audio sources, be them portable or not. Small Bluetooth dongles like Qudelix 5K and FiiO BTR5 worked well, improving their performance quite a lot. Small USB dongles like Shanling UP1/UP2 and of course portable DAC/Amps as FiiO Q5S TC further improved their technicalities to the next level. Higher-tiered portable DAPs like FiiO M15, M11 Plus LTD, Shanling M8 and M6 PRO sounded by far the best with them, making them livelier and a lot more engaging.
They scaled nicely with TOTL DAPs and well-thought desktop setups, but I would personally stay away from THX-AAA and NFCA amplifiers. These are already very linear, extended in treble and quite detailed sounding, they need a smoother treble output, so I would use AKM-based DAPs/DACs and some warmer sounding amplifiers that could further tame its treble delivery.
III. Transient Response
In their stock form, FH5S are impressive in terms of speed and fast decays and that shouldn't come as a surprise as most well-designed hybrid IEMs are sounding this way, having a speedy approach to music reproduction. However, in terms of punch and sheer impact, FH5S are good but aren't something to be impressed by. There is a decent amount of kick, the air mass that goes towards you is bigger to usual entry-level IEMs, you can feel a defined soundstage and a deep presentation too. I wanted a bit more oomph, more fire in my music and that is precisely why I've engaged that Bass switch to On position and boy I'm so glad I did that…what a Big change! The whole bass area (including sub-bass) jumped by around ~4 dB, making them thump and slam in the bass much harder than before. The change is immediate and very welcomed and finally the treble output is pretty much on the same level and isn't bothering anymore.
If you love your bass fast and impactful, I strongly suggest putting the bass switch to On position, unleashing the kraken and unlocking their fullest potential. Everything I wanted FH5S to be in their stock form, is cured by a single switch. It is interesting highlighting that not only the bass is being elevated by a few dB, but the whole midrange region is also being lifted, adding warmth and fullness in the process. By definition…I'm a transient response junkie and I don't see myself ever touching this switch ever again. If you want more slam, some harder punches, a snappier and a more engaging performance that goes in the same direction with FH7, then simply boost its bass and raise those horns high! This immediate change is putting them extremely close to FH7, making the newest creation only by a half notch less impactful, but that is okay with me, considering they are costing almost two times cheaper.
IV. Soundstage & Depth
Equipped with four drivers, out of which two are big dynamic drivers with a diameter of 12 and 6mm respectively, you can expect them moving a decent amount of air starting with sub-bass and finishing with top-octave and that was certainly the sound I was hearing out of them. Add a semi-open design, moving all unwanted vibrations and excess resonance outside their shells and you are getting a mid-level IEM that will sound big, open and wide, pretty much in line with pricier IEMs and this is not an exaggeration from my part. If I am leaving the bass switch to On position, then FH5S are sounding as open and deep as their FH7, FA9 and exactly the same to the Meze RAI Penta. This is not an easy treat to do, especially when your budget is so limited. I can only congratulate FiiO for such an extended soundscape that is stretching in all directions and that isn't messing all the sounds together in crowded tracks. The soundstaging capabilities of FH5S are noteworthy and if you never tried something outside of affordable Chi-Fi, then it's time for a leap of faith…as these are something else entirely.
When No Woman No Cry (Live) by Xavier Rudd (Qobuz / Tidal) started playing, I could swear that I was wearing a pair of open-back planar headphones on my head. Everything was happening outside my melon, voices sounded past my shoulder level, coming from different angles in such a relaxed and soothing way. This track beautifully explores the depth and it is a little uncommon hearing deep reaching sounds that are spread across my office. The crowd felt enthralled, enriching with positive energy and at times Rudd drops a free-form jam for a call and release with the crowd. The energy bounced back several times in the most beautiful way that even the listener at home can feel. This track showcases the true potential of this IEM, you just need the right music and FH5S will spread its wings and fly.
V. Detail Retrieval & Transparency
I'm listening to them for more than three weeks now and there is no other way in saying that FiiO FH5S are detailed and clean sounding IEMs. I never found them lacking in this department, all the usual suspects were at their right places: micro-details were there, mastering errors didn't run away and I had everything I wanted from my music. Maybe they weren't as pin point accurate to an all armature based IEM like FiiO FA9 or Hiby Crystal 6, but they were extremely close to them, to the point of guessing which is which on several tracks. I've already experienced beryllium coated drivers and the same Knowless BA multiple times already and generally speaking such drivers are slightly more detailed to regular cellulose or polymer drivers found on entry to mid-level designs.
FH5S were clean sounding for the most part and the upper region was shining brighter with a higher focus on detail retrieval. Midrange also felt clean and undistorted, it was by a hair less present in my tunes, as I needed more time to focus on those notes. The leading edges were clear, all the contours were defined, I never experienced muddiness and I had all the signs of a highly detailed and transparent sounding IEMs. I find them more or less the same to FH7 and considerably cleaner sounding to Meze RAI Solo, IKKO OH10 and Moondrop Starfield.
They scaled pretty well on higher tiered portable or desktop sources, especially when it comes to details and no matter how high you go, there will be always a small increase of performance. I was surprised by the increase of information they could provide with Hi-Res PCM and DSD material and I'm glad to experience all this at just $259.
VI. Frequency Response
If I'm enabling its bass boost switch, then FH5S have a close to perfect frequency response, providing an outstanding bass and midrange performance, a powerful upper-treble delivery and a somewhat rolled-off top octave.
A. Bass
With FH5S, there are plenty of signs of a well-engineered hybrid IEM. You are getting the precision and accuracy of an all-armature IEM, with the boldness, depth and bass impact of a dynamic IEM. FH5S have an extended and linear bass performance, starting strong even from 20 Hz. If you ever heard their FH7, then FH5S is pretty much the same in this region. There is as much sub and mid-bass as you could possibly desire, delivered in a clean and undistorted way. My electronica and rock tunes sounded fast, impactful and toe tapping all the time, frankly I didn't want anything more than this. It's safe to say that bass is the best part of FH5S when it comes the frequency response and this is the biggest reason you're interested in hybrid IEMs in the first place.
B. Midrange
A smaller 6mm beryllium coated dynamic driver was an outstanding idea, because I never found its midrange thin or lifeless. There is plenty of naturalness to be felt and its midrange performance was in line with the low-end. Vocal performance was great, you can feel the added mass of male voices and some refinement with female voices. There is warmth and sweetness in there, but not too much of it, just in right doses. Its midrange is linear for the most part, without putting a higher accent on anything in particular. There is some of that silky smoothness, easy-going nature and denser textures compared to all-armature IEMs like FiiO FA9 and Hiby Crystal 6, but not too much of it. Its midrange boost switch didn't make that much of a difference (as its bass switch did), so don't expect a higher contrast. Subjectively and objectively (measurement wise), the difference is too small to be perceived.
C. Treble
FH5S are starting strong when it comes to treble. There is plenty of presence, there is bite, there is a higher level of detail, there is shimmering, everything a treble head would ever need. In their stock form, treble seems accentuated and can be a little too much at times, especially the rise at 10 kHz is particularly disturbing with treble intensive music. However, with bass switch enabled, they are becoming a lot more cohesive, more linear and more natural sounding in a way. The treble will not be attracting as much attention and will be better integrated in the whole frequency response. Since there is already a substantial treble increase in the 10 kHz area, I strongly suggest never touching the treble switch ever again. If you decide to boost its treble, instead of a 8dB rise in the upper treble, you will be getting a teeth clenching 12 dB treble boost…avoid that switch as much as possible. The interesting part is the top octave (past 12 kHz) that sees a slow roll-off with or without that switch engaged and it steadily cuts-off about 10 to 15 dB in the 20 kHz region, that works as an outstanding smoothing filter for harsh recordings.
VII. Measurements
When I'm measuring IEMs and headphones, I will always move to the Benchmark HPA4, as I find it extremely linear and honest sounding. Matrix Audio Element X will be the main converter for this job and the measurement rig used was the MiniDSP E.A.R.S. calibrated with IDF (IEM Diffuse Field) compensation files. Do note that MiniDSP E.A.R.S. is not following any IEC standards, meaning that my readings can't be used as reference measurements. I'm doing them just to get a general idea about their sound signature. As a side note, I've measured them multiple times, as finding a perfect fit and a complete seal was quite a challenge with memory foam ear-tips.
Take a look at their impressive RAW FR measurement. Their driver matching is absolutely outstanding! I don't remember seeing such a small deviation between the L and R channel. There is a minuscule deviation in the top octave and that is it! All other IEMs I've measured of late were worse or much worse in here.
In stock form you can see their treble oriented frequency response, their linear and straight as a line bass and midrange sections, a serious increase in treble energy and then a roll-off in the top octave. Enabling that bass boost improves the whole FR, raising the bass and midrange by about 4.5 dB and leaving the treble alone.
Here is a measurement that will show the difference between all those switches (Black – stock FR, Red – Bass boost, Blue – Mid Boost, Yellow – Treble boost). My favorite tuning is enabling bass boost and disabling everything else.
Their Total Harmonic Distortion (THD) reading is great, but not exemplary. It sits at around 0.267 % which is good considering we are dealing with a hybrid IEM. As you can see, there is a higher distortion in the sub-bass region that reaches 2%, but it never goes out of control and calms down past 60 Hz.
Its spectral decay is looking good, you can see a longer decay in the bass and top-octave, but everything else seems lightning quick. 0.16 seconds later the signal drops from 85 to 47 dB that seems quite fast, but not as fast as an all-BA IEM would perform.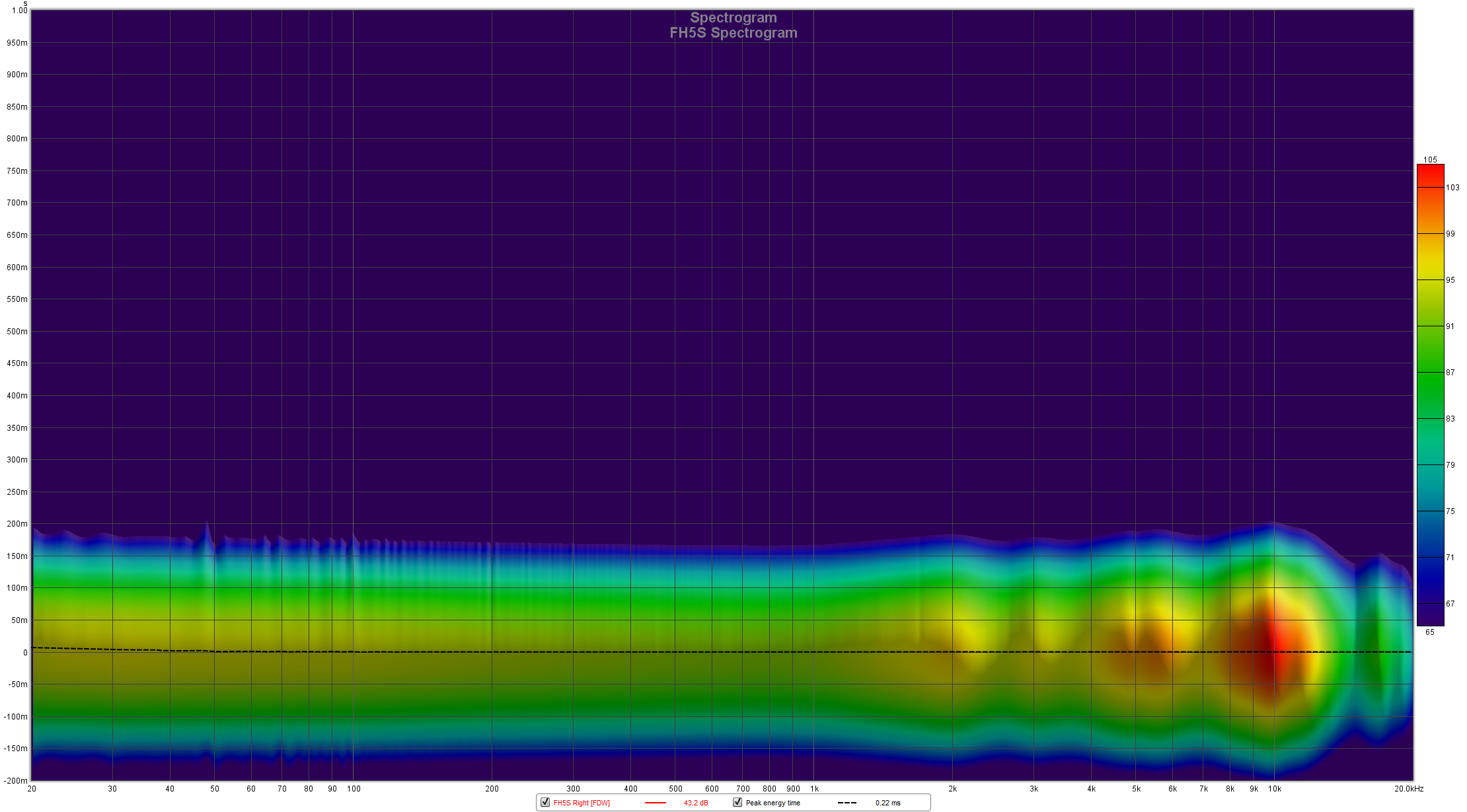 Spectrogram is ultra-clean and isn't showing weird driver behavior at any frequency range. You can see their hot zones a little better; the top-octave seems sharper and more present in the ~9 to 10 kHz region.
Their waterfall is smooth and gentle and the only thing that can bother is that spike at 10 kHz. If it bothers you, engage their bass boost that will calm down the whole treble area.
Overall, I've recorded a close to perfect frequency response if the bass boost is being used, they have an outstanding driver matching and good technicalities that will put to shame pricier IEMs.
VIII. A Must-Read Comparison
FiiO FH5S ($259) VS FiiO FH7($449)
Most of you are wondering how close the dragon-scaled warrior is approaching its genre-master FH7, could the student outplay and outwit its master? This is an important question and if you are looking only at the specs, FH5S might appear as more interesting, with a longer R&D time invested in it.
In terms of accessories and packaging, both units are more alike than different, but obviously sacrifices needed to be made to reach a much lower price point. FH5S are lacking Spin-Fit ear-tips, a secondary pouch and its cable uses 4-conductors instead of 8 on its bigger sibling. All things considered, FH5S wins a lot of ground when coolness factor is being applied. With 3 tuning switches, swappable plugs on its detachable cable, two dynamic drivers and with a semi-open design, FH5S are way cooler, more future proof and could be tuned to your liking, something that interchangeable sound filters on FH7 never achieved.
Sound wise, no matter who you are as an IEM manufacturer, FH7 are very hard to beat. I like them more than all other IEMs I've reviewed in the last few years. There are many great things to say about them, they have outstanding technicalities, they sound fast, impactful, incredibly clean and transparent, while retaining some warmth and naturalness of dynamic only IEMs. I like them more than Meze RAI Penta, Shure SE846, Hifiman RE2000 Gold, JH Audio 13 V2 and 16 V2 and the list continues.
With FH7, adrenaline rushes instantly into my blood stream, thanks to a powerful slam in the bass and to a deep rendition of it. You cannot be unimpressed by its bass performance, always striving for a clean, thumping and wild behavior. If I'm about IEMs, then I'm yet to hear my electronica snappier and snare drums harder hitting on rock tunes. Sometimes it's too much, especially with those memory foam ear-tips is like being hit with a hammer. FH7 are adding a lot of presence past top-octave, to a point that sometimes they appear as brighter and harsher sounding by a little. Connect them to a neutral or bright sounding setup and these might get hot in the treble way too soon and way too fast. I like my trebles extended, I want my cymbals clear and precise and FH7 covers that in spades…it can become a little over the top, but on very rare occasions. I can tame these wild beasts with a warmer portable DAP like FiiO M15 or Shanling M8 and other combos worked equally well. They cover my dopamine needs in full with their fast and impactful transient response.
As much as I like FH5S to approach or beat them at their own game, they aren't as fun and electric sounding even with that bass boost engaged. FH5s are approaching dangerously close to their master, but aren't exactly as punchy and engaging when bass notes are coming to play. When it comes to midrange, I really don't understand what mumbo-jumbo and ritual dances FiiO engineers did around that FH7, but it is slightly warmer and more natural sounding in here, especially in the upper midrange where female voices and string based-instruments are playing. If I'm listening to lots of acoustic music, FH7 will charm with their life-like tonality, while FH5S will do that much later on. With soprano voices and big orchestras, again FH7 are leading the FH pack forward with a better midrange rendition. FH5S are close, but aren't quite there yet.
Treble is the only area where FH5S might appeal to a wider audience, FH7 have a bigger peak in that 10 kHz area, but a lower presence in the low to mid-treble, making it uneven and less stable in the treble. On several tracks FH7 appeared brighter and on other tracks FH5S appeared harsher sounding, so it is really a coin toss. Both are extremely good and I cannot pick a winner as far as treble goes.
If you are wondering how both compare in terms of frequency response, please check this measurement (Blue – FH7, Black – FH5S):
The rest of technicalities as imaging, decay and detail retrieval are more or less the same, with the exception that FH7 might appear as more revealing, mostly because of its higher sensitivity and lower impedance. FH7 are picking source noise much easier and FH5S aren't doing that very often, but in reality, when source noise goes out of the picture, I find the equality clean and transparent sounding. When it comes to soundstaging capabilities, FH7 can easier push bass notes around, meaning they will move more air down low and when that happens, soundstage will be improving. Semi-open design or not, FH5S aren't as open and wide sounding in here, so I'm again surprised by the capabilities of the FH7 – that one will be hard to beat, even by FiiO's own engineers.
Overall, FH5S approached extremely close to its master, lagging just 2 or 3 steps behind it. Thanks Odin FiiO didn't go with that soulless Harman curve that nobody loves, except for Beats users. FH5S together with FH7 are enthusiast level IEMs that proved a lot at their respective price points. FH5S couldn't beat its master, but it just obliterated all entry to mid-level IEMs that I've tried as of late. Forget Meze RAI Solo, IKKO OH10 and Moondrop Starfield, as FiiO's FH5S are on a (much) higher level.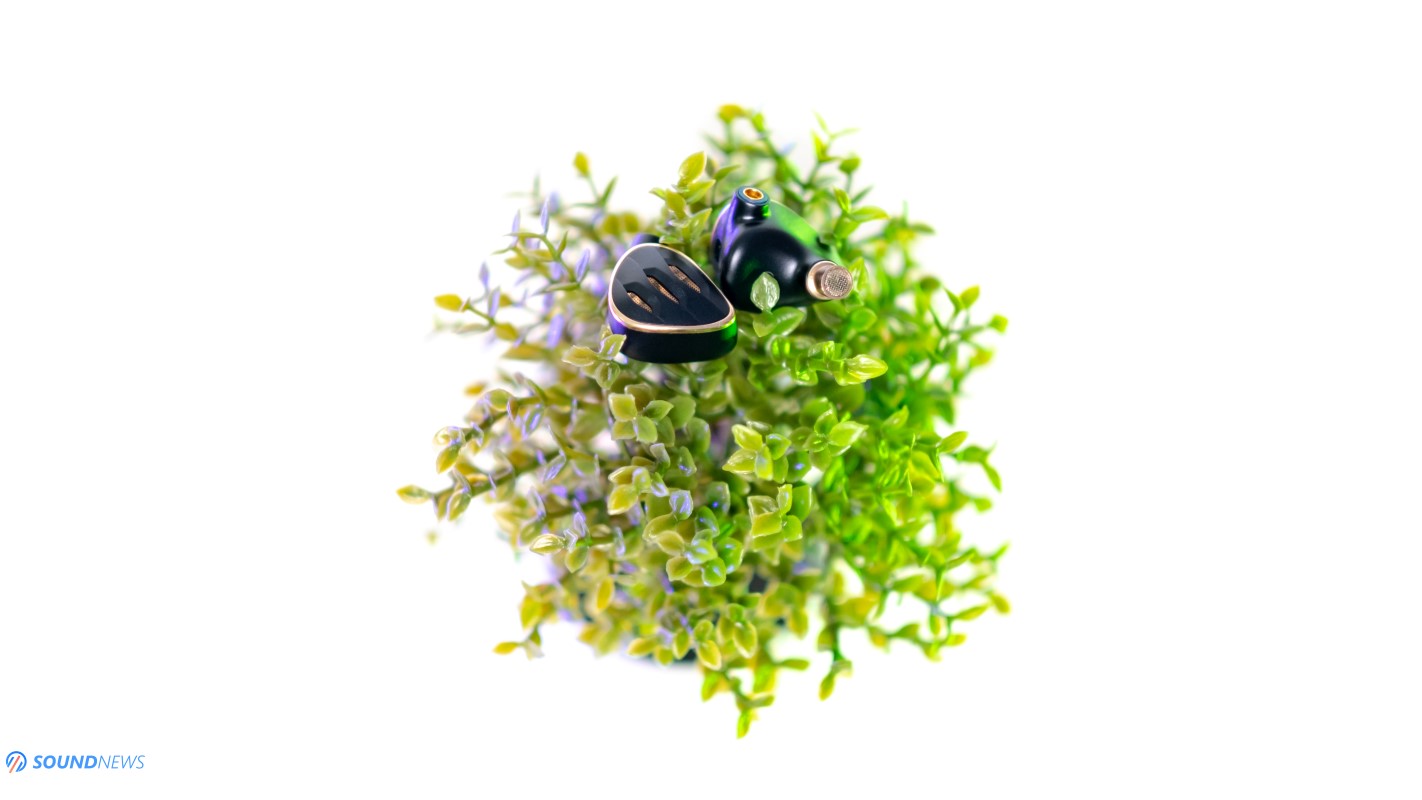 Conclusion
It seems that FH5S dispatched some of its rivals one by one and it delivered a hell of a show versus its black-belt master. While FH5S didn't impress me right away as FH7 did, in my mind it outperformed all other IEMs I've tried at less than $300. It is quite difficult disliking this IEM, as its feature set is outstanding, there is a ton of included accessories, you can tune it to your liking, several headphone plugs are provided saving cash for future cable upgrades. Most importantly they sounded great out of the box always striving to impress with their linear and extended frequency response, fast transients and clean undistorted sound. Their higher impedance and lower sensitivity make them noiseless even with noisy headphone jacks of older DAPs, desktop headphone amps, laptops, smartphones and what not.
At $259 there is little to nitpick and it's my pleasure to recommend such a great sounding IEM. FiiO FH5S was kindly provided by FiiO, you can purchase it from their AliExpress Store, you can get it from their worldwide distributors right here, or you can get it from Apos Audio right here. (Apos is offering free shipping in the USA and Canada, free 45-day returns in case you don't like it, an extra year of warranty and they will price match the lowest one you can find online).
In case you get a pair, leave some feedback and let me know how it sounds with your setup. Until next time folks! Signing out.
PROS:
Great unboxing experience, plus a wide selection of accessories
One cable to rule them all, those swappable plugs are solving the biggest issue
A fresh and modern twist as far as design is concerned
Outstanding build-quality
High comfort levels
Extended in the frequency response
Deep rumbling bass that will make you move
With the right settings, you can make them punchy and highly engaging
Rich tonality, tilting towards naturalness and warmth to a small degree
Highly detailed and clean sounding
Open, wide and deep sounding, up there with the biggest sounding IEMs
Faster pace and decay, great dynamics
Excellent measurements
The best value as of right now
CONS:
Treble oriented in their stock form
Needs a bit of power to shine
ASSOCIATED EQUIPMENT:
DACs: Audiobyte HydraVox & HydraZap, Matrix Audio Element X, Gold Note DS-10 Plus & PSU-10 EVO, Gustard X26 PRO, Gustard X16, Topping D90SE, D30 PRO
DAPs: FiiO M11 Plus LTD, M15, Shanling M8, M6, M3X
Headphone Amps: Benchmark HPA4, Singxer SA-1, Flux Lab Acoustics FA-10, Burson Soloist 3X, Musician Andromeda, SMSL SP400, Topping A30 PRO, Gustard H16
Power Amps: KECES S300, SMSL SA400, DA-9
IEMs: FiiO FA9, FH7, FH5S, FD5, Meze Rai Penta, Rai Solo, LittleDot Cu KIS, Hiby Crystal 6, IKKO OH10 & others
Portable headphones: Sennheiser Momentum 2, Meze 99 Classics
Full-sized headphones: Hifiman Susvara, HE1000SE, Arya, HE400SE, Audeze LCD-4, Erzetich Phobos, Erzetich Mania, Kennerton Wodan, Magni, Gjallarhorn, Vali, M12S, Quad ERA-1, Ollo S4X Reference & others
Loudspeakers: KEF Reference 3, Natural Sound NS-17
Interconnects: QED Reference (x2), Topping TCX1 (x2)
Speaker cables: Kimber PR8, Audioquest Type4
Power Cables: Isotek EVO3 Premier (x3)
Balanced Isolation Power Conditioners: PLiXiR Elite BAC400