SMSL SA400 Review – Power Overwhelming!

My Video Review:
The golden trinity of the East might be competing for the best D/A converters and headphone amplifiers at less than one grand, but when it comes to integrated and power amplifiers, SMSL Audio is the undisputed and uncontested champion. They already have 13 speaker amplifiers of all sorts under their belts, out of which 6 were released in less than 6 months or so. Clearly, SMSL has a much bigger interest in traditional Hi-Fi than in personal audio.
They had several attempts at high-end audio with their VMV series, but in all fairness, SMSL is best known for their affordable stuff that anybody could get and I already covered plenty of that. Last year I've tested their entry-level DA-8S integrated amplifier that easily drove two pairs of bookshelf loudspeakers with a lot of headroom to spare. Today I'm raising the bar much higher as I will be testing their most powerful amplifier as of yet. Offering up to 230 Watts per channel in 4 ohms and 110 Watts in 8 Ohms, this Little Big Amp should drive pretty much anything, including stand-floor speakers with utmost authority and control.
Undeniably their most beautiful product line is surely the 400 series, consisting of a DAC (M400), of a headphone amplifier (SP400) and recently an integrated amplifier was included by the name of SA400. With it, SMSL is targeting high-performance audio, releasing an integrated amplifier that could drive pretty much anything. It is small and lightweight enough, it has an advanced UI, including EQ and tone controls, it has 3 gain settings and even as subwoofer output for a 2.1 setup. It goes for $659 and as usual; I will be approaching it as a critic, but also as a music lover, commenting on everything I find useful to share with you.
Unboxing Experience
Compared to all other boxes I have received so far from SMSL, this one felt considerably bigger and much heavier. SMSL used a thicker card-board box with lots of foam for protection. It is a double boxed affair, as it should be that houses the unit itself, a power cord, a fancy user-manual and a remote control – suggesting that SA400 is actually an integrated amplifier and not a power amplifier as their website and marketing material might suggest.
This is the same remote I've seen on all SMSL units, it is their standard matte-black one with rubberized buttons, which is decent, but far from great.
Design & Build Quality
Build quality wise, this is one of the nicest SMSL units I've tested so far. It has a very good weight to it, it feels balanced in hand, it has pretty much the same square surface as my Benchmark HPA4. It looks pretty much the same at their M400 DAC and SP400 headphone amplifier, which is great as you can stack them on top of each other. It has a 1.9" colorful LCD screen and an easy-to-use graphical interface. By default, it will show the volume position and the selected analog input.
It is a high-quality unit; I'm seeing a good attention to the smallest details. It looks like a matte-black metal brick that was milled on a CNC machine with just two panels attached on top and under the unit. It has the same body thickness of about 3.5mm with SU-9 and SH-9, so wireless interference shouldn't be a problem. The front panel houses a glass sheet with an LCD screen behind it. The volume knob feels like a big upgrade to the one found on their SP200 and it's the same found on their SH-9 and SP400 units. It doesn't wobble at all; it is a stepped volume knob with exactly 80 steps. It no longer uses a ladder of resistors at it was the case with their SP400, this time around SMSL went with a digital volume potentiometer that is controlled by a high-performance NJW1195 chip that you can spot in several preamplifiers of today. There are three rubber feet beneath it and those are bigger and deeper compared to the ones found on their SU-9 and SH-9. I'm so glad SMSL removed the tempered glass that was covering the top plate on their SP400, instead they applied a stealthy matte-black paint all over it, which is frankly my favorite color.
For a 230-Watt integrated amplifier, SA400 is way too small and without any holes or grilles in its case, I was already picturing myself frying eggs on top of its case. Thankfully, SMSL put a 40mm cooling fan just under the unit that would move excessive heat outside its case. It starts spinning at 65 degrees Celsius and its stops at around 60 degrees – that seems to be its normal working temperature after an hour or so.
As usual, SMSL moved most of its screws on the back and under the unit, so it would look much cleaner. Everything else looks really nice, it's tightly secured, nothing is wobbling around, it looks clean and minimalist, with a very high WAF factor attached to it. SMSL is offering it only in matte-black and at around 1.95 kilos or 4.3 pounds, it feels like an ultra-compact integrated amplifier, with a huge power reserve under its hood.
Controls & I/O
SA400 has a clean looking front panel, with just an LCD screen on the left and a volume knob on the right that can also work as a menu navigator. Its LCD screen is not that big, but thanks to its bigger lettering, you can clearly see the volume level and the selected input even from afar.
On the back you can see two analog inputs, a pair of balanced XLR and single ended RCA, there's a Bluetooth antenna socket, a sub-woofer output, a pair of speaker terminals and a universal 100 V to 240 V AC inlet, so you can use it worldwide without flipping a switch.
Menu Options
You should know that all its features can be controlled via its remote or volume knob that doubles as a joystick. In the stand-by mode a single press on the knob will power it on and another press will enter its menu where you can select:
Input – Balanced (XLR), Unbalanced (RCA) or Bluetooth – very straightforward
EQ, has 9 positions as – Tone, Direct, Tabebuia, SDB, Bass, Super Bass, Rock, Soft or Clear. By default, it stays in Direct mode, but my favorite one is SDB that boosts dynamics by a little making it more fun and engaging
Bass – you can increase or decrease it by 12 dB, by default it stays at 0 dB
Middle (Midrange) – you can increase or decrease it by 12 dB, by default it stays at 0 dB
Treble – you can increase or decrease it by 12 dB, by default it stays at 0 dB
Sub Gain – adjust the gain for your powered subwoofer, from -30 dB to maximum +10 dB, by default it stays at -15 dB
Gain – Low, Mid or High – adjust it accordingly to the sensitivity of your loudspeakers. I recommend leaving it at Low.
Info Display – Input or Temperature, lets you choose what should be displayed on its screen besides the volume level
Dimmer – Off (display is always on), 5 up to 60 seconds – self explanatory
Brightness – 6 positions, lowest one is almost dimming it completely
This is basically it, a very simple and straightforward graphical user interface. Most of these settings are set and forget, with the exception of the EQ or tone controls which will be used more often.
Under the hood of SA400
I've tried opening it up, but it seems that the last 2 screws are hidden behind its rubber feet, so I will stop there. SA400 is a fully balanced integrated amplifier based on the STA516BE digital amplifier stage by STMicroelectronics. STA516BE is a second generation, high-performance integrated stereo digital amplifier power stage with an improved protection system. This chipset is capable of delivering in a 6 Ohm bridged load up to 250 Watts per channel with low THD + N and with low power dissipation. SA400 uses two of them, outputting some serious 230 W per channel in 4 Ohms and 110W per channel in 8 Ohms. That is a lot of power, way too much power considering its size, weight and power consumption. SMSL added an electronic volume control chip from New Radio Japan, NJW1195 is already being used in plenty of high-performance preamplifiers of today, due to its precise volume control and low distortion.
They added a Bluetooth input, a mid-range chipset of Qualcomm most likely, that supports Bluetooth 5.0 and codecs as SBC, AAC and AptX. Sadly, it doesn't support the nicest codecs as AptX-HD, LDAC or HWA, meaning that it was put there mainly as an accessory. Do note that if Bluetooth input is being used, the D/A conversion stage will be happening inside the BT chipset, so don't expect outstanding sonics via Bluetooth.
SA400 is equipped with tone controls (bass, midrange and treble) and with nine EQ settings to play with thanks to a NJW1119A hardware EQ control chip. I strongly recommend checking them out, especially Tabebuia and SDB presets are sounding very lively and toe tapping.
To suppress noise, SMSL added an advanced EMI filter network, a large active PFC inductor and a high-power resonant transformer that outputs strong and stable power to the most crucial electronics.
Test Equipment
SA400 was used in a high-end stereo setup and also in a headphone-based setup and yes, you've read that right! At my place it was used in tandem with a Matrix Audio Element X and then with a Gold Note DS-10 Plus and PSU-10 Evo stack, both were used as Streamer and DAC directly driving the SA400. Because I wanted to squeeze the last drop of performance out of it, I've used two different loudspeakers: my daily drivers KEF Reference 3 floor-standing speakers and then some Natural Sound NS17 bookshelves.
SA400 was also used with a Hifiman HE-Adapter, directly driving a pair of Hifiman Susvara, more about this pairing in its dedicated chapter. Okay everyone, enough with the talk, lets hit some eardrums!
Sound Performance
I. Preliminary Impressions
I was quite excited testing for the first time a digital amplifier with so much power under its hood, so I've replaced my power amp immediately an connected the SA400. Plenty of Class-XD, D, A/B and full Class-A amplifiers have been tested around here, but not a single digital amplifier based on some of the newest technologies. Frankly I was more than excited to hear what future has to say.
In direct mode, without touching tone controls and without any kind of burn-in, it was a little underwhelming as I didn't find it as impactful and as bold as my power amplifier. With that said, I was immediately impressed by its power output. I was reserved and skeptic when I saw those numbers, but after seeing it driving my 110 Kg (~242 pounds) loudspeakers at around 35 out of 80 on its volume wheel on the low gain, I remained speechless to say the least. I didn't expect so much power lurking in such a small body, but those numbers are 100% true and it had an amazing control over those diaphragms, a huge headroom remained on tap for some wilder dynamics swings and I really don't imagine touching 50% of its power without police and angry neighbors showing up at my front door. KEF Reference 3 and Natural Sound NS17 were going extremely fast, it was unusual hearing an impressive bass delivery and all my preconceptions about digital amplifiers were completely wrong.
SA400 was embracing a fast transient response as its main super-power, choosing speed and impact above anything else. In terms of frequency response, I've liked everything about it, except for the midrange delivery that my hybrid Class-A / AB power amplifier is having, so I've added 2 dB in the midrange and I almost couldn't differentiate them afterwards. I had the biggest shock when I started playing with the hardware EQ settings, especially when I've arrived at its SDB setting that somehow added even more punch in the bass, some density in the midrange, while relaxing the top octave just a little bit. I don't know what SDB stands for, as nothing is being mentioned about it in the user manual or on their website, but please give it a try, it sounds by at least 20% more engaging and livelier sounding with this preset and this is how I left it for the rest of this review.
Another standout for me was its clean and resolving nature, as SA400 sounded cleaner and way more transparent to their DA8S integrated amplifier that I've tested one year ago. There was nothing of that muddiness and treble roll-off, resolution didn't take a hit as SA400 could unearth tiny details and the small nuances from my tunes without too much effort. In my main setup I'm sometimes using a dedicated preamplifier, but with SA400 I'm bypassing the need of such a device, shortening the signal path, improving the resolution, while fully preserving the transient response of the DAC that is connected to it.
When the lowest bass notes of Angel (2019 Remastered) by Massive Attack (Qobuz / Tidal) started appearing in the room, I was petrified by its incredible grip and control. It was fast and impactful; it was going back from where it came in an instant and it felt overpowerful at times. This a difficult track to be tested in light treated rooms like mine, especially with big stand-floor speakers and yet, SA400 sounded impressive as it was highly engaging and toe tapping, having an iron-grip over those aluminum woofers. Despite all the good things, there were several parts that didn't resonate with me, that I wish SMSL would take care of in advance, more about them in the upcoming chapters.
II. Noise Floor
Before writing anything about the noise floor, you should know that Matrix Element X and Gold Note DS-10 Plus powered by DS-10 Evo power supply are already serious stopping forces when it comes to any type of noise. I'm yet to hear a noisy performance out of these two, as with or without a passive power conditioner, they both sound clean and undistorted. The last line of defense comes from none other than SA400 itself, armed with an EMI filter and with a PFC inductor, on paper it should repel any kind of noise. But in reality, there are two things that I didn't like that much about it. Firstly, there is a little bit of mechanical coil noise, coming from its power supply and you can hear it while staying at less than one meter from it. From the couch I can't spot it anymore and if music starts playing even bat ears can't help you with that.
Secondly, the Uni-Q driver array of the KEF Reference 3 is extremely sensitive to any kind of noise, especially the 1" vented aluminum dome tweeter can pick up all the bad stuff happening in the downstream equipment. They picked up noise from multiple amplifiers by now and sadly, SA400 is one of them too. There is a low intensity hum when music is on pause, but again when it starts playing, I can't detect it anymore. I can hear it only if I am staying very close to those tweeters, but from my usual listening spot I cannot detect it anymore.
Later on, I decided connecting it to a high-end passive power conditioner (Plixir Elite BAC400) and both the coil noise and the gremlins coming from the aluminum tweeter didn't run away. There seems to be a small issue with its power supply, but sadly at $659 you can't have them all and so far, these are the biggest drawbacks of the little SA400.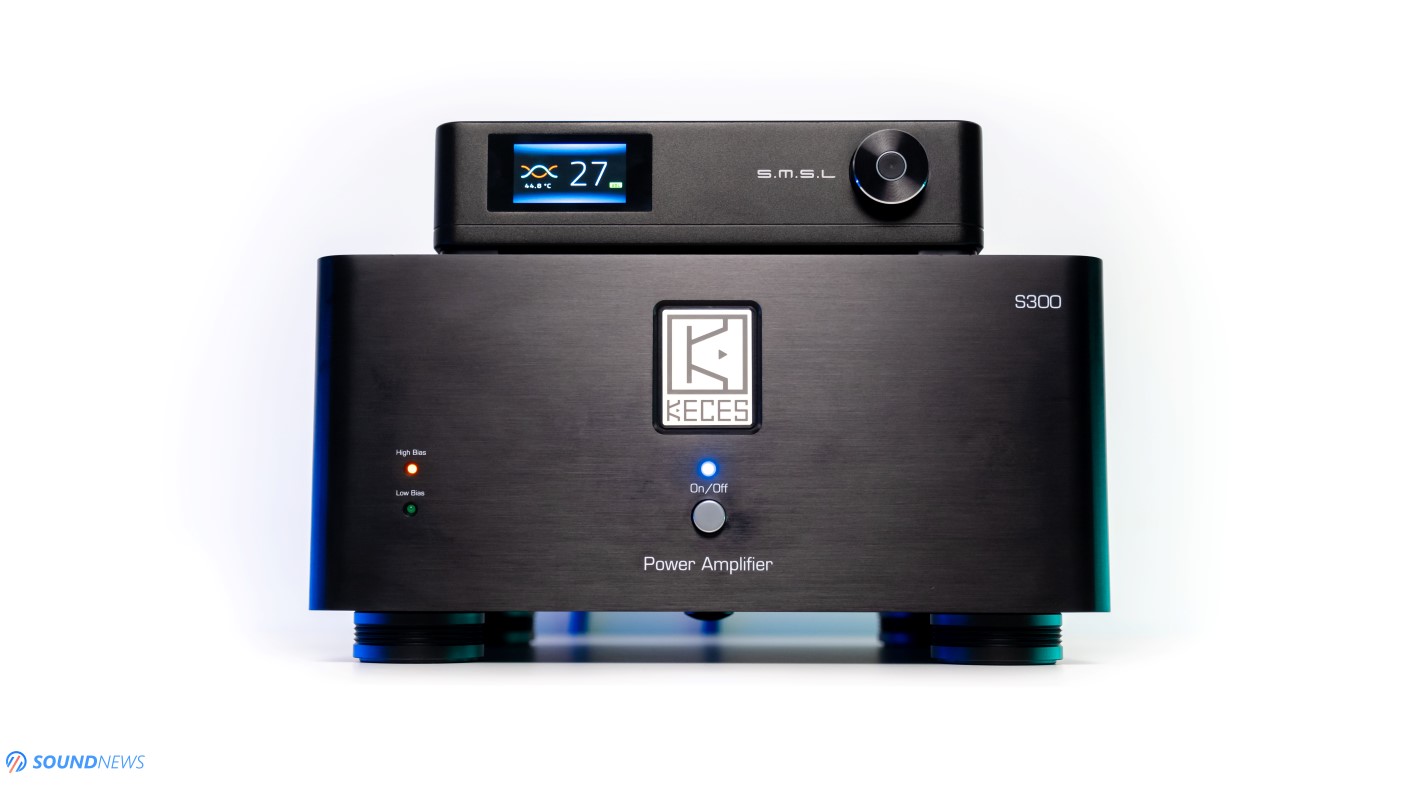 III. Transient Response
As usual, this is my favorite chapter to write about, since it directly impacts my mood level for the rest of the day. I dislike slow and boring sounding amplifiers, give me speed, some kicks in the chest and I'll be smiling for the rest of the day. For me engagement factor is everything and when that's checked, my blood would start boiling from within me. Undeniably, this is the biggest reason I'm in love with Class-A amplifiers that are pressing the gas pedal to the floor when music starts playing.
This is the first digital amplifier that I'm testing, so my expectancy level is somewhere lower than Class-D and XD amplifiers, but boy…that changed immediately when my favorite tunes started playing. In my humble opinion, this is the most impressive part about this amplifier, as SA400 was never even for a microsecond boring or slow sounding. Even in direct mode, without engaging any tone controls, it went in and out instantly, always wanting to impress with its acceleration and deceleration. After engaging that SDB EQ preset, then it would increase its dynamics higher and present a punchier sound than ever before.
Add some 2 dB in the midrange and SA400 will start mimicking the sound of my own amplifier, while costing almost 5 times less. The amount of power remaining on tap was always very high, I could never reach half of its power without neighbors knocking on my door, add an excellent driver control in overcrowded music and you could almost imagine the sound of this amplifier. With bookshelves as Natural Sound NS17, I never touched half its power output and again those wooden drivers would push a crazy amount of bass in my room, fully preserving the pace, rhythm and timing of my music.
When Jim Keltner started hitting his drum kit like a madman on Basic Drummer Free Improvisation (Qobuz / Tidal) I almost couldn't believe how much impact would be coming out of my KEF's double woofer arrays. Those instant spikes of dynamics chocked plenty of amplifiers by now, several a lot more expensive than SA400 and yet the little SMSL was kicking hard in the nuts and it was doing that so easily and gracefully. This track hit me literally and figuratively like a train, snare drum hits were almost unbearable and painful to listen to thanks to a very high SPL for micro-seconds. I tried chocking it with electronica music and as I much as I have tried, SA400 refused to hit the brakes, it never sounded mellow, slow or boring. I'm beyond impressed and I'll probably try some more digital amplifiers in the future.
IV. Transparency & Resolution
When I've checked the datasheet of its STA516BE digital amplifier chips, I wasn't impressed seeing a total harmonic distortion (THD) of 10% at maximum power, but I was immediately relieved seeing a much lower THD of 0.1% at 1 Watt of power. Of course, with my loudspeakers I was never at full power, far from there, but neither at 1 Watt, somewhere around 40% of power to be more precise. I can't say for sure where its noise floor and THD are sitting at my normal listening levels, but SA400 revealed itself as quite a clean sounding unit, much cleaner and more revealing to that SMSL DA8S that I've tested last year, hell even my former Cambridge Audio Azur 851A wasn't as clean, as powerful and as resolving. Apart from that barely audible coil noise and gentle hiss coming out of KEF's tweeters, there wasn't a moment when I felt that something is gravely missing from my music. SA400 was able to show lots of micro-details and small nuances in my music, without intervening too much or altering the voicing of my loudspeakers.
SA400 is a simple amplifier on the inside, it doesn't have a long signal path or a complicated circuitry and maybe that adds to the transparency and high level of resolution that I'm hearing from it. Sure enough, I've heard some cleaner sounding units, but only at 3 to 4 times its price and that is precisely why SA400 is pretty much unbeatable when it comes to cleanness, transient response and power output especially at this size and price point.
It might sound a little weird to you, but its transparency was also tested in a very revealing headphone setup, where it was directly driving a pair of very inefficient planar headphones by the name of Hifiman Susvara. Yes, that's right! Headphones! You should know that Susvara is far from your typical headphone, as they sound the best out of integrated and power amplifiers with a special adapter (speaker terminal to a 4-pin XLR cable). What was shocking to me is that they need a bit more power that those 110 Kilo KEF Reference 3 loudspeakers. What was 35 out of 80 on the Reference 3, now sits at ~37 to 38 with the Susvara. They need a lot more power to my former loudspeaker as Buchard S400 or Wharfedale Diamond. With Hifiman Susvara I'm bypassing nasty room acoustics, so I'm hearing the absolute truth this amplifier could deliver. Again, SA400 revealed itself as a transparent and neutral sounding amplifier, without adding or removing anything from my music. While my KECES S300 sounded fuller, bolder and more organic, SA400 reminded very much about their own SP400 headphone amplifier, choosing a neutral presentation without highlighting anything in particular. Interestingly enough, with the right setting I could mimic the sound of S300, by adding 2 dB in the midrange and by engaging that SDB preset on its hardware EQ. SA400 can really be tailored according to your preference, you can have a dead neutral presentation in direct mode, or you can start shaping it according to your stereo setup. Overall, SA400 delivered clean sonics in a transparent way and it provided plenty of micro-details for my needs.
V. Soundstage & Depth
It isn't a secret to anyone that a fast and snappy sounding amplifier will be pushing a lot more air in the room, sounding airier, decompressed and larger on all axes. Rule number two is that a bigger power reserve and a bigger headroom should also have a positive impact on depth and stage size. The final rule is when you have a great diaphragm control, nothing is stopping those drivers from reaching their maximum potential, so you'll be experiencing a deeper and more holographic sound. SA400 has all of them under its belt, it is a champ when it comes to transient response, power reserve and driver control and that improved its layering and precise note positioning in my room. In all fairness, it didn't sound exactly as big and enveloping as my $3000 power amplifier is doing, but it was pretty darn close if I would engage its EQ and tone controls. All those previous chapters are interconnected in some ways and it wasn't surprising to me hearing it filling the gaps with more air density in my living room.
From a plethora of integrated and power amplifiers that I've tried by now, SA400 is definitely part of the big and open sounding group. It was easily increasing or decreasing the stage size depending on the music that was playing, but it was never shrinking the stage to claustrophobic levels as DA8S or Burson Bang would be doing. Natural Sound NS17 were also refusing to sound small and dull, as their woofers were moving plenty air towards my cozy listening spot, improving the depth and the stage size. NS17 were properly driven, so I felt a good control of the drivers and the sounds were flying continuously into the abyss. Instead of sounding cluttered and closed-in, both loudspeakers would place all those sounds exactly where they belong, without overlapping them on top of each other.
The latest release by Klone – Le Grand Voyage (Qobuz / Tidal) has some amazing textures, layers and sub-layers of sounds, leading towards an atmospheric sound that stretches open and wide, creating an illusion of spaciousness and of a much bigger room. Yann Ligner's voice soars sky high like an eagle, piercing through cymbal crashes, guitar reverbs and heavy rhythmic bass notes. If you're into wide sounding progressive rock, then please give this one a try. Klone might get a little repetitive, but there is something hypnotic about this album, it is highly dynamic and open sounding without mashing everything together into an ugly mess. Some tracks were laid-back and relaxing and that really opened up the sound for me. It's a satisfying and charming album, especially if are into big atmospheric music.
Overall, I would say that SA400 offers great to almost outstanding sound-staging capabilities, being outperformed only by much costlier units. It was easily separating the notes, adding more air between them, highlighting their contours and leading edges.
VI. Passing the Hifiman Susvara test
If you are a loudspeaker headbanger only, then please skip it to the next chapter and don't look back, but if you are a Susvara user and those are still boring and pretty much dead in terms of dynamics with all your amplifiers, then please carry on!
Hifiman Susvara is a weird headphone and you know it, as from tens of powerful desktop headphone amplifiers at my disposal, only three of them were able to drive them decently enough. Several headphone amps were shutting down, even over-powerful Class-A amplifiers were entering their protection mode to save their circuitry from catching fire. I have a love – hate relationship with them, on one hand I dislike them with most amplifiers, they can't really work with portable devices, but on the other hand I really enjoy them out of class-A/AB integrated or power amplifiers that will be awakening them from their deep sleep. When it comes to dynamics, there is nothing approaching even remotely close to the Hifiman Susvara if being properly driven. Several friends of mine came for a visit and they have tried the Susvara driven by my power amplifier, words were unnecessary as they were WOWing, smiling and jumping and that was more than enough for me.
Hifiman is selling separately a metal thingy called HE-adapter that can be connected to the speaker terminals of your power or integrated amplifier and with it you can properly drive the damn Susvara. For a shorter signal path, you can get a custom cable with spades or bananas at one end and with a 4-pin XLR female jack at the other end and this is exactly what I've used. Without the HE-adapter, I'm shortening the signal path and I'm making them even cleaner sounding. I tried the Susvara out of many integrated and power amplifiers by now and so far, the best pairing was with my own Keces S300 that was always explosive as far as dynamics go, while adding more meat to the bone, boosting midrange presence and tightly controlling their bass down to the lowest notes.
When I've moved them to the SMSL SA400, I didn't know what to expect anymore, but after just a few seconds SA400 felt considerably more powerful to the S300. I couldn't believe it, but it was pounding even harder, the bass output was out of this world. I don't think I ever experienced a deeper bass out of any other headphone + amplifier combo. It makes my ears hurt with several electronica tracks, could there be too much dynamics, too much impact, with an instantaneous start and stop of the drivers? The latest 4-track album of Infected Mushroom – Shroomeez (Qobuz / Tidal) is a testament to those words. It was painful and pleasant at the same time; those beats were pounding my eardrums like I was sitting between the hammer and the anvil. I was feeling how drivers were moving the headphone structure. Mind you, I wasn't listening at higher volume levels…I was still at 90 dB and yet dynamics came from a 4th dimension, unleashing tremendous slams in my eardrums, it was almost unreal. Bottom line is that with the right settings, SA400 can be used as an outstanding amplifier for the notorious Hifiman Susvara. If you're into electronica, modern pop, rap, rock or metal, then I dare you find a better sounding amplifier with Susvara at less than one grand.
VII. Frequency Response
In direct mode without any tone controls, I find it quite linear, without highlighting anything in particular, with the exception of the low-end that feels a bit too powerful at times.
A. Bass
Without a single doubt, its bass output is the most impressive part of the frequency response. It is a little elevated with the SDB mode engaged and that works amazingly well with bookshelf loudspeakers that need a bit of help down there. The bass output is quite strong, it goes deep, easily reaching sub-bass notes without too much effort. I find its bass output fast and nimble and it carries a bigger amount of air with every note. It was tightly controlled, cohesive and clean and if you like your bass impactful and hard slamming, then SA400 will be surely right up your alley. Honestly, SA400 has one of the strongest bass performances I've experienced out of integrated and power amplifiers. I've felt that immediately not only with loudspeakers, but also with headphones.
B. Midrange
This is the only area in the frequency response that didn't charm me almost at all in direct mode. Nothing wrong with it, I just longed for more emotions coming from soprano voices and generally speaking, all acoustic instruments didn't sound as natural and soul grabbing to me. I would describe it as having a linear midrange, almost to the point of being thin and lifeless. Luckily, its tone controls and EQ are giving a huge helping hand. Adding 2 to 3 dB in the midrange section works as a charm and that SDB EQ curve is also adding some organic matter in there, making it more real and natural sounding in a way. Bottom line is that I dislike its midrange performance in direct mode and it is something else entirely once you start playing with its tone controls.
C. Treble
The top of the frequency response feels clean and transparent, there is plenty of information in the upper registers. The top octave is well defined, there is air, there is shimmering, there is a good amount of detail, without becoming a burden in long listening sessions. I feel its treble defined and somewhat strong and you should forget about a rolled-off, relaxing or smooth treble output, as SA400 doesn't have any of that. My KEF Reference 3 are already quite impressive up top, luckily SA400 didn't add brightness or listening fatigue and the same happened with the Hifiman Susvara. While there was some sharpness on tracks filled with tambourines, bells and cymbals, it never appeared to me as sibilant or edgy sounding. Imagine a clean treble delivery, without sacrificing much detail and texture and that is pretty much how SA400 sounded in the treble.
Overall, I consider it having a so-called V-shaped frequency response in direct mode that can be improved with its EQ and tone controls. If I'm doing that, then it becomes extended at both ends and full-bodied in the midrange, exactly as I like my amplifiers to be.
VIII. Quirks
There are few things that I've discovered down the road while testing it for more than a week. First of all, that coil noise coming from its power supply isn't that big of a deal as you can barely hear it, but a slight hiss coming out of those vented aluminum dome tweeters can be a problem in a long run, especially in a near-field desktop environment. It wasn't a big issue for me, but it could become for some, especially easy to drive loudspeakers that have a higher sensitivity than 95 dB should be avoided (here are just a few examples: Tannoy VQ 60, Tannoy System 15 DMT II, Klipsch Klipschorn, Avant-Garde Acoustics speakers & others).
While operating it, I've observed that it gets hot after about an hour or so. In a well-ventilated area its normal working temperature sits between 60 and 63 degrees Celsius. When I've put it in my living room, on few occasions its temperature would reach 65 degrees and that is the moment when its 40mm cooling fan will start spinning. It will do that until it drops 5 degrees and that process takes about 5 minutes. You will be hearing its cooler even at two meters away, including in your living room, it wasn't super bothering and 5 minutes isn't that much, but I feel that a small con like this should be mentioned.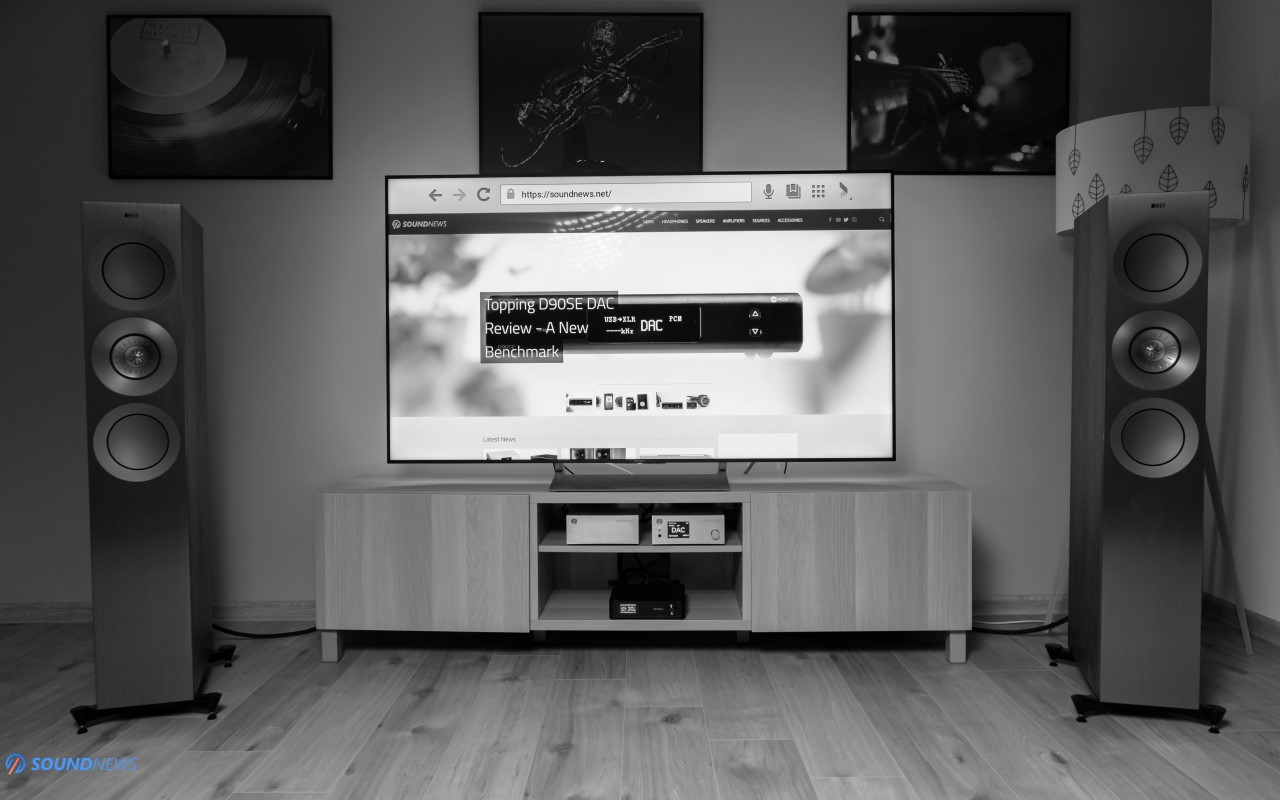 Conclusion
If you can overlook every con that I've mentioned before, then SA400 is an outstanding integrated amplifier that will easily drive every bookshelf and standfloor loudspeaker with a lot of power to spare. Straight up from ten integrated and power amplifiers that I've used in the last two years, SA400 felt as the most powerful one, with the highest headroom remaining on tap for wilder dynamics. It had an iron grip and an outstanding control over my speakers, it chooses a faster pace and a very serious kick in the chest. All while being clean, detailed, open and wide sounding, without stopping the air traveling around in my room.
Add a simple to navigate UI, tone controls and several EQ presets and suddenly SA400 becomes a lot more interesting and much easier to integrate in warm, neutral or bright sounding setups.
It fully deserves our Bronze Award and if SMSL Audio can solve some of those quirks, I'll give it a Silver award instead and that's a promise I intend of keeping. SMSL SA400 will set you off $659 and that's a fair price considering its features, technicalities and great sonics.
SMSL SA400 was kindly provided by the fine gents of Apos Audio and it can be purchased from their web-store by following this link. (They offer free shipping in the USA and Canada, free 45-day returns in case you don't like it, an extra year of warranty and lowest price guarantee).
PROS:
Simple yet beautiful design
High-quality uni-body case
Small and lightweight, doesn't need a lot of space
Leave it linear and neutral in direct mode, make it engaging and fun sounding or make it treble oriented and overly clean with its tone controls and EQ presets, it is really up to you!
Over-powerful even in low-gain mode, easily drove several loudspeakers with a ton of headroom to spare
Fast, punchy and alive sounding in SDB mode, great dynamics
Good levels of detail, quite transparent sounding
Outstanding control over the speaker drivers
Extended frequency response
Decently layered, airy, open and wide sounding
That bass output in SDB mode needs to be heard to be believed
A very good value
CONS:
Faint coil noise coming from its power supply
Slight hum coming from sensitive tweeters
Gets hot after about an hour of so, needs some space and good ventilation. Never place anything on top of it
Dull sounding in direct mode
Dear SMSL Audio, this is not a power amplifier.
ASSOCIATED EQUIPMENT:
DACs: Audiobyte HydraVox & HydraZap, Matrix Audio Element X, Gold Note DS-10 Plus & PSU-10 EVO, Musician Aquarius, Gustard X26 PRO, Gustard X16, Topping D90SE, D90, D30 PRO & others
DAPs: FiiO M11 Plus LTD, M11 PRO, M15, Shanling M8, M6, M3X
Headphone Amps: Benchmark HPA4, Singxer SA-1, Flux Lab Acoustics FA-10, Burson Soloist 3X, Musician Andromeda, SMSL SP400, Topping A90, A30 PRO, Gustard H16
Power Amps: KECES S300, SMSL SA400
Integrated Amps: SMSL SA400, DA-9, Keces E40
Loudspeakers: KEF Reference 3, Natural Sound NS-17
IEMs: FiiO FA9, FH7, FH5S, FD5, Meze Rai Penta, Rai Solo, LittleDot Cu KIS, Hiby Crystal 6 & others
Portable headphones: Sennheiser Momentum 2, Meze 99 Classics
Full-sized headphones: Hifiman Susvara, HE1000SE, Arya, HE400SE, Audeze LCD-4, Erzetich Phobos, Erzetich Mania, Kennerton Wodan, Magni, Gjallarhorn, Vali, M12S, Quad ERA-1, Ollo S4X Reference & others
Interconnects: QED Reference (x2), Topping TCX1 (x2)
Speaker cables: Kimber PR8, Audioquest Type4
Power Cables: Isotek EVO3 Premier (x3)
Balanced Isolation Power Conditioners: PLiXiR Elite BAC400