Sennheiser Momentum 3 Wireless – Review
My video review:
Disclaimer: Sennheiser Momentum 3 Wireless were loaned to us from the local distributor AVstore. After the test period ends the unit will be sent back to them. We thank team AVstore for this opportunity!
Sennheiser Momentum 3 debuted at IFA Berlin 2019 and since then everybody is talking about them. Are they better than the 4-year old Momentum 2, will they dethrone the ANC kings Sony WH-1000XM3, the futuristic looking Bose 700 or the all metal Master&Dynamic MW65?
When Sennheiser debuted first generation of Momentum over-ear wired headphones in 2012 it felt like a fresh start for the company, it entered a new era in terms of portables. Up until that time, the all-plastic and industrial looking HD-25 were their best portable headphones. Fast forward in 2015 Sennheiser upped their game and released not only a fresh Momentum 2.0 but an entire collection of headphones like Momentum On-Ear, Momentum In-Ear, Momentum Wireless and the Urbanite product line.
I cannot deny the huge advancements Sennheiser achieved in terms of sound reproduction and in terms of design. I mean a HD-25 pales in comparison near a beautiful all metal construction with a leather headband and earpads Momentum, it is completely on another level of refinement and visual excitement.
Four years passed and again Sennheiser is ready to Wow the crowd, first product in their line-up is the beautiful Momentum 3 Wireless headphones that we will be testing today.
Getting Momentum!
M3 Wireless came in a nice matte box. Opening it up revealed a white thick headphone box with a simple Sennheiser logo stamped on it. Opening it up reveals the carry case completely wrapped in huge amounts of foam for a good protection. Inside the soft carry case there is a USB type-C cable, a USB type-C to Type-A adapter, the analog headphone cable and the headphones themselves. A safety guide and a quick start guide will help you understand everything and set them up properly.
Looks & Build Quality
You know what's funny? I tested multiple portable headphones from all serious manufacturers, lots of headphones are coming and leaving my home. Yet, there is one headphone that didn't left my home for the past 4 years and that is Sennheiser Momentum 2 (Wired, Over-Ear), I just love their tonality, their liquid midrange, those soothing voices and that easy-going top end for long and relaxing listening sessions.
What caught my attention when I purchased the Momentum 2 was that their ear-pads were bigger than those on Momentum 1 and as a result the sound was also bigger and airier. With Momentum 3 I am having a Déjà vu moment because again M3 has huge ear-pads compared to M2 and I again expect a wider soundscape, more air around the notes and less heat 'n sweat in the summer days.
My biggest gripe with M2 was the super thin leather headband that after about 30 minutes of playtime became really problematic due to high pressure on top of the head and little to do padding from the leather itself.
I'm really happy to see Sennheiser improving the padding, the part that touches the top of my head is much softer and fluffier, I can wear them much longer with close to zero pressure on my head or around my ears.
My biggest two complaints were solved with this one, if the sound remains unchanged, I'll be super happy.
As expected, the entire headphone structure is made out of metal, headband is covered with genuine leather so are those big, deep and super soft ear-pads. Only the ear-cups are plastic made for a good wireless transmission, it all makes sense. The analog headphone cable is detachable of course and the ear-pads as well. Sennheiser is even selling those separately in case you'll lose or damage them.
The adjusting mechanism is exactly like that of Momentum 1 or 2, just put them on your head and they will automatically adjust to your head size. M3 can be folded and easily transported with their carry case, I wish it was a hard case for extra protection but the included one it's doing an Ok job at that.
Every feature of M3 Wireless can be controlled from the right ear-cup or from the Sennheiser Smart Control app. Starting with the bottom on the right ear-cup you have the locking type headphone jack, the USB type-C connection that will not only charge the headphones but can also be used as a wired connection with your smartphone, PC or laptop. Next is the pairing button, press it longer to enter the pairing mode. The next 3 buttons will decrease the volume, pause the music or increase the volume. Those three can also be used to skip a tune, go back a tune, they also work for answering or ignoring a call. The last button on top is the ANC button that has 3 positions: ANC Off, ANC Off and engaging Transparent Hearing basically boosting the environmental sounds in case you'll want to speak to somebody without taking them off your head.
Tech inside Momentum 3
M3 is a closed-back dynamic driver headphone and as such uses a lightweight cellulose driver. The driver size is a huge 42 mm one, some desktop class headphones are using smaller drivers, of course bigger is always better (ladies would agree).
Using them passively (without engaging ANC) the impedance is at 100 Ohms, engaging ANC it rises to 470 Ohms, that is quite a lot, but don't you worry since the headphone is sensitive and quite easy to drive, they can reach ear bleeding levels of 118 dB only with 1Vrms of power and up to 99 dB via Bluetooth to preserve the hearing.
In terms of Bluetooth capabilities M3 is having the latest BT version 5.0 for a wide BT range and when it comes to codecs, it supports SBC, AAC (for iOS users), aptX and aptX-LL (low latency), sadly no aptX-HD and since this is not a Sony headphone LDAC is not present as well.
Sennheiser wanted to go all-in with the active-noise cancelation they used 4 pick-up microphones and another 2 beamforming array microphones in case you want to make a call with them.
With BT and ANC enabled M3 will have an operating time of 17 hours on medium volume, I think that is plenty for a trans-Atlantic flight, if you are running out of battery life a full-charge will take approx. 3 hours to finish.
Sennheiser is quoting a 0.3% Total-Harmonic-Distortion (THD) at 100 dB, I will test and measure those claims myself really soon.
Comfort
With those thick and soft ear-pads with lots of cushioning inside plus that soft headband improved the comfort levels a lot. I can now easily use for few hours without feeling a pain around my ears or on top.
Since there is even bigger space inside the ear-pads my ears are not sweating and I hope they won't in the summer days too. I find them just a tad more comfortable than Master&Dynamic MW65 and maybe just a little more than Sony WH-1000XM3.
Test Setups
I used them in three different setups:
Connected to my desktop Corsair One i160, playing first a youtube video and then playing a game
Connected to my smart TV and watching a movie
Connected to my Android smartphone and streaming Tidal Hi-Fi
My desktop PC is the weakest of the three when in comes to wireless tech, it uses Bluetooth version 4.2 and it doesn't support any fancier codecs like aptX or aptX-LL. I was skeptical at first since I've had lip-sync issues with other wireless headphones like Hifiman TWS600 and Creative Ourlier Air in the past with this PC so I am not expecting anything better.
I fired two YouTube videos and to my surprise there isn't any lag so lip-sync in just perfect, they work as intended. I then played a short 15-min match of Heroes Of The Storm and again the sound was loud and clear and most importantly there wasn't an audio lag whatsoever. Be warned that an older PC or laptop with Bluetooth version 4.0 or lower might have a bit of lag. The clarity was good but I knew they can offer something more than the SBC connection with my PC.
I moved them to the living room and watched a short 20-minute episode on Netflix and they worked even better, I think. Absolutely zero lag and I can control the volume by pressing the buttons on the right ear-cup. I really like this feature since after my kid goes to sleep, I tend to watch a movie or a late-night TV show and with wireless headphones I can have the volume I want without disturbing anyone in the house, super neat!
Sound Performance
I. Wireless Performance
The last test that remained to do is to attach my smartphone that is Bluetooth 5.0 and aptX compatible to M3 and play a lot of music.
Before going deep with my tests, I want just to point out that at launch Momentum 3 Wireless had a pretty serious issue that not a single online publication or review reported about. When there is A LOT of noise around you and you would listen to a bass-heavy track with ANC engaged, the music and especially those bass notes will be heavily distorted. Again, this occurs only when ANC is enabled and the environment is super noisy (Subway, crowded place, malls, plazas and so on).
Few days ago, Sennheiser released a new firmware update for them, where they stated improved ANC without giving too many details. I just updated them, I put myself in front of my active speakers, I played a very loud song on them in front of me, I connected M3 to my smartphone, engaged ANC and played Infected Mushroom – Guitarmass that has some heavy bass riffs and solos. I'm glad to report that newest firmware update completely solved the distorted bass issue M3 had for few months already.
Please note that you can update the firmware of M3 only via Smart Control app you can find on App Store or on Google Play Store! I recommend doing that immediately after the purchase.
With all issues solved I think it's time to relax and listen to some tunes.
Sub-bass was incredible starting with the first song I played. Guitarmass carries a lot of bass information and some of that goes lower than 40 Hz. M3 was not only capable of rendering all those bass lines but it also put them on layers, like piling them on, on top of each other. You hear fist bass note, then comes another layer and another one. Momentum3 as was the case with Momentum2 has a very good, textured and very outlined sub-bass. It was slightly boosted but only by a little, just to spice things up with the right music.
Mid-bass performance is even better outlined and takes the spotlight. In you listen to modern pop or in general new music that is quite full in terms of mid-bass information, M3 will just shine bright and reward you with an enveloping bass performance. This is the only frequency area that I feel is boosted by up to 5dB, I will measure them soon and we will see about that. Momentum3 has a colorful and playful sound signature. I am a big adept of linearity but even I need some cheerful musical moments where I would not analyze but just enjoy my music.
Momentum 3 is exactly that type of headphone, it brings emotions to your songs, it is lifting you up and adds a bit of charisma and shows its character. Yep, Momentum 3 has one and is never shy showing it off.
Midrange performance is my personal favorite thing about this headphone. Midrange was my first love when I listened to my Momentum2 about four years go. This magical and natural midrange is still there and still pumps a bit of soul and smoothness into my songs. What is really amazing is that midrange is not boosted, I hear it lifelike and natural so in the end I find it linear and straight as a line.
I switched listening to some alternative rock and Alternosfera – Arhitectul din Babel popped on my playlist. I know the vocalist as we had multiple chats in the past, I know the vibration and the tone of his voice, when I am listening to same songs on Momentum3 I remember the voice and its tonality, it is the same person I know. Probably, the best thing Momentum3 does is leaving the natural tonality unchanged, if that is a heavy voice it will render it like that, if its thin and dry it will do the same. Some will disagree with me but I believe the midrange part is the best part of Momentum 3 and I love them for that. This is my favorite frequency range.
As for the treble I feel that Sennheiser tuned them for a relaxing experience without artificial treble enhancers. M3 has it pretty detailed, I hear all the bells hidden in the background of Duende by Bozio Levin Stevens. All the percussion work and those buried cymbals are still there, I can hear them loud and clear. Just their raw energy is not so rough on the ears. M3 are not bright/harsh and don't have peaks in the most sensitive part of our hearing (4 -7 kHz). Nonetheless, I don't consider them rolled off or that some important sub-sonic treble information is missing north of 15kHz, nothing like that. M3 is just not poking its fingers on this area and doesn't force your attention on this area. But if you want that, you can definitely have your focus on the treble as the overall performance is not crowded and is breathing some air.
Their transient response is actually quite good, they have a really good kick especially in the bass department. If you drive them past 90 dB (close to maximum volume in wireless mode) you will feel how fast the drivers are moving and how easily the air is hitting the eardrums. With some heavy bass riffs this is almost intoxicating, I love this effect and sadly MW65 from Master&Dynamic and even WH-1000XM3 don't have the same effect on me.
Soundstage level is good, it sounds almost like an open-back. I was worried a bit since all the tech inside makes the damping material harder and the headphone driver would sit much closer to it, but my fears are gone. M3 are sounding quite airy and I can pick up individual sounds from a crowded track pretty easy. If I listed to a really good recording, then it becomes a child's play and I don't need closing my eyes anymore to disentangle everything.
Tidal recently got updated with 360° Reality Audio (360RA is available with a HiFi membership on iOS or Android devices only) and I was very glad to find one of my all-time favorite Jazz quartets in this format, the amazing Dave Brubeck Quarter. I fired Take Five and I immediately felt the 360° effect and the enhanced soundstage levels. Everything flew farther away; some songs would come like behind me and some of them like on different layers not just at different distances from me. If you have a Tidal subscription, I recommend trying it out. Momentum3 is capable of rendering a wider soundscape and a much smaller one as well, if it was recorded that way of course. M3 can't match a completely open-back design but compared to other closed ones, M3 plays big, wide and open, no complaints here.
II. Wired Performance
A. Via the 3.5mm headphone cable
I ditched my phone, 360RA files and moved to an old-school wired desktop setup. I wanted to squeeze the maximum performance out of these drivers so I plugged them into the reference Benchmark HPA4 headphone amp which was amping the signal coming from a Matrix Audio Element X DAC. I used the internal player of Element X and its internal streamer since it sounds better this way.
In wired mode I can push those drivers to higher limits, not just at 99dB (their volume limit on BT) and obviously the best those drivers can offer will be achieved only in wired mode.
I listened to the same songs and I heard an additional layer of information, since aptX is still not lossless quality. Momentum3 sounded even more detailed, more holographic and enveloping. The missing layer of information that was felt in wireless mode came back and everything just clicked into place.
Bass notes sounded the same in quantity but more controlled this time around, the kick was better, it sounded clearer, in the end bass quality improved a lot. Without a doubt the speed of delivery improved the most, this is a better experience, especially if you crave for some faster beats.
Just for fun I plugged them into multiple desktop headphone amps and few desktop sources and with every one of them I didn't hear the noise floor of the source, I believe the 100 ohm output impedance plays a bit role here.
The overall impression M3 left on me in the wired mode is that is sounds exactly the same as wireless, just a bit more detailed, more open, more controlled, faster, better in every way if you connect them to a high-quality audio source and amplification.
B. Wired via the USB type-C cable
What is quite interesting is that you can have them wired via their simple headphone cable or via the USB type-C cable. I tested the USB connection with my smartphone and with my desktop PC and both worked extremely well with them.
Since my PC recognizes it as an external audio device, it is obvious M3 has a DAC (Digital to analog converter) chip inside – an audio card (for noobies).
I dug deeper and using System Information tool > Sound Device I wanted to find the DAC chip or at least the manufacturer. It came up with Vendor ID 1377 and Device ID 6004. Disappointed that the DAC manufacturer was not found I dug even deeper and found that vendor ID 1377 was registered on Sennheiser Electronic GmbH that and that in the past Sennheiser registered Device ID 4000 for their high-performance HDVD800 DAC and headphone amp combo. Device ID 6004 from Momentum3 was still not listed online. Since Sennheiser moved from a Burr-Brown PCM chip from the HDVD800 to an ESS Sabre chip on their latest HDV820 DAC and headphone amp combo I will just throw a wild guess that Momentum3 is also using an ESS Sabre DAC chip, a mobile low-power one most likely.
I was very pleased to hear a very good performance via USB Type-C that in my book stays somewhere between their wireless performance and their wired performance (connected to a high-end rig). I've heard subtleties, diaphragm control, a good speed, a tremendous impact, I have close to zero issues here. I recommend at least trying once the wired USB-C performance, you might be impressed.
III. Active Noise Cancelation (ANC)
We have some nasty weather outside, its cold and windy, this is basically the best environment for testing the ANC capabilities of M3.
I used the Smart Control app that offers 3 ANC settings: Anti Pressure – read it as a Low intensity ANC, Anti Wind – self explanatory and Max.
I used Anti Wind outside and Max in really crowded places. ANC works pretty well and attenuated a lot of background noise but obviously not everything. M3 has already thicker ear-pads so the passive attenuation is already better and I tend to believe than the ANC tech improved as well.
Entering a crowded mall, low and mid-pitched sounds dropped the most and only higher pitched treble was attenuated to a smaller degree, all ANC headphones I know of are basically doing the same.
Max setting is the best, but it also has the biggest impact on battery. I recommend using the ANC only when it's needed to preserve battery and in general, I think they sound just a tad better with ANC turned off. I think their ANC tech is good but still not on the same level with the best, personally for me Sony WH-1000XM3 had the best ANC and it killed more environmental sounds than any other headphone.
Here comes the great part: those two beamforming array microphones are actually pretty good and very usable, I made two phone calls and the person talking to me heard me clear, he just added that he can hear all the noises around me, those microphones are picking up everything around them. By comparison Sony WH-1000XM3 were almost unusable when making calls, MW65 from Master&Dynamic were better but still not in the same level with Momentum3. For making calls, M3 takes the crown.
IV. Measurements.
A. Wired performance measurements
As usual I connected M3 via the headphone cable to the Element X + HPA4 combo, this is the most linear and honest sounding setup so I know the measurements will come closer to reality of what I am hearing. For measurements I used a MiniDSP E.A.R.S (Earphone Audio Response System), of course with calibration files for HEQ (headphone compensation for flat EQ) and for HPN (original headphone compensation) but I felt that HPN compensation gave me the best results of all.
![](/uploads/Momentum3 HPN Wired.jpg)
As you can see from the graph their measured performance is very good with little to no deviations, now take into consideration that this is a closed-back design and a wireless headphone and suddenly this graph becomes even more impressive.
![](/uploads/Momentum3 HPN Smoothing applied.jpg)
Applying a 1/12 smoothing changes little to nothing as their raw performance was already impressive.
As I suspected there is just a small boost in the sub-bass area and a bigger one in the mid-bass area by about 5dB (I sent a 85dB signal to E.A.R.S) As expected, midrange performance is excellent, I really like that straight line and it reflects what I've heard, linear but natural midrange performance.
The 5dB dip in the 4kHz area was put there to calm down the treble a bit and add a bit of smoothness. The rest of the treble is quite good and there aren't serious dips or rises so the overall treble performance is on a high level.
![](/uploads/Momentum3 Spectogram.jpg)
![](/uploads/Momentum3 Waterfall.jpg)
Checking its spectrogram and waterfall reveals close to zero leaking and a boost in the mid-bass area. The overall performance is super stable and nothing is leaking all over the place.
![](/uploads/Momentum3 HPN Decay.jpg)
The spectral decay reading shows that sub and mid-bass have a slightly longer decay but that is understandable for a dynamic driver.
![](/uploads/Momentum 3 Wireless THD.jpg)
Probably among the most interesting measuring is the total harmonic distortion (THD) and indeed as Sennheiser specified in the manual it mostly stays in the 0.3% area, but the naughty sub-bass is rising the THD up to 2% and mid-bass up to 0.6%. Those are safe numbers by my standards, you should see those 10% THD of Grado headphones…
B. Wireless performance measurements.
![](/uploads/Momentum3 Wireless.jpg)
Wireless performance is actually very good and quite unexpected they measure almost as good as in wired mode. The only difference I see is some granulation and higher distortion numbers in the treble area.
![](/uploads/Momentum3 Wireless Decay.jpg)
Even decay increased, exactly how I felt when I listened to them, the spectral decay reading shows a rise in decay (a slower driver movement) especially in the mid and higher treble.
Their overall wired and wireless measured performance is really good and my listening tests proved they sounded good with close to zero issues whatsoever.
V. Sennheiser Versus Sennheiser
If you still own a Momentum 2 like I do and if you are wondering if an upgrade to Momentum 3 is worthwhile, I think it's time to make the jump.
Comfort wise M3 is miles ahead, more cushioning, deeper and softer ear-pads, bigger space inside the ear-cups make them very comfortable and the padding on the top helps listening to them for hours and hours. M2 can't be used for longer listening sessions…
Since my M2 is the wired version I will compare the two in the wired mode.
The difference between them is not really that big but there are some notable changes that I will mention. The more I listen to them on the same rig the more I feel M3 has a snappier and faster sound, the decay is definitely shorter and each note will not linger too much.
Treble on M2 is quite good but not really extended. When I am listening to a treble heavy song, I hear more information on M3, they have definitely a better extended top-end and they sound just more detailed up top.
When I am going past 90 dB on both models, M3 doesn't break up and has really good THD numbers, its distortion is super safe up to 100 dB volume wise. M2 is not that cool and starts clipping much faster and a result has higher THD numbers and overall sounds a bit more distorted at low level listening and much more at higher volume levels.
Soundstage size is almost the same, it is just a tad deeper sounding on the M3, I presume bigger ear-pads said the final word and that basically wraps my comparison.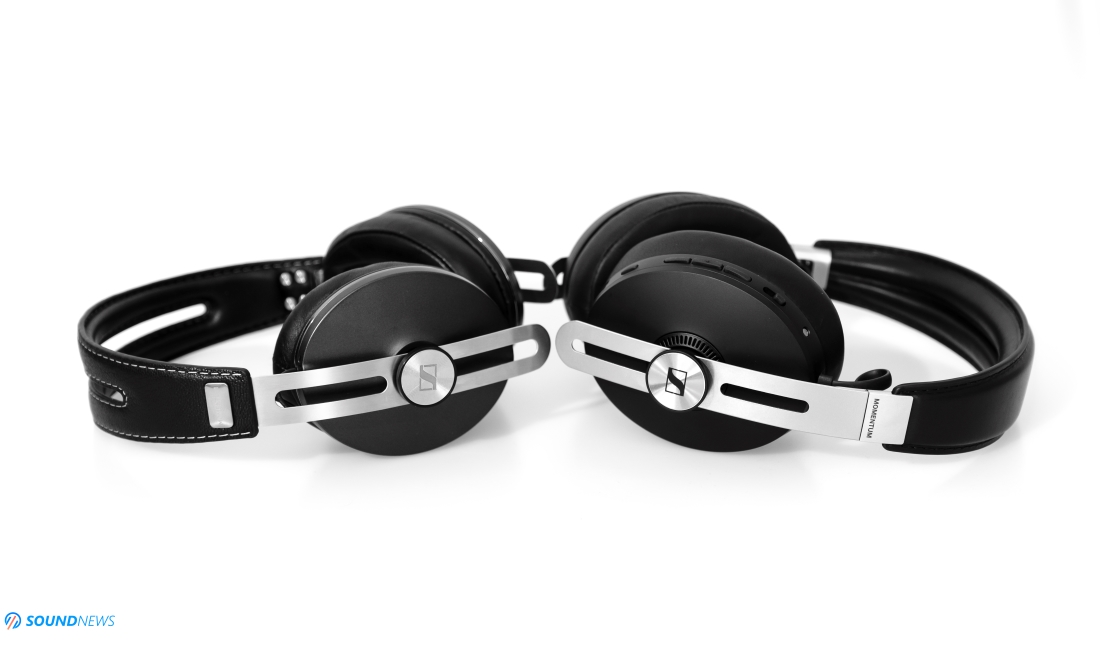 Conclusion
The latest addition to the Sennheiser premium headphone range caught my attention immediately after its announcement as I still have a soft spot for my Momentum 2 and for Sennheiser in general. I booked a longer testing period for M3 and I'm glad I did that.
Few months ago, I compared the top 3 wireless headphones in a dedicated review and then a Master&Dynamic MW65 in-depth review followed shortly.
If I would rewrite my 3-in-1 wireless headphone comparison with Momentum 3 in it I would probably have a different conclusion. When it comes to pure sound reproduction, M3 would come on top and would be a toss-up with Master&Dynamic MW65.
Wired or wireless, Sennheiser Momentum 3 looks, feels and sounds as a really good closed-back headphone and at $400 in the US or €400 here in Europe I think they are worth it and are getting my recommendation.
PROS:
Sleek design, high-end materials
Long battery life
Extended frequency response with good transparency
Rich tonality, sounds natural and easy going
No harshness/brightness whatsoever
Good detail retrieval
Simple but intuitive Smart Control app
Open wide and deep sounding
Very good at making calls
Can be used with a wide variety of devices (Smart TVs, laptops, desktop PC, tablets, smartphones and so on)
CONS:
Lack of aptX-HD and LDAC codecs
Not the best ANC I have tested
ASSOCIATED EQUIPMENT:
Sources: Xiaomi Mi Mix 2S, Corsair One i160, Sony Bravia 65XE9005
DACs: Matrix Audio Element X, Keces S3, Topping DX7 PRO
Headphone amps: Benchmark HPA4, Erzetich Bacillus, Headamp Gilmore Lite Mk2
IEMs: IKKO OH1, Simgot EN700 PRO, FiiO FA7
Full-sized headphones: Hifiman Arya, Quad ERA-1, Sennheiser HD660S, Momentum 2.0
Wireless headphones: Sennheiser Momentum 3 Wireless, Master&Dynamic MW65, Sony WH-1000XM3
Loudspeakers: KEF LS50W
Interconnects: QED Reference XLR (x2), Aune AL3 XLR
Power Cables: Isotek EVO3 Premier (x2)
Balanced Power Conditioners: PLiXiR Elite BAC 400, KECES BP-600