My Video Review:
A lot of people don't know but in Asia often times audio engineers are working on multiple projects of different audio manufacturers. Remember the Musician Audio and Denafrips fiasco? Well, that is common practice in Asia and shouldn't be considered as bad practice. If you check the locations of all audio manufacturers from China, you might get a surprise as most of them are working in the same city, street and sometimes in the same building. I'm not going to list all those companies as detective work is not my job, but I will just say that small companies as Loxjie Audio will be surely getting help from other teams. If you'll open their cases, their PCBs traces, the color of those PCBs, their power supplies, chips and capacitors used will resemble quite a lot some other devices of different logos. When I'm looking at a PCB of a DAC or amplifier, I can see all the thinking that went into making them, I can follow the traces, I can check the quality of their power supply, filtering, output stage and so on. The DAC that I will be testing today is very easy on the pocket, but it's well made from a single block of aluminum and after opening up its case it was clear to me that a huge helping hand came from the SMSL Audio team, but more about that very soon.
Loxjie D30 is a small and cute digital to analog converter with an LCD screen on its front, they added a decent headphone amp section and a Bluetooth receiver in case you'll want to listen to some music without using a PC or MAC, simply connect your phone to it via Bluetooth and you are ready rock. It costs only €169 here in Europe and $159 in USA and seems to be packed with a lot of goodies at a reasonable price. Would it suck or would it rock? Let's find out together in a comprehensive way.
Unboxing & Package Contents
D30 came in pretty much the same box of its predecessor – D20 DAC, that I've tested a year and a half ago. It came double boxed as usual; the product box is filled with a lot of foam for protection. D30 unit itself is tightly secured, it isn't wobbling and should withstand bad shipping conditions. Inside you'll find the unit itself, a plastic remote with rubberized buttons, it's Loxjie branded and looks decent enough. To its right you'll find a power cable, a USB type-B cable and a screw-type Bluetooth antenna that works as a signal booster. A thank you card and a user manual in English will get you started. If you are using a Windows machine with it, you might want to download its drivers first, here they are.
Don't forget to check its user manual, mostly to learn more about its LCD screen, user menu and about its remote control which will come in handy.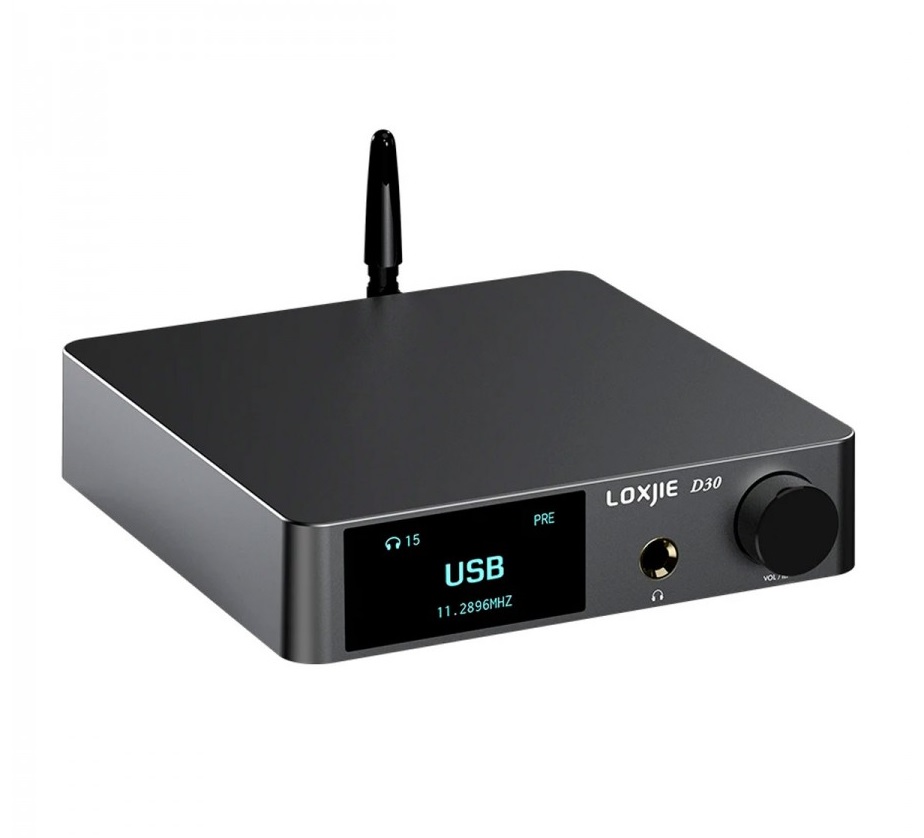 Design & Build Quality
Thanks almighty Thor, we are not getting the same Blue or Red colors that Loxjie used in their former D20 DAC and in a lot of other stuff. Hi-Fi electronics are not toys, even if men see them as such, you'll find most of them in black, while, silver or gray. Often times I'm mentioning about the WAF (Wife Acceptance Factor) that is very important in Hi-Fi. The less she knows about a device, The Better. Questions can lead to re-positioning of that device, moving it to other rooms (mostly to your office) or worse: a return – because it doesn't look invisible enough for the cat eyes of our beloved ones. Thankfully D30 is finished in grey and has a dimmable screen and all my fears are now dust in the air. That is an amazing color option and as a result D30 has a huge WAF, way to go Loxjie!
The device itself is a lot more pleasing to the eyes, it is beautifully machined from a single block of aluminum with just a single plate attached under the unit. It has smooth lines and corners; you won't cut yourself with this one. It has a humanized look and a pleasing shape. It is more or less the same size with an Apple Mac Mini, which I always believed looks cute and really well-made. Not going to lie that this is the prettiest device made by Loxjie by a very long shot, it is actually pleasing to the eyes. Did you see their pyramidal shaped red colored amplifiers? Hopefully you didn't.
Loxjie steered into the right direction with this one and there isn't much to complain about. Its LCD screen is considerably bigger than that of its predecessor. It is visible now even in the living room and you can easily use it as a DAC and Preamp in your speaker setup. It has a stepped volume control with 60 steps, volume knob is not wobbling at all, it's quite sturdy and seems to be made out of matte plastic – that is the only plastic piece on this device. All its screws were hidden under the unit and few on its back. All in all, it looks clean, minimalist and quite modern.
There are 4 rubber feet underneath it, those are simply glued to the case, there aren't cut-outs in the metal case and I'm fine with that as long as its price doesn't go up.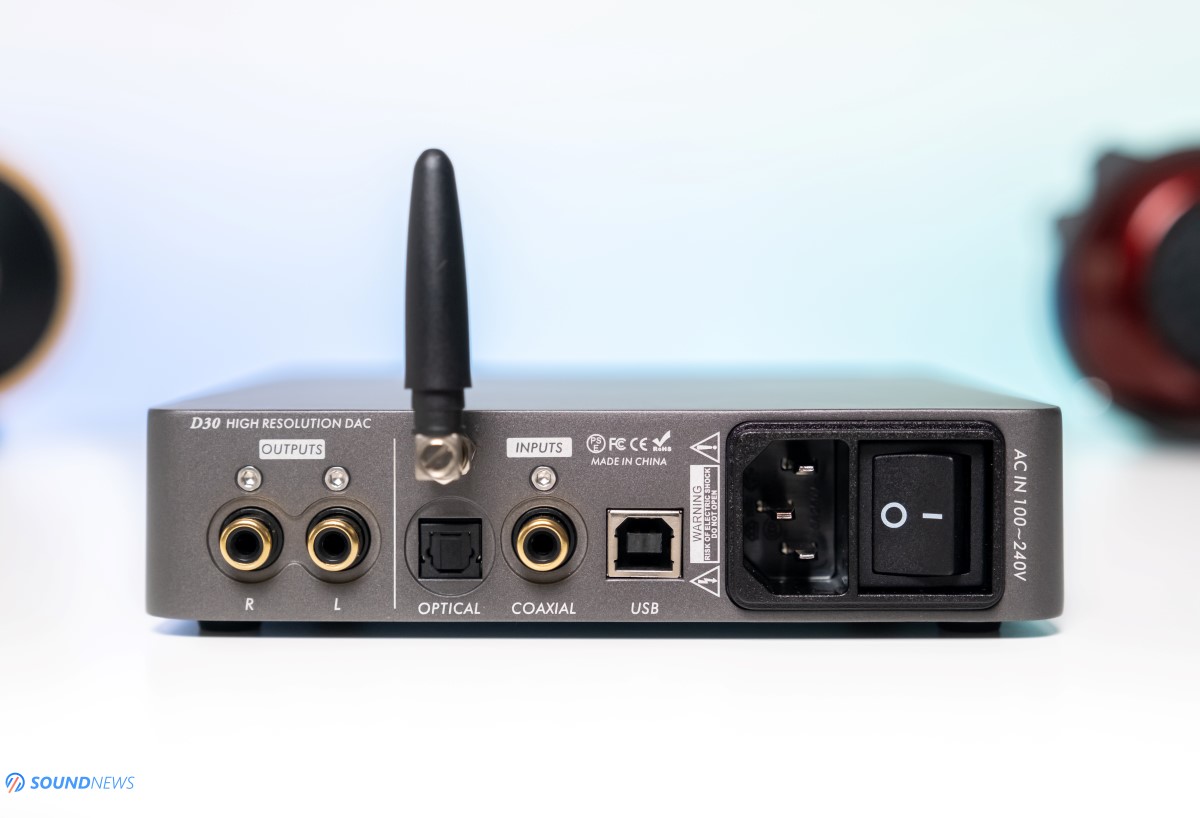 Controls & Connectivity
D30 has a very simple and straightforward front panel with just an LCD screen on the left, a 6.35mm (1/4") headphone jack and a volume knob on the right. They increased considerably its LCD screen compared to its predecessor, it is about 3 times bigger now and has a decent resolution too. Lettering is big and I can easily see them from afar in the living room while listening to speakers. By default, it will show the selected digital input, your volume level if preamp mode is engaged, the sample rate and its output: headphones or RCA.
If you want to use it as a pure DAC, simply disable its preamp from the menu, for the industry standard 2.2 V output. It also sounds better this way by completely bypassing its digital volume control.
It might have a small body, but it looks quite interesting once you take a glance on its back. You can spot 3 digital inputs as USB, Coaxial and Optical, there is a Bluetooth antenna socket as well, an AC inlet and a power switch on the right. On the left there is your fixed or variable single-ended RCA outputs. No power jumpers can be found as it accepts worldwide voltages ranging from 100 to 240 VAC.
Menu Options
The best part of its user interface, is that it can be controlled with the volume knob or with the remote control, the choice is yours. There aren't hidden menus and options (I'm looking at you Topping and Matrix Audio) and everything appears easy to understand and quite straightforward.
A long press on the volume knob will power on or turn-off the device and a short press with engage its menu where several options will appear as:
Input – select your desired digital input, there are 4 options
Output – select the Line Out or its Headphone output
Filter – there are 6 digital filters to choose from, that are working on the hardware level within the DAC chip itself, all of them are altering the roll-off past 20 kHz. Good luck hearing a difference.
Pre Mode – ON (variable volume level), Off (Fixed) and Off (for DSD – that is you DSD pass-thought option)
Color – will let you choose the color of the lettering, there are 8 color options. I like white and cyan the most.
BT Clear – will clear all Bluetooth connections
Dimmer: Always ON (will not dim its display), Auto Off (will dim its display after a few seconds)
This the simplest user menu I've seen, it's very easy to remember, it doesn't have complicated sub-menus and most of those settings are set and forget.
Under its hood
At the heart of its digital processing, stays an AKM chipset from their newest generation of D/A converters, it is their mid-range chipset called AK4493EQ. It is a 2-channel DAC chip and uses the same Velvet Sound Technology used in the flagship chipsets like AK4497 and AK4499. I have tested quite a lot of devices that are using this particular chipset, I've experienced it in the Topping E30[SV1] , SMSL Sanskrit 10th MKII, xDuoo XD-05 Plus, FiiO K5 PRO, FiiO Q5S, FiiO M11 and the best of them all was the mighty Flux Labs Acoustics FCN-10 with the nicest AK4493 implementation I've heard by a long shot. The chipset is of course only a very small portion of a much bigger story as the implementation around it is considerably more important than the silicon itself. They used the most suited S/PDIF digital receiver that you'll spot in much nicer DACs, it's the AK4118 that offers a low jitter through coaxial and optical.
The USB receiver is the famous XMOS XU-208 that proved to be stable long term, it is killing a lot of source noise from your PC or smart device and you can find it together with XU-216 in the best DACs of today. This particular chipset supports PCM files up to 32 bit 768 kHz and natively supports DSD512 files, it is a very capable one indeed.
The timing of the DAC will be controlled by two newly developed low-phase noise crystal oscillators for PCM material, one for sample rates of 44.1 kHz (and multiples of it as 88.2, 176, 352 and 705.6 kHz) and one for sample rates of 48 kHz (and multiples of it as 96, 192, 384 and 768 kHz). A third crystal clock will take care of DSD data streams.
Bluetooth duties are handled by a mid-range Qualcomm QCC3008 chipset. The good part is that it uses version 5.0, so the signal should be stable and strong even in a crowded house. The bad part is that its codec support is limited to only AAC, SBC and AptX. No AptX-HD, LDAC or HWA for you with this one. AptX is good with lossy files up to 320 Kb/sec but it will lose bits of information with lossless PCM files, so expect a softer, less detailed sound via Bluetooth.
Loxjie went with an ultra-low noise power supply (12V 1A output), I'm pretty sure I've seen this exact one in few devices made by SMSL (SP200 and M200 to be more exact). I'm not judging, just telling you the facts. Power supply seems to be well made, there are several voltage regulators in front and after it, it's well made if you ask me. There are quite a few bigger and smaller Nichicon electrolytic caps for power filtering and storing. There aren't many of them, they will not store a huge power capacitance, so don't expect the nicest punch and impact with headphones or speakers alike. Transient response should be slightly affected by this.
The DAC output stage uses a single very linear sounding LM4562 dual op-amp by Texas Instruments. Since D30 is a single-ended only DAC, a single op-amp was enough for a decent output stage. Sadly, the headphone amplifier op-amp was sanded on top and its lettering was completely wiped clean, can't tell exactly what op-amp is that. Important thing to know is that it is only a single dual op-amp and it will provide up to 110mW per channel in 32 Ohms. D30 can be considered as a low output headphone amplifier. Its headphone jack was put mostly for convenience, so don't even think driving planar-magnetic headphones with it. Okay everybody, my body is ready for some music, so let's play some!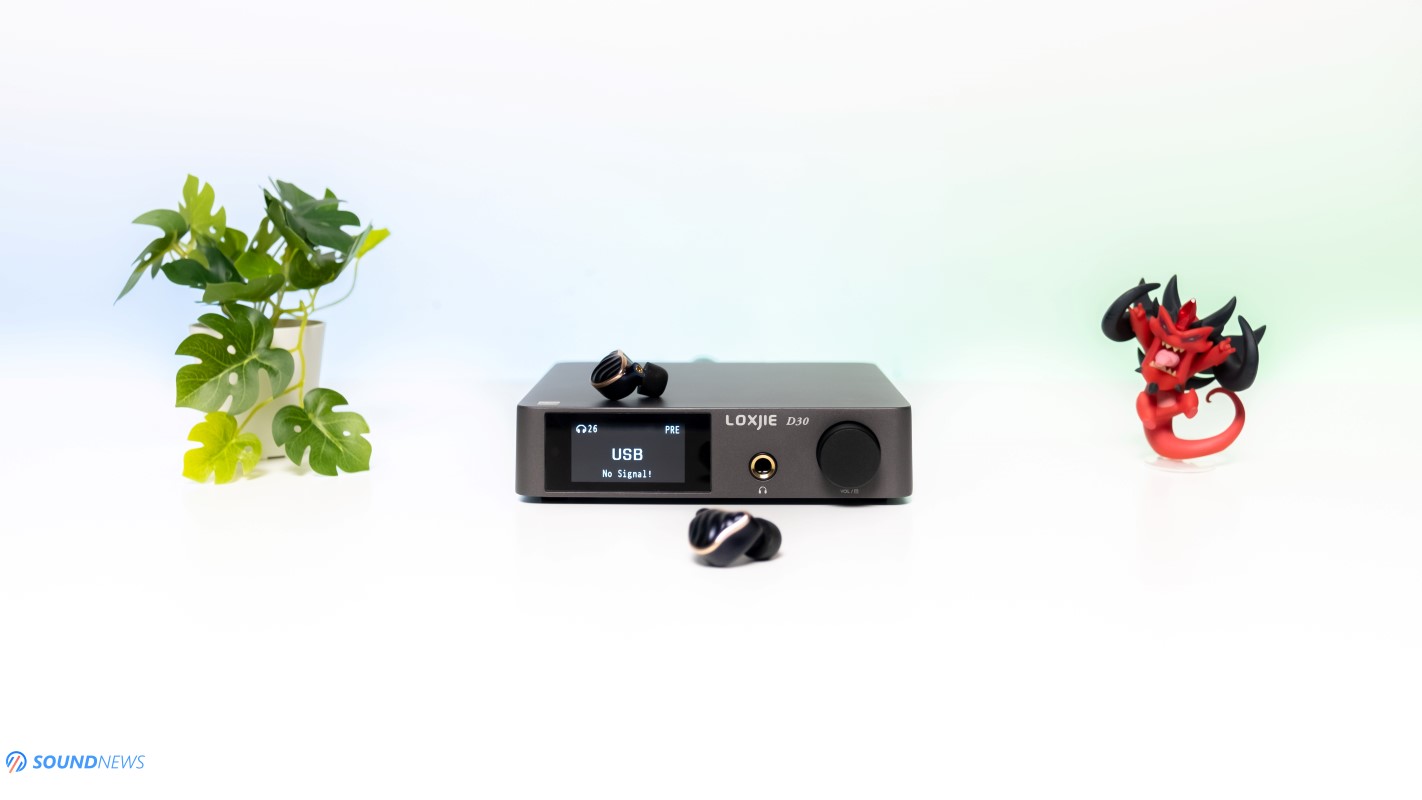 Sound Performance
I. Preliminary Impressions
Before I'll tell you exactly how it sounds via its RCA outputs and then via its headphone output, I want to explain you first why it sounded that way.
Generally speaking, that AK4493 as its technology suggests, is velvety sounding in most DAC designs, with spotlights moved to its midrange section, followed by a robust and deep bass and then by a slow roll-off in the treble. AKM chipsets aren't known to be champions when it comes to ultimate resolution and transparency, nor in the speed and slam department. They are still among the nicest Delta-Sigma chipsets when it comes to things like scale, depth, and soundstage. Honestly, I'm yet to hear an AKM-based DAC that sounds tiny and claustrophobic. Of course, their voicing can be altered, their faults can be taken care of, their tonality can be shifted as you can make them much better in the treble and that is exactly what Gustard made with their A22 and A18 DACs. You can improve their low-end delivery and that is exactly what SMSL did with their SU-9 and what Topping did with their D90 / D90 MQA units. You can also balance them out, without shifting them to the bright or to the warm side and to some degree this is what I'm feeling with Loxjie D30.
The biggest shifter towards linearity, without killing emotions in music was of course that LM4562 op-amp that I was rolling in my DACs even before this website was created, somewhere 10 to 12 years ago. This op-amp is very well-known to me and to any op-amp roller, I was using it not only in DACs, but in headphone amplifiers as well. This particular dual operational amplifier focuses mostly on linearity, on an extended frequency response, on detail retrieval and on a wide soundstage. It compliments amazingly well the D30 and its DAC chipset. However, put some of those in an ESS-Sabre based DAC, and prepare to clench your teeth while listening to music, because brightness will be a huge issue to deal with.
While listening to D30, I always had this feeling that its neither wet, nor bright sounding, it was only by a hair tilted towards musicality and smoothness, but quite a few technicalities can be also found in here. I didn't find it lacking details, it never appeared as sterile or uninteresting sounding. I believe it has a balanced tonality and seems to have a very good value, performing at a higher level compared to entry level devices like Topping E30 or SMSL Sanskrit 10th MKII.
The biggest surprise was when I switched from high-end DACs like Matrix Element X and Audiobyte HydraVox to the smaller D30, the soundstage would not collapse on me, I didn't experience a huge decrease in details and sweet harmonics. There is indeed less of everything, but not by a huge amount. Surely, it sounds less focused, slower a bit, less contoured, less textured and defined, slightly less detailed as well, but not that much and it costs only a very small fraction compared to those devices.
While using mid-fi equipment I wouldn't be surprised if the difference would shrink to unrecognizable. With my portable over-ear headphones, it was mostly a game of guessing which one is which and with better headphones and speakers, the difference started to be obvious from the get-go. Preliminary impressions are good but there is a lot more to talk about, so let's break it down step by step.
II. Soundstage & Depth
The main standout of the little D30 is actually how wide and deep it sounds even compared to much pricier units. The combination of an AKM chipset and of that wide sounding LM4562, made the whole package quite airy and expanded to a point of sounding ethereal, losing some weight in the process. With D30, I am making two steps back and while I see a bigger picture in from of me, having a bigger and a wider soundscape, the final impact of the music is diminished, it seems less impactful sounding and not as fun. While D30 won't win gold medals in terms of transient response, it can stand shoulder to shoulder to the widest soundings single-ended DACs I've experienced. It definitely sounds slightly bigger compared to entry-level DACs like Topping E30 and SMSL Sanskrit 10th and even approaches the performance of the SMSL M200, which is always pleasing to experience at a lower price point.
While listening to indie-rock bands as The Strokes and The Killers, I could easily pick a closed-back headphone like Kennerton Magni or Gjallarhorn and rock out pretty hard since it never decreased its depth and soundstage never collapsed on me. All the musical layers were felt quite defined but not exactly top-notch, sharp and defined. The layering is present even in mediocre mastered music, in crowded tracks and it is actually one of its strongest points. With it, musical notes are positioned around me and I could easily appreciate their distance from me. In this regard, D30 will outperform entry and mid-level ESS-Sabre DACs pretty easily. I'm not shy saying that D30 will sound bigger than a Topping D50S and a considerably bigger than their entry-level D10S DAC.
While D30 is winning a lot of ground when it comes to stage size and air around the notes, it is losing a bit of focus and contour of the notes. Like everything is slightly less controlled, less focused and clean sounding. In the living room, the shape of notes was never razor sharp, their contour was less defined and there was a very thin veil all over my music on the Buchardt S400 loudspeakers. Overall, as an entry-level device it sounded bigger and wider than I expected, it was weird experiencing all that from a device this small.
III. Transparency & Detail
Therion just released their newest single called Leviathan (Tidal / Spotify), it is not for everybody that is for sure, but if you are into big symphonic metal pieces with several high-pitched soprano voices thrown around your room, then it will be right up your alley. First thing I've noticed immediately, was its higher than usual dynamic range, since I needed to increase the volume considerably to achieve the same SPL of the track that played before it. I re-listened this track over and over again and swapped a few DACs just to get a general idea where I could place D30 between them all.
As I've said before, D30 was able to envelop me with its bigger than usual sound, but it was not super-sharp and defined sounding. Transparency was just okay, it is mid-fi by my standards and yes, I've heard better, but not at this price. Transparency is not something that D30 could proud about. It sounded pretty clean, without obvious flaws, but when I've engaged better performing DACs, those they were able to show my music in a cleaner way. With them, I've heard more details, more nuances in my music, more spatial cues, more of everything. D30 does not follow the tonality of Topping E30 ($129) and SMSL M200 ($279), it doesn't roll-off as much in the treble area and it appears as slightly more extended in the treble, more complete in a way. It has a wider frequency response than both devices and as a direct result, it felt more detailed that both, more extended and more transparent, but again, it won't outperform mid-fi champions of today like SMSL SU-9 or Soncoz SGD1. That op-amp in the output stage gives a huge helping hand in this regard. It's a wide-bandwidth and ultra-low distortion op-amp, that will level its tonality to almost a flat frequency response and will also increase its transparency and detail retrieval, which sincerely is a very good thing in an entry-level device like this.
Connecting its RCA line-out to a nicer headphone amplifier like Benchmark HPA4 and to a SMSL SH-9, things improved considerably. Its headphone amp stage is not the cleanest, I'm liking this device the most as a pure DAC only. With HPA4, veil was lifted, sound increased its focus, sharpness returned back, finally I was experiencing the best it could possibly provide. I do think its headphone output was put there mostly for convenience; I wasn't that impressed by it. With an external headphone amplifier, a lot of energy came back in full force and from an entry-level DAC, it started showing off its muscles and it was ready to challenge some pricier units.
IV. Transient Response
The ugly truth is that its internal headphone amplifier will be slowing down your headphones, making them smoother and more relaxed sounding in a way. Harder to drive headphones will lose quite a lot of impact and just forget about some nicer dynamics as huge orchestral works will sound compressed and not that impressive. I didn't experience a nice grip over the headphone drivers, the biggest drawback of this unit is surely its headphone output. While it is just okay, it is far from good or fine sounding. Connect it to an external amplifier, even to a smaller one like Topping L30 and a lot of impact and dynamics would return back. With an external headphone amp or power amplifier, I've experienced a faster speed of delivery, much better dynamics and a much better pace, rhythm and timing.
As a matter of fact, it is pretty good in here, it can deliver decent dynamics, but it wouldn't impress a transient response nut as myself. I still wanted more raw energy out of my electronica and rock tunes, I wanted more blood pressure in my veins, I wanted higher dynamics, I wanted more bass rumble, more treble sharpness, more speed and sometimes even more brute force with some particular music.
D30 does not have a very advanced output stage, there is still only a single op-amp in there and it doesn't have a huge capacitance to store more power for wilder dynamic swings. Again, it is decent, but far from speedy and impactful sounding. It worked nicer with smoother music that is true, it worked absolutely great with jazz and blues, it also worked great with older music and or course with classical pieces where soundstage is more important than an ultimate slam and impact. D30 was an easy rider most of the times and if this is what are you chasing for, it will deliver that in spades and will calm your spirits.
V. Frequency Response
As long as you're using it with an external amplifier, its bass delivery was actually good. It went deep with my psy-trance and drum&bass tracks. Surprisingly, I started feeling it in my stomach, it was punchy and impactful, having a nice extension down to the lowest octaves. It was able to offer an above-decent bass performance. While D30 is never lightning fast sounding, it has a nice final blow that always felt raw and powerful. Final bass notes on Angel by Massive Attack (Tidal / Spotify) felt really heavy and defined, a huge blob of air mass was hitting my chest and that felt really satisfying. While D30 doesn't sound very technical in his delivery, I do think it has a nice frequency response that felt extended down low, without obvious flaws.
Mid-bass was by a hair better, it was more visceral and more present in my tunes. Sub-bass delivery was a bit trickier as I needed special tracks to awake it from its sleep, but its mid-bass was always present in my tracks no matter the musical genre. D30 is moving the spotlights to the mid-bass and midrange region most of times, where it starts playing like a serious high-performance DAC.
Midrange is surely the nicest part in its FR. It felt full-bodied and natural sounding most of the times, putting a huge accent on a natural rendition of all music notes. It delivered sweeter harmonics, you could call it as lusher and smoother sounding comparing to say a Topping D10S or D50S. Voices were absolutely phenomenal and all string instruments sounded life-like and quite impressive. Male voices were rendered by a hair less imposing compared to top notch converters. For example, newer tracks of Leonard Cohen didn't feel guttural and heavy sounding, some of that weight was forever lost on D30, but I'm okay with that considering its price point. Everything else that is tied to midrange was good sounding with very little to nitpick.
Treble has a decent presence and a good extension even in the highest octaves, but it would not outperform entry-level ESS-Sabre DACs in this regard. That Texas Instruments op-amp is actually giving a huge helping hand in this region. D30 has a nice the treble extension, as I still hear driver movements even past top octave. With all that said, D30 is smoother and more relaxed in here. Treble sharpness is not an issue on this DAC, problem is that sometimes I want my treble defined and sharp and D30 can't really do that. I consider it rolled-off by a small margin in here, it will not lure your attention to its treble performance, as it will shine bright mostly in the midrange and mid-bass sections, about this I'm very sure.
All in all, D30 had a good extension in the lower and upper registers, but still there was some raw energy missing at both ends of the spectrum, making it rounder and smoother sounding most of the time.
VI. Headphone Amplifier Section
From a decent headphone collection, D30 worked only with dynamic headphones. It didn't have any issues driving desktop headphones as Kennerton Magni and Gjallarhorn, it worked absolutely fantastic with Fostex TH-909 that were reviewed few days ago. I never went past 35 volume position out of a maximum of 60. It worked nice with Erzetich Mania and decent enough with those huge Erzetich Phobos planar magnetic headphones. In all fairness, Phobos was the only planar headphone that worked decent with D30 at about 45 volume position. Any Quad, Hifiman, Audeze and Kennerton planar-magnetic headphones were unsatisfactory on the little D30. I was maxed out and headphone drivers started breaking up, offering a lot of distortion in the process. At close to maximum volume, D30 starts clipping and distorting, up to 50 to maximum 55 volume position everything seems to be controlled and clean sounding, but past that position, distortion makes its appearance and will surely ruin your listening pleasure.
As I've said before, it slowly pressed the brakes with all my headphones, it is not exactly visceral and impactful sounding. It is slower paced and even a bit muddier in here. When I've added a SMSL SH-9 to the chain, things improved considerably and all those limitations were never found again.
Its headphone amp section is only half-decent with desktop headphones and it will probably drive decent enough your dynamic headphones, but forget about driving planars, because it can't do that. Portable over-ear headphones as Sennheiser Momentum line and Meze 99 line will not pose a problem, it sounded good with all of them.
I didn't have a lot of hope, when I've connected to it the most sensitive IEMs from my collection: FiiO FA9 and FH7. To my huge surprise, it was absolutely noiseless at any volume levels. Absolutely nothing can be heard when I'm pausing my music, just a pitch-black void of nothingness. Wow! I didn't expect this, but it worked absolutely fabulous with IEMs and I never went could go past 18 volume position with any of them. It sounded very different from desktop headphones, suddenly it became snappy and engaging, there was a better bass and treble performance, it felt complete top to bottom, I simply couldn't ask for more. It had an immaculate performance with IEMs, be them dynamic, hybrid or all armature based.
VII. Wireless Performance
My Android smartphone is Bluetooth 5.0 enabled, it supports all the nicest Bluetooth codecs, including AptX-HD and LDAC, that sadly D30 can't receive nor decode. To connect to it, you simply need to select its BT input and with your smart device connect to the LOXJIE BT5.0B and it will be ready to play some tunes wirelessly.
Its Bluetooth antenna that works as a wireless signal booster, I've seen already on quite a lot of devices and in here it works absolutely the same. In a bigger apartment, I was not losing BT signal and D30 would stay exactly in the middle, in the living room. With a Tidal Hi-Fi App installed on my phone, I was able to stream my music directly to it, playing all that via speakers. I walked through our bedroom and the signal remained always steady without losing a beat. In our home it offered a flawless Bluetooth experience and in an open space it should pretty much the same. Going outside to the balcony with few concrete walls between us, the signal started losing strength and music stuttered, skipping few beats here and there. I was expecting that, because all other device did absolutely the same, I wasn't surprised at all.
When it comes to sound via Bluetooth, it sounded even smoother this way, it was softer around the edges, lusher and even calmer than via USB or Optical. It was losing a bit of details, but not a lot of them. It can work pretty well via Bluetooth while casually listening around your house with some powered speakers attached to it, but if we are talking about real Hi-Fi, then you should probably use it only via its USB input, which sounded the best to me. I was slightly let down that it is not supporting AptX-HD and LDAC codect, which are sounding much closer to its wired performance, but again, it's an entry level device and should be treated as such.
Conclusions
If I am looking at Loxjie D30 as an all-in-one DAC, headphone amp, preamp and Bluetooth receiver, then I see it as a Jack-of-all-trades and master of none. However, I am looking at it as a digital to analog converter only with preamp and headphone amp duties handled to other better performing devices, then I looking at a good sounding unit, with very little to nitpick, having tons of good qualities that I've mentioned several times. I really liked the tuning of this DAC, they didn't botch it treble performance and I was surprised to hear that. Its component selection is great considering its price point, its power supply is performing really well, repelling a lot of mains noise. It seems to have all the right ingredients an entry to mid-level DAC should have. I find it very attractive and extremely easy to use with its simple graphical user interface and remote control. If you love your music open wide, deep, smooth and relaxing, then I truly think D30 might be a good starting point or it can work well in a secondary setup with a TV, console or maybe for casual movie watching, you name it.
At only $159 I find it a really good value, especially if you care not only for the sound, but for looks and feature set. D30 was kindly provided by the Loxjie team and can be purchased by following this link.
PROS:
Lightweight and small, transportable unit
Nice build quality
Much bigger LCD screen to its predecessor
Wide soundstage, good depth, airy sounding most of the times
Smooth and relaxed sounding
Quite extended in the frequency response, although there is a slight roll-off up top
Good resolution and transparency
Amazing midrange, good bass performance and an above average treble extension
A feature packed device
A very good value!
CONS:
Speed and slam are not that impressive
Micro-details are missing in action
Weak headphone output
Limited Bluetooth codec support
ASSOCIATED EQUIPMENT:
Sources: Xiaomi Mi 9T Pro, Corsair One i160
DACs: Loxjie D30, Audiobyte HydraVox + HydraZap, Matrix Audio Element X, Mini-i Pro 3, Soncoz SGD1, Aune Audio S8, Burson Conductor 3X Performance, Flux Lab Acoustics FCN-10
DAPs: Shanling M6, FiiO M15
Headphone Amps: Benchmark HPA4, SparkoS Labs Aries, Flux Lab Acoustics FCN-10, LittleDot MKIII SE
Integrated Amps: KECES E40
Power Amps: KECES S300, Kinki Studio EX-M7
IEMs: FiiO FA9, FH7, Meze Rai Penta, Rai Solo & lots of other lower tiered ones
Portable headphones: Sennheiser Momentum 2, Meze 99 Classics
Wireless headphones: Sony WF-1000XM3, Sennheiser Momentum 3, Master&Dynamic MW65
Full-sized headphones: Fostex TH-909, Hifiman Susvara, Hifiman Arya, Audeze LCD-4, Erzetich Phobos, Erzetich Mania, Quad ERA-1, Ollo S4X Reference, Kennerton Wodan, Magni & Gjallarhorn
Loudspeakers: Buchardt S400
Interconnects: QED Reference (x2), Aune AL3
Speaker cables: Kimber PR8, Audioquest Type4
Power Cables: Isotek EVO3 Premier (x3)
Balanced Isolation Power Conditioners: PLiXiR Elite BAC400