Marantz just unveiled their 8K-Ready A/V Receivers for 2020
Marantz just dropped the curtains on their entire 2020 line-up of A/V Receivers. There are four of them, starting with the entry-level SR5015 (a $1099 unit) all the way to their high-end offering called SR8015 that will cost you 3199 hot-dogs.
Designed to deliver impactful and nuanced home cinema and listening experiences, the 8K-ready A/V receiver line offers the most musical sound from any source, including home theater, vinyl and streaming media. Like all Marantz products, the 2020 SR-Series AVRs are extensively tuned by world-renowned acousticians at state-of-the-art facilities.
"The new 2020 SR-Series AV receivers represent the next major step forward in home theater, not just for Marantz, but the entire home entertainment industry," said Jake Mendel, global brand manager for Marantz. "Marantz fans will be some of the first to experience new levels of incredibly sharp image quality, remarkably fast gaming and immersive surround sound. But more importantly, superior Marantz HDAM-SA3 amplification based on decades of extensive tuning transports the listener ever closer to their music."
High-Performance Amplification & Multichannel Home Theater
Prioritizing rich, powerful audio, the 2020 SR-Series feature high-current discrete power amplifiers on all channels to deliver Marantz's signature power output. Leveraging the company's proprietary Hyper Dynamic Amplification Module (HDAM) circuitry, the AVRs provide optimal fidelity and maximum dynamic range of high-resolution files for stellar sound quality. With low impedance driver capability, the SR-Series offers operational stability with a wide range of speakers providing the clarity and balance users have come to expect from Marantz.
For advanced multi-channel home theater applications, the flagship SR8015 supports DTS:X Pro®, which will allow users to enjoy up to 13 channels of DTS:X decoding with speaker configurations such as 7.2.6 or 9.2.4. Listeners can also enjoy the latest in IMAX Enhanced films in 7.2.6 or 9.2.4 speaker configurations thanks to newly adopted 13.2 channel processing capabilities with external amplification. The DTS:X Pro feature will be delivered via firmware update later this year.
In addition to DTS:X Pro, the 2020 SR-Series feature several other 3D audio formats, including Dolby Atmos®, Dolby Atmos Height Virtualization Technology, DTS:X®, DTS Virtual:X™, IMAX® Enhanced and Auro-3D® out-of-box.[2] The latest height virtualization technologies provide immersive audio without height channels, creating virtual height effects in a 7.1, 5.1 or 2.1 speaker arrangement.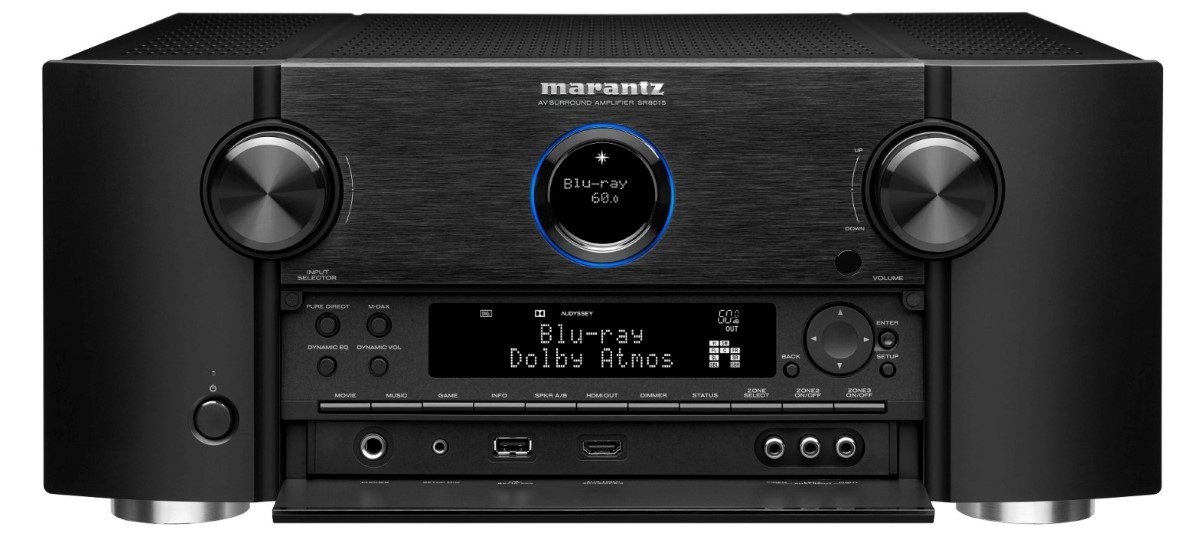 Next-Gen HDMI Technologies
The new Marantz SR-Series AV receivers take advantage of the latest HDMI technologies. Enjoy movies and shows with stunning picture quality thanks to a dedicated "8K" HDMI input enabling 8K/60Hz and 4K/120Hz video pass-through, new HDR format support including HDR10+ and Dynamic HDR, and a new HDMI feature called Quick Media Switching (QMS), which allows a source to instantly switch frame rate to eliminate screen blackout. For exceptional color, clarity and contrast the latest SR Series models still support HDR10, HLG (Hybrid Log Gamma) and Dolby Vision, as well as 4:4:4 Pure Color subsampling and BT.2020 pass-through.
Several new features give gamers an edge, including razor sharp motion clarity with 4K/120Hz pass through and Variable Refresh Rate (VRR) to reduce frame tearing and improve overall precision. Get a jump on the competition with Auto Low Latency Mode (ALLM) and Quick Frame Transport (QFT), each designed to reduce lag and improve stats. See the enemy before they see you with stunning 8K picture quality.
The Marantz SR-Series can also upscale existing HD and 4K content to 8K so more people can experience the power of 8K resolution. They also continue to support eARC (Enhanced Audio Return Channel), which allows lossless and object-based audio transmission like DTS:X and Dolby Atmos from TV apps or connected devices using a single HDMI cable.
HEOS Built-in, Roon Tested & Hi-Res Support
HEOS Built-in allows for unlimited and unrestrained listening anywhere in the home. The 2020 SR-Series can decode up to 24-bit/192-kHz ALAC, FLAC and WAV lossless files as well as DSD 2.8MHz and 5.6MHz tracks, empowering users to experience high quality content from services like Spotify, Amazon Music HD, TIDAL, TuneIn Internet Radio and more. Users can also play songs stored on smart devices or personal media servers. Pair HEOS Built-in AVRs, including the Marantz SR-Series, with other HEOS Built-in products or speakers for a seamless listening experience.
Marantz SR-Series AVRs are Roon Tested certified so users can get more out of their music libraries through the advanced Roon music interface on their PCs and smart devices. Marantz Roon Tested AVRs can be found and setup easily by Roon via AirPlay 2 or hardwired into a Roon Core device. Each receiver features a front-panel USB port that offers convenient audio playback of MP3 and high-resolution audio formats (WAV, FLAC, ALAC and DSD 2.8/5.6 MHz files).
Audyssey Room Calibration
Listeners can optimize their experience with Audyssey MultEQ XT on the SR5015 and MultEQ XT32 on the SR6015, SR7017 and SR8015 models, providing seamless setup for any room. With the supplied measurement microphone, Audyssey analyzes each speaker's output (including subwoofers) at up to eight measurement locations and generates precision digital filters to optimize each channel for the correct frequency and time domain response. Audyssey Dynamic Volume also smooths out disruptive jumps in volume (such as TV commercials), letting listeners enjoy lower output levels while still enjoying clear dialogue and overall performance. The Audyssey Dynamic EQ provides full-range clarity at any listening level.
Advanced Custom Installation Support
Designed with custom integrators in mind, the new SR-Series AVRs boast the latest remote monitoring and management capabilities via Domotz Pro and OvrC, as well as RS232C and IP control capabilities. Web User Interface is also supported providing access to the AV receivers' setup menu remotely or from a computer on the same network. These programs empower integrators to monitor the status of connected products and troubleshoot remotely from a separate location or on-the-go.
The 2020 SR-Series continues to feature HDMI Multiple Input Assign, which allows users to listen to multiple audio sources while maintaining the same video content on-screen. All Zone Stereo Mode—a.k.a. Party Mode— is storable on "Smart Select," so both Main Zone and Zone 2 will initiate music playback in sync by simply pressing the "Smart Select" button on the remote, app or third-party controllers. The new series also features HDMI Auto Input Rename, which automatically renames HDMI inputs to the source devices, including "PS5" and "Apple TV," reducing wasted time naming inputs.
The Marantz SR Series will be available at authorized Marantz retailers at the below dates and prices.
SR5015 ($1,099) (September 15)
SR6015 ($1,599) (September 15)
SR7015 ($2,299) (July 15)
SR8015 ($3,199) (August 15)