My Video Review:
Hey folks. Today is big day, as I will be testing a mammoth of a unit that packs a serious punch and costs as much as an entry level interconnect cable. What it is exactly? Well…it's a single ended and a balanced DAC, it has full MQA support and by that, I mean a full-MQA unfolder and decoder that you'll find in DACs over $500; it's also a single ended and a fully balanced headphone amplifier and preamplifier, it has an advanced digital-to-analog volume control which I'll tell you more about in a minute, it has the newest and most advanced XMOS chipset that is found in the best DACs of today, all wrapped in a beautiful red aluminum enclosure. Can you guess its weight? How about its size or its price? Any guesses?
Behold the tiniest fully balanced DAC and fully balanced headphone amplifier and preamplifier I've ever seen. Just look at it! It's only by a hair bigger to a credit card, it's featherweight and it costs only $199. I don't remember when I was as excited about an audio component as I am today. The tiny fellow calls himself Tone 2 Pro and it's made by Khadas.
Interestingly, the most requested DAC review I had over the past two years was the tiny Khadas Tone board that was released about two years ago. Tone board was a huge success mostly because it was very affordable (only $99), it had an advanced digital-to-analog conversion based on the famous ESS9038 Q2M, it used low-noise voltage regulators, a stable XMOS USB interface, audiophile grade crystal clocks and it sounded pretty darn good…otherwise people wouldn't praise it that much. Tone 2 Pro as its name suggests, is a direct successor to it, lots of new features have been added, more inputs and outputs and even higher-grade components are making it decode zeroes and ones into pure musical joy. So, what are waiting for? Let's check it out in a very SoundNews way.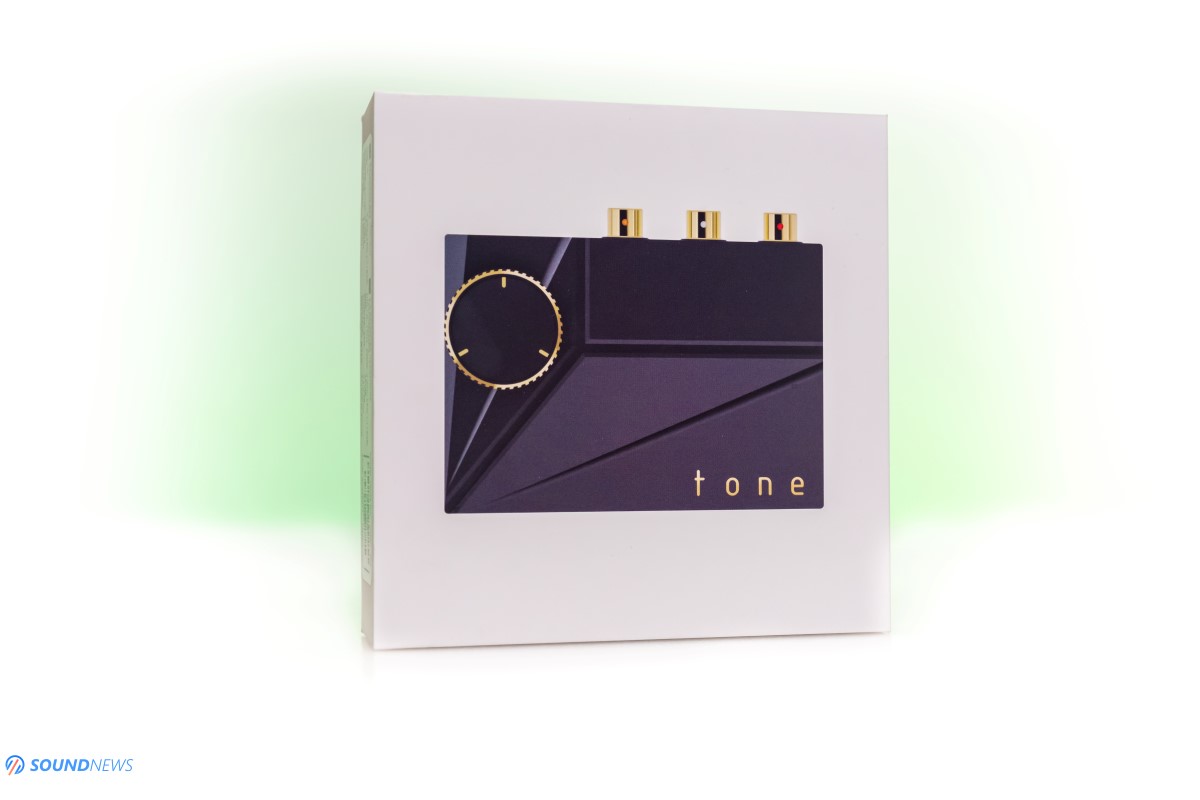 Unboxing Experience
A super tiny device is coming in a super-tiny product box, but Khadas went an extra mile and made sure everything is extra secure inside. It came double boxed and that is already common practice in the Hi-Fi world. The smaller white box contains the Tone Pro 2 itself and a small accessory compartment that holds an USB Type-C cable at both ends. You'll also find an envelope full with paperwork, from which I strongly suggest checking out the quick-start guide that will tell you more about its features and how to control all of them. That is pretty much it, an additional USB Type-C to USB Type-A cable would be nice to be included in the package, so I could connect it to my PC, but I'm not complaining, it's Okay as it is.
Design & Build Quality
Tone 2 Pro is surrounded by a super slim aluminum enclosure what works as a heat sink, Khadas is offering 3 color options for it: Black, Blue or Red. Considering that it can work with most Apple devices, a white version would be a great addition in the future. The volume knob seems to be really well-made; it has a knurly texture to it and it's rubberized on top for a much better grip. It has a higher resistance than usual which I personally like, as it'll work much better with sensitive IEMs. The knob is not an ordinary volume wheel you normally see on most devices, as it can also work as a joystick for its very advanced UI. Check its user-manual or quick-start guide to learn all its tips and tricks as I would need a full page just to show them all to you. The black pad under its case is made out of silicon, it works as a huge shock absorber and it also improves its grip on slippery surfaces. Its RCA and Coaxial connectors are gold-plated strengthening my initial impressions that Tone 2 Pro has a high attention to details and its build to high-standards. It is mind-boggling how much technology was squeezed in such a tiny body, Khadas you had my curiosity, but you won my full attention now!
Buttons & Inputs and Outputs
Its back panel is the most important one, as it contains all its digital inputs as USB-C and Coaxial. Tone 2 Pro has a secondary USB-C input labeled as I2S and no, it's not the I2S electrical serial bus interface used for connecting digital audio devices together, it is something else entirely. It was put there just in case you'll want to power it with an external linear and regulated 5V power supply, further lowering its noise-floor so it could be used with sensitive power amplifiers. The RCA output can work as a regular fixed/variable analog output offering up to 2V of power or as Balanced-analog output and that's new territory for me. With a special adapter cable that Khadas is selling separately, you can output a true balanced signal that is doubling its voltage to 4V. That cable will cost you an extra $49.9 and here's a link to it.
To its right you'll find two headphone outputs, one in your regular 3.5mm and the second one is a balanced 4.4mm one. As I've previously wrote, its volume wheel is a small wonder, with it you can select its digital input, its analog output, digital filters, gain positions and so much more. You should definitely check its user manual for more.
Under its hood
At its heart of digital processing stays a powerful ESS 9038 Q2M chipset that is working in a 4-channel balanced configuration. Q2M is the flagship low-voltage chipset of ESS Technologies, it can be USB bus powered and that is exactly what Khadas did. They added 8 low-noise voltage regulators that would keep the noise at bay, at just 3.5 microVolts Tone 2 Pro is promising a noiseless performance even via IEMs, I'll soon test those claims and will report back.
Probably the best part is that Khadas chose to use 4 OPA1612 op-ams, 2 at the I/V conversion stage and 2 for the low-pass-filter stage (its output stage). Texas Instruments OPA1612 are well known to me and I'm glad they went with warmer and smoother sounding op-amps that should counter-balance the boring nature of the ESS chipsets. Its headphone amplifier circuit is being helped by three RT6863D op-amps as buffers, resulting in some 210 mW in 32 Ohms on its 4.4 mm balanced output and some 125mW of power in the same impedance on its regular 3.5mm jack.
The best XMOS USB receiver was used in here, unlocking the true potential of the DAC chip. Thanks to the XU216 and its high processing power (2000 Mips), Tone 2 Pro can natively decode DSD512 and 32-bit / 768KHz PCM material, but only after installing its dedicated drivers on a Windows machine. If you are a Mac guy, the whole affair is driverless for you. XU216 is widely used in high-end DACs of today and as an example, my reference DACs are also using it and I never had any stability or driver issues with this particular receiver.
Tone 2 Pro has a full-blown MQA decoder inside, it can fully unfold and decode MQA Studio files (Blue LED around its volume knob), MQA OFS files (Magenta LED) and regular MQA files (Green LED). If I am not mistaken, Tone 2 Pro is currently the most affordable DAC that has a full-MQA decoder inside and before you bombard me with AudioQuest Dragonflies and with iFi Audio iDSDs, you should know that those are having MQA-renderers only. There is quite a difference between an MQA renderer and a full decoder and if you want to know what's the difference, check here for a detailed explanation.
How about some of the nicest femto-second clocks in existence. That's right folks, the tiny fellow uses two Accusilicon AS-318-B clocks and again, you can find them only in nicer and much bigger digital to analog converters. For a much better jitter (noise) rejection, they've also added an Altera Max V FPGA for futher jitter filtering and pre-shaping.
Let's recap a little: Flagship ES9038 DAC chip, flagship Altera FPGA, flagship Accusilicon Femto-second clocks, flagship XMOS XU216 receiver, full MQA decoding, 4 warm and smooth sounding OPA1612 op-amps and a fully balanced input to output design in a body that weights exactly 100 grams (3.5 oz) and that isn't bigger than a credit card – reads like some marketing fluff, but it's all true! The best part is that is costs only $199 for all that goodness. I'm really happy where digital audio is heading, I only wish speakers and headphones would go in the same direction and by that, I want them to become affordable and high-performance.
The only thing I dislike about it, is the lack of big, fat and juicy capacitors what would store current for better dynamic swings and would unclutter crowded tracks. A remote control would be also nice, so I could use it in the living room driving a power amplifier and some big stand floor loudspeakers, sadly you can't have them all at this price and size.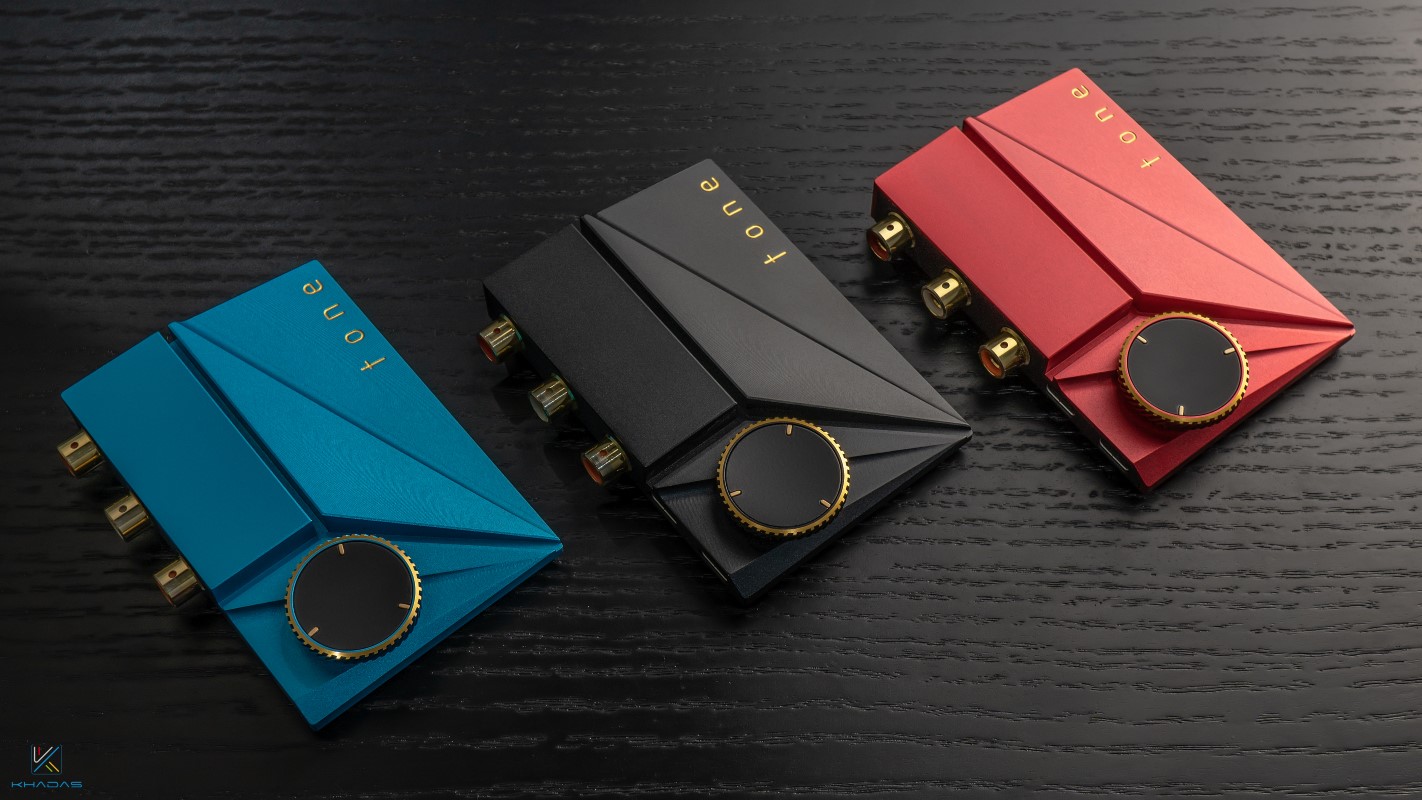 Test Equipment
I tested it first as an all-in-one solution driving all kinds of earphones and headphones, ranging from sensitive IEMs and finishing with high-end planar-magnetics. Later on, it was tested as a dedicated DAC connected to a Benchmark HPA4 driving much harder loads. I wish I could test it in the living room with my speaker as a DAC + Pre unit, but a lack of a remote control and of an Optical input to be used with a Chromecast Audio makes that impossible for me. Alright folks, all is fine and dandy, but how does it perform in a real-world scenario? Let's find out together!
Sound Performance
I. Preliminary Sound Impressions
So how does the credit card sized all-in-one unit is sounding exactly? It sounds absurdly clean, very detailed and transparent, it doesn't have a noise floor whatsoever even at maximum volume. This thing could easily be the last device you'll ever need with your IEMs, with your portable over-ear headphones, with your desktop dynamic headphones, even some planar magnetic headphones sounded extremely well driven by it.
I was not prepared at all for the amount of detail retrieval and overall cleanness coming out of this thing. Folks, I ain't joking at all, because it sounds like proper Hi-Fi, like the last DAC you'll ever need Hi-Fi. Indeed, it impresses with everything that has to do with detail, transparency, with a pitch-black background and it will excite less if you want an ultimate driver control and a serious kick in your eardrums with planar-magnetic headphones. In my honest opinion, there are two things that might pose a problem with it: Its very limited capacitance due to its small size is the first issue that might arose, meaning that it cannot store a lot of current for higher and wilder dynamic swings and that will directly impact the performance of harder to drive headphones, like planar-magnetics. With most dynamics, even desktop ones, this could be a non-issue, it really depends on the sensitivity of the headphones that you're using. The second issue is that its clean nature is revealing everything hidden in your tunes, including their imperfections, the treble is bit more accentuated, usually how ESS-Sabre designs are sounding and not everybody is pursuing this kind of sound. Tone 2 Pro isn't something that I would call as warm, soul-grabbing or super-smooth sounding, it is more like straight as a line in terms of frequency response, it's incredibly linear and neutral sounding.
The absolute coolest thing it that you can use it even with smartphones on the go, my Android phone is working flawlessly with it and it easily drives most headphones from my collection, with minor exceptions. Do note that it doesn't have an internal battery, so it would drain the battery of your smart device much quicker. I've tried it with a tablet, a laptop and with a PC and in all instances, it worked perfectly, preserving the same clean and transparent nature. Preliminary impressions are exemplary, I sincerely didn't expect this kind of performance out of a device that is smaller than a pack of cigarettes.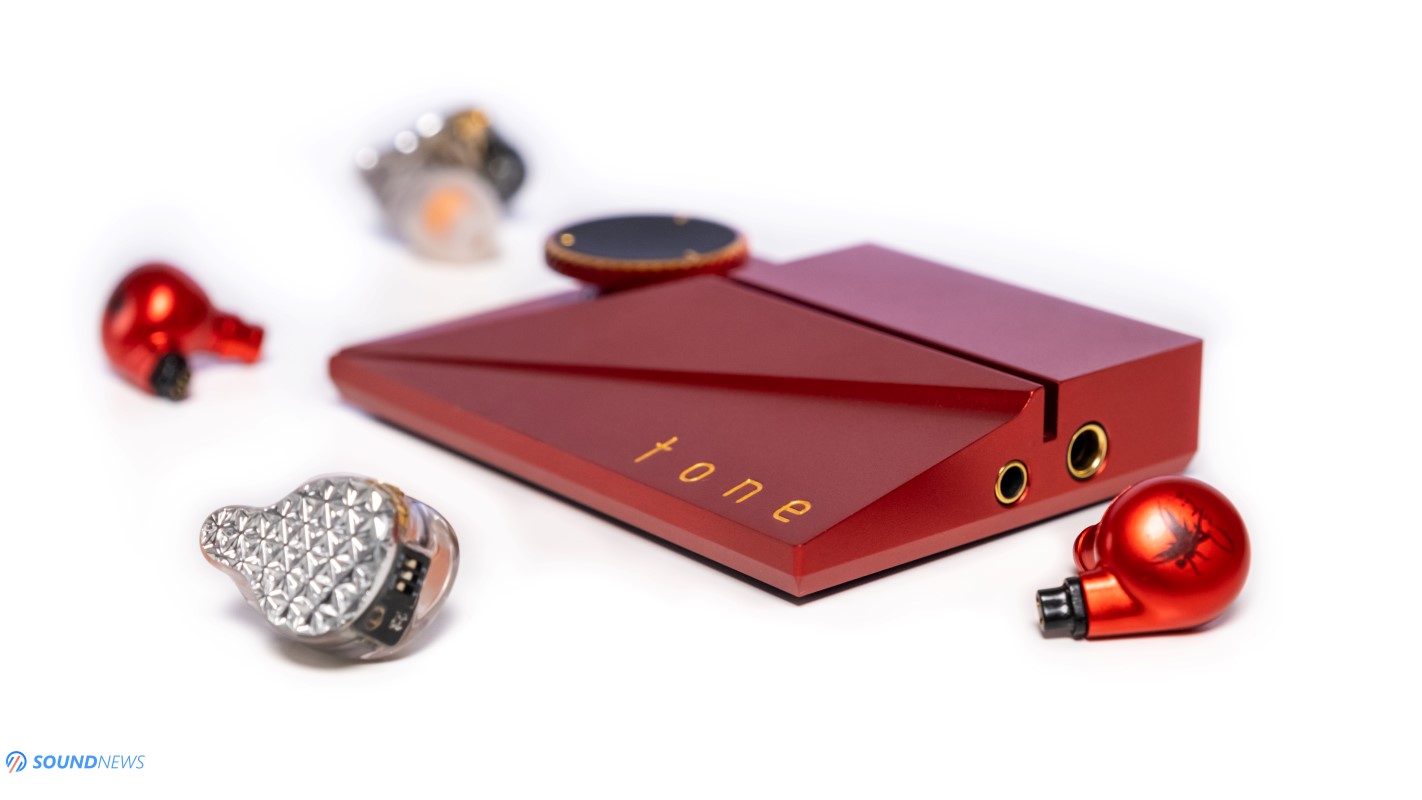 II. Noise Floor
Khadas used 5 low-noise voltage regulators in the first-generation Tone board, but in Tone 2 Pro they went a little overkill with them, I see 8 of them and the most important one is the final one, more exactly the ES9311Q that has it at just of 1.3 microVolts, specially designed for the ES9038 DAC chip. I don't know what mumbo-jumbo and ritual dances Khadas performed while developing it, but I can only say that it is completely and utterly dead-silent with everything I have at my disposal.
Starting with ultra-sensitive IEMs like FiiO FA9, FH7, Meze Rai Penta, LittleDot Cu KIS to portable over-ear headphones and then to all kinds of desktop headphones, be them dynamic or planar-magnetic, all of them offered a pitch-black background even on its balanced output, on high-gain and on maximum volume! I've experienced this kind of performance only out of much more expensive units: FiiO Q5S TC, Topping A50S and A90, SMSL SP400 and then finishing with much pricier units like Benchmark HPA4 and Sparkos Labs Aries, all performed noise-free with or without a passive power conditioner.
I don't know exactly what noise floor does it have on its headphone jacks, but if it's dead-silent with everything at my disposal and if it's very impressive with FiiO FA9, then I'm sure that all sensitive IEMs or any kind of headphones would perform absolutely the same. Considering how clean it is sounding even on its balanced output and high-gain, I see no point in ever using the low-gain position which is the standard gain-position it is coming from the factory.
I redid my tests connecting it to a Benchmark HPA4 headphone amplifier via RCA and the same story repeated itself. Connecting and strapping it to a phone is not increasing its noise floor at all…This is pretty much an immaculate noise rejection in my book and it cannot get better than this.
III. Power Output
Tone 2 Pro offers a max power of 210 mW in 32 Ω on its 4.4 mm balanced jack and some 125mW on its regular 3.5mm jack and while that doesn't seem so much, I was surprised that it had plenty of it, even for most desktop headphones I'm using on a regular basis.
As you can expect, all sensitive IEMs were driven to their fullest even on its regular 3.5mm jack, portable over-ears performed the same. Balanced drive or high-gain wasn't mandatory with those, but since it has inaudible noise levels, I used its high-gain setting for an added punch and engagement factor. The lady in red, was nicely controlling their drivers, it had impact, it was speedy and very punchy sounding all the time.
A pleasant surprise came when I've tried the biggest headphone from my collection, Erzetich Phobos with its huge 100 mm drivers and even bigger earcups was fully driven by the lady in red and the same can be said about the Kennerton Wodan that I'm using very often. Easier tasks like Kennerton Vali, Magni, Erzetich Mania and OLLO S4X were fully driven and all sounded like I connected them to a multi-box desktop setup. I've heard jumpy dynamics, bass notes were relentlessly hitting my eardrums, treble felt clean and detailed, midrange was lacking some soul, density and presence, but everything else felt at a very high level.
There are two stubborn headphones in my possession that are demanding gobs of power to be moved and controlled, those are Audeze LCD-4 and Hifiman Arya. It was funny seeing them decently driven at about 80%, I couldn't reach its maximum volume, it was too much for me. It had a decent headroom left on tap, dynamics weren't that bad, but neither great. Tone 2 Pro couldn't control those drivers with an iron grip, I felt it struggling, it was slowing down their performance making them less impactful sounding. The higher dynamics weren't that impressive as they were with Phobos and Wodan and that is understandable given its power output. My jaw would be on the floor if it would decently drive the LCD-4 and the Arya to a satisfactory experience, but that didn't happen. Those two were born stubborn, demanding only proper desktop power to be moved and controlled.
IV. Resolution & Transparency
I was honestly surprised when the little Tone 2 Pro pointed towards smallest details in my music in such a relaxed way. In this regard I'm placing it at the same level with a SMSL SU-9, Topping D50S and Gustard A18 and I am experiencing pretty much the same transparent and see-through sound. Mastering errors were heard loud and clear, I am still spotting nuances in the most unusual places in my tracks. The tiny fellow is a transparent and resolving sounding little creature and I can easily compare it with much pricier units.
My Bass by Brian Bromberg (Tidal / Spotify), is an exemplary test track when it comes to transparency and pin point location of the notes around the listener. That guitar sounds scary real, those plucks are masterfully executed, the blackness and the nothingness around those guitar notes is impressive, like it was recorded in anechoic chamber. This track is so transparent and detailed, yet it is natural and life-like sounding from start until the end. The pin point location of those notes is great to experience not only in a speaker-based setup, but in a headphone setup too. That gentle reverb is still there, nothing is really missing even compared to multi-thousand reference DACs. Check this track for yourself, it's spooky real with the right setup.
Another revelatory experience for me was listening to Night Train by Christian McBride (Tidal / Spotify) The amount of detail and naturalness in this track is through the roof and again, Tone 2 Pro delivered an immaculate performance keeping me at the edge of my seat. At the 1 minute and 40 second mark, Christian is inhaling air in his lungs and that was heard like he was sitting a meter away from me, he was spooky real, loud and clear. If you are crazy for micro-details, for an uber transparent sound, then you are in for a treat with the little Tone 2 Pro.
V. Transient Response
Alright folks, I won't go roses are red and violets are blue for the rest of this test, right? Without a single doubt in my mind, its biggest drawback is the transient response that is directly influenced by its small capacitance. It can't store huge amounts of power in its tiny capacitors siting inside and if that sounds like some rocket science to you, in simpler words it can't deliver thunder like bass notes, it will not punch like Thor's hammer and will not move huge amounts of air an instant. Transient response directly influences its soundstaging capabilities, but more about soon.
If Tone 2 Pro is fully driving your headphones, then forget everything I've previously mentioned in this chapter. If IEMs, portable headphones or even dynamic headphones are being used, then it feels more like a speeder than like a hard puncher. You can counter balance its weaker slam by adding some punchy sounding amplifiers afterwards. A Flux Lab Acoustics FA-10 or a Burson Soloist 3X would do wonders in a headphone setup and a Keces S300 or a Kinki Studio EX-M7 would do the same in a loudspeaker setup.
Moving up the ladder, Tone 2 Pro would struggle in delivering a punchy performance with something like a Hifiman Arya or Audeze LCD-4, don't even think about it, but again an external headphone amplifier would solve this issue.
For this chapter it would be normal using harder slamming music, so the newest Progressive Rock album Imperial by Soen (Tidal / Spotify) felt like a natural choice via Kennerton Wodan and Erzetich Phobos. Its third track Monarch starts strong with double drums flying everywhere increasing my dopamine levels, guitar strings are being scratched with a higher force, delivering a powerful intro and establishing the rhythm for the rest of the track. Joel's voice felt full of substance on Wodan and unwilling I started tapping my feet and smiling like a mad man. This track is a true testament that transient response is still good if it can properly drive the load attached to it. Listening to the same song via LCD-4 or Hifiman Arya felt lackluster and not that impressive, soundstage almost collapsed and everything felt cozier and closer to me. The lesson is simple: as long as you don't use monster headphones with it, speed would great and slam would be more than decent.
VI. Frequency Response
This is an easy chapter to write about, as Tone 2 Pro is as close to the source material as possible, it has an extended frequency response and a dead serious neutrality. As long as your headphones will be fully driven or if you're using an external desktop headphone amplifier, then bass performance is impressive starting with the lowest octaves. I went through several electronic music albums which I know very well and all I've heard was a clean bass performance, it was going deep, it was punchy enough, it was a detailed type of bass, with layers after layers of it hitting my eardrums one after another. Mid-bass isn't elevated or subdued, it's on the same level and appears as straight as a line to me. It has a speedy type of bass, that sometimes feels lightweight and ethereal due to its weaker slam and impact.
Khadas did an amazing job, pairing that ESS chipset with warmer sounding OPA1612 op-amps, otherwise its midrange performance would be a complete disaster. As of right now, it is mighty fine in here, there is some naturalness, guttural voices can be also spotted, but don't expect a velvety sound, or a smooth midrange rendition. I find it balanced in here, it isn't dry, not wet sounding, it is somewhere in the middle. My reference ESS-Sabre based DAC is having the same kind of linear midrange, seasoning it with just a pinch of warmth. Tone 2 Pro isn't fatiguing in long listening sessions, but it isn't exactly buttery smooth either.
Treble performance can be described as exemplary, it has an infinite treble extension, there is plenty of micro-details to be found in here, there is plenty of "zing" and sharpness, I feel its leading edge always being clean and defined. Sometimes it could be too much, but only with some headphones like Hifiman offerings. It is very technical sounding in here and if you love treble presence and detail, Tone 2 Pro has plenty of that.
Overall, I find its frequency response extended at both ends, it might lack some sub-bass impact with hard to drive headphones, other than that, Tone 2 Pro renders the whole frequency response extremely well, it covers it all and that was surprising to experience firsthand.
VII. The MQA Experience
My number one music source for the past two years was Tidal Hi-Fi. I'm also storing music on my PC and play it back via JRiver Media Center or Foobar2000, but I'm doing that only for DSD and for Hi-Res 24 or 32-bit PCM files. Everything else is being streamed from Tidal Hi-Fi via a Matrix Audio app.
When it comes to high-resolution MQA streaming, for now there are only 3 services that are offering such files: Tidal, Nugs.net and Xiami Music in China. Once you have a subscription to any of these 3, you'll have access to a wide variety of MQA files that are released on a weekly basis. These files can have up to 24-bit and 192 kHz in resolution with the last bits of information being stored in a lossy format, so in reality a 24-bit 192 kHz MQA file can have almost the same file size as a 16-bit 44.1 kHz WAV file. An MQA file would still have additional bits of information compared to a lossless 16-bit file, so it is normal that an MQA Studio file would sound better than a non-MQA variant of the same track.
Now, here is the clever part: to playback MQA content you have three options: software decoding, how for example Tidal desktop app is offering or hardware decoding split into two categories: by using a hardware rendered (most iFi Audio stuff are only renderers, except for their newest Diablo) or by using a full-blown MQA decoder – that is the best possible scenario. Luckily, Tone 2 Pro has a full MQA decoder inside. Once you play such files, the LEDs around the volume knob will be lit with a magenta, blue or green color. Most MQA files on Tidal are studio files or OFS files, so the color of the LEDs was either magenta or blue for me. Going back and forth between software and hardware decoding, there is a clear difference that hardware decoding sounds considerably better.
I'll honestly tell you that full-blown Hi-Res 24 bit or 32-bit PCM sounds better than MQA and DSD files are sounding the best to be. MQA is only a little better than regular CD-quality (16-bit PCM), for now I can accept that compromise as on the go, MQA has a decent resolution, but when I'm at home I would rather listen to Hi-Res PCM or to DSD files. Tone 2 Pro shown a slight increase of resolution and liquidity when playing MQA files versus 16-bit PCM files of the same track. The frequency extremes at both ends were a tiny bit richer in information and more outlined, there was more sub-bass, a clearer treble and most importantly music sounded more liquid, more life-like and less digital once it is played in MQA format. If you are streaming a lot of music as I do, Tone 2 Pro is as of right now the most affordable Full-MQA decoder I know of and is wholeheartedly recommended!
Conclusions
I never believed that so much technology, so many flagship chipsets, so many op-amps, voltage regulators and crystal oscillators can be cramped in unit that is only faintly bigger than a credit card. The best part is that every component was carefully selected from hundreds of options, so that they can work in harmony with its analog and digital circuitry. They didn't just put inside the best chips they could afford and pray that those would perform well and sound great. When you listen to the Tone 2 Pro for the first time, prepare to have a revelation in terms of transparency, cleanness and detail, even its power output was impressive to experience with several planar magnetic headphones.
Tone 2 Pro can easily be the last all-in-one unit you'll ever need with your sensitive IEMs, with portable headphones and with most desktop dynamic headphones. It really has it all and if you are tech junkie, it will cover all your needs. Besides its limited capacitance that limits in current output and driver control with planar headphones, I can only complain for a lack of a remote control so that I could use it in the living room with my speaker setup, other than that, Tone 2 Pro is performing like a serious hi-end DAC to me.
I really like the direction Khadas is going with digital audio and I want to thank them for that. Tone 2 Pro fully deserves my Gold award, my highest praise and recommendation and I'm looking forward to their next music making creatures.
Tone 2 Pro was kindly provided by HiFiGo and it can be purchased from their web-store by following this link. They are selling it world-wide and it will be sent from the nearest warehouse to your location. In case you get one, leave some feedback below, curious how it would perform in your setup.
PROS:
Smallest and most featured packed device I have ever tested
Amazing build-quality, advanced UI controllable via its volume wheel
Gobs of resolution, detail retrieval and overall cleanness coming out of it
Great speed, fast decays, decent slam and impact
Plenty of power on its 4.4 mm output, it was enough for most desktop headphones
Linear midrange with just a pinch of warmth and naturalness
Extended treble response, very clean and defined
Full MQA capabilities
Can be used as a desktop or as a portable DAC/Headphone amp
Zero noise-floor via its RCA and headphone outputs
The best value I know of
CONS:
Limited capacitance is limiting its slam and impact with harder to drive headphones
Its soundstage is medium-sized at best
A remote control would be nice to have for us, speaker lovers
ASSOCIATED EQUIPMENT:
Sources: Xiaomi Mi 9T Pro, Corsair One i160
DACs: Khadas Tone 2 Pro, Audiobyte HydraVox + HydraZap, Matrix Audio Element X, Flux Lab Acoustics FCN-10, Topping D70S, Gustard X16, FiiO Q5S TC
DAPs: Shanling M8, FiiO M15
Headphone Amps: Benchmark HPA4, SparkoS Labs Aries, Flux Lab Acoustics FCN-10, LittleDot MKIII SE, SMSL SP400, Gustard H16, Burson Soloist 3X
Power Amps: KECES S300, Kinki Studio EX-M7
IEMs: FiiO FA9, FH7, FD5, Meze Rai Penta, Rai Solo, LittleDot Cu KIS & lots of other lower tiered ones
Portable headphones: Sennheiser Momentum 2, Meze 99 Classics
Full-sized headphones: Hifiman Susvara, Hifiman Arya, Audeze LCD-4, Erzetich Phobos, Erzetich Mania, Quad ERA-1, Ollo S4X Reference, Kennerton Wodan, Magni, Gjallarhorn, Vali, M12S
Loudspeakers: KEF Reference 3
Interconnects: QED Reference (x2), Topping TCX1 (x2)
Speaker cables: Kimber PR8, Audioquest Type4
Power Cables: Isotek EVO3 Premier (x3)
Balanced Isolation Power Conditioners: PLiXiR Elite BAC400