My Video Review:
It is finally summer time meaning that two things are going to happen. I'll drown myself with Belgian beer on Fridays with fellow audiophile friends and it also means it's time for fresh new portable DAPs. You see, most DAP manufacturers are showing their new portable units in spring with a potential release in late spring or early summer. That happened for several years in a row and that trend is still ongoing.
Shanling recently updated their M6 and M6 PRO DAPs with a "21" nickname. I'm not sure if they are putting on repeat songs as Twenty-One by Frank Zappa and The Cranberries or maybe they are huge cinephiles, frenetically watching 21 Jump Street and 21 Grams once in a while…we'll never know. But there is one thing that we all know: AKM's factory fire had a significant impact on digital audio, so much so, that certain models were discontinued for good. Audio manufacturers that have been using such silicon for several years now, needed to rethink their products from the ground up and retrofit them with brand new chips and analog amplifier modules. Easier said than done, as besides those chipsets, everything around them needed to be changed, starting with power supply and finishing with I/V and LPF stages. Shanling Audio is such a manufacturer and before their AKM stock would run out, behind closed doors they started doing what they are doing best: crafting brand new DAPs. Shanling M6 was their first product to undergo such a change. The newest version, marked as M6 (21) might look the same on the outside, but I assure you…it is something else on the inside. Dual AKM chips went out, making room for higher spec ESS 9038Q2M. A newer amplifier circuit has been optimized boosting its power output by around 60% on balanced outputs, increasing dynamic range and signal-to-noise ratio. Output impedance dropped substantially, its total harmonic distortion halved and they added an MQA decoder for good measure…What can I say? It looks like the same sheep, but it's a wolf in disguise. As usual, I'll be conducting an in-depth review, reporting on everything I find interesting along the way and I'll add a detailed comparison with its predecessor. Until that happens, let's unbox this bad boy and see what's inside that package.
Unboxing Experience
M6 is coming in the same packaging, that is unusual, but cool looking nonetheless. The smaller sour cherry colored box has some interesting angles and design cues, it's the same unique unboxing experience that Shanling offers for all their DAPs. M6 is sitting surrounded by lots of foam with a velvety finish, fully protecting it from the outside world. There are two smaller boxes under it, where you can find a high-quality USB Type-C cable wrapped in a textile jacket, two screen protectors that you can apply on its display and back plate, a Quick Start Guide and a warranty card.
Unfortunately, there isn't any protective case (TPU, faux or real leather) in the box, but Shanling is offering separately a real-leather case and knowing that M6 is surrounded by lots of glass, it is a must buy accessory.
Design & Build Quality
Their newest device, looks very much the same to its twin brother M6, with just a single change that differentiates it: a gold painted volume wheel, instead of a matte black one on its forerunner. I find it as handsome looking; it follows the same design language to the rest of its family that all got to know. Shanling doesn't copy anyone as far as design goes and they always had their own way of expression. The upper right corner reminds that this is still a Shanling DAP, as most of the M line has the same rounded corner up there. It has the same button layout and user interface; it feels very similar, as coming from another Shanling DAP to M6 is like using the same device.
It rocks only 3 buttons and a single volume wheel that doubles as an On/Off Button, I mean it can't be simpler than this. You have your play/pause, next and previous buttons, three headphone jacks, a volume wheel and that's it! By comparison, some other brands are adding unnecessary buttons, placing them on multiple sides, confusing the user in the long run. M6 is quite a handsome DAP, I like the way it stays in my hand, it's a minimalist cool looking device. It's machined from a single block of aluminum, with two glass sheets glued to its front and back. The glass is occupying the whole surface, making it looks like a bezel-less device. Its learning curve takes exactly one minute and I wish some other DAPs would offer the same exceptional user experience.
As usual with nicer DAPs, you can find small nuances that are adding a high-end flair to it. For example, the Shanling logo, Hi-Res Audio and Hi-Res Audio Wireless certifications are all placed just behind a glass sheet. Another interesting aspect is that its volume wheel is not sticking out, sitting at the same level with its upper body and in a tight pocket you won't accidentally turn it up or down. If you wish, you can lock its wheel to be extra safe. Its buttons are flushed and very firm to the touch, without wobbling at all. M6 seems to be nicely built and at 233 grams (5 grams heavier to its predecessor), this is what I'm calling a portable unit that could go anywhere. I really dig its dimensions and knowing that I am getting a full-blown Android experience makes me even happier.
Buttons & Layout
Besides increasing and decreasing volume levels, that wheel replaces an On/Off button, cleaning up a bit of space. You can see a small LED above it and after engaging Bluetooth, the LED color will highlight the BT codec that is being used (Blue – SBC, Purple – aptX, Yellow – aptX-HD, Green – LDAC). Besides the Play/Pause, Next and Previous buttons, you can spot a single microSD card tray covered by a plastic door…and that is the only piece of plastic you'll find on it.
Shanling moved all its inputs and outputs to the bottom for a clean, unspoiled look. From left to right there is your USB type-C for charging, data transfer or for using it as a desktop or portable DAC, there is your normal 3.5mm jack, followed by two balanced outputs coming in 2.5mm and 4.4mm flavors. I'm glad that Shanling uses the 4.4mm Pentaconn as their main headphone jack, that is currently my favorite balanced connector for multiple reasons. I wish all DAP manufacturers would embrace it sooner rather than later.
Display
M6 is using a medium-sized 4.7" multi-touch display with a decent 720P resolution. It's an IPS panel provided by Sharp, that has great viewing angles, it's bright and glossy and it's decent enough for basic web browsing and music streaming using 3-rd party apps or for light gaming on the go. Do note that a bigger screen and a higher resolution one would seriously decrease its battery life and that's the last thing you'd want in a Transatlantic flight.
Battery
Shanling went with a fairly big 4000 mAh battery that offers around ~11 hours of playback on the 3.5mm jack and up to 8 hours of continuous playback on both the 2.5 mm and 4.4 mm balanced jacks. M6 supports the newest Quick Charge 3.0, but you will need to purchase such a charger separately. My smartphone has one and I was able to fully charge it in less than 1 hour and a half.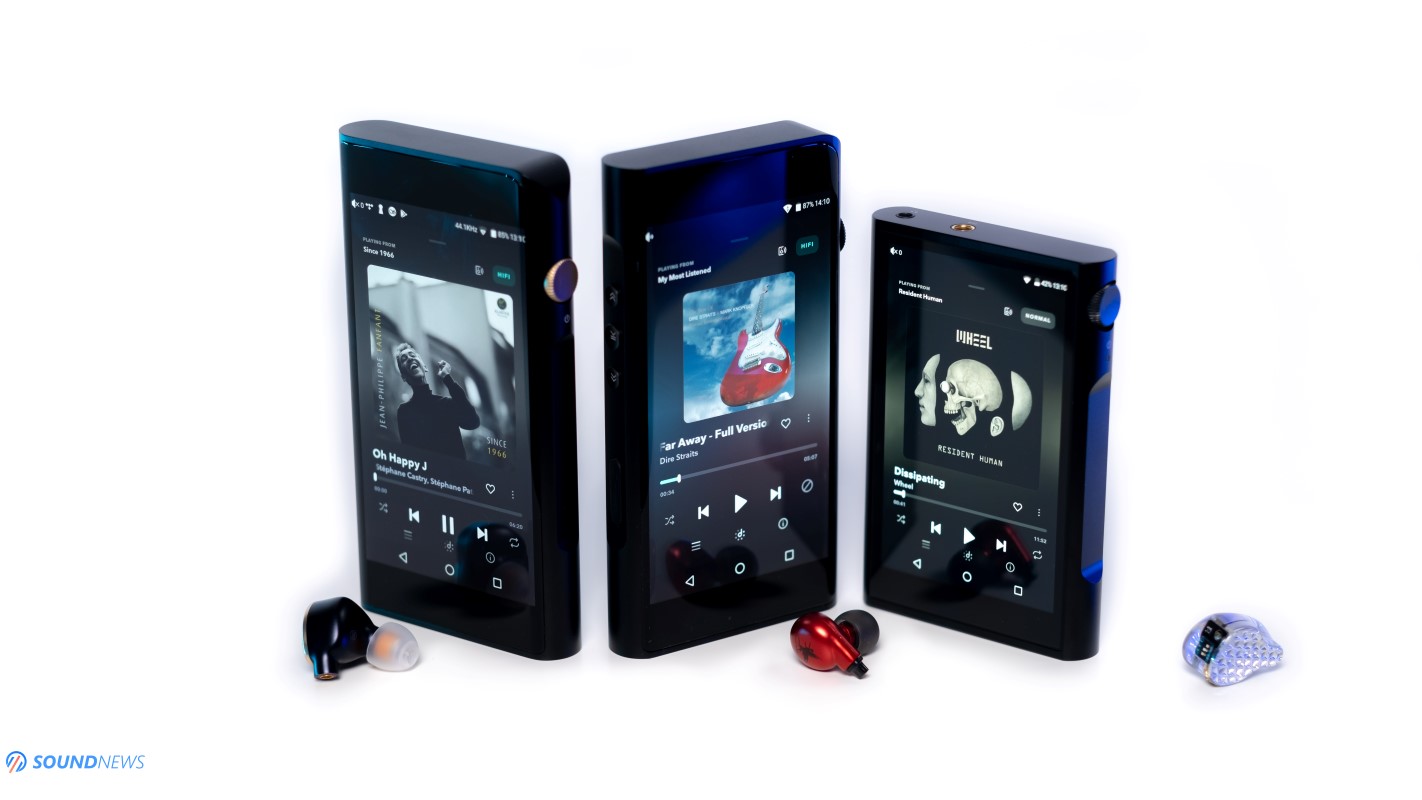 Under the hood of M6
M6 rocks the same Snapdragon 430, which powers most of their units, including their high-end devices like M8 and M30 and while that might sound like an outdated SoC for your smartphone, for a DAP it is a time-tested and reliable SoC that assures swift and lag-free system performance. This is an 8-core CPU with a clock speed that can reach 1.4 GHz. Shanling left the same RAM capacity of 4Gb, that will help you multitask like a champ even while streaming Hi-Res content via Wi-Fi and then sending all that to a wireless headphone via Bluetooth. M6 works great even while listening to music and browsing web-pages in the background. As for internal memory, M6 is having 32 Gb of music storage and if you would like to expand it, just use a microSD card up to 2 Tb in size.
As usual, it supports Google Play Store, from which you can install any third-party app you could possibly desire, including games, streaming apps like Tidal, Qobuz, Spotify, Deezer and so on. You can install YouTube, mail clients and anything you'd want really. Qobuz and Tidal works great for me, I can even listen to my offline music, which is a great addition and so far I don't have serious complaints. M6 rocks a hardware MQA decoder, fully unfolding MQA files from Tidal and from other streaming services. If you are into MQA, the newest M6 got you fully covered.
At the heart of M6, two ES9038Q2M DAC chips of ESS Technologies are being used, which are working in a dual-mono configuration, achieving an outstanding dynamic range of 126 dB on its balanced outputs. This particular chip, is considerably more advanced to the good old AK4495SEQ found in its predecessor. I'm familiar with both chipsets, but the ESS one is considerably better when it comes to noise rejection, distortion and it provides a better dynamic range. The only downside of the newest chipset is that is costs twice as much as the older AKM, hence increasing the price of the newest DAP. Obviously, the DAC chips are telling only a very small part of a much bigger story, as everything else is as important in the analog or digital domain, so let's see what other surprises Shanling prepared for us.
If you want to squeeze the best a DAC chip can offer, it's an unwritten rule that some precise crystal clocks will be needed together with a custom FPGA code and it seems that Shanling is again following this rule. Two KDS low-noise and low-phase noise crystal clocks are being used, plus some mumbo-jumbo with lots of zeroes and ones that makes a nice FPGA do its job.
As for headphone amplification duties, Shanling went with a warmer tuning this time around, balancing the neutral sounding ESS chipset. Two warmer sounding OPA2211 op-amps are acting as low-pass filters together with some resolute and clean sounding AD8397 op-amps put in the final amp stage. I know both chips very well and I have fond memories of those super-transparent sounding portable headphone amps of Headamp Electronics that are powered by the same AD8397. The newest M6 is considerably more powerful to its predecessor offering up to 190 mW into 32 Ohms on its single-ended output and up to 570mW in the same load on both balanced outputs. Output impedance dropped to Mariana Trench levels – it is at 0.6 Ohms and following the rule of eights, any headphone or IEM with a 4.8 Ohm impedance or higher should work absolutely perfect with it.
Here comes some extra juicy stuff that I like: to have a proper power delivery and slam in the bass, some fat capacitors are needed to store some of that power and release it at the right moment. M6 uses four bigger Elna Silmic II Japanese capacitors, which are currently the best audio capacitors money could buy. Shanling went deeper and added even some fancier Panasonic Tantalum-Polymer capacitors that are adding a lot to the cost, but those are well worth when it comes to sonics, they will smooth out the treble and add an additional layer of refinement.
Shanling didn't state exactly which Bluetooth chip is being used in here, but since it can decode almost anything you'd want like SBC, AptX, AptX-HD, LDAC, it quietly suggests that a nicer chipset from Qualcomm is being used in here. M6 can work as a sender, but also as a BT receiver which is quite nice.
Graphical User Interface (GUI)
The newest M6 uses a fully unlocked version of Android 7.1.1 and currently I'm running the firmware version 1.11, which added important quality of life changes like replay gain and additional improvements. Shanling lets you choose two working modes for it:
Android mode, which lets you install and use any 3-rd party app. Shanling developed what they are calling AGLO Technology, which is short for Android Global Lossless Output, meaning that music from all 3-rd party apps will be processed correctly at its native sample rate. They disabled the stock Android ASRC, that unlocks the full potential of M6 even in Android mode.
Prime Mode, which completely disables its Android interface and lets you use it as an old-fashioned music player. No more apps, no more notifications, no nothing, just you and your offline music collection.
M6 is using Android version 7.1.1 and once you connect it to Wi-Fi, you can install third party Apps via Google Play Store, APK Pure or CoodApk, which are already preinstalled. If you access the light bulb app (idea app), you can update it over the air (OTA), check its user manual or FAQ. Having a custom Android interface, you will be using a lot of swipes, swiping down for example will show your brightness levels, Wi-Fi, Bluetooth connections, gain, audio settings, headphone out function, you can take a screenshot, enable or disable AirPlay.
Their own music playback software is called Shanling Music, it has all the important stuff a software music player should have, you can browse by anything you want, including by folder as I am doing, you can transfer your music wirelessly and even connect it to a UPnP (NAS) server.
There are a lot of settings in there, I like that it can play DSD files natively, not just DSD over PCM (DoP), it has a proper EQ that starts from 31 Hz and ends at 16 kHz and you can adjust it from -12 dB up to +12 dB.
Overall, its GUI seems polished enough (at least on V 1.11), M6 moves decently fast, I didn't encounter stuttering even while streaming Hi-Res content via Wi-Fi or while playing DSD files natively. In my daily tasks, it performed pretty much on the same level with their M8 and that was a fast and nimble DAP. Alright folks, enough with the talk, let's check how it sounds!
Sound Performance
I. Preliminary Sound Impressions
For starters, I'll remind you that analog and digital audio isn't something new for Shanling. They have 30 years of experience under their belts, releasing a dozen of high-end components to be used at home or on the go. Analog stages, crystal clocks, capacitors and DAC chips are like pieces of a puzzle that should to be put at right places, it is a balancing act between technicalities and emotions and I believe that Shanling did a masterful job in here. I was a little concerned that those ESS chips might tone down the sweetness and midrange warmth, but that wasn't really the case. Adding warmer sounding OPA's and the best-in-class capacitors, counterbalanced the slight issues of ESS chipsets, adding a much-needed liquidity in the midrange and some smoothness in the top octave. I would never guess it rocks an ESS chipset if I would never check its spec sheet. With M6 you can certainly feel the added weight in the bass and a nice midrange rendition of its predecessor, with an additional layer of information being provided to the listener. The newest M6 sounds a tiny bit cleaner, like the final veil is being lifted, so you can easier sense tiny changes in dynamics and it seems that a higher degree of details is being offered to the listener. After two days of burn-in, I tried my luck with some treble oriented IEMs like Hiby Cristal 6 and FiiO FH5S and after several hours of non-stop playback, I started scratching my head, as brightness and listening fatigue was nowhere to be found. In all seriousness, I'm yet to experience a harsh sounding DAP from the house of Shanling, as all their devices were tuned for a relaxing listen, choosing liquidity, a rich tonality, with a higher degree of emotions being unearthed from your music and this is certainly the case with M6.
While its predecessor struggled in controlling and driving desktop planar-magnetic headphones with utmost authority, the newest M6 with a 60% increase in power output on its balanced jacks worked way better with something like Hifiman HE1000SE, Erzetich Phobos and Kennerton Wodan. Hell, even Audeze LCD-4 worked decent enough on its 4.4mm jack and high-gain.
This time around the name of the game is transparency, detail retrieval, dynamics and a lack of background noise, as everything that rocked on its predecessor was dialed up to eleven. The difference isn't that huge, but after a careful volume matching using reference tracks and high-end headphones, the differences started appearing on my radar, one by one.
Those big ELNA's and tiny Panasonic caps need some time to form and two days later, it became much punchier and more impactful with my electronica and rock tunes. M6 is far from being lean or boring sounding and I'm glad that Shanling's DNA is still flowing through its circuit board. Considering all the improvements, why Shanling called it M6? I'm still scratching my head, as I believe a Plus or Enhanced moniker would suit it better.
II. Noise Floor & IEM Pairings
Shanling isn't mentioning an exact noise floor for its newest DAP, I will be testing that myself the hard way with the most sensitive IEMs I have at my disposal. With 113 dB per 1mW of power, FiiO FA9 put in its high-sensitivity mode is one of the best noise sniffers you can get for your portable or desktop sources. As a prologue, the latest Shanling DAPs were already dead-silent as far as noise goes, their top-dog M8 lacked a background noise with sensitive loads and their tiny M3X performed pretty much the same.
I've went directly on the 4.4mm output, high-gain, I've paused my music and went all the way up, just to hear a disturbingly loud sound of silence. That is great engineering, as no matter the selected headphone jack, gain or volume level, M6 was numb, peaceful and completely noiseless. At first, I thought that it's a software trick, so I re-did my tests with third party apps, including Qobuz and Tidal and sure enough, M6 was inaudible as far as noise goes…it felt like it was turned off completely. There was a complete silence between passages, there was nothing between them, just a pitch-black void of nothingness with musical notes appearing out of thin air.
As you can expect anything else that is less sensitive like FiiO FH7, Hiby Crysal 6, Meze RAI Penta and Little Dot CuKIS performed absolutely the same and that wasn't a surprise anymore. When it wiped noise out of existence, channel separation and the feeling of air traveling around improved, inner-details felt boosted, leading to an engaging and punchy sound with all my IEMs.
Later on, I decided testing it as an USB DAC connected to my PC and then to my smartphone, luckily it didn't pick any source noise and it sounded exactly as it did on its own, transforming it into an outstanding portable DAP or desktop DAC to be used at home or on the go.
III. Power Output
M6 offers a max power of ~570 mW in 32 Ohms on its balanced output and while that might not seem like a lot of power, it is more than enough for most dynamic headphones and should be plenty for quite a few planar-magnetic ones. As you can guess, portable over-ear headphones, all my IEMs and even desktop dynamic headphones from the house of Erzetich Audio and Kennerton didn't pose problem, it easily drove them all with a lot of power to spare.
On 4.4mm balanced output and high gain, maximum I could go was 65 out of 100 with the Kennerton Vali, Erzetich Mania and with a super-duper-secret headphone that I'm developing for the last few months. Kennertor Magni and Gjallarhorn needed even less power, leaving a ton of headroom for nicer dynamic swings on better recorded music.
It was interesting seeing a few planar-magnetics fully driven to their maximum. Kennerton Wodan and Erzetich Phobos were already too loud around 75, leaving headroom for nicer dynamics. Honestly, I was expecting this, because FiiO M11 Plus LTD performed more or less the same, which has the same power rating.
Surprisingly, even Hifiman HE1000SE worked more than decent at around ~85 on its volume wheel, but a lack of a higher current said its last word, as these weren't sounding as engaging and toe tapping as I know them to be with desktop class amplifiers. Still, I've experienced a faster tempo, a decent rumble in the bass, some decent dynamics, but not the best diaphragm control, leaving little to no headroom at all.
Audeze LCD-4 were sitting somewhere between 95 and max power, those performed almost decent, but far from perfect, leaving that spot to higher priced DAPs as Shanling M8 and FiiO M15, which by the way, drove the LCD-4 close to what I would describe as flawless. Nonetheless, M6 is a mid-level DAP and such behavior should be expected. Considering its specs and weight, I am more than happy with the power output.
IV. Soundstage & Depth
This part is quite easy to explain: if M6 will be fully driving your headphones, providing plenty of headroom, then those Elna and Panasonic caps will be doing a masterful job, making sure your music would never sound crowded or up-front. M6 was able to drive everything up to headphones like Hifiman HE1000SE via its 4.4mm output and high-gain, I've tried different combos and I couldn't make it shy, small or claustrophobic sounding. Obviously, less efficient headphones like Hifiman Arya or Audeze LCD-4 weren't that great, especially when it comes to dynamics, driver control and stage size.
Everything else, including desktop dynamic headphones sounded like they were connected to an entry to mid-level desktop headphone amplifier. There was plenty of air traveling around, music was punchy and fast paced, there were layers of music that weren't rushing towards the listener. Bass notes were bringing more air between the notes, expanding the soundstage and making everything more layered and detached. M6 has a much lower channel crosstalk on its balanced outputs, meaning that it is indeed a fully balanced device starting with its digital conversion stage and finishing with the amp stage. If you want your music taller, wider and deeper sounding, then simply use its balanced outputs.
Shanling are one of the few DAP manufacturers that have lots of experience with analog amplifiers, they used that knowledge while crafting their M6 and it really shows while listening to it. While I won't compare it with something like the FiiO M11 Plus LTD, due to their different price points and System-On-Chips, I can safely say without any remorse that the newest Shanling M6 is slightly bigger and deeper sounding while browsing through my live recordings.
Twenty One (Remastered 2020) by The Cranberries (Qobuz / Tiday) came forward to play for obvious reasons. This is by far the best album written by Dolores, I still listen to it on a monthly basis and I still getting chills while watching their Zombie music video. Twenty One is a simple song, with repetitive lyrics that fully conveys her vocal performance. It's a midrange feast for the ears and a soft spot for the mind, that sounds relaxing and well scattered around. While this track isn't using all three axes (height, width and depth) as effectively as a reference recording would do, the little M6 was still able to arrange all the musical notes at their right places without mashing them together.
V. Transient Response
In the first minutes after unboxing and powering it on, M6 wasn't that punchy and engaging sounding if being completely honest with you. It sounded somewhat restrained and small, without a powerful slam in the bass as I like it to be. I've immediately remembered that the former M6 and their bigger M8 did the same, so I let it play for 48 hours on repeat. Two days later, some bass impact that was lost in transit, made an appearance in my tunes, M6 was going considerably faster and nothing was slowing it down anymore. Demanding music went lower in the bass and higher in the treble, dynamics improved and whole frequency range was covered in full. It packed a nicer punch, while being exactly as transparent and clean as it was a day ago. I wouldn't say it fully dominated the bass response, that title would surely go to their flagship M8, but M6 wasn't that far away, throwing decent punches when engaging music started playing. Add some energizing music into its daily diet, put some impactful sounding headphones on your head and suddenly it will sustain longer bass notes, delivering faster decays, becoming powerful when dynamics are coming to play.
Most high-quality DAPs, would be changing their personality from mellow and smooth, to nimble and fast, then to impactful and hard slamming if the right music and headphones are being used. All things considered, M6 will impress more with its flow and speed and a little less with the kick into the eardrums. There was an above decent kick with snare drums and I've felt a physical manifestation of the low-end when electronica started playing, but sometimes I wanted more raw energy and craziness out of it. It shouldn't be a surprise to anyone, as all midrange DAPs that I've tested so far, were good in the bass slam department, but far from exemplary and the newest FiiO M11 Plus LTD performs pretty much the same. It's important to say that I'm experiencing all this with desktop headphones only and if I would move to IEMs, then I wouldn't experience those issues anymore. You see, any other DAP could push and pull those tiny IEM drivers, but not all of them can do the same with harder loads.
If you need more boldness and authority in the bass, more powerful kicks in the treble and a highly engaging nature with every headphone out there, then you should consider their flagship M8 that still reigns supreme in this department.
VI. Detail Retrieval
While there is a substantial difference in power output compared to the former M6, there is another essential increase that can't be overlooked. The newest M6 will be binging forth more nuances from your music, a higher degree of micro-details can be observed at lower volumes. If you don't care for reference recordings and you aren't hunting for the last drop of information, then there isn't a notable difference, but if you are deeply into this and want everything there is to hear, then version 21 is better at that, being just a few steps away from pricier units like Shanling's M8 and FiiO's M15.
Its dual ESS-Sabre configuration offers a linear frequency response, it is honest sounding most of the time, highlighting musical notes at the same intensity, meaning that focusing on anything particular isn't a mind game anymore. All the smallest details from tracks that I know for a lifetime came forward to play, without any intervention from my part. What's more interesting is that in USB DAC mode it will easily replace an entry to mid-level DAC without losing too much in terms of technicalities. It is roughly on the same level with a SMSL SU-9, Topping D50S and Soncoz LA-QXD1.
Since 1966 by Jean-Philippe Fanfant (Qobuz / Tidal) is so far my number one jazz album of 2021…just listen to it, my words are unnecessary. Travel back in time and experience a livelier, a groovier jazz, filled with positive vibes that oozes natural textures. It's extremely airy and clean sounding, it expands and stretches wide open, so much so that even IEMs started sounding like semi-open desktop headphones. There is so much happening around me and still everything is holding nicely together. The second track is my favorite, as I find it extremely engaging, transparent and detailed sounding, making drums alive, nicely blending them with trumpets and guitars. It is a crowded track, but oh so layered, juicy and so textured…I cannot get enough of it. M6 wasn't holding back my dynamic headphones and I've had as much detail and impact as I've wanted.
VII. Frequency Response
A. Bass
When it comes to bass, it feels like M6 is flirting with a curvy beautiful woman. M6 renders the full beauty of the low-end. It's full of substance, it's smooth, voluptuous and heavy. The air mass moves slowly and gracefully. It has a natural decay, rather than a lightning-fast rendition of it, but it is enough to satisfy an electronica addict. There is rumble and a decent punch into my eardrums, but I find it more impressive when it comes to quantity rather than quality. Aftet 2 days of burn-in, it will be providing more bass information even compared to pricier DAPs like FiiO M11 Plus LTD, which I didn't expect. Bass is clean, defined and undistorted and at times it feels elevated by a few dB, adding more fun into the mix. It is also a well-controlled type of bass, that isn't breaking up at higher volumes, so I'm definitely experiencing a good-quality bass.
B. Midrange
Shanling was able to counterbalance its tonality by adding some warmer sounding op-amps, so much so, that in terms of midrange I cannot differentiate the newest ESS-Sabre equipped unit from the older one that rocked AKM D/A converters. There is as much naturalness and textures, there's some smoothness as it is in the old one and those are good news already. It is important to mention that Shanling tunes their mid-level DAPs with a reference tuning, shooting for a linear and honest music reproduction. There is some warmth and sweetness in here, but don't expect a full-bodied sound and the velvety nature of their flagship M8 DAP. Vocal performance is great even with all-armature IEMs like Hiby Crystal 6 and FiiO FA9, the human pitch is nicely preserved and there is plenty of refinement and smoothness. Musical instruments sounded real and palpable and you should forget about dryness, as M6 doesn't have any of that.
C. Treble
In the first 48 hours, M6 was somewhat aggressive and a little raw around the edges. It was drawing too much attention to it, that I couldn't focus on anything else. Treble intensive headphones were quite sibilant and harsh, but two days later all that nasty brightness felt like a long-forgotten dream. Those bigger Elna caps need some time to form and fully charge, but immediately after that, treble wouldn't be an issue anymore. At this moment, treble feels clear, crisp and detailed, it easily goes past top-octave and if you like your treble defined and super-clean, then M6 should be right up your alley. Listening fatigue is gone now and I could listen to tambourines, snare drums and bells all day long without clenching my teeth. With all that said, it isn't exactly smooth in here, there aren't roll-offs, just a flat treble response without a drop or rise. If you don't like your treble extended and detailed, you might look elsewhere as M6 is merciless in its presentation.
VIII. Wireless Performance
M6 is using a Qualcomm chipset that can work as a sender and also as a receiver. As a sender it supports all the nicest codecs as AptX-HD and LDAC and as a receiver it is limited to SBC and LDAC only, it uses BT version 4.2 and that is more than enough for me. I connected a FiiO UTWS3 to it and the purple LED light indicated that AptX codec is being used. The pairing process was easy and straightforward, its BT connection was stable at less than 5 meters away and all my IEMs that were connected to UTWS3 sounded decent to good, with an obvious downgrade as far as sound quality goes.
As a receiver, I've connected my smartphone to it, I used the Qobuz app and sent all that information to it. Again, the pairing process was easy-peasy and the BT connection was rock steady even from 10 meters away in an open space. My phone indicated that LDAC codec is being used and that is the closest one to a real-time lossless audio transfer.
I personally don't get it why would you use it as a receiver, because you can use any streaming app directly from it, you can even use your NAS, DLNA and UPnP servers with it and that will sound way better than any Bluetooth connection. But hey, additional features never hurt, it is always cool to have them at your disposal.
IX. A Must-Read Comparison
Shanling M6 Ver.21 ($569) VS Shanling M6 ($499 – now discontinued)
On the outside both look absolutely the same, with the exception that Version 21 has a gold painted volume wheel. On the inside things are looking way more interesting. A pair of ESS Sabre ES9038Q2M chips came in, two AK4495 went out, there's a new amplifier circuit based on warmer sounding OPA2211 and most importantly there is less distortion, more dynamic range and a lot more power on tap, especially on its balanced outputs. Apart from an added MQA decoder on Ver.21, their feature set is looking the same, so I will be focusing my attention mainly on the sound quality.
I always believed that M6 was a great sounding DAP from any point of view and I appreciate the way Shanling tuned it to be potent in the bass, linear in the midrange, detailed in the treble and still inoffensive in the top octave. I'm glad that Shanling didn't hop into the THX-AAA bandwagon that FiiO adopted immediately, because there is more fullness and warmth with M6 and there is little to none in the FiiO's M11 PRO. The older unit had everything it needed to compete with any midrange DAP, with the exception of power output…that wasn't that impressive.
The most immediate change is that version 21 sounds considerably louder and there is more power on tap. If I'm staying on position 40 with IEMs, I'll go to 50 on the older device for the same SPL. With desktop planars like Kennerton Wodan I'll go up to 70 and somewhere around ~76 to on the older device and the list continues. With the increase of power, there are many positive things that can be observed: the newest one will drive a wider variety of headphones with a better grip and control. Hifiman HE1000SE sounded pretty nice, as version 21 wasn't limiting their performance with around ~15 volume steps remaining on tap, while being close to max power on the older device. There was a better control, a nicer ear-drum impact, bass was punchier and overall, the newest version sounded more dynamic and alive. Older M6 struggled in offering an engaging experience with less sensitive planars and that shouldn't come as a surprise.
If I am moving back to IEMs, then the difference isn't that obvious and immediate, as both units are more than capable of driving the easiest loads as IEMs and portable over-ears. Still, with top-tier in-ears there was a minor difference when it comes to detail retrieval. While older M6 was a clean sounding unit, always trying to impress with its outstanding tonal balance, version 21 was just cleaner and more transparent sounding along the way. There were more things happening in the background, mastering errors had nowhere to hide on version 21, it was a cleaner sounding unit, wiping clean the noise floor out of existence.
Probably the biggest shock I had was experiencing a very similar tonality on both devices. When it comes to frequency response…I couldn't differentiate one from the other. One is being powered by AKM's and one by ESS Sabre converters and both sounded exactly as linear, as extended in FR, as expanded, as open and airy. On a serious note, you are getting more power, a better driver control, nicer transients, better dynamics and a minor bump in detail retrieval, but everything else remains the same. Both are exactly as rich and full-bodied and they are covering the entire frequency response in full. Version 21 is slightly more visceral, effortless and layered, while M6 is more reserved and shier when it comes to higher dynamics. While streaming music via Tidal, I've observed that on the older unit MQA files would be capped at 88 kHz, while version 21 fully unfolded those files, playing the same track at its native sample rate of 352.8 kHz. If you are into MQA, then look no further to version 21.
There is only one instance where older M6 is winning lost ground and that my friends is battery life. On average it added a few minutes to maximum one hour of runtime, depending on the headphones that are being connected to it.
In the end, we are getting a newer version that offers a sizeable increase in power, dynamics and transparency, it lowers noise and distortion to inaudible levels, with just a minor price increase that was fully justified.
Conclusions
Shanling M6 version 21 proved itself as a worthy successor, seriously boosting its power output and marginally improving its technicalities to the next level. It has an outstanding build-quality, a perfect button layout and a clean look. Its neutral tuning with a gentle bass boost works great with all types of headphones, be them bright, neutral or warm sounding. Please don't judge it in the first two days, as its capacitors need some run time before it exchanges a brittle and fatiguing top octave with a neutral treble presentation. It worked outstanding with ultra-sensitive IEMs and as much as I've tried, I couldn't spot a noise-floor or even traces of it. It pumped iron and delivered a nicer impact with planar-magnetics and compared to its predecessor, it added a headphone or two in its fully driven headphone list. Its tonality remained intact and it might look the same on the outside, but be careful as you are dealing with a wolf in sheep's clothing.
Shanling M6 Ver.21 was kindly provided by Shanling, you can purchase it from their AliExpress Store, you can get it from their worldwide distributors right here. You can also get it from Linsoul or HiFiGo, that are offering worldwide shipping to your location.
If you get one, please come back and leave a comment, I'm curious to know how it performs with your IEM and headphone collection.
PROS:
Cool and modern looking, excellent button layout
CNC machined uni-body case, great build quality
Unlocked Android 7.1.1 with Google Play Store support
Good response times even when multitasking
More detailed, cleaner and transparent to its predecessor
Noise-floor doesn't exist on the newest M6
Expanded, airy and decently layered with live music
Linear sounding, while adding some warmth and smoother
Extended in the frequency response
After a few days of burn-in, low-end becomes wilder and punchier
Could drive harder loads, even planar-magnetics are working good with it
Good Bluetooth codec support
A worthy successor to the former M6
An outstanding value
CONS:
Snapdragon 430 is the biggest con for me, it is fast…but not Snapdragon 660 fast
Bright in the first days of use
Lacks a protective case
ASSOCIATED EQUIPMENT:
DACs: Audiobyte HydraVox & HydraZap, Matrix Audio Element X, Gold Note DS-10 Plus & PSU-10 EVO, Musician Aquarius, Gustard X26 PRO, Gustard X16, Topping D90SE, D30 PRO, SMSL VMV D1SE, SU-8S
DAPs: Shanling M6 Ver.21, M6, M8, M3X, FiiO M11 Plus LTD, M15
Headphone Amps: Benchmark HPA4, Singxer SA-1, Flux Lab Acoustics FA-10, Burson Soloist 3X, Musician Andromeda, SMSL SP400, SH-8S, Topping A30 PRO, Gustard H16
Power Amps: KECES S300, SMSL SA400, DA-9
IEMs: FiiO FA9, FH7, FH5S, FD5, Meze Rai Penta, Rai Solo, LittleDot Cu KIS, Hiby Crystal 6 & others
Portable headphones: Sennheiser Momentum 2, Meze 99 Classics
Full-sized headphones: Hifiman Susvara, HE1000SE, Arya, HE400SE, Audeze LCD-4, Erzetich Phobos, Erzetich Mania, Kennerton Wodan, Magni, Gjallarhorn, Vali, M12S, Ollo S4X Reference & others
Loudspeakers: KEF Reference 3, Natural Sound NS-17
Interconnects: QED Reference (x2), Topping TCX1 (x2)
Speaker cables: Kimber PR8, Audioquest Type4
Power Cables: Isotek EVO3 Premier (x3)
Balanced Isolation Power Conditioners: PLiXiR Elite BAC400