Hifiman Arya Stealth Review – Remolding a Classic into a Better Version
My Video Review:
While people still dislike Hifiman's Susvara price point and their discouraging sensitivity, we love when top-class technology from world's best planar headphones is making way into lower-tiered headphones at prices that people can actually afford. If you are looking closer, everybody does that and it's happening in every possible domain. From home appliances, to PCs, TVs, robotic and aeronautical industries, everybody cheers-up when top technology makes way in commercial products that could be obtained for less money, good things are coming to those who wait as they say. When Hifiman took their top-dog Susvara that goes for an eye watering price of $6000 and used the same acoustically transparent, so-called stealth magnets in their most affordable HE400se headphone that costs only $149, that move got me genuinely excited and I couldn't wait to experience what's coming next from the house of Hifiman. Would all their headphones get the same treatment or only a portion from their huge portfolio? Recently their Deva Pro got the same treatment that worked as a lucky charm for their middle-ground Arya headphone, as finally the most universally loved Hifiman creation was updated with fresh-new magnets that had a big impact on their sound performance.
Although on the outside it looks like the same good-old Arya, on the inside things are considerably more interesting, as we are getting a lower impedance, a much higher sensitivity so a few portable units could drive them adequately and last but not least, some warmth, naturalness and a higher transparency of their upper-class headphones made its way, solving one of the biggest complains I had with the original version: a mild brightness and a higher listening fatigue with some particular setups. The absolute best part of the newest Arya Stealth? Their price point remained unchanged and this is what I am calling a successful product launch that does everything right from the get go. Arya Stealth can be had for $1599 and before I'll tell you a great deal about them, let's take a look inside their package first.
Unboxing Experience
As I was expecting, we are getting absolutely the same packaging that houses a bumper sticker on top, reminding about their Stealth Magnets Design. All their headphones are coming double boxed at your front door and Arya is no different. Their card-board box works as a simple display case and after lifting up the top cover, the beaty in black is being revealed surrounded by lots of silky-smooth material and foam that are working as the last line of defense against the outside world.
Besides the headphones themselves, you'll get a warranty paper, a detailed owner's guide, the same detachable cable which looks better than those found on HE1000SE and Susvara and there's a small piece of paper that will be telling you more about the Stealth Magnets Technology and this is pretty much it.
I like its shorter 1.5m cable that is beautifully wrapped in a textile material (nylon), it's extremely flexible, it's free of microphonics and it feels like a major step-up from the cables that are being bundled with their upper-class headphones. It's terminated with a 6.35mm (1/4") jack and on the headphones end you'll find the usual 3.5mm female jacks that Hifiman adopted a few years ago. Overall, we are getting a similar unboxing experience that I had with the OG Arya.
Build Quality & Looks
Most of you already experienced a Hifiman Arya by now and the newest one looks and feels identical. There are a few gripes here and there and I wish we would get a full metal jacket, discarding plastics for a greater good, but it's good as it is.
Design wise, Arya is sculpted the same way Hifiman carved their Ananda and HE1000 series a few years ago, we are getting elongated ear-shaped cups that are making them extremely comfortable in long listening sessions and I really dig their XL-sized cups that no other headphone maker adopted as of yet. These cups will be hugging your ears, applying a close to zero pressure around your checks. After using heavy weight planars like Erzetich Phobos V2021 and Audeze LCD-4 for several days now, coming back to Arya feels like losing extra weight, getting fast and nimble once again.
Their weight went up by a little, but at 430 grams (15.2 oz), these are plain and simple one of the lightest planar headphones that I've used. I can complain a little about its materials and the use of plastics, but thanks to those exact materials, Arya is so light, ergonomic and comfortable long term. Arya uses some clever weight distribution mechanics that are relying on two things: on a super-wide and extra-large headband that evenly applies pressure on top of your heard and those huge soft ear-pads will be absorbing all remaining side pressure. Long story short, Arya are amongst the least head-crunching headphones that I've tested in a long time, scoring great marks in terms of comfort.
Their structure is 100% metallic (stainless steel) that nulls vibrations coming from the cups. Oh, about those, their cups are made out of hard plastics, it's a similar build to their Ananda and Jade II electrostatics. With these particular cups I'm sure about one thing: there can't be a more open-back headphone than Arya thanks to its Window Shade system that almost exposes their drivers to the outside world. Arya are as open as headphones can ever get, as you can easily see their magnet structure, their alignment and planar-magnetic driver assembly. This is the biggest reason, Arya are sounding so transparent and pure, as if there are no headphones on your head.
Hifiman adopted hybrid earpads and those seem to work great with fully open-back headphones. The part that touches your cheeks was changed from velour to polyester to further increase sound transparency and the rest is made out pleather to retain all the impact and sound pressure level coming from the drivers. These have an asymmetrical body that follows the shape of the ear, making sure that your years will never touch it for a nicer comfort and extended listening sessions.
Their suspension mechanics are rudimentary but effective, it's quite similar to that found on most Kennerton and Meze headphones that are naturally distributing the weight once you put them on your head. The only thing you can adjust is the height setting, which seems like a one-time set and forget job.
All in all, we are getting a stealthy looking headphone (literally and figuratively) that is comfortable to use long term, that should resist plenty of use and abuse at anyone's listening station for extended periods of time.
Technology Inside Arya Stealth
As their name suggests, the biggest and most important change from the OG and Arya V2 are those Stealth Magnets that replaced the former Advanced Asymmetrical Magnetic Circuit. The newest Arya uses a similar magnetic configuration found in their top-dog Susvara headphone. This magnet array aims to be acoustically transparent, dramatically reducing wave diffraction turbulence – which degrades the integrity of the sound waves. The final result is a reduced distortion throughout the entire audio band, yielding a purer, more harmonious sound. Hifiman slightly lowered their impedance from 35 to 32 Ohms and it seems that the newest magnet array is more powerful as their sensitivity drastically plunged higher from 90 dB to 94 dB per a single milliwatt of power, which seriously improves their thrust and dynamics with battery powered sources as portable DAPs or DAC/Amps.
Apart from this, it's the same planar-magnetic open-back headphone that Hifiman sells for two years now. It uses the same Nanometer Thickness Diaphragm that is both extremely thick and rigid, that should resist a lot of stress, nicely controlling its distortions even at higher volumes.
Its Window Shade System is moving all unwanted acoustic waves outside their cups, improving the perception of a breathable sound, that can stretch wide open in all directions. This clever design was implemented to have the biggest possible sound and the highest transparency. Did they achieve their goal? Let's find out together in the next chapter.
I'm genuinely excited to hear all the improvements myself and spotting a higher sensitivity of 94 dB, I'm curious how they would perform with desktop and portable gear alike. All looks great and dandy, but how are they performing in a real-life scenario? Let's hit some eardrums and find that out!
Sound Performance
I. Preliminary Impressions
While I still have the Hifiman Susvara and HE1000SE by my side for quite some time now, using them daily listening to music and also when I'm evaluating new DACs and headphone amplifiers. With this being said, you would think that nothing should excite me anymore from this point onwards and you would be…totally wrong. As statement products, Hifiman is showing to the world how some of the best planar headphones in existence should sound. Statement products aren't made to generate huge profits, for that reason alone, lower-tiered units like Arya will be paying their bills, R&D and all their future developments. When I've reviewed their HE1000SE, I've mentioned multiple times that the original Arya doesn't stand a chance versus them, but this time around that gap shrunk day by day, as Arya Stealth took a few steps closer towards HE1000SE levels of performance.
There is no other way in saying it, that at this price point, there isn't a more resolving and a more detail-oriented headphone. I have several headphones at my disposal that are sitting exactly in between ten and twenty Benjamins (or Queens) that can't stand a chance versus Arya in terms of technicalities. While their original Arya felt like a tour the force, showcasing what's possible with current technology, delivering a technical sounding headphone with a somewhat colder tuning, that didn't awake as many emotions as I wanted while listening to music, the newest Arya isn't as blunt and robotic sounding, there is slightly more smoothness in there, more warmth, less brightness and subsequently more soul coming from my music. Arya Stealth is not only a more transparent and more technical sounding unit that approaches closer to their top-dogs, this is a more even sounding unit, that is more natural and cohesive sounding, while discarding plenty of brightness that was present on the original model.
While depth was always outstanding on the first-gen Arya, soundstage width was never one of their impressive feats, something that is going to change today. Arya Stealth is indeed a more transparent unit and everything seems clearer and more defined, you can easier feel the inception and decay of each and every note. There is less driver vibration and more truth to be heard, an imaginary wall that notes are hitting at some point isn't in close quarters anymore, it goes farther than my arms reach and that makes them considerably better with live recordings. Original Arya had a somewhat taller stage and an amazing depth, but the latest unit stretches it wider, so I can get a wider-aspect ratio of my music and I no longer need to close my eyes to imagine a defined and believable soundstage.
Roses are red and violets are blue, but there is one key aspect (that is important to me) that remained the same and that is the final impact that usually a bass note is delivering. OG Arya was an extremely fast and agile sounding headphone, but extra care was always needed when trying to make them impactful and hard slamming down low. That's the sole reason, people are usually discarding THX-AAA and tube OTL designs in favor of mean sounding transistor-based Class-A amplifiers or are choosing a powerful tube amplifier with huge transformers on top. Arya can be impactful and mean, but additional work was always needed to make them sound that way and this is where the newest Arya is no different. Put them on any Topping or SMSL amps and you'll get a blank face, put them on most THX-AAA amps and you'll get a poker face, as Arya desires for Class-A power delivering a nicer transient response in return, otherwise I find them lightweight and almost ethereal sounding.
I am quite surprised by how many improvements were brought to the surface with the newest Arya while costing exactly as much. This is great engineering working shoulder to shoulder with the marketing department. This is how a successor is being delivered and I'm hyped that a product like this exists right now that should pose plenty of issues for its competitors.
II. Power Requirements & Amp Pairings
I don't consider the original Arya a walk in the park for regular headphone amplifiers. Arya was less sensitive to any other headphone I had two years ago, as they needed considerably more juice to the likes of Quad ERA-1, Audeze LCD-2 and Sennheiser HD660S.
When HE1000SE landed on my table, I found it easier to drive, so much so that it became the sole unit that I was carrying in long trips together with an oversized digital audio player as Shanling M8 or FiiO M15. When Hifiman added more powerful magnets to the newest Arya, they increased their weight by a little, but made them easier to drive by 4dB and that my friends is a very big deal, as you no longer need oversized Class-A or tube amplifiers to awake nicer dynamics out of them. This is a very positive change, since Arya will no longer be a heavy burden for portable DAC/Amps or digital music players. The same tech that is now sitting in the HE1000SE made way into Arya and I'm glad we are dealing with a higher sensitivity headphone that can be enjoyed in a hotel room without the need of AC powered electronics.
I will briefly mention that regular headphone jacks of your smartphone, laptop and tablet are still not enough to awake impactful bass notes, or deliver a desirable volume. If you have cash to burn for a headphone like this, you should prepare a budget for a source and amplifier, as Arya shines (much) brighter in a dedicated audio setup. On the go, small dongles like Shanling UA2 and Bluetooth wonders like FiiO BTR5 and Qudelix 5K were more than okay, but something was still missing – they didn't make me tap my feet and move my head while listening to music. Headroom felt limited, as clearly all three units were running out of juice. Moving up the ladder to portable DAPs like Shanling M6 V.21 and FiiO M11 Plus LTD, things went into the right direction, as when high-gain was engaged, dynamics went up, headroom felt much higher and finally, I could enjoy the music the way I like it.
Obviously, the absolute best pairing I have obtained from bigger class-A amplifiers, Flux Lab Acoustics Volot transformed them literally into much calmer beasts, brightness went down and enjoyment factor went up, so I could focus on the music and less on all the nasty things. They could work with an extremely linear and honest sounding headphone amplifier like Benchmark HPA4 (or any other THX-AAA equipped amp) or Topping A90, but you will need a smoother sounding source. If you are on a very tight budget, check the xDuoo XA-10, their TA-10R, the Topping D30 PRO and A30 PRO combo or their E50 and L50 stack. However, if you have more cash to burn, nothing beats transistor-based class-A amplifiers connected to a well-designed R-2R ladder DAC and there are plenty of units to choose from. If you are still undecided, leave a message below and I'll try to guide you towards your musical nirvana (not the band).
In the end, Hifiman made them easier to enjoy, you will no longer need gobs of power to awake nicer dynamics and I will no longer put them up there with Audeze LCD-4 as some of the hardest to drive planars (as it was the case with its predecessor). This seems like a positive chance of pace and I'm wondering if Susvara could get more sensitive in the future with some clever tinkering behind those drivers? (Hifiman, are you up to the task? I really hope so, as nuclear reactors aren't that cheap nowadays).
III. Transient Response
These have around ten days of burn-in and they aren't performing exactly as they did fresh out of the box. Their tonality shifted, some stridency went away, making room for more bass and midrange. After more than 100 hours of use, putting them on several desktop headphone amplifiers, it was clear to me that Arya goes fast like a wild mustang, but it doesn't deliver the same visceral experience that I am getting from HE1000SE, but especially from their Susvara.
Stealth Magnets improved the directivity of the waveguides and that made the whole picture clearer and more focused, the sounds were faster, as nothing was stopping them anymore, timing improved to a certain degree, but their final impact that landed on my ear-drums remained the same. Arya are incredibly fast sounding, faster than any other headphone up to $2000 and you can quote me on that later anytime, but the final kick felt almost ethereal. It isn't that ruthless, impactful and mean as it might happen with HE1000SE or Susvara while being driven by a juiced-up amplifier. This is the first complaint that I have with Arya (I'll have one more in the next chapter), as while they provided a high-quality and a tightly controlled type of bass, it didn't shatter my eardrums the way I like it and it never went down to the deepest pits of the sub-bass. In this regard, Arya is lighter weight and gentler. You can certainly mitigate parts of this issue with the help of a nicer amplifier (the first ones that are coming to mind are Burson Soloist 3X followed by Flux Labs Acoustics FA-10) that will infuse a fuller and a deeper bass, improving the final kick. If you're open to explore more amps with the Arya, then I recommend starting with fully-discrete Class-A amplifiers. You'll thank me later.
Putting them on top-class amplifiers like Ferrum OOR + Hypsos PSU and later on the Flux Labs Acoustics Volot did awake nicer dynamics and more oomph and rumble in the bass, plus some nuance and substance in the midrange, making them considerably easier to listen to even with less than perfect recordings. I observed that most Hifiman planar-headphones that are sitting below HE1000SE price wise are having this slight issue. Starting with HE400i, Sundara, Ananda and finishing with Arya – all of them are lightweight in their presentation, as if pressing the brakes when the notes are reaching my ear-drums. It isn't a huge deal breaker by any means, you are just dealing with a transient response nut and I'm sure that for many this wouldn't be an issue at all.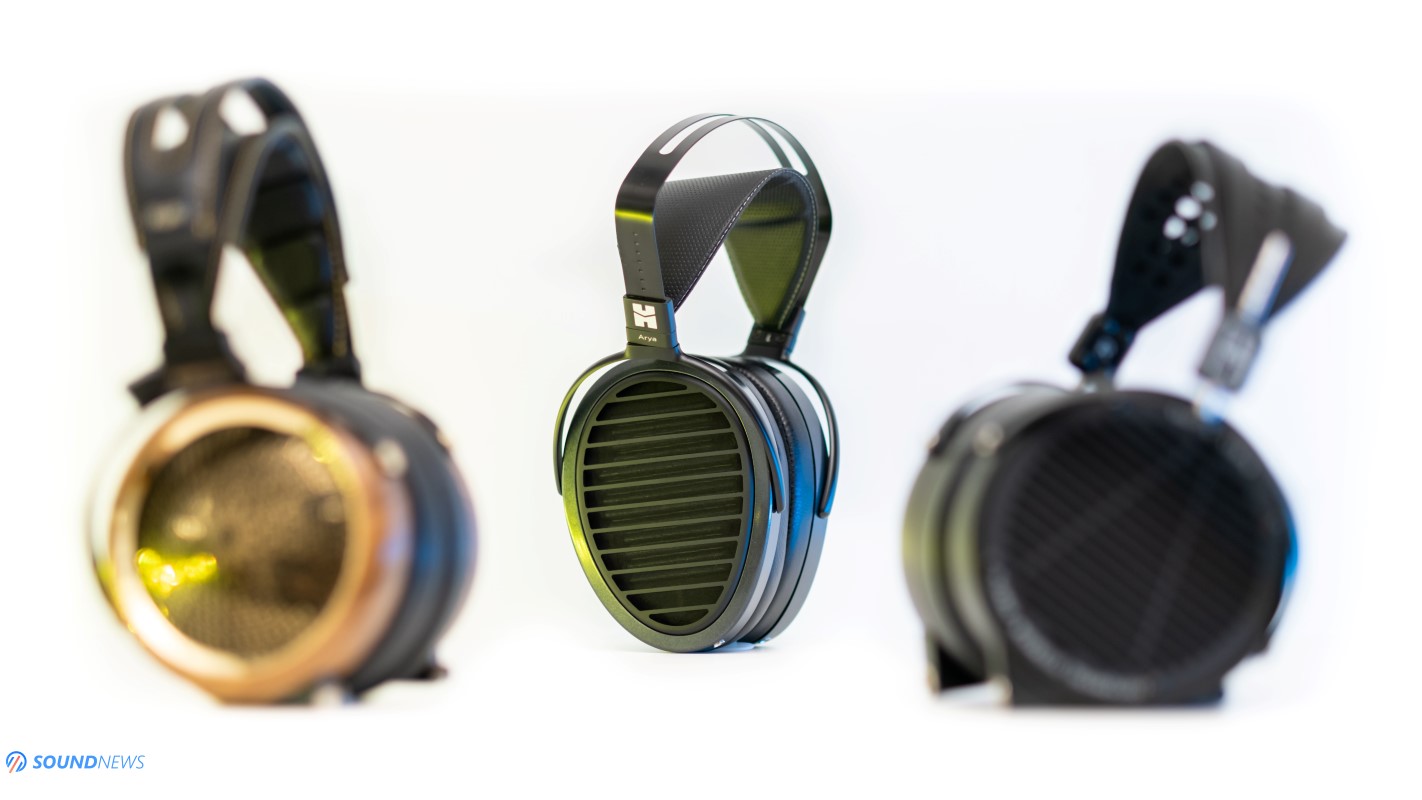 IV. Soundstage & Depth
When Hifiman armed them with stealth magnets, a chain reaction happened in terms of technicalities and this isn't a dramatization from my part, it's far from that. Directivity of the waveguides improved, distortion went down and transparency & detail retrieval went up, speed and timing improved and you guessed it…soundstage did also see a small improvement, not as much as I would like to, but any change is a good change, right?
Thanks to their open-shade system, Arya were never up close and personal in the first place, sounding more like opposite to that, always pushing you deeper into the mix, adding personal space and air in between the notes. OG Arya presented an impressive depth, layering and a precise imaging, but a somewhat restricted left to right soundstage that made them unusual to any other headphone I had two years ago. The newest Arya isn't portraying the same picture, I find them slightly wider, but also cleaner sounding. Arya V1 was never fuzzy or muddy sounding, but after getting the Stealth, some things felt more contoured, better spaced and I wasn't bothered by a limited stage width anymore. While this is a marginal improvement, I no longer felt squeezed by music when underground or experimental tunes would appear on my playlist. The newest Arya does remind me quite a lot about the HE1000SE that sounds decompressed and quite airy I must add.
The newest album by The War On Drugs – I Don't Live Here Anymore (Qobuz / Tidal) is far from an immaculate recording, as Arya were showing higher levels of noise to their past doings, but still the whole album felt absorbing, well scattered around, immersing me completely. This soft rock reminded me about some of the best years of Bob Dylan, Bruce Springsteen and Neil Yong mixed in the same bowl, adding some uniqueness and putting plenty of nuances around my head, picking them up easily without too much effort. The whole album is fuller and deeper sounding to usual tunes of this genre, it is almost 3D at times. The bass lines felt flawless, trebles were impactful and the final result was a grandiose representation that sends an emotional message. Arya Stealth placed all those notes beautifully around my head, adding air and meaning to a soft rock album.
V. Detail Retrieval & Transparency
I'll be blunt and direct with you, I believe that up to $2000, there isn't a more detailed or transparent sounding headphone than Arya Stealth. You can't beat them at their own game. Audeze LCD-X can't do that, not even their LCD-3 ($2000), Sendy's Peacock ($1500) couldn't do that either, even Kennerton Wodan ($2200) and Erzetich Phobos V2021 ($2000) couldn't outperform them in their own playground. Arya Stealth are ruthless and merciless when it comes to details and nuances. The aforementioned album sounds just fine on any other headphone, but when Arya starts playing it, all those background noises are becoming in issue. Arya and upper-class Hifiman headphones are very similar in this regard, always trying to impress with the amount of information that is being delivered to the listener. With Stealth magnets, Arya did make a few steps forward, approaching closer to the HE1000SE, but never being on the same level.
The gap between Arya Stealth and similarly priced headphones is substantial if we're talking about detail retrieval, there is more happening behind those tracks and it's very obvious. There are simply more nuances and everything is being delivered in an easy way, like it's a child's play for it. Arya puts all those details on the table without remorse, something that isn't really happening with competitor headphones. It's shocking at first, but as time passed by, that effect is diminished as you became acquainted with all those inner-details.
Arya is one of those headphones that will easily show minuscule differences between sources and amplifiers, in some ways it can work as a tool, in other ways it becomes a burden, as suddenly higher priced DACs and amplifiers are sounding better in every possible way. There were times when I was ditching those THX-AAA and NFCA amplifiers in favor of less-revealing units that could improve their tonality and relax me a little. Arya, as most Hifiman headphones, aren't sugar coating your music, these can be considered as linear, staying true to the recordings, revealing only the truth alone. Up to $2000, I don't believe there is a more resolving headphone out there and I can always count on their ability to unearth me everything that is good or bad lurking behind my tracks.
Frequency Response
VI. Bass
If we're talking about planar headphones, then we're surely talking about bass more than anything else. Arya Stealth were easily reaching the lowest octaves while being connected to a nicer amplifier. Its bass can be described as precise, clean, layered and extremely fast sounding. You will not find that wooly, slow or muddy type of bass, it is more on the opposite camp, always trying to be textured, clean and outlined. Although bass notes were easily reaching sub-bass territory as 20 Hz, it wasn't the most visceral or impactful type of bass. Hifiman Susvara and to a lesser degree HE1000SE – have it deeper, more extended and harder kicking. I want to be clear that their sub-bass was tight, extremely fast and controlled all the time. If you need more oomph and tactility down low, a mild EQ works as a charm. Try adding around 3 to 4dB in between 20 and 70 Hz and that will make them closer to higher tiered Hifiman planars. Doesn't matter if you are EQ-ing them or not, bass felt clean and precise, decaying instantly with fast electronica tunes. Mid-bass was fuller and more impactful and I wouldn't EQ it at all in that region. All in all, this is a linear type of bass, that is defined, clean and quite engaging.
VII. Midrange
There is an unspoken rule that Hifiman headphones aren't that impressive in the midrange. If you mean elevated, super-warm, up-front, close and personal midrange, then yep, Hifiman creations aren't like that. Arya as all their creations, wouldn't boost the midrange presence, how some other planar brands will be doing, but they will never render it less impressive to the rest of the frequency response. I can't blame a midrange that is straight as a line, that is linear and present in my tunes when it's called for, I could do that only when it's missing, when it's recessed, but that is not the case with today's headphone. You'll not find Sennheiser HD6xx like voices in here, nor an Audeze lushness. Hifiman is quite possibly the only headphone brand that is not adding too much weight and naturalness to its midrange section. Please don't panic yet, because you can easily add more soul and lushness in here by connecting them to a warmer source and amplifier. I'm testing for a few days now a Singxer SDA-6 and SMSL VMV D2 DACs and I was blown-away by how full and weighty these sounded in the midrange, when I've added a Flux Volot into the mix, Arya suddenly became smooth, musical and organic sounding. This part alone is very system depended and you can easily make them sing with the right pairing.
VIII. Treble
All Hifiman planars are extremely potent and reliable when it comes to treble and Arya is no different. Although you'll hear it detailed, defined and clean, Stealth doesn't push it forward in the most sensitive part of our hearing as original Arya was doing. The final result is a clearer, more detailed treble, that scares brightness away and makes them considerably easier to listen with treble intensive music. Past 9 kHz Arya slowly but steadily starts rolling-off parts of the upper treble, making them easier to swallow in long listening session. Hifiman have done a fantastic job with their treble as I could listen even to meaner musical genres and I would still toe tap and headband like I'm doing on upper-class Hifiman creations. Bells and cymbal crashes have a somewhat crispy and metallic nature and that is exactly how they should sound. Since, these are quite fast sounding, double drums will not pose a problem even with the fastest and most demanding music. I personally like this kind of treble reproduction and thanks to its gentle roll-off past upper treble, I can listen to my tunes without any awareness from my part.
Overall, I find their frequency response extended from the lowest notes to the highest octaves, never putting pot holes in the frequency response, with just a minuscule rise in the mid treble that feels like a signature for Hifiman.
IX. Measurements
After offering my subjective opinion, it is time putting them under a magnifying glass. When it comes to measurements, I have the highest confidence in the Benchmark HPA4, as it is as linear as headphone amplifiers could ever be and I have resumed at using the Matrix Audio Element X as the main DAC for the job. The measurement rig used was the MiniDSP EARS calibrated with HPN (Original Headphone Compensation) files. Do note that MiniDSP EARS is not following any IEC standards, meaning that my readings can't be used as reference measurements or anything like that, I'm doing them only to get a general idea about their sound signature.
I have measured them for several times now, as finding the perfect spot on the test jig wasn't that easy. No side-pressure was applied on the earcups, they stood still in their natural position and I've measured them several times before both channels were matched at less than 0.5 dB.
Take a look at their RAW measurements without any smoothing applied. Driver matching looks good, there is some deviation in the treble but its minor. Do note that I've zoomed this reading quite a lot and all the deviations in the treble region cannot be spotted while listening to music.
Applying a gentle 1/12 smoothing, I am getting this graph and you can see that Arya Stealth offers you a straight line from 20 Hz to 1 kHz, it can't get any better than this. There is gentle roll-off in the upper midrange and of course in the top octave. Do note that the most sensitive part of our hearing isn't as hot and bright anymore as it was the case with the original Arya. While there are several slopes in the treble, I can't spot nasty rises that could make them harsh in long listening sessions. All in all, this is an amazing FR reading, that isn't that different to their HE1000SE or Susvara.
Their THD reading is good, it can reach as high as 2% in the bass and 0.5% in the treble, but usually staying in between 0.1 and 0.2% – which is outstanding by my standards. There were many higher priced headphones that delivered a higher THD, making Arya look like a flagship headphone compared to those.
Spectral decay looks good, after sending a 300 Hz sweep tone at 84 dB and after a short time frame of 160ms it drops to 20 dB at the lowest point and to 62 dB at the highest point in the FR, but usually staying in the neighborhood of 35 dB. Arya Stealth looks like a super-fast headphone, never lingering for too long anywhere in the FR.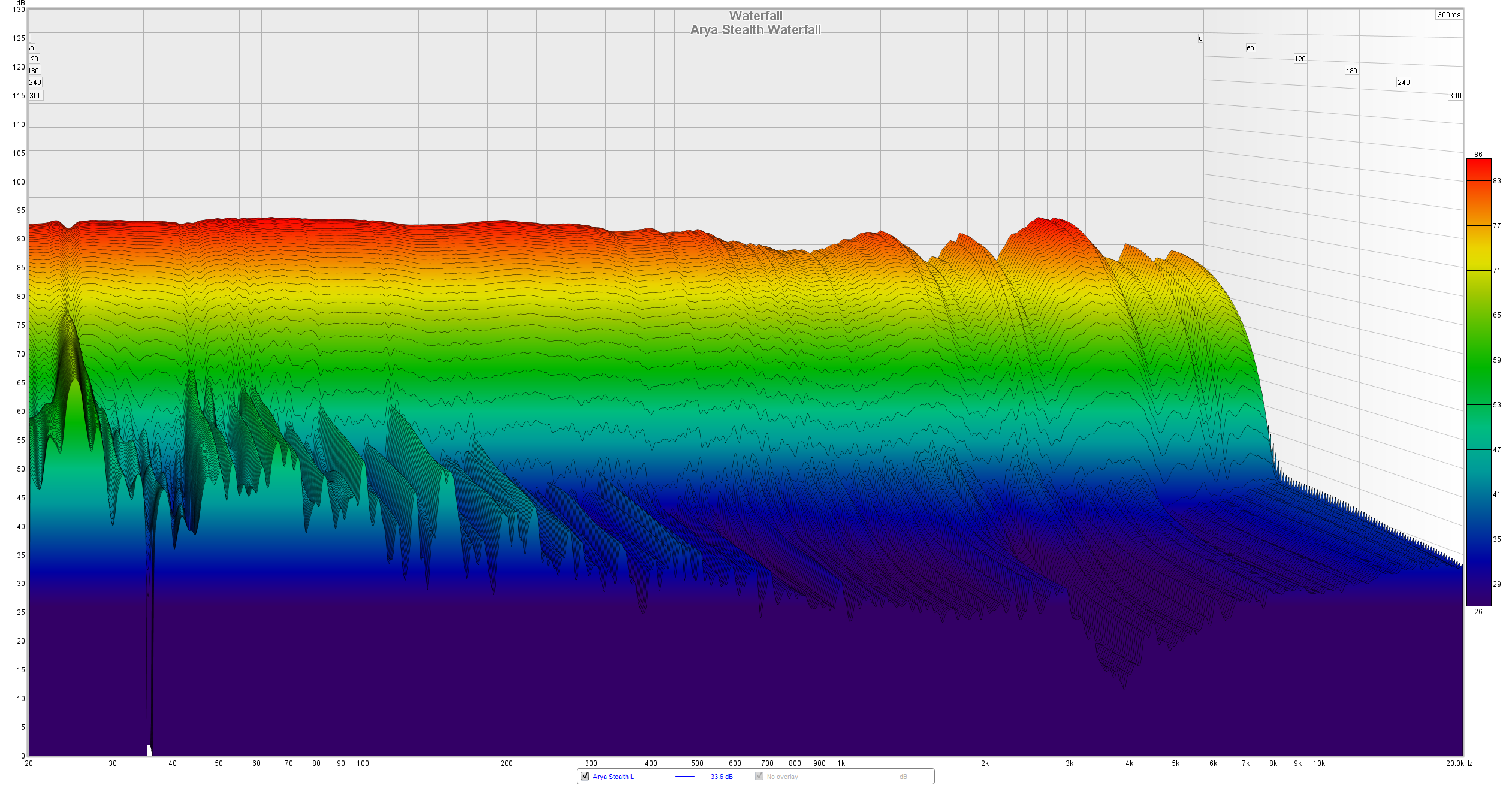 Waterfall combines the FR plot and decay into a single graph and you can clearly see their FR looks absolutely fantastic, it's very close to a linearity curve, looking almost identical to my HE1000SE measurements.
Spectrogram shows a minor ringing happening in between 20 and 30 Hz and I don't see nasty distortions building up anywhere else. I cannot hear that ringing in real life scenarios, this is still a good graph.
Overall, I have recorded an outstanding frequency response (FR) reading, a very low THD, a good driver matching, a fast decay and a less impressive spectrogram.
X. Comparisons
Since my whole review reads like an OG Arya VS Arya Stealth comparison, I decided comparing them with real competition coming from West and East.
A. Hifiman Arya Stealth ($1599) VS Audeze LCD-X 2020 Edition ($1199)
When it comes to build quality, I find them quite impressive, but LCD-X takes the lead with a full metallic structure, including cups and cup covers. They seem to use real leather for their headband and earpads, adding some high-end flair to them. When it comes to long term comfort, things are making a 180 degree turn, as Arya are simply way more comfortable to be used long term, they apply close to no pressure at all around my ears or on top of my head, plus they feel featherweight by comparison. LCD-X, as all Audeze planars (which the exception of LCD-5) are considerably heavier and less comfortable to use, I don't have an issue with an added weight, but I know several people that have neck issues with Audeze creations.
Sound wise, if I am listening all day to LCD-X and then I'm putting the Arya Stealth, immediately I can tell that resolution improves and the sounds are being pushed farther, at greater distances, as if I made a few steps backwards and I am looking at a bigger picture. Although LCD-X are linear (the most linear sounding Audeze perhaps?) and very extended in the FR, they felt darker and warmer sounding, adding a little bit of substance down low and in the midrange area. Arya felt lighter in those regions, but clearer and more transparent. In terms of pure technicalities as speed, decay, detail retrieval, transparency, stage size and depth, to me there is no contest as Arya Stealth are playing at a higher level, improving and highlighting every little nuance. The only area where Arya wasn't as impressive, losing some ground was bass impact, that felt visceral and engaging on LCD-X and somewhat muted and less impressive on the Arya. Of course, Arya's impact can be improved, but the same can happen with the X and no matter how fun and impactful I'm making the Arya, LCD-X will sound more thumpy and vivid to me. If you want to impress someone coming for a visit, then Arya is making a stronger first impression, as everything feels clearer and more defined, while LCD-X felt darker, but more organic, sounding more like regular headphones. It really depends what musical genres are important to you and what exactly you want to achieve with your setup, but these two are different sounding in every possible way.
The more I was listening to live recordings, the more Arya impressed me as they could provide a more believable soundscape that felt tri-dimensional and enveloping. LCD-X is perhaps the most up-front sounding Audeze headphone from the LCD line and while that adds a lot of fun for rock and electronica tunes, it becomes a no-go with live, classical, blues or jazz recordings. Depth is more interesting on the Arya and there was never a case when I needed to close my eyes to feel all those layers of information.
All in all, LCD-X feels like a fuller sounding headphone that wants to impress you mostly with its midrange and bass section, while Arya feels more linear top to bottom, more honest sounding, never rising or dropping any particular region. On the right setup neither were bright sounding and I could easily listen to music while multitasking around my PC.
B. Hifiman Arya Stealth ($1599) VS Sendy Audio Peacock ($1499)
Build quality wise, Peacock looks and feels more expensive from any point of view. You are looking at a steel frame, wooden cups, leather earpads and headband with just two little pieces of plastic. Arya is also using a steel frame, but their cups are made out of plastic and their headband out of pleather. When it comes to comfort, Arya Stealth wins massively as they are considerably lighter, have a much bigger earcup opening and they put little to no pressure around my ears or on top of my head. Arya is really one of the most comfortable headphones I've used and its difficult beating them at their own game. When it comes to accessories, hands down Peacock offers a lot more in return, with its cute travel case, balanced detachable cable and two headphone adapters. With Arya you are stuck with a display case and with a single cable terminated with a 6.35mm jack.
Sound wise, Peacock sounded more visceral with electronica beats, bass was heavier and more impactful, even if they weren't as fast sounding. With Peacock bass notes were hitting my eardrums like a small hammer, something that wasn't happening on Arya Stealth. The later sounded more ethereal and didn't carry as much low-end, impressing less an electronica addict as myself. With bass intensive music, Peacock was more imposing and they just scored their first point.
Midrange felt a little fuller, smoother and more natural sounding on the Peacock, although Arya wasn't lagging far behind. I could easier relax and enjoy my time with the Peacock, while Arya could sound a little robotic at times, as they weren't putting as much meat on the bone. Arya was certainly more linear and straight as a line, while Peacock elevated its bass and midrange, adding a bit more soul into the music and that's why Peacock scores another point.
Treble felt considerably clearer, way more transparent and more detailed with the Arya, there is no contest about it. On top of that, there is none of that ringing happening with the Peacock, although on several occasions Arya could become fatiguing and it seems that Arya scored its first point.
When it comes to technicalities as detail retrieval, speed and decay, Arya was just more impressive, it felt like a serious sounding headphone that cares for the small things, it was faster and it didn't linger for a microsecond longer. Arya was clearly on top of its game and it is quite difficult beating it in here. Arya easily scores a point.
Soundstage is delivered quite differently with both models, while Peacock will impress you more with its left to right soundstage, arranging everything beautifully in a bi-dimensional space. Arya will impress you more with its depth and with a taller stage. While listening to headphones, I believe that it's more important hearing your sounds coming from your felt and right, exactly as it's happening on a good stereo setup and that's why Peacock scores another point.
When it comes to frequency response as a whole, Arya was more impressive top to bottom, it's considerably more extended at both ends, there is simply more texture and more nuances to be heard, hence scoring an additional point. It seems that we have a tie, but in reality, these two are very different sounding headphones and they have little to nothing in common and it really depends on what's more important for you. For most, Arya will be a much better proposition and for others, Peacock would sound more majestic and heart-warming.
My Conclusion
After putting them on proper DACs and amplifiers, it was clear to me that I am dealing with a technical sounding headphone that pulls out everything that is hidden behind your music. It's incredibly clean, detailed and transparent sounding and I don't believe there is a headphone that can challenge them at their own game even up to $2000. You'll be getting lightning-fast decays, an open soundstage that would be taller to your usual planars, brightness and listening fatigue is no longer an issue, all wrapped in the same back-in-black package that is now stealthier than ever before.
If you care for neutrality, outstanding technicalities and world-class measurements, Arya Stealth becomes a very easy recommendation to make and considering all the improvement brought to the table versus their predecessors, it is my pleasure awarding them with our highest Gold Award.
It was fully deserved and I'm looking forward to their next developments. Please come back two weeks from now, as we will be delivering the most comprehensive Hifiman Susvara review and you don't want to miss that one.
Dropping $1599 on a pair of headphones isn't that easy, but knowing that not a single planar in the same price bracket can outplay at their own game, their price felt fully justified.
You can get them directly from Hifiman web-store right here, you can get them from your nearest Hifiman authorized dealer right here, or you can get them from Apos Audio right here. No matter where you get them from, please leave a comment below and let me know how they are treating you.
PROS:
A solid metallic structure that is not stealthier than ever before
Stealth Magnets improved their technicalities to unrecognizable
Detail retrieval is their second name, impressive transparency
Isn't as claustrophobic anymore, left to right soundstage improved, sounding bigger and airier than before
Sounds fast and tightly controlled, never lingering for a microsecond longer
Linear and extended frequency response at both ends
Brightness is no longer an issue, you have as much information up top, sans listening fatigue
A technical sounding headphone that approached closer to HE1000SE levels of performance
On of the cleanest sounding planar in this price-point
It's easier to drive now and you no longer need massive amplifiers to awake nicer dynamics
Impressive set of measurements
SQ went up, but their price point remained unchanged, kudos for that!
CONS:
Boring display case and accessories
Build quality could be improved (especially their cups)
A nicer bass impact/slam would be nice
Still not as wide and open as HE1000SE and Susvara are sounding
ASSOCIATED EQUIPMENT:
DACs: Audiobyte HydraVox & HydraZap, Musician Aquarius, Matrix Audio Element X, Gold Note DS-10 Plus & PSU-10 EVO, SMSL VMV D2, Singxer SDA-6 Advanced
DAPs: FiiO M11 Plus LTD, M15, Shanling M8, M6 V.21
Headphone Amps: Flux Lab Acoustics Volot, Benchmark HPA4, Singxer SA-1, Burson Soloist 3X, Musician Andromeda, Gustard H16
Preamps: Musician Monoceros, Benchmark HPA4, Topping PRE90
Power Amplifiers: Benchmark AHB2 (x2), KECES S300, SMSL SA400, Burson Timekeeper 3i
Integrated Amplifiers: KECES E40, Burson Timekeeper 3i
Loudspeakers: KEF Reference 3, Sound of Eden Crescendo UNO, Natural Sound NS17
IEMs: FiiO FA9, FH7, FH5S, FD7, Meze Rai Penta, Rai Solo, LittleDot Cu KIS, Hiby Crystal 6, IKKO OH10, Moondrop KATO, 7Hz Timeless & others
Portable headphones: Sennheiser Momentum 2, Meze 99 Classics, Sony WH1000-XM4
Full-sized headphones: Hifiman Susvara, HE1000SE, Arya Stealth, Arya, HE400SE, Audeze LCD-4, LCD-X, Erzetich Phobos 2021, Phobos V2018, Mania, Kennerton Wodan, Magni, Gjallarhorn, Vali, M12S, Ollo S4X Reference, Apos Caspian, Sendy Peacock & Aiva
Interconnects: QED Reference (x2), Topping TCX1 (x2)
Speaker cables: Kimber PR8, Audioquest Type4
Power Cables: Isotek EVO3 Premier (x3)
Balanced Isolation Power Conditioners: PLiXiR Elite BAC1500 (stereo setup), Elite BAC400 (headphone setup)