Complete your headphone setup with the Topping A90
The Topping A90 Headphone Amp is the companion for the highly reviewed Topping D90 DAC. The A90 is an ultra high-performance headphone amp that can also work as a pre-amp. It comes with three gain settings and has great performance numbers including <0.00006% THD+N, 145dB DNR, <0.2uVrms Noise, <0.1 ohm output impedance, and 7200mW x 2 max output power.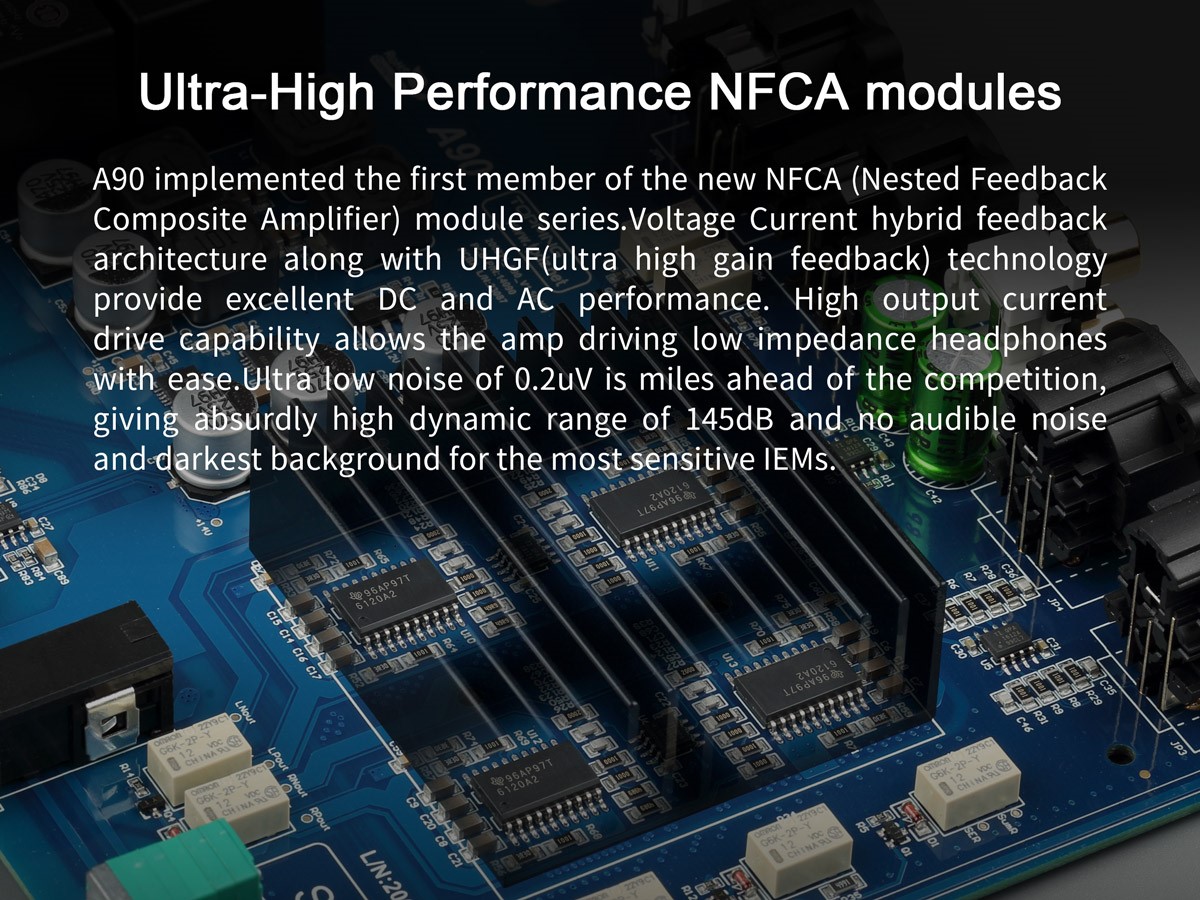 The A90 comes equipped with NFCA modules (Nested Feedback Composite Amplifier), which along with ultra high-gain feedback technology provide excellent AC and DC performance. High output current capability of the A90 allows it to drive low impedance headphones with ease. Furthermore, ultra low noise of 0.2uV and high dynamic range of 145dB drive the most sensitive IEMs without producing any audible noise.
If those numbers are true, A90 has the potential of outperforming the THX modules inside the most popular headphone amplifier like Drop THX-789 or SMSL SP200. When A90 will be dropping at our HQ, it will be compared with some THX designs not only as a headphone amplifier but also as a preamp.
For outputs, the A90 comes with a 4-pin XLR, a 4.4mm Balanced, and a 6.35mm Single Ended port. The Single Ended 25V pp with Balanced 49V pp high output voltage along with high output current and less than 0.1 ohm output impedance, A90 is compatible with a wide range of headphones. It also comes with the three-step gain setting and a wide variety of sensitivity settings that allow the amp to drive sensitive IEMs to power demanding headphones.
Being equipped with NFCA modules, A90 can also work as a preamp. In preamp mode, the 20-ohm single ended output and the 40 ohm balanced output impedance make it easily compatible with various power amps. You can also connect the A90 with the D90 DAC in preamp mode to drive active speakers and create a high-performing sound system.
Topping A90 can be pre-ordered for $499 by following this link
Do note that Apos Audio is offering free shipping in USA, an extra year of warranty, lowest price guarantee and 30-day free returns in case you don't like it.