Five Things You Need to know About the NEW Magico M7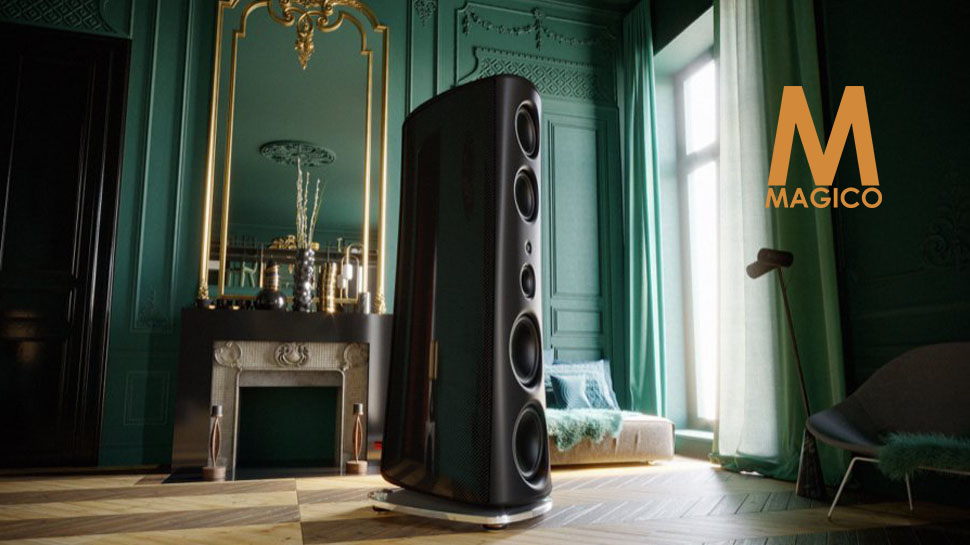 Magico, the leader in high-performance loudspeaker design and manufacturing, is pleased to announce the ground-breaking M7 loudspeaker. In June of 2020, Magico, LLC introduced the incomparable M9 flagship loudspeaker. The M9 was and continues to be the most advanced and highest-performing loudspeaker in Magico history. All that was discovered in the extensive research and development program undertaken for the M9 has now been distilled into the Magico M7.
The Magico M7 is a four-way, six-driver floorstanding loudspeaker capable of astonishing performance. Featuring the latest Magico drive-unit technology, an organically shaped carbon- fiber-and-aluminum enclosure, and the latest Elliptical Symmetry Crossover, the M7 is a tour de force of advanced loudspeaker engineering The M7 was conceived by Founder and CEO Alon Wolf as a more accessible version of the semi- active M9. The Magico engineering team was tasked with creating the all-passive M7, capable of sound quality never before achieved in a speaker of its size. Magico leveraged tools such as a Klippel Near-Field Scanner and a Polytec Laser Doppler vibrometer, among many other advanced tools, along with two decades of design experience, creating the industry's most advanced speakers. The result of the M7 development project has stunned Magico engineers. In the final phase of development in the Magico listening room, the M7 proved to be far more than the sum of its considerable bill of materials.
What is the Magico M7?
The M7 is a state-of-the-art, six-driver, four-way floorstanding loudspeaker in Magico's top-of-the-world M Series. It is also Magico's newest product, and features an arsenal of the company's most advanced technologies. These tech goodies include a monocoque carbon-fiber enclosure; Gen 8 Nano-Tec drivers with diaphragms of graphene-infused carbon fiber sandwiching aluminum-honeycomb cores; a diamond-coated beryllium tweeter; and a proprietary Elliptical Symmetry Crossover. Nuts and bolts aside, the M7 is the result of Magico's relentless pursuit of loudspeaker perfection, leveraging the use of the industry's most advanced research and development tools.
How was the M7 designed?
Alon Wolf, Founder and CEO of Magico, LLC, led a crack team of engineers on the M7 project-easily one of Wolf's most ambitious to date. Magico invested heavily in infrastructure to aid in this quest: a Klippel Near-Field Scanner and a Polytec Laser Doppler vibrometer, to name but two expensive instruments used in the quest. Finite Element Analysis (FEA) simulation using a single software platform allowed simultaneous optimization of acoustical, mechanical, electromagnetic, and thermal behaviors of each of the M7's six drive units. It's not all measurement analysis, however. Magico also possesses an unmatched, custom-designed and ridiculously overengineered listening room in their Hayward, California factory that Wolf and his team use for microscopic insight into late-stage prototypes. The advanced science and listening tests are then correlated, and the process continues until both the objective and subjective target performance is met or exceeded. With regards the M7 project, there is no doubt that the performance envelope achieved was well beyond the expectations of the Magico engineering team.
Just how large is the Magico M7 and what type of room is it suited to?
The M7 stands 65″ high, 22″ deep, and is 15″ wide. One M7 weighs 500 pounds, uncrated. It's bass drivers (2) are 12″ in diameter, while its two midbass transducers are 9″ units. This allows for significant air movement below the frequency range handled by the 5″ midrange and 28mm tweeter. The M7 is easily capable of playing full-range in the largest of rooms, but is also suited to mid-sized rooms courtesy of its seal-box bass alignment, linear frequency response, and precisely controlled off-axis dispersion. The latter results in more predictable in-room response than competing designs. The M7's high sensitivity, coupled with its high power handling, allows the M7 to display state-of-the-art dynamic range-from revelatory whisper-quiet details to bombastic musical crescendos, the M7 is always in its comfort zone.
What can you expect to hear if you buy a set of Magico M7s?
In short, everything. The Magico M7 was designed for ultimate transparency and detail retrieval, no doubt aided by what is essentially a silent enclosure. The organically shaped cabinet results in diffraction-free wave launches from its six state-of the-art drive units, meaning no cabinet-borne nonlinearities interfere with its reproduction of music. The M7 is simultaneously capable of playing loud and distortion free, due in large part to its complement of Gen 8 Nano-Tec drive
units and diamond-coated beryllium tweeter, all of which are equipped with the latest Magico-designed motor systems. No matter the musical genre, the M7 will outperform any loudspeaker save for the company's flagship M9.
Why is the Magico M7 the ultimate loudspeaker?
The Magico M7 will form the heart of a state-of-the-art sound system capable of unrivaled acoustic performance in mid-sized to large listening spaces alike. Although the M7 will easily reveal the character of connected equipment, a pair of them can comfortably be driven by a single high-quality stereo amplifier or pair of monoblocks. The M7 is uncompromising in performance, yet easy to live with and to configure a system around. It is at once unfailingly precise, yet congenial in a multitude of environments. There are no compromises made in the M7, although the owner of a pair does not need to compromise a living space to enjoy them. Never before has this level of sonic performance been achieved in such a beautiful package that is also eminently livable on a day-to-day basis. You simply get it all with the Magico M7.
M7 enters the pantheon of great Magicos
Never before has there been an all-passive design capable of such astonishing performance. For those who have been waiting for something extraordinary, the M7 is here and awaits your audition.